Brasov is often referred to as the heart of Romania and this colourful city can be found in Transylvania deep within the Carpathian Mountains!
Originally founded by Teutonic Knights from Germany, you'll find that it is packed full of historic buildings, cobbled streets, and oodles of defense towers.
Many tourists visiting Romania choose to visit Brasov due to the proximity to Bran Castle, the home of Count Dracula, but there are many amazing things to do in Brasov that will keep you occupied here!
From taking a cable car to Mount Tampa, hiking the Carpathians, visiting the narrowest street in Eastern Europe, the Black Church, and seeing the famous 'Brasov Hollywood Sign'.
Here is a complete list of the very best things to do in Brasov in Transylvania, Romania!
The history of Brasov
The Carpathian Mountain city of Brasov has a long history before it was coined the Hollywood of Eastern Europe!
It was a city founded by Teutonic Knights from Germany in the 13th-century who were protecting trade routes of Wallachia, Moldavia, and Transylvania from Tatar and Turkish invasion.
At this time, they built a stone citadel on top of Mount Tampa and a series of fortification walls and guard towers around the city.
It then developed into a Saxon German occupation thriving on trade and crafts and there were popular weekly and annual markets held here.
Later, it became a hub of Romanian learning and culture with the construction of the First Romanian School in the Schei District. It then became part of the Romanian Kingdom in 1918.
After the Russians took over Romania, Brasov was called Orașul Stalin or Stalin City under Communist rule. The trees of Tampa Mountain were re-arranged to spell out 'S-T-A-L-I-N' on the hillside.
Of course, once it was returned to Romania and renamed Brasov once more the trees were chopped down and replaced with what we see today.
The Brasov Hollywood sign was installed on the mountainside in 2004. It is now the symbol of Brasov and today gives the city the nickname 'Hollywood of Eastern Europe'.
It's the tourist capital of Transylvania and many people visit here to make a trip to Bran Castle, the home of Count Dracula!
Things to do in Brasov
1. See the famous Brasov Hollywood Sign
The first thing you'll probably notice as you enter the city is the enormous Brasov Hollywood sign that sits above the city on Mount Tampa!
This is what gives Brasov the nickname 'Hollywood of Easter Europe' and it was installed in 2004. Now, it's a symbol of the city and you can see a matching one at the nearby Rasnov too.
You can see this sign for miles around and it's always a great photo opportunity. As well as admiring the sign from below, you may be surprised to know that you can actually visit the sign too!
It feels surreal to be standing behind it and the views from the top are breathtaking. It's easy to do either by hiking up Mount Tampa or taking the Tampa Cable Car to the top.
Click here to read my guide on how to visit the Brasov Hollywood Sign!
2. Explore the colourful Council Square / Piața Sfatului
In the heart of Brasov is the Council Square or Piața Sfatului and you'll notice a large peach building that towers over everything. This is the Brasov Council Hall built in the 15th-century.
It's funny that this area is called a square as, from above, it's actually more of a triangle shape! This traditionally was the area where medieval weekly markets were held in the city.
Today, it's surrounded by colourful historic buildings and you'll find fountains, restaurants, coffee houses, monuments, and all sorts of entertainment here in summer.
3. Visit the Brasov History Museum / Trumpeter's Tower
At the centre of Council Square is the most visited building in Brasov which is the Council Hall built in 1420.
Although today it functions as the Brasov History Museum, not many know what terrifying things went on within its walls centuries ago!
Indeed, as well as this Council Hall holding city meetings, it was also a courthouse and prison. So, there were torture and execution chambers inside for unlucky criminals.
There were also countless witch trials in Brasov and you'd find that those women were held in the pillory in the central square before making their way in here to be questioned.
You can take a tour of the museum and see the medieval torture chambers on your visit!
A centuries-old tradition in Brasov is the trumpeters in the tower that mark significant events in the city. You can hear these trumpeters here every day at 6 pm or 12 pm on weekends.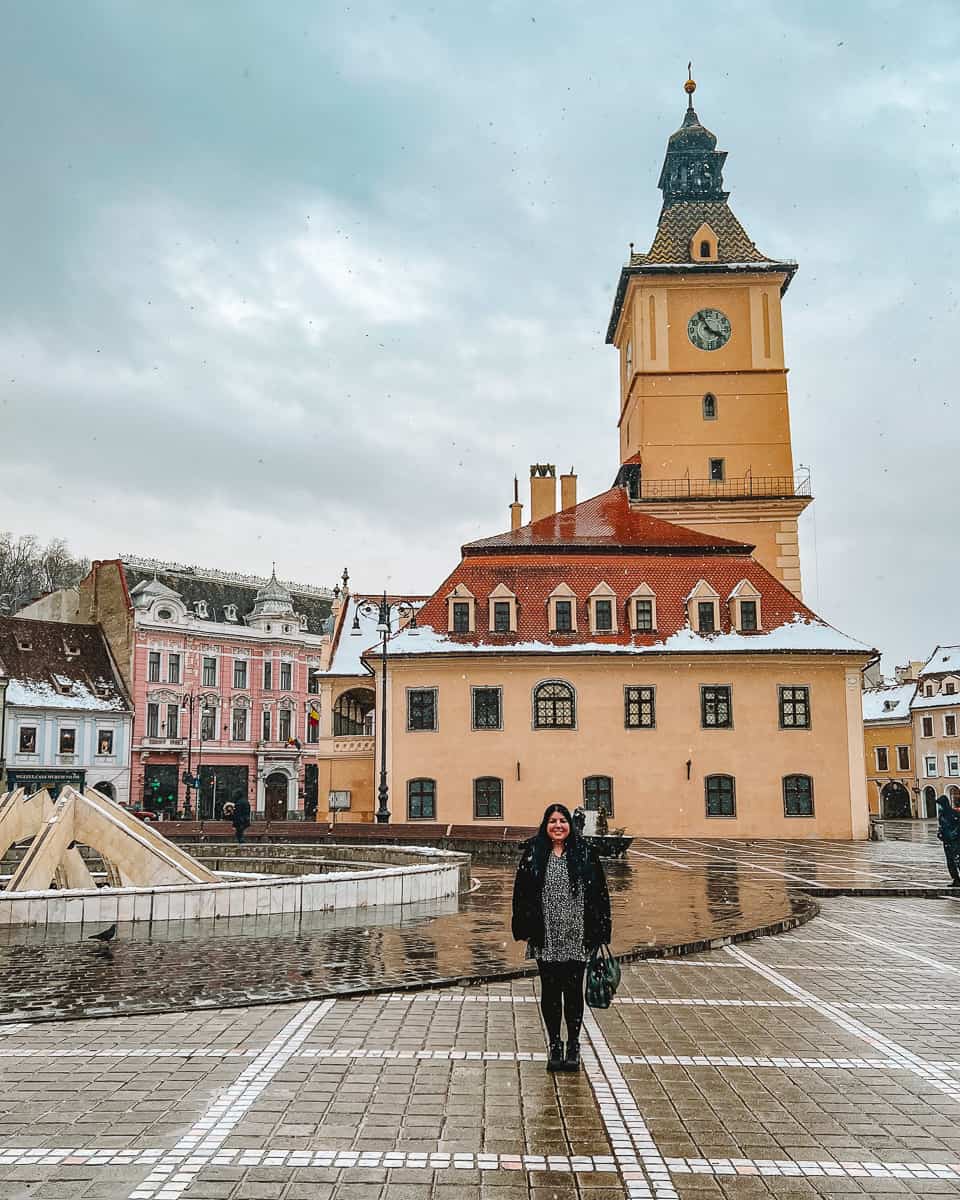 4. Learn about the Black Church / Biserica Neagră
One of the most popular things to do in Brasov is to visit the impressive Biserica Neagră or the Black Church which is located just off of Council Square.
It was built during the Saxon German occupation and the construction started in 1386. But, it wouldn't be completed until almost a century later in 1476.
Although it was built in the Gothic style, it didn't gain its dark appearance or namesake until 1689 when a huge fire spread throughout the city and damaged the building.
It is still a working cathedral today but there is also a small museum inside that you can visit if you wanted to see inside. It's an impressive space with a small art gallery.
You'll find a ticket counter in the shop opposite the entrance door. Tickets cost 16 Lei (RON) and its open for visitors every day of the week. It may open later on weekends to allow for services.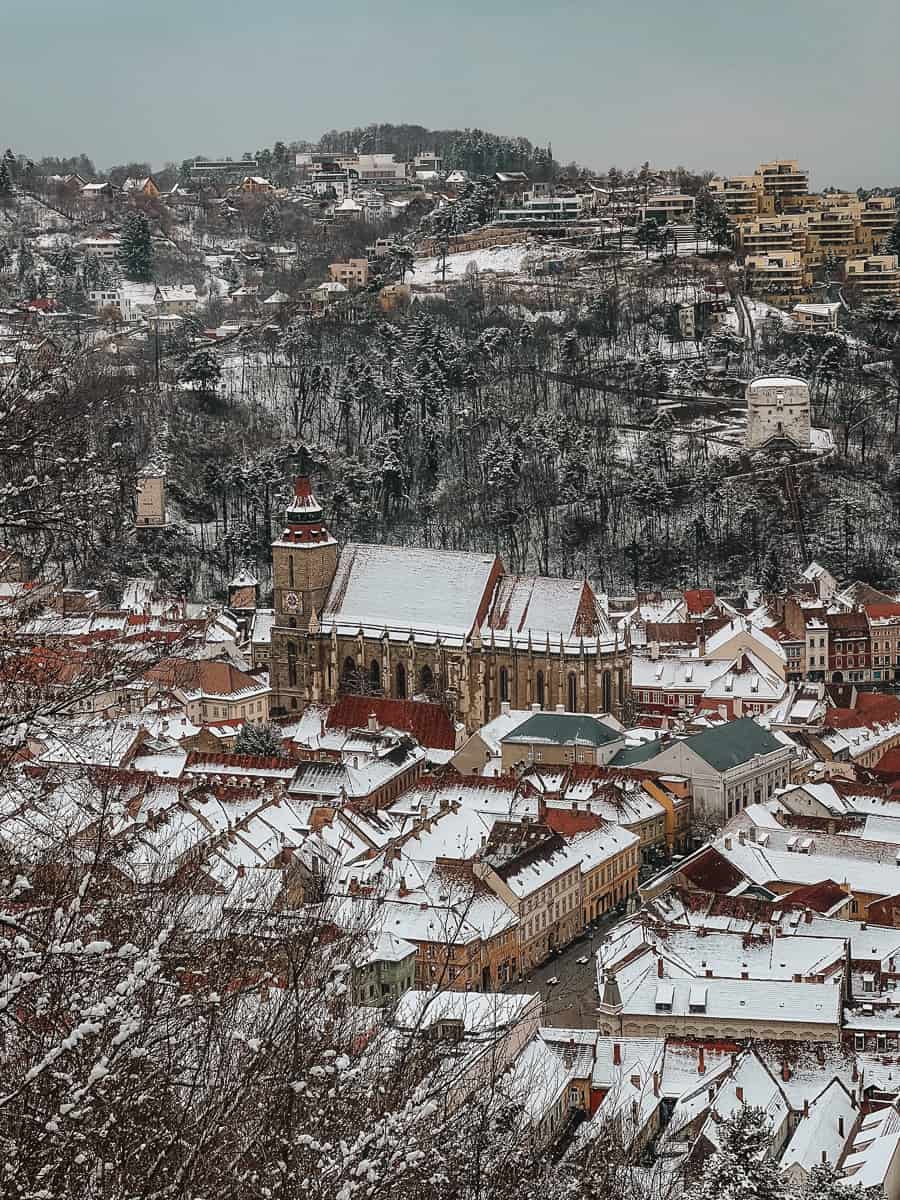 5. Visit the Catherine Gate / Poarta Ecaterinei
There are plenty of historic gates surrounding Brasov that used to allow access to those visiting in kind. But, one of the most significant and best-preserved is the Catherine Gate or Poarta Ecaterinei.
It was built by the Tailor's Guild in 1559 and used to allow access for traders into the city. Many had to pay a toll at this gate to be allowed inside the city walls.
The name comes from St Catherine's Monastery which used to be situated here in medieval times.
Although the gate looks very whimsical like a Repunzelesque fairytale tower, the four-pointed turrets actually symbolise that this city has the "right of sword" or the right to carry out capital punishment! So, not very romantic at all really.
Today, it is a small museum and gardens that you can visit to learn more about the history of the tower! Or, you can easily just snap a photo of this quirky landmark from the outside.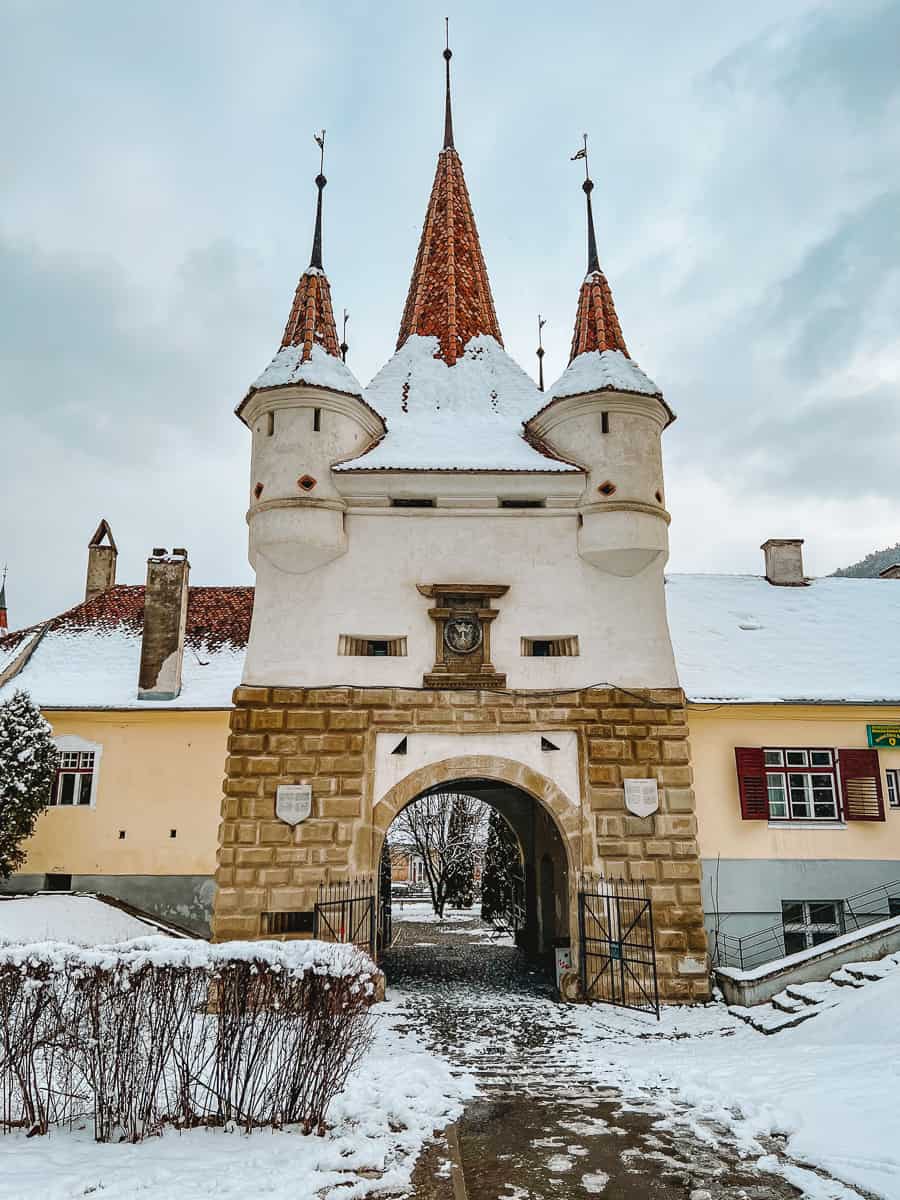 6. Squeeze down Rope Street / Strada Sforii
One of the most popular things to do in Brasov is to take a stroll down Rope Street (Strada Sforii) which is the narrowest street in Eastern Europe!
It was originally built for firefighters in the 14th-century as a means for them to beat foot traffic in the city but now it's a quirky tourist attraction.
At its narrowest, Rope Street is a tiny 111 centimetres and you can put your hands on the colourful walls on either side of you!
It's definitely worth visiting and snapping a photo here. There used to be a free Rope Street Museum but it is temporarily closed.
Click here to read my complete guide for Rope Street – The Narrowest in Eastern Europe!
7. Visit the Black Tower / Turnul Negru
As part of the city's medieval defenses, there are a series of guard towers that surround Brasov. One of those is the Black Tower or Turnul Negru which is located on Warthe Hill.
This was the first defense tower that was built in Brasov and dates back to the 15th-century. Its purpose was to stop any enemy invaders from breaching the city walls.
Although it is called the Black Tower, you'll find that the colour is very much white! It got its name from when it was struck by lightning and it damaged the foundations.
You can go inside to visit the small museum and take in the panoramic views as you climb to the very top.
Beyond visiting the inside, I thought that the bottom of the Black Tower provided one of the best views in all of Brasov from the platform!
From this viewpoint, you can see the Black Church, Tampa Mountain, and some of the many colourful houses and buildings below. Make sure to snap a few photos.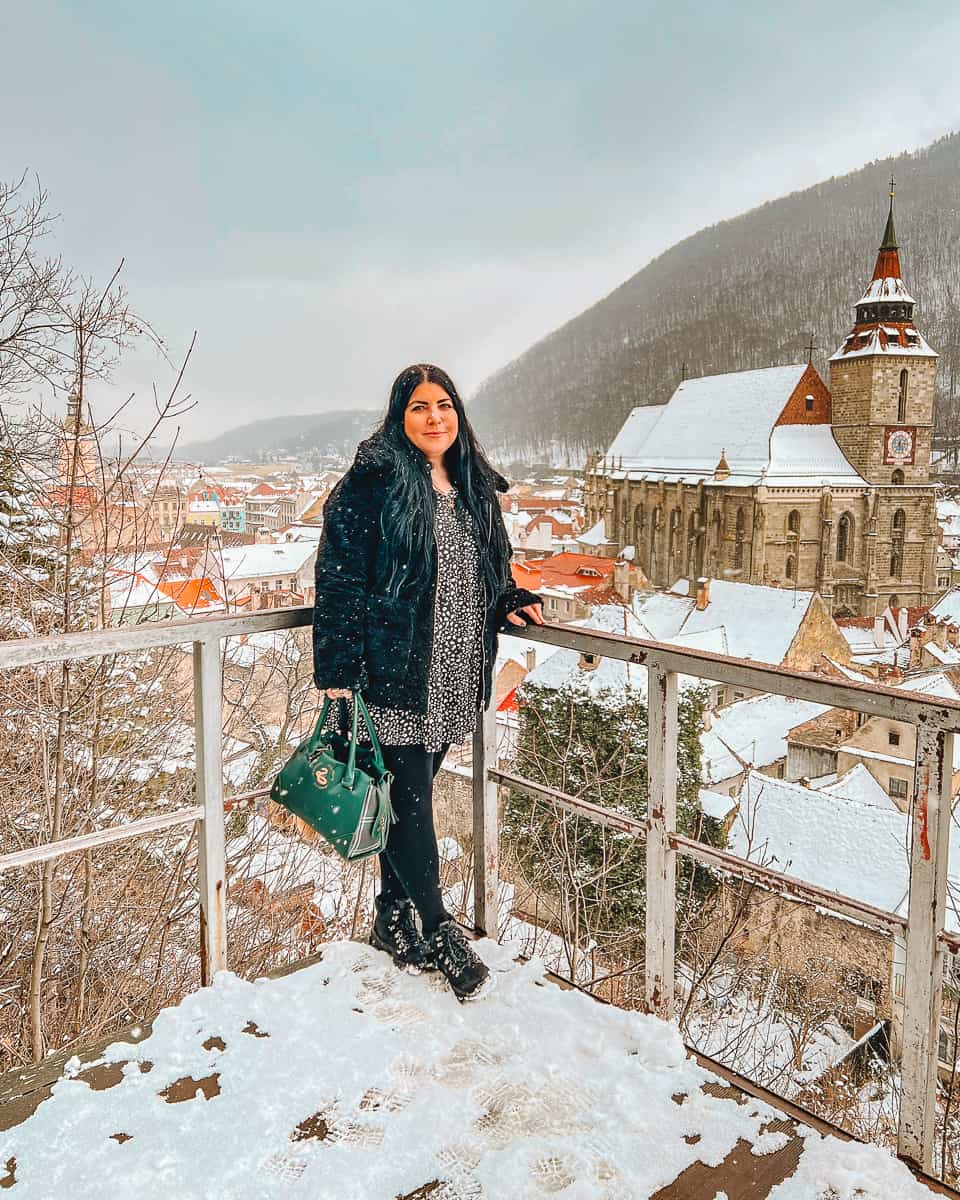 8. Take a walk along the Scheiu River & Canalul Timiș
In between the Black Tower and the White Tower you'll find the scenic Scheiu River that leads out onto the Canalul Timiș.
Although a short walk, it's very relaxing and you'll be walking alongside some of the historic city walls as well. In summer, this is the perfect place for a cool respite as it's shaded by the trees!
As you stroll alongside the water, you'll see plenty of tunnels and the old gates like the Bastionul Graft that used to allow you passage into the medieval city.
You can follow the river all the way along towards the Schei District to visit the First Romanian School Museum (more on that later).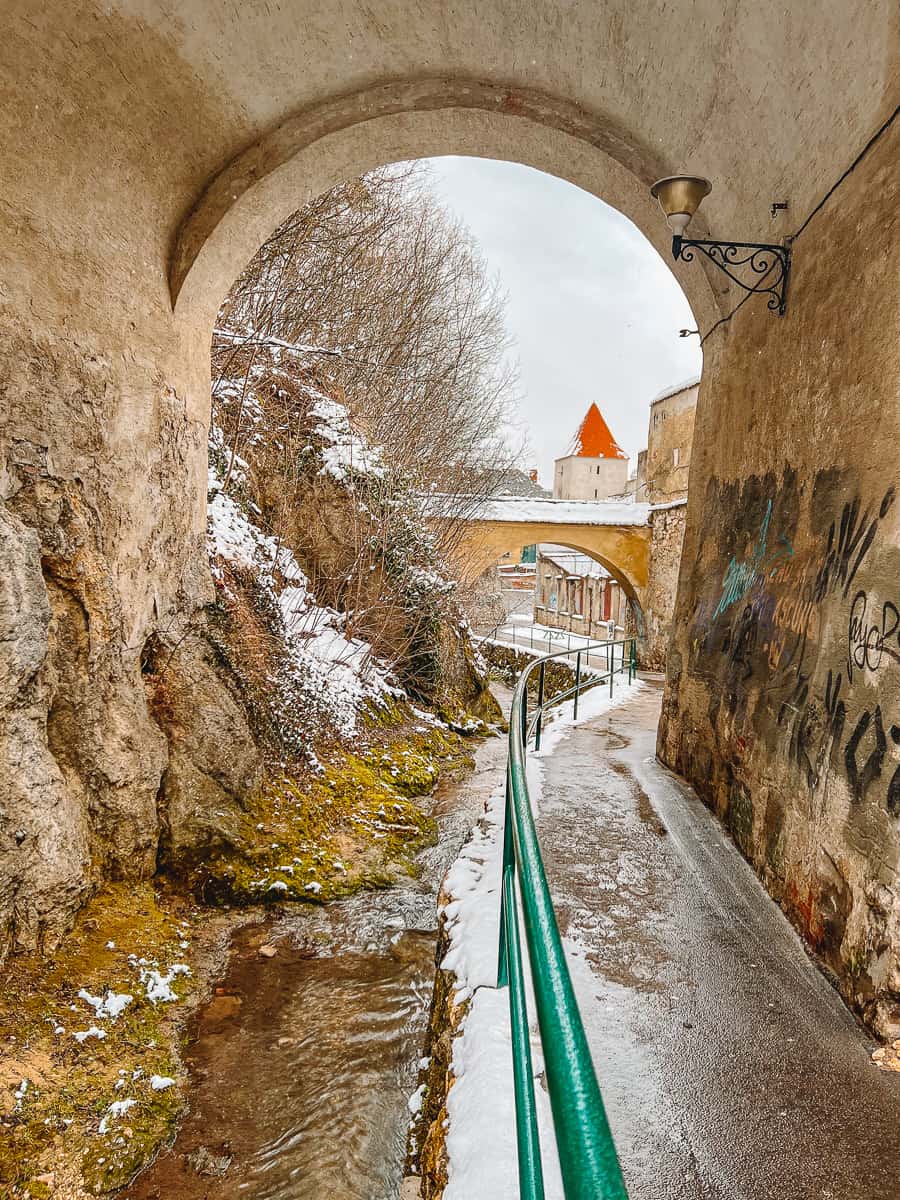 9. Hike up to the White Tower / Turnul Alb
If you carry on down the canal, you can turn left and then take the very steep (!) stairs up to the White Tower or Turnul Alb.
This is located above the Bastionul Graft and is much larger than its neighbouring Black Tower.
Again this was built in the 15th-century as a means of defense and so you'll find lots of battlements and windows for weapons.
Like the Black Tower, this is open as a museum for tourists to visit. You can climb up 5 levels to the very top!
10. Take the Tampa Mountain Cable Car!
One of the most popular things to do in Brasov is to take a trip on the cable car to the top of Mount Tampa.
It's relatively cheap at 20 Lei (RON) for a return trip which is around £3.50/$4.50 USD. Also, it only takes 5 minutes to get to the top so it's ideal if you didn't fancy hiking and wanted to save time!
The walk up to the cable car station from Brasov main square is quite steep through a park but once you're up here the walks around Mount Tampa are relatively flat.
If you only have time for one walk, I would opt to visit the Brasov Hollywood Sign. It's around 500 metres from the cable car station and the views from the platform are breathtaking!
Click here to read my complete Tampa Mountain Cable Car guide!
11. Hike up Mount Tampa & explore the Carpathian's
If you're feeling energised and the weather is fine, you could opt to hike up Mount Tampa on your visit to Brasov.
There are two ways to head up the hill. One is via the serpentine path that snakes through the trees or you can head up Gabony's Steps. Both will take around an hour or so to reach the top!
From here, you can also explore more of the Carpathian Mountains! You can head over to Postavarul Peak if you wanted a longer adventure.
The Tampa to Postavarul Massif walk will take you all day (8 hours) and you can ascend up the 1799 metres to the summit.
In the winter, many people visit the popular Poiana Brasov ski resort which is located deep in the Carpathians. But, in summer, you can walk over here too!
Note: There are brown bears on Mount Tampa as well as Gray wolves, Eurasian lynx, Vipers etc. Although it's very rare to see any of these creatures, always remain vigilant when hiking.
12. Visit the Schei District & The First School of Romania
Heading out of the main Council Square in Brasov, you can walk towards the Schei District which was a originally a Bulgarian and Romanian neighbourhood.
This sat outside of the original city walls and residents back then were forbidden to buy property within them.
Years ago, residents of Schei would have to pay a toll at the Catherine's Gate to enter the city to buy and sell produce.
Here, you'll find the First Romanian School that was constructed in 1495. Schei became a base for language and learning and the first Romanian languages classes took place in these walls.
It remained in use until 1850. Today, you can visit the museum to learn more about the neighbourhood and the types of classes that were held here. Tickets are 20 Lei (RON)
Just nearby, you'll find Biserica Sfântul Nicolae, or St Nicholas Orthodox Church, which was established in 1292.
It's free to enter and it has some of the most incredible paintings inside! The paintings are all originals and are carefully cleaned over the years to remove the marks from candles/oils.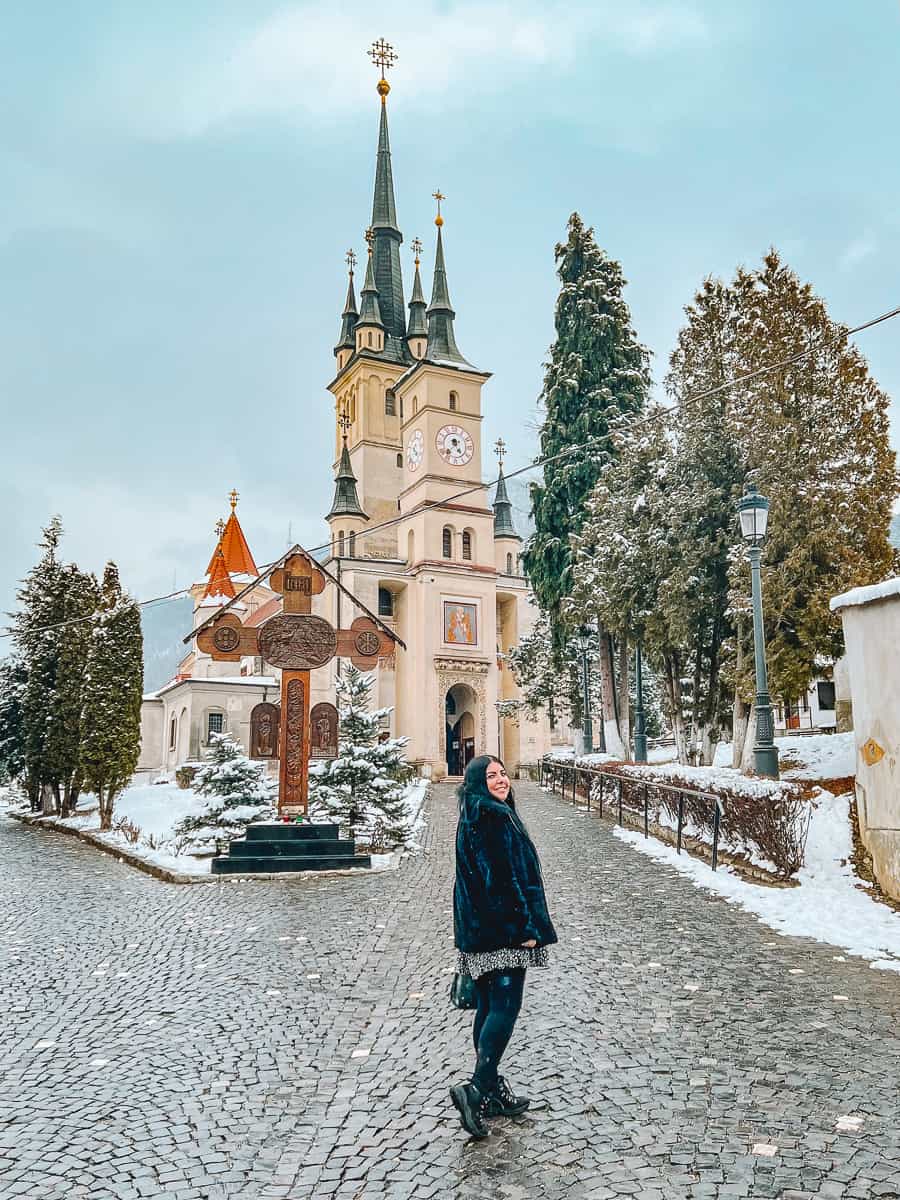 13. Weaver's Bastion & Brasov Fortification Walls
Brasov has been a settlement since the Teutonic Knights in the 13th-century but it was constantly under threat from Tatar and Turkish invaders.
At one point, the citadel had many defense walls and guard towers that stretched from the top of Mount Tampa to the base of the mountain and then around the medieval city to protect residents inside.
Although there is no need to protect the city anymore you can still find the remains of the old Brasov fortification walls today. You can take a long walk around the old city walls and find all the guard towers if you wish!
One of the best places to see what they would have looked like centuries ago is to visit the Weaver's Bastion or Bastionul Funarilor.
This is the most preserved part of the fortifications and has a small museum to visit where you can learn about Brasov through the centuries. There are some English translations but a lot of it is visual.
You can take a journey of Brasov over the ages through paintings, photos, and model replicas!
14. Explore Straja Hill Fortress (Cetatuia de pe Straja)
As well as medieval fortifications surrounding Brasov, there were also multiple watchtowers located just outside the city walls on the hills surrounding the city!
One of those was Straja Hill Fortress originally built in the 15th-century. It functioned as a lookout, prison, and city archives.
Unfortunately, there is a lengthy legal dispute going on around the ownership and management of this landmark. So, you cannot go inside.
But, if you wanted to take a walk up to the fortress and explore the area you're more than welcome to! There are amazing panoramic views to be had from here.
15. Try traditional Romanian food
If you wanted to sample some traditional Transylvanian food while you're in Brasov, you're in luck. There are plenty of restaurants that fall off of Council Square.
On my visit, I visited La Ceaun which served up a menu of local Romanian meals, wines, and beers. It had a really friendly atmosphere and the food was delicious!
If you're wondering what you should try while you're here, for starters, I would definitely recommend trying a bean soup that is served in a loaf of bread called Ciorbă de cartofi.
There is also a Romanian dish called Bulz which is essentially polenta that is oven-baked with cheese in a terracotta dish!
For dessert, you have to try Papanași which is a fried pastry stuffed with cottage cheese and covered with sour cream and jam. It takes a while to make so if you did want to try it, I would order this at the same time as your main meal to save time.
I loved the Romanian beer called Ursus here. The name translates to 'Brown Bear' which is quite appropriate being so close to Mount Tampa!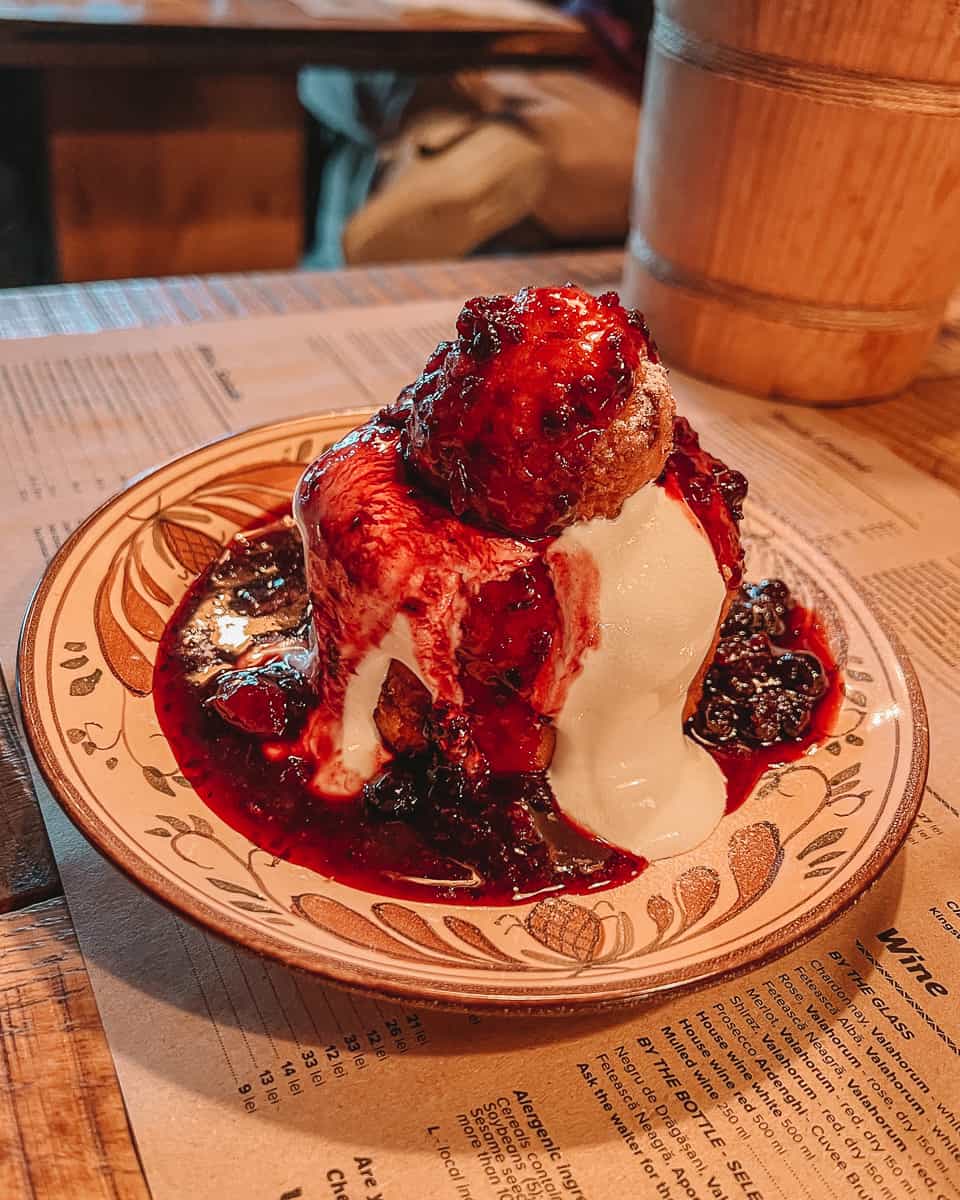 16. Go shopping on Strada Republicii
If you were looking for a bit of retail therapy in Brasov or some souvenirs to take home, take a wander down the colourful Strada Republicii.
This acts as the main High Street in the city and you'll find all sorts of shops, cafés, restaurants, and bars.
You'll find retail outlets for almost anything and there are quite a few outdoor clothes shops if you've forgotten any gear for hiking in the Carpathians.
There are endless souvenir stores/market stalls here if you were looking for some Brasov gifts like magnets, snow globes, and postcards. They also sell traditional Romanian clothes as well!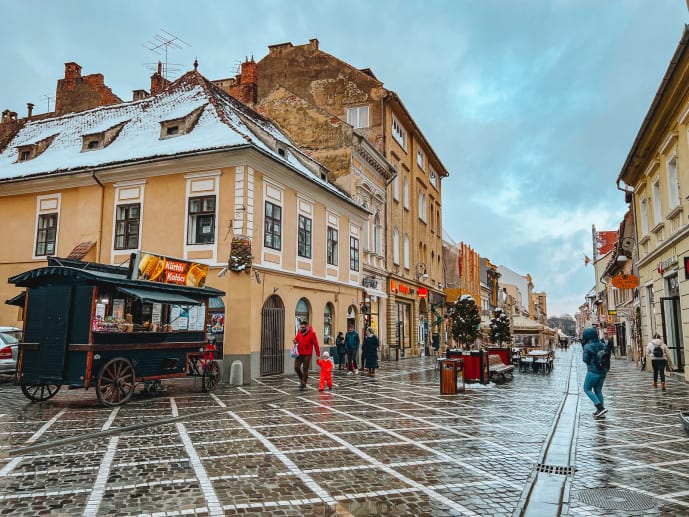 17. Try Kurtos Kalacs
One of my favourite European snacks has to be Kurtos Kalacs or sugary sweet Chimney Cakes!
A Chimney Cake is essentially dough that is wrapped around a cylinder and then coated with butter, cinnamon, and sugar and left to bake. The texture is hard to explain but the result is almost like a cronut.
The name comes from the fact that when the cake is cooked and removed from the cylinder it looks like a chimney.
Although traditional Kurtos Kalacs are spun with cinnamon and sugar, they come in all different varieties as well. Some have chocolate, sprinkles, fruit and are stuffed with cream!
It's a very popular street food here in Romania, especially in the winter months as it's comfort food. You can find a Kurtos Kalacs food van on Strada Republicii.
They are absolutely delicious and surprisingly cheap too considering their enormous size! I would highly recommend giving them a try while you're here.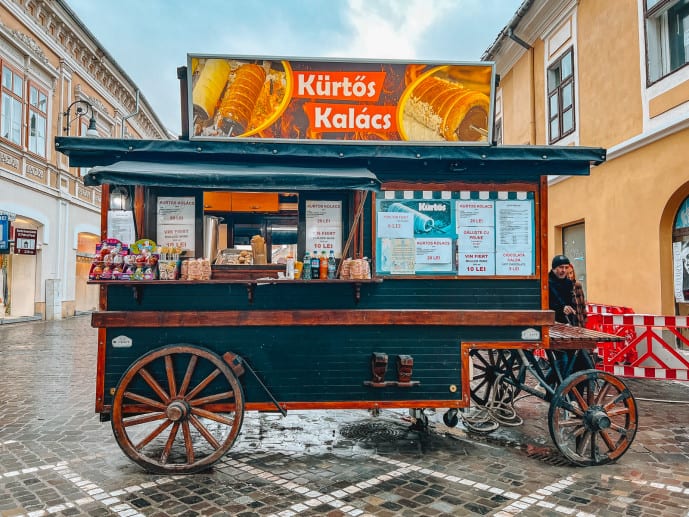 18. Find colourful street art
I love seeking out some colourful street art on my visits and there are some spectacular pieces to be found in Brasov.
The first can be found around Strada Sforii and the Rope Street Museum. But, the most colourful that I saw was on Piața Sfântul Ioan.
This is a popular place for events in summer but there are usually colourful murals that are painted on the buildings here by local artists!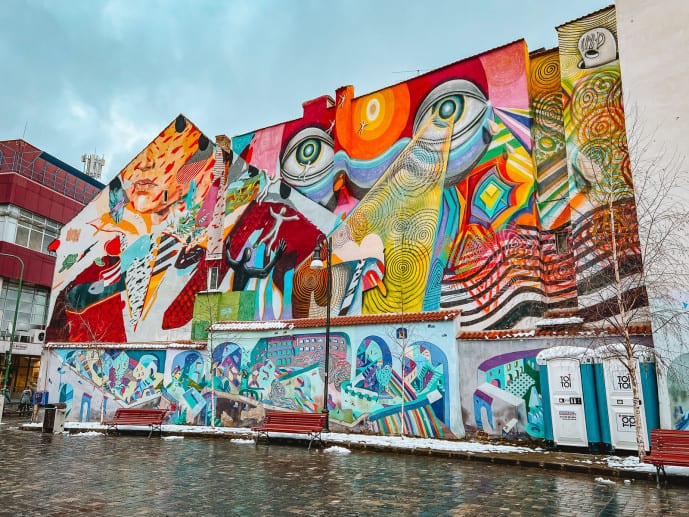 19. Beth Israel Synagogue
While you're walking around the historic streets of Brasov, the bright red Beth Israel Synagogue is certain to catch your eye!
There have been Jewish settlers in Transylvania since the 15th-century when the city was Saxon. But, the official settlement permit was granted in 1807.
The Beth Israel Synagogue was built in the Neo-Gothic/Moorish style 1868 but has had multiple renovations since its construction.
As well as a place of worship it acts as a community headquarters so there is a Kosher restaurant and medical building as part of the complex. You can pay a visit for 5 Lei (RON), you'll find it on Strada Poarta Schei's street!
20. Take a day trip to Rasnov Fortress
A popular day trip from Brasov is a journey over to Rasnov Fortress which is just 20 kilometres from the centre.
You can catch a train from Brasov to Rasnov in under 30 minutes so it's a perfect choice if you only have a few days here.
Just like Brasov, Rasnov has its very own Hollywood Sign and you'll be able to see it for miles around the area.
Once you're here, you can ascend up the rocky hilltop to visit the dramatic Rasnov Fortress. It was built by Teutonic Knights in the 14th-century as a defense fortification against Tatar and Turkish invasions.
Back then, it had 30 houses, a school, chapel, public buildings, nine towers, two bastions, and a drawbridge!
To get to the top you can either take the stairs or get the funicular lift. Then, you pay 10 Lei (RON) to visit the museum.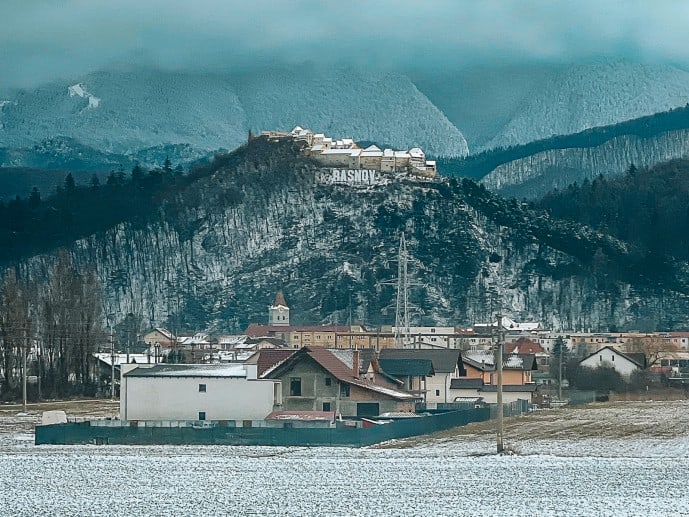 21. Visit Bran Castle, the home of Count Dracula
Of course, no visit to Romania would be complete without a trip to the famous Bran Castle that inspired Bram Stoker's Dracula. You are now in Transylvania after all!
It's only a short drive from Brasov itself, so you must try to make a day trip there if you're in the area by bus.
If you wanted to visit on a guided tour, you can book this Bran Castle, Peles Castle and Rasnov Fortress tour from Brasov here.
Bran Castle was the famous home of the 15th-century ruler Vlad the Impaler who is referred to as the 'real Dracula' due to his bloodthirsty torture habits!
Although Bram Stoker never visited, he used Prince Vlad's infamous stories, dramatic fortress, and the dark legends surrounding Transylvania to create the world for his 1897 novel 'Dracula'.
So, as well as learning about the history of this castle, you'll also learn about werewolves, Strigoi's, ghosts, and dragons myths too!
Related post – How to visit Dracula's Castle in Romania & my top tips!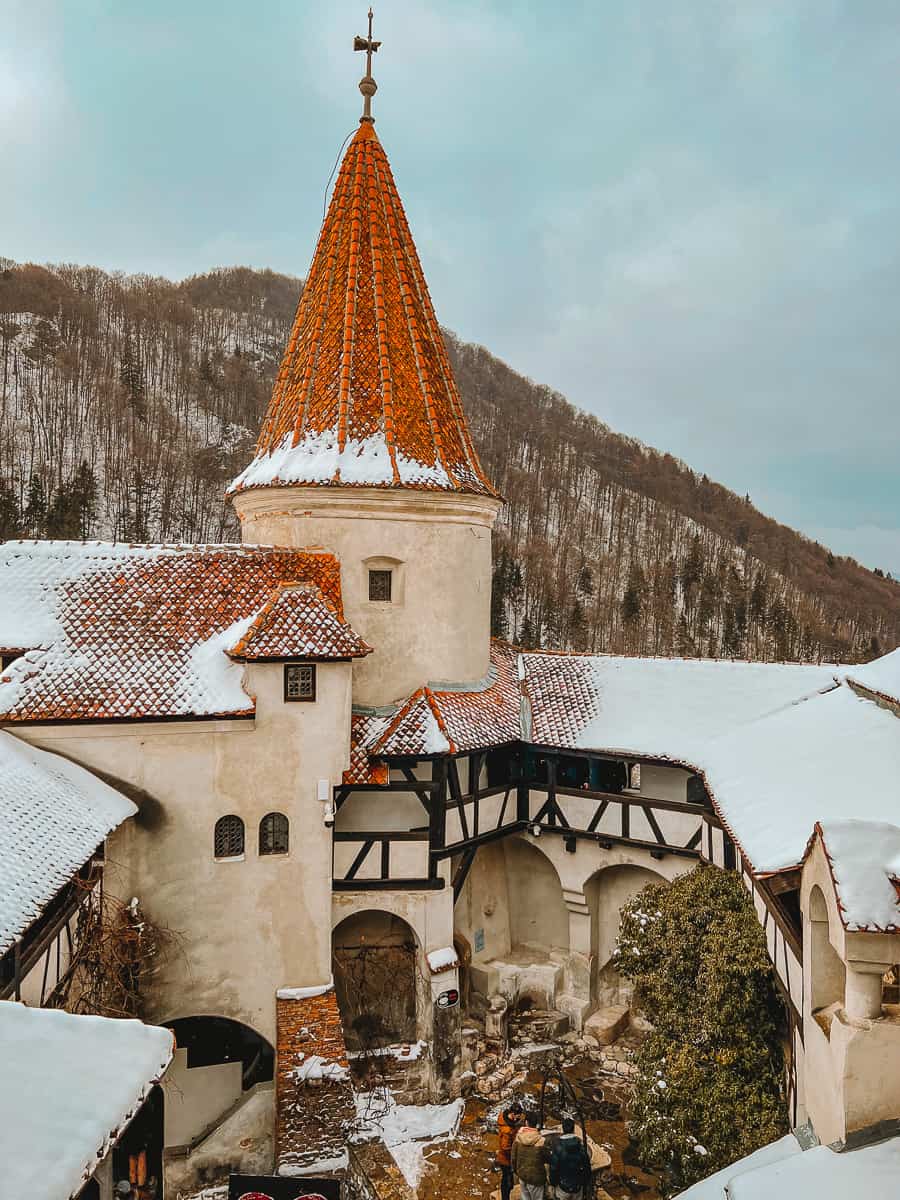 22. Take a day trip to Sinaia & Peles Castle
Another incredible place that you can visit from Brasov is Sinaia. It's another mountain resort, an hour away from Brasov, that is extremely popular with those living in Bucharest. It is home to some of the most spectacular mountain scenery in the country.
The jewel in its crown has to be the breathtaking Peles Castle (Peles Palace) which is the most magnificent castle in all of Romania!
This Neo-Renaissance Palace was built in the 19th-century on the orders of King Carol I after the country gained its independence.
It's open to the public and you can take a guided tour through its spectacular staterooms. My personal favourite was the staircase area where there is a huge glass rooftop! This opens up to reveal the night sky and the stars.
As one of the most popular attractions in all of Romania, I would visit during the week or try to get there as early as you can in summer to save queuing for too long.
The cost to visit is 50 Lei (RON) for a basic tour and this is taken in CASH ONLY. So, make sure to have the money with you on the day. There is an ATM on the castle grounds but this is Euronet which is notoriously scammy.
You can visit Sinaia on a day trip from Brasov by train, or, you could take a guided castle tour of Bran Castle, Peles Castle, and Rasnov Fortress to see it all in one go.
Click here to read my complete guide for visiting Peles Castle
How to visit Brasov in Romania
Brasov is easily one of the most popular tourist destinations in Romania and you can easily visit from the capital of Bucharest!
The fastest and most convenient way to reach Brasov from Bucharest/Sinaia is by train. The journey is relatively cheap depending on what class/train service you take and the journey is just over two hours.
You can book the tickets easily yourself online and the Romanian Trains website (CFR) is in English!
You can also drive from Bucharest to Brasov in just under 3 hours if you wanted to hire a car and explore more of Transylvania self-guided.
If you weren't driving and didn't want to travel by yourself. I would recommend booking a castle tour from Bucharest.
This way, you can visit Bran Castle, Peles Castle and Brasov in one day! It saves both time and money.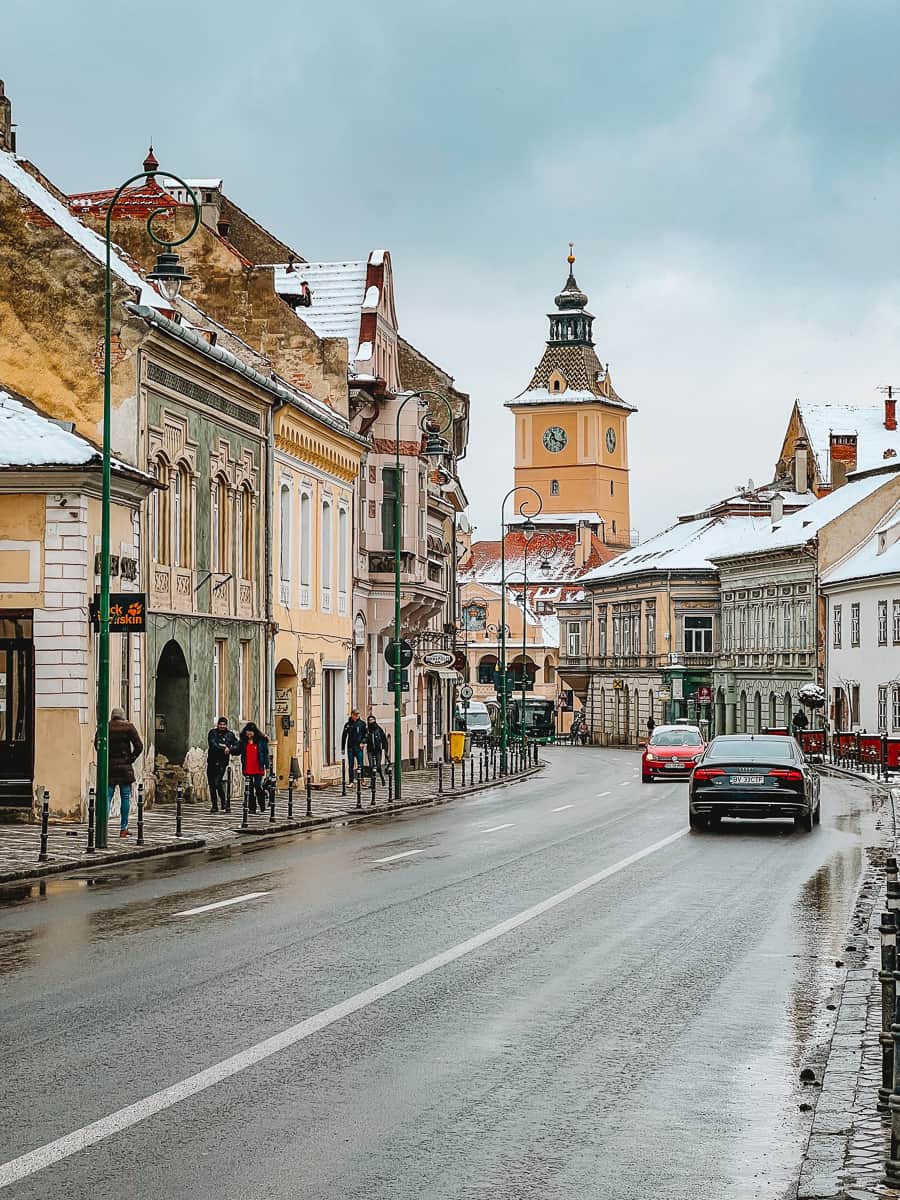 Read more of my Romanian travel guides
Carturesti Carusel – the most beautiful bookshop in Romania!
Save these things to do in Brasov for later!