The historic harbour village of Charlestown in Cornwall makes you feel like you have travelled back in time.
When you step out onto the haven and stroll along its cobbled pathways, you'll see Tall Ship sails floating with the breeze in the port.
A labyrinth of docks to explore and a quirky Harbourmaster's hut overlooking the endless views of the ocean horizon.
This quaint village near St Austell has risen to fame in recent years with it being used in Hollywood movies like Alice in Wonderland and the smouldering BBC period drama of Poldark.
As well as swooning over film locations, there are plenty of things to do in this charming hamlet that make it worth visiting. Museums to explore, cute cafés to hide in, art galleries, friendly pubs and more.
Here's a complete guide with the very best things to do in Charlestown Cornwall!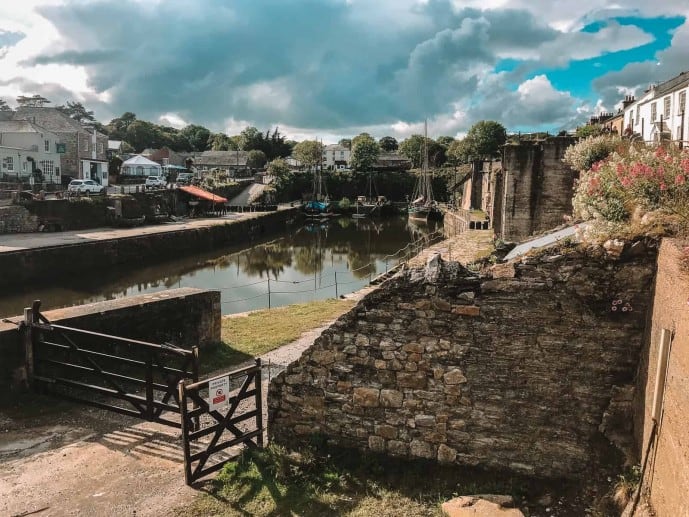 Why is Charlestown called Charlestown?
It may surprise you to know that Charlestown isn't called Charlestown due to King Charles I & II like the other Charlestown's around the world.
It was actually renamed around two hundred years ago to honour the man who made the harbour village what it is today, Sir Charles Rashleigh.
Until around two hundred years ago Charlestown was called West Polmear which translates in Cornish to Porth-meur, meaning 'Little Cove'. It was a tiny fishing village that didn't have a harbour.
At that time, there were only nine residents in three cottages who made a living from Pilchards!
In the 18th century, St Austell was becoming quite an industrious area with its flourishing mines and china clay pits.
It needed somewhere to trade China Clay to the potteries in the north and over to Europe. So a local businessman, Charles Rashleigh, stepped in to make it happen!
The history of Charlestown Cornwall
Sir Charles Rashleigh spotted the need for the village to have protection and opportunity for a port. He then hired the help of John Smeaton who was a famous lighthouse and harbour architect.
Together they made a design and construction plan. Rashleigh then got to work to construct the harbour walls.
As well as the harbour, he created a battery as a defence for the Napoleonic Wars which also acted as a Huer Hut for Pilchard spotting. A Huer was someone who would cry out when they've spotted the pilchard shoals coming into the shore.
The village name changed to Charlestown in 1799 to honour Charles Rashleigh.
Over time, the harbour became a bustling trade port and so more residents settled in the area. 28 ships were built and launched out of the harbour.
It remained a busy port for years and the last china clay ship left the harbour in the year 2000.
Nowadays, the Grade II protected harbour remains and most visitors come to admire the spectacular scenery, see the historic Tall ships and follow in the footsteps of their favourite brooding captain, Ross Poldark!
What was filmed in Charlestown Cornwall?
Over 100 films and TV shows have used Charlestown as a filming location ever since 1929 with silent movies!
It's easy to see why with its picture-perfect look of an ancient port town for the screen. Plus, it has the largest marine film tanks in the UK.
It was used in big swashbuckling movies like The Three Musketeers starring Kiefer Sutherland and Treasure Island.
In 2008, Tim Burton used the spot to film his Alice in Wonderland and other British period dramas like Taboo and Mansfield Park have used the areas around the harbour.
Dr Who fans will not need reminding that this was where Matt Smith landed his Tardis on board a Pirate Ship in The Curse of the Black Spot.
But everyone's recent obsession has been the five-part BBC TV series of Poldark!
Charlestown as a Poldark filming location
If you haven't seen the TV series Poldark yet, stop what you're doing and go and watch it right now! Series 1-3 are airing on Netflix.
It is an incredible historic show with love triangles, family feuds, star-crossed lovers and battles between the elite and poor. Poldark has it all!
Plus, it will give you some more insights into Cornwall's history with the mining trade and what these harbours were used for.
Charlestown has appeared many times throughout the popular BBC period drama throughout its five seasons on the air.
Although it's now no longer filming and no further series have been planned, fans still flock in their thousands to see where the show was made. I
n the first season, Charlestown featured as the bustling historic port town of Truro where Poldark and Demelza visit.
It also doubles up as Falmouth where Verity elopes with her sweetheart Captain Blamey.
In series two, Charlestown beach and slipway play St Mary's on the Isles of Scilly.
Although the series did end in 2019, the story was left very much like an open book. Although unlikely, who knows if Poldark series 6 will return to Charlestown and screens in future!
Things to do in Charlestown Cornwall
Beyond the film locations of Charlestown, there are plenty of things to do in Charlestown that make this gorgeous harbour worth visiting near St Austell.
You could spend an afternoon here or a whole day next to the sea, on the beach, strolling along the coastal paths, sipping coffee in the cosy cafés or just admire the harbour.
Here's a complete list of things to do in Charlestown on your visit!
1. See the Tall Ships in the Historic Port of Charlestown
Centuries ago, Tall Ships and their many sails are all you would see arriving in Cornish ports!
Before trains, cars and air travel; this was the only way to travel and trade.
Traditionally rigged sailing vessels were common sights to come ashore. All were carrying cargo for trade, soldiers sailing out to battle, colonialists travelling overseas or navigators looking for discoveries in the 'New World'.
Today, Tall Ships are quite a rarity here in the UK, so it's a fantastic opportunity to be able to see some docked up.
The Grade II protected Historic Port of Charlestown is a museum that you can pay a small fee to explore the old granite harbour.
You can get up close to the ships and there are a few notice boards about what they were used for.
Unfortunately, when I arrived the port was shut for filming (eek!), but you can still see the ships from the top of the harbour if you wanted to see their sails!
2. Explore Charlestown Harbour
Just a little further from the Historic Port & Tall Ships, one of the best things to do in Charlestown is to visit the harbour area beside the sea. It has a labyrinth of cobbled streets, docks, slipways and steps.
This area is completely free to explore and you have access to walk all over the harbour walls and even around the cliffside too at low tide!
It's almost otherworldly to go on a little adventure here.
You can sit on the rocky front and take in the views of the ocean (around sunset is incredible), or feel the sea breeze on your face.
This part of the village does get really crowded on busy days or in summer.
So if you want to avoid some of the bigger crowds, I'd arrive early in the day or later in the evening around sunset.
3. Book the Old Harbourmaster's office!
An iconic part of the shoreline of Charlestown is the quirky looking hut that sits on the edge by the sea.
This eight-sided building used to be the Old Harbourmaster's Office built sometime in the 18th century.
The position would allow him to see ships sailing into the harbour, call out if there was any danger and of course, charge them their landing fees.
I did wonder what the building was used for now as it had blinds pulled down over the windows.
Later, I found out that this is now used as a beach hut that you can rent for the day!
So, whether it's sunny and you wanted a retreat on the shore, or hideaway during a storm with a good book, it's available for hire.
The hut has been fully kitted out with chairs, a desk and a counter inside to make food and drinks.
This cute abode will cost you around £40 for half a day or £80 for the whole day! Click here to book.
4. Stroll along Charlestown beach & find a smuggler's cave!
Another free attraction in Charlestown is the gorgeous stretch of shingled shoreline underneath the harbour front that is otherwise known as Charlestown Beach.
When the tide is low, you can stroll along the shore and get just a bit closer to the incredible cliffs that Charlestown is perched on.
It isn't white sands, but that doesn't stop people from sunbathing by the ocean on a sunny day and if you really go exploring you can find all sorts of hidden tunnels and caves!
Smuggling was big business in the 18th century with the introduction of huge tax levies from the crown. Some imported alcohol, like Brandy, would see increases of up to 250%!
So, many got into the habit of looting wrecked ships that came ashore.
Some were known as Wreckers who would purposely guide ships onto the shore with a false light. They would smuggle the cargo into caves, secret tunnels and pubs and then move it on for trade.
Charlestown Beach has a cave and it is thought that this was used for smuggling goods.
There are also a number of tunnels that run from the shoreline to the harbour. These could have been used to avoid the authorities and smuggle the cargo.
Make sure you have a look around to see what you find. If you did want to learn more about smuggling in Cornwall you can check out the Smuggler's museum in the Jamaica Inn nearby.
5. Walk out on the South West Coast Path
The South West Coast Path is a huge 630 mile National Trail that takes you over the coasts of Somerset, Devon, Cornwall and Dorset. It's thought to be one of the most beautiful walking trails in the world.
Completing it would take months but you can easily experience small slices along the coastline here in Cornwall.
These walks really make the most of some of the views you can get from the wild headlands.
Charlestown has access to the South West Coast path and a popular walk is towards Mevagissey.
This scenic trail over the cliffs will take you towards Pentewan Village, Black Head and Porthpean. It's said to be a tiring walk but the reward is the epic views along the way!
You can find out more information on this walk here
6. Find treasure at the Shipwreck Museum
The Shipwreck Treasure Museum in Charlestown is a really popular stop for most people who visit.
This exhibition aims to shed a light on life at sea, with stories of perils, shipwrecks and what lies beneath the depths.
Their Aladdin's cave has over 8,000 items recovered from 150 shipwrecks in Cornwall over the centuries. It really is like a pirate's chest of gold bullion, ingots, coins and cannon balls!
Also after your visit, you can explore more of the secret tunnels that are buried deep beneath Charlestown and what they were used for!
The museum is £6 per adult and £4 a child. Opening times vary throughout the year. Check here for details.
7. Check out the independent Charlestown art galleries
This quaint village has been inspiring artists, painters and novelists here for centuries. So, it makes sense that there are some galleries in the area with works from local artisans for sale.
Charlestown gallery has a diverse range of paintings from local artists as well as pottery, glass and ceramics, prints, jewellery and even crafts for kiddies to take home! There is a lot that you can find inside here and they make great pieces.
Cscape Art is set in The Old Workshop of Charlestown. It's both an art gallery and studio of artist Sarah Blakey, and photographer Mick Blakey.
Together, they have a fantastic range of works inspired by the local area and you can browse or purchase their artwork and prints!
8. Have local pint at the Pier House
Since Charlestown has been a harbour, there have been inn's set up on the shore for thirsty sailors. Also, these acted as smuggling trade hubs!
The Pier House used to be called the Charlestown Hotel and was built in 1794 as two houses.
This cosy popular restaurant and bar that overlooks the coastline are owned by the St Austell Brewery. It's a fantastic spot to have a pint overlooking the harbour or have some dinner.
If you're looking for more Charlestown pubs, the Rashleigh Arms is a great one that's located a little higher up in the village built-in 1851.
We stopped here for a Sunday Carvery which was extremely popular with locals and it was delicious.
9. Purchase some pottery in the Craft Kiln
Years ago, the precious China Clay that was found in the pits of Saint Austell was extremely valuable and brought in a lot of wealth and trade to the area.
This was until fairly recently with the last china clay ship launching in the year 2000.
True to its roots, there are still plenty of pottery workshops in Charlestown that make handmade and unique goods to take home.
The Old Workshop Charlestown, as well as art galleries, has The Craft Kiln which has a whole range of crafts to buy. From homewares, coasters, mugs, magnets and felts. You can almost get lost on the shelves with a number of fun things!
10. Adore the colourful houses on Quay Road
One of my favourite streets in Charlestown, beyond the harbourfront, was the adorable Quay Road with its row of historic colourful houses.
A lot of these houses are now Grade II listed and have property values that reach half a million pounds or more (!)!
So, my hopes and dreams of someday owning a house here were quickly dashed! But, you can call these places home for a few days as many are now Air B&B's.
Rumour has it that Aidan Turner who starred as Ross Poldark stayed in one of these houses on Quay Road while filming.
11. Have a cocktails in the Longstore
After the sun goes down and you're looking for a seafood restaurant and cocktails, it's well worth checking out The Longstore that is tucked away overlooking the Tall Ships!
As well as having a cosy restaurant with indoor seating, they also have an outdoor terrace for sunny days to relax.
We stopped in here just for some cocktails as a nightcap before heading off home. But, the food that came out of the kitchens looked amazing and almost like works of art.
I was still full from the carvery but finally, our appetites got the better of us so we treated ourselves to some pudding off their menu.
The friendly service, amazing venue and unique tasty offerings make this restaurant somewhere you shouldn't miss.
12. Explore some of your favourite Poldark filming locations!
Poldark is a popular reason for visitors these days, but where exactly are the Poldark filming locations here?!
Well, the ones that you'll recognise from the first season are the Charlestown harbour docks which were filled with fishermen and Ross would ride his horse along the walls and into Truro.
Quay road was the place where Verity sneaks off to see her Captain Blamey.
The Tall Ships featured a lot in the series for various scenes with Ross as well as Charlestown beach playing the isles of Scilly.
Just walking around Charlestown will transport you back in time to the series and you can almost imagine Ross and Demelza here too.
Click here to see more locations on the Poldark trail
The best places to eat in Charlestown Cornwall
If you're feeling peckish or in need of a pick me up, there are plenty of choices in Charlestown.
As well as the Pier House, Rashleigh Arms and the Longstore. The increase in tourism over the years has meant more cute coffee shops, restaurants and snack bars popping up.
Here's a list of some of the best;
The Galley – a small place tucked away here but a hidden gem. It has some sandwiches, homemade cakes and hot and cold drinks to buy for a quick break while exploring or to take away.
Wrecker's – a seafront bistro that overlooks the seafront and the Tall Ships. It serves up a good range on their menu for brunch, lunch, cream teas and seafood supper!
Tallships Creamery – No visit to the seaside would be complete without a stop for ice cream and the Tallships Creamery serves up the best creamy cones and sorbet in town! You can find them in a small cottage beside the wrecked ship at the top of the village.
Where to stay in Charlestown Cornwall
If you did want to stay over in Charlestown, it's a perfect choice.
Not only will you have spectacular views but when the crowds go home for the day, you'll pretty much have the area to yourself!
Pier House Hotel – a historic coaching inn with a prime location overlooking the sea. The old rooms have had a refit and a new lick of paint! There are now 27 rooms to book some with a sea and Tall Ships view. Click here for rates.
Rashleigh Arms – named after Sir Charles Rashleigh, this historic inn was built in 1851. As well as being an award-winning pub, they have 18 boutique rooms to check in just minutes from the harbour front. You have the added benefit of a cosy restaurant and pub with local ales onsite. Click here to book.
Antonias Pearls – If you would rather have a place with a homely feel, Antonias Pearls is a sensitively restored harbourside apartment that overlooks the bay. It provides luxury with absolute privacy with food services and home spa treatments available. Click here to book.
When is the best time to visit Charlestown
Cornwall is one of the busiest places to visit in the UK, especially around the summer months or public holidays.
Accommodation reaches sky-high prices and you'll find most beaches and areas are packed full.
So, if you were looking to visit with fewer crowds and (hopefully) pleasant weather then the shoulder months of March, April, May or June are best. Also in the autumn around September.
This is the UK and the weather can never be guaranteed even in summer.
But, as the area is so exposed on the coast, it's best if you can pick a clear day to visit. It isn't much fun in the wind and rain!
Where is Charlestown in Cornwall?
Charlestown is located less than a mile away from the modern town of Saint Austell which is the polar opposite to Charlestown!
You'll find supermarkets, high street stores and all modern conveniences here.
The village is easy to locate when you're in the area and is well signposted with the brown tourist sign. The Charlestown postcode for your SatNav is PL25 3NT.
How to get to Charlestown
The most convenient way to arrive in Charlestown is by car. But, it is possible to get here with public transport options as well.
The nearest train station to Charlestown harbour is Saint Austell. From here, you can then take a bus to Charlestown on the number 21 service (this also runs from Newquay) or take the 24 service heading to Fowey.
Where to park in Charlestown
Parking is always a bit of a challenge in Cornwall, especially with small roadways and the number of crowds that visit.
There is a pay and display Charlestown Car Park with hourly and all-day rates available. You will need to try and get there early to find a space!
Also, the Rashleigh Arms has paid car park behind the property.
We arrived on a Sunday when parking was free on Charlestown Road. There are a few lay-by's to pull into.
These are by permit only and chargeable from 9 am – 6 pm Monday – Saturday. Around those times it's free to park up.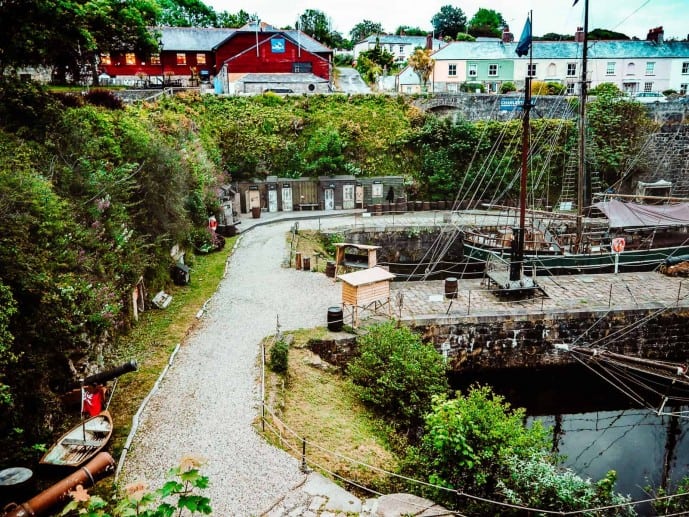 Places to visit near Charlestown
After you've soaked in enough of Charlestown and are ready to move on. What now?
Well, Charlestown is an incredible base to explore more of North Cornwall and the amazing attractions it has to offer;
St Austell Brewery Visitor Centre
Just a few miles down the road in Saint Austell is the famous St Austell Brewery visitor centre.
St Austell Brewery is a huge company and has been serving their popular ales and beers in these parts for the last 150 years. They own many of the pubs in the local area like the Pier House in Charlestown.
Inside the visitor centre, you can take a tour of their brewing process in action and learn all about how they make their beer, ales and ciders! You'll be able to see, smell, feel and taste it!
Afterwards, you can sample some more of their products in Hick's Bar, where they have over 15+ cask and kegged ales.
Lost Gardens of Heligan
Even the name of the Lost Gardens of Heligan sounds exciting!
This mysterious estate all but disappeared after the destruction from World War I and modern developments made over the site.
However, it was rediscovered in 1990 and became one of Europe's largest garden restoration projects.
It now has over 200 acres of gardens to explore, with forest glades, rare flora and fauna, Burma bridges, potting sheds and all more. It's definitely worth a visit.
Click here to read my complete guide for the lost gardens
Eden Project
The Eden Project is another popular attraction in Cornwall that brings the rainforest and desert to English shores.
It claims the title of having one of the largest indoor tropical rainforests in the world.
You can explore their unique biomes' and see crashing waterfalls, take canopy walks in amongst the trees, feel the heat of the desert and climb inside tree houses.
As well as the biomes, there are plenty of outdoor gardens to explore, organic restaurants to eat in, sculpture trails, a huge farm shop and even zip-lining!
It's not the cheapest attraction and if it is raining, it seems like everyone in Cornwall piles inside! You have been warned. See here for more details.
Bodmin Moor
Bodmin Moor is a seriously underrated place to visit away from the busy coast and is full of ancient sites, waterfalls and walks. Plus, this is another Poldark filming site and the location of Nampara.
You can go on scenic walks in the woodlands, find cascading waterfalls, stroll around clear water lakes, explore ancient standing stones and rock formations, or climb inside Neolithic dolmen chambers!
Bodmin Moor is also famous for being haunted by many ghosts but none so famous as the Jamaica Inn a notorious Smuggler's Pub.
If you wanted to gain an insight into smuggling like in Poldark, you can visit their museum all about it.
Plus, they have a great range of Poldark souvenirs including Poldark ales, cider and smuggler's rum!
Click here to see my ultimate list of amazing places on Bodmin Moor!
Read more of my Cornwall guides
St Aubyn Estates Cottages review
How to visit Tregothnan Estate in Cornwall
Things to do in Mousehole Cornwall
How to visit St Michael's Mount in Cornwall
The Museum of Witchcraft in Boscastle
A complete guide to Porthgwarra Cove
Why you must visit Minack Theatre
Secrets of the Admiral Benbow Inn
Where is Driftmark filmed in House of the Dragon
How to visit Holywell Bay from House of the Dragon
Magical things to do in Kynance Cove
Save these things to do in Charlestown for later!