If you're looking for some unique things to do in Chefchaouen, you've come to the right place. Ever since I have seen photos of Chefchaouen, the Blue Pearl of Morocco, I have wanted to book a ticket to visit!
What could be prettier than a city that has its walls completely licked in blue paint?
Although I have visited the blue city in Jodhpur, India, it doesn't compare to the likes of Chefchaouen.
Getting lost in the Medina, finding hidden alleyways and streets all decorated in bright colours and (to my surprise) the beautiful mountain scenery that surrounded the city, all made for one of the prettiest cities I think I've visited in my entire life.
Chefchaouen has a relatively quiet, friendly and peaceful vibe compared to the touristic neighbours of Marrakesh and Fes.
It's more laid back, so you can wander freely and just enjoy your surroundings here.
There's not so much hassle or hard selling and I never once felt unsafe here as a solo female traveller, even at night.
Although the blue city is obviously the main draw, there's more to this quaint place than just taking pictures of the blue houses which I don't think many people talk about.
You can go trekking in the mountains, relax in the main square and listen to the buskers, have orange juice sitting on a waterfall and even see a Cannabis plantation or two (lol, more on that later).
So, I've compiled a list of fun and unique things to do in Chefchaouen. Are you ready? Here we go!
How to travel to Chefchaouen
There's no airport in Chefchaouen, so you will either need to fly into the likes of Tangier, Fes, or Rabat and arrive in the blue city from there.
I personally flew into Fes, spent a few days there and then made my way over to the Chefchaouen via the CTM bus.
It is possible to grab a taxi from Fes or Tangier or even from Marrakesh to reach the blue city but I suggest hiring a reputable driver from one of the transport offices in town.
Driving in Morocco can be quite an adventure and you definitely don't want to hire somebody unsafe. Saying this, the roads are pretty good quality so you shouldn't have much difficulty. The cost of a private taxi varies but most of the quotes I got were averaging around £50 one way.
Personally, I went with the CTM bus to Chefchaouen from Fes which is the most popular option. It's a plush coach with air conditioning that comes at an affordable price.
Although it does say online it will take international card payments, I couldn't process mine. The price of the bus ticket is 75MAD for a one-way ticket (approx £6) and it's a reliable service which takes around 4 hours.
You won't be the only one wanting a ticket though, especially in peak tourist season, so make sure you book your ticket as far in advance as possible. I managed to score the last ticket heading there the day before which was lucky!
When you reach the bus station, you will need to check-in for your journey and pay an extra 5MAD to store luggage inside the coach.
Where to stay in Chefchaouen
Chefchaouen is full of beautiful, guest houses and hotels, but don't expect 5* luxury! I'd say that for the most part, Moroccan Riad's and guesthouses are clean and so you really can't go wrong. But, location is definitely key. You can stay in the Medina itself, but you may find it noisy or base yourself on the outskirts and walk inside each day.
I personally stayed at Hotel Tedar which was a new, clean and comfortable place just outside the Medina. The views from the window were stunning of the Spanish mosque, the mountains and beyond. I loved waking up and taking breakfast with the wonderful views.
Alternative places to stay are Lina Riad & Spa and Dar Baibou. Chefchaouen is an extremely popular tourist destination and so I would recommend booking as far in advance as possible.
These are the top things to do in Chefchaouen
1. Pay to pose in front of someone's picturesque house
Yes, my dear friends, it's true. Those pretty curated scenes in the squares of Instagram aren't just here in Chefchaouen for you to stumble upon. This Insta-famous location is actually someone's house and their porch is total goals.
You will have to pay to pose but as it's only 5MAD (75p) it won't break the bank and rightly so. I mean, if I had a porch this pretty I would be charging people too!
You may be queuing for your shot, but you can take as long as you want inside when it's your turn. Beyond using it for your camera roll, make sure you chat to the owners as well. They're super friendly.
It's open from 9 am-5 pm but to avoid the harsh lighting, I would come in later in the afternoon.
2. Get really lost in the blue Medina
This will definitely be a Medina you won't mind getting lost in as every street is like something out of a postcard. It's a relatively small souk so before you know it you will be able to find your way around quite well.
The blue streets, mixed with the colourful plant pots, cute boutiques, bazaars, cafés and restaurants will make you swoon and you may not want to leave.
If you do get completely lost, just ask a local to help. Contrary to Fes and Marrakesh, people aren't always after your money and will be more than happy to help you.
So, get lost! You never know what's waiting around the corner.
3. Queue for a photo in the Instagram hotspots
Personally, I was here just after sunrise in the blue city to shoot photographs but even then, I wasn't the only one.
But, the earlier you get here the less you have to queue and you can really capture the place without the tour groups.
The above spot is located in Calle Sidi Buchuka and the steps below are just down the way from that. These are the busiest spots in the whole city, you won't have to pay, but you will have to queue for photos most of the time. It's so worth it!
4. Meet all the cute kittens and cats
There were so many cute cats in Morocco! But, I must admit seeing them in the blue city was really something special. There were also these really cute kittens that would follow me around and I so wanted to take one home.
Their little mews and big eyes were enough to make me become a cat lady for the rest of my life.
On a serious note, however, be really careful around undomesticated cats. Recently, a British tourist was bitten by a cat that had rabies here and died.
You can only contract rabies by a bite (if the saliva goes into your bloodstream) so scratches won't be as much of a risk.
But, if you get bitten by a cat/dog here, go immediately to the hospital even if they look clean etc. Having a rabies jab doesn't immunise you against the virus, it just gives you more time to seek a vaccine. Better to be safe than sorry. Just my two cents.
5. Buy some (admittedly touristy) souvenirs
I absolutely loved shopping in Chefchaouen. It's not the cheapest by any means and a lot of the products are imported from Fes, but the experience is unparalleled.
Textiles, rugs, straw bags and hats, leather stools and slippers, dresses, blankets, artwork, handmade crafts are all here to purchase at a reasonable price.
You can always buy the tourist souvenirs as well, my personal faves were the magnets which were shaped like a Moroccan slipper and the blue doors with each one had a picture of a different part of Chefchaouen. It's the little things..
6. Take in the views from the Kasbah
Located in the middle of the Medina in the main square is the Kasbah, which used to be a working prison but now is a converted art gallery and museum.
As you walk into the fort, you'll find a beautiful oasis-like garden where you can relax. It's not a cheap ticket at 60MAD (£5ish) and the museum is nothing to write home about but the views are worth their weight in gold from the huge watchtower.
The whole way around here I had Rock the Casbah by The Clash in my head haha.
7. Watch the buskers play awesome music in the evenings
At night, most tourists gather around the main square for a homemade Tagine or a mint tea before they head back to their hotels for the evening.
But, one of the things that made this square really special was the buskers who play here each night. You'll be singing along with the crowd and dancing before you know it…
8. Climb up to the Spanish mosque for sunset
This is without a doubt the best viewpoint of the blue city for sunset and it's located around a 15-minute walk from the medina as you walk past the waterfall.
It's quite an easy uphill hike but in the heat, it can be quite uncomfortable so hiking it in the middle of the day wouldn't be fun.
It's FREE to visit and watch but, you will not be alone, as pretty much all the tourists visiting Chefchaouen will be up here eagerly awaiting the sun to set. Sunrise will most definitely be quieter and the light would be better to capture those pretty blue houses.
Top tip: the best photo points are actually located on the walk up here as opposed to the viewpoint itself. Plus, you'll pretty much have all the photographers/tripods in your photos. I decided to walk to the side and grab the view from a different perspective to avoid the crowds.
9. Drink fresh orange juice on a waterfall
So, this was something I had never done before; drinking orange juice, on a waterfall. Yes, I'm totally in!
When I say waterfall, I'd like to manage your expectations a little. This isn't Niagra falls by any means but it is a beautiful little falls that trickle downstream and is a wonderful respite from the searing heat.
Locals and tourists come here for a spot of lunch or fresh juice. The breeze is so refreshing and you really can't beat the feeling of dipping your feet into the cold water after a long day of getting lost in the souks.
A juice here will cost you around 10MAD (£1) so it's a super cheap and fun thing to do that's quite unique. I mean how many times can you say you've eaten dinner and sipped juice on a waterfall?
10. Or.. just drink orange or fruit juice from the stands
The fresh juices here were incredible and super cheap! Look out for the fresh juice stalls dotted around, they will prepare you one of the tastiest drinks.
My personal favourite is orange but they will do you a variety of flavours including strawberry, watermelon, pomegranate, pineapple and all sorts.
A juice typically cost around 10MAD (80p) so it won't burn a hole in your wallet and they are so healthy!
11. Hike up to Jebel el-Kelaä
I didn't personally do this hike but my friend Alan that I met while was here did and it looked incredible. It's one of the highest summits in the area at 1616 m and it will take a whole day to complete as it's 20km and mostly uphill. The views definitely look rewarding from the top!
Alan did this self-guided and he said he had no problems finding his way there and back as he followed this informative blog post with pictures by the Uneven Tenor.
But, if you're going to do this hike alone, make sure someone or your guesthouse owner knows you're heading here as you won't have any phone signal.
I would take plenty of food and water with you for the trek and don't even contemplate doing this if the weather is bad. Most of this hike doesn't follow any sort of trail and you could quite easily get lost if there's bad visibility.
Alternatively, there are plenty of guided treks around the Rif mountains and the Akchour waterfalls. Quotes from my guesthouse were around 400MAD (£30) for a guided trek without the transfers.
12. Eat tagine in the market square
My favourite part of the evening was the buzz of the main square. But, better than that was all the tasty food stalls. You will find many restaurants that provide the regular Tagine set menu kind of deal.
Where you can get one, two or three courses for a set price. Usually, a two-course dinner here would be around 60MAD (£5) and that would be a starter, main and dessert with a tea/coffee to finish.
Tagine is a Moroccan speciality and you will definitely overdose on them. They usually contain meat, potatoes and veg sizzling in their juices on a searing hot plate. Bon-appetit!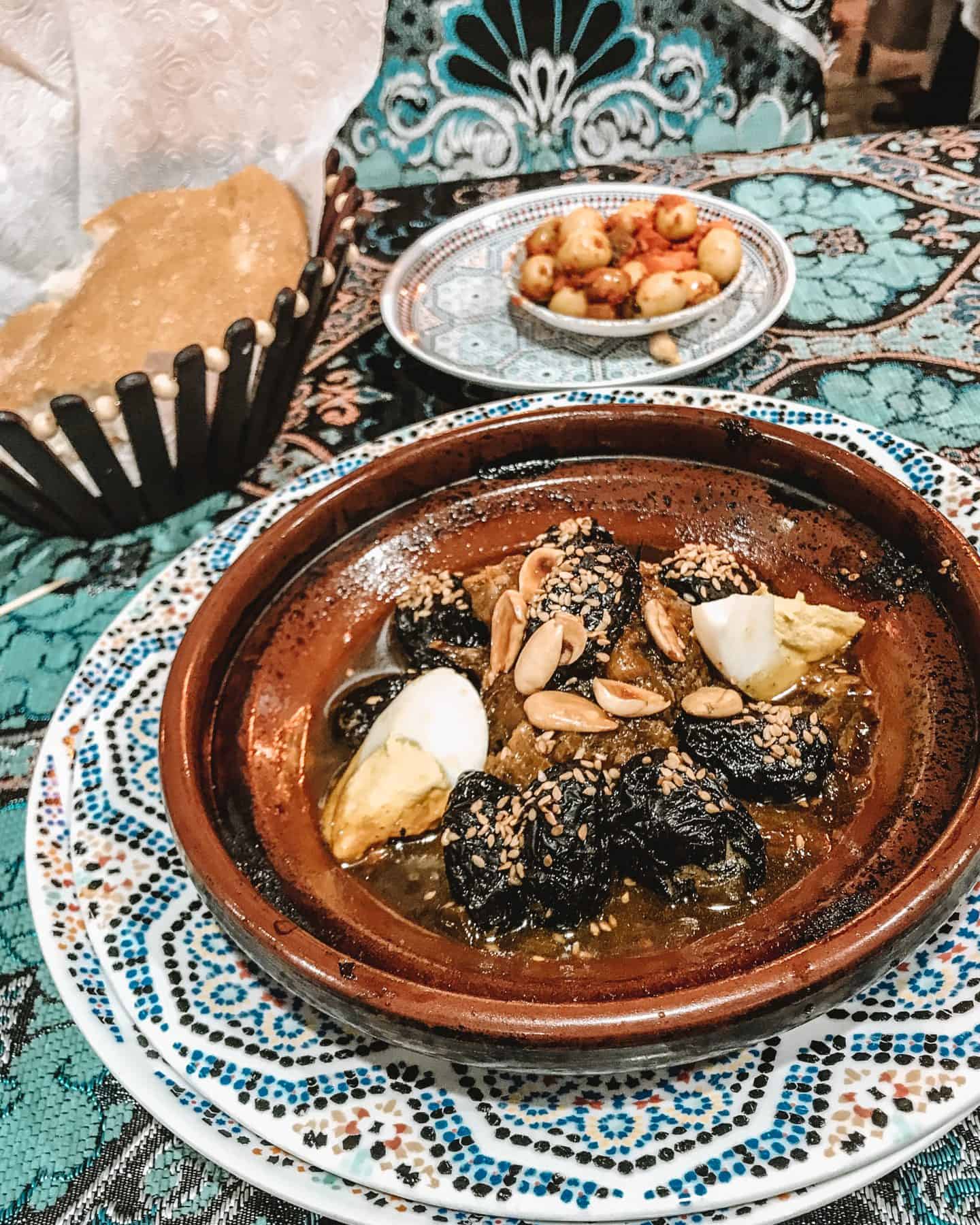 13. Admire the unique architecture
Chefchaouen had some of the most beautiful Moroccan architecture and so it's worth exploring the streets to see what you can find.
One of the most interesting houses I came across was this house that was almost standalone and literally looked like something straight out of my Pinterest board haha.
To get here? I showed the photo to two ladies who were passing by and they went out of their way to show me this place. I offered them money but they wanted nothing in return. Super kind!
It's pretty stuck in the Medina and I can't remember the exact location. But, it's worth the hunt to find it!
14. Take a walk along the river
If you head down from the waterfall area towards the river, you will immerse yourself in quite a cute stroll.
The river has all sorts of brooks, bridges and artwork to keep you entertained on your way down. It's not an extensive walk by any means but it's pretty in the sunshine.
There's plenty of cafés and stalls selling beautiful paintings and artwork here too. Go explore!
15. Visit a cannabis plantation
Did you know that 50% of the world's hash production is from Morocco? No? Neither did I! But it seemed a lot of the stoners that I saw visiting here must have done. It's like a pilgrimage for these guys.
It's not legal in Morocco (yet) but thousands of people work the hashish and marijuana trade and you will definitely be offered some here at some point.
If you are going to be hiking around the Rif mountains, you'll come across plenty of Cannabis plantations to take a peek at.
The locals call the weed here 'Kif' and it's supposed to be pretty cheap. Although illegal, many people around the area cultivate and smoke it. So, if you're here to enjoy some 'Kif in the Rif' you should be okay. Just exercise normal caution like you would in any country.
Have fun in the Blue Pearl of Morocco!
Personally, I loved every part of Chefchaouen. The friendly vibe, the beautiful vibrant colours, the blue souk and the peace and quiet of the mountains made it a fascinating adventure.
I would highly recommend visiting if you find yourself in Morocco and allow at least a few days to explore, shop and discover it for yourself!
Read my in-depth Chefchaouen travel guide next!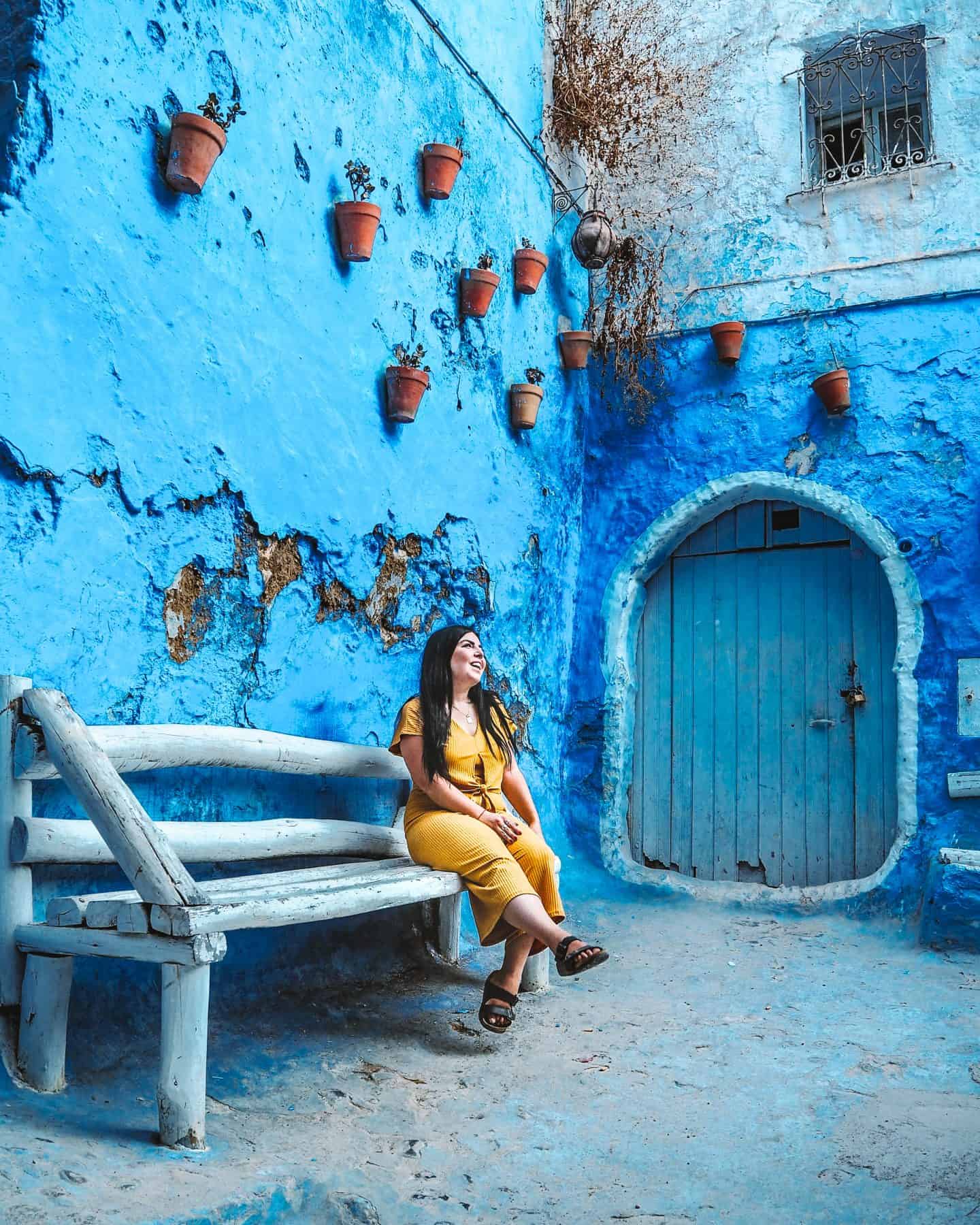 Heading to Morocco? Read more of my articles!
The ultimate 2 weeks in Morocco itinerary
The top things I wish I knew before travelling to Morocco
What to wear in Morocco as a woman
Solo female travel tips for Morocco
Trying a Camel Burger in Morocco
Visiting the Golden Doors of Fez Royal Palace
Is Riad Fes worth the price tag?
Taking a Sahara Desert Tour from Marrakesh
Save these things to do in Chefchaouen for later!