Many people overlook Corsham on a visit to the Cotswolds but I would highly recommend that you don't.
Although it is a small place, there are plenty of amazing things to do in Corsham that make it worth visiting.
Not only is this charming town steeped in history, there lots of independent shops, markets, parks, and culture in store! It's also a Poldark filming location where its colourful High Street was transformed into 18th-century Truro.
Here's a complete guide on why you must visit with all the very best things to do in Corsham Cotswolds!
The history of Corsham
Corsham has had a history since the Saxon era and it's name derives from Cosa's hām. The "ham" bit refers to the Old English word for homestead, or village!
It was a notable settlement of Saxon kings and its thought that Ethelred the Unready held a seat at Corsham Court. Some say it became known as Corsham Regis at that time.
Later, it became a Norman settlement during the reign of William the Conqueror and it was mentioned in the Domesday Books as Cosseham in 1086.
In the medieval era, the land, forest, and court estate were owned by English royal families and notable queens like Catherine of Aragorn and Katherine Parr lived here during the Tudor period.
The town made most of its money through the wool trade and Bath Stone. Later, it would see an influx of Flemish Weaver's who settled here fleeing from religious persecution.
After Corsham Court was passed out of the crown during Queen Elizabeth I's reign, the Methuen Family bought the estate. It is still their official family seat and also a Bath Spa University campus.
Today, Corsham is a seemingly sleepy town in Wiltshire, but don't let that fool you. This beautiful place packs a punch with history and culture!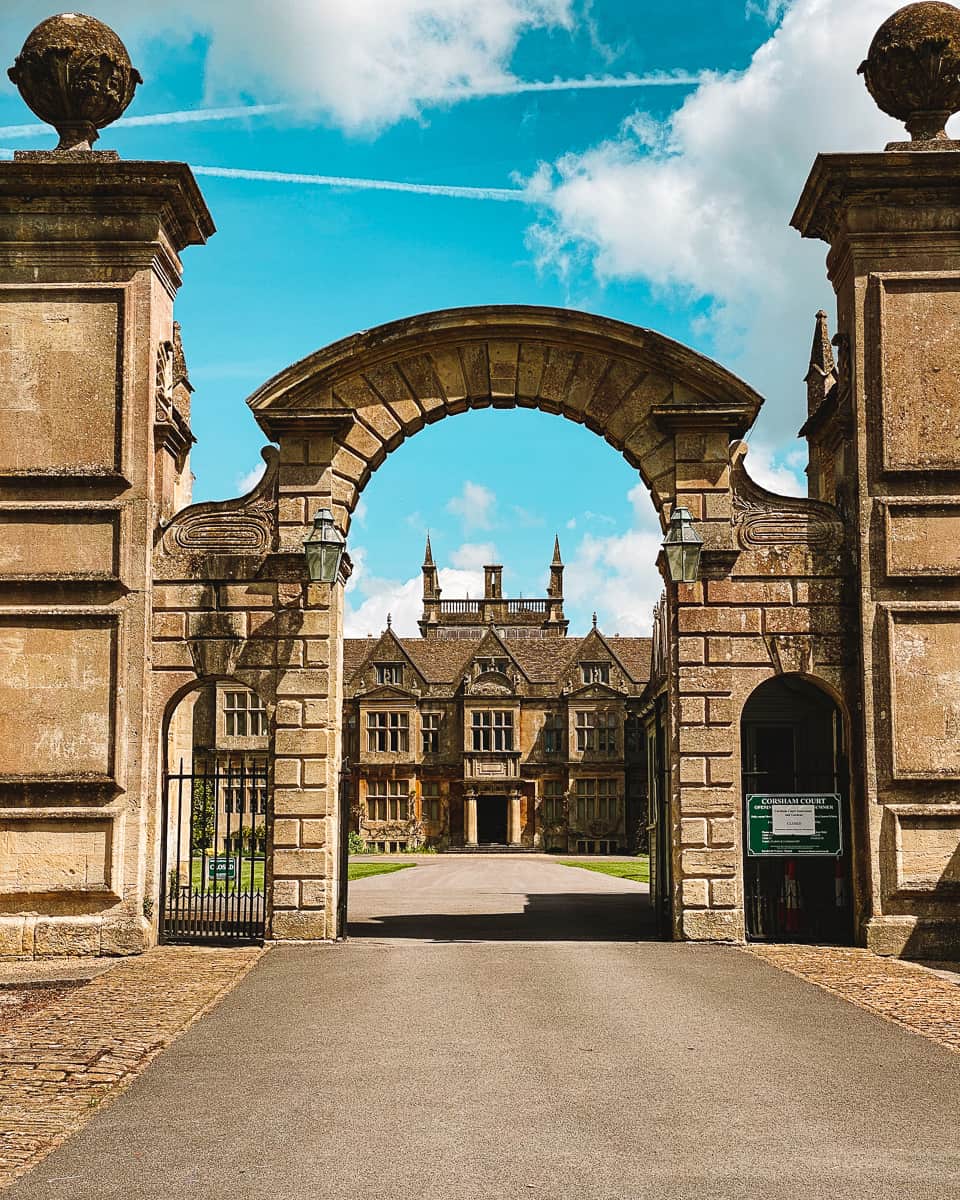 Best things to do in Corsham
So, what is there to do in this quintessentially English town nowadays? Well, there's actually quite a lot!
It's often overlooked for the bigger towns of the Cotswolds but this idyllic place is like walking through a postcard.
It's frequently been voted as one of the best towns to live in the South West. Here's are all the lovely things to do in Corsham!
1. Admire the amazing Corsham Court
Corsham Court is truly the jewel in this charming town's crown. It was originally a royal manor in the Saxon era and a seat of Ethelred the Unready.
Later, William the Conqueror seized the land and it the manor was then passed down through royal families, specifically to the Queen's of England. In Henry VIII's time, both his wives Catherine of Aragon and Katherine Parr lived here.
Eventually, it passed out of the crown during Queen Elizabeth I's reign and the land was later purchased by the Methuen family in 1745. The building we see today was designed by Capability Brown.
Nowadays, the court is Grade I listed and is still privately owned by James Methuen-Campbell.
Although it remains the official seat of the Methuen family today, some of the building is allocated as a Bath Spa University campus.
After Bath Spa had its premises destroyed during World War II, part of the manor was gifted to the university in 1946 and it still remains a campus today.
As a previous university student, I was lucky enough to visit here as part of my academic year when we were working on a short film!
It's absolutely gorgeous inside and has an incredible garden full of peacocks on the grounds.
When is Corsham Court open for visitors?
Although much of Corsham Court is closed off to visitors during the winter, the house does open for tours on weekends. It's definitely one of the best things to do in Corsham.
You can visit in winter from early October to mid March for tours from 2pm to 4.30pm on Saturdays and Sundays.
Or, if you visit Corsham in summer the house is open for tours daily except Mondays and Fridays. You can visit between 2pm and 5.30pm.
Adult tickets cost £10 and children's tickets are £5. There are guided tours available. If you want to visit the Breakfast Room and Library there will be an additional charge of £2 per person.
2. Visit St Bartholomew's Church
Nearby to Corsham Court is the pretty St Batholomews' Church. It's been a place of worship since the Saxon era before the Norman conquest.
In the 12th-century, William the Conqueror granted the land to the Abbey of Caen. The church we see today dates back to this era.
Although it still retains many of its original features, Thomas Tropenell of Great Chalfield made many improvements to the church in 1465. He was laid to rest here and has a tomb inside. You'll also find many Victorian restorations that were made by the Methuen family.
It's well worth popping in to see the chapel, nave, stained glass windows, and it's packed full of ancient tombs! So, I would definitely take the chance if it's open.
If the church is closed, a visit to the churchyard and gardens around it is still lovely.
3. Watch out for peacocks!
Did you know that Corsham is famous for its peacocks? They roam free here around the town and can often be spotted on the High Street.
Although they make a home on the grounds of Corsham Court, they can often be seen admiring themselves in shop windows!
Every time I visit Corsham, I'm always greeted by peacocks walking around and they come to say hello.
One time, a peacock flew over my head and its tail of feathers hit me in the eye! So, let's just say they aren't shy in the slightest. If you're lucky, you may be able to spot one on your visit!
4. Visit Corsham Town Hall, Poldark filming location!
It may surprise you to know that not all of Poldark was filmed in Cornwall! In fact, there are many places in Wiltshire, Somerset and the South West that featured in the show.
In the first series, the production team used the area around the Corsham Town Hall as the busy streets of Truro.
This is where Ross Poldark comes to the busy harbour and first sees Demelza fighting for her dog! Later, we see Demelza shopping for her cape here too.
They completely transformed the area, placing gravel over the roads. Also, many signs were made specifically for the show like 'The Red Lion' pub. This sign was placed outside the Flemish Weaver.
Of course, they had to use some CGI to place tall ships behind the Town Hall to make it look like a port. But, it was fabulously done and you really wouldn't think that it was filmed inland at all!
What else has been filmed at Corsham? Fans of the ITV Series The Suspicions of Mr. Whicher will also recognise Corsham as the town of Great Marsden in the fourth episode of the series 'The Ties that Bind'!
5. Plan a trip to the Corsham markets
As well as the High Street full of independent shops, Corsham is known for its bustling weekly markets. So, it's best to plan your visit around one!
There is the main market that is set up on the High Street of Corsham every Tuesday from 8 am to 3 pm. You'll find lots of fresh produce like fruit and veg, dairy products and handicrafts, bags, and gifts too!
There is also a Farmers Market that runs every third Saturday of the month and sees local farmers descend here with their produce and wares.
There is also a French and Italian market that happens monthly and you'll find lots of cheese, wines, olive oils, fresh bread, and drinking chocolate being sold.
Or, you can attend the ever-popular Corsham Creative Market which has over 40 stalls full of local artisans selling handicrafts.
It takes place once a month and you'll find wood furniture, crystals, homemade soy candles, and much more! It's one of the best things to do in Corsham.
6. Walk along the Flemish Weaver Cottages
At the top of the High Street beyond the Town Hall, you'll find a gorgeous row of historic cottages. These are locally known as the Flemish Weavers Cottages!
In the 14th-Century, the town made income from the wool trade. Much of their money was made locally in England but some of the wool was exported to Flanders.
Edward III was quite concerned that the money was being absorbed abroad and not in his coffers and so he banned the import of woollen goods.
The king then managed to secure Flemish weavers to travel overseas to work in England and many settled here in the Cotswolds.
The Flemish Weavers of Corsham grew in the 17th-century due to religious persecution. So, a row of cottages was made in the High Street for them.
Today, they are a gorgeous row of cottages on a quaint cobbled street! It's well worth seeing.
Over the road, you'll see the Grade II listed Mayo Fountain which was built as a memorial for C.T. Mayo of Ivy House in 1896.
7. Gawp at all the historic buildings!
As well as the Flemish Cottages, you'll probably notice that Corsham is littered with quirky, listed and historic buildings!
Everywhere you turn and around every corner you'll see gorgeous ancient houses in all different shapes and sizes.
The houses leading towards Corsham Court are particularly beautiful and date back to the 17th and 18th century.
You'll also see Elizabethan architecture on High Street although many of these ancient residences are now shops and cafés!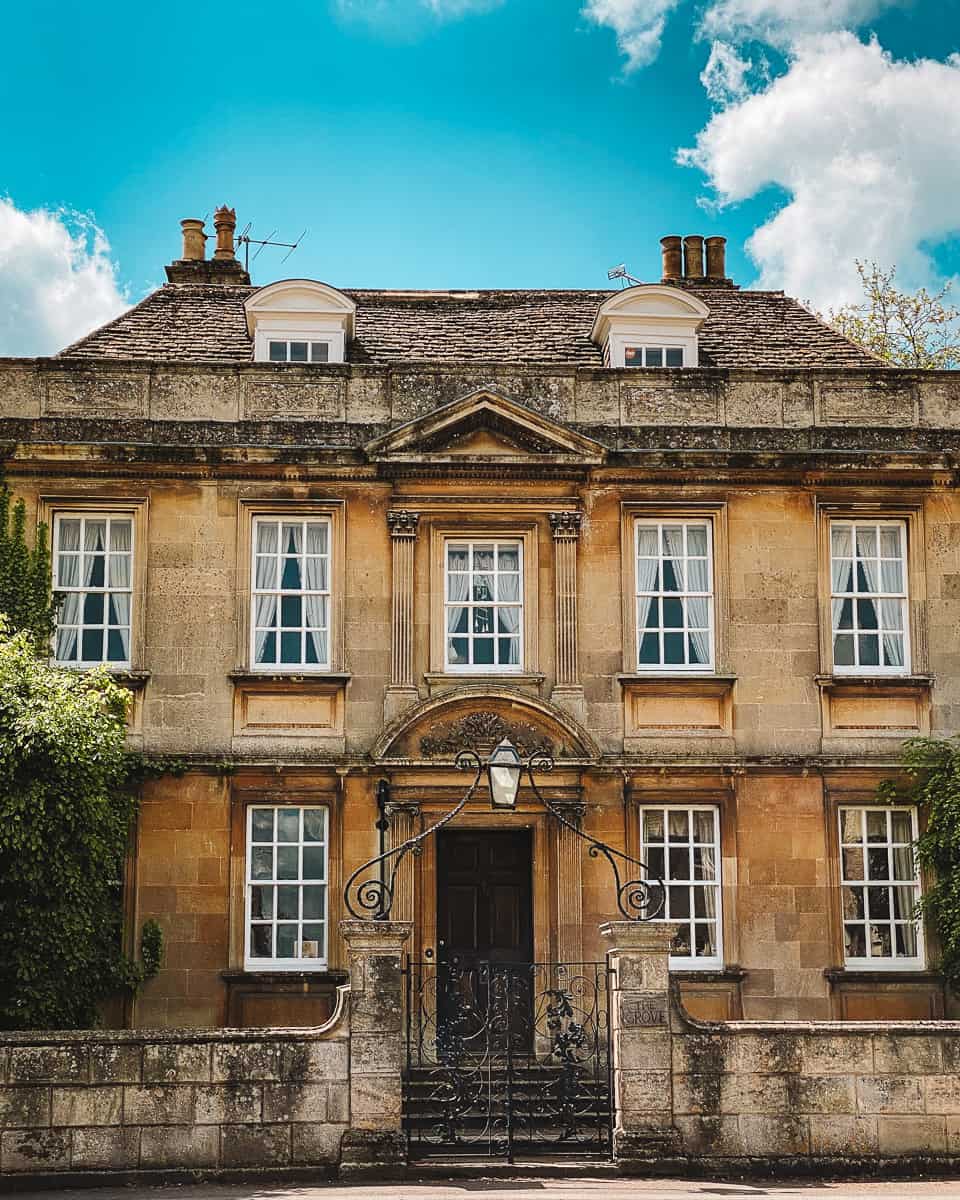 8. Have a pint in the Flemish Weaver or Royal Oak
There are quite a few Corsham pubs worth mentioning but two of my favourites are the Flemish Weaver and the Royal Oak.
The Flemish Weaver is sandwiched between a gorgeous peach building and the Corsham Town Hall so it's hard to miss!
It has been an Ale House in Corsham since the 17th-century and it's name comes from the Flemish Weavers who worked in the town.
It's recently had an extensive refurbishment and serves up a wide selection of local ales, beers, and ciders. Plus, it has a hearty menu of warm meals!
The Royal Oak is another historic pub that I loved popping into when I visited Corsham in my Uni days.
The building took its name in 1899 and is named after the oak tree that King Charles II used to hide from the Roundheads following the Battle of Worcester in 1651.
It's another fabulous rustic setting with more local ales on offer and they often have live music!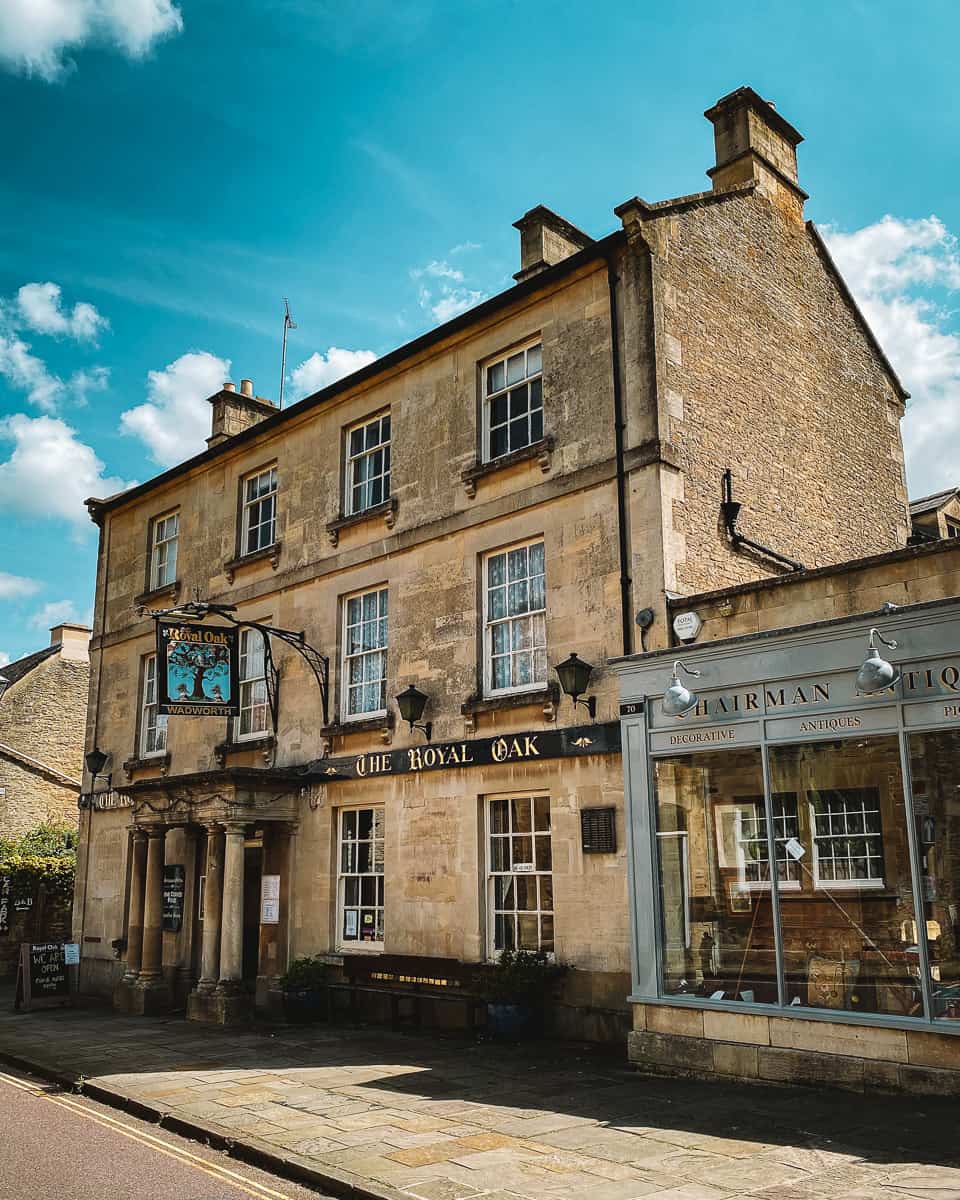 9. Head into one of the many independent Corsham shops
As well as the weekly market, Corsham is full of independent shops to explore! Shopping is definitely one of the things to do in Corsham. You'll find almost anything on their colourful High Street and shopping precincts.
I particularly loved Previous Homewares which was a treasure trove of trinkets and pre-loved decor.
There is also The Corsham Bookshop which sells a lovely variety of genres and Theodora's which sells all sorts of delightful flowers and plants!
You'll also find clothing boutiques, bike shops, organic food stores, bakeries, a Curiosity Shop and more.
10. Have coffee in the Deli at Corsham
If you're looking for a pick me up, there are plenty of coffee houses and cafés in town. But, the one I love to visit is the Deli at Corsham.
It's a delicatessen and coffee shop that serves up fresh foods, cheeses, meats, cakes and pastries.
They have outdoor seating on a sunny day and it's the perfect place to pull up with a coffee and cake and watch the world go by.
If you fancied picking up lunch, the Deli at Corsham also serve up an amazing range of homemade sandwiches to munch on as well!
11. Take a walk in Corsham Park
Although much of Corsham Court is closed off the public, the grounds around the estate are open all hours via a permissive pathway.
Directly opposite Corsham Court is a shaded walk along a bridleway. It's lovely on a summers day to cool down as the trees sigh over the path.
You can then enter through the kissing gate to Corsham Park! It's a gorgeous green field area where you'll find lots of trees and nature to explore. It's one of the most scenic things to do in Corsham.
Part of this park is private land and you have permission to walk around here but you are asked to keep to the designated pathways! Part of it is also public land where you are free to roam but it's not easy to see the borderlines!
There are many walks you can do here and one of the most popular is a trip to the scenic Corsham Court Lake.
Dogs are permitted off leads in sections of this park but must be put back on a lead when in areas where sheep are grazing.
12. Visit the Corsham Almshouses (Hungerford Almshouses)
At the very end of the Corsham Estate bridleway is the gorgeous set of Almshouses that are locally known as the Hungerford Almshouses.
They were built in 1668 for Lady Margaret Hungerford of Corsham Court and it was founded to provide homes for six poor people and the education for ten children.
It's also known as Lady Margaret Hungerford Almshouses & Schoolroom and inside are a series of almshouses, a schoolroom, warden's house and stables.
They are now Grade I listed but still retain all of their 17th-century charm and character! It's easily one of the best things to do in Corsham.
Tours of the Almshouses are available in the summer from April – September on Wednesdays, Fridays and Saturdays from 1.30pm – 4pm. They cost £4 an adult and £1 for children.
Touring days are limited to Saturdays in winter and it's completely closed in December and January. See here for more opening times information.
13. Have dinner in the Methuen Arms
Just beyond the grounds of Corsham Court lies the charming Georgian coaching inn of the Methuen Arms.
It get its name from the family who own Corsham Court and they also ended up owning this building in 1799. But, it has had a colourful history before that!
In Tudor times, it was known as Winters Court, and in 1463 it was owned by the 'Nott family'. It was built on the remains of a nunnery.
In the Victorian era, this became a popular coaching inn and had room to house up to 40 horses in its stables.
Today, it's an award-winning pub where you can dine in the Old Scullery surrounded by big timber beams and exposed stone walls.
The Head Chef provides a mouth-watering seasonal menu sourcing local ingredients. So, it makes this place a popular foodie spot!
You can wash down a meal with one of their award winning ales from Butcombe Brewery which is available on tap.
14. Visit The Pounds Arts Centre
The Pounds Arts Centre in Corsham is a community venue and hub in Wiltshire that is run by the Pounds Arts Trust.
It acts as the local art gallery and theatre and is often home to exhibitions and performances from local artists!
As well as live performances, the Pounds Arts Centre also runs the building as a local cinema and often show independent films.
If you were planning on spending a few days here, make sure to check out their What's On page to see if there is something you fancy experiencing. They have events being held all year and tickets are always reasonably priced.
15. Visit Great Chalfield Manor
If you are into your Poldark filming locations, then you must head on over to Great Chalfield Manor next.
Poldark fans will instantly recognise this incredible place as Doctor Enys and Caroline's home of Killewarren!
This charming medieval manor was built in the 15th-century by Thomas Tropenell. Nowadays, it's owned by the National Trust that opens it for visitors!
You can take a guided tour of manor and walk around the romantic planned gardens. You will fall in love with the all the roses that bloom here in summer.
Period drama fans will also recognise this place from The Other Boleyn Girl, Wolf Hall, Tess of the D'Urbervilles, Persuasion, and more recently, The Spanish Princess!
Click here to read my complete guide on the manor
Where is Corsham in Wiltshire & how to get here
Corsham is located in the heart of Wiltshire on the fringes of the Cotswolds.
It's just 10 miles from the city of Bath, and a short drive away from the gorgeous villages of Bradford on Avon, Lacock, and Castle Combe. So, it makes the perfect stop if you were on a South Cotswolds road trip!
It's easiest to drive to Corsham as there is no railway station. But, it is accessible by bus from Bath and Chippenham.
Corsham Parking
There are plenty of places to park in Corhsam and recently they have made all of their public car parks free for the first two hours!
The main car parks are High Street Car Park and Newlands Road Car Park which are central to most of the Corsham attractions.
You'll also find plenty of free off-road parking spaces on Priory Street and Cross Keys Road beyond the Flemish Cottages.
I park here as it's the first things I see when I drive in and there are usually plenty of free spaces.
Where to stay in Corsham
If you're looking for a touch of luxury in Corsham, then I would book a night at none other than the Methuen Arms.
As well as being a popular pub, they have a boutique hotel inside their Georgian coaching inn that has 19 recently refurnished room on offer. They are all tastefully designed and some are family and dog friendly.
You can have breakfast in their award-winning restaurant in the mornings that will set you up for a day of exploring! You'll also be right in the heart of Corsham's attractions.
Read more of my Wiltshire & Cotswolds guides
How to visit Imber, the abandoned ghost village in Wiltshire
How to see the wild Snakes-head Fritillary in Cricklade
Is Castle Combe the prettiest village in England?
All the Harry Potter locations in Lacock and best places to visit
Why you must visit Minster Lovell Hall ruins
A quintessential afternoon tea at Bradford on Avon
Visiting King Alfred's Tower in Stourhead
The Temple of Apollo – Pride and Prejudice filming location
The best things to do in Stow on the Wold
Save the best things to do in Corsham for later!