One of the prettiest and most interesting villages you can visit in the Peak District is Eyam (pronounce eem) which is known as a 'plague village'.
That's because this quaint settlement is most famous for the events that took place here during the Black Death that swept over Europe in the 17th century.
Now, I know that visiting a plague village sounds kind of macabre. But, I promise you that not only is this village incredibly pretty but there are plenty of amazing things to do in Eyam that make it worth a visit.
In fact, Eyam's story is one of courage, survival, and sacrifice and how they protected themselves and others during the 'Great Mortality'.
Here are all the best things to do in Eyam plague village and how this place gained its curious name.
Why is Eyam called a 'plague village'?
In the 17th century, the village of Eyam had around 800 residents who lived and worked as a community.
One summer day in 1665 Alexander Hadfield, who was the village tailor, received some materials from London. His assistant, George Viccars, opened them and shortly later became ill and died.
Eventually, the illness spread to his family and the tailor died too. It became a wild infection that swept through Eyam claiming lives and wreaking havoc.
Eventually, Reverend William Mompesson decided to enact a strict quarantine to prevent the disease from spreading outside of the village.
The Earl of Devonshire, who resided at Chatsworth House, offered to fund the village as long as they kept to their seclusion.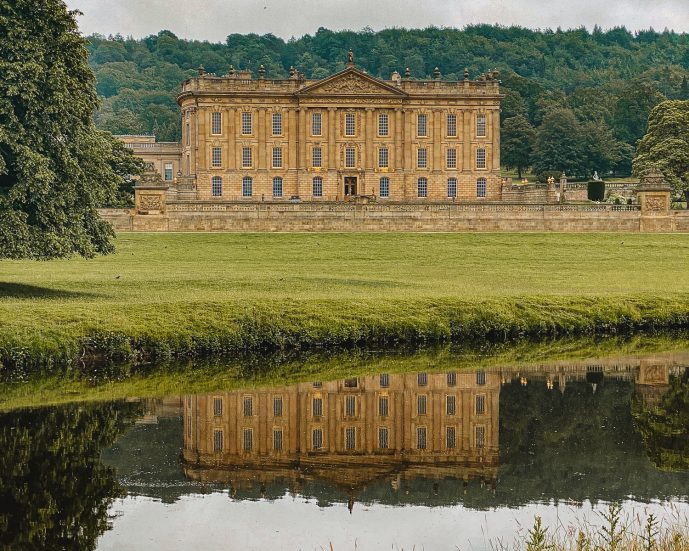 Eyam was then contained and survived on its own for the next 14 months. They decided to rely on themselves and received supplies from outlying villages.
They would meet people from the 'outside world' to collect food and provisions at a boundary stone and Mompesson's Well.
Residents of Eyam would collect the supplies and then drop coins into small holes that were filled with vinegar believing it would disinfect the money.
They even made a choice to bury the dead in their own homes. One resident, Elizabeth Hancock, lost six children and her husband within eight days.
She carried all of her family to their burial site herself and dug an open grave known as the Riley Graves today.
The sacrifice Eyam made did stop the disease from spreading to outside villages (and potentially saved thousands of lives) but at a great cost to their own.
By the end of their quarantine, the plague had claimed 260 lives here, that's just over 30%.
Eyam's story is one of self-sacrifice, great courage, and unimaginable tragedy. But, most importantly, it survived and lives to tell the tale.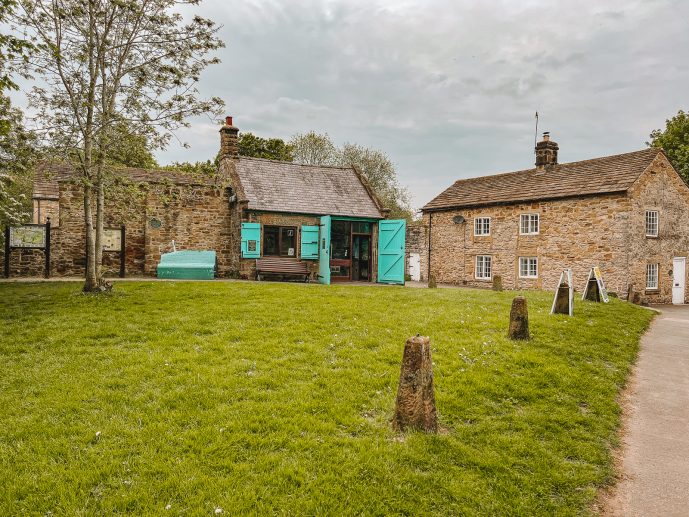 What can you do when you visit Eyam now?
Today, Eyam village has just over 600 residents and there are many reasons why you should visit this amazing place the Peak District.
Naturally, you can learn about their plague story and the events that took place during the Black Death.
I would head to Eyam Museum first if this is what interests you and then there is an entire historic trail you can follow.
But, there are also lots of other awesome things to do in Eyam too. You can go shopping, walking, or sightseeing. Or, why not enjoy some amazing food in their pubs, restaurants, and tearooms?
There are many reasons to visit this quaint Derbyshire village. Here are all the places I would recommend.
Things to do in Eyam Plague Village
1. Eyam Museum
Eyam Museum is located right outside the free car parking area and this is your first stop if you wanted to know more about the plague village. It's one of the best things to do in Eyam.
It's set in a beautiful old building (note the rat on the weathervane & signs) and has many informative exhibits inside.
There is so much more history to Eyam than the Black Death. For example, did you know that Ralph Wain who lived here invented a new way of reproducing designs in silk?
You can find out more inside and it gives you a great context of what you'll see in the village itself.
Opening times are usually from March to October from Tuesday to Sunday. You can visit from 10 am – 4 pm with a last entry of 3.15 pm. Click here to find out more about Eyam Museum.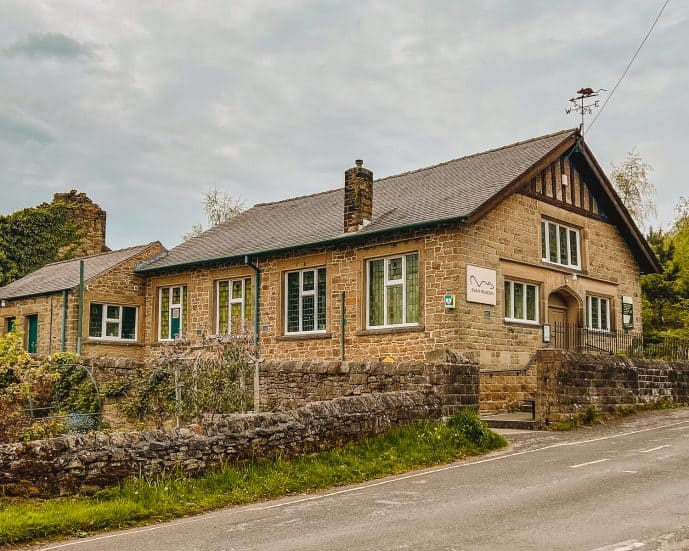 2. Visit the Eyam Plague cottages
After your visit to Eyam Museum, you can then follow the historic trail and visit many of the Plague Cottages.
You'll recognise them from the green plaques out the front. Each one tells you of the people that lived and died here during the Black Death.
One of the most famous is called 'Eyam Plague Cottage' and in the summer it has a beautiful flower garden growing outside.
This is the residence of Mary Hadfield who lived here with her husband Alexander Hadfield who was the tailor who received the fateful threads from London.
Also in the residence was George Viccars who was the first plague victim of Eyam. He died in September 1665.
Next door is Rose Cottage where 9 members of the Thorpe family lived and died in 1665/1666. You'll find much more dotted around the entire village.
Important: As much as it's interesting to explore the plague cottages, remember to respect privacy. These are not museums and are still residences today!
3. Eyam Hall & Craft Centre
Eyam Hall is a historic Jacobean-style house that was built shortly after the Black Death in 1672.
It has been owned by the Wright family for over nine generations and is currently a family home and wedding venue.
You can take a guided tour of the house on certain dates throughout April & October.
However, if you wanted to just take a look around you could opt to visit Eyam Courtyard which is a series of businesses set in the old family farm buildings and stables.
Here, there are lots of restaurants like The Coolstone, The Nook, and Bocconcini Street Food Kitchen.
Also, you can visit Yoga workshops, a craft centre and there is even a Book Barn. Click here for more details.
4. Eyam information centre & stocks
Another great place for information about Eyam plague village would be in the information centre which has bright blue shutters.
Inside, you'll find boards about the village including guided maps and information about the wildlife and walks in the local area.
Depending on what time you arrive, there may not be someone inside. But, it's still filled with information when you explore.
Just outside, you can find the old wooden stocks! These would usually be used for those villagers who committed petty crimes like theft.
Their arms or legs would be locked in the stocks and they would be publicly shamed to teach them a lesson.
Although stocks stopped being used in the 19th century, it makes a great photo opportunity today.
5. Visit the Riley graves and Lydgate graves
As mentioned before, during the Black Death many of the villagers decided to bury their own dead believing it would stop the contagion from spreading to others and on consecrated ground.
Some went as far as taking the bodies away to be buried outside the village on farmland like the Riley graves.
This enclosed space is actually home to the Hancock family who all died of plague. Elizabeth Hancock lost her husband and children in the space of a week and had to bury them here herself.
Another gravesite is the Lydgate Graves. These are the graves of George Darby & his daughter Mary. They were buried by his wife who survived.
The Riley graves are quite isolated and can be found above the village. It's owned and protected by the National Trust.
6. Eyam Church of St Lawrence
Prayer & religion would have been a great comfort during this time of tragedy and so you must visit the historic Church of St Lawrence.
It originally dated back to the 13th century but was reconstructed in 1619 and significantly improved in the 19th century.
During the quarantine, Eyam church was closed and there were no services or funerals held there. All services were moved to the open at Cucklet Church.
Today, you will find a plague register and a plague window inside which honours those who died.
This stained glass window was the work of Victorian artist Christopher Webb. You'll find his signature in the form of a spider web in the bottom corner.
7. See the Revolving Roasting Jack!
Weirdly enough, one of the quirkier things to do in Eyam is see the Revolving Roasting Jack.
Roasting jacks have been a tradition in the UK for centuries and were at the heart of village festivals. Something that still takes place in Eyam today.
This one is a sheep roasting jack and you can look out for when the next festival will be here.
8. Eyam Sculpture Garden
One of the hidden gem things to do in Eyam is visit the Eyam Sculpture Garden in the village.
It's a peaceful space to escape the crowds and you'll find all sorts of modern works of art inside brought together by Hannah Bennett.
The space has pieces by a variety of local artists and many of these are also up for sale.
The opening times are Thursdays & Fridays from 10 am – 3 pm and Saturdays from 11 am – 5 pm. Tickets cost £3 to enter.
9. Go shopping in Eyam
Eyam has a wealth of shops on offer where you can buy some local souvenirs to take home.
They have a Country Store, Church Street Stores, Handmade in Eyam, and Eyam Book Barn.
The Village Green Café is also a great place to buy local food products as well as sipping on a tea/coffee!
10. Eyam Boundary Stone
One of the top things to do in Eyam is to visit the boundary stone at the old border of the village.
This is where the outside villages such as Stoney Middleton used to leave meat, grain, and food packages for those in Eyam that were quarantined.
The residents would collect the packages and leave coins in small holes in the stone that were filled with vinegar.
It was believed that the vinegar would disinfect the money and help stop the spread of the disease.
The walk to the boundary stone is over fields and will take you around 20-30 minutes to reach from Eyam Museum.
But, it's worth the walk as it's an interesting stop to learn about this part of Eyam's history.
11. Mompesson's Well
Another 'plague' stop in Eyam would be to check out Mompesson's Well named after Reverend William Mompesson.
This was another place where outlying villages used to deliver parcels to Eyam and money dipped in vinegar was exchanged.
You can walk to Mompesson's Well from the village but there is also a small lay-by beside the site to park up.
You'll find the well down some steps and there is an information board about the history and its use.
12 . Cucklet Church / Eyam Delf
During the Black Death, Eyam church was closed to stop the spread of the disease and so services were held in Cucklet Church or Eyam Delf.
It's located in a valley outside of the village and is in the form of a limestone cavern. The rector, William Mompesson would hold all services here during the 14-month quarantine.
Today, a Plague Commemoration Service is still held here annually. You can walk to it quite easily from the village in around 10-15 minutes.
You can easily access the plague church from Church Street and walk over a field to Cucklet Delf.
13. Eyam Tea Rooms
If you were looking for a cream tea or a spot of lunch in Eyam then I would recommend visiting the Eyam Tea Rooms.
These cosy tearooms were established in 1912 and you can sit inside surrounded by their delightful decor for a hot drink and a handmade cake.
You'll find hot and cold lunches on the menu as well as ice creams, and other treats. Plus, they have a small gift shop.
Opening times are Wednesday – Saturday from 9.15 pm to around 4 pm. Click here for more information.
14. The Miner's Arms
If you were looking for a place to eat dinner or have a pint, you'll find The Miner's Arms near the village green.
They serve up a traditional menu of pub grub which uses local produce and is freshly made to order.
Although there is a bar, it is recommended that you book your table reservations for lunch and dinner in advance.
It functions as a pub and bed & breakfast and provides a great place to spend the night if you wanted to extend your stay in Eyam. Click here to book.
15. Enjoy an Eyam walk or pilgrimage
After you've checked out all of these things to do in Eyam, you may like to explore more of the area with an extended walk.
There are many walking routes you can take from Eyam including the Riley Graves, Stoney Middleton, the Boundary Stone, Froggatt, and Foolow village.
Or, why not follow one of the 'Eyam pilgrimages'? The Peak Pilgrimage takes you from Eyam to Ilam (another village devastated by the plague) and see many churches and attractions along the way.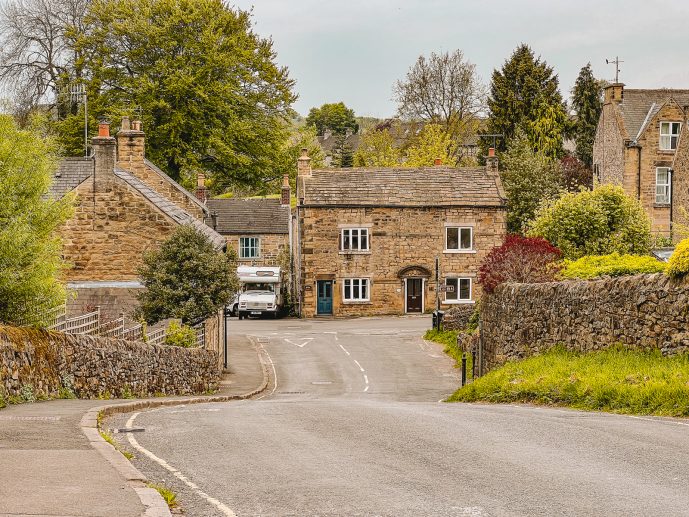 16. Chatsworth House
Although Chatsworth House isn't in Eyam, it's only a few miles drive away and had a part to play in the tragic events of Eyam plague village.
The Earl of Devonshire agreed to fund provisions to the village on condition that they remain in quarantine.
Chatsworth House is one of the finest stately homes in the country and I would highly recommend visiting.
You can take a tour of this incredible mansion, wander through the gardens and enjoy a cream tea on the grounds.
For Pride & Prejudice lovers, Jane Austen visited Chatsworth whilst she wrote the novel in Bakewell and used it to inspire Mr. Darcy's Pemberley. They also filmed the 2005 Pride & Prejudice movie here.
Click here to read my complete guide on how to visit Chatsworth House aka Pemberley!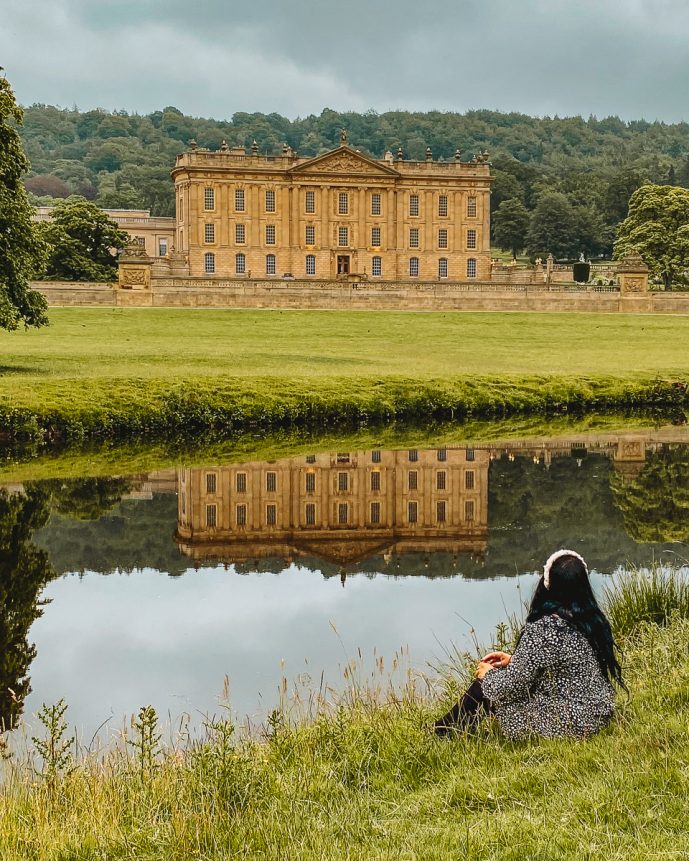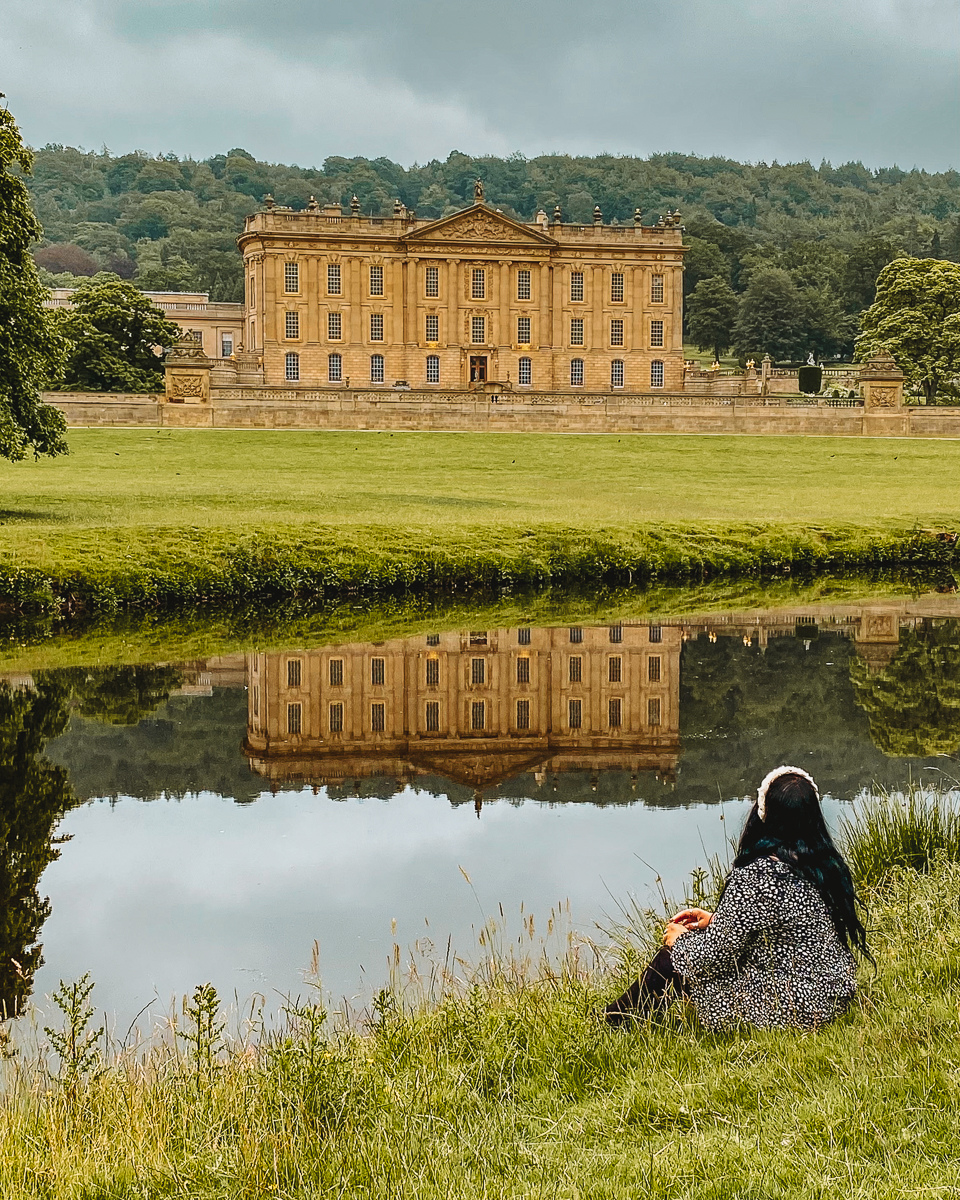 Where is Eyam Plague Village?
If you wanted to visit this incredible plague village, you only need to visit Derbyshire in the Peak District.
Eyam lies near Chatsworth House and the town of Bakewell so it's easy to plan a visit as part of your itinerary.
Eyam's address is Hope Valley S32 5QP. Click here for a Google Pin!
How to visit Eyam Plague Village in the Peak District
The easiest way to visit Eyam is by car as it's in quite a remote location in the Derbyshire countryside.
The nearest train station to Eyam is Grindleford and then you can switch to the 257 bus service towards Bakewell that stops in the Plague village.
There is also a Stagecoach Yorkshire 65 bus service that runs to Eyam from Buxton, Sheffield, and Tideswell.
Eyam parking options
There is now a FREE parking area in Eyam that is located opposite the Eyam Museum and above the public toilets on Hawkhill Road.
The car park nearest to the toilets is chargeable so I would definitely drive a bit further up Hawkhill Road to the free parking option if you wanted to save some cash.
Alternatively, there is off-road parking found throughout the village with free parking spaces valid for a few hours.
How long to spend in Eyam?
Eyam is a small village but you could easily spend half a day here with all the attractions and history it has to offer!
If you start your visit at Eyam Museum, you will get a great context of the village and then you can follow the historic trails.
But, there are also lots of walks found around here too that take you into the countryside!
I would plan to spend around 2-4 hours in Eyam to really make the most of it. You may spend longer but it's best not to rush through.
Is Eyam worth visiting?
100% YES! Although visiting a plague village sounds very dark and macabre, Eyam's tragic story is actually one of survival and strength.
If you're a history lover, you will enjoy the historic trails, museum, and informative plaques around the village.
But, there is plenty of other things to do in Eyam that appeal to all types of interests.
Foodies will love the cafés and shops, walkers will love the hikes, children will love the playground and there are also places to indulge like in the Courtyard at Eyam Hall.
Don't skip a visit to Eyam plague village whilst you're in the Peak District!
Read more of my Peak District guides
Chee Dale Stepping Stones walk
Why you must visit Scrivener's Books
The easiest way to find Thor's Cave
The best things to do in Milldale
How to get to the incredible Bamford Edge
How to find Robin Hood's Cave in Stanage Edge
A magical easy walk to Lud's Church
How to visit & cross Dovedale Stepping Stones
Why you must visit Peakshole Water Castleton
How to visit Little John's Grave in Hathersage
Exploring the Longnor Pride and Prejudice location
How to visit Malfoy Manor in real life from the Deathly Hallows
A complete visitor guide for Monsal Head viewpoint
Best things to do in Ashford in the Water
How to visit Ramshaw Rocks from Pride and Prejudice
Save these things to do in Eyam Plague Village for later!