Faringdon is an enchanting ancient market town that sits on the fringes of Oxfordshire in the Vale of the White Horse. But, how much do you know about its quirky past?
With their most famous resident of Lord Berners being the last true eccentric, you can be sure that his legacy has left some of the surreal behind.
Berners used to paint his pigeon flock in vibrant colours, placed a clavichord under his car seat, had a garden of paper flowers, invited horses to join him for tea, and even owned a giraffe as a pet!
He was also known for setting traps and playing tricks on his neighbours. Even today, you'll find a bunch of random and useless signs that he placed around the town just for fun.
Berners' influence still adds to the town's charm and character today and there are plenty of outlandish things to do in Faringdon that make it well worth a visit.
Here is a complete guide for finding all of its curious hidden gems.
A brief history of Faringdon in Oxfordshire
Faringdon is a historic market town that was mentioned all the way back in the Domesday Books in 1086.
However, it was also noted as an important town in the Saxon Kingdom of Wessex and had settlers in the Iron Age and Roman era!
Go back even further to millions of years ago and Faringdon was completely submerged under the sea.
Around the 12th century, the All Saint's Church was built and the town became embroiled in The Anarchy Civil War.
King Stephen attacked and captured Queen Matilda's fort on the nearby Folly Hill in a bloody battle that lasted 3 days.
During the reign of King Henry III, the town was given the charter to run a market in 1218. This weekly market still runs to this very day.
In the 17th century, Faringdon once again became a chess piece of political warfare during the Civil War.
King Char
les I based himself at Oxford and hid out in the neighbouring fortified towns including Faringdon. Oliver Cromwell stationed himself with his men on the nearby Folly Hill, calling for the Royalists to surrender but with no success.
However, the parliamentarians did manage to badly damage the town and completely destroyed the church steeple. You can still see the cannonball that was lodged in the wall on display today.
After that, Faringdon became a major coaching town being a midway point with connections to Oxford, Cirencester, Bristol, Bath, and London.
Then, in the 20th century, Faringdon was yet to meet its most famous resident that would leave a mark on the town forever.
Who was the eccentric Lord Berners?
"There is a good deal to be said for frivolity. Frivolous people, when all is said and done, do less harm in the world than some of our philanthropisers and reformers. Mistrust a man who never has an occasional flash of silliness." – Lord Berners
Gerald Hugh Tyrwhitt-Wilson was the 14th Baron Berners, nicknamed Lord Berners, who was born in 1883 in Shropshire.
Ever since he was a child, he was known for his eccentric behaviour in defiance of his parents.
He tried to teach his dog to fly by throwing it out of the window (thankfully, it was unharmed) and also set a number of booby traps for his family. One included locking all the lavatories in his house and throwing the keys in a pond!
This behaviour led him to Cheam boarding school in Hampshire where he explored his homosexuality and then he studied at Eton College where he found his education rather useless.
After studying, he travelled abroad for a decade to the likes of Constantinople, Rome, and Paris. On his travels, he became a famous composer, writer, and painter as well as a loveable eccentric.
Becoming Baron Berners
He inherited the title Baron Berners in 1918 and Faringdon House was part of his birthright.
He initially gave it to his mother and when she passed away he moved there in 1931.
It's here that he fell in love with Robert Heber-Percy who was 28 years his younger. Herber-Percy, or 'The Mad Boy', was also a well-known eccentric with a taste for the exotic.
He would often ride a horse naked around the woodlands and even married the witty socialite Jennifer Fry and had a child with her.
The ménage à trois all lived together at Faringdon House but it would only last a few short years.
Faringdon House was compared to an aesthete's Camelot as it would welcome guests such as Salvador Dali, Nancy Mitford, Elsa Schiaparell, and Aldous Huxley.
These themed parties were to become legendary! In 1935, Berners built the Faringdon Folly Tower simply to tease the residents of the town and gifted it as a birthday present to Herber-Percy.
He owned a giraffe as a pet, would paint his flock of pigeons pink, and invited horses to have tea with him! Many say he was the last true eccentric in Britain.
Berners Legacy in Faringdon
Lord Berners sadly passed away in 1950, leaving his beloved Herber-Percy behind. He even wrote his own epitaph that reads;
"Here lies Lord Berners, One of the learners, His great love of learning, May earn him a burning, But praise to the lord, He seldom was bored"
Nancy Mitford's novel went on to immortalise Berners in her The Pursuit of Love as the playful Lord Merlin.
Today, his legacy still lives on in Faringdon. The town often honours his curious behaviours and has restored many of his quirky signs.
There are also three societies that remember Lord Berners. The Berners Trust, Faringdon Appreciation of Berners (FAB), and the Pink Pigeons Trust.
Everyone who visits Faringdon is invited to experience a part of the Berners spirit as well. It's truly the best way to explore what's on offer!
Here are all the quirky things to do in Faringdon
1. Follow the Faringdon FUN trail
As you're wandering around the town, you may look up and see some very curious signs around the market square and beyond.
Notices like "Mangling done here" and "Do not throw stones at this sign" may confuse and baffle you, even make you chuckle.
Well, you've just been initiated on the Faringdon FUN trail with its Frivolously Unnecessary Notices! Lord Berners was known for teasing the residents and this was just one of the many curious things he did.
He put up these pointless signs in 1935 and although many were covered and even destroyed in the past, the town has now restored all 12.
After a study performed by Oxford University, they discovered that the trails mark out the shape of a Giraffe's head – Berner's favourite animal.
It's so much fun finding these for yourself. But, if you wanted a pointer as to where to find them all, head inside the Tourist Information Centre. They have a FREE pamphlet that will give you directions.
Or, you can download a copy here (spoiler alert: the linked PDF has pictures of all notices)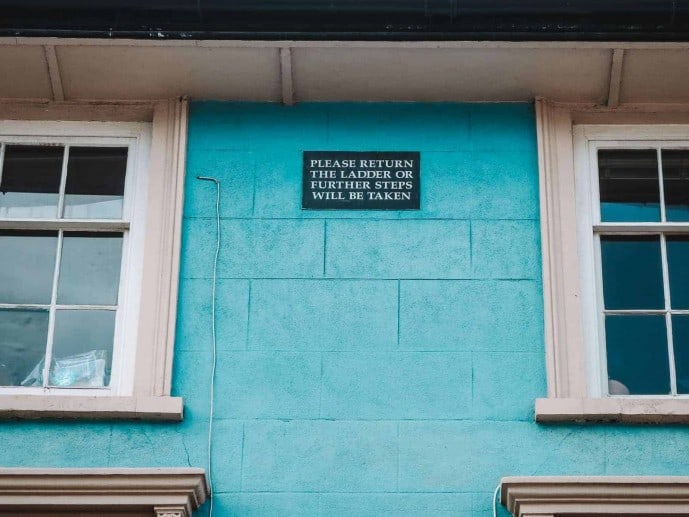 2. Find all the Gerald's Anagram Yoicking Signs (GAYS)
As well as putting up the Frivolously Unnecessary Notices, Lord Berners played another trick on his lover Robert Heber-Percy who was into fox hunting.
One day, Herber-Percy was to set out on a hunting party. To confuse the hounds, Berners installed many dog-level signs around the market square infused with fox scent.
This sent the hounds into a frenzy and Berners had a good laugh watching it all unfold. All the signs had anagrams of Faringdon on them!
After the trick, the signs were left on the buildings, and the trail became known as the Gerald's Anagram Yoicking Signs (GAYS). Yoicking is the cry that is used by fox hunters to call hounds into order.
You can try to find 24 of these signs dotted around!
3. Visit Faringdon Market Square
Faringdon has had a market in its historic square since 1218 when Henry III signed a royal charter granting permission for a weekly market.
Just like it was then, the square acts as the main 'hub' of Faringdon with many shops and boutiques encompassed around the Old Town Hall.
This amazing peach building that almost looks like it's standing on stilt was constructed in 1650 and was set up originally as a market hall.
It was restored in 1918 as a War Memorial for the soldiers of Faringdon who lost their lives in WWI.
Today, it's a Grade II listed building and unfortunately is very much empty!
It's a community space that's for hire and sometimes holds art exhibitions and events.
Around the marketplace, you'll find many boutiques, high street brands, coffee shops, a museum and so much more.
On certain days of the month, you can attend the bustling Faringdon markets that have been running for over 800 years!
What day is Faringdon Market?
Faringdon has a variety of markets that take place throughout the month and it's a great time to visit the town.
There is a weekly market every Tuesday in the square and an indoor market on Fridays in the Corn Exchange building. Plus, a monthly Farmers' Market is held on the first Tuesday of every month.
There used to be a Saturday market that would always have a fun seasonal theme.
The Blackbird Day Market, for example, would see Blackbird pies for sale in reference to another famous resident, Henry James Pye (more on that later).
There is also a Faringdon Apple Day in Autumn and the festive Faringdon Christmas Markets.
Lord Berners birthday is often marked in the calendar during September with members of the town dressing up in their finest quirky outfits of bright colours!
4. Sit with the Dali Diver on the Portwell Bench
If you head towards the Tourist Information Centre, you may find a curious bench with a Scuba Diver at the centre of it.
The Portwell Bench was opened up in 2014 as a memorial to Lord Berners and its quirky theme was inspired by Faringdon's history of being underneath the sea.
The town even registered their Folly Tower as a lighthouse to honour that fact!
In the Jurassic Period, around 155 million years ago, the whole area would have been found underwater and you can still find geological 'sponge gravels' today in the nearly Coxwell Pit.
The bench has a famous quote written by Lord Berners stamped on it which reads "Mistrust a man who never has an occasional flash of silliness".
The sentence is jumbled and designed purposely to be misread in honour of Berner's character.
The Dali Diver remembers a time when the glitterati, including Salvador Dali, would visit the town for Berner's famous parties. He even had his own red room at Faringdon House!
According to legend, Berners arranged for a deep-sea divers suit for Dali to attend the opening of the first exhibition of Surrealist Art in London.
When the diving society asked what depth Dali wanted to descend, he replied he was going to descend into his subconscious. Dali tried on the suit at Faringdon House and walked through the market square wearing it.
In London, he later attempted to give a lecture in it and almost suffocated which went down in the chapters of art history!
The happy and sad theatrical masks on both sides of the Dali Diver represent Berner's bouts of depression in contrast to his eccentricity. It's definitely one of the quirkiest things to do in Faringdon.
5. Visit the Lord Berners exhibition in Faringdon Museum
If you really wanted to step inside the mind of Lord Berners, then you only need to visit a fun exhibition all about his wonderful life at the Faringdon Museum.
Located inside the old Pump House, this FREE display will take you through the chapters of his story from his college days, to an artist in Europe, poet, and eventually a beloved eccentric resident!
There are some great photos on display where you can see his mini Rolls Royce and how he would sit on top of a clavichord!
Or, witness the time when he invited a horse for afternoon tea. This came in reaction to someone claiming that life at Faringdon House looked 'idyllic'!
As well as learning about the loveable eccentric, there is a short display on the history of the town.
The museum is open from 9am – 4pm Monday to Friday and 9.30am – 1pm on Saturdays
6. Find Lord Berners colourful flock
Another delightful find that you can spot in the market square is an ode to Berners colourful flock of pigeons!
Dying pigeons in all colours of the rainbow was a surrealist tradition that was started by Lord Berners and is still carried on at Farringdon House to this today.
But, don't worry, the paint that he chose did them no harm. He was an animal lover at heart and his friends said that "no birds would ever be enough"
Although the pink pigeons of Faringdon House cannot be accessed, you can find some colourful pigeons hidden on the windows around the market square!
7. Visit the topsy-turvy Sadler's Coffee Shop
If there was one building that caught my eye in the square, it was the ancient Sadler's Catering building in the town with a wonky roof and bicycle on its shop front.
Dating back to the 17th century, it has played many roles over time including a dwelling house, dairy shop, greengrocers, and florist.
Nowadays, as the name would suggest, it's a popular event catering company. But, it's also the location of a popular restaurant and coffee house that you can visit for a pick me up.
Although it's only open on weekends, they have a bespoke menu of breakfast, brunch, light lunches, and afternoon tea.
The decor inside is extremely pretty with floral bunting and fairy lights that give it a cosy touch!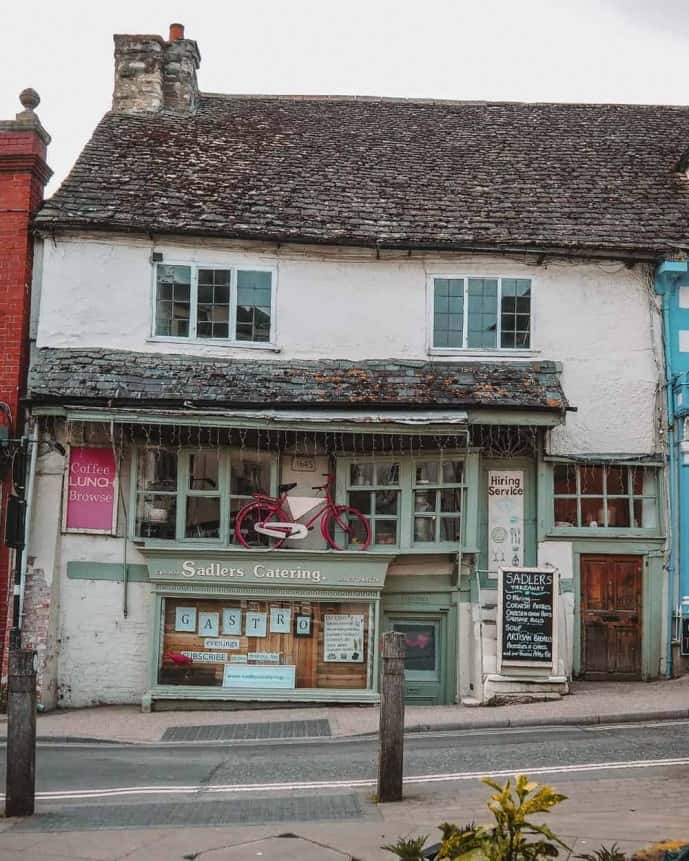 8. Find the Faringdon Red Telephone Box Library
One of the most exciting finds (for me) was the curious red telephone box that sat just off the market square on Church Street.
At first, you could easily mistake this for an old public telephone. But, if you look a little closer, you'll find that it has shelves of books inside!
It's a bit of a sensation across the UK for towns to adopt their redundant phone boxes and transform it into a force for good.
The movement has been coined 'Little Free Libraries' and I am absolutely in love with it!
So, next time you walk down Church Street, have a browse and see what you may find inside.
It works as a book exchange so you can borrow one and also bring one. It's open Mondays to Fridays from 9am – 4pm and Saturdays from 9.30am – 3pm.
9. Visit the haunted All Saint's Church without a steeple
The All Saints Church in Faringdon was originally founded as a Minster by King Edward the Elder. However, the present building we see today originates from the 12th century for Roman Catholic worship.
It was then built upon and extended from the 13th to the 15th centuries. During the English Civil War, Faringdon was a fortified Royalist stronghold and was a direct target of Cromwell and his parliamentarian forces.
The Second Siege of Faringdon House took place in 1646 and saw many of the parliamentarians stationed on Folly Hill.
The church suffered significant damage from cannonball fire. Both the south transept and the steeple collapsed from the attack. The transept was restored in 1853 but the tower was never rebuilt.
You can still see a cannonball that was lodged in the east wall on display inside the church when you visit today!
The ghost of Hampden Pye
Some say that All Saint's Church is the most haunted place in Faringdon and it's visited by the headless ghost of a naval officer called Hampden Pye.
The story goes that Hampden defied his stepmother, Lady Pye, by getting drunk in the local inns every night. Then, he defied his father, Sir Robert Pye, by marrying a prostitute!
As the shame was too much to bear, they sent Hampden off to the Navy. But, his stepmother couldn't handle the thought of him disobeying her again. So, she convinced the Captain of the ship that Hampden was stationed on to stage an awful accident.
When the ship was engaged in battle, one of the officers called "Hairy-faced Dick" had orders from the Captain to push Hampden straight into cannon fire! The cannonball blew his head straight off his shoulders.
Back home in Faringdon, Lady Pye set up a memorial for her son and acted like the grieving stepmother. But, Hampden appeared before her and spooked her at the funeral!
She went mad and was forced to reveal her wicked deed.
Apparently, the headless ghost of Hampden Pye has haunted this cemetery for centuries. Although there have been attempts to exorcise him, he still appears. So, don't visit at night!
10. Climb up Faringdon Folly Tower
Faringdon Folly Tower is the town icon and truly one of the best things to do in Faringdon.
Located high up on the aptly named Folly Hill, you'll be following in the footsteps of Empress Matilda and Oliver Cromwell!
The 100-foot tower that stands here today was initiated by Lord Berners in 1935 and was the last major folly to be built in England.
Apparently, Berners and Herber-Percy took a walk up the hill and said "this Hill needs a Tower". The rumours began to spread like wildfire and the town had a huge objection. So, that encouraged Berners, even more, to build one as a big joke and to tease them!
He knew that his friend Lord Wellesley, who was a famous architect, detested Gothic architecture. So, he commissioned him to make the tower in the Gothic Revival style.
While Berners was away in Rome, Wellesley defied his orders and started to build it in the classic style.
When Berners returned, all but the last ten feet of the tower was left. So, naturally, he was angry and demanded that Wellesley make the last ten feet Gothic. Hence the mix of styles.
He claimed the tower would hold no purpose but he eventually opened the tower on Guy Fawkes night and gifted it to Herber-Percy for his birthday.
They held the most raucous party where the guests were asked to bring effigies of their enemies! They set off fireworks from the top to delight in annoying the townsfolk.
Once upon a time, the tower had a sign that said 'Members of the public committing suicide from this tower do so at their own risk'.
It's been removed now but you'll still find the famous FUN sign of 'Don't feed the Giraffes' on one of the walls!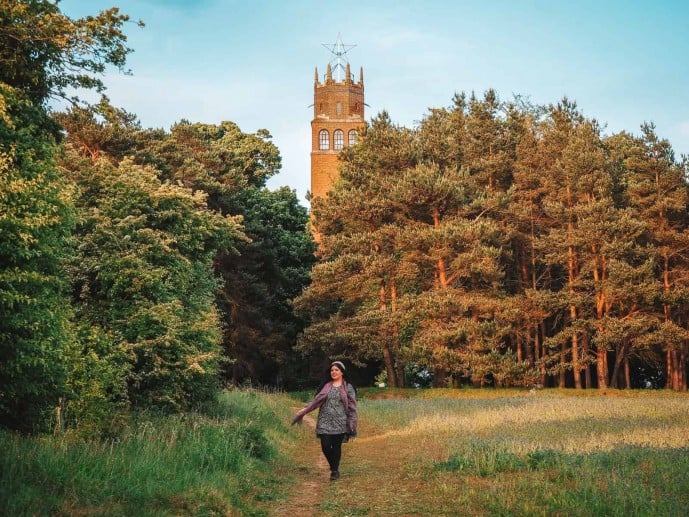 Faringdon Folly Tower opening times
In the year 2000, the town registered the tower as a lighthouse that cannot be seen from the sea!
I'm sure Lord Berners would have been impressed and had a good chuckle.
You can head up Folly Hill anytime to see the Faringdon tower as the woods surrounding it are FREE to visit and are open 24 hours a day.
But, the tower is only open for visitors on certain days of the month. You can climb up on the first and third Sundays of each month, between April and October. It's open from 11am to 5pm.
Adult tickets are £3, children from 11 -16 are £1, and children under 11 go FREE.
Click here to read my complete guide for visiting the Folly Tower
11. Explore the magical Folly Wood
The woodland around Folly Hill was planted in the 18th century by the poet Henry James Pye who was born in Faringdon.
He was the poet Laureate for the mad King George III and some said he was the worst one imaginable!
It is rumoured that George Steevens, a Shakespearean commentator, wrote the 'Sing a Song of Sixpense' rhyme as a pun intended to shame Pye for his terrible skills.
It is now thought that Pye's planting of Folly forest was the most poetic act of his life. Today, you can find his four acres of Scots Pines perched on top of Folly Hill hiding the Faringdon Tower.
As well as the original pines, there are also all sorts of trees that grow here nowadays. You can find Beech, Chestnut, Sycamore, Oak, Ash, and Cherry!
Plus, many pretty wildflowers grow in the copse. Of course, the main draw for climbing up Folly Hill is the magnificent views. You can see an amazing panorama of the town and beyond to the White Horse Vale.
Read more about the sculpture trail and all the magical things to find here
Faringdon Folly Sculpture Trail
It's well worth exploring the woods as you never know what you may find. The town has now installed a magical Faringdon Folly Sculpture Trail that is in the eccentric spirit of Lord Berners!
You'll find a giraffe, a royalist canon, a bat, a scary rabbit, a goblin, a pointless piano, and a useless bridge amongst other things.
Plus, four and twenty blackbirds to honour Henry Pye. Look out for a statue of Lord Berners himself, is he causing a nuisance by chopping down trees?!
My favourite was the mystery fairy door that is located at the bottom of one of the trees. You could knock on the door and see who lives inside.
12. Admire Faringdon House & Park
Faringdon House has stood here on the estate since the 16th century but the damage of the Civil War meant a new Palladian house would be built in 1780.
In 1931, this would become Lord Berners home where he lived with his companion Robert Heber-Percy. Together they made quite the couple and would often have legendary parties here, inviting some of the most renowned artists of the age for dinner.
Berners would always delight in shocking his guests and very often dishes would be served in a shocking shade of blue!
Once upon a time, someone commented that life at Faringdon House was 'idyllic', so he decided to paint Penelope Betjeman and her pony in his living room! He would often invite his pet giraffe inside and dressed his dogs in pearl collars.
Inside the house, there are many signs of his own making, like "Beware of the agapanthus" and "be ready to meet your maker" in the wardrobe!
Nancy Mitford, who was a regular guest at the house, immortalised the residence in her The Pursuit of Love with Lord Merlin being inspired by Berners.
Although you cannot go inside the home, they sometimes open up their park and orangery for visitors each year. Here, you may be able to spot one of their famous colourful flock pigeons.
13. Follow the Faringdon historic buildings tour
If you are into your history like me, you may like to go on a historic trail through the village. You can find out the story behind many of the listed buildings in town!
You'll only walk around a mile that will take you twenty minutes but you'll go back centuries through these ancient streets.
You'll stroll past hunting lodges used by Alfred the Great, Elizabethan stairways, 16th-century coaching inns, taprooms, dower houses, and the old Salutation Mansions.
Some of the buildings will take you on a literary trail as well with the likes of the Red Lion that was mentioned in 'Tom Brown's Schooldays'!
For the complete trail, click here to download the PDF.
14. Attend the annual "FollyFest"
Every year Faringdon holds a music and community arts festival that is completely FREE for anyone to attend. It covers three days, has two music stages, and plenty of workshops that are going on for all the family.
There will be arts and crafts, Tai Chi workshops, comedy acts, a kids cinema, belly dancing, yummy food stalls plus plenty of fun and games to be had too!
The town does get pretty packed around this time and the roads will be blocked off, so make sure to plan your journey in advance.
15. Visit the Great Coxwell Barn
The Great Coxwell Barn is a striking example of a 13th-century monastic pound that is tucked away on the grange of Great Coxwell village.
It's the only surviving part of the farm that provided much-needed income for the Cistercian Beaulieu Abbey. Years ago, the Gothic structure would have also had a windmill, pig farm, and dairy herd nearby.
It's a good reminder of just how rich the monastic orders would have been in those times.
The barn was a favourite spot of William Morris who was the Father of the Arts and Crafts movement. He would often invite his guests to look upon the structure calling it 'unapproachable in its dignity'.
You can access the barn at any time during reasonable daylight and it's free to visit.
16. Follow William Morris' footsteps at Kelmscott manor
Talking of William Morris, did you know that he owned a manor house nearby Faringdon? In only 12 minutes drive you can enter his world of inspiration.
He described Kelmscott Manor as 'Heaven on Earth' and it acted as his Cotswolds retreat where he would gather influence for his works.
Morris was a famous Victorian textile designer, poet, and novelist and he loved the true craftsmanship of the house. It was unspoiled with no sign of modern industry.
So, it was the perfect muse where he felt comfortable perfecting his craft.
As well as exploring the Grade I listed house and enjoying its seclusion, you can see many of Morris' works on display.
Click here for more details with opening dates and prices
17. Stroll around the Iron Age Badbury Camp
Badbury Hill nearby Faringdon is a popular spot to visit and enjoy the wonderful views of the Thames flood plain.
From here, you can also see Faringdon Town and the endless expanse of the Oxfordshire countryside!
Nearby is the oddly named Badbury Clump which is home to ancient woodland and famous for its beech trees. But, the most magical time to visit would be for the annual blanket of bright bluebells that appear sometime in the spring!
This area dates all the way back to the Iron Age and you can even walk around an old hill fort from 600BC.
There are plenty of woodland paths and areas to explore, so put on a good pair of walking shoes or bring your bike.
Read how to see the Badbury Clump bluebell wood here
18. Visit Buscot Park & House
Buscot House was built in the late 18th century by Edward Loveden Loveden (yes, his name was so good he wanted it twice!). It was built in the Italian Palladian style which was the fashion at the time.
It then switched hands to a Robert Tertius Campbell who died bankrupt in 1887. So, it was sold on to Alexander Henderson who was later the 1st Lord Faringdon.
The family has lived here for the last 100 years and they were huge collectors of art. They filled the house with pieces from Rembrandt, Murillo, Reynolds, and Burne-Jones.
Today, it's known as the Faringdon Collection. The gardens were originally a farmstead but now have experienced a renaissance in themselves. Over the years, many exotic flowers have been successfully integrated into the grounds plus many native botanicals as well!
The house is still currently administered by the current Lord Faringdon but the grounds were bequeathed to the National Trust. So, you are free to visit the house and grounds in the season.
It's the perfect place to explore if you love art and history.
Plus, you can uncover many mysteries from its previous owners like a murder at the priory!
Click here for more details with prices and opening times
19. Explore Tom Brown's Schooldays at Uffington Village
Known as one of the best small museums of Oxfordshire, Tom Brown's School Museum is set in an old schoolroom that featured in Thomas Hughes' book 'Tom Brown's School Days'.
His famous novel describes what life was like during the 19th century at Uffington. Hughes would know the area better than anyone being born the son of Uffington's Vicar!
The plot mainly follows the protagonist Tom and his life at Rugby public school. But, the themes of the story highlight the author's radical ideas on educational reform through the headmaster, Doctor Arnold.
Despite the name of the museum, the exhibit actually explores the vast history of Uffington which spans over 3,000 years. It covers the mysteries and history of the Uffington White Horse that was made in the Iron Age.
Plus, you can learn about Tom Hughes life and the poet laureate Sir John Betjeman, who lived at Uffington with his family.
The Museum is definitely worth a look in and is FREE to visit. It's open from Easter to October every Saturday, Sunday, and Bank Holiday Monday from 2 – 5pm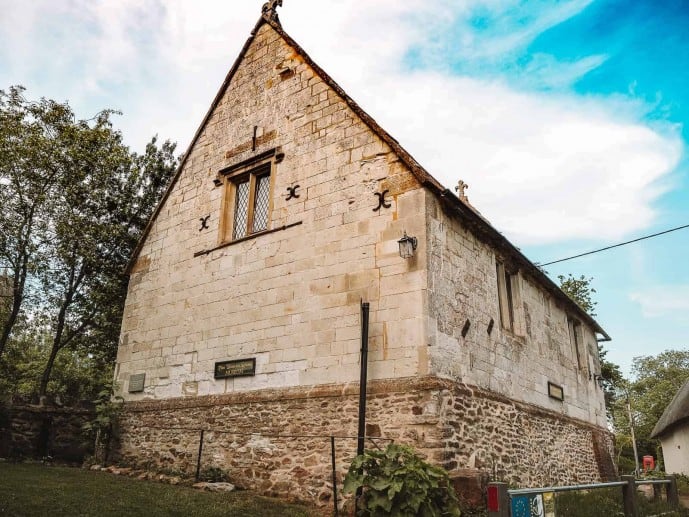 20. Climb up to Uffington White Horse, Castle & Dragon Hill
Uffington White Horse is hands down one of the best places to visit in all of Oxfordshire!
Not only does it have the most fantastic views of the countryside it also has many ancient sites that date back to the Neolithic Age.
The main draw for visitors is the famous Uffington White Horse that was scarred onto the hillside over 3,000 years ago.
Although it's roped off today, it can still be clearly seen all over the site. Don't forget to explore the nearby Dragon Hill, this was supposedly the spot where St George killed the Dragon with his lance. They say that the dragon's blood was so poisonous, no grass ever grew on the hill again.
Above both of the sites, you can visit the Iron Age Uffington Castle. This is an extremely rare example of a large hill fort that has two fortification banks. You can stroll around, relax a while or even fly a kite!
Click here for everything there is to do on top of White Horse Hill
21. Discover Wayland's Smithy – an ancient chamber of the dead
Wayland's Smithy is a hidden gem in Oxfordshire that is well worth a visit. This Neolithic house of the dead dates back over 5,000 years!
Recent excavations have proved that there are two levels to the chamber and it was used for burials over a span of 100 years.
Today, you are free to enter the ruins that welcome you with their four looming standing stones. You won't find much else here to explore but it does have a certain magic to it.
There is a local legend that says J. R. R. Tolkien visited the site whilst on a walking tour of the Berkshire Downs and it inspired part of his Middle Earth. He used it for the Barrow-Downs in Lord of the Rings where Frodo and the hobbits meet an evil Barrow-Wight!
Wayland's Smithy is accessible along The Ridgeway National Trail which is Europe's oldest road. Travellers have walked here for the last 5 millennia. You can follow it for 87 miles and access many ancient sites along the way.
Click here to read my complete guide with directions for visiting
22. Sound the Blowing Stone of Kingston Lisle
Just nearby Faringdon is the quaint hamlet of Kingston Lisle. This unassuming village is definitely a quiet retreat compared to the likes of a busy market town but it has an unusual resident you may like to visit.
It's outside someone's front garden is a legendary perforated Sarsen Stone called The Blowing Stone. It has several holes inside it and when you blow inside the stone it makes a huge noise like a horn or trumpet!
There is a local legend that says Alfred the Great used this stone to call his men who were camped nearby on Uffington Hill. The noise stirred them into action and they marched on for a Saxon victory against the Danes at the Battle of Ashdown in 871.
There is little proof of that tale being true but it doesn't stop the crowds from visiting. You can have a go yourself! Donations are encouraged and all proceeds go to charity.
Click here for detailed directions
Where is Faringdon and how to get there?
Faringdon is located in the Vale of the White Horse in Oxfordshire within the historic boundaries of Berkshire and is also a gateway to the Cotswolds.
It's approximately 18 miles away from the beautiful city of Oxford, 10 miles from Wantage and 12 miles away from Swindon.
The easiest way to get here would be by car, but there are plenty of public transport options available to you if driving is not an option.
Train: Unfortunately, Faringdon train station shut down years ago. So, you'll need to travel here by bus from the nearby Oxford or Swindon.
Bus: You can take the S6 bus service that connects Oxford with Swindon and stops at Faringdon. Or, you can take the 67 service from Wantage. Click here for details on the Oxford Tube from London.
Parking: the town has two car parks in the village that provide 2 hours of FREE parking before you have to pay and display. They are open 24 hours a day and chargeable from 8 am – 6 pm Mondays to Fridays. It's free parking on Sundays.
Where to stay in Faringdon
There are plenty of amazing places to stay in Faringdon if you wanted to extend your stay. Take a look at my top picks below;
Mollie's Motel – run by luxury brand SOHO House, Mollie's Hotel is a delightful contemporary boutique property with a vintage twist. Located in the nearby Buckland, it has spotless rooms and is home to Mollie's Diner and Drive-Thru. They serve up an American-style menu of burgers, shakes and fries! Click here to book.
Sudbury House – this charming award-winning hotel is set in an historic 18th century country home. Offering 50 contemporary rooms (some with clawfoot tubs!) you can feel at home in this comfy retreat. Plus, they have a popular lounge bar and restaurant on site. Click to enquire.
Read more of my posts on Oxfordshire & the Cotswolds
Discover the gateway to the Cotswolds
How to visit the magical Badbury Clump bluebell woods
Visit the ruins of Minster Lovell Hall
Visit the Rollright Stones Circle near Long Compton
Visiting the Downton Abbey Village of Bampton
How to visit the Harry Potter Tree at Blenheim Palace for FREE
Like it? Pin it!