For such a small fishing village in Kerala, Fort Kochi really packs a punch with history, attractions, and local cuisine.
It's a melting pot of cultures due to its colourful colonial history and it's as pretty as a postcard to boot.
Now, the first question you'll probably ask as soon as you arrive is "where is the fort, exactly?". Well, not to disappoint you, but there isn't one anymore! Except maybe for that one canon lol.
But, don't worry, there are plenty of things to do in Fort Kochi (or, Cochin to locals) to keep you occupied.
I'd definitely recommend penciling in a few days to explore as there is just so much to see in and around the area.
So, make sure you bookmark this complete Cochin travel guide with all the amazing things to do in Fort Kochi for your trip!
I visited Fort Kochi as part of my trip with India Someday, click here to see my full itinerary and a review of their trip planning services.
Things to know before you visit Kerala
In Kerala the locals speak Malayalam, they even have their own songs and films that have been recorded in the language. As one of the most literate states, they speak excellent Hindi and English.
Kerala is a politically appointed Communist state, so you'll see lots of communist flags and artwork around the area
It's often referred to as 'God's Own Country' as it's filled with backwaters, coconut trees and the paradise will take your breath away.
Kerala is a little more conservative than its neighbour Goa, but not as conservative as Delhi, so make sure that you dress appropriately. But, it's not uncommon for tourists to wear strappy tops, dresses that show your legs and shorts either.
Always make sure that you have travel insurance before your trip, I'm covered by World Nomad's and I would highly recommend them. Click here to take out a travel insurance policy.
Where is Fort Kochi in Kerala?
Fort Kochi is a region of Kochin located on the coast of Kerala in the South of India.
It's easily accessible from Cochin International Airport, so lots of travellers head here first when they land.
But, it is around 36 kilometres away and so you will need a transfer from the airport to Fort Kochin.
Alternatively, if you're on a budget, buses leave Cochin Airport regularly throughout the day.
Thankfully, India Someday organised a private car for me on my visit. But, you can look at booking your own private transfer here.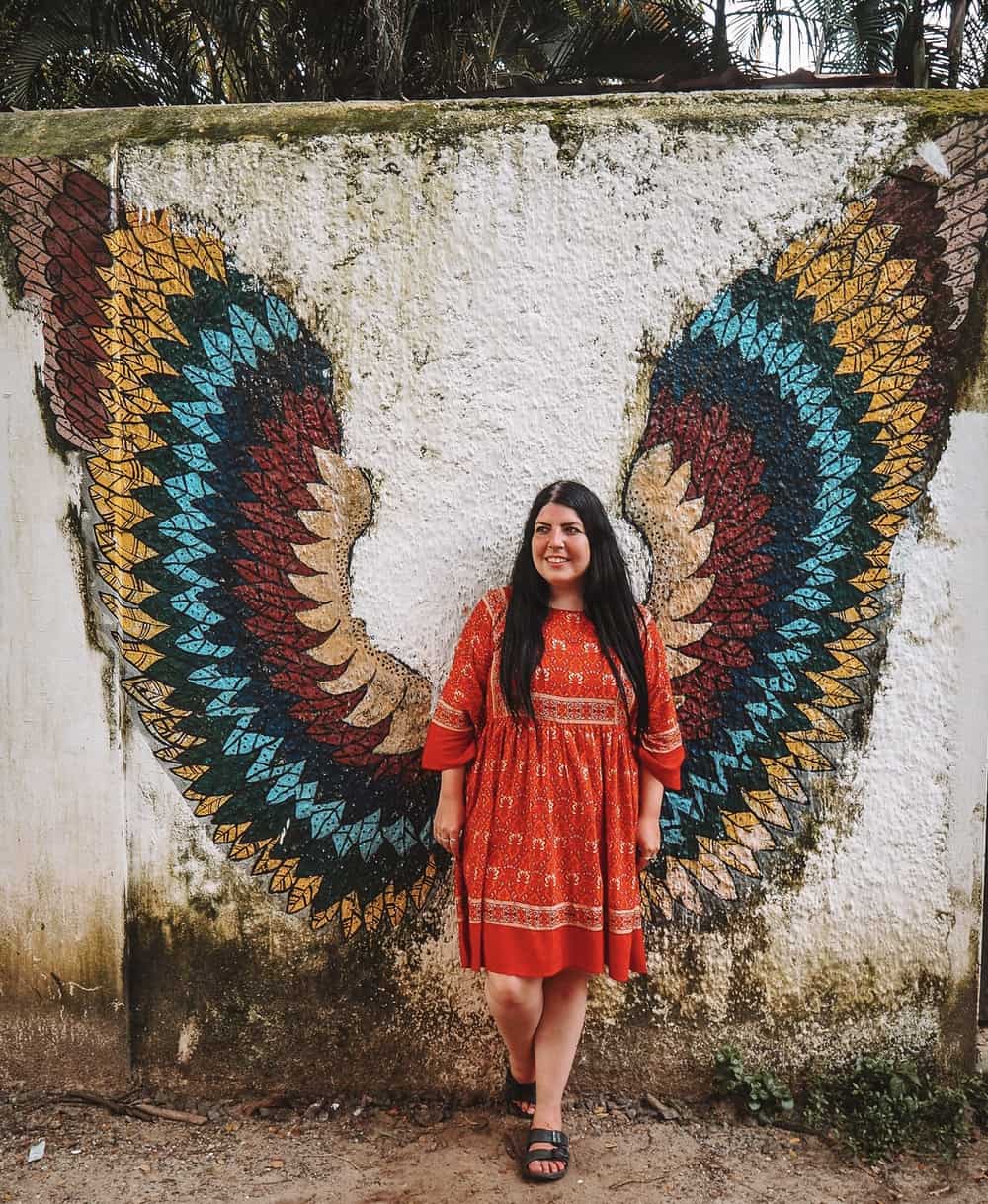 15 Amazing things to do in Fort Kochi
1. Chinese Fishing Nets
This should be the number one attraction to add to your list; the Chinese Fishing Nets in Fort Kochi is what it is famous for!
According to legend, the Chinese Fishing Nets were introduced by a Chinese fisherman named Zang. He brought these nets to Kerala over 500 years ago and they've been here ever since as a way for fishermen to make a living.
Today, the fishing nets are more of a tourist trap than a fishing trade. But, it is still fun to climb on them and have a go at reeling it in, in exchange for a small tip!
Click here for my top tips on not getting scammed at the Kochi fishing nets
These guys can be a bit cutthroat and demand a tip for every fisherman who is on the fishing net, but give what you feel. I think I ended up giving them 500 rupees.
Yes, yes, it's a lot but it did make for a great photo opportunity, experience some of the local culture, and help the fisherman out!
I heard from my homestay owner that the fisherman here are very much the middleman and don't make a lot of cash. So, any way to help is always appreciated.
The best time to come and visit the fishing nets is around sunset when the sky lights up in all different colours! If you didn't want to pay to board one, there are many promenades that provide a free view.
The Chinese Fishing nets are FREE to visit (unless you go on one!) and are open 24 hours a day.
2. Visit St. Francis' Church
The next step that you should make in Fort Kochi to get acquainted with the history of Fort Kochi is to visit St. Francis' Church.
Here, you can see the tomb of Vasco De Gama who started Fort Kochi as we know it today.
The current history of Fort Kochi really began when a Portuguese merchant sailor by the name of Vasco de Gama rediscovered the old spice trade route from Europe.
He sailed from Portugal to India and landed on the shores of Kerala in 1501.
After a rather unsuccessful meeting on southern shores with the Zamorin (king) of Calicut, he ended up making an alliance with the Rajah (another king) of Kochi.
The deal was, in exchange for defeating the Zamorin, Vasco de Gama had permission from the Rajah to trade and build in the area. Thus, the first settlement in Fort Kochi was born! Many of the Portuguese churches and historic buildings are still here today.
St. Francis' Church is the perfect example of a Portuguese colonial building. The inside of the church is pretty plain as it was reconstructed in the 17th century but the tomb of Vasco De Gama is still inside.
His remains were moved to Portugal many years ago but, you can go in and see a little memorial in honour of his memory here.
The church is completely FREE to visit and is open from 10 am – 5 pm during the week. On Saturdays, it's 12-5 pm and on Sundays, it's closed for service.
3. Santa Cruz Basilica
St. Francis' church wasn't the only church that the Portuguese left behind. The Santa Cruz Basilica is one of the finest examples of Roman Catholic churches in Kerala and even, some say, the whole of India.
It was originally built in 1505 and in 1558 was elevated to a cathedral status by Pope Paul IV.
Each year thousands of tourists flock here to see the magnificent temple and admire the building from the inside and out.
During the day it's a gleaming white architectural masterpiece and by night it's lit up in the most amazing bright blue lights!
If you find yourself passing by, it's definitely worth taking a peek inside the church too. The artwork and detail are magnificent.
As an active church mass in English still occurs here daily and visitors are not allowed to visit or take pictures inside the church at this time. But, you can hear the mass on a speaker outside and watch from the outside too if you're curious.
Santa Cruz Basilica is FREE to visit and is open 24 hours daily. Mass timings are Sundays – 5.30 a.m, 6.45 a.m, 8.00 a.m, 9.15 a.m, 4.30 p.m.( English). Weekdays – 6.00 a.m, 7.00 a.m, 6.00 p.m.
4. Watch a Kathakali dance performance
You can watch a Kathakali dance performance all over Kerala, but Fort Kochi has the best performances and cultural centres in the state.
So, I would highly recommend organising to visit one in the evening here. I had wanted to see this for years so was happy to tick this off my list!
Kathakali is an ancient religious dance practice that is inspired by the Hindu epic the Ramayan.
The performers have to train for a minimum of six years to be able to take the stage, so you know that the dancers are really passionate about their craft.
What to expect in a Kathakali dance performance
The performance usually takes place in two parts, the first part is where you see them apply the makeup for around an hour. The second half is when you watch the performance.
Unless you're really interested (like I was) in the makeup being applied, then I wouldn't say it's necessary to watch. But, you do get to learn about the products used and the fact they put flower seeds in their eyes to make them go red!
Click here for my top tips for this incredible Kerala cultural show!
Admittedly, the most interesting part comes from the actual dancing part. What's amazing about Kathakali as a theatrical style is that there is no dialogue with the performance. Well, not with speech anyway.
All the communicating is done by moving different parts of their body. That includes their mouth, eyebrows, hands, stomach, feet, fingers the lot! The training to learn all of the moves must take so much concentration!
Luckily, if you're not familiar with the Ramayan, you'll be given an explanation about the story you are watching and the dance.
I personally found the whole thing fascinating and would encourage anyone visiting Kerala to see it. I watched it at the Kathakali Cultural Centre and tickets were 350INR.
5. Visit The Dutch Palace / Mattancherry Palace
Another cornerstone in Fort Kochi's colonial history is when the Dutch took over the spice route from Europe.
There wasn't any spectacular battle between the Dutch and the Portuguese or anything like that it was a simple trade deal. After that, the Dutch moved in and made their own stamp on the place.
Mattancherry Palace was originally a gift from the Portuguese to the King of Cochin in 1555.
But, once the Portuguese had left the area, the Dutch made significant improvements to the building in 1663. So, even today, the palace has the nickname of the Dutch Palace.
The palace today has many exhibits from the colonial eras and of the Rajas of Cochin up until the present day. The Royal Family of Cochin is one of the oldest royal families in India and still lives nearby.
As well as these exhibits they have lots of precious artwork and paintings based on the Ramayan from the 16th century.
Photography is pretty strict so always ask permission of what you can and cannot take photos of in here. The guards will shout at you if you overstep.
The Mattancherry Palace is open 9.45 am-1 pm and then 2 pm-4.45 pm. It's closed on Fridays and Saturdays'. The cost of entry is 5 rupees for locals and foreigners.
6. Pay a visit to Dhobi Khana public laundry
Another Dutch colonial site that has been transformed into something that supports the local community is Dhobi Khana.
When the Dutch were in power here, this is the spot where the Keralites would wash and prepare the uniforms for the Dutch army. However, today, it's a community washing, drying, and ironing service.
This area provides lots of jobs for people to wash, dry and iron clothes, bedsheets, towels, and all sorts of items for the community.
Many businesses use Dhobi Khana as their laundry service, so its arm reaches everyone in the area. So, the bedsheets or towels in your hotel/homestay may have been laundered by these guys!
It's definitely a cool place to check out and visit so you can see some of the local people and the 'real' culture of Fort Kochi beyond the colonial sites. Plus any donations are welcome to support the business.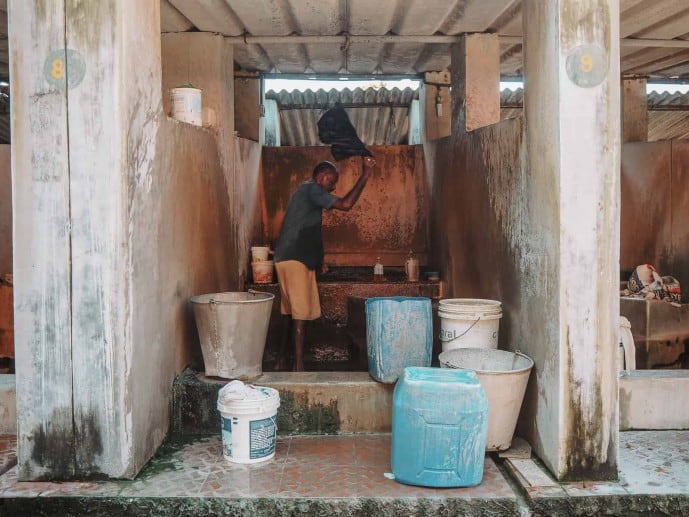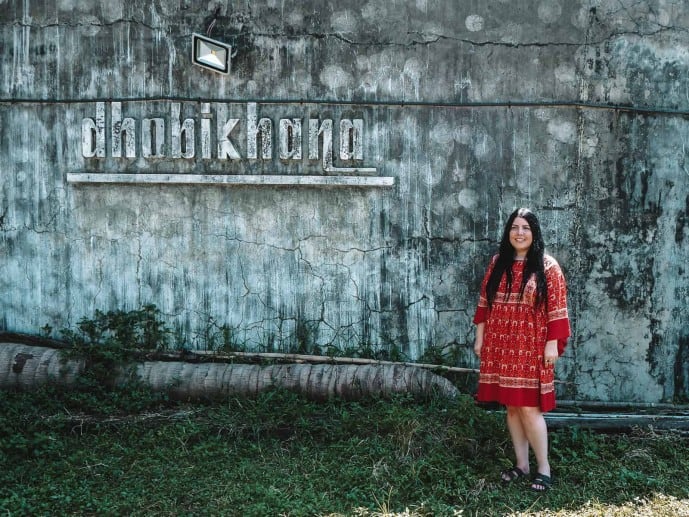 7. Go shopping in Jew Town and visit the Paradesi Synagogue
Jew Town in Mattancherry is where a community of Cochin Jews used to live in the area. They are the oldest community of Jews in India and have been residing here since the times of King Solomon in 900BCE.
Although the Jewish community here thrived in centuries past and in 1950 there were approximately 250 Cochin Jews residing Kochi. Today, there are only six Paradesi Jewish people that remain. You can read more about this here.
This area is now commonly known as Jew Town in Mattancherry and the street has many antique dealerships, art galleries, and trendy cafés.
As you walk down the street you'll find many brass ornaments, clothes, perfumes, and souvenirs. So, make sure you leave some time to explore.
If you are interested in exploring more of the Paradesi culture here, then you must head to the Paradesi Synagogue which is epicenter of their community.
This 400-year-old temple is still active and remains a place where Cochin Jews worship. It was constructed in 1568 adjacent to the Mattancherry Palace on land that was gifted by the Raja himself.
In 1968, on the 400th anniversary of refuge, the Paradesi Synagogue was given a mazeltov (congratulations) by the Prime Minister of India at the time, Indira Gandhi.
Today, you can visit the Synagogue for just 5 rupees to learn about the arrival of the Jewish people in South India and admire the stunning architecture here.
The Paradesi Synagogue opens to the public from 10 am – 12 pm and then again from 3 pm – 5 pm. It's closed on Saturdays and Jewish holidays.
8. Sip a coconut on Fort Kochi Beach
Who doesn't like to chill by the coast for a while? I have to admit, I'm not that much of a beach bunny but I loved taking a walk down the promenade next to Fort Kochi beach!
Not only did you have the Chinese Fishing nets, but you also had lots of stalls selling souvenirs, street food counters, street art and you got to witness life happening in the area!
If you wanted to see the last remnants of what used to be the Fort in Fort Kochi this is your chance at the Fort Immanuel which is along this route.
But, one of the best things I loved to do in the heat is to grab a coconut and sip it by the shore! There are so many coconut stalls around here and it's super refreshing to indulge in one.
9. Vasco De Gama Square
Another spot along this route is the Vasco De Gama Square, which is aptly named after the guy who founded modern Cochin as we know it today!
This square is covered in the famous Kerala rain trees and is a meeting point in Fort Kochi.
It's an ideal place to spend the evenings as you'll find lots of local restaurants cooking up daily catches, people chatting, playing games, kids playing, and people strolling up and down the promenade to enjoy the fresh sea air.
This is also the perfect place to catch a glimpse at the famous Chinese Fishing Nets so don't miss it while you're here.
10. Take a ferry to Vypin Island (Vypeen)
Although Fort Kochi sees thousands of tourists pass through it each year, it's easy to find some nearby islands that don't see many tourists at all.
The local car ferries are a great way to island hop in Kochi and in just ten minutes or less you can find yourself in a peaceful area away from the crowds.
Vypin Island (or Vypeen) is the touching distance from Fort Kochi over the water but tourists rarely visit.
Here, you can walk around the island and explore its many beaches, head over to the Vypin lighthouse and also see the fishing nets in action.
Unlike the tourist trap nets on Fort Kochi, the fishing nets on Vypin Island are still in use for fishing. They also let you climb on board and check them out without charging you!
The ferry from Fort Kochi to Vypin island costs 3 rupees a ticket! So, it's no harm lost and you even have the chance to see dolphins on your way over too.
11. Admire the street art in Fort Kochi
The one thing that I loved about Fort Kochi was the colourful street art. Around every corner here you would see a colourful mural.
But, if you would like to know specific areas then I would definitely check out Vasco De Gama Square, Calvathy Road, the area around the Santa Cruz Basilica, and Bazaar Road.
Every two years Fort Kochi is home to the Kochi-Muziris Biennale festival which is one of the largest in the country.
This international event that started in 2012 sees contemporary artists from around the world invited to showcase their art on the streets, in the galleries, in installations, and on the stage. It also sees thousands of visitors each year with numbers recorded of up to 250,000!
The artworks can be films, portraits, street art, performances, workshop, and music. So, if you're an artist or admire bohemian festivals this would definitely be the event for you.
12. Take a walking tour with Gully Tours
If you would like to learn more about the history of Fort Kochi and discover some local hidden gems then I would highly recommend taking a walking tour with Gully Tours.
I took their spice trail route which was more of a historical walking tour that took you through the Portuguese, Dutch, and British colonial eras.
During our tour, we passed many historic buildings and I got to learn all about how Fort Kochi developed over the years.
We also visited more of the contemporary bohemian side of Fort Kochi and popped into some of the art cafés while we were here. One of my favourites was Pepper House which sells fair-trade coffee. The café is located in an old Pepper Exchange!
We also explored the Indian side of Fort Kochi which was where the Keralites have lived for centuries, even throughout the colonial rule.
While we were here we had a look in the many fruit markets, shops and got to have a local dining experience.
Kayeez Rahmathulla Café is a favourite local dining place that is packed from morning until night. While you're here you can try the local cuisine including Kerala Paratha and their tasty mutton curry.
The great news is this place is cheap and cheerful so you can have a feast for around 150 rupees.
To book your walking tour of Fort Kochi, see here for details. Prices are around 1400 rupees per head.
13. Visit one of the many art cafés
Something that I love about Fort Kochi is the way they have reused their colonial buildings.
Instead of making all of them into stuffy museums or abandoning them altogether, most of them have been transformed into trendy art cafés and restaurants.
Whilst on my walking tour we popped into the David Hall Gallery & Café where you'll find some great art in the gallery and also some of the local artists selling their works.
Also, you can visit Kashi Art Café, the Pepper House, and Master's Art Café which all provide amazing creative spaces to grab a coffee or have lunch.
14. Pay respects at the Dutch Cemetery
If you carry on down the road from the St. Francis' Church towards the beach you'll pass the famous Dutch Cemetery.
This cemetery which was constructed in 1724 is believed to be one of the oldest cemeteries in the whole of India. It's actually one of the most popular attractions in Fort Kochi as it holds 104 tombs of settlers from the area.
During the Dutch colonial era, only Dutch people were allowed to be buried here but later British citizens were also laid to rest there.
It's closed off to visitors most of the year, but you can have a look at it from the outside.
15. Spot dolphins on a sunset cruise
One of the many things that visitors love to do here is going on a sunset boat cruise of the local area!
Although not a guarantee, when the sun goes down in Kerala you may have the chance to spot some wild dolphins as you sail by.
On your cruise, you'll head out and sail by Balgatty Island, Marine Drive, and the Kochi Lagoon that looks out to the Arabian sea.
There are many operators in the area but here are some tour ideas below;
How to get around Fort Kochi
On Foot: Fort Koch is a small fishing area and you can easily get around on foot to explore. I think the furthest attractions are in Mattancherry and it's a 30-minute walk from the Chinese Fishing Nets in Fort Kochi.
Uber: If the heat is too much or you just don't feel like walking, there is Uber in the area. I have a whole post about how to use Uber in India which you can check out here.
Rickshaw: As it was pretty easy to head around Kerala I didn't end up using the Auto Rickshaws here but I got plenty of offers when I was out and about! The Rickshaws are pretty reasonable but make sure you negotiate for a fair price.
Public ferry: If you want to island-hop in Kochi, I would highly recommend the local car ferries. Each ferry allows foot passengers to board and the tickets are SO cheap. For 3 rupees you can cross to different islands like Vypeen and Balgatty. They also run pretty much all hours too.
Where to eat in Fort Kochi
If you wanted to try some of the local Malayali fish dishes then I would recommend checking out some of the sea front restaurants like Sutra restaurant and Fusion Bay. Both come highly recommended and having tried some of their awesome specialities for myself, I can confirm that they are excellent.
If you're looking for a lunch spot, then definitely pop into some of the art cafés like Kashi, the David Hall or the Pepper House for a light bite.
If you're looking for a budget local experience I would recommend heading out of the Fort area and popping into Kayeez Rahmathulla Café which is a local favourite and serves up piping hot food all day.
Where to stay in Fort Kochi | Kochi Hotels
I organised my Kerala trip through India Someday who booked me into the wonderful Delight Homestay while I was here.
What I loved more than most about this family-run homestay was that it was the oldest in Fort Kochi and located inside a Portuguese building. So, you really felt part of the history while you were here!
Inside the homestay was a gorgeous garden where they grew their own herbs, fruits, and vegetables. So, you know when breakfast was served it was all organic!
My room was clean, spacious, and had fantastic air conditioning which was perfect for the sweltering temperatures in October.
You can read my complete review of this amazing homestay here!
When is the best time to visit Kochi?
Unlike the north of India, Kerala sees nice tropical temperatures throughout the year that aren't going to melt your skin off!
The peak tourist season in Kerala is October to March. But, even in October I still felt the humidity of the monsoon rains. December to January will be the coolest, busiest and most expensive time where hotel prices double.
In April to June the temperatures soar but only to around 37 degrees as a maximum. It's hot but, the north can see temperatures of up to 50 degrees! It will be really quiet around this time and you can get cheap rates on hotels.
July – September is time for the monsoon rains to fall! Having visiting India in Monsoon, it's not always raining constantly. But, you will see lot's of showers throughout the day. Lot's of people say that Cochin comes alive at this point as the water makes everything lush and green.
Where is your next destination in Kerala?
If you're looking for further ideas on where to head while you're in Kerala, make sure you check out my 7 day Itinerary which includes the beautiful Munnar and Alleppey.
Or, read some of my related articles here;
The Top tourist places to visit in Munnar
You complete road trip guide to Munnar
Tips for visiting the tea gardens in Munnar
Lakkam Falls: the best waterfall for swimming
Eravikulam National Park: essential tips before you visit!
Top Station: is it worth it?
Top places to visit in Alleppey
A complete guide for the Kerala backwaters
In this article I go through how to get around the state, places that you can't miss and some top tips for your trip to God's Own Country.
But, for now, here are some day trips or tours you may like to take while you here;
Alleppey overnight boat cruise from Cochin
Munnar private day trip from Cochin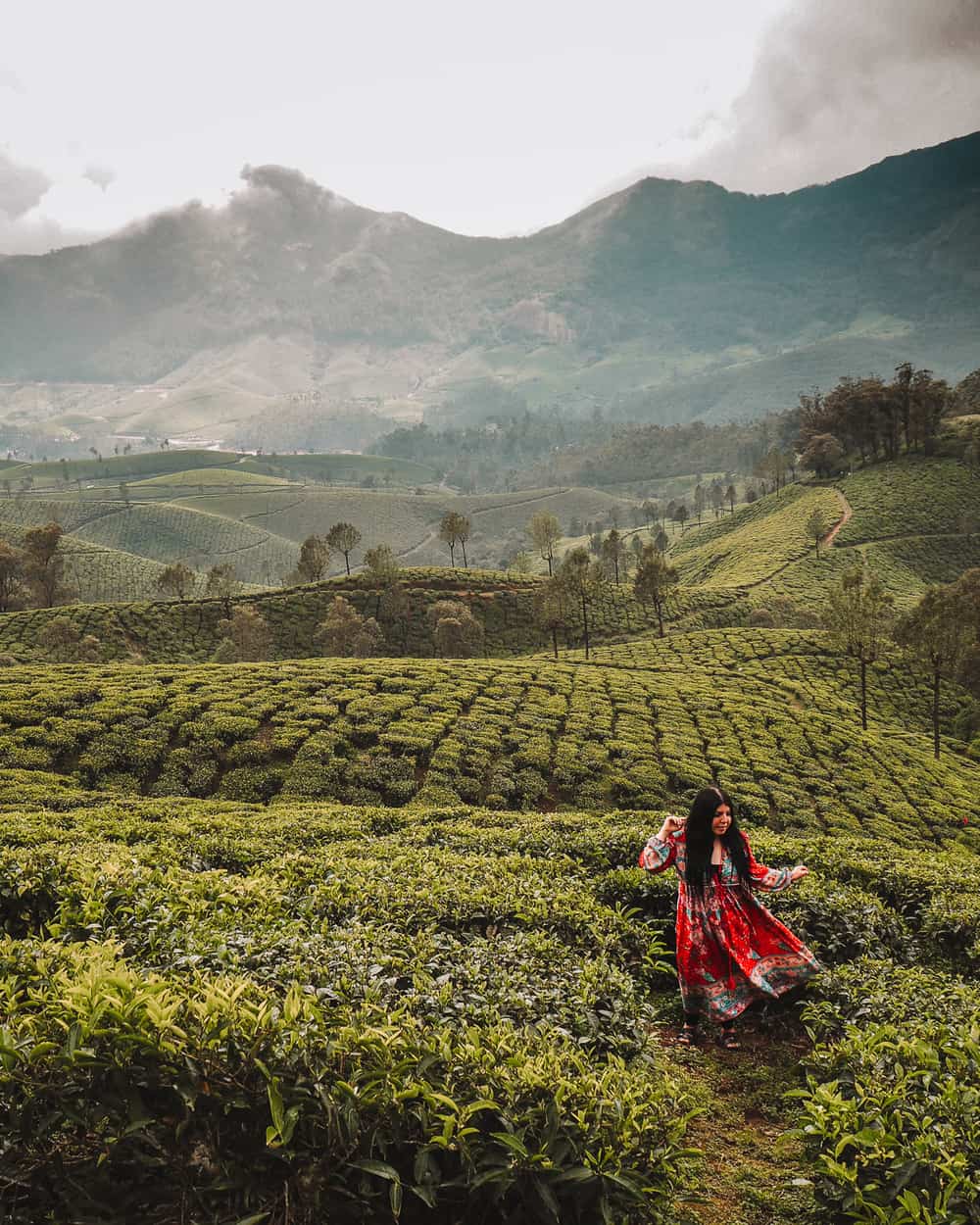 With thanks to India Someday for sponsoring my trip to Kerala. Although I was a guest, all photos and opinions are my own.
Save these things to do in Fort Kochi for later!