If you're heading to the Sri Lankan south coast, then a visit to Galle Fort has to be on your bucket list.
Originally built by the Portuguese in 1588 then extended on by the Dutch in the 17th-century, It's now a thriving Sri Lankan community on the Indian Ocean.
Over time, the fort has become a melting pot of architecture, cuisine, culture and heritage sites. This makes it an incredible place to explore that has SO much to see, eat and do.
As soon as I arrived in Galle Fort, I knew I was going to love exploring here. As a history buff, it was just my cup of tea. Plus, I was able to learn some important chapters of Sri Lanka's colonial past.
Here's a definitive guide for Galle with all the best things to do in Galle Fort!
Heading to Sri Lanka? Don't forget about travel insurance. Click here for a FREE quote from World Nomads!
A brief history of Galle Fort
Galle's history as a trading port can be traced back for thousands of years. However, its colonial history with foreign invaders starts around 1505.
This is when the Portuguese first arrived on Sri Lankan shores and started making significant changes to the development of the town.
By 1541, the Portuguese were stationed in Colombo. But they were already constructing the Galle Fort ramparts and a had started building a chapel there. This was with full permission from the King of Sri Lanka at the time.
However, relations took a turn in 1588 when the Sinhalese King attacked the Portuguese. So, they were forced to move from Colombo to Galle.
After that, the Portuguese started to build the rest of Galle Fort in 1588. This fort was then called Santa Cruz and acted as a defence from the Sinhalese. It was also a trade hub and had a prison for Sinhalese 'rebels' who opposed Portuguese authority.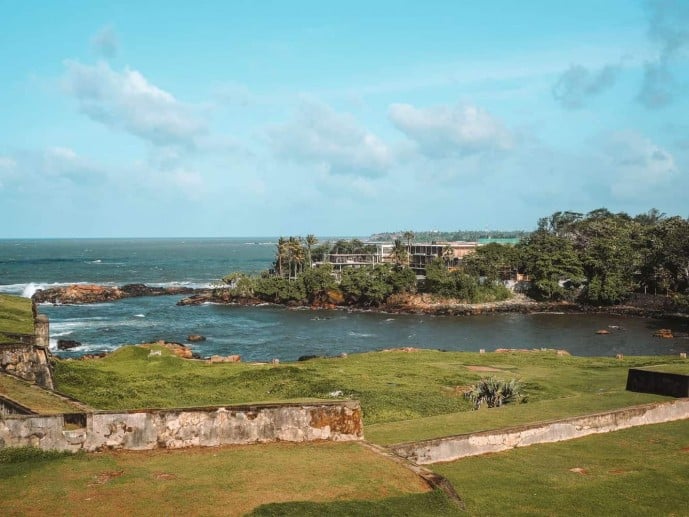 By the 17th century, the Dutch arrived and joined forces with the Sinhalese King. Together, they captured Galle Fort and forced the Portuguese out of Galle.
Although it wasn't ideal to swap one foreign invader for another, the Dutch had an important role to play in Galle Fort.
They started to build up the area significantly by building fortifications, an arsenal, administration buildings and warehouses along with residential areas.
Colombo was then captured by the British in 1796 and Galle Fort was taken over by them one week later. It remained British property in the colony until 1948 when Sri Lanka gained its independence.
Today, Galle Old Town is a UNESCO World Heritage Site. Meaning, it's of significant historical interest and is protected for all to enjoy.
It's had significant improvements made by the Archaeological Department of Sri Lanka. So, it looks just as polished as when it was first built!
The best things to do in Galle Fort
1. Visit the famous Galle Lighthouse
The icon of Galle Fort is definitely its photogenic lighthouse that sits at the far end of Utrecht Bastion.
It's the oldest lighthouse in Sri Lanka that has its origin in 1650. This is when it was an old oil lamp that used to guide sailors onto the shore.
The lighthouse we see today was built by the British in 1848. It was designed in cast iron by the famous architect Alexander Gordon. Since 1939, it's now completely made of concrete.
It is still a working lighthouse run by the Sri Lanka Ports Authority. Although you cannot go inside, it is still a highlight attraction of Galle Fort.
The best time to visit the lighthouse would be at sunset. This is when you get a beautiful view from the Utrecht Bastion overlooking the ocean.
Make sure you take your camera as this lighthouse is as pretty as a postcard!
2. Walk along Galle Fort Ramparts
Once you're finished admiring lighthouse, you can easily walk along the Fort Ramparts next to the ocean.
Although it's easy to forget, you'll be walking in there footsteps of Portuguese, Dutch and British soldiers. They were always on the lookout for invading ships!
Most of the fort still stands today and you can see where the old cannons used to point out onto the ocean.
If you did decide to walk the whole way around the ramparts, it will take you around 2-3 hours to complete the circuit. It's easily one of the best things to do in Galle Fort.
It's a great way to explore the area and you'll get picture-perfect views of the ocean. There's plenty of places to stop off on the way too. So, take your time.
3. Check out the Galle Fort Clock Tower
Another historic monument that is worth visiting is the Galle Fort Clock Tower that overlooks Moon Bastion. This is on the site of the former guardroom while the Dutch were here.
It was built in 1833 and the money for the construction was raised by the locals who lived here at the time. They dedicated the tower to their local Doctor, Peter Daniel Anthonisz.
The clock face that sits in the tower was donated anonymously by a very grateful patient which is so sweet!
Although the clocktower is nearly 200 years old, it still says the correct time today.
Moon Bastion is a great lookout point over Galle Fort. So don't forget to take in the views while you're there.
4. Watch the Galle Fort Jumpers (Crazy Jumpers)
One of the most exciting things to do in Galle Fort is watching the cliff jumpers over at Flag Rock Bastion.
These are usually local boys who jump off the side of the fort ramparts and into the ocean.
It's actually quite nail-biting to watch them as it totally looks like they will hit the rocks below. But, amazingly, they seem to get it right every time!
When I visited in the monsoon season in October, there weren't many about as the waves were too dangerous to go jumping.
But, if you visit in the peak season of December/January, you'll see them all the time. They always bring in the crowds for their life-threatening freestyle dives!
5. Go shopping on Pedlars Street
One of my favourite areas of Galle Old Town was Pedlars Street that is in the heart of the fort.
Here, you'll find plenty of restaurants, bars and boutiques to go shopping in. It's the perfect activity once you've explored all of the historical sites.
You'll find all sorts of shops here including art galleries, typical Sri Lanka souvenirs, clothes shops etc.
One of my favourite shops in Galle Fort was Stick No Bills! This had loads of retro posters and postcards for sale.
I actually collect vintage postcards when I travel so I went to town here. The postcards now sit proudly on my wall haha.
6. See the colourful fishing boats in the harbour
As well as Galle Lighthouse, one of the most iconic sites of the Sri Lankan coastline is the colourful fishing boats that line up on the beach.
Although the fort itself doesn't have a main beach, there are plenty of little coves that you can visit just outside of the fort walls.
When I was walking towards the new town, I found a great little spot that you could explore right by the ocean. I found so many of these fishing boats lined up along the shore.
Make sure you talk to some of the locals while you're here. You'll often see them fixing fishing nets or taking in their catch of the day.
7. Visit the old jail cells in Black Fort
The oldest parts of Galle Fort are now ruins that have been leftover from the Portuguese era. They were the first foreign settlers here and started to build their fort from around the 1540s.
Back then, they called the fort 'Santa Cruz'. However, when the Dutch took over the fort they renamed the area the 'Zwart Bastion' or 'Black Fort'. It still has this name today.
There are debates over how this part of the fort got the name. Some say that the name Black Fort comes from the fact that smoke used to engulf the area. Others say it was called that due to African slaves who were transported here by the Dutch and kept in the cells.
Today, very little of this area remains due to washouts by the sea. But you can still visit the old jail cells that are open to the public.
Although the holding cells are quite creepy to explore, the views from here are fantastic!
8. Pop inside the Dutch Reformed Church
If you're interested in historical sites in Galle, then I would definitely recommend stopping by some of the temples that have been built here.
The Portuguese, Dutch and the British all built religious buildings here. But, the most famous is the Dutch Reformed Church or Groote Kerk.
It was built by the Dutch in 1755 and is one of the oldest protestant churches still in use in Sri Lanka!
The architecture both inside and outside of the building is gorgeous. So, make sure you step inside. It's an oasis of calm from the busy streets.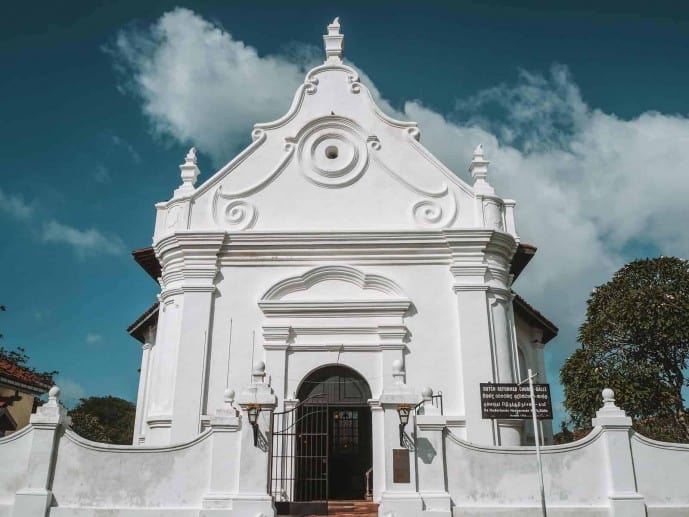 See more religious buildings in Galle Fort
As well as churches, there are other religious buildings worth visiting. These include Buddhist temples and mosques;
Ruins of the Portuguese Church – The first church that was built here by the Portuguese from around 1540. None of the church remains but the ruins can still be seen.
All Saints Church – You'll find this church on the aptly named Church Road. It's an Anglican place of worship that was consecrated while the British were in power in 1871.
St Mary's Cathedral – A catholic place of worship built by the Society of Jesus in the 19th century.
Meeran Mosque – This gleaming white Islamic mosque is quite unique due to the Baroque Victorian architecture. It has a Portuguese facade with Arabic on the front. Tourists usually cannot enter but may do so if invited in and appropriately dressed.
Sri Sudharmalaya Buddhist Temple – A small but interesting temple with a beautiful stupa and statue of Buddha. You must also be dressed appropriately to enter.
9. Watch a Cricket Match
Did you know that there is an International Cricket Stadium in Galle? It's one of the most important venues in Sri Lanka for international matches!
The stadium was originally built in 1876 as a racecourse when the British were here. But, as the interest in racing fell into decline, they decided to change it into a cricket stadium in 1927. This makes it the tenth oldest in Sri Lanka.
According to Sri Lankan cricket players, this stadium is the luckiest as they have won the most matches here!
If you want to watch a cricket match, you'll need to keep an eye out for matches that take place. These can be friendly matches, national matches and even international against countries like India and New Zealand.
Cricket Matches are one of the most popular things to do in Galle. So, make sure you book tickets online or at the stadium before you go.
10. Eat at the Pedlars Inn Café
There are countless restaurants to choose from in Galle Fort. From Sri Lankan cuisine to international flavours and even vegan outlets. You'll find no shortage of amazing food.
But, for me, there was one eatery that really stuck out to me in terms of the quality of food and the atmosphere. That's the Pedlars Inn Café on Pedlars Street.
One of my best memories was eating dinner by candlelight just outside of their restaurant one evening.
I treated myself to a huge pizza and one of the local beers which was absolutely delicious.
If you didn't want to commit to lunch or dinner here, they have incredible coffee and cakes throughout the day. Try their amazing Gelato! Such a treat with the heat.
11. Visit one of the many Galle museums
If you're like me, then you'll love visiting museums when you travel! I don't know why, but I find them so interesting. Being a bit of a history nerd, I love learning something new.
Galle is a melting pot of cultures from its colonial history and so you'll find plenty of museums here to keep you occupied. Perfect if its rainy season.
Galle National Museum – Located inside the oldest remaining Dutch building in Galle, this delightful museum is set in the old commissariat store. It hopes to raise awareness to the cultural heritage of southern Sri Lanka.
National Maritime Museum – Opened to the public in 1992, this museum is also set in an old Dutch warehouse. Open daily from 8 am – 4 pm, you can learn all about Galle's heritage as a centre for sea trade. It also covers the Naval base and the Portuguese and Dutch eras.
Historic Mansion Museum – Located on Leyn Baan Street, this museum is set in an old Dutch home. It has been largely preserved and allows you to travel back in time to the 18th-century. It has a huge collection of antiques including oil lamps, nick knacks and furniture. Make sure you visit the old courtyard with its old well. It's an Aladdin's cave of old treasures!
12. Check out Galle Dutch Hospital Shopping Precinct
There are many restoration projects around Galle Fort that hope to renovate old colonial buildings and transform them to good use.
One of those is the Old Dutch Hospital that can be found near the Flag Rock Bastion.
Originally, as the name would suggest, this was the old hospital in Galle. It's one of the oldest buildings that dates back to the 17th century.
Years ago, this building used to tend to Dutch soldiers and those of the Dutch East India Company. When the British arrived it was extended on and transformed into army barracks. It stopped being used when Sri Lanka gained its independence.
Nowadays, it has been transformed into a vibrant shopping district near the coast.
Inside you'll find cafés, bars and boutiques to visit! It's quite a high-end place, so prepare to fork out.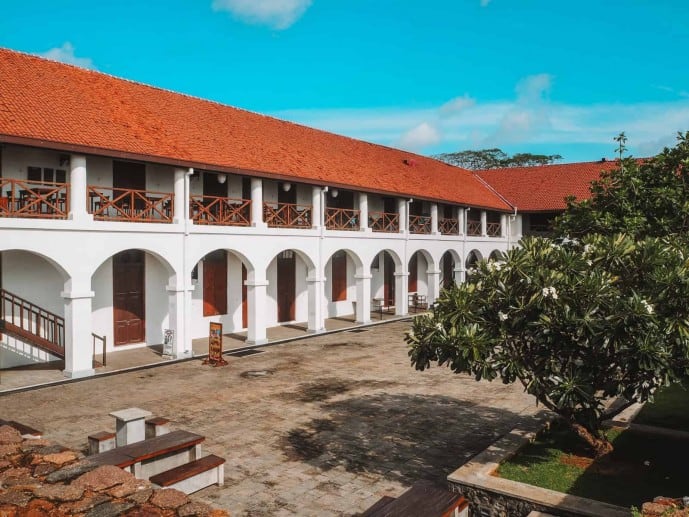 13. Have lunch at Rocket Burger
If you were looking for some good, cheap eats in Galle then I would recommend the popular Original Rocket Burger.
Tucked away on the top floor of Church Street, they are Galle's only burger specialists that serve up an epic menu!
As I was backpacking at the time, I visited here as I found that the meals were so much cheaper than the more expensive tourist eateries.
It definitely didn't disappoint. They have all sort of burgers sticks here, including a Tiki Tiki burger, Texas Cowboy and the Shipwreck. All come with fries, lots of cheese and toppings.
It's not just meat either, they have veggie bean burgers and vegan options in-store.
You'll always find this place packed. If you're visiting in peak season, prepare to wait for a table!
14. Sip cocktails at Galle Fort Hotel
Galle Fort Hotel is a gorgeous heritage property. It's easily one of the most popular and high-class hotels in the area.
It's advertised as a 'world within another world' and I can see what they mean. It's like a portal into a different era.
It was originally built in the 18th century and used as a Dutch mansion and warehouse. The facade outside and its authentic shutter windows are some of the best-preserved examples in Galle Fort.
It was renovated and transformed into the Galle Fort Hotel in 2003 and has since won multiple awards. The building has three floors filled with beautiful historic rooms which have retained many of the old features.
If you can't afford to sleep over in this paradise, don't fret. You can always visit their swanky bar for a cocktail once the sun sets.
You can sit inside or relax outside by their fantastic pool. It's the perfect place to time travel and forget the world outside for a while.
15. Galle new town & Stylo Tailors
Once you've seen everything there is to do in Galle Fort, I would definitely recommend visiting the new town of Galle as well.
It's not as polished as the fort, but it has so much character! You can really get a feel for the local culture here.
As you wander down the many shopping streets, you'll find fruit markets, bazaars and the fishing stalls too. Although, you'll probably smell these before you see them!
One of the places I was dying to visit was the highly Instagrammable Stylo Tailors & Textures building. You can find this superstar on Lower Dickson Road in Galle.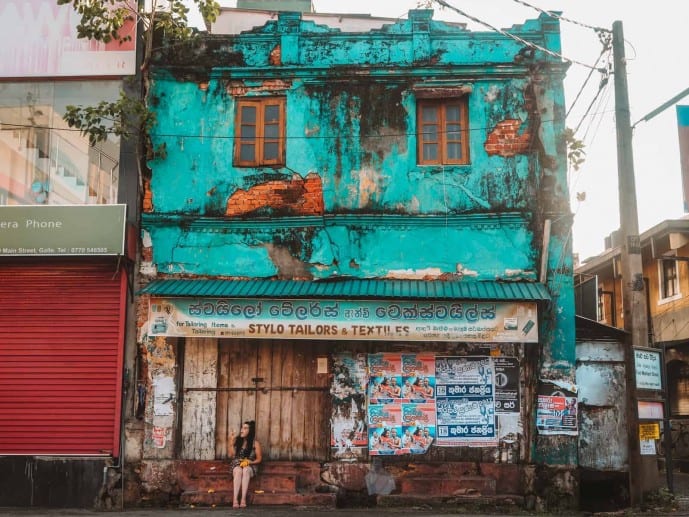 16. Take a trip along the South Coast!
The great thing about the south coast in Sri Lanka is that most of the beach towns in the area are quite close to one another.
This means you could easily visit one of the popular beaches within a matter of minutes from Galle.
It's really easy to travel by hiring a scooter, renting an auto-rickshaw or catching a local bus.
I used to ride the local buses here and they were so cheap! Jump on any bus heading to Tangalle and stop off where you like. Journeys cost no more than 50 rupees a single journey.
You could visit the popular beach town of Unawatuna, swing on a palm tree at Dalawella or head on over to Mirissa. The choice is yours!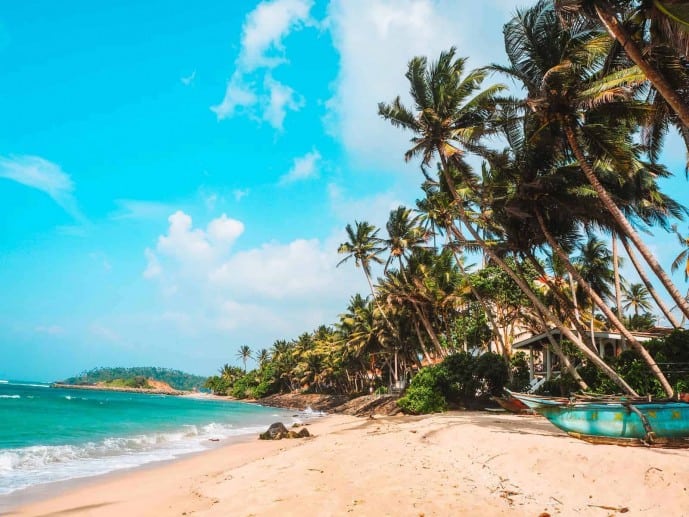 When is the best time to visit Galle?
The best time to visit Galle would be in the winter months from December til around April time.
This is when there is little rain to be found on the south coast and the waves will be a lot less turbulent. This is perfect for visiting the beaches too!
From May to October / November, you will find that the south coast has lots of rain in the monsoon season.
However, if you do visit during these months there is plenty to see and do! You have many museums and shops to head into if the rain becomes too heavy.
Where is Galle Fort in Sri Lanka?
Galle is located on the south-west coast of Sri Lanka around 150 kilometres from the capital city of Colombo.
As one of the most popular destinations in the entire country, it is easily accessible by bus or train.
I personally took the train to Galle from Colombo. It was relatively easy and I managed to reach the south coast within 2-3 hours. The ticket cost me 300 rupees and I opted for a 3rd class carriage.
Galle has its own railway station. So, simply alight there and then take an auto-rickshaw into Galle Fort. There's usually a fixed fee for a tuk-tuk of 100 rupees. If you'd rather, you can walk!
Getting around Galle Fort
Galle Fort is easy to explore on foot if you wanted to take your time. Walking around the Galle Fort Ramparts route is one of the easiest ways to do this and you can tick off many sights along the way.
But, if you didn't fancy walking due to the weather conditions, you could opt to have a tour of the fort by auto-rickshaw.
As I was on a strict timeframe, I opted for a rickshaw tour of Galle Fort and loved it! It was a half day tour and cost me around 500 rupees (plus I gave an extra tip).
On my tour, my driver took me to all the notable sights, waited for me to look around and also took some photos for me. He was really sweet.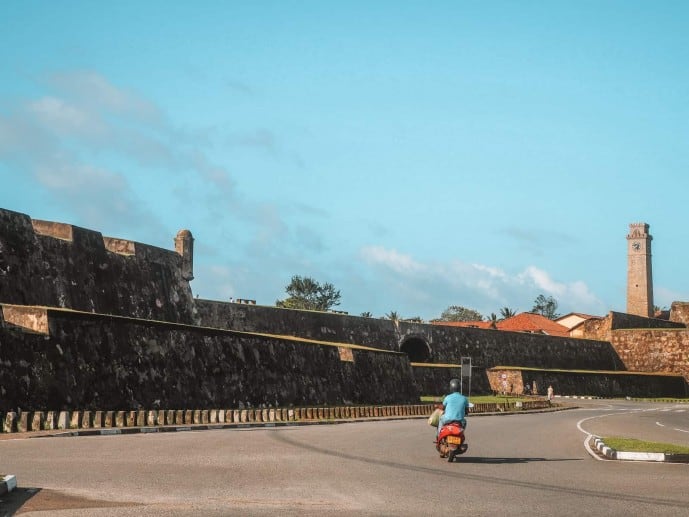 Where to stay in Galle Fort
There are plenty of amazing places to stay within Galle Fort itself. Staying inside the fort is actually the better option as it's away from the busy traffic of the city!
These may be a little more on the expensive side, but the quality of hotels is so much better within the fort.
Here are my top picks;
Galle Fort Hotel – An award-winning heritage hotel within the fort with some of the best-retained features. This hotel is the best pick in town and celebrities stay here! Click here to book.
The Heritage Hotel Galle Fort – The Heritage Hotel is another fine property set within an old Dutch colonial building. Set across two floors, it has plenty of rooms t book and a fine dining restaurant. Click to book.
Mango House – Set in a Dutch colonial mansion, this light and airy hotel has comfy rooms at an affordable price. You can enjoy a home-cooked breakfast in their courtyard! Click to enquire.
Yara Galle Fort – A unique boutique hotel set within the walls of Galle Fort. It has 14 beautiful rooms to book and a massive courtyard to have breakfast! Click for rates.
Read more of my Sri Lanka travel guides
My ULTIMATE Sri Lanka Bucket List
The top places to visit in Galle Fort
A complete guide for Nuwara Eliya
Tips for hiking up Sigiriya Rock
The ancient town of Polonnaruwa
The Ultimate Udawalawe Safari guide
Save my things to do in Galle Fort guide for later!