One of the biggest highlights of visiting Gloucester, beyond its famous cathedral, is a trip to the vibrant Gloucester Docks!
It's a historic dockyard that used to be a powerhouse of overseas trade and economy that is going through a renaissance today.
Although it fell into disuse during the 1980s, nowadays there are plenty of amazing things to do in Gloucester Docks for visitors!
They've transformed the whole area for tourism and it's filled with museums, restaurants, designer outlet shopping and pleasure cruises. It's well worth paying a visit.
Here's the ultimate Gloucester Docks guide with the very best things to do in Gloucester Docks!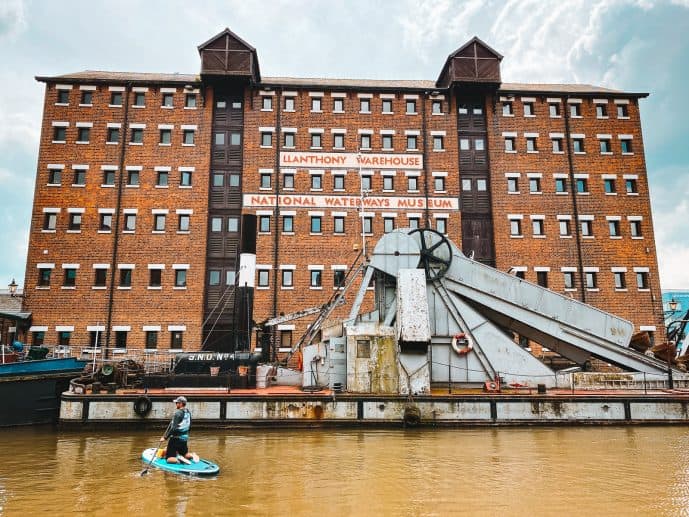 Gloucester Docks history
So, how is it that the city of Gloucester even have a dockyard? It's quite a peculiar thing if you think about it as Gloucester is inland and nowhere near to the sea!
Well, Gloucester Docks is one of the furthest inland dockyards in the entire country which lies close to the River Severn and the Sharpness estuary.
Elizabeth I gifted the city the status of a customs port in 1580. It was much smaller then and made use of the River Severn split that was largely used by the Romans since 48AD.
Later, the dockyard was extended and a ship canal was built to negotiate the rocky tidal section of the river.
The Main Basin at Gloucester was constructed as a terminus harbour for the Canal ships that would arrive from the Severn Estuary via The Gloucester & Sharpness Canal.
In 1824, an arm extension of the Main Basin was added and connected to the canal to allow tall ships to enter.
It officially opened in 1827 and to celebrate a huge crowd gathered to watch the first two ships enter the dockyard with the ringing of church bells!
It created a wealth of opportunities for the city due to overseas trade. Corn from Europe, salt from Worcestershire and sugar from the Caribbean all made their way in and out of Tall Ships and narrowboats in this port.
Soon after, many warehouses, factories and dry docks were created here. Not to mention thousands of jobs for the people of Gloucester.
Due to the expansion of the railways and motorways, the Gloucester Docks became less popular as a choice for trade.
By the 1980s, the Gloucester Dockyard fell into disuse and for many years it was largely abandoned. Many graded buildings lay empty which provided an opportunity for development.
Why you must visit Gloucester Docks today!
In recent years, the Gloucester Docks has been undergoing a multi-million pound renovation project.
Instead of being a hub of engineering, shipping and trade, it's now seeing a renaissance and has been entirely rebuilt for tourism!
So, you'll find that many of the old dockyard warehouses have been transformed into fancy apartments, shopping districts and restaurants.
It's filled with gorgeous Victorian architecture and there is now a wealth of tourist museums, pleasure cruises and attractions to enjoy which make it a wonderful day out in England!
Best things to do in Gloucester Docks
So, what is there to do at Gloucester Docks? Well, there is honestly plenty and you'll find it hard not to fill a day with everything you can do here!
As well as exploring the dockyard which is filled with amazing architecture, there are museums, cafés, shops, breweries, boat trips and so much more to see and do.
Here's a complete list of the very BEST things to do in Gloucester Docks.
1. Visit the Gloucester Waterways Museum
First of all, if you wanted to get an overview of these historic docks and its history, you must stop by the National Waterways Museum Gloucester.
It's an award winning complex that's located inside a Grade III listed dock warehouse near to the Main Basin.
Here, you can learn over 200 years of history about The Gloucester & Sharpness Canal with its fun and interactive exhibitions.
Plus, they have a wealth of information about the extensive heritage of the waterways across the UK. With information on how you can enjoy them, protect them and their wildlife too!
They have the Llanthony Tea Rooms for a spot of tea or lunch and a wealth of picnic benches if you've brought your own! It's one of the best things to do in Gloucester Docks.
The Museum is open Tuesday – Saturday from 10 am – 3 pm. Prices are £8.50 for an adult which allows for 12 months of entry. Children (6-15) cost £5 and those under 5's are free. The concessions are £7.50.
2. Take the Gloucester Docks heritage trail
After that, you can follow the Gloucester Docks heritage trail around the Main Basin and beyond.
There is a walk that you can follow which has lots of information boards and vintage photographs of Gloucester docks over the centuries.
I absolutely loved seeing all the Victorian architecture that had been preserved here as well as the old dockyard equipment that had been left out on display.
You'll see old ship engines, forklifts and shipment rails with the carriages that used to transport the goods from Tall Ships into the city!
There's so much to see and do here and lot's of footbridges that allow you to cross over the waterways. We got to see some of the canal boats pulling into the harbour through the canal locks which is always interesting to see.
Places around Gloucester Docks to explore:
Main Basin – Built in 1827 and the original terminus of the ships canal
Dry Docks – huge areas of dry docks were built to transport ships onto dry land to fix and repair them
Baker's Quay – it was constructed in the 1830s by Samuel Baker when additional Quay space was needed
Victoria Dock – was built later in 1849 after the Main Basin and Baker's Quay were overrun with ships!
Timbers Yard – A large area that was used as a saw mill and carriage works in the 19th century.
Monk's Meadow Quay – Opened in 1892 but the name comes from it being the home of the ancient Llanthony Secunda Priory. This was built outside of the city walls in the 1136. It's now a ruins and museum.
3. Visit the Gloucester Docks main basin
The Gloucester Docks main basin is the original part of this historic dockyard which dates back hundreds of years.
In 1560, Elizabeth I granted Gloucester to use the Gloucester Docks Main Basin for trade. Its main arm was then later extended in the 18th-century to allow ships entry via the Gloucester and Sharpness Canal. It officially opened in 1827.
Today, it's the main hub of the Gloucester Docks district and you'll find that it's filled with gorgeous buildings to explore.
Many are bars and restaurants but the walks around the main basin provide spectacular views of the area. You'll see plenty of boats docked up and pulling in, there's lots of activity going on! It's one of the best things to do in Gloucester Docks.
If you're here on a Saturday, you may like to watch the Gloucester Docks Model Boats Display. Each week the members of the Gloucester & District Model Boat Club sail their model ships from the entrance to the Victoria Dock.
4. See the Gloucester Tall Ships Festival
When this bustling harbour was at its prime, hundreds of tall ships would be parked up here at any one time.
The place would be filled with mariner's who were arriving and leaving on ships, as well as the warehouse employees transporting goods and people tending to those ships on the dry docks.
The whole area would be awash with ships hoisting their sails and it would have been an amazing sight to behold.
Today, Tall Ships are quite a rare sight in the UK. So, it's quite special that you can still see some on Gloucester Docks!
You'll find one or two dotted around the docks all year but if you really wanted to see an amazing show, you should attend the Gloucester Tall Ships festival!
It's a three day event that takes place every two years and sees a wealth of tall ships arrive to the docks. 100,000 people usually descend on the city to see it.
You'll find lots of entertainment stands, food stalls and reenactments throughout the weekend. Even skirmishes from pirates!
Click here to see when the next Tall Ships Festival will be
5. Look at the working Gloucester Dry Docks
With the rise of Tall Ships coming into Gloucester Docks there came a need to install dry docks here.
Dry docks allow for the massive ships to be safely transported off the water and onto dry land without collapsing. It also makes it far easier to stabilise the old ships in order for them to be repaired and maintained.
Although the Gloucester dry docks were built centuries ago, you may be surprised to know that they are still in use today for all manner of vessels in the dockyard!
All the maintenance and repairs on the dry docks are managed by T Nielson & Co. You can often see their craftsmen at work here using traditional ship building and fixing techniques.
6. Explore the bustling Victoria Harbour
There are two main areas to Gloucester Docks, one is the Main Basin and the other is the Victoria Harbour.
This Victoria Harbour was built as a result of the Main Basin and Baker's Quay being overrun with ships. It was opened in 1849.
The Victoria Basin is more like a marina nowadays which is actually set behind the main docks area and has a wealth of narrowboats pontoons, cruisers and yachts parked up on the water.
It's a popular area where people gather and you'll find lots of tourists and locals sat around the park area on a sunny day. It's one of the best things to do in Gloucester Docks.
There's a pub called The Tall Ship nearby and lots of restaurants plus the Soldiers of Gloucestershire Museum which I will talk about later.
7. Go shopping for antiques in Upstairs Downstairs
Just off the Gloucester Docks Main Basin opposite Severn Road you'll find the Upstairs Downstairs Antique Shop.
It caught my eye down an alleyway as I was wandering around here and I loved the building! It almost looks like it has a front door on the upper floor!
The antiques shop is well worth paying a visit as it's an absolute treasure trove! They specialise in antique clocks, furniture and lighting.
There is also a small café on the upper floor that serve up hot drinks and homemade cakes throughout the day.
8. Admire the old Gloucester Docks warehouses & buildings
Gloucester Docks currently have fifteen Victorian warehouses that are dotted around the harbour. They are all made of red brick and grade II listed and so much of their heritage has been fantastically preserved.
Although they have now been converted into premium living spaces and boutiques, you'll still find the original owners names painted on the front! The red brick buildings with white vintage signs on them make such a great photo opportunity.
I loved the Harbour House as well which is a quaint little residence. It was first built in 1888 and came with a small office beneath the towering Alexander Warehouse.
Look out for the Mariner's Graffiti that's been carved into the brickwork on the outside. They are letters that represent the names of tanker barges based at Gloucester!
9. Visit the many Gloucester Docks restaurants & Cafés
Eating is by far one of the best things to do in Gloucester Docks. As part of the renovation there are a wealth of amazing eateries around the main basin, Gloucester quays and the Victoria Harbour Marina!
As well as your typical popular chain restaurants like Nando's and Bill's, there are plenty of incredible independent businesses that showcase a range of tasty cuisines from around the world!
There are no end of places to pop inside and grab something to eat or drink. Here is a list of some of the best places to eat at Gloucester docks:
Settebello Trattoria – An authentic Italian Trattoria and cocktail bar which brings a piece of Southern Italy to Gloucester Docks!
The Med – A restaurant which is dedicated to sharing flavours from Lebanon, Syria, Spain and Greece!
Greek on the Docks – a modern quayside restaurant with a cosy atmosphere and a menu filled with authentic Greek cuisine.
The Lord High Constable of England – It is a Wetherspoons but extremely popular nonetheless and usually heaving all day. There is a great outdoor seating area by the waterside.
Café Corretto – named after an Italian espresso mixed with alcohol, this popular café is located just outside of Gloucester Quays shopping centre. It serves up authentic Italian coffees, cakes and sandwiches.
10. Go shopping in Gloucester Quays Designer Outlet
Most people visit Gloucester Docks to go shopping in the Gloucester Quays Designer Outlet shopping centre.
It's a relatively new area that has lots of designer brands at discount prices. You'll find big names like Nike, Mountain Warehouse, Jack Wills, M&S and more!
There's also a huge cinema, gym facilities, cafés to stop for a coffee and food court outside.
I'm not a huge fan of shopping but it's well worth taking a peek if you're here. It's not overly big so it's easy to navigate and there's lots to see and do beyond shopping.
11. Get some scrumptious dessert from Cookie Dough
Just outside of the Gloucester Quays shopping centre is a huge food court around a small square.
If you make your way over to the Pillar and Lucy House you'll find an amazing 1950's style mint green food van called #CookieDough.
Here, you can purchase the most delicious cookie dough desserts which come in all different flavours with mouth watering toppings. You can get it with ice cream and sauce or just on its own!
After you've made your purchase, you can sit on the picnic benches in amongst the artificial green that has colourful bunting. It's a stunning place for a rest stop!
12. Take a Gloucester Docks boat trip
One of the best things to do in Gloucester Docks is to take a pleasure cruise boat trip around The Gloucester and Sharpness Canal.
The Gloucester Docks boat trips are run with the National Waterways museum and usually last around 45 minutes.
Gloucester Docks was the backdrop for the movie 'Alice through the Looking Glass' and so you can feel like you're in the silver screen sailing here!
The boat is called the Queen Boadicea II which is also known as the Dunkirk Little Ship. It was built in 1936 as a Thames pleasure boat.
She played her part in World War II in Dunkirk Harbour where she helped evacuate stranded soldiers!
Ticket prices are £6 per adult and £4.25 a child. The concessions are £5. Click here for more information on boat trip prices and sailing times
13. Go Gloucester Docks Kayaking and Paddling!
While I was exploring Gloucester Docks I saw many people kayaking around here and trying their hand at stand up paddle boarding.
It's a great way to see the dockyard from a new perspective and as the water is so still it makes a great place to practice a new hobby!
Paddling and Kayaking Tours happen mid-week and at the weekend and usually last a couple of hours.
No previous experience is required and all tours are led by a certified instructor. Prices include all the equipment you'll need too!
Click here to discover Gloucester paddling
14. Visit Gloucester Docks church, Mariner's Chapel
A mariner's life at sea could be a challenging time, they often spent long periods away from home and across the continent.
The Mariner's Church was built in 1849 to provide a place of worship for all mariner's no matter what nation they sailed in from.
According to the chapel, in the first 5 years of it being open over 2,000 copies of the bible were distributed!
Nowadays, it's a popular attraction that still welcomes International tourists from around the globe visiting Gloucester Docks.
The entrance price is free but donations are welcome. The Mariner's Chapel is open to visitors from Monday and Thursday from 9 am – 1pm and Tuesdays, Wednesdays, and Fridays from 9 am – 4 pm.
If you head towards the Monk's Meadow Quay, you'll find the hidden gem of Llanthony Secunda Priory near Gloucester College.
Although it is a ruins today, when it was first built it was a powerful religious institute and a house of the Augustinian Canons.
It was built in 1136 outside of the original city walls and has played a part in the history of Gloucester for over 900 years.
It was a priory for over 400 years but unfortunately, during the Dissolution of the Monasteries of Henry VIII, it was torn down and the area was used for farmland.
Today, Llanthony Secunda Priory is a museum where you can see the ancient Llanthony Secunda Priory Ruins, a medieval timber framed building, Victorian Schoolrooms and an exhibition centre. It's one of the best things to do in Gloucester Docks.
Also, you can see what remains of the 'Monk's Meadow' where the Quay gets its name which has been renovated into a small garden. It's well worth checking out to learn it's vibrant history!
16. Discover the Soldiers of Gloucestershire Museum
Another museum that is beside Victoria Harbour is the Soldiers of Gloucestershire Museum.
It's was founded in 1999 and is a memorial which remembers and celebrates all those who served their country from Gloucestershire.
The displays cover a large history and go through chapters from the last 300 years!
There are lots of interactive displays, exhibits and collections of army paraphernalia to see. Plus, there is a soldier search for those who would like to look up loved ones.
Tickets are £5 per adult and £3 a child. The museum is open on Fridays, Saturdays and Sundays from 10 am – 4pm.
17. Admire the Gloucester street art
If you head to the end of Monk's Meadow Quay near to The Gloucester & Sharpness Canal path you'll come across the High Orchard Bridge.
Underneath the bridge, you'll find some amazing and colourful street art here that is well worth checking out.
I particularly loved the mural of Albert Einstein with his tongue out but the blue Princess Leia was also pretty cool. Someone had later painted Harry Potter glasses over her haha.
There's lots more to be found from Space Invaders and train-carraiges to political messages too. It's not for everyone but I personally loved this space of creativity!
18. Take a tour of Gloucester Brewery
Gloucester Brewery was founded in 2011 by lovers of beer who had a vision for creative and sustainable brewing.
They have come a long way since their first brewed Gloucester IPA pint and now have a home in a disused malthouse on the Gloucester Docks called Fox's Kiln!
Here they continue to brew beer by using local and natural ingredients and you can visit their malthouse to shop and taste their creations.
The Gloucester Brewery Tap Room run the only monthly comedy club in the county and tickets cost around £12.50.
They also regularly run tours around Fox's Kiln where you can see their brewing process and sample lots of their IPA's. These happen on the second and last Friday's of the month and cost around £25.
Click here to learn about tours of the brewery
19. Take the Gloucester & Sharpness Canal Walk
Beyond the Gloucester Docks heritage trail, there are plenty of walks that you can take along The Gloucester & Sharpness Canal path. At one point, this used to be the broadest and deepest canal in the world.
In total, it's a 16 mile trail which is perfect for cyclists but walkers can sample a small taste of this pretty riverside walk on their visit.
Along the way you'll pass by the huge swing bridges and historic gatekeeper's houses. Plus, there are plenty of viewpoints and landmarks to see!
Popular walking routes from the Gloucester Docks area are towards Netheridge Bridge.
The Sharpness Saul Junction is the terminus which has a visitor centre and is near to the Purton Ship Graveyard! It's one of the best things to do in Gloucester Docks.
20. Spend the night onboard the SULA Lightship
Near the Monk's Meadow Quay, you'll spot an interesting red ship which is docked in the harbour called the LV14 SULA Lightship.
It's currently the only Lightship in the UK were you can stay on-board which makes it a truly unique accommodation experience!
On board, there are two luxury cabins which can accommodate four adults and you couldn't be in a better location to experience Gloucester Docks.
If you were interested in its history, this lightship was originally commissioned in 1959 as the LV14 SPURN ship by the Humber Conservancy Board.
It then had a temporary home at the Guernsey Yacht Club, moved to Conwy in North Wales and then over to Ireland.
Eventually, Jan and Agnes van der Elsen bought the ship and renovated it. Finally, the Brooks family purchased the ship to convert it into luxury accommodation on Gloucester Docks!
Click here to find out how you can book a night onboard SULA
Looking for more things to do in Gloucester?
Beyond the Gloucester Docks, there are plenty of things to do in this bohemian city nestled in between the Forest of Dean and The Cotswolds.
After your visit to the docks, I would recommend heading over to Gloucester Cathedral! This is by far the best attraction in the city and has lots to see and do inside.
The thing most people want to see is the historic cloisters surrounding the Cathedral Courtyard. This was a Harry Potter filming location so you'll feel like you've stepped into Hogwarts.
Just before the cathedral, you should check out College Court through the West Gate. This is a colourful alleyway which is full of shops, cafés and bunting!
This is where you'll find the free Tailor of Gloucester Beatrix Potter Shop and Museum. This is shop inspired her to write her book 'The Tailor of Gloucester' in 1902.
There are also lots of shops and museums in Gloucester around the High Street and even more ruins like the one in Greyfriars. Or, you can head on London Road to Hillfield Gardens to see Scriven's Conduit and King's Board.
Purton Ships Graveyard at Purton Hulks
If you were into your maritime history, you may like to add this quirky Gloucestershire walk to your bucket list!
Purton Ship's Graveyard is currently Britain's largest ships graveyard that sits on a narrow stretch of land between the River Severn and The Gloucester & Sharpness Canal.
During the 1900s – 1960s there was a lot of erosion on the River Severn. So, the old ships that wrecked onto the shore were placed there to allow them to fill up with silt. These ships directly helped to stop the erosion and now they are part of a Site of Special Scientific Interest!
The Purton Ships Graveyard is now a free museum and riverside walk you can take in Gloucestershire near to Sharpness which is around a 40 minute drive from the dockyard.
Where is Gloucester Docks & How to visit?
The historic Gloucester Docks are located in the City of Gloucester near to the Gloucester Quays shopping centre.
As Gloucester is on the borders of The Cotswolds, Forest of Dean and Wye Valley it makes a great stop on a UK road trip itinerary.
The Gloucester Docks are huge district on the city waterways that's hard to miss if you're approaching by road as there are signs every where for it!
If you've arrived in Gloucester by train it's only a 15 minute walk to the docks, simply follow the tourist signs over to the harbour. This is also only a ten minute walk from the amazing Gloucester Cathedral which is on the way!
Gloucester Docks parking
The easiest place for Gloucester Docks parking would be the Gloucester Quays shopping centre but it's not cheap. It's a 24 hour parking lot with over 1,400 spaces. Here are the prices;
0-2 hours – £2.50
2-4 hours – £5
4-6 hours – £7.50
Over 6 hours – £12
You pay a little less on an evening tariff but it still can be a pretty penny!
Alternatively, you can park over on the Southgate Mooring Gloucester Docks car park on Victoria Harbour which will cost you £6 for all day parking. But, there is limited spaces and it can get packed out on weekends.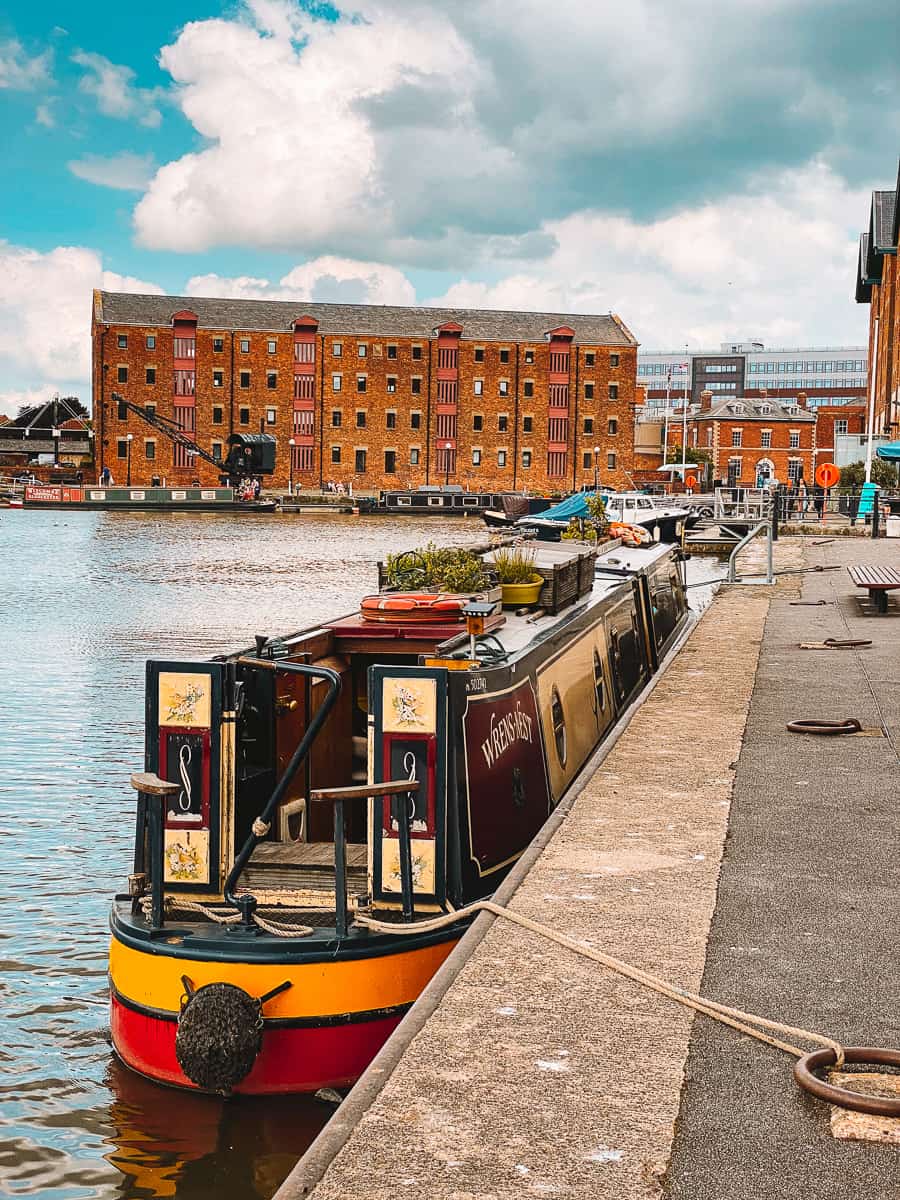 Gloucester Docks FAQs
When was Gloucester Docks built? Although there was a canal basin during the time of Elizabeth I in the 16th-century, the docks as we know them today were built in 1827 for overseas trade.
What was Gloucester Docks used for? The docks were used for overseas trading with countries like Ireland and even the Caribbean! Tall ships would deliver goods in and out of the harbour through the Gloucester and Sharpness Canal. It was a busy dockyard with hundreds of people working in the docks, dry docks and warehouses.
Who owns Gloucester Docks? The Peel Group own Gloucester Quays which largely oversee the development of the Historic Dockyard. They committed another £100 million in investment funding after they took over in 2018.
Read more of my Cotswolds travel guides
The top things to do in Painswick and it's 99 Yew Trees
The best things to do in Tetbury and the Chipping Steps
Why you must visit Bibury and Arlington Row
The best things to do in Stow on the Wold
Things to do in Lower Slaughter and Upper Slaughter
Why you must visit the Broadway Tower and Snowshill
My top travel tips for Cotswolds Lavender
Did this yew tree door inspire Tolkien and the Bell Inn Pub?
Top things to do in Lacock and the Harry Potter locations
The best things to do in Castle Combe
Save these things to do in Gloucester Docks for later!