Are you ready to fall head over heels in love with all the things to do in Grasmere? This historic village in the Lake District is officially my favourite place in Cumbria and now has my heart and soul.
And I'm not alone in thinking it, famous literary and artist giants through time have idolised this special place with William Wordsworth calling it "the loveliest spot that man hath ever found".
Everywhere you turn in this jewel, whether down idyllic streets with ancient homes or into the countryside, you'll find something unique with a story to tell.
As well as Grasmere village being something out of a postcard, there are also plenty of incredible things to do in Grasmere too.
From coffee shops, museums, victorian villas, independent boutiques, and panoramic walks. There really is something for everyone.
Here are all the amazing things to do in Grasmere!
1. Visit Dove Cottage & The Wordsworth Museum in Town End
The reason why Grasmere sees so many tourists each year is mainly due to William Wordsworth being a resident here.
Ever since he moved in and the Victorian tourist boom with the North West Railway, countless people want to see why Wordsworth loved this place so much. It's one of the best things to do in Grasmere.
Dove Cottage History
William Wordsworth was born in Cockermouth on the Edge of the Lake District in 1770. He then went to Hawkshead Grammar School and then eventually studied at Cambridge.
Although he travelled to the countryside to places like Dorset and Somerset and even abroad to countries like France and Germany. For Wordsworth, there really was no place like home.
So, on his purposed tour of the Lake District with mountaineer Samuel Taylor Coleridge, he came upon Grasmere.
He instantly fell in love with it and he moved into Dove Cottage in Town End with his sister Dorothy, who was also his secretary!
Before he moved in, this cottage had been built in the 17th century as a public house named the "Dove and Olive". He actually references it in his 1806 poem "The Waggoner".
He lived in Dove Cottage for eight years stating they had "plain living, but high thinking".
During this time he married his childhood friend Mary Hutchinson and had three children.
Eventually, the family got so big they moved out to the Allan Bank. The cottage was purchased by the Wordsworth Trust in 1890 and opened up as a tourist attraction in 1891. It's now a Grade I listed building!
Visiting Dove Cottage in Grasmere
Over 70,000 tourists visit Dove Cottage every year and it has been beautifully preserved since the time William Wordsworth lived here.
He designed the gardens around the cottage himself and the team has even preserved their wild appearance which was to his liking.
So, as you wander around the rooms, you can almost picture yourself in his time.
Seeing the inspiration and how he felt to produce some of his most loved poems here.
Each room has a different story to tell and you can learn more about the man himself in the exhibits.
Explore Town End
One of my favourite parts of visiting the Dove Cottage was the small area surrounding it. Little did I know, the whole hamlet of Town End is owned by the Wordsworth Trust!
So, all the pretty houses here provide lodgings for the staff that works on the site.
Town End looks like something from a chocolate box, so I would recommend taking a while to explore.
Oil lamp posts, cobbled streets, quaint window displays – there is so much to discover here!
Wordsworth Museum & Shop
A great addition to the area of Town End in Grasmere and new for 2020 is the Wordsworth Museum which is near Dove Cottage!
This fantastic new institution will have many artifacts and interactive displays all about William Wordsworth's life and influence on the area.
Plus, they are opening up a unique viewing platform so you can take in the spectacular sights of Grasmere Vale.
If you fancy purchasing some Wordsworth souvenirs for yourself, then I would recommend popping into the Wordsworth shop as well.
In here, they have lots of tasteful Wordsworth souvenirs like rare edition books, postcards, paintings and more.
2. Pop inside St. Oswald's Church
St Oswald's church in Grasmere was the first thing that caught my eye when I entered the village.
I couldn't help but admire the church spire, towering high above the thatched cottages and historic buildings.
The first church that was built in Grasmere dates all the way back to 642AD and was founded by Oswald of Northumbria. The church that sits here today is from the 14th century but has been dedicated to him.
The parish church is a historic place of worship for the townships of Grasmere, Rydal, and Langdale – each township has its own separate gate to the church!
There is lots to see inside St Oswald's Church which is stunning.
Under the exposed beams, you can find beautiful oak pews from 1881, colourful stained glass windows, and memorials dedicated to the Le Fleming and the Wordsworth Family.
Every year near St Oswald's Day in August, the church holds a Rushbearing festival.
This ancient tradition is where parishioners bring sweet-smelling rushes to cover the church floor which was made of rushes years ago. Although the church floors are now flagged, it still go on each year.
Don't forget to sign their visitor book and give a donation to keep this amazing building restored for everyone to enjoy.
3. Pay respects at William Wordsworth's Grave
William Wordsworth caught a cold whilst out on a countryside walk and he died sometime later on St George's Day at Rydal Mount. He was 80 years old.
He and his wife Mary, plus other family members and literary colleagues are all buried in St Oswald's Church.
Over the years, it has become one of the most popular literary shrines in the entire world.
Another interesting fact about the churchyard is that William Wordsworth planted eight of the Yew Trees around the area.
At the bottom of one of the yew trees marks the place of his gravesite. The area is easily accessible, even for wheelchairs, and there is a sign marked out to locate it.
4. Visit the Wordsworth Memorial Daffodil Gardens
The Wordsworth Memorial Gardens opened up in 2003 as a community project by the Friends of Grasmere.
Its purpose is to not only celebrate the life of William Wordsworth but raise funds to protect Grasmere village and its customs.
In the same air as Wordsworth's famous poem 'The Daffodils', the garden is filled with a bed of them as you walk around the area!
As part of the project, visitors are allowed to sponsor a bulb or wild shrub to be planted and you may notice some names on tiles as you walk around.
These are personally engraved Lakeland slate stones that have been sponsored by families across the globe.
Although it's now complete and no more are being accepted, it's fun to see the names of those who sponsored one.
The entrance to the garden is completely free and it's a lovely place to relax for a while with a book. As you head towards the Beck, you'll find a small commemorative slate.
5. Try Grasmere Gingerbread
As you wander around Grasmere, you may smell the sweet scent of Gingerbread and there's a good reason for that!
The Grasmere Gingerbread Shop is famous in Lakeland and indeed all over the world.
Sarah Nelson first brought her famous gingerbread recipe to Grasmere in 1854. Word quickly spread about how amazing it was and it is still just as popular today!
It is still made as per her recipe which is a top-secret and locked away in a bank in Cumbria.
Only one person, Andrew Hunter, knows the exact ingredients which he prepares each morning.
This is the only place in the entire world where you can purchase Grasmere Gingerbread. So, make sure you go beyond the green door into their Victorian shop and try some. It's one of the tastiest things to do in Grasmere.
I had the pleasure of joining them in their kitchens on my visit and learned how they prepare all of their gingerbread in their kitchens on site!
Click here to find out more about my visit to this famous Gingerbread Shop and the amazing secrets I found out
6. Get lost in a labyrinth of jigsaw's at Barney's Newsbox
If there are two things people love to do in Grasmere, it's to buy some Grasmere Gingerbread and a Jigsaw at Barney's.
Barney's Newsbox is an independent shop on Broadgate that sells Jigsaws, puzzles, toys, and all manner of souvenirs inside too.
I wasn't sure what to expect when I walked into the store, but it certainly wasn't a labyrinth of shelves filled with them!
You could honestly get lost in this shop and have an endless choice of jigsaws to purchase.
I would recommend popping upstairs to their top floor where you will find endless nooks and crannies filled with them.
7. Check out the views at Allan Bank
When William Wordsworth married Mary Hutchinson and they had three children John, Thomas, and Dora, Dove Cottage gradually became more cramped.
Especially as he had his sister Dorothy and his literary friends like Samuel Taylor Coleridge staying with him too. So, he was on the lookout for a new place to call home.
At first, William Wordsworth hated Allan Bank calling it an eyesore on the landscape…that was until he had to live in it!
He rented Allan Bank for two years from 1808 – 1810. Whilst here, his literary friends Thomas de Quincy and Samuel Taylor Coleridge stayed with him.
But, their opioid addictions got too much. Due to the excess chimney smoke and fallings out with his landlord, he decided to move on.
Years later Hardwicke Rawnsley, a founding member of the National Trust, purchased the property and retired here. On his death, it was then given to the Trust to own.
In 2011, it suffered a huge fire and everything inside was lost. So, in 2012, the National Trust decided to open up the property to the public, for the first time in over 200 years!
Inside the house, you'll find recreations of Wordsworth's study and rooms. Plus, some amazing paintings on the walls from a local artist Sarah Jackson.
You can also treat yourself to a FREE coffee or tea and biscuits included in the entry fee.
Outside on the grounds, look out for red squirrels in amongst the amazing views – they're almost extinct in the UK so it's quite special to spot one. It's one of the best things to do in Grasmere.
Find out more reasons to visit the Allan Bank here
8. Stock up on Art Supplies at Heaton Cooper Studio
Heaton Cooper Studios is a BIG name here in the Lake District today but the story really began in 1937 with William Heaton Cooper.
He bought a small piece of land in Grasmere with the intention to build a studio and by 1938 it was complete.
It became a popular stop for visitors due to his debut book 'Hills of Lakeland' and it continues to draw visitors today.
Inside the Heaton Cooper Studio, you can stock up on art supplies in their shop, treat yourself to a coffee in Mathilde's café or have a look at their art exhibition galleries.
In The Archive Gallery, it exhibits artworks and sculptures from members of the Heaton Cooper Family.
Find out more about the Heaton Cooper studio here
9. Book a spa experience or afternoon tea at the Wordsworth Hotel and Spa
Although the Lake District does inspire images of waterproofs and wild camping in the rain, it doesn't have to be that way.
The National Park is filled with luxury hotels like the Wordsworth Hotel and Spa. This historic building was first built by the Earl of Cadogan as his private hunting lodge in 1850.
Now, it's a beautiful retreat with deluxe rooms, a fine dining restaurant, and a holistic spa.
I had the pleasure of checking in here on my visit to Grasmere and absolutely loved my room which overlooked St Oswald's Church and Grasmere Gingerbread.
As well as warming up by their roaring fire, I was treated to their four-course dinner with canapés which was a delightful experience.
Their heated swimming pool and jacuzzi are included for guests and it's the best feeling being in here when it's raining outside.
Click here to read my full Wordsworth Hotel review!
10. Take home your very own Herdy
There are plenty of historic names that have survived over the years, but The Herdy Company is a more modern brand that is quickly becoming famous all over Cumbria.
Herdy is an award-winning Lake District born company in England and their original store was set up right here in Grasmere!
Their shop was inspired by Herdwick sheep and they create unique products as souvenirs, for the outdoors and homeware that will make you smile.
As well as expanding their business they also give back some of their profits to the local area.
So, I would definitely pop in here and see them as they are looking forward to meeting ewe ;) .
11. Visit Sam Read's Bookseller
The Lake District has been the home and inspiration for many famous literary figures like William Wordsworth, John Ruskin, Arthur Ransome, and Beatrix Potter to name but a few.
So, it's only natural that there are some bookstores open to selling their best works!
Sam Read's is an independent bookshop that has been selling books since 1877 on the Grasmere village green.
For such historic premises, it may surprise you to know that the shop has only had 6 owners in its existence.
The First Sam Read (no prizes there), who was a prominent Victorian, then his daughter Helen until the 1950s. Although it is now not owned by the original family it still has kept its famous name.
It's now an award-winning independent bookstore, so you have to pop in and see what books take your fancy.
12. Pop inside the mouth-watering Grasmere Chocolate Cottage
Another tasty place to pop into in Grasmere is the Chocolate Cottage that makes all kinds of luxury handmade chocolates!
It was first set up by Richard and Angela Barker who were inspired by making chocolates using the surrounding area as inspiration.
The offerings inside are made from the finest Belgian chocolate, Lakeland cream, and other special ingredients including Marc de Champagne!
On offer are individual chocolates, chocolate boxes, hampers, and even vegan chocolate too. Plus, many other sweet products are sourced from Cumbria like Kendal Mint Cake.
The smell inside the store is absolutely divine.
13. Sip tea at Grasmere Tea Gardens
Grasmere village is full of amazing tea shops, coffee houses, and cafés to pass the time while you're here.
The Grasmere Tea Gardens has a fantastic position next to the River Rothay and it's a great place to enjoy a cup of tea or a cold drink on a sunny day.
But, if the weather isn't so fine they also have an amazing indoor café that serves up breakfast, lunch, and hot drinks with homemade cakes too.
If you didn't have time to stop by, they also run an ice cream and takeaway service. So, you can enjoy something on the go!
This independent café is a great stop which has good food and friendly service.
If you're looking for more recommended cafés in Grasmere there is Heidi's Cafe, Mathilde's at Heaton Cooper Studio, Greens Café, Lucia's Coffee and Bakehouse, or Baldry's Tea Rooms too!
14. Visit Grasmere Garden Village
There are some incredible shops in Grasmere village but the Grasmere Garden Centre has an extensive range of unique gifts from the Lake District.
If you were green-fingered and fancied taking something home with you for your garden, you'll have plenty of choices. With lots of succulents, potted plants, and fun gardening tools too.
But, as well as plants they have some special souvenirs inspired by the area. You can buy canvas paintings, bags, clothes, stationery, crockery, and all sorts of things inside.
They also have a cosy café too that serves up a light lunch of soups and sandwiches. Or, treat yourself to tea and a slice of homemade cake!
Click here to browse their official website. Free parking available for customers.
15. Gather around Taffy Thomas in the storyteller's garden
One of the more unique things to do in Grasmere is to visit The Story Tellers Garden which is just opposite Grasmere Gingerbread.
The Garden is a National Trust Property and is home to 'Tales in Trust' that showcases storytelling and performance in the North of England.
Taffy Thomas is an MBE award-winning storyteller who lives in the Lake District and is brimming with stories and riddles.
Throughout the year on special occasions, performances like stories, plays, juggling, dancing, and musicians perform. So, gather around in the garden, listen in, watch or take part!
Click here to check the tour schedule for events in Grasmere
16.
Take a stroll around Grasmere Lake

Once you've finished taking in the sites of Grasmere village, make sure you take a stroll around the Lake that it's named after!

Grasmere Lake is a scenic area that was a favourite to William Wordsworth while he was staying at Dove Cottage.

It's a mile long, half a mile wide, and even has its own island that's now owned by the National Trust! But, unfortunately, it's not open to landing by the public.

In the summer months, this is a popular spot to hire boats and canoes to sail around the lake, but it's open all year for a bit of swimming too!

Or, simply walk around the lake to take in the views. A popular stop on the lake to hire boats is Faeryland Grasmere.

They have some traditional rowboats that you can take out on the lake from their fairy garden.

As well as boat hire, there's an adorable café onsite that is open for tea or coffee throughout the day with a magnificent setting by the lake. It's one of the best things to do in Grasmere.
17. Take a walk to Rydal Village
If you're on the Wordsworth literary trail around the Lake District, then another spot I would recommend visiting nearby is Rydal.
After the short stay at Allan Bank, he moved on to the Old Rectory, opposite St Oswald's Church.
But, it was too cold and damp and two of his youngest children died there.
So, eventually, the family moved again and settled at Rydal Mount in 1813. He would live here until his death in 1850.
Rydal Mount is now a property that is owned and cared for by the Wordsworth family and is open to the public.
Inside, you can see the rooms which have been beautifully preserved from the time he lived here, and outside you can see the manicured gardens Wordsworth designed himself.
As well as the mount, this tiny hamlet has so much to do in the area it may surprise you. From cottages of famous figures, pretty waterfalls, mansion homes, daffodil gardens, and an adorable church too.
I would also highly recommend visiting Rydal Hall Gardens which is home to the Rydal Hall Waterfall and Grotto.
Don't make the mistake of skipping it. Click here to read about more amazing places to visit in Rydal.
18. Visit Rydal Cave and Loughrigg Terrace
Another hidden gem, within the hidden gem of Rydal is the Rydal Cave.
It used to be part of the Loughrigg Slate Mine in the 19th century but now it's a mysterious cave that is open to the public.
This is a really easy walk from Grasmere, Rydal, and White Moss that provides stunning views of Rydal Water and Nab Scar on your route.
The mysterious thing about this cave is the fact it has a stagnant body of water that's home to cave fish like minnows and even goldfish (although I never saw any)! How they got here, we may never know.
To enter the cave, you do have to hop over some stepping stones that have been placed here. Which actually is a lot harder than it looks.
Whilst investigating the cave, don't forget to look back at the teeth' shape!
You can head on after this along Loughrigg Terrace to Loughrigg Fell. Although it's not at a great height the views from here are spectacular.
Click here to read my complete Rydal Cave walking guide
Where is Grasmere in the Lake District?
Grasmere is often called the jewel of the Lake District as it's right in the heart of the National Park surrounded by rolling hills.
Grasmere Village is a short drive away from Windermere, Ambleside, and Keswick. It's easy to access as it's a popular stop with tourists all year round!
How to travel to Grasmere in the Lake District
By Car: If you're heading to Grasmere by car. You can take the M6, then take the junction towards the Lake District National Park on the A590. Head on the A591 all the way until you see signs for Grasmere Village.
By Train: Unfortunately, William Wordsworth famously stopped any trains reaching Grasmere. So, there is no train station I'm afraid. The nearest is Windermere and from here you can take a bus or taxi.
By Bus: There are regular public buses run by Stagecoach that head to Grasmere from Keswick, Ambleside, and Bowness-on-Windermere. Click here for details.
Parking in Grasmere
As roadside parking is limited and can stretch the infrastructure here, it is recommended to use the pay and display car parks within the village.
There are two Grasmere Village visitor car parks to use. Red Bank Road Car Park inside the village itself is behind the Grasmere Garden Village.
Or, there is the Broadgate Meadow Car Park which is located on the lane as you drive into Grasmere village.
They are chargeable 7 days a week including bank holidays from 8 am-8 pm. Both pay and display car parks are the same prices;
Up to 2 hours: £3.00
3 hours: £4.20
4 hours: £5.40
5 hours: £6.60
9 hours: £8.00
FREE roadside parking in time-restricted lay-bys is open before 10 am and after 6 pm.
So, if you're staying in the area, you can park for free in the evening times.
Things to do after Grasmere Village
Grasmere sits in the heart of the National Park, so it's a great base to go exploring after your visit.
Here are some of my favourite places in the Lake District that are nearby Grasmere.
Explore Ambleside town
Ambleside is a really busy town but hasn't lost any of the village charm. Plus, there are so many places to visit here you may be spoiled for choice.
The views of houses that are gathered around Stock Beck river are like a postcard, so make sure you get your camera to snap up some of the pretty scenes.
In terms of attractions, you can visit the Armitt Library & Museum Centre that was founded by Mary Louisa Armitt in 1909.
Now a registered charity, it houses a historic collection of books with some exhibits of authors like Beatrix Potter.
You can also visit the fantastically preserved Stagshaw Garden on the way to Ambleside Waterhead which is owned by the National Trust.
The Bridge House is one of the most photographed buildings in the Lake District and has been inspiring painters for centuries.
Or, visit Stock Ghyll Waterfall to see a cascade from 70 feet!
Click here for my complete guide to Ambleside!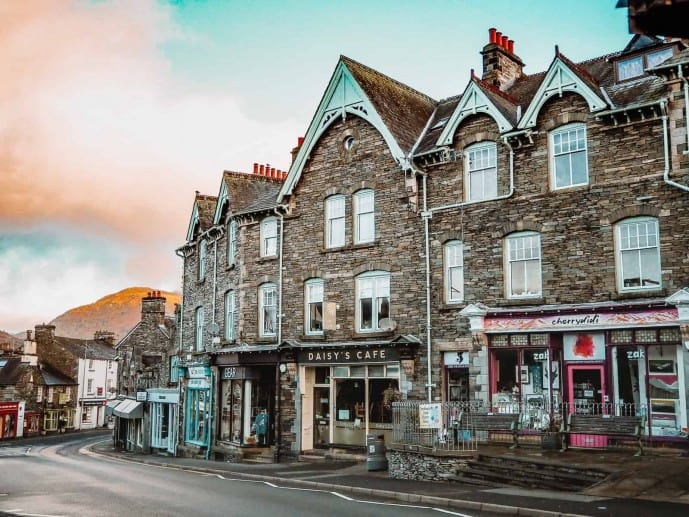 Take a cruise on Lake Windermere
A lake cruise on Windermere is an essential thing to do here and take in the sights. The closest dock to Grasmere is Ambleside Waterhead.
From here, you can take a boat ride on the largest natural water lake in England! Windermere Lake Cruises has one of the biggest fleets and cruise route options.
So, you can get a return boat ride with them or purchase the 'freedom of the lake ticket'.
This pass allows you to travel on any of their cruise ships and routes for 24 hours.
It's a really relaxing way to explore the beautiful towns and villages in the area, without the stress of driving.
Read my complete Windermere Lake Cruise guide here with all the places you can visit
Visit Wray Castle
Although it is called a castle, Wray Castle is a folly mansion home rather than a real historic castle but it is still magnificent to visit.
It is was built for Dr James Dawson in the 1840s as a Gothic Revival style property. He was a retired Liverpool surgeon, in 1840s.
Although it was built with his wife's inheritance from a Gin distillery, once the house was built she took one look and refused to live in it!
William Wordsworth seemed to have something negative to say about every building that was built in the area, but he actually liked Wray Castle.
He said that it 'added a dignified feature to the interesting scenery in the midst of which it stands'.
The castle passed to his nephew Preston Rawnsley after Dr. Dawson died in 1875. Then it was sold to the National Trust in 1929.
As well as exploring inside the house, the views from the hilltop it's perched on are amazing and you can see Windermere from there.
Click here for more information for Wray Castle
Read more of my Lake District guides
Places to visit on a Windermere Lake Cruise
A complete guide for the Blea Tarn walk
How to visit Hodge Close Quarry
All The Witcher filming locations in the Lake District
A complete Cathedral Cave walking guide
How to visit Claife Viewing Station
Save the best things to do in Grasmere for later!