Are you ready for the ultimate Helsinki bucket list?! I'm going to list out all the incredible things to do in Helsinki which will include some really unique experiences on your travels in Finland.
Now, Helsinki is not like any capital city you've been to before. It's actually an archipelago of 330 islands by the Baltic Sea! You really will be spoiled for choice.
So, whether you're sweat bathing in a steamy sauna, swimming (or screaming) in the icy sea, having coffee with Moomin's or admiring some epic Finnish art and architecture, it won't be something you'll forget in a hurry.
So, come along with me on this Helsinki bucket list and I'll show you around all the things to do in Helsinki you cannot miss!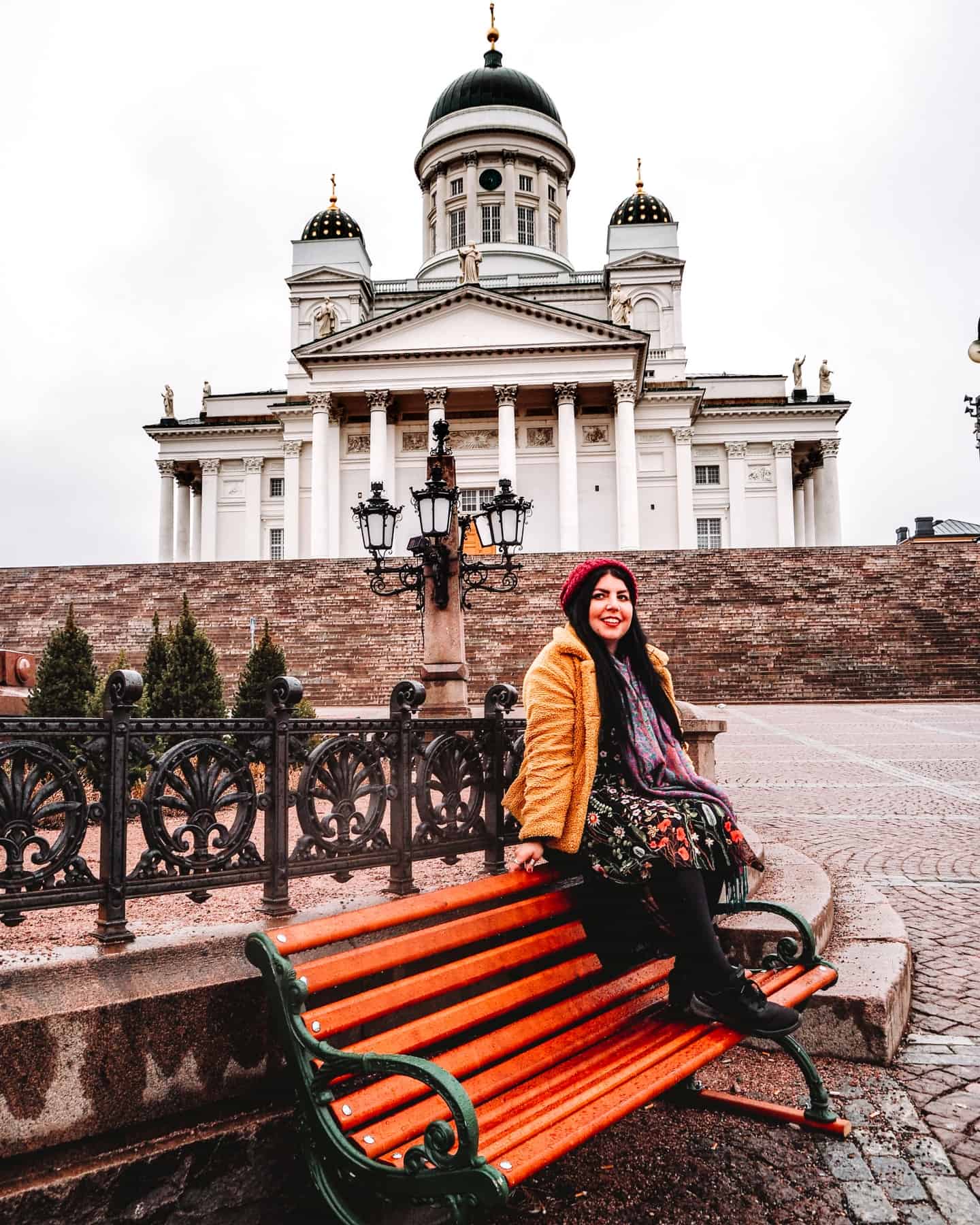 How to reach Helsinki
Helsinki is the capital of Finland in the North of Europe, sandwiched between Sweden and Russia. Two countries you'll soon become very familiar with when learning about Finland's colourful colonial history.
Helsinki is kind of out on a limb pointing directly into the sea, so you're two most convenient options are to fly in by plane or to sail into the harbour.
Flying into Helsinki
International flights run throughout Europe and Finland has its own national airline, Finnair, to fly you there.
I loved flying with them here as they had a great entertainment system to watch movies while you fly. I watched The Favourite and loved it.
Also, they provide each passenger with free coffee or tea, water and bilberry juice in cute Marimekko cups! Moomin' are their national ambassador too so the whole experience was quintessentially Finnish.
Sailing into Helsinki
If you're heading here from Estonia, Tallinn to Helsinki is only a two-hour ferry ride away. I went on a day trip from Helsinki to Tallinn and back aboard Tallink ferries.
I would highly recommend their cruise liners, they're like resorts over the seas! These ships can hold over 2800 people and have restaurants, duty-free shopping, a business lounge, bars, and even Starbuck's and Burger King!
Click here to see my full review of Ferry the experience.
Where to stay in Helsinki
There are many options to stay around the city for all budgets including hotels, hostels and self-catering apartments.
I stayed at Aallankoti Hotel Apartments during my stay. The whole studio was decorated in the Finnish style, including Marimekko bedding, which came with a kitchen and its own balcony and a beautiful view.
I loved the fact I could cook for myself here when I didn't fancy eating out at a restaurant.
If you'd prefer a hotel there are a few luxury options like Hotel Kämp or Hotel St. George Helsinki. Hostels include Eurohostel, Myö Hostel and CheapSleep Hotel.
How to get around Helsinki
You can walk easily around Helsinki as it's quite compact.
In the summer season, you can also rent bikes to get around. They have city bikes and private companies to rent from like Bicyclean, that have cute vintage-style bikes with baskets too.
There is a bike lane on nearly every pavement so it's really easy to navigate. The Finn's take their bike lanes VERY seriously here, so make sure you're not walking in one when a bike comes along!
Public Transport in Helsinki
Helsinki also has an incredibly efficient transport system to get you around. There is an underground metro and an extensive bus fleet to get you from station to station.
I personally loved their trams as I enjoyed being able to watch the world outside and there was always a tram stop easy to spot nearby.
Click here to see the HSL website, the official public transport page.
Journey Planning in Helsinki
I used Google Maps a lot while I was in Helsinki to check which tram or bus to board, but you can also use Helsinki Journey Planner here too – it's a popular way for Finn's to plan their route!
Helsinki Scooters
If you're here in the summer season and see random electric scooters parked around the city, don't worry. No one has left them there. They're actually from a company called VOI which is an awesome app where you can rent a scooter to ride!
The scooters have chips in them with GPS and you can rent them from one place to another. So, you simply download the app, geolocate your scooter, ride it to your location and leave it there for the next person to use. VOI vans will pick them up later.
That's right, Helsinki is a really progressive city!
Helsinki Transport Card
It may be worth investing in a Helsinki transport card while you're here for unlimited use of public transport during your stay which includes ferries to islands like Suomenlinna.
Or, you can buy a Helsinki Card that gets you free public transport and entry to most of the main attractions.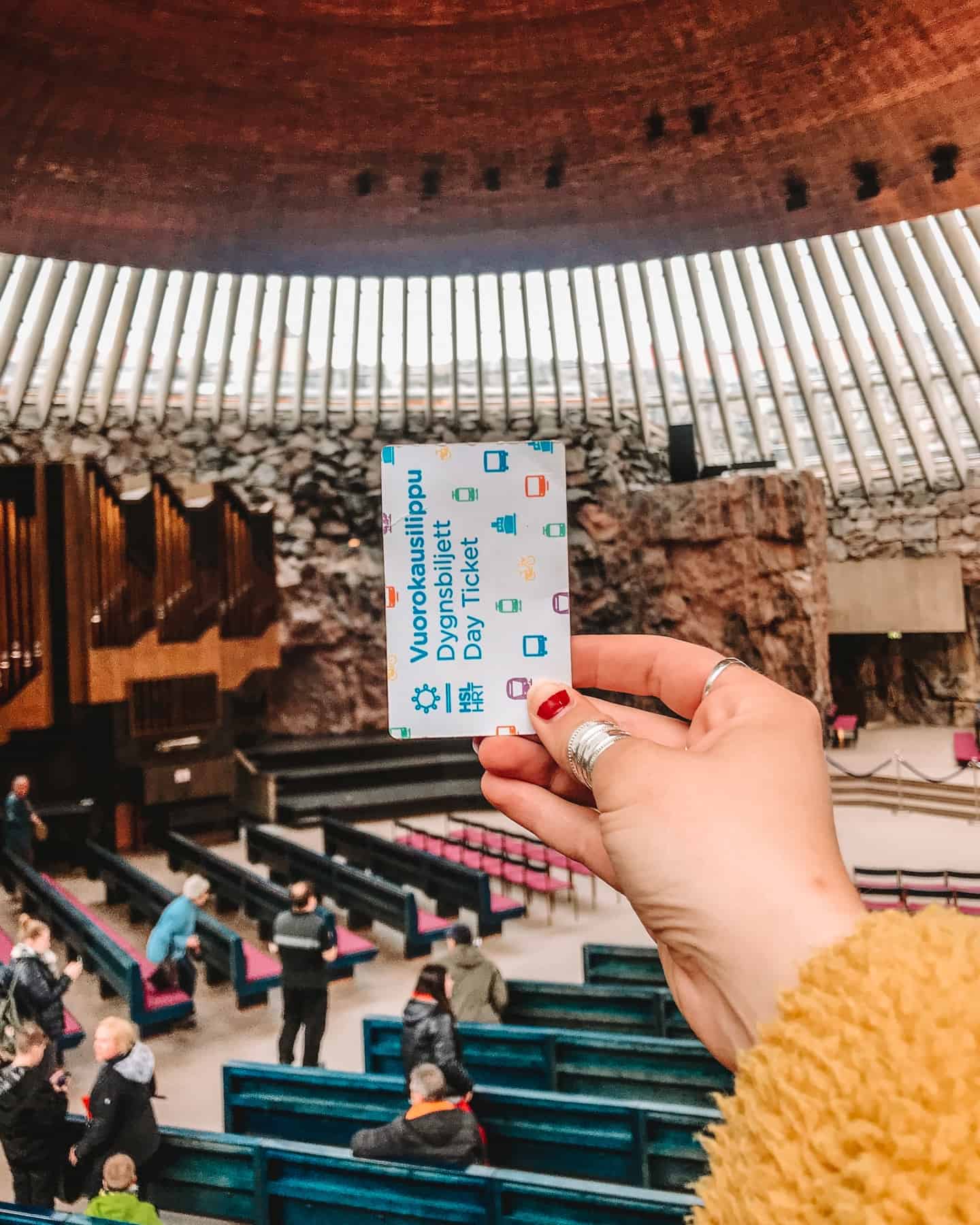 Are Finland and Helsinki safe to travel to?
YES! I think people get a little scared as it's so far north in Europe but Helsinki was one of the safest cities I've travelled to.
I didn't once feel unsafe, even walking around at night time and everyone is so friendly and hospitable. Obviously, use the proper precautions like in any city but I didn't once feel scared to have my camera on show that's for sure.
Finn's are renowned for their want of personal space (similar to the British) so you'll be left alone to enjoy the city unless you want to meet people. There's no hard selling or hassle here.
Helsinki has consistently been voted as one of the happiest cities to live in Europe, so I guess that speaks volumes for its people and the tourists that visit there! Don't worry.
28 incredible things to do in Helsinki
1. Climb up the Helsinki Cathedral steps (Helsingin tuomiokirkko)
As the symbol of Helsinki, this is a must-do. In fact, if you only have time to visit one place on a sweeping visit, make sure this is it!
It's beautiful to look at all times of the day and at night, it's a stunning sight lit up against the night sky.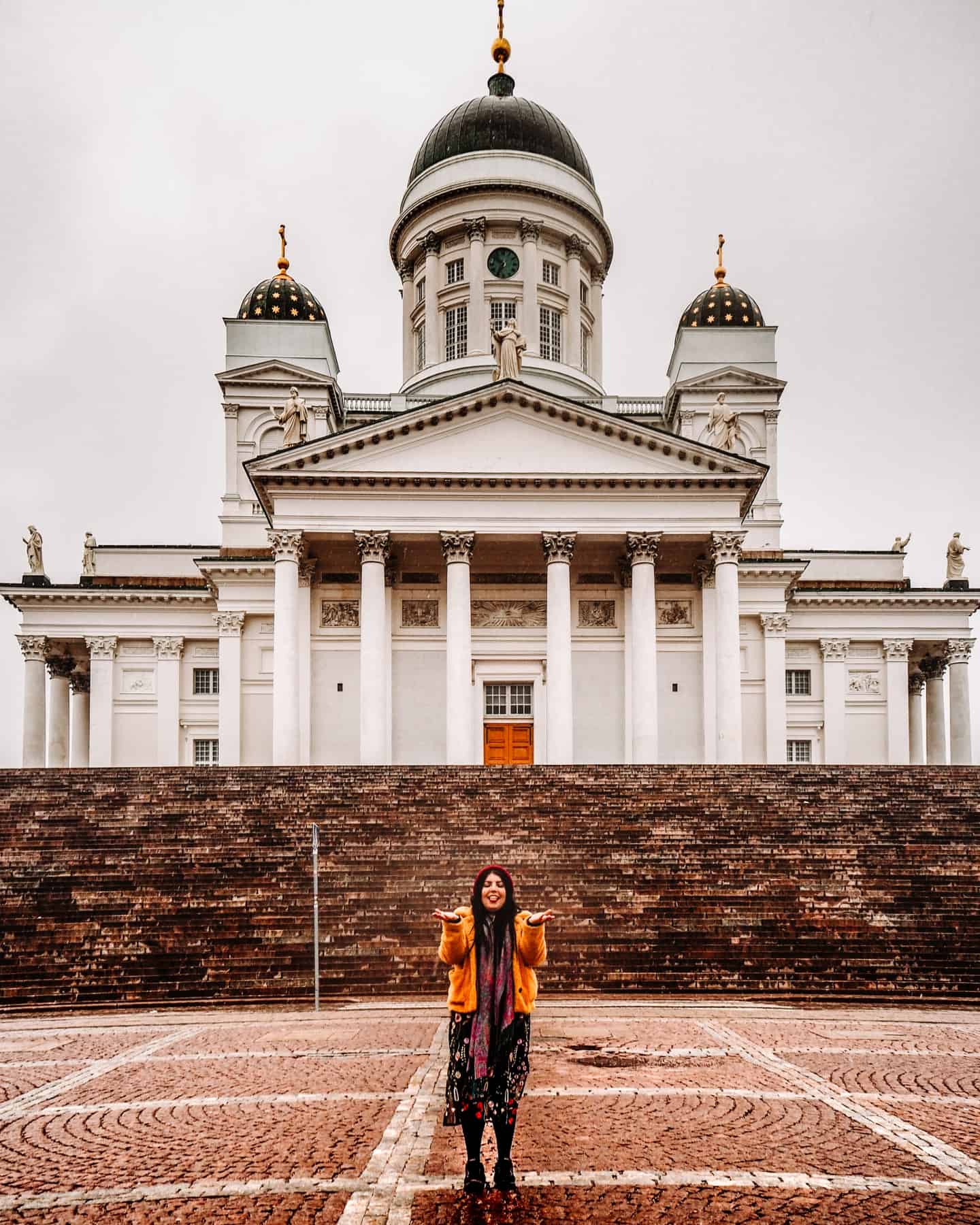 It's Finnish Evangelical Lutheran cathedral and was originally constructed by Carl Ludvig Enge in 1852.
During the Russian Empire, when Helsinki was part of the Great Duchy of Finland, it was called St. Nicholas Church and was built in celebration of Tzar Nicholas I.
The architecture was actually based on the St. Isaac Cathedral in Saint Petersburg in Russia.
It sits proudly in Senate Square, which was also built in the Czarist Empire and you can see a statue of the Tzar in the middle.
In the 19th century, the cathedral used to rise high above all other buildings in the city and was an iconic landmark for those who were entering Helsinki over the seas.
Today, it's simply called the Helsinki Cathedral or Helsinki tuomiokirkko. It has pretty onion domes with twelve apostles guarding the roof. You can climb up the cathedral steps for an epic view and have a peek inside the building if you wish.
When I went inside It was empty and silence is requested as you walk around. I felt awful as my shoes couldn't stop squeaking from the snow!
The Helsinki Cathedral is located in Senate Square and FREE to enter (donations appreciated). It's open in the summer season 9 am – 6 pm daily.
2. Take the ferry to Suomenlinna Island
Another must-do in Helsinki if you have time is to grab the ferry over to the magical Suomenlinna Island.
The journey is only ten minutes over the sea and you'll be transported into another world.
It's one of the most popular tourist attractions in Finland, so make sure you include it.
How to reach Suomenlinna Island
The only way to reach Suomenlinna Island is by boat and there is a public ferry that runs throughout the day from the main dock in Helsinki.
It costs 5 Euros one way but it's also included in your transport card if you have one.
The ferry runs from early morning at 6 am until around midnight. There are indoor and outdoor seats depending on the weather. There are some great views as you pull in!
You can check Suomenlinna ferry times on the official website too
The History of Suomenlinna Island
Suomenlinna is often referred to as the 'castle of Finland' and has a really interesting history.
It was built as a sea fortress by the Swedes in defence against the Russians in the 1700s.
The Sea Fortress, known as Sveaborg or Viapori in Finnish, was constructed on the Susiluodot islands. Back then, the Helsinki we know today on land was just a small fishing village.
Fast forward a century later and Viapori was taken over by the Russians and became Peter the Great's Naval Fortress to protect St Petersburg in Russia.
By 1917, although Finland had its independence, Viapori was still governed by the Russians.
During the Finnish Civil War, in May 1918, the fortress was handed back to Finland and renamed 'Suomenlinna' or the Castle of Finland.
It was then used as a garrison with military units and artillery.
In 1991, it became a UNESCO world heritage site and is now one of the most popular tourist attractions in Finland!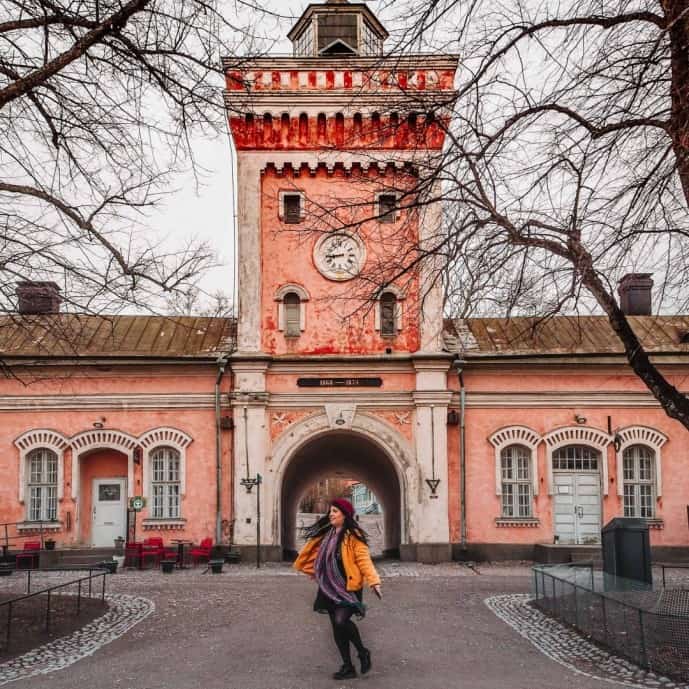 Things to do on Suomenlinna Island
As a living island, there are 800 lucky residents on Suomenlinna! But, it's also like a living museum and going back in time to a different century.
The island has a blue route you can follow to see the highlights. They have a visitor map you can access here.
I'd leave at least half a day to explore, or even a whole day. Here are some things to do on Suomenlinna;
Visit the Suomenlinna visitor centre with a museum all about the island and a café for a coffee stop, there are actually six museums on the island
Make a stop at the Church park and marvel at Suomenlinna Church
Visit the Great Courtyard and admire the old-fashioned houses and manors
Hike over to the King's Gate, this honestly made me feel like I was in Kings Landing in Game of Thrones!
See some traditional Scandinavian houses in Piper's Park
Visit the Artillery banks and look at all the canons left behind
Grab some lunch at Silo's Café or the many Ravintola's on the island
Throw pebbles on the beach, yes there is a beach on Suomenlinna but don't expect it to be bikini weather!
Or, you can see my ULTIMATE guide of everything you need to know about Suomenlinna island here!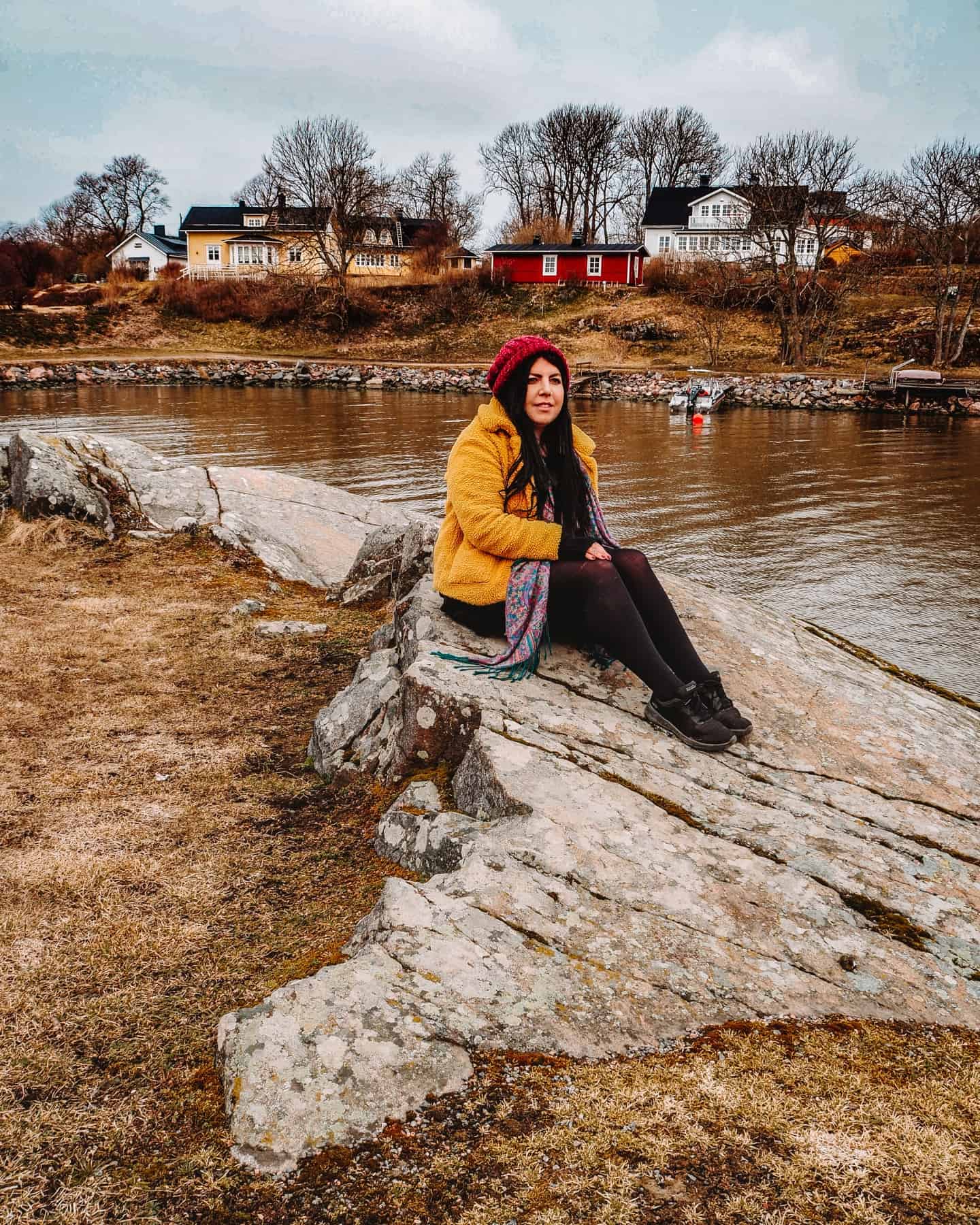 3. Take a dip in the Allas Sea Pool
Allas Sea Pool is the best swimming pool in Helsinki and for good reason.
When else can you say you've taken a dip in a thermal pool overlooking the Baltic Sea?! It's also a sauna, so if you did want a taste of sauna culture in Finland, this will be the place.
Traditionally, Finn's will bathe in the Sauna for a while, then cool off in the sea or snow! So, you'll be following in the footsteps of a Finn if you also take part.
The Allas Sea Pool gets its name from the Sea Pool on the deck which is filled up from the Baltic Sea! It's from a body of water far from the main dock and filtered so don't worry about it being dirty.
I'm also sorry to report that it's the same temperature as the sea that day too. So, you could be swimming in minus temperatures!
Although cold, it's meant to be really good for your health so you must try it at least once. Then, you can warm up in the steamy thermal pool set at 27 degrees.
I'm not gonna lie, when I tried it, my whole body felt like pins and needles! But, it gave me energy and it was a 'once' in a lifetime experience, as in I will never do it again haha.
To read my full experience at Allas Sea Pool and some top tips to know before you visit click here. Or find out some etiquette for Finnish saunas here.
4. Visit a Moomin Café
The Moomins are more than just a tourist fad in Finland, they're a national icon! In fact, they have been inspiring Finn's for generations and there isn't one Finnish family who doesn't have a Moomin mug in their house.
Tove Jansson, the creator of the Moomin's and the original "Moomin Mama" came from Helsinki, so you need to get acquainted with these guys fast.
The Moomins are a troll family that live in Moominhouse in Moominvalley. It's made up of Moominmama, Moominpapa, Moomintroll and many of their extended family are friends that make appearances in the books.
Jansson created the Moomin's in the 1940s and wrote eight novels, many short stories and picture books.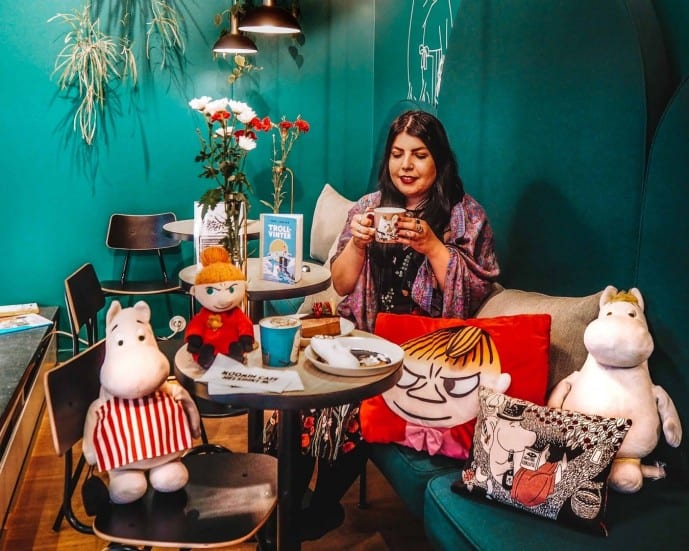 They first began making a worldwide appearance in the 1950s when London Evening News picked them up as a comic strip in their paper. Then, there was the 90s Japanese TV series and now a 3D Moominvalley TV series too.
As a 90s kid, I was brought up with the Moomins in the UK and used to watch cartoons all the time! So, when I found out there was a Moomin Cafe in Helsinki, I pretty much skipped right over there.
There are four Moomin cafés in the capital and they are also building one at Helsinki Airport. You can get a coffee, hot chocolate or berry tea (a Moomin favourite) and get your favourite Moomin friends to join you. All the cakes are also lovingly prepared on Moomin plates with Moomin decorations.
I wrote about my full experience at the Moomin Café here and why you need to visit!
5. Marvel at Kiasma Art Museum
Kiasma is a contemporary art museum in Helsinki and the number one contemporary art museum in Finland. With the theme 'Here you are. Let the art do good', their mission is to make the art more of an experience and a feeling rather than admiring it on a wall.
My favourite art piece in this museum was 'Shoplifter' and it's probably their most famous exhibit right now.
Created by Hrafnhildur Arnardóttir who is an Icelandic artist living in New York, her name translates to war of the raven's daughter of the eagles (ummm how cool?!).
As people couldn't pronounce her name in New York she then took on the nickname 'Shoplifter' hence the name of the installation.
This colourful art exhibition is made out of artificial hair, which is usually a trademark for everyone whether real or fake, Arnardóttir says it's 'a remnant of the wildness we all possess'. The aim of the exhibit is to produce joy as the pretty vibrant colours produce Seratonin, which makes us happy!
So, you can do what you like here! Stroke the furry wall (lol, I love Get him to the Greek) lie down and take in the colours or just simply admire and 'let the art do good' – you choose.
There are also lots of other interactive things to do here like their 'The Stage Is Yours' where you can sketch your own portrait or put on some headphones and follow the instructions. I loved how it made art accessible to everyone including young children and tried to push the boundaries of elitism with art.
Kiasma Art Exhibition is open from 10 am Tuesday-Sunday (closed Monday's) with different closing times. Click the link for more details and joint museum tickets.
6. Walk over to Seurasaari island
Helsinki is an archipelago of 330 islands, but not all of them require access by ferry!
Seurasaari Island is one that you can walk over to and it's like going back in time. There are no TV wires or modern brick houses on this island, all the houses are traditionally Scandinavian and wooden.
You can take a walking route around the island, passing traditional farmhouses, churches, windmills, and log huts, they even have their very own sauna and public swimming pool.
It's a popular jogging route with locals and it's so serene. I couldn't believe that a natural paradise was located so close to the urban city!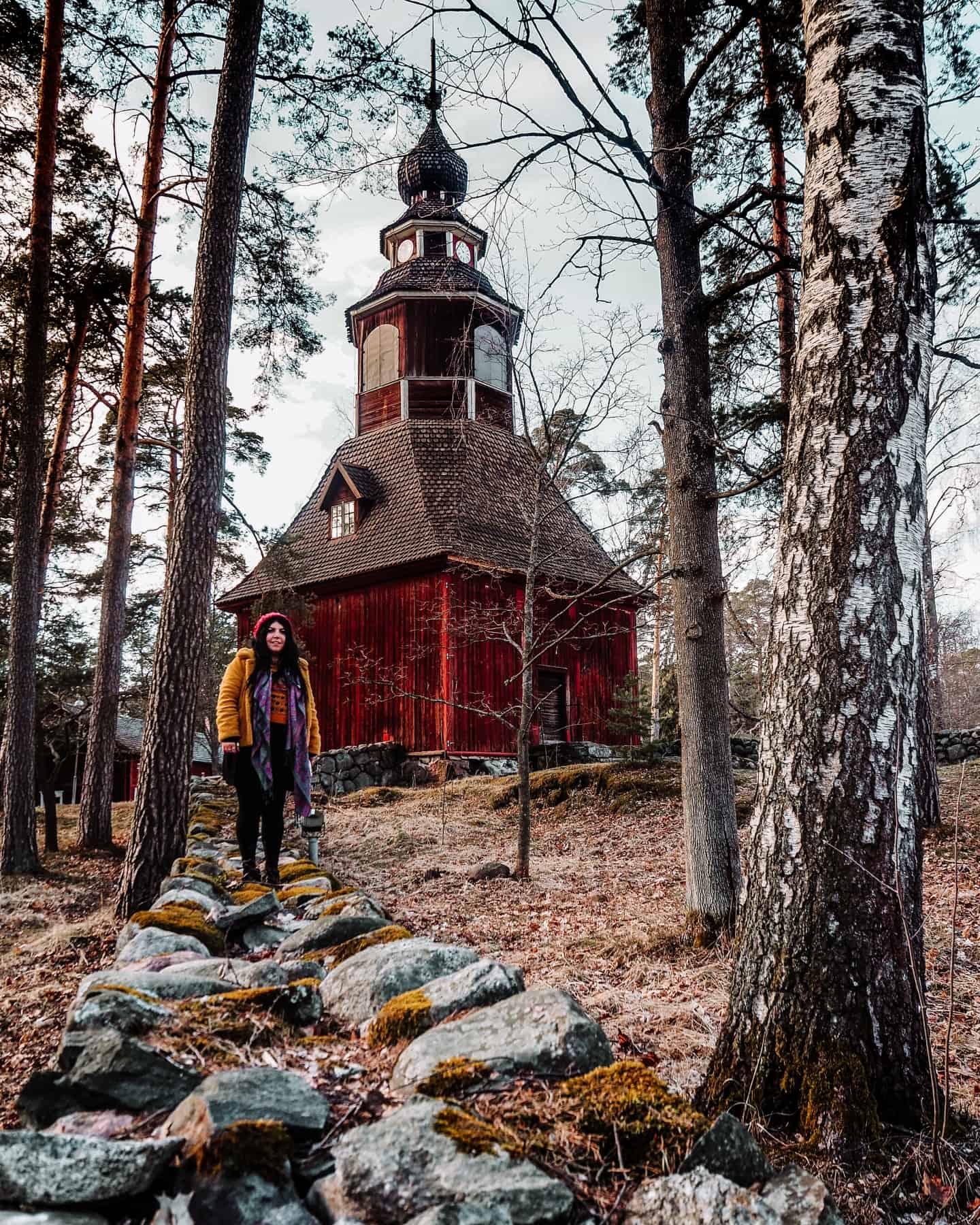 Seurasaari Island is open all year round and is FREE to visit during the winter months. You don't get to go inside the houses then but you can still walk around and admire the scenery.
In summer it's a living museum and you have to pay to enter, but you can experience history with people there in traditional dress to explain life on the island a few hundred years ago.
You can get here by taking the line 24 bus to Seurasaari from the Central Railway Station. It takes around thirty minutes.
In winter, I'd bring some food with you and also use the toilet before you go as there aren't any facilities. You're welcome! I made that mistake and it was a LONG uncomfortable bus ride back to find a bathroom.
7. Drink cocktails with a view in Ateljee Bar
I LOVE a sky bar in any city and Helsinki has an awesome one! Located in Hotel Torni you can take the lift up to their top floor and enter Ateljee Bar which has a panoramic view of the whole of Helsinki.
Serving up an epic wine list, craft beers and an interesting array of colourful cocktails, you can clink your glasses and say 'Cheers' or 'Kippis' (in the Finnish way) to the world at 70 metres below. Cocktails aren't cheap at 15 Euros a pop but it's the view you're really paying for.
I would definitely recommend getting here for sunset (which seems to last forever) and watching the skylight on fire! From here I could see the Baltic sea, Helsinki Cathedral, Uspenski Cathedral and lots of buildings lighting up when the sun went down.
They have an indoor bar and a heated terrace to sit on with blankets should you feel a chill in the air.
Also, have a laugh when you visit their bathrooms. It looks like the whole world is watching but, don't worry, it's mirrored on the other side!
Ateljee Bar is open from Monday – Thursday 2 pm – 1 am. Friday 2pm – 2am. Saturday's 12pm – 2am and Sunday's 2pm – 12am.
See more of the best places to eat in Helsinki here
8. Learn Finnish history at the National Museum of Finland
Before visiting Helsinki, I wasn't aware of Finland's long and complex history before it became an independent country. In fact, they've only had their independence for a little over 100 years!
There have been human settlers in Finland since the Ice Age, but its most complex colonial history comes with the Swedish and Russian invasions.
Sweden ruled from medieval times to the 19th century, and then Russia took over after that.
Finland, being sandwiched in the middle, was constantly brought into battles between the two most famously, the Russia-Swedish war in the 18th century or 'war of the hats'.
Finally, in 1917 a declaration of independence was granted to Finland and signed on the 6th of December. Every year since independence day is celebrated by its people on that day.
In the National Museum of Finland, you can learn all about the country's history up to the present day including the all-important history of the sauna.
Did you know that metal is a big thing in Finland? Here you can don headphones to listen to some bands.
The National Museum of Finland is open in winter from 11 am – 8 pm on Wednesdays, 11 am – 6 pm Thursday to Sunday's and closed Monday's. In Summer it's open Monday to Sunday 11 am – 6 pm and Wednesday's 11 am – 8 pm.
9. Visit Oodi Library – an architectural masterpiece
On the 100th year anniversary of Finland's independence, the people of Helsinki were asked what they wanted to be built in the city as a gift. To the surprise of most people, they decided against a sauna and wanted a library instead!
Now, a library in Finland isn't what you would imagine a library to be. Just an old room with shelves of dusty books to rent.
No, no. Finland's libraries are so much more than that. In fact, Oodi only has one floor out of three dedicated to books.
The libraries in Finland almost act like community centres with restaurants, coffee shops, computers to study, social areas and even a kitchen to rent so you can cook with friends! It also has really accessible opening times compared to most places in the city.
Not only that but it's got some INCREDIBLE architecture. So, amazing that walking tours stop by to show tourists visiting the city. So, you can visit their "book heaven", sit down and relax or explore. The choice is yours.
Oodi Library is FREE to enter and open from 8 am – 10 pm Monday to Friday and 10 am – 8 pm Saturday and Sunday.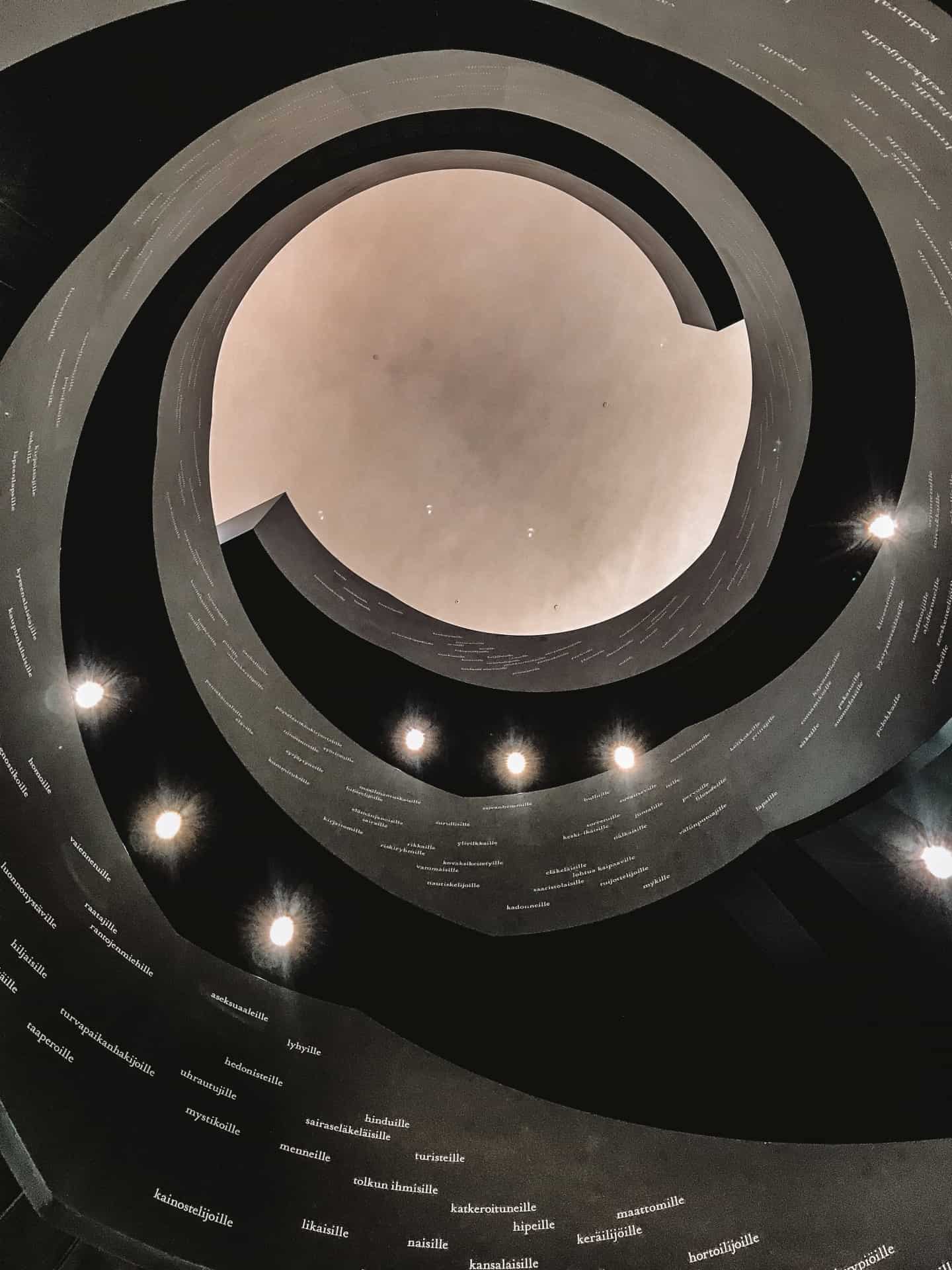 10. Steam up in a Finnish Sauna and swim in the Baltic Sea
If you haven't got the memo, saunas are a BIG thing in Finland. Although sweat bathing has been around for centuries, the Finn's pretty much invented the sauna we know today and are the reason why we have them around the world.
If you've never been to a sauna, it's essentially a wooden box that is heated up by logs on a stove to create steam. The steam heats the sauna to around 80 degrees celsius and you simply sit inside and let it do its healing work.
Afterwards, you can cool off in a shower, or do how the Finn's do and bathe in the sea or snow! Then, you can begin the cycle again by reentering the sauna and repeating as many times as you like.
If you've also heard rumours about Finn's sitting in a sauna naked with strangers and slapping their legs with birch twigs (Vasta) then you've heard right! But, don't worry, most sauna's are men and women only.
Where to try a sauna in Helsinki
If you're looking for a public sauna in Helsinki to catch the sauna bug, then I would recommend Löyly. Even to locals, it's the best place to experience a sauna.
Here you can try a variety of sauna rooms and even take a dip in the Baltic Sea! They have their own step ladder leading into it. Most people just dip for a brief moment but I did see others swimming.
Make sure you book your sauna session at Löyly as it's extremely popular and reserve a table for food.
Löyly opening times for the public sauna differ so check the website for details. I would highly recommend booking so you're not turned away.
If you're a little nervous about sauna etiquette in Finland, I've made a whole guide with top tips here.
11. Drink a filter coffee
Did you know that Finn's drink the most coffee in the entire world?!
While to most of us coffee is part of our morning routine, for the Finn's it's a way of life. The average Finn drinks eight cups of coffee a day but it's definitely more of a social thing than to stay awake.
There are so many coffee shops in the city, but I would highly recommend tasting a cup at Kaffa's Roastery.
A popular independent in Helsinki, they are really ethically conscious too. They donate a lot of their proceeds to Coffee Kids which aims at providing better welfare to their coffee plantation workers and building a bond.
Did you know that Helsinki also hosts the largest coffee festival in the world? I was lucky enough to land in Helsinki at the same time it was on.
Here, they talked about the future of coffee and sustainability, stalls where you could try samples and even places selling coffee-themed jewellery! I also tried coffee-flavoured Kombucha for the first time and it was delicious.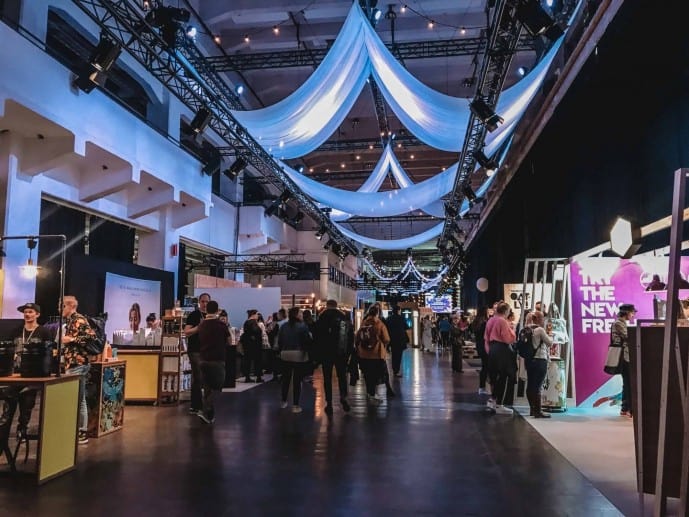 12. Find peace at Temppeliaukio Rock Church in Helsinki
This is one of the top attractions in the city!
The cave church of Helsinki or Temppeliaukio is a wonder and worth a stop while you're here.
It was quarried out of natural bedrock by the brothers Timo and Tuomo Suomalainen and was built in 1969. It's home to the Lutheran parish Töölön seurakunta which has around 16500 members!
Tickets are 3 Euros' but as there are quite long queues you have the option to order online. If you come before noon you can be treated to the 'light show' of the sunbeams shining through the church. There is also FREE entry on Wednesday afternoons.
Silence is strictly required in here, so it's really peaceful to sit inside and take it all in. Once you're finished don't forget you can climb to the top of the church to see the dome! It's a great view too.
Temppeliaukio Rock Church is open from 9.30 am-7 pm Monday – Saturday and 12 pm-5 pm on Sundays.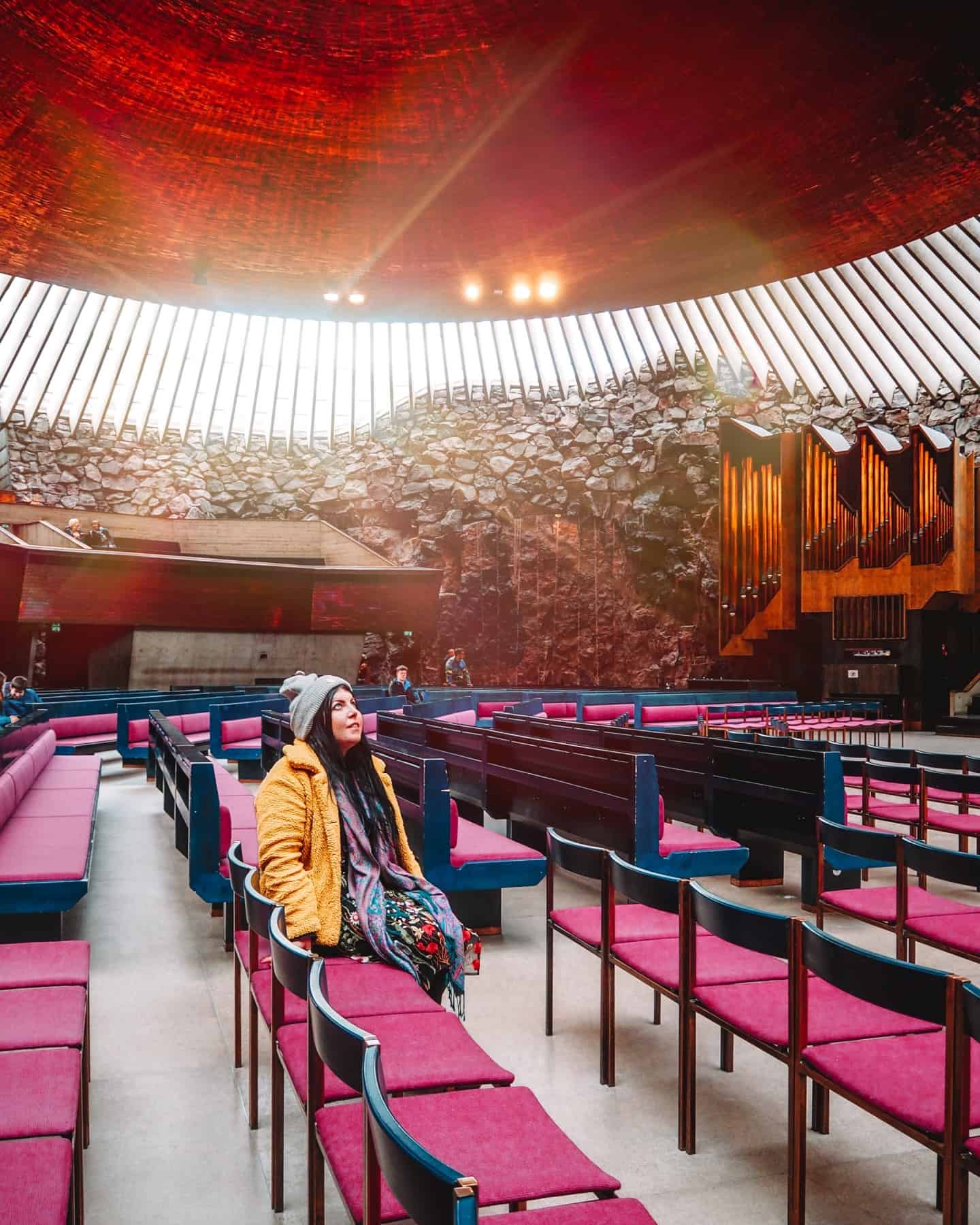 13. Have brunch at Ekberg's
Ekberg's is one of the oldest bakeries in Finland established in 1852 and is a must-visit when in Helsinki.
They have a bakery where locals go shopping for their daily bread and a restaurant next door that serves up a tasty all-you-can-eat breakfast.
Over breakfast, I would personally book in for their brunch which happens on weekends.
Here, there is so many choices on what to eat from pastries, cereals, sausages, scrambled egg, yoghurt, fruit and even hot dishes like noodles.
Of course, there is all you can drink coffee, juice and tea also. So, come hungry! Make sure to reserve a table in advance, it's really popular with locals.
Ekberg's 1852 serves up brunch from 9 am – 2 pm on weekends. Breakfast is from 7.30 am – 10.30 am Monday to Friday.
To find out all the top places to eat and drink in Helsinki, you can read my full guide of restaurants and cafés here.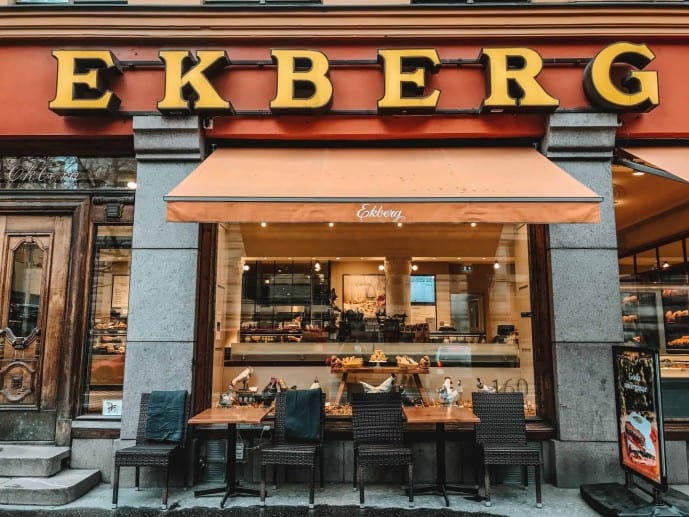 14. Fall in love with the National Library of Finland
If my library looked like this back home, I think I'd make camp and never leave!
The National Library of Finland is the oldest and largest library in Finland. The oldest part of the library was built in 1844 by Carl Ludvig Engel, the same guy who built the Helsinki Cathedral just outside.
The 'newer' part of the building Rotunda was constructed in 1903 by Gustaf Nyström.
Below the library, they have a book bunker, called Kirjaluola and in total, they have over three million books and 718 million files with digitised page files!
Of course, I only went in to admire the architecture which was breathtaking! When you go inside keep quiet and be mindful of people studying. Also, make sure to put your coats and jackets in a locker before you enter.
The National Library of Finland is FREE to enter and open from 9 am – 6 pm Monday to Friday.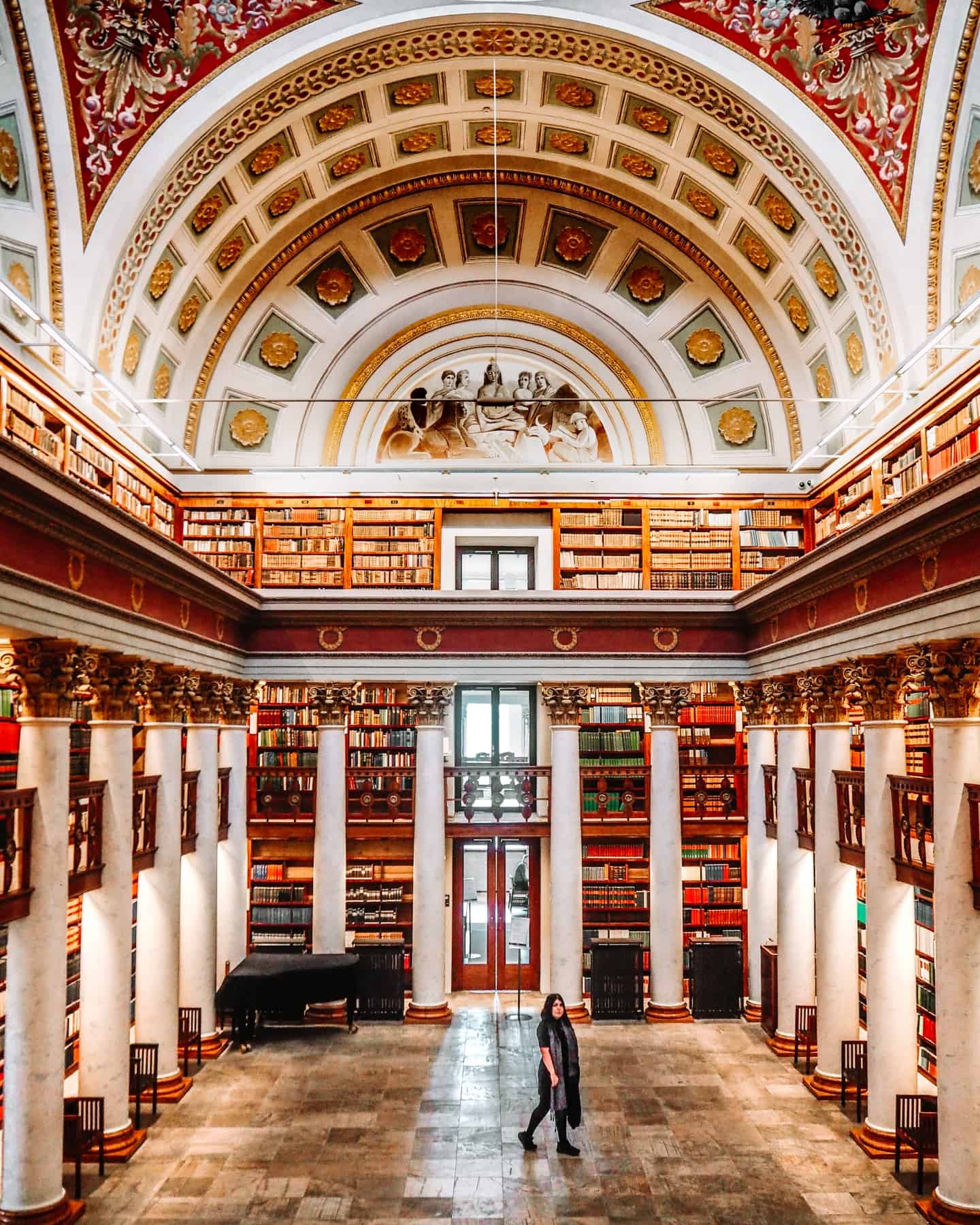 15. Visit Uspenski Cathedral
Another iconic landmark in Helsinki is the beautiful red-bricked Uspenski Cathedral. Located near to the sea's edge, it's an Orthodox cathedral that was completed in 1868 during the Russian occupation.
It's the most prominent example of the Russian impact on Finland and it also holds the title of the largest Orthodox Cathedral in Western Europe!
You can gaze at this gorgeous building from the outside with its gold onion domes, or pop inside to marvel at the interior with its high ceilings. Donate some pennies to light a candle or just sit and enjoy the peace for a while, the choice is yours.
The Uspenski Cathedral is closed on Mondays but otherwise open Tuesday to Sunday and is FREE to enter. Check the website for opening times.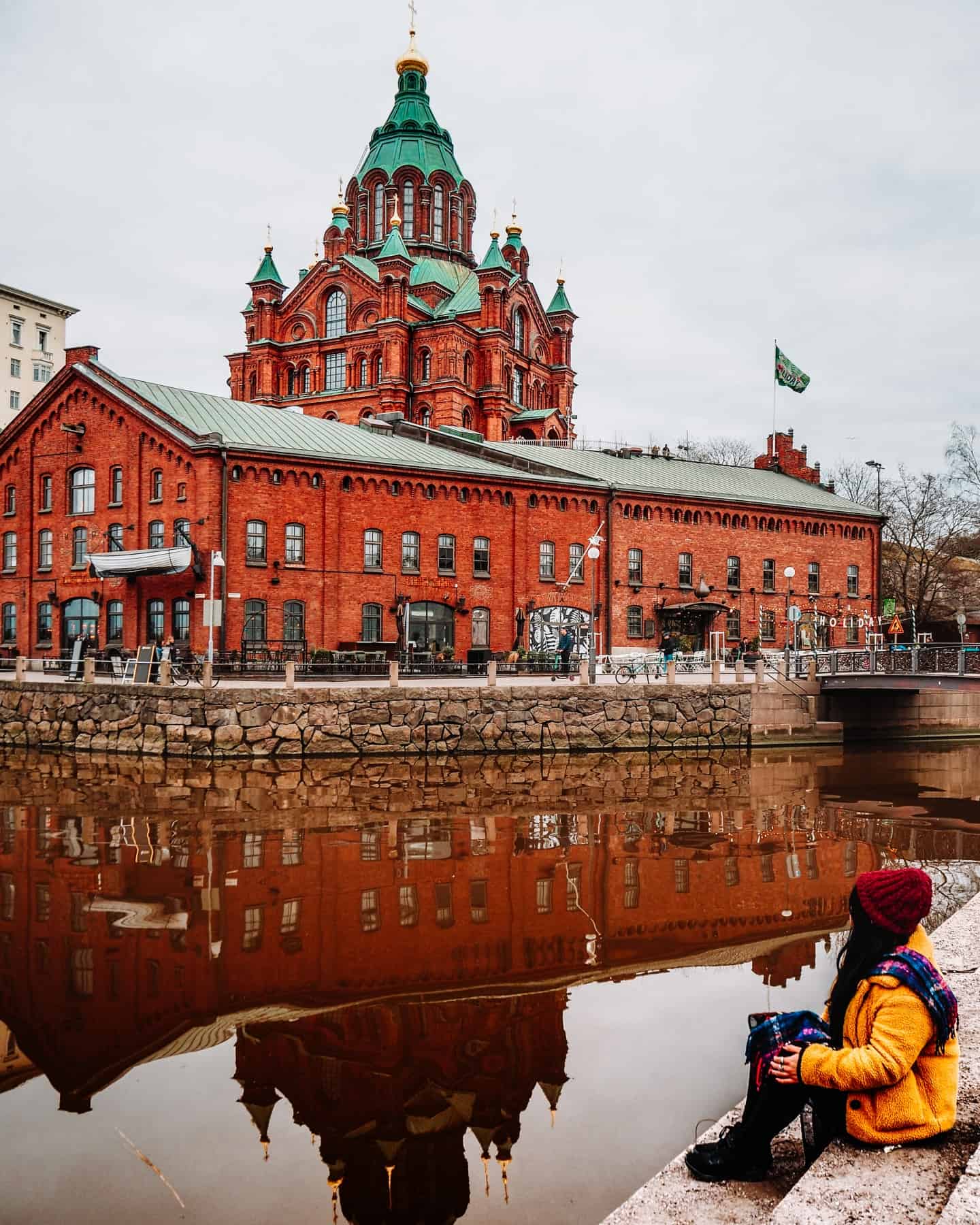 16. Get artsy at Amos Rex
Amos Rex is another contemporary art exhibition, located near the Central Railway Station.
Here it's a small space, so you can really immerse yourself in the exhibitions that are on display. This museum aims to make the past, present and future meet through captivating art installations.
I was kind of bummed when I arrived as I find out they no longer had Bio Lab. But, I actually was really impressed with their Studio Drift: Elemental Exhibition.
When you walked into the space, a giant concrete box was moving around the room…with no strings! It was just floating by magnetic energy which was crazy. I was a little worried to stand underneath it being honest haha. But, it didn't fall.
It's meant to explore the premise in which all living beings operate, single entities attaching themselves to larger contexts. But, I didn't feel it needed an explanation, it's just nice to leave it to your imagination!
There were also the life works of Magritte on display, a Belgian surrealist artist, which was hugely popular. Exhibits change all the time to keep the museum fresh and interesting, so always check their website for details.
You must store bags and coats in the cloakroom and no selfie sticks or tripods are allowed inside.
Amos Rex is actually underneath the city, so don't forget to check out the outside above ground. It reminded me a little bit of a submarine with big huge round windows. You can run and climb on the domes here and visit the various cafés and Bio Rex, a cinema!
Amos Rex is open from 11 am daily and closed on Tuesdays. Closing times differ each evening from 5 pm – 8 pm so check beforehand.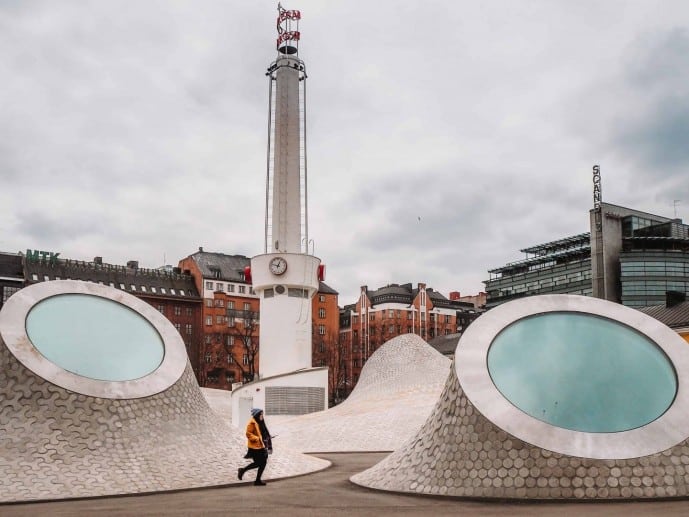 17. Take the ferry over to Tallinn for a day trip
A super Finnish thing to do is to get a ferry over to Tallinn for the day. Did you know that you can sail from Helsinki to Tallinn in just two hours?! During my week in Helsinki, I boarded the ferry with Tallink Silja to take me over to Estonia.
This is not just any ferry, it's a huge ship that boards thousands a day. It has restaurants, a sun terrace, duty-free shopping and more. If you have the cash to upgrade your ticket to business, I would! It comes with extra space, an all-you-can-eat buffet and a free pour bar!
Click here to read all about the ferry from Helsinki to Tallinn and how to book!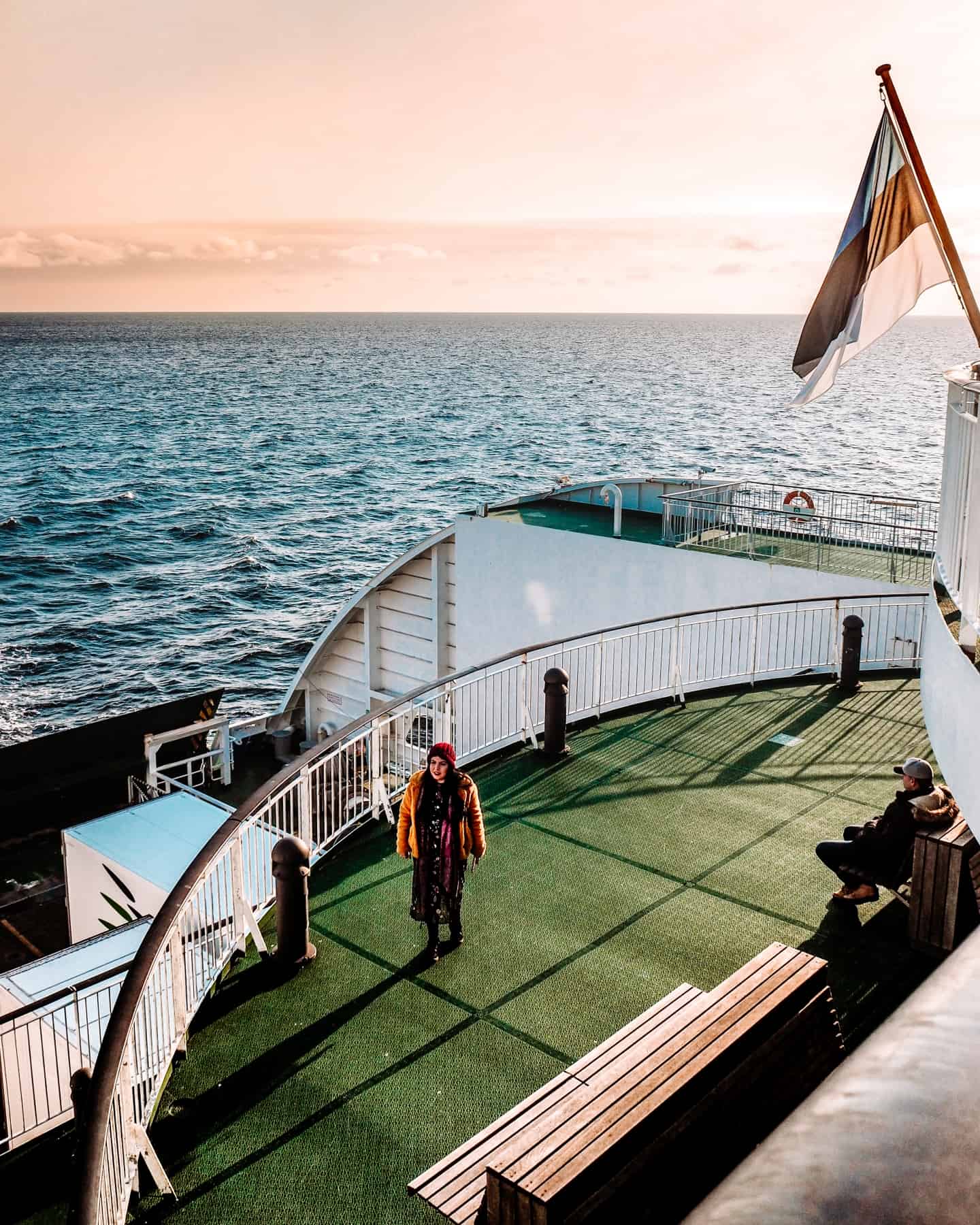 What to do on a day trip to Tallinn
Once you hit Estonian shores, the Old Town is only 15 minutes walk from the ferry dock so there will be lots of time to explore. There's actually so much you can do with just one day in this fairytale city;
Visit the many viewing platforms for an epic view including the highly Instagrammable 'The Times We Had' sign
Climb the city walls and towers, there are many places to do this but I recommend Kiek in da Kök the mightiest defence tower of the Baltics
Sip mead in the medieval tavern of Olde Hansa or treat yourself to an authentic 15th-century dish
Go on a FREE walking tour with Tales of Reval which was walking performances
Climb up Olav's tower for the best view of the whole of Tallinn
Visit the Town Hall Square to see colourful old buildings and drink a Glögg (hot wine)
If you need more inspiration for things to get up to on your day trip, read my full guide here or my photography guide here.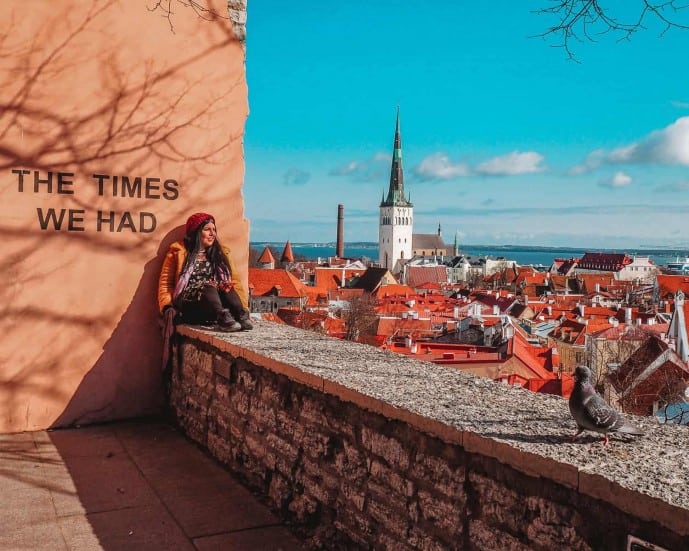 18. Visit Helsinki's cutest coffee hut; Café Regatta
Cafe Regatta looks like it's been transported straight from Lapland and invites you in for a filter coffee or one of their famous cinnamon buns.
Built in 1887 and set on a beautiful picture-perfect lake, it looks like something from a postcard.
In winter you can come inside their hut for a filter coffee to keep warm by the fire and in summer you can bask in the sun outside by the lake.
If you were feeling peckish, why not grab a hot cinnamon bun or roast a sausage on the open fire?
It's only five minutes walk from the Silbelius monument and is definitely worth a pitstop if you're close.
But, their hospitality is no secret in Helsinki. There will be queues outside the door, so get there early on weekends if you don't want to wait.
Read more about Cafe Regatta in my post here. is open 7 days a week from 8 am – 10 pm.
19. Strike a pose by the Sibelius monument
If you're in the area, then you must stop at the Sibelius monument. It's a little far out of the main hub of the city but a stop at this popular statue is worth it.
Jean Sibelius' (1865-1957) is a world-famous Finnish composer and when he passed, the city decided to build something in his honour. A statue was built by Eila Hiltunen and was unveiled to the public in 1967 for everyone to enjoy in the park now known as Sibelius Park.
The statue is made up of 600 steel organ pipes and there is a surrealist bust of him on one side. So, make sure you lie down and look up to appreciate the beauty.
It's a really popular photo stop for tour buses so prepare for this place to be packed at all times of day, I got there at 7 am and there were already people. But, wait your turn and a photo opportunity will become available.
The Sibelius Monument is FREE and based in Sibelius Park which is open 24 hours a day.
20. Gaze at Finland's best artists in Ateneum
Ateneum is Finland's best-known art museum in Helsinki that showcases international artists from past to present.
The name Ateneum is born from the Greek goddess of wisdom and welfare; Pallas Athene.
It was first started by the Finnish Art Society which established itself in 1846 and decided to put its most worthy works on display in a collection.
Donations were given as financial support for the artists to produce new works and it grew so popular that in 1863, it put its artwork permanently on display.
Although the museum did seek to buy work solely from Finnish artists, it also by the turn of the 20th century had to work by Van Gogh, Edvard Munch and Cézanne.
Today, it houses many contemporary works for people to enjoy, including famous Finnish painters.
When I visited, they had a marvellous exhibition around the works of František Kupka, a Czech abstract artist.
It's a beautiful museum full of inspiring works and I would highly recommend a visit. Large backpacks have to be stored in a locker.
Ateneum is open from 10 am Tuesday to Sunday and closed Mondays. Closing times differ throughout the week so always check before you go.
21. Try a Finn's favourite snack – the cinnamon bun!
A cinnamon bun or 'korvapuustit' in Finland is like a croissant in France, you have to try one!
It's a popular sidekick to an order of filter coffee and every morning the bakeries in Helsinki give out the most gorgeous scent of cinnamon.
Now to say that the Finn's take their cinnamon buns seriously would be an understatement and apparently it takes years to master the art of appreciating them.
A cinnamon bun should be filled with cinnamon, made with layers of pastry that's brown on top and sprinkled with lashings of pearl sugar so sweet you'll feel your teeth are rotting!
They do some incredible cinnamon buns in Cafe Regatta, Café Esplanade and Café Succès.
22. Visit the Finnish Museum of Natural History
Having the Natural History Museum here in London, I thought I'd be bored of Natural History by now. But, Helsinki proved me wrong!
The Finnish Museum of Natural History not only have colourful and unique displays of animals and nature, it was also extremely interactive. I loved learning all about Finnish wildlife and seeing all the animals, even if they weren't real lol.
I would personally avoid weekends as it's filled with kiddies running around and screaming all the time.
It also had the most eye-catching architecture. I was really taken by their beautiful picture-perfect staircase. I mean, will you just look at it?!
The Finnish Natural History Museum is open from 9 am on Mondays to Fridays and 10 am on Saturdays. Closing times differ so always check before you go.
23. Walk down Huvilakatu: Helsinki's most Instagrammable street
I mean, it wouldn't be a bucket list without a few photo-worthy Instagram locations, right? In fact, I now have a whole blog post all about the Instagram places in Helsinki you can read here if you're in it for the gram.
If you're not bothered about awesome vibrant colourful streets then skip this next stop but if you want this on your photo reel then keep reading!
Huvilakatu is a rainbow street in Helsinki that is one of the most photographed streets and translates to "villa street".
Beyond just an Instagram spot, It's actually one of the finest examples of Art Nouveau design in the city. It isn't a cheap place to live by any means but you can call one of these homes for the night by renting them on Airbnb!
Make sure you pop by the Design Museum nearby to learn a bit more about Art Nouveau and its history!
Huvilakatu is in the Huvilakatu district and is easily accessible by bus or tram, open 24 hours a day
24. Drink a Longkero drink
Longkero is a Finnish national drink and is enjoyed in Finland almost as much as we English love our G&T's. A Longkero is a long or tall drink that is made up of gin and mixed with grapefruit soda, lime or cranberry.
The tale of Longkero began during the summer Olympics which were being held in Finland in 1952. Prohibition was still in place and so alcohol was banned.
To compromise Alko, a monopoly in Finland, made premixed drinks to serve international visitors. One of these was Longkero.
Ever since it's been known as the Original Gin Long Drink and is still a popular beverage today!
So there you have it, you must try one while you're here. It's utterly delicious and you'll be craving one long after you've left.
25. Dine at Savotta Restaurant
Savotta is slap bang in the middle of Senate Square and has one of the most epic views to dine with overlooking the Helsinki Cathedral.
Not only the view, but Savotta serve up some amazing delectable Finnish cuisine to sample.
Now a three-course meal here will set you back around 65 Euros, but hear me out it's worth the splurge!
I would definitely go for their taste of Finland menu when you're here. To start you will have a journey through Finland on land and sea which has salmon, caviare, bear salami, deer sausage, cheese pastries known as Leipäjuusto and berries.
Then moving on you'll have a topside of reindeer with mash and lingonberries and to finish a sweet ending of Sisu ice cream.
This was one of my favourite meals in Helsinki. Make sure you reserve a table in advance, especially if you would like the view of the cathedral while you dine.
For a whole list of the best food and drink spots in Helsinki see here.
Savotta Restaurant is in Senate Square, it serves food Monday to Saturday from 12 pm – 11 pm and from 6 pm – 10 pm on Sundays.
26. Shop for Marimekko
All the girls in Finland love Marimekko! That's why you'll see so many of them carrying purses, bags, pencil cases and even wearing jewellery and clothes made by Marimekko.
Marimekko is a design house in Finland, which is celebrated worldwide for its prints and colours including the iconic poppy print.
It was founded in 1951 by Armi Ratia and hopes to bring confidence to those that wear it through its colourful and bold patterns. They combine fashion with home design and you can buy all sorts of Marimekko homeware to decorate your house too.
There are many Marimekko stores around Helsinki and even one in Helsinki airport if you decide to take some home with you.
I loved the fact that my Aallankoti apartment in Helsinki was head-to-toe Marimekko! They're such pretty prints.
27. Try Elk Meatballs – a national speciality!
Now, a little company called IKEA (haha) made Swedish meatballs world-renowned as coming from Sweden but the Finn also has them here too. Elk meatballs are a national dish.
A lot of Finnish dishes come from the forest and the Finn's have a rule called everyman's right. This means that people can enjoy Finnish nature freely whether that be walking, cycling, swimming, picking berries or fishing. Hunting Elk is also completely legal with a hunting permit and so you'll see lots of it on the menu.
Elk meatballs are traditionally cooked in a stew and served with mashed potatoes and lingonberries in Finland. It's absolutely delicious! I tried some on my first night in Löyly spa and was hooked.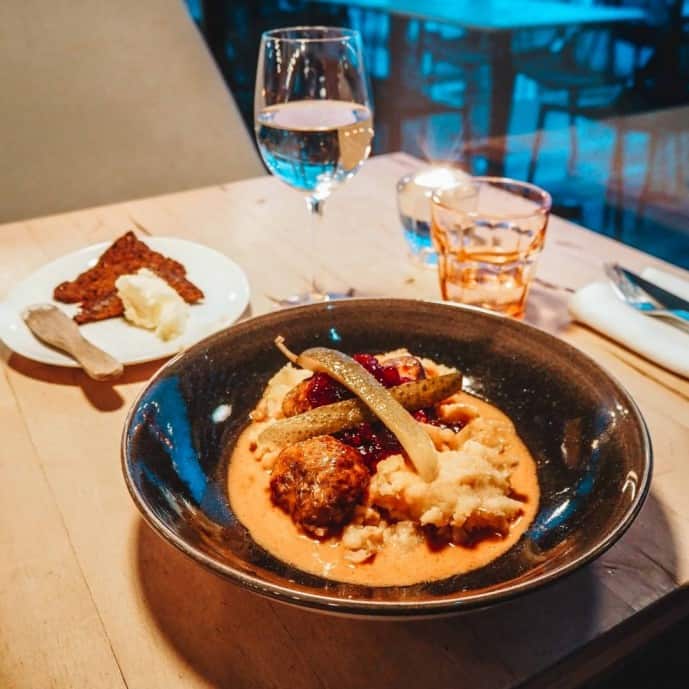 28. Gorge on Fazer chocolate
Fazer chocolate is another national favourite. You may notice when you order a cup of coffee, you'll receive a cute little chocolate on the side of your cup. On further inspection, you'll notice it's by the Fazer chocolate company.
Originally created by Karl Fazer, Fazer chocolate has been around since 1922. Its home base is in Vantaa in Finland and has been enjoyed by Finn's throughout the country ever since. It's the highest quality chocolate and it seriously melts in the mouth!
You can find Fazer chocolate sold all over the city and you must stop by one of their Fazer cafés in Helsinki too. As I was here over the Easter period, they had their famous easter eggs on sale.
It was like a normal chicken's egg but when you cracked the shell it was filled with Fazer chocolate! So indulgent but worth every mouthful.
Fazer chocolate also makes a cute souvenir and they sell them in travel-friendly packages to take home for your friends and family to try.
Like it? Pin it!
With thanks to My Helsinki for hosting my trip to Finland. Although I was a guest, all opinions and photos are my own.