The city of Kaunas really surprised me on my travels through Lithuania. It was quirky, bohemian, historical and somewhere unlike anywhere else!
It was truly unique and there is so much more to it than what meets the eye. Every street corner had a different story to tell.
So, if you're looking for unusual things to do in Kaunas, I think you're going to be spoiled for choice here.
From breathtaking street art, the cobbled streets of the old town, ancient castles and even a Devil museum (yep!); make sure you schedule enough time to enjoy what Kaunas has to offer.
Here is the ultimate Kaunas bucket list!
Is Kaunas worth visiting?
100% YES! I have to admit that I was on the fence at first. I wasn't sure if a day trip to Kaunas was worth it with my limited time in Lithuania.
But, I'm SO happy I made the decision to go. The city was friendly, vibrant and just singular.
Plus, there is loads of things to do in Kaunas too which is always a winner for me.
So, if you are on the fence. I would say have a look at this list and if anything inspires you, GO! It's only 90 minutes from Vilnius by train, so it's easily doable on a self guided day trip.
How to get from Vilnius to Kaunas
If you don't have a car, there are some great and efficient public transport services that can get you around Lithuania. It's a small country so many of the large cities and attractions are never more than a few hours travel away.
Kaunas is Lithuania's second-largest city and can be accessed in around 90 minutes if you're travelling from Vilnius. Making it a great choice for a day trip;
Vilnius to Kaunas by train
I loved the train service in Lithuania. The official railway booking site was in English, easy to use and I had my online tickets with a QR code in minutes. The conductor just scans it on his way through the carriage.
Plus, the trains were really fancy. My train to Kaunas was a double-decker (we don't have these in the UK so I was really excited) and I paid the 1 Euro extra for the upper class, bargain!
My ticket to Kaunas cost around 5.40 Euros each way. Paying extra for the upper class is so worth it for more space, peace and quiet, plug sockets, and FREE WiFi!
Click here to book train tickets, or check railway times and prices.
Vilnius to Kaunas by bus
I didn't go by bus as this was going to take around 2 hours and I had limited time in the city.
It was also double the price of a train ticket and cost around 9 Euros each way. This didn't make a lot of sense when I could go quicker on first class on the train.
The Vilnius central train and bus station are inches away from each other. So, if the train is full or you missed one, just hop on a bus!
You can see the official Lithuanian bus website here.
23 amazing things to do in Kaunas
Like I said, if you're here on a day trip, you will truly be spoiled for choice. There are just SO many things to do in Kaunas, you may need more than one day to look around.
But, I found I could see quite a lot with just one day if I left early enough from Vilnius and planned my time right.
I also visited in winter with limited daylight, so if you went in the spring or summer months you could experience even more (with better weather lol)!
1. Go on a Kaunas FREE walking tour
As if by fate, I had planned my day trip to Kaunas on a Saturday. I was recommended to book a free walking tour of Kaunas with Vilnius by Locals that only happens there once a week!
As I only had one day in the city, this was the perfect introduction and it didn't disappoint.
Despite it being one of the windiest and coldest days in winter, our guide was funny, professional and so knowledgeable about the city and its attractions.
What was meant to be a 2-hour walking tour turned into 4 with a coffee break to defrost! We had a great group and we really got to cover a lot of ground in the city learning all the stories behind the buildings, history, and street art as we went!
I couldn't recommend this walking tour enough so if you do find yourself here on a weekend, make sure you book onto it.
Like with any 'free' walking tour, donations are expected at the end to tip the guide on what you thought the tour was worth. I promise you, you won't regret a thing. It's excellent.
Click here to book a FREE walking tour of Kaunas
2. Admire Kaunas Castle
Having been to Trakai Castle in Lithuania, I have to admit, Kaunas castle didn't impress me as much as all that. But, it is still a beautiful building that you can visit in the Old Town.
This medieval castle was built in the 14th century and is one of the first brick castles in Lithuania. It was unique in the way it had two defense walls to protect against crusaders.
However, people still aren't completely sure who ordered the construction. In 1408, it lost its status when the city was granted Magdeburg rights, and the town moved the infrastructure to the Town Hall Square.
In the 16th century, Kaunas castle became a prison and supposedly the souls of those prisoners still haunt this castle by night. So, watch out if you're visiting after dark! If ghosts are your thing there's an awesome Kaunas Ghost Walk you can book.
It has a small museum and art gallery inside where you can learn more about Kaunas in medieval times.
While you're here check out "the Soldier of Freedom" sculpture and Santaka Park which is nicknamed the 'heart of Kaunas'. This park has many attractions including a Pagan sacrifice monument and a Bernardine Monastery.
Check the official Kaunas Castle site for prices and opening times as they vary throughout the year.
3. Visit the Ninth Fort of Kaunas Fortress
Although a little way out of the main city of Kaunas, The Ninth Fort is something I would encourage every tourist to visit.
It tells a dark story, about the Russian Empire and Lithuanians being forced into hard labour camps.
It's also the location of the massacre of 50,000 Jewish nationals during World War II.
The museum is split into two sections. The first goes through the history of the fort and how it played a role in the occupation of Lithuania by the Russians, Soviet and Nazi's.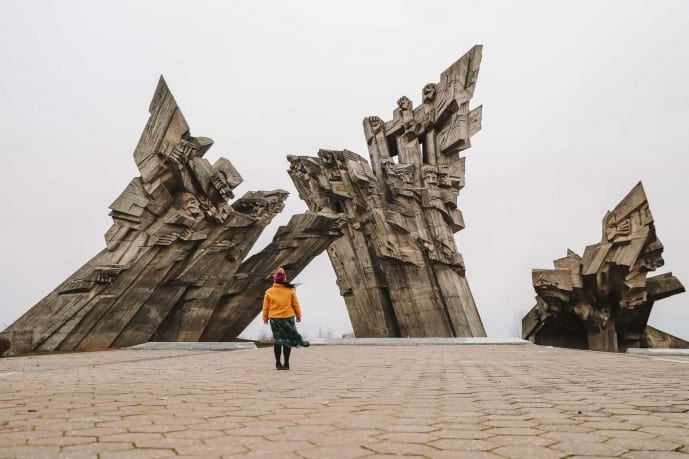 Then the hardest part is walking through the Ninth Fort of Kaunas itself. It really gave me the chills and was quite difficult to process the tragedies that took place inside the walls of the fort. At many points I was in tears, it broke my heart.
Although it is painful, it's also necessary to learn about these atrocities so they don't repeat themselves. So, I found it a very powerful and enlightening museum.
It will take around an hour by bus to reach the fort from Kaunas city, so I got a Bolt taxi which took 20 minutes from the train station.
Tickets 3 Euros for a self-guided tour and you'll need at least 2 hours to read all the exhibits. Check the official website for opening times and guided tours.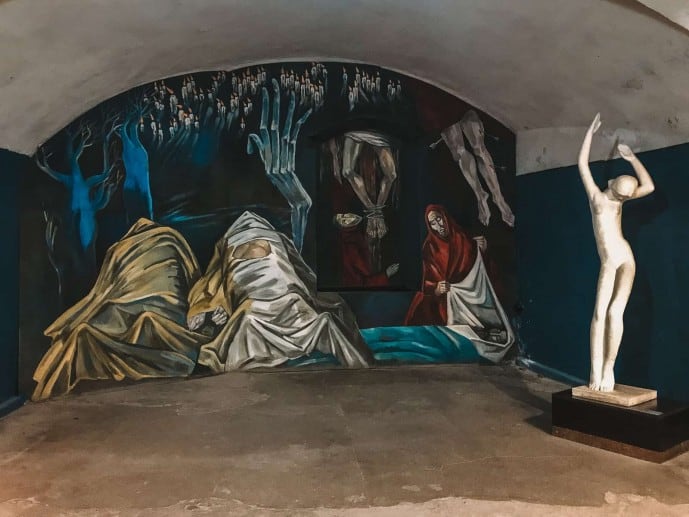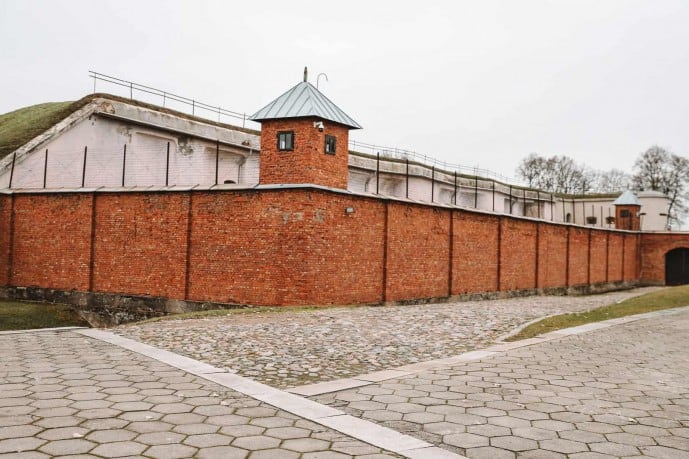 4. Pop inside St Michael's the Archangel Church
If you're staying in Vilnius, you will have already experienced the fact that churches seem to be on every street corner.
Although Kaunas doesn't have as many churches, the ones they do have are incredible! If you're starting your Old Town Kaunas journey, I would recommend visiting this gorgeous building at the top of Freedom Avenue.
We started our free walking tour there, so we learned a lot about the fact that it was built in 1891 in the Neo-Byzantine style as an Orthodox Church. It was originally built by the Russian Empire for use by the Garrison of Kaunas Fortress.
During the Soviet Union, this church was transformed into an art gallery and, after the Lithuanian independence, became a Roman Catholic Church. Locals call it Soboras.
You'll notice how they didn't change the architecture from an Orthodox Church but simply changed the crucifixes to Catholic ones. I guess it saved money and time!
If you have time, I would recommend popping your head in to have a look. It's really beautiful and peaceful inside.
5. Take a stroll through Kaunas Old Town
I loved the Old Towns in Lithuania. They were colourful, quaint, have lots of character and Kaunas is no exception for that.
The first thing you may notice about Kaunas Old Town is the way that most buildings are quite short. Well, the reason why is that there was a rule years ago that the town could not build more than two floors per building!
The cobbled streets in the area will lead you straight to the Town Hall and Kaunas Castle. During this time you'll pass adorable boutiques, inviting cafés and restaurants dotted along the strip.
Have a lookout for the interesting architecture here. There are lots of different historical styles and church spires. Plus, some interesting statues that tell a story (more on that below). You could spend hours getting lost!
6. Kaunas Town Hall Square
As I was visiting Kaunas at Christmas, I chose a pretty special time of year to visit. The Town Hall had the most fantastic Christmas tree right in the middle of the square with festive market stalls surrounding it.
Apparently, the main cities of Lithuania try to have a little competition with each other of who can have the best Christmas tree. I hate to say it Vilnius, but Kaunas killed it!
They concentrated their tree this year on sustainability and so all the decorations on the tree were from recycled materials. As well as the tree, there were egg chairs and all sorts of photo-worthy spots. Even Santa was there to greet everyone.
Of course, during the rest of the year, the Kaunas Town Hall is also a highlight of any visit. The gleaming white building makes a statement in the square and even looks like a church when you first see it!
The peachy-pink church at the back is the Church of Francis Xavier and was built in the 17th century by the Jesuits.
If you're feeling like you need a break this is a good spot as there are many cafés and restaurants in this area, if a little overpriced for the location.
7. Kaunas Cathedral Basilica of St Peter & St Paul
Just beyond the Town Hall Square is the Kaunas Cathedral Basilica. It doesn't look so impressive from the outside (almost severe in fact) but when you go inside you'll see what the fuss is all about.
Despite the fact that it was nighttime and it was under construction when I visited, it still took my breath away!
This Gothic church was built sometime in the 15th century although the exact date is unknown. Many pilgrims visit this church today to catch a glimpse of the 16th-century painting of Our Lady of Sorrows.
The entry to the church is FREE but donations are accepted. When I popped in they were practicing with an organ for performance and the acoustics were epic. It really gave the place an atmosphere.
8. Visit Kiemo Galerija – The Courtyard Gallery
Kaunas has a plethora of Street Art and even its own street art festival. But, if you're on limited time and just want to get a flavour then stop by the Kiemo Galerija or the Court Yard Gallery.
This Street Art Yard was one of my favourite places in the whole city and really defies the concept of a traditional gallery or reality itself!
It was originally set up by Vytenis Jakas when he moved into the area and was annoyed about the lack of community spirit.
He felt that modernisation is alienating neighbourhoods and so asked his neighbours for their stories and photos of residents who used to live there.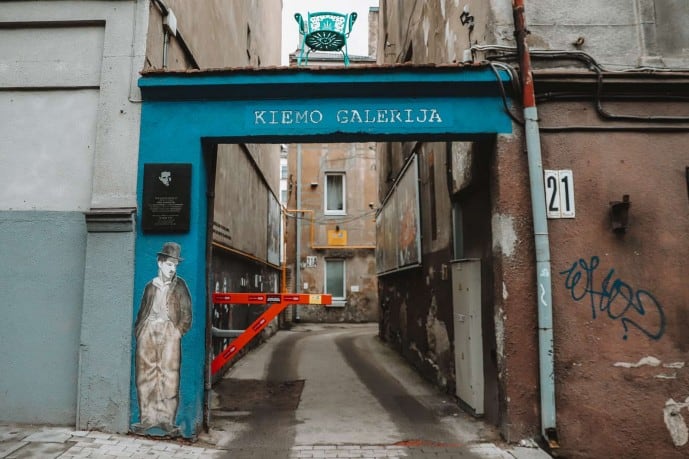 Then, Kiemo Galerija was born! Not only does it have quirky, colourful, and thought-provoking artwork, it also has exhibits you can get involved in too.
My favourite piece was the cat on the window sill, who keeps an eye on everyone and makes sure they don't litter!
The Street Art Yard is FREE to visit and open to the public 24 hours a day. If you would like to read a whole guide about how to find it and what to expect, click here
9. Or…check out the plethora of quirky Kaunas Street Art
Ever since it was illegal in the Soviet Era, Kaunas has spoken in their unique voice with street art. But, now since the NYKOKA Street Art Festival, it has taken over the city!
You can almost find captivating street art on every corner of Kaunas which is what makes the city so unique.
I loved the fact that Kaunas made a lot of these pieces legal and celebrates street artists in the city. Some of the pieces are loved so much, people refuse to let them be taken down!
If you're up for a bit of an adventure, make sure you pick up their "Wallographer Notes" Map in the Kaunas Visitor Centre. Or, download a copy online here.
Not only does this give you a tourist-friendly map of where to find the most famous work, it also gives you a little backstory and the artist's name. A revelation that usually I don't see in most cities.
From Pink Elephants, Unicorns, Princesses on Horses, Old men smoking pipes, even Polar bears and cats – you will find endless artwork.
If you loved any of the pieces in the city, you can buy souvenirs of your favourites from the visitor centre or online too. Such a cool idea! I loved the Kaunas Cat so I bought a pin badge as a keepsake.
Read more: Where to find the best street art in Kaunas
10. Be amazed by the world's only Devil Museum
As soon as I heard that there was a Devil Museum in Kaunas, I was in. I mean it's not every day that you get to visit a museum to learn about lucifer!
In fact, it's unique as it's the worlds only Devil museum that has over 3,000 artefacts of Satan.
The collections are mainly attributed to Antanas Žmuidzinavičius (1876–1966) who was a famous Lithuanian painter, professor and public speaker. As part of the museum you can see his paintings and a reconstruction of his workshop too.
The museum covers a few floors and has some interesting displays from all over the world. I found it fascinating to learn about the legends and superstitions that different countries have about the Devil too.
This museum also has a tradition in the way you can gift your own devil to them! So, if you did happen to have your own Devil statue, t-shirt, or trinket. Bring it over and you may see it on display.
I bought my own little wooden devil from the museum for 1 Euro. It was so cute! See the official website for opening days and times.
Read more reasons to visit the Devil Museum in my guide here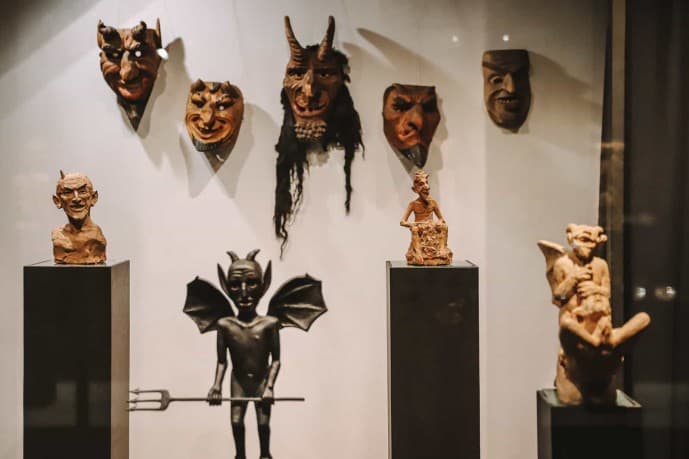 11. Feel like you're in Hogwarts at the House of Perkunas (Thunder House)
If you're a fan of Harry Potter, you may like to visit the House of Perkunas on Aleksoto gatve. Of course, it wasn't actually used in the movies but it did remind me of a building in Hogwarts!
The house is named after the Perkunas, the Pagan God of Thunder. There is a legend surrounding the naming of the building that when they were demolishing a wall they found a statue of Perkunas during the renovations.
The brass statue fell from the wall onto the ground and they decided to rename the building entirely after that.
But, research suggests this was built by the Hanseatic League in the 15th century for commercial trade. Then was sold off to the Jesuits and a chapel was established there.
Not so romantic as the Thunder God, but I guess we can still imagine!
They do run guided tours of the house for 3 Euro's. See the official website for details.
12. Check out the awesome statues around Kaunas
As well as amazing street art walls, there are also a number of interesting statues dotted around Kaunas each with their own story.
These statues and objects can also be found on the "Wallographers" Notes map from the Visitor Centre.
There are hundreds of statues, but these are some of my favourites;
Boy on a Bike
This statue looks sweet on the surface but also comes with an important story. Years ago, Vilnius street in Kaunas used to lead straight to the capital.
But, with urban development the street changed and buildings were built over the original road. So, the dog is trying to warn the boy about the change.
Will the boy see the wall before it's too late? I guess that's for you to decide.
Star Seeder
This was originally an illegal piece of artwork, made on a statue outside of the Kaunas War Museum. But, it won a competition and was loved so much it was revived!
Star Seeder sees the statue of a man sowing seeds also become a star seeder by night. You have to check it out after the sun goes down.
Zen Rabbit
This little guy in a rabbit suit may be hard to notice as you go under the subway into the Old Town. But, he's here with an important message.
Many people go about their day rushing, worrying, and stressing.
Zen Rabbit is here to remind us to be in the present moment, take it slow, and enjoy where we are.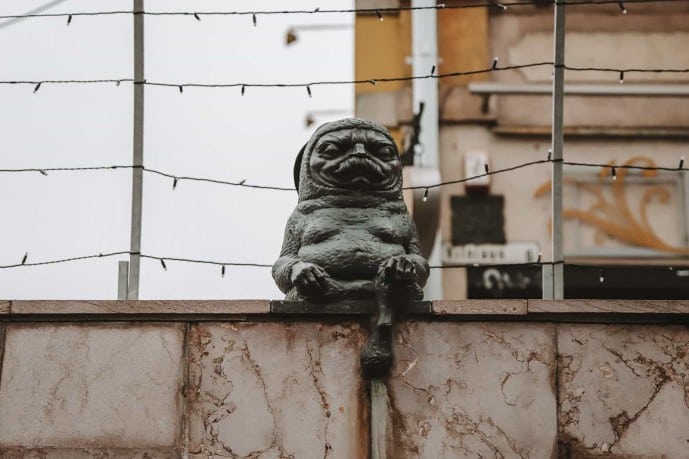 13. Learn some history at the Vytautas the Great War Museum
This Art Deco and Functionalist building was originally established in 1921. But, it moved to a larger location for the 500th anniversary of Vytautas the Great in 1930, hence the name.
It's a huge museum that has exhibits covering the history of Lithuania from pre-historic times through to today.
The history of Lithuania is an endless tale of occupation, war, and control, so you can find some exhibitions about the many battles of the country too.
If you didn't fancy going inside, I would still recommend visiting the outside of the museum in the Square of Unity.
Here you can find many interesting statues (including the Star Seeder) and an eternal flame in the Tomb of the Unknown Soldier with carved crosses in memory.
14. Try some Lithuanian Cuisine at Etno Dravas
If you're looking for somewhere that sells traditional Lithuanian food in Kaunas, Etno Dravas is a good bet. There is one in the Town Hall square.
It's famous for its Cepelinai or Lithuanian Potato Dumplings and has an extensive choice. Warning the are HUGE, almost the size of jacket potato. I ordered one as a starter and regretted it haha.
As well as that, they serve up Beetroot soup (Saltibarsciai), potato pancakes (bulviniai blynai), herring, steak dishes, and more traditional foods to try.
Another recommended restaurant was Berneliu Uzeiga but it was completely reserved for the evening. I also found the waitress incredibly abrupt, but that's common in Lithuanian hospitality!
15. Ride to Žaliakalnis Hill in Lithuania's oldest Funicular
Did you know that Kaunas is home to Lithuanias first Funicular?! Built in 1931 for pilgrims who couldn't walk to Christ's Resurrection Church on a green hill. Or, didn't want to in the cold!
It costs 1 Euro each way and the yellow cars will climb up the hill around 140 metres up the hill. When you reach the top, the views from the top of Žaliakalnis Hill or "Green Hill" are spectacular.
From here you can visit the Kaunas Ressurection Church (more below).
If you're hungry for another viewpoint you may be interested to know there are actually two funiculars in the city. Aleksotas Funicular opened up in 1935 and runs from Vytautas the Great Bridge to Aleksotas hill.
The panorama from up there gives some spectacular views of the Old Town. So, if you have time for both, it's worth it for photo opportunities.
16. Visit Christ's Resurrection Church
Once you reach the top of Žaliakalnis Hill on the Funicular, you must head on over to the Resurrection church.
Or, if you're feeling like some exercise you can climb up here the traditional way by the steep stairs.
This Roman Catholic Church is the largest Basilica church in the Baltics. As well as its architecture the church has a colourful story.
The construction started in 1934 and was declared a masterpiece of modern architecture. Approximately 1 million litas were spent to build the church.
Unfortunately, in the Soviet Era it was confiscated by the government. Stalin decreed that it would be used as a factory and the crucifix and any religious parts of this building were taken down.
It was then used as a radio factory until Lithuanian independence. Once the awakening happened it then switched hands back to a church.
Funding was brought in to reconstruct it to its original glory and it was then consecrated in 2004. As well as being a religious house today, it's used for community gatherings.
On your visit, you can climb up its 70 metre high observation tower and get some spectacular views of the whole city!
17. M. K. Čiurlionis National Art Museum
Another functionalist building, this Art Gallery was founded in 1921 and is one of the oldest in Lithuania. It sits directly behind the Vytautas the Great War Museum and opposite the Devil Museum.
M K stands for Mikalojus Konstantinas Čiurlionis, who is a famous Lithuanian artist, writer and composer. So, the museum is mostly about showcasing his work. But, it does house over 355,000 items from Lithuanian and artists from around the globe.
As well as highlighting M K, they also have international art exhibits, workshops, concerts, lectures and activities for children too.
Tickets are 5 Euros, see the official website for opening times.
18. Take a bus to the Pažaislis Monastery
I was gutted that I didn't have enough time to see the Pažaislis Monastery. But, it closed early on a Saturday and it was going to take me another 45 minutes to reach there by bus! So, I put it on the list for next time.
The famous Pažaislis Monastery is the largest monastery complex in Lithuania and was originally founded in 1662. It is also one of the finest examples of Italian Baroque architecture in the country.
It was originally built as a Roman Catholic church for the Order of the Camaldolese Hermits by Krzysztof Zygmunt Pac who was a nobleman of the Grand Duchy of Lithuania.
Later it was taken over by the Russians and converted to an Orthodox Church in 1832. After World War I, in 1920, the sisters of the Lithuanian convent of St. Casimir restored it back to a Roman Catholic temple.
Pažaislis Monastery welcomes visitors at all times of the year and is home to the annual Pažaislis Music Festival that lasts for three months in the summer.
The inside of this church is why I wanted to visit and is meant to be spectacular! So, try and fit it in if you have time.
You can also get a Bolt taxi over there instead of the local buses which will be quicker.
Or, book onto a Pažaislis Monastery day tour here.
19. Visit the hidden Church of St. Gertrude
As you're wandering through the Old Town, you may stumble across the Church of St. Gertrude. It can be found through a gate on Laisves aleja.
The style of this church reminded me of the Church of St Anne in Vilnius as it was built in the same Gothic brickwork style. I later found out it is one of the oldest Brick Gothic churches in Europe.
The exact date of the church is unknown but historians believe it was built in the early 15th century and it was decreed by the Grand Duke of Lithuania Alexander to be the parish church of Kaunas.
Many people visit to look upon the ancient The crucifix, one of the most valuable monuments in the city. It's a little bit hard to locate but when you do find it, it's spectacular!
20. Marvel at Kaunas' Historical Presidential Palace
During the interwar years, when Vilnius was taken over by Poland, Kaunas became the temporary capital of the country.
So, this Russian imperial building that sat in the Old Town changed face and became the Presidents official office.
It stayed that way until Lithuania lost its independence in 1940 and the 'last meeting of the government' was held here before the impending Soviet Rule.
In 1989, the ownership was transferred to the Vytautas the Great War Museum. Today, the palace acts as a branch of the M. K. Čiurlionis National Art Museum.
Outside of the palace is a small garden, with some statues of the president during the interwar period and photos of the city during that time.
Another reason why I loved this little courtyard was the fact in winter they decorated all the trees with colourful lights.
The palace and statues were also lit up in all different colours of the rainbow and it brightened up a rainy winters night!
21. Visit the Oldest Church in Kaunas
Sitting close to the Neman River is the incredible Vytautas the Great Church of the Assumption which is Kaunas' oldest church. It was built by Vytautas the Great in 1400, for Franciscans monks and foreign traders.
Vytautas was so convinced that the Blessed Mother Mary saved his life in the battle Vorskla River, he promised to build her a church on the banks of the river. So, he funded it himself.
As it was so close to the river, there used to be a dock where merchants could sail into and access the church.
Unfortunately, due to it being so close to the river, it has suffered major flooding over time. It's also been burned by French troops, closed down by the Russians, served as a military bank, a warehouse, and finally a Roman Catholic Church again.
22. Go shopping on Freedom Avenue
"Laisvė" in Lithuanian means freedom and you'll often hear many locals say "let's meet on freedom" in the city.
During the occupation in Lithuania, the people of Kaunas lost their freedom to talk, to act freely, to live in some cases and this street was once upon a time Tsar Nicholas Avenue or 'Stalin's Avenue'.
So, once Lithuania was granted its independence it was aptly named Freedom Avenue.
Along here you can find the St Michael's Church and light installations like the one to honour Jan Zwartendijk called "Visas for Life".
He helped many Jewish people flee the country by securing their visas and passports. In fact, each light in the installation represents one passport of a Jewish family that he saved.
As well as installations, there are plenty of shops and restaurants along this street. So, if you would like to do some shopping or souvenirs then Freedom Avenue is a great choice for that!
23. Sugihara House
Sugihara House is the home of the Japanese diplomat Chiune Sugihara, who secured transit visa permits for Jews fleeing Lithuania before the Nazi period.
He collaborated with Jan Zwartendijk and defied orders by issuing permits without a final destination. He did all this before 1940 and is said to have written over 2,000 transit visas by hand, some say he may have written over 10,000.
Nazi Germany occupied Lithuania the following year and Chiune was thrown from his post. It is thought that during the holocaust over 90% of Jewish people living in Lithuania were murdered.
So, Chiune and Zwartendijk's efforts and their "visas for life" saved thousands of people who would have otherwise perished.
He was the only Japanese official to be included in the Righteous Among the Nations (people who risked their lives to help Jewish citizens in World War II) and you can learn about his incredible story at this museum.
Sugihara House is located on Vaižgatvo gatvė and costs 4 Euros to enter. See here for opening times.
Day trips from Kaunas
So, that's all the things to do in Kaunas but if you're sticking around for a few days, you may want to organise a day trip from the city to see something new.
Lithuania is quite a small country, so many of these places are easily accessible in one to two hours;
Rumsiskes Open Air Museum / Folk Museum
Rumsiskes is a traditional Lithuanian Town around 12 miles East of Kaunas. The ethnographic museum here is one of the largest in all of Europe.
In this living museum, you can find traditional houses from the 18th – 20th century, wildlife, and learn about the history of the countryside in Lithuania. See here for more details.
Or, book a day trip to Rumsiskes here.
Hill of Crosses
One of the most famous attractions in Lithuania is the Hill of Crosses near Šiauliai in the North.
Here, there are thought to be over 250,000 crucifixes which were planted in memory of those deported from Lithuania during the occupation. The monument is meant to be a place of love and hope.
It's easier to drive there and it will take 2 hours. But, there is an option of a bus to Šiauliai then a taxi. I went with Vilnius City Tours and loved my visit.
Vilnius
No visit to Lithuania can be complete without the capital. So, if you've based yourself in Kaunas, why not pop along for a day trip to Vilnius.
The journey will take around 90 minutes by train and the city has a lot to offer!
See my ULTIMATE Vilnius travel guide here or the top photo spots for more information.
How to get around Kaunas
As I took a free walking tour, I covered most of the city streets on foot.
Everything is easily signposted and the Kaunas Visitor Centre has tourist maps with helpful directions. But, if you need more help, download Google Maps or Maps.Me to your phone.
Uber is not available in Kaunas yet but the competing app Bolt is available. Although, less competition means higher prices, unfortunately!
There are also trams and buses that run around the city and go to all the attractions on this list and you can look up directions and times on the Trafi App which is popular with locals.
Where to stay in Kaunas
If you fancy basing yourself in Kaunas for a few days, here are my top picks of hotels to stay at in the area;
Looking for more inspiration for Lithuania?
I spent a week in Vilnius with Tinggly in their Blogger House and during that time I was able to cover a lot of ground.
So, I made some detailed guides about Vilnius, Trakai, and even the Hill of Crosses to help you out;
40+ places to visit in Vilnius
The Instagrammable Love Story Cafe of Vilnius
The best places to eat in Vilnius
Republic of Užupis travel guide
Top attractions at Trakai Castle
The best viewpoints in Vilnius
The ultimate guide for Three Crosses Hill
Why you need to visit Vilnius in December
Like it? Pin it!