Are you looking for all the amazing and unique things to do in Kolkata? I was in your shoes before I went.
There seems to be so much to do in this Mega City, it's hard to get your bearings and you can get totally lost in these city streets and struggle to find the highlights!
Kolkata is the old capital of the British Raj and has the third biggest population of any city in India.
So expect big crowds, roaring traffic, grandeur colonial architecture and a labyrinth of bazaars with the holy Hooghly river connecting it all.
I hadn't heard or read great things about Kolkata to be honest. I knew there was poverty and from what I heard it was chaotic and dirty. But, I'm never one to judge a place before I have been myself.
So I jumped headfirst into the fray.
The result? I absolutely fell in LOVE with this amazing city and already want to return.
So, in this ultimate Kolkata travel guide, I am going to not only be going through the absolute best things you can do in this city.
But also I'll be covering how to get around, where to stay, top foodie places, important travel tips and some itinerary suggestions too!
A brief history of Kolkata in West Bengal
I think to really understand the mix of colonial architecture and culture here in Kolkata, you have to know the history of the city and its humble beginnings.
That way, a lot of what you're seeing will make more sense and you can understand why the city is a melting pot of cultures!
Kolkata used to be known as Calcutta and was a city that was originally developed by the British East India Company in the 17th century.
During this time it was the centre for English trade in India and the British controlled many major villages in the regions of Calcutta.
Most of the officers were stationed at Fort William in the biggest village which had a presidency.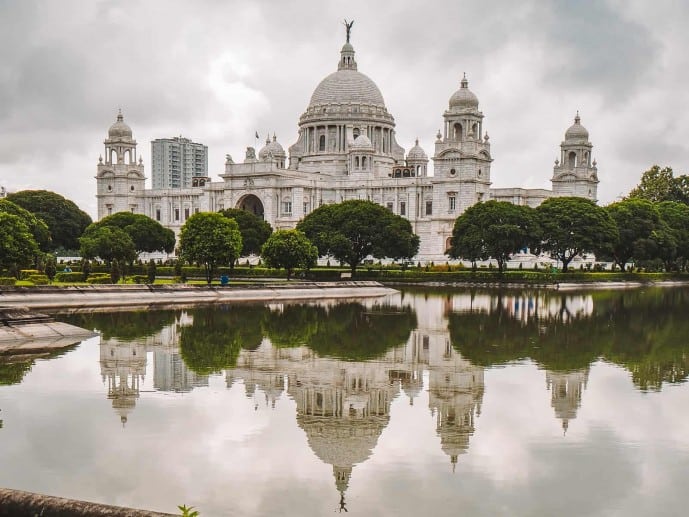 Later, it was established as a city and it became the capital of British India from 1711 controlled by the British East India Company.
Then, eventually, it became the capital of the British Raj from 1858 after British Crown rule was established.
At this time, all of India became part of the British Empire. In 1911, the capital of the British Raj switched over to Delhi on the orders of King George V, so Calcutta changed to the capital of all Bengal.
After the Indian Independence, in 1947, Kolkata remained the capital of West Bengal and still is the capital of the state to this day.
Today, the vibrant city of Kolkata has over 4.4 million residents and that's a whopping 24,000 people per square kilometre making it one of the most densely populated cities in India and the world. It's also classed as a Mega City as it stretches out over 205 square kilometres (79 square miles).
What is the best time to visit Kolkata?
The best time to visit Kolkata is hands down in the winter season from around October – March.
Here is when it will not be as humid from monsoon or hot from summer;
July – September: Monsoon season. Although I visited in early October, the monsoon seemed to run a little later this year. So, it was on and off heavy rains on my visit, and the city suffered floods.
The drainage system here cannot handle all the water so you'll be wading in polluted water sometimes. Not fun.
October – March: Wintertime. Probably the best time to be here as the temperatures won't be as hot and you'll get the most sunshine! Plus, you may visit for festivals and holidays like Kali Puja and Diwali!
April – June: Summers are brutal in India, I used to live in Delhi so I know the heat and have been really sick from it too. Many cities face temperatures up to the late 40s up to the 50 degrees Celsius mark.
As you're by the sea the breeze may be a reprieve. But, during these times, I highly suggest air-conditioned cabs, staying hydrated all day with water and electrolytes, sticking to shaded areas etc.
Don't take risks, sunstroke is not a great travel buddy.
How long do I need to visit Kolkata?
It's a HUGE city and there are so many things to do in Kolkata you'll be spoiled for choice. I originally had planned 3 days for my visit.
But as I loved the city so much and wanted to explore it even further, I instantly extended my stay by two more days.
I would suggest a minimum of 3 days to explore Kolkata.
This means you'll have enough time to do everything you want at a comfortable pace. Any less time and I think you'll try and shove too much in.
I would personally split your travel itinerary up by certain areas and aim to hit a couple of sites per day.
My go-to strategy is to pin everything I want to look at on Google Maps. Then I look at 'groups' of those pins and aim to hit those sections so I'm not flying around all areas of the city. This makes the best use of your time.
The next step, look at opening times for attractions (I include most of them below). These will be your main restrictions.
See what those are and then plan anything that doesn't have an opening time before/after those.
This itinerary has a Google Map I've made for you below with pins for all the things to do on this list. You can steal this and use it to plan your trip and itinerary!
Tours of Kolkata
When I landed in Kolkata, I had heard that the West Bengal Government-run guided tours of the city for a cheap fee. But, when I enquired at the desk, they weren't running due to Durga Puja.
If you would rather enquire for yourself you can do so here. It's a bus tour that will take you around the main sites.
Failing that, there are plenty of tours you can book for Kolkata online if you wanted to do a half-day tour, day tour, food tour, or temple tour.
Click here and book the below Kolkata tours;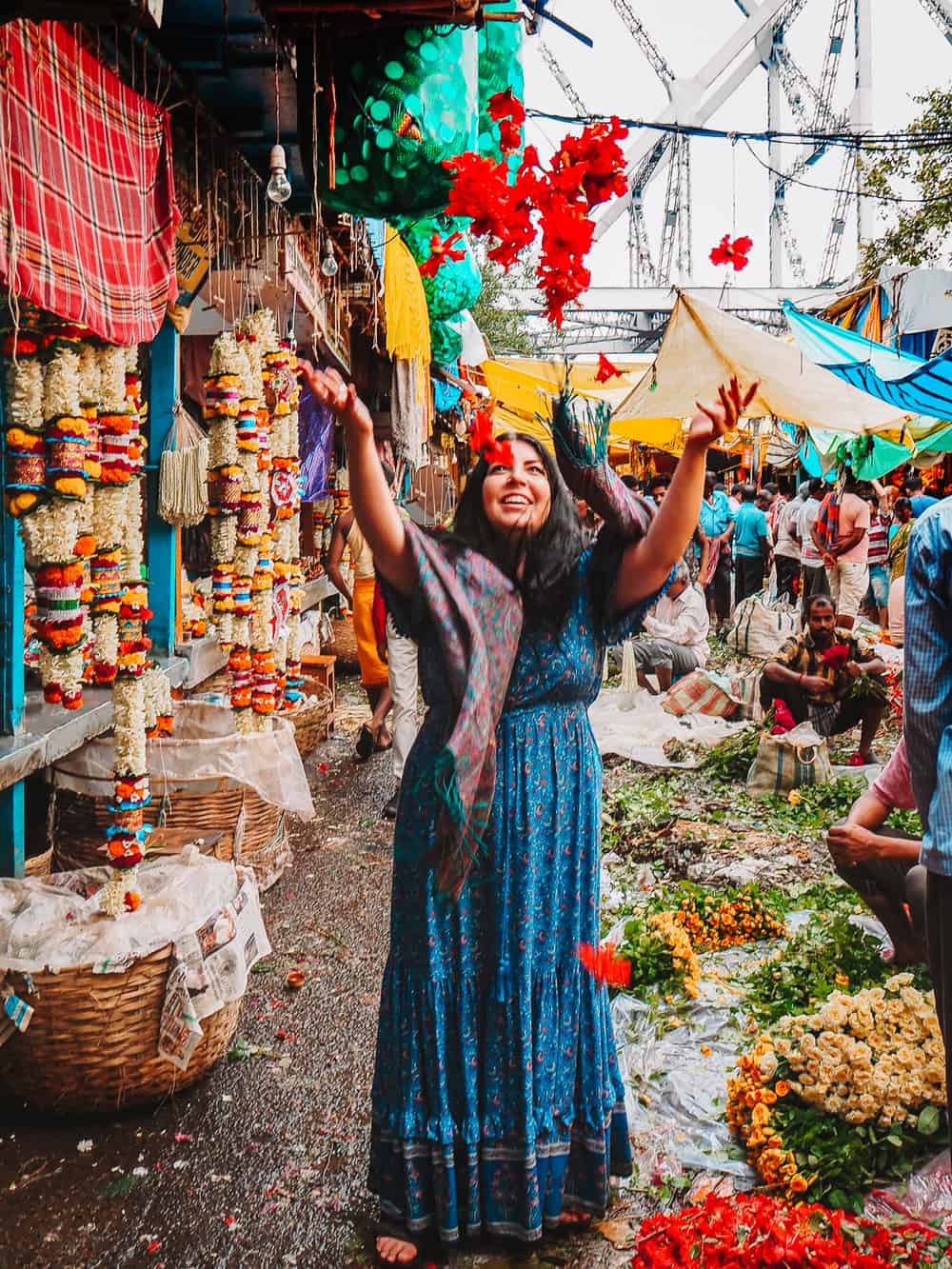 Is Kokata safe?
100% YES, if you use caution and common sense like you would in any city.
I know that a lot of people panic when they visit India as they think that it's really dangerous, dirty and you're going to be attacked on every street corner.
But, having visited 22 of 29 states in India most of them by myself as a solo female traveller, it really is just about being wary and keeping your wits about you.
I've had my fair share of scams, stresses, and scares, but nothing too major. The hospitality in India is out of this world and people are really friendly.
Don't go out late at night alone, don't ask men for directions and follow them down a dark alleyway, don't tell strangers where you're staying, wear clothes that respect the culture, learn about customs and traditions and what not to do.
Drinking isn't really condoned so if someone offers, be cautious.
Drugs aren't really common either apart from Bhang Lassi (religious cannabis) which I do not recommend drinking alone.
From my years of personal experience in India now, Indian men don't need a lot to be encouraged. A smile or a friendly face can do it.
So, make your feelings plain and stand your ground. Don't be afraid to say NO or refuse to give out your phone number or social media details if you don't feel comfortable doing so.
I know you can't avoid everyone and everything and meeting locals is one of my favourite parts of travel. I've made lifelong friendships in India from being open.
Just always keep your wits and be on your guard is all. Keep these numbers handy just in case;
24 hours tourist help line in 12 languages: 1800-11-1363
Womens helpline: 1091
Police: 100
35 unique things to do in Kolkata
So, let's start this EPIC list of all the amazing things to do in Kolkata!
I've tried to group them into certain sections so you can easily organise your itinerary.
It includes colonial sites, cultural attractions, foodie things, shopping streets, market bazaars, and even things to do in Kolkata at night. So, there is definitely something on this list for everyone!
Colonial things to do in Kolkata
1. Visit Victoria Memorial
This is truly the jewel in the crown of Kolkata attractions and this marble building is a marvel of colonial architecture.
The Victoria Memorial was commissioned after Queen Victoria's death in 1901, but wasn't opened to the public until twenty years later in 1921.
It's a huge domed building made from Makrana marble and massive quarries were made in Rajasthan to procure it.
There are two parts to this attraction, the gardens which surround it and the Gallery Museum inside.
The gardens open at sunrise and are a gorgeous way to spend a morning. You can take some of the many walking routes and admire the memorial from the reflection lagoon.
Or, you can enter the museum from 10 am that has 26 galleries and over 30,000 items in its exhibits.
Better yet, come back in the evening to watch a light and sound show on the grounds.
Did you know that the Victoria Memorial was painted black during World War II and was funded by Indian royalty?
The gardens open from 5.30 am-5 pm. The museum is open from 10 is – 5 pm. The light and sound show start from around 6 pm, more info here. Completely closed on Mondays.
Click here to read more amazing facts about the Victoria Memorial!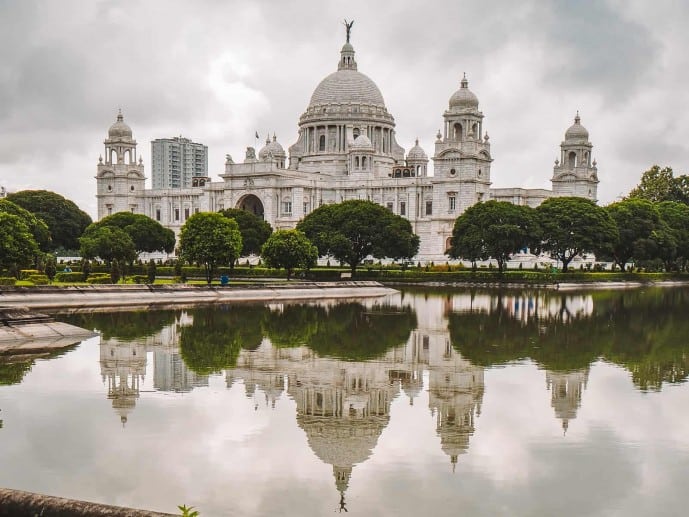 2.
Step inside St John's Church

St John's Church was the very first public building that was erected by the British East India Company in 1787.

The lands were kindly donated by Maharaja Bahadur and the funding for its construction was raised by a public lottery!

The architect was James Agg who based it on St-Martin-in-the-fields in London.

At the time, the stone was a very rare material in India, and the ones they used to build the church were actually stolen from the ancient city of Gour (Gauda)! They were then shipped down the Hooghly River.
In the graveyard, you can see tombs of some notable people in the city such as Job Charnock.
He is often seen as the founding father of Kolkata! He was one of the first administrators of the British East India Company who landed here in 1690.
He tragically died two years later but his tireless work united villages here that eventually became the Indian trading post for the English.
Also on the grounds, you can see a memorial dedicated to the 'smothered' of The Black Hole of Calcutta.
A tragic incident where over 100 British officers were kept in a small cell and only 20 survived (more below).
Inside the church are some beautiful stained glass windows, a pulpit, and architecture! While we were here it was being renovated but it was still incredible to see.
There is also a small museum that houses old artifacts from members of the British East India Company.
Warren Hastings's original chair is kept here, he was the first English governor of the presidency at Fort William and laid the foundation stone of this church.
St. John's Church is FREE to visit but donations are always appreciated. Opening times are 8 am – 5 pm Monday to Saturday. 10am – 4pm Sundays.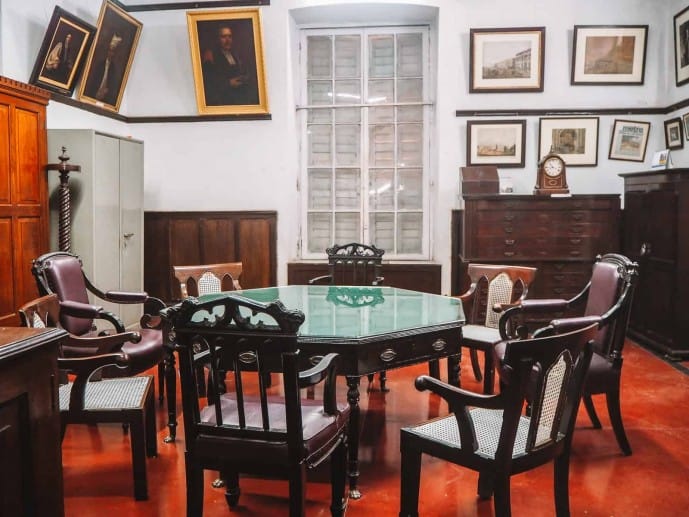 3. Admire the Writer's Building
The Writers Building was constructed in 1777 and was the principal administrative office for writers of the British East India Company.
Over time since Thomas Lyon designed it, the building has undergone many improvements and extensions and is now 150 metres long with 13 blocks!
It was home to the Fort William college and during the British Raj it served as the building for writers of the secretariat.
One of the most notable events that happened in this building was when Lieutenant Colonel NS Simpson, the Inspector General of Prisons, was assassinated.
Simpson was infamous for his harsh treatment of Indian Prisoners. So three Bengali freedom fighters infiltrated the building dressed as Westerners and shot him.
The busy area of BBD Bagh is named after them. Nowadays it is the home of the State Government of West Bengal.
Although you cannot go inside, it is still a marvel to look at from the outside!
4. Enter St Paul's Cathedral
Due to the growing numbers of British and European citizens in Kolkata, St John's Church was getting far too small to cater to those wanting to worship.
So, the city decided to build a brand new church that could cater to the masses. The founding stone of the church was laid in 1839 and the Gothic building was completed in 1847.
It is regarded as an architectural wonder and the very first Episcopal Church of the Eastern world. It's 247 feet in long and 81 feet wide, so it's mesmerising to take in.
As well as the outside looking pretty. If you pop inside the church, you'll be in for a treat.
Inside there are multiple memorial statues, a beautiful nave with stained glass windows, and a bell from the old bell tower.
I loved sitting under the cooling fans in here for a while, it was so peaceful.
As it's the diocese of Kolkata, you can see all the notable seats with coats of arms inside.
Fun fact: There is a legend that the first Bishop Wilson is buried somewhere beneath the church in a vault. But, to this day no one has found any evidence of it.
St Paul's Cathedral is FREE to visit but donations are accepted. Open daily from 10 am – 6 pm. No photos are allowed inside.
5. Look around the Indian Museum
The Indian Museum was opened in 1814 by the Asiatic Society, making it the oldest museum in all of India.
It's set inside a wonderful colonial building that has two floors, six sections, and 35 galleries full of historic, rare, and unusual artifacts.
You can take in some antiquities sourced from Egypt, or look at prehistoric ruins and fossils on display, admire old coins or visit the art gallery.
It was really interesting at first, but after around an hour, I got a little bored.
Some of the exhibits are dated and I saw a lot of similar stuff in the British Museum back home.
But I have to admit it was a great place to come with the rain pouring down, so I didn't mind the distraction!
There is no air conditioning (just fans) so it gets really hot and sticky inside. Just letting you know now.
Tickets for Indian nationals tickets are 50 rupees, for foreigners it's 500 rupees! You will also need to buy a photo pass for photography.
The Indian Museum is open from 10 am-6.30 pm Tuesday – Friday and 10 am – 8 pm Saturdays and Sundays. It's closed on Mondays and public holidays. See here for more.
6. Visit the infamous Fort William at Maidan Park
I've mentioned Fort William a lot in this post. That's because this place was really the beginnings of the city as we know it today.
Job Charnock arrived on the shores of Calcutta in 1690 and in just two years he united three villages in the area. After that, Fort William was born in 1696 by the East India Company.
It was named after King William III and took ten years to complete. It then became the seat of the presidency of Bengal in British India.
This was the original Fort William or the 'Old Fort William' as it is now known.
Unfortunately, it was partially destroyed when the Nawab of Bengal temporarily sacked the city and committed the 'Black Hole of Calcutta'.
A second Fort William was then built by the British in Maidan in 1758 and it's now occupied by the Indian Army.
The Old Fort was eventually restored and used as a customs house. This is now where the General Post Office (GPO) stands.
Although you cannot go inside Fort William you can walk around and see it on the grounds at Maidan Park.
It's a huge green space that also has the Victoria Memorial, Dalhousie Barrack, the Command Museum, and The Water Gate.
7. Take a look in the GPO (General Post Office)
If you want to see where the Old Fort William stood, you only need to visit the GPO or General Post Office which is a gorgeous piece of architecture in itself.
On the steps outside of the GPO you can see brass lines that lead down. This marks the boundaries of the first Fort William and is the only piece that remains.
A sign on the wall outside of the GPO marks the alley of the site of the guardhouse.
This held the dungeon where the infamous Black Hole of Calcutta happened. Although it does mark a grisly past, the GPO itself is a marvel.
This huge domed building with giant columns was designed by Walter B. Grenville in 1864. Inside you can visit the GPO Postal Museum that has original stamps and postal memorabilia from the time!
The museum is FREE, non-flash photography is allowed and it's open from 11 am – 4 pm every day
8. Go palace and mansion hopping
Did you know that there are hundreds of old mansions and palaces dotted around Kolkata? Most of these have been repurposed into government buildings but some are completely abandoned!
They're often known as the Forgotten Palaces of Calcutta and a whole book was written about them by Joanne Taylor. My tour guide in Kolkata was a historian who contributed to this book!
Most of the mansions were built by members of the British East India Company or wealthy businessmen.
Although there are many dotted around the city which is crumbling and serve merely as facades, they give you an idea of the grandeur of the time.
One of the best-preserved of these mansions that you can actually visit today is the Marble Palace.
This neoclassical building was constructed in the 19th century by Raja Rajendra Mullick, a wealthy Bengali businessman. It is filled with amazing statues and paintings. It's well worth checking out.
The Marble Palace opens at 10 am and closes at 3 pm but is closed on Mondays and Thursdays. It's completely FREE to visit!
9. Visit India's oldest high court
The Calcutta High Court claims the title of India's oldest high court and was built on permission by Queen Victoria in 1862.
But this incredible red and white Neo-Gothic building was built ten years later in 1872. Although the city is no longer called Calcutta, the Calcutta High court still retains the original name.
Today, this High Court makes a striking impression on the strip and has a long line of Chief Justices.
Its remit covers the whole West Bengal area, Port Blair in the Andaman Islands, and Jalpaiguri too!
You cannot go inside the High Court Building. But, it's a nice photo opportunity.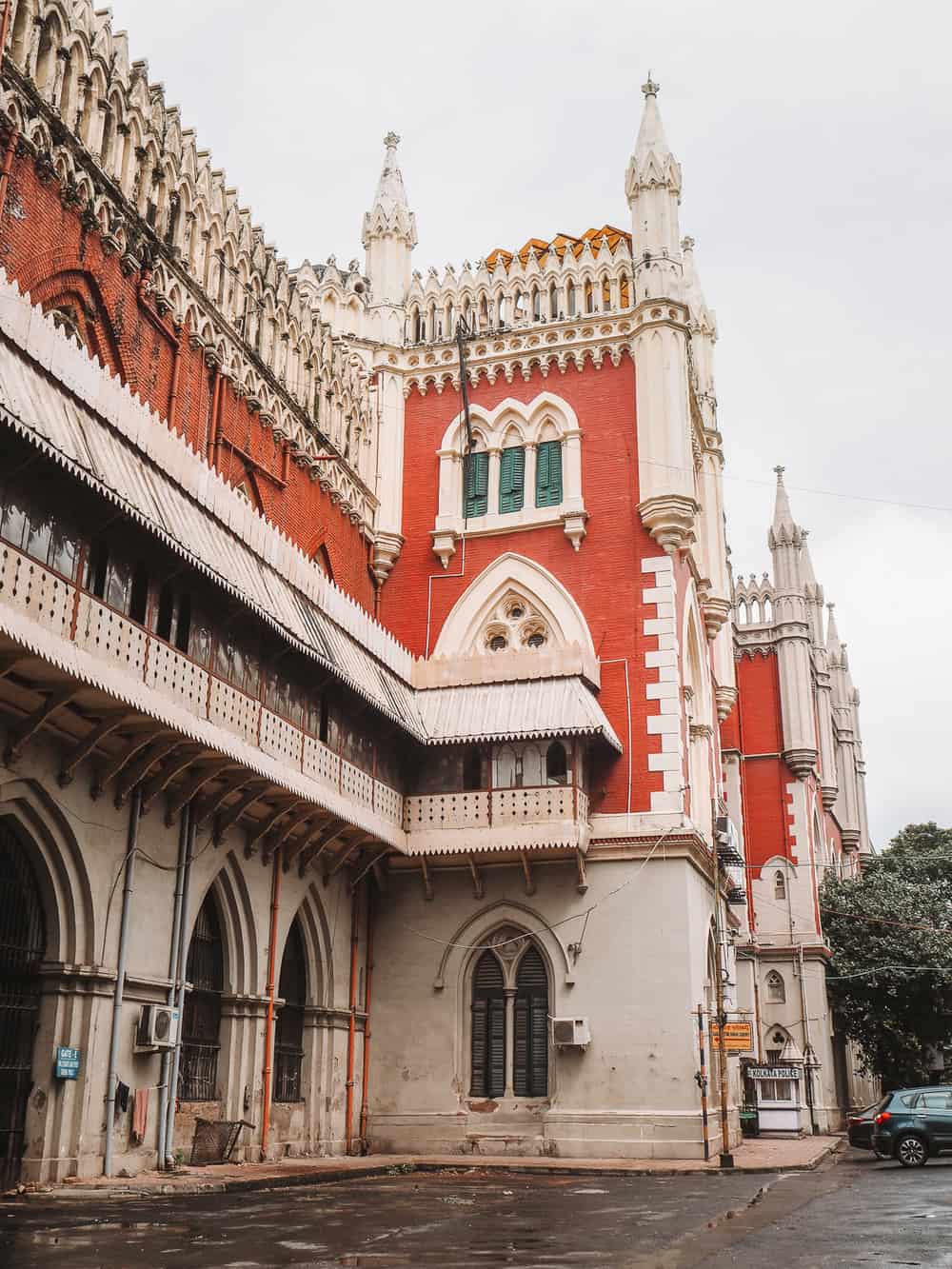 10. Metcalfe Hall
Finally, our last colonial building in this list takes us to Metcalfe Hall which can be found on Strand Road.
It's built in the British Imperial Style with elements of the Neoclassical from the Corinthian pillars at the entrance.
A fun fact about this museum is that it used to be the Calcutta Public Library! Lord Metcalf, the then Governor-General, transferred over 4,600 books from Fort William College.
Today, this museum is a little bit of a hidden secret and so that's why you HAVE to go.
You can visit the hall and see its various exhibitions including rare artifacts donated by the Asiatic Society.
There are antique hand-drawn rickshaws, old boats, and galleries that celebrate the life of the people in the city.
Entry is FREE. The Metcalfe Hall is open Tuesday to Sunday, 10 am – 5 pm, and is closed on Mondays.
Cultural things to do in Kolkata
11. Visit Kalighat Temple – Shakti Peetha
Kalighat Temple is one of the most famous temples in Kolkata and is dedicated to the blood-thirsty warrior goddess Kali.
It's also famous due to the fact it is home to a Shakti Peetha. If you're not aware of what Shakti Peethas are, I'll give you a short overview.
In the ancient texts, it reads that Lord Shiva's wife Shakti died. Shiva was so upset and enraged he carried Shakti's body with him everywhere he went, mourning her and performing his dance of destruction.
Eventually, he was causing so much chaos, Lord Vishnu cut Shakti's body up into 51 pieces and they fell all over India.
Where each of these pieces fell, a temple is set up as a place of worship. Kalighat Temple is where Shakti's right toe fell.
Many people come on a pilgrimage to Kolkata to visit this temple. You can find thousands of people every single day. Even more around festival times.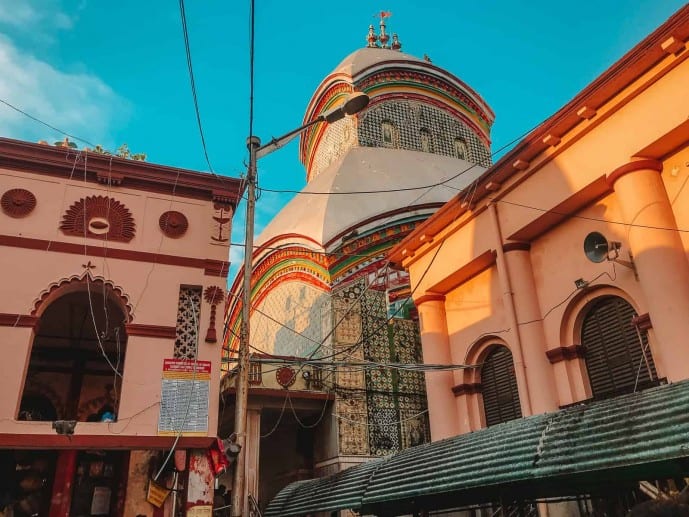 Queues can take hours so Brahmin's (higher caste priests) usually charge a 'VIP' fee for tourists. Although it sounds like a tourist trap, many locals do this to skip long queues.
We felt like the 300 rupees was a good deal. It saved so much time and it included an offering, entering the temple, being blessed, and receiving our red-yellow thread or Kautuka. I still wear mine now!
Although photos are not allowed inside the temple of the idol, I saw this mural painted outside which gives you an idea of what it looks like.
Kalighat Temple is FREE (although I do recommend the VIP fee), open dawn until dusk
12. Admire the clay statues in Kumartuli
One of my favourite areas of Kolkata can be found in the potters quarter of Kumartuli.
When the British East India company were here, they split up "Black Town" or the Indian quarter of Calcutta by trade.
There were wine traders, carpenters, chicken sellers etc. The Potters of Kumartuli were located in Barabazaar.
Although many of the old trades have disbanded with time, the karigars of Kumartuli still remain.
A long tradition of potters settling here started with Durga Puja that celebrates the Hindu warrior Goddess Durga.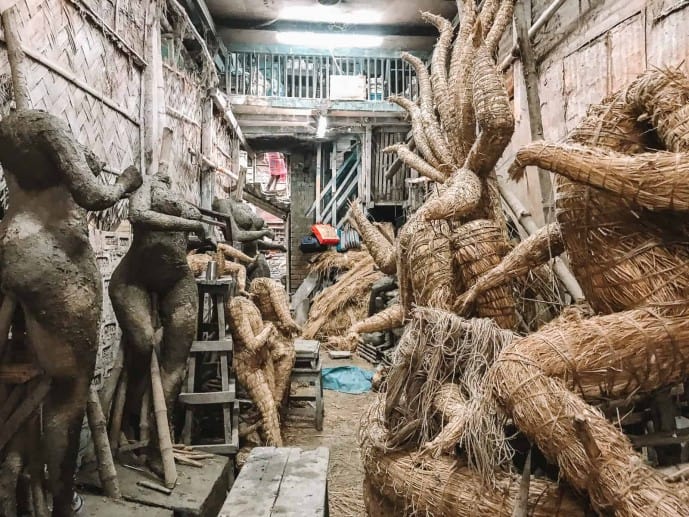 A Raja asked for an idol to be made of the Warrior Goddess after she came to him in a dream in the 19th century and ever since it has become an annual tradition.
Kumartuli is a labyrinth of streets that has over 500 workshops. Although the potters make idols of many Gods and Goddesses all year, the best time to visit is around Durga and Kali Puja.
In the build-up to the festivals, people are asking for many idols to be made and so the potters will showcase their best work.
Fun fact: the statues are made from clay that is taken from the Ganges river (Hooghly). During Durga Puja they immerse the statues into the river. So, the statue does a full cycle and Hindus believe the Goddess has returned to nature.
It's FREE to visit but they may charge a voluntary donation during festival times. Click here to read my complete guide about the incredible potters quarter
13. Cross over the bustling Howrah Bridge
There are many iconic bridges in Kolkata, but none so famous as Howrah Bridge or Rabindra Setu.
It sounds weird, but I was so excited to see this bridge for myself.
I had heard about it long before my visit to West Bengal and it's almost a tourist attraction in its own right.
It was commissioned all the way back in 1871 by the British but wasn't built until 1935. It stretches over 705 metres, required 23,000 tons of steel and it's the busiest cantilever bridge in the entire world.
Approximately 100,000 vehicles and 150,000 pedestrians cross it each day! That's not including the cows that roam here.
So, you must join the crowds and cross for yourself!
If you are wondering, there are a total of 4 bridges on the Hooghly River connecting Kolkata to Howrah.
The others are the second Hooghly Bridge, which kind of reminded me of a grey Golden Gate Bridge, Bally Bridge (Vivekananda Setu), and New Bally Bridge (Nivedita Setu).
14. Visit the world's biggest Banyan Tree
One of the top attractions in this city is The Acharya Jagadish Chandra Bose Indian Botanic Garden. It's the oldest botanical garden in all of India and was commissioned by Colonel Robert Kyd in 1787.
The only reason why this was created was to cash in on some of the tropical plants and trees like teak wood and spice trade!
This is actually where the English first started growing tea from China, so one of India's biggest exports had its humble beginnings here.
The most famous resident in the whole park is The Great Banyan Tree which is the widest Banyan tree in the whole world.
It's over 250 years old and its circumference is over 4 acres! It survives without the main trunk and it has over 3,770 aerial roots.
Read my post with my top tips for the Botanical Gardens in Kolkata
15. Marvel at Parashnath Jain Temple in Kolkata
One of the most impressive temples that I visited in Kolkata was the Parashnath Jain Temple or Calcutta Jain Temple.
Jain is an ancient Indian religion that has a supreme principle of ahimsa (non-violence, peace, and charitable deeds). They also have three guiding principles of the right belief, knowledge, and conduct.
The temple complex is actually split into four separate temples and was built in the 19th century by Ray Badridas Bahadur in honour of Parashnath.
The most amazing part of this temple is the fact is was made of thousands of mirrors, jewels, and glass. Some even call it the temple of a million mirrors!
The work is truly exquisite inside and out and you could spend hours in this serene place admiring the architecture.
Fun fact: There is an eternal flame inside the temple that burns with ghee. Apparently, it has been burning since it opened in 1867!
It's FREE to enter and is open daily from 6 am – 10 am then from 5 pm – 8 pm
16. See life on the Ghats of the Ganges
The Hooghly River in Kolkata is actually a river that falls off of the River Ganges. So many people in the city refer to it simply as 'Ganga'.
The Ganges river is important in Hindu religion as many believe it is personified as the Goddess Ganga.
So, it plays a huge part in the local culture of the city. People believe if you wash in the Ganga, the water is pure and you'll be cleared of your sins.
There are temples lined up along the Hooghly River with ghats or stairs that lead down to the water.
Every day you'll see locals praying, meditating, washing clothes, and even drinking this water.
Visiting is a great way to not only learn about Hindu culture but also see the local life on the waterways.
17.
Visit Dakshineswar Kali Temple

Another famous temple in Kolkata is the Dakshineswar Kali Temple.

Despite the name, it's actually dedicated to Bhavatarini, an aspect of Kali rather than the warrior goddess herself.

In pictures, it almost looks like an etching or 2D drawing due to the trippy line patterns on the architecture of the domes! Or maybe that's just me, haha. Either way, it's awesome to look at.

It was built by Rani Rashmoni in 1855 who was a devotee of Kali.

Inside there is the main Bhavatarini temple on nine domes, then outside there are shrines dedicated to Shiva here and a temple for Rada-Krishna.

If you're on a temple trail, this is quite close to Belur Math as a next stop.

But, you will need to cross the river to access it. The local ferries here have a direct connection over the water. Ticket prices are 6 rupees ahead.

Or, click here to book a Kolkata temples tour which includes this one
18. Visit Kolkata for Durga Puja!
Durga Puja is celebrated all over the world for those of the Hindu faith, but it is a huge and famous celebration in Kolkata.
Many people from around the world visit the city during this time and it has huge events going on for 10 days. It's all about celebrating the warrior goddess Durga.
The city goes a little crazy around this time. So, you'll find roads are blocked off, buses and taxis are packed to the rafters and people will walk the streets all night.
There will be raucous music, street parades, and people singing and praying in the streets.
Temples will be rammed, attractions and shops may be closed. It really is a big deal here.
During this time, I would highly recommend booking a quiet hotel. It's a 24-hour party and you may struggle with the endless noise.
I stayed at the Oberoi Grand and made sure I had an indoor-facing room away from the road.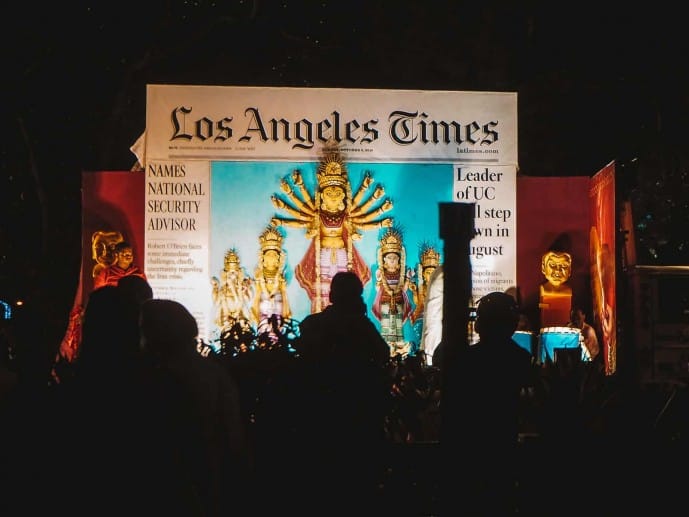 Pandals of Durga Puja
Although it would be a bit of a scrum and you may be queuing for hours, one of the best ways to see and experience Durga Puja is to visit the many 'Pandals'.
Pandals are a series of temporary altars that are created for the festival and usually draw many talented artists to create them.
The city even has a competition for the best Pandals and so you'll find those big companies shed a LOT of money to sponsor these.
Pilgrims during Durga Puja will walk the streets all night, queueing to visit and giving offerings to the Goddess here.
We actually visited one the day after Durga Puja and it was completely empty!
I couldn't believe the size of it. Seriously, It was like a HUGE temple in itself.
The Pandal we went to had massive gold hands, faces of the goddess, and lotus flowers the size of elephants! I couldn't get over the epic details and talent.
It's definitely something I would recommend seeing if you find yourself in Kolkata during the festival. But, if you don't like mass crowds, I would do what we did and wait til the next morning when it's emptier.
19. Check out College Street Book Market
Did you know that the world's largest second-hand book market is right here in Kolkata? You can find it on College Street and it even has the nickname Boi Para or "Book Town."
Although I loved being here over Durga Puja, I was gutted that it was closed over the festival and if we went there no stalls would be open!
It spans over 1 million square feet and has long been associated with the universities, colleges, and learning centres in the area.
You can find rare books here, including first editions at dirt cheap prices. So keep your eyes peeled for a bargain that you could make a fortune on back home.
A highlight of any visit here is meant to be the old Indian Coffee House. It has been the haunt of many famous writers including Rabindranath Tagore. So, sip on a chai and watch the chaos of the market.
The nearest tram stop for College street is Esplanade Tram Depot
Markets to visit in Kolkata
20. Visit Mullick Ghat Flower Market at sunrise
Every morning, thousands of flower sellers come to Mullick Ghat to sell their freshly cut blooms by the kilo! All the while they will be bartering and making sales with locals.
Lots of colour, chaos, petals and people await you and you'll experience the sights, smells and sounds of this amazing market.
The best time to visit is at sunrise as this is when the flowers are freshest. So, you'll get to see all the nice colours and the best of the bunch!
It can be a bit of a maze making your way around. But, that's part of the fun. You'll see lots of conversations and money being passed around too.
This is one of the top things that I would recommend in Kolkata. So don't miss out!
Click here to read more reasons why you should visit the Mullick Ghat Flower Market and top tips
21. Explore the labyrinth of New Market in Kolkata
Another market that should be on your list is New Market. It's a huge space that's mainly undercover and has everything you could need from an abattoir to saaris!
As it was monsoon around here, we were pretty much ice skating on the floors and much of it was flooded. So, we were wading through dirty, murky water with entrails and eggshells floating around.
It was NOT very pretty. But, some of the markets were amazing to see like the fruit and spices stalls. Also, there were bright and colourful clothes and jewellery to admire.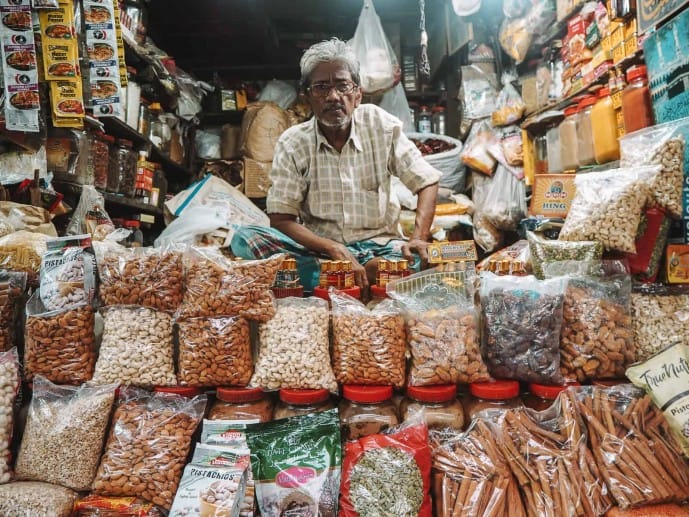 We found some unexpected delights in here like the Lalit Great Eastern Bakery.
Where they sell off their amazing (quite expensive cakes) from their hotel here for dirt cheap prices. I got a mouth-watering chocolate brownie for 50 rupees!
Although the market is undercover, there are some great food stalls around the outside too.
We stopped off at an Islamic eatery outside. Many of the local hole-in-the-wall restaurants in India are associated with different religions due to eating requirements and cooking traditions.
For example, many Hindus don't eat meat but Muslims do. So, there are different restaurants.
We treated ourselves to chai and some buttered toast here as a snack and the owners were so friendly. It was only 12 rupees (15p) each!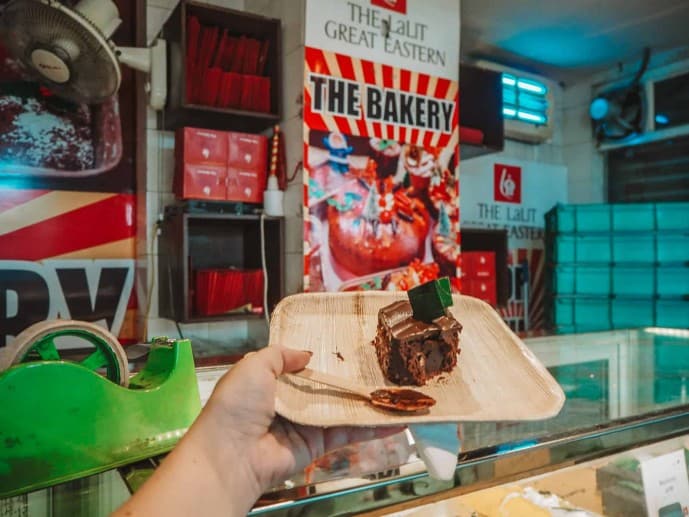 22. Go Shopping on Esplanade
Another colonial area is Esplanade which still uses the old shopping street buildings from years ago.
It's a huge area that connects with Park Street another famous shopping street. So, it's a great place to start out.
Esplanade has lots of mainstream Western stores like Nike and Puma, some Indian chains like Bata, and huge shopping malls. But, that's not really the fun part about this street.
The fun part is seeing all the amazing stalls that have been set up on either side of the Esplanade and trying to battle through the crowds here.
You'll have guys selling sunglasses, shampoo, toys, clothes, fake designer wallets, vanity mirrors, everything you could think of really!
My hotel, the Oberoi, was in the middle of this street. So I passed it pretty much every day.
The same sellers would be shouting at me to buy something and each day I'd still say no lol. It became a little thing.
Dark tourism things to do in Kolkata
23. Visit The Mother House Of the Missionaries Of Charity
One of the main attractions in the city is to visit Mother Teresa's tomb in Kolkata.
It sits in the Mother Teresa Memorial home and, although it does sound a little morbid, it's a nice little tomb to celebrate her life.
Inside you can visit the museum to learn all about her life's work. People often call her Saint Teresa here.
She came from Albania and taught in a convent in Kolkata for many years. But she was so moved by the poverty in Kolkata she started to provide charity to the city.
She eventually won the Nobel Peace Prize for her work and she rubbed shoulders with the likes of Gandhi in her time.
After the museum, you can pay respects to her tomb and even visit her bedroom which has been preserved. Inside the room are her desk and original appointment book, her writing chair, and her telephone.
On the day of her death, she attended mass. Then she came back and died in her bed.
After your visit there is a small café outside that has some nice souvenirs if you'd like to take something home to remember your visit.
Entry is FREE but it is by donation. All proceeds will be donated to the missionaries of charity. You will need to take your shoes off to see the tomb.
Opening times vary throughout the week and it's closed on Thursdays.
24. Learn about the Black Hole of Calcutta
I have always heard about the Black Hole of Calcutta, but I didn't really have any idea what it meant really. It sounded something similar to the Bermuda Triangle but that wasn't the case at all.
The Black Hole of Calcutta was a tragedy that took place for three days starting on the 20th June 1756. It started with the Nawab of Bengal, Siraj-ud-Daulah, taking over the Old Fort William with his army.
He then proceeded to shove over 146 men and women into a small dungeon in the fort.
This room was only around 4.3 × 5.5 metres or 14 × 18 feet. Many of the European men and women in here died of heat exhaustion and suffocation. Only 23 men survived.
It was a terrible tragedy and it was wildly beefed up in the newspapers back home in the UK.
This was in the hope that the British would send a relief effort to rescue the men and send their armies from Madras to recapture Calcutta. Which they did and Siraj was overthrown and killed in the Battle of Plassey.
You can visit a memorial dedicated to the 'smothered' in St John's Church and what remains of the Old Fort William at the General Post Office.
25. Get spooked at South Park Street Cemetery
Another fascinating place that is hidden away in South Park Street Cemetery.
Often labelled as the most haunted place in all of Kolkata, there are 1600 gothic tombs that make up the graveyard. Established in 1767, it was used for European members of society, mainly the officers of the British East India Company and their families.
It fell into disuse around 1790 and was completely abandoned in 1830. Today, it is maintained by the Archeological Survey of India.
Similar to Highgate Cemetery in London, the are lots of elaborate gothic tombs built around here. They're all covered in green moss and there are ancient fern trees too.
Some notable tombs are a bust of Henry Derozio, a radical Indo-Portuguese thinker, Walter Landor Dickens, Charles Dickens' Son, and Sir William Jones, the founding father of the Asiatic Society.
Look out for the tomb shaped like a pineapple core! It was made for Rose Alymer who was just 17 years old when she died of Cholera. Walter Savage Landor, a famous poet, was in love with her and wrote a poem for her tomb.
The graveyard is open from 10 am – 5 pm and costs 50 rupees per person to enter. You must sign a guestbook. A kind volunteer here took us on a really informative tour and we tipped him for his time.
Read my post on South Park Street Cemetery with what to expect when visiting
Foodie things to do in Kolkata
26. Go on a Kolkata Street Food Tour
Kolkata is known for its street food, so if you'd rather go on a street food tour, there are a few that take place each evening.
You'll try a range of famous Kolkata street foods like;
Fish Curry (Macher Jhol)
Kolkata Biryani (yes each place has their own version in India and it's almost criminal to just call it 'Biryanai')
Mutton Curry (Kosha Mangsho)
Phuchka – similar to Gol Gopan or Pani Puri
and… so much more! (There are vegetarian options for those that do not eat meat)
So, make sure you book your food tour here to learn all about them
27. Try Hot Kati Rolls
If you're feeling peckish and looking for foodie ideas, you have to try one of Kolkata's famous Hot Kati Rolls.
There are many dotted around the city, but the original is a 'hole-in-the-wall' (quite literally) counter that can be found on Park Street. It's the ultimate street food and can be compared with a kebab back home.
You'll get a wrap, filled with hot chicken, onions, spices, some unidentifiable sauce, and it will be all wrapped up and fried on the counter!
It is absolutely delicious, ridiculously cheap at 50 rupees and crowds of locals come here to eat each evening.
There are no seats inside as it's just a street food counter, but just nearby you can sit down and enjoy.
28. Wander down Park Street
Park Street in Kolkata is a famous shopping street but it's also the place where you can find some of the most amazing restaurants and bars in the city!
As well as the Hot Kati Roll, you have some of the most famous restaurants dotted along here like Peter Cat.
We wanted to get in here but unfortunately, the waitlist was over an hour and we were already hungry.
So, we popped into the famous Mocambo instead that has been open since 1956. It used to be on what was known as 'Cabaret Row' back then and singers used to belt out covers of US pop stars of the era.
The whole vibe in here is vintage with low light, red tassel lampshades and the waiters are all in their historic finery.
It serves up a great mix of classic Kolkata dishes like its famous grilled Beckty, a Bay of Bengal delicacy. Plus, it has a range of European classic dishes too.
I had the Beckty sizzler and washed it down with a minty Mojito. It was absolutely fantastic and great value for money too!
29. Try Sugar Cane Juice
Sugar Cane Juice can be found all over India but I found so many stalls selling it in Kolkata. So, you must try it if you get the chance.
We were watching them make it outside of Kalighat Temple. Essentially they run sugar cane through a press and then juice it!
The result is a rather green-looking but refreshing sweet drink that will cool you down with the heat. Just be careful as they often mix it with local water.
30. Sample the original Rasgulla
Every state has a sweet that they are famous for. Indians have a massive sweet tooth and so you'll always find a famous shop in every city serving up sickeningly sweet sugary treats.
In Kolkata, they are famous for Rasgulla and it's almost a crime not to try it while you're here!
Rasgulla was invented right here in the city by Nobin Chandra Das in 1868. It's a spongey syrupy dumpling made of chhena and semolina dough.
Now, it's not only popular in Bengal but all over India too. I have tried Rasgulla many times in India, but they really are something special in this city.
The most famous sweet shop to try in Kolkata is K. C. Das. People queue up to buy boxes of the desert to take home. So, you must try some to see if they live up to the hype.
Things to do in Kolkata at night time
31. Go on a Hooghly River Cruise
One thing I really wanted to do in Kolkata was a river cruise. Kolkata has the roaring Hooghly River, or Ganga, snaking through it and it brings together many of the cities main attractions.
We were recommended to book with Vivada Cruises who are a highly rated day cruise company in the area. We were not disappointed!
We opted for the 3-hour evening cruise, which included chai, snacks, and a stop at Belur Math for the evening aarti.
Not only were we treated to the most amazing colourful sunset over the river, but we also got to see a lot of the local life on the river and wave to people under the Hooghly Bridge.
It was an unforgettable experience and those 'snacks' were pretty much a whole meal. We were so stuffed we couldn't eat another bite!
It only cost 1,000 rupees plus GST which is incredible value for money. They also do a lunch and dinner cruise for 1,500 rupees + GST.
Click here to read my full review of my Hooghly River Cruise
32. Visit Belur Math Temple Complex
One of the highlights of my evening cruise was a visit to Belur Math. It's a HUGE temple complex that spans 40 acres on the banks of the Hooghly River.
It's the Headquarters of the Ramakrishna Math and the Ramakrishna Mission who is a spiritual organisation.
It was founded in the 19th century by Sri Ramakrishna, known as the Prophet of the Modern Age, and his chief disciple Swami Vivekananda, a forward thinker, and religious leader.
Although there are 4 temples, plus education and medical centres in Belur Math, the Sri Ramakrishna Temple is the jewel in its crown.
Here, we got to see the magical evening aarti. Where the priests of the temples lead the local pilgrims in prayer.
Women must observe in one section and men must be on the other as is the custom. You'll quickly be ushered on by security if you end up in the wrong place.
You can also buy all sorts of books with the teachings of Swami Vivekananda in the library afterward.
33. Watch the sound and light show at the Victoria Memorial
If you're looking for something unique to do in the evenings, why not visit the Victoria Memorial for a sound and light show?
By day, this incredible building is gleaming white in the sunshine, but after the sun sets it's lit up beautifully against the night sky in all different colours.
In the memorial gardens, there is a sound and light show that has a magic water fountain with music and commentary.
One show is in Bengali and one show is in English, so make sure you get the right time!
34. See the city light up at night
Something that I really didn't expect to love so much was the city lit up at night time.
Although the colonial architecture is lovely in the day, it really comes alive at night when it's all lit up.
The Howrah Bridge is also lit up and many of the buildings on the Hooghly come alive in different colours, so they make an amazing reflection on the river.
After our cruise, we were in for a real surprise as they had a street parade as part of the celebrations.
We got to see all sorts of Durga floats, heading down the strip. Some were decorated with massive idols and others had dance troops performing scenes from sacred texts.
Kolkata at night time is really something special and you don't know what surprises you may find!
Day trips from Kolkata
35. Visit the Sundarbans National Park
The Sundarbans National Park is a treasure in West Bengal and is somewhere you should definitely visit if you're in the area.
It's a huge mangrove forest and bio reserve that is also inhabited by tigers. It spreads over both Bangladesh and India on the Ganges Delta.
Personally, I would recommend a two-day one night trip as a minimum. Day trips are possible from Kolkata but depart at 4 am!
I went on an overnight trip to the Sundarbans with Sundarbans Chalo!
They are a budget tour company but came highly recommended and the value for money was crazy.
My trip cost 4500 rupees (£48 /$56 USD) which is a total bargain. This included;
Return transfers to the Sundarbans (4 hours each way)
A sunset cruise
A double room with private bathroom
All meals (2 lunch, 2 breakfast and 1 dinner, tea & snacks)
A cultural dance performance
A full 8 hour day cruising on the Sundarbans
All my permits, photograhpy and entrance fees too.
You can't really turn your nose up at that!
The things you absolutely cannot miss in the 'City of Joy'
I know that 35 things to do is a LOT and maybe you just want to prioritise the most important attractions.
So, I'll suggest some of the MUST DO sites to limit down your options;
Victoria Memorial
Mullick Ghat Flower Market

Kalighat Temple

Howrah Bridge
The Mother House

Kumartuli
South Park Street Cemetery

Dakshineswar Kali Temple
My top travel tips for Kolkata
1. Plan to stay connected
Buying an Indian SIM card in Kolkata: Getting an Indian SIM card for your phone is really simple. You can even do it on arrival at Kolkata Airport.
I would recommend an Airtel SIM for West Bengal and the North East. You'll get packages where you'll receive 1GB per day for 30 days. It's recommended as it has the most signal.
Use a WiFi hotspot: Failing that, you can stay connected with a WiFi Hotspot. I use Keepgo to stay online without the fuss of buying a SIM card.
2. Don't forget travel insurance
While you think of it, if you haven't yet, make sure you have travel insurance!
It's always a necessary thing to have for peace of mind. I always use World Nomads for their reliable policies.
3. How to get exchange money in Kolkata
I have never actually exchanged British currency in India itself. I've always just rocked up and got my money out of an ATM when I got here.
I always use SBI, or State Bank of India as they give you FREE withdrawals and I've never had an issue with International Cards.
I know that sounds reckless to some but I really hate having to exchange money in India. I've been ripped off in the past.
My biggest tip would be to NOT use the services at the airport. They have ridiculous rates.
Go to a currency converter in the city and use the 'Currency Converter' app to check the rates for the day. Then see what exchange they will give you.
4. Prepare for some uncomfortable sights
Kolkata is a densely populated city and has a lot of poverty, so you can expect to see sights that may make you feel uncomfortable.
It cannot be avoided and many times I feel totally helpless as I wish I could help in some way.
More than 24% of India's people live below the poverty line.
But, there are ways that you can support the people in the city. Supporting local businesses, buying products from people who are selling on the street, giving any money you can, and donating to organisations like the Missionaries of Charity all help to improve livelihoods.
5. Always remember to haggle and look out for scams
Although I found that Kolkata had a lot fewer scams than the likes of Delhi, it wasn't completely immune. Especially with things like transport.
Yellow Ambassador Cabs were an awesome way to get around. But, I found they were constantly overcharging.
At one point, a local even got involved and told him he was ripping us off (thank you to whoever you were!). My biggest advice here is to make sure the meter is switched on. Or, agree on a price before you get in.
The same goes for auto-rickshaws (three-wheeled tuk-tuks), it was always a hassle to get a good price! So, there are a few ways to get around it.
I would use Uber for cabs, as it's cheaper and you get a fair price. Or, get the metros and trams which are far more economical.
The buses here looked like a death trap to me. I'll go through some more transport options below;
How to get around Kolkata while you're here
Getting from Kolkata airport to Kolkata city
When you land at the airport, if you haven't already scheduled a pickup, you have some choices.
All the locals gravitate over to the Pre Paid Taxi counter owned by the Bidhannagar City Police.
It's an awesome service with cheap non-air-conditioned ambassador city cabs. They are a union, so you'll pay a fixed price and get given a receipt/ticket that you'll hand to the driver.
But, they only take cash, so make sure you have rupees on you.
For me, a ride from the airport to my hotel on Esplanade in the centre cost 300 rupees! If I booked a transfer with my hotel directly they charged 4000.
If you'd prefer, there is both an Uber and an Ola (a competing app) counter here but it's more expensive.
Both counters will give you access to a WiFi hotspot so you can book one if you don't have data.
Then you just wait out at their collection point. You do need the app on your phone to use the service. So, make sure you have it.
Click here to get a special discount on your first ride with Uber.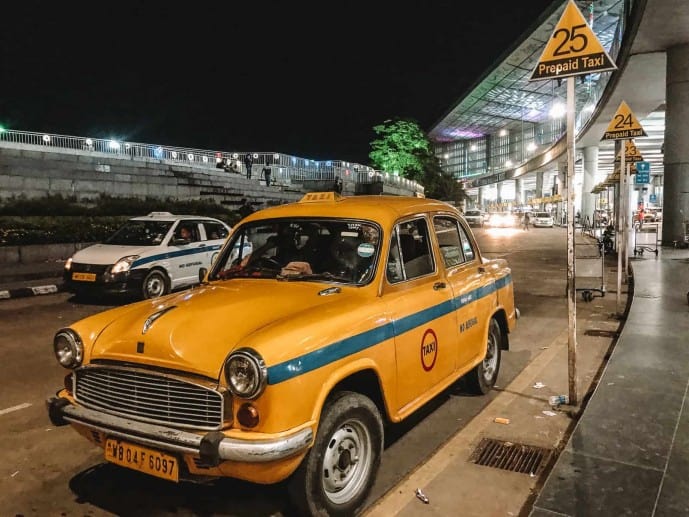 Transport options in Kolkata
While you're in the city, there are plenty of ways to make your way around. As one of the most populated cities in India, you'll find the city has thousands of buses, trams, ferries, rickshaws, taxis, and even an underground metro to help everyone get moving!
By Bus: Buses were plentiful here, but they were also crazy. They would zoom around the city shouting for passengers, while locals chased after the bus and hopped on.
Same as most of India, but I really struggled with the local language here (Bengali). So, I didn't even attempt it. But, it is a cheap way to get around if you know where the bus is headed.
By Tram: Kokata is famous for its trams and its the only tram network in the whole of India. So, if they are running you must hop on. Unfortunately for us, these were under construction on our visit.
By Metro: The underground metro in Kolkata is really cheap and efficient. But, it only has one line that runs through the central spine of the city.
You pay per kilometre and tokens start out at 10 rupees for 5 kilometre and max out at 25 rupees for 25 kilometres. It's quick but there's no air con so it's pretty sweaty.
By Rickshaw: You can get private and shared rickshaws here. Private will be the more expensive option. Always make sure that you haggle for a price before you get in or ask for the meter to be switched on. At night, if you're in a private rickshaw, DO NOT allow anyone else to get in.
By Taxi / Uber: Yellow ambassador cabs are king in this city and they are plentiful but can rip you off! I preferred Uber, click here to read my article on how to use it with a discount code.
By ferry: The Hooghly River is the way that many people travel around the city. There are public ferries that run every 15-20 minutes throughout the day until around 9 pm at night. Tickets cost 6 rupees a journey and have many stops along the river.
A small note on hand pulled rickshaws in Kolkata
Kolkata is the only city in India where hand-pulled rickshaws are still running.
Although I struggled morally to see it and it's not something I would personally support. I understand it's their livelihood and they're struggling for trade. Many live hands to mouth.
So, if you feel like it, you can use them for short journeys. They would be more than happy to have you.
Outside Kalighat temple I simply tipped them without a ride as I felt heartbroken to see them ask so many for work and everyone pass by.
Where to stay in Kolkata
I stayed in the beautiful Oberoi Grand Kolkata. This was like an oasis to return to after a hot sweaty day out exploring in the monsoon!
Their hotel is almost an attraction in itself and an icon of the city as it's the second oldest hotel.
You can stay in one of their beautiful deco-like rooms with four-poster beds and it has a gorgeous washroom with a bathtub.
I would highly recommend booking a room indoor facing as the traffic is quite loud, especially during festivals.
Their delectable buffet breakfast at ThreeSixtyThree comes included and they have a refreshing pool with free smoothies!
Click here to book your stay at Oberoi Grand for the night
Heading to North East India? Read more of my articles!
Top things to do in North East India
A complete guide for Hornbill Festival
Best places to visit in Arunachal Pradesh
My ultimate Tawang travel guide
How to find the double-decker root bridges in Meghalaya
A complete travel guide for Guwahati
A complete Kaziranga Safari guide
My top North East India travel tips
Save these things to do in Kolkata for later!