As well as being a charming quintessential village, there are plenty of amazing things to do in Lacock on a Cotswolds day trip.
Although it's a small place, it packs a punch with history, culture and attractions. You could honestly spend all day here wandering around and enjoying what it has to offer you.
Imagine thatched cottages and historical buildings, stunning churches and an amazing abbey to wander around. Plus, plenty of places to relax, have lunch and enjoy a traditional cream tea!
I am more than confident that you will fall in love with this idyllic National Trust village. Here are the best things to do in Lacock Cotswolds!
Is Lacock worth visiting?
100% YES! As one of England's oldest villages, it looks like it has been trapped in time.
A wander around here is simply breathtaking and you'll get lost in the historic streets full of ancient buildings and thatched cottages.
There is also plenty of things to do in Lacock like visiting the abbey with its gorgeous cloisters, taking a walk to the Old Ford, going shopping, or paying a visit to St Cyriac's church.
You won't regret visiting and it makes the perfect pitstop on a South Cotswolds road trip!
The history of Lacock
Lacock has a history since the Saxon era where the village made an income from the wool trade.
It was recorded in the Domesday books in 1086 as lacuc meaning 'little stream' after the Norman invasion. At that time, it had two fulling mills and a small farm.
Later in 1229, Ela Countess of Salisbury felt a calling and founded Lacock Abbey. The building was a place of worship, sacrifice and learning. Many of the nuns faced harsh conditions as a testament to their faith.
After the Dissolution of the Monasteries the estate was sold to the William Sharington who actually bought the land twice after being found guilty for embezzlement of the Bristol mint!
The Talbot family then inherited the property by marriage. Their descendants completely transformed the abbey into a Classicist family home.
Later, Henry Fox Talbot would inherit the property and would become known as the inventor of photography! He took the very first negative here in 1835.
The estate and surrounding village was then gifted to the National Trust in 1944 by Matilda Talbot.
Today, it draws visitors due to being a filming location on the big and small screens! It first grew to fame after featuring in the 1995 version of Pride and Prejudice.
The best things to do in Lacock village
Today, Lacock is a charming village on the fringes of the Cotswolds which has lots to see and do.
You could spend a whole day here meandering through the streets, visiting the abbey and taking many of the walks around the area!
Here is the very best things to do in Lacock Village, Cotswolds.
1. Visit Lacock Abbey
Lacock Abbey is the definitely one of the best things to do in Lacock and is where you should start your visit.
It's a gorgeous house, cloisters and grounds that date back to the 13th-century and was founded by the Ela Countess of Salisbury.
After the dissolution of the monasteries the land was sold and the abbey was rebuilt into a family residence of the Talbot family.
Today, it is owned and protected by the National Trust and it's an amazing mix of medieval and classical architecture.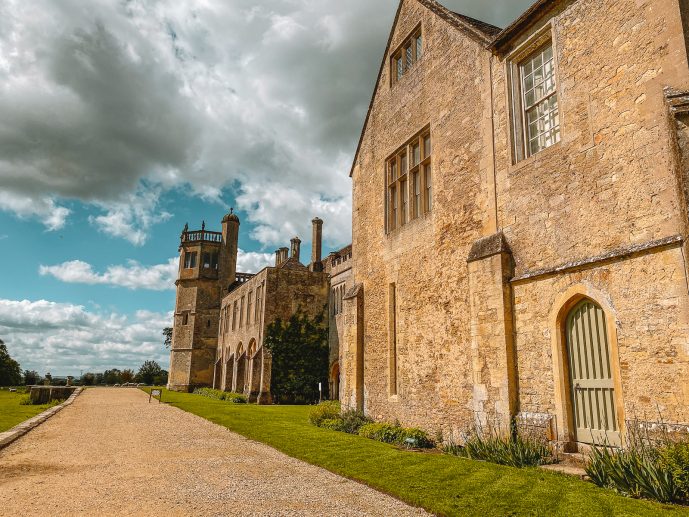 You can wander around the incredible abbey cloisters and take a tour of the Talbot residence. Look out for the quirky and unusual statues in the main hall.
My favourite was the one with a skeleton wearing a crown. You may also notice a sugar cube placed on a statue of a goats nose here as well.
According to the staff, an American student stayed here on a visit to England. One night when he got drunk he thought it would be funny to leave a sugar cube on the statue.
Matilda Talbot thought this was hilarious and so decided to uphold this tradition. Now, the National Trust do the exact same.
As well as the cloisters and abbey, the pleasure gardens and grounds are well worth a visit. You'll walk through forests, grottos, the riverside, rose gardens and many other gorgeous places! It's perfect on a sunny day.
Important information on visiting Lacock Abbey
Lacock Abbey is a National Trust Property and so you will have to pay to go inside.
Lacock Abbey ticket prices are £10 per adult and £5 per child. There are family tickets available. As always National Trust members go in for free.
Opening times are between 10am – 5pm and open every day of the week. But, this can change in winter season.
I would allow at least 2-3 hours for your tour. Also, last entry to the house is usually around 3.30pm.
Click here to check the latest opening times and prices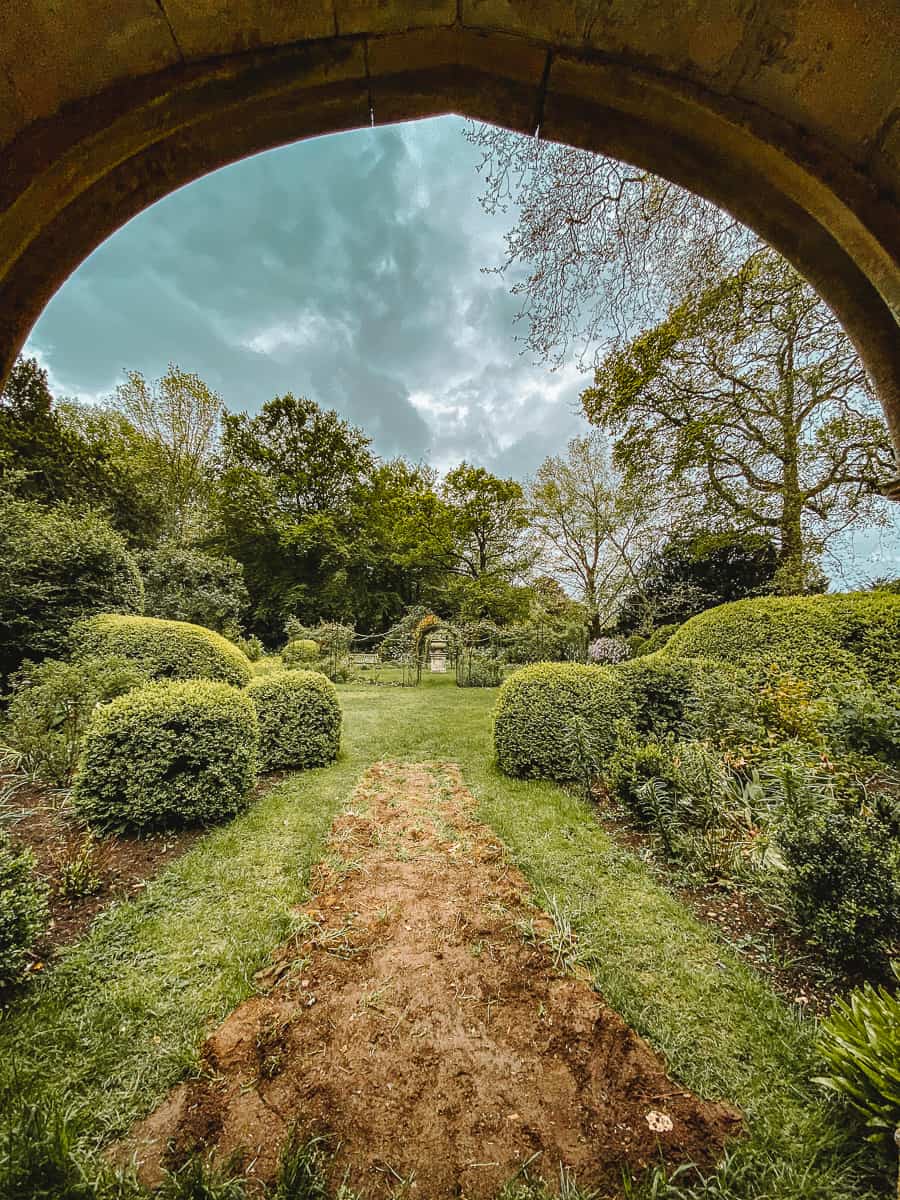 2. Learn about photography at Fox Talbot museum
I think a lot of the time we take photography for granted nowadays. No one thinks twice about the fact they can take 1000 photos and videos on their phones and keep them in their pocket!
But, it was a long journey to get here and at the Fox Talbot Museum you can learn about the history of photography.
Henry Fox Talbot was the owner of Lacock Abbey once upon a time and here he was able to take the very first photographic negative in 1835.
Many people call him the father of photography and you can visit the first photograph location in the oriel window of the house.
The museum is really interesting and has lots of information about the 'photography race' between Talbot and Louis Daguerre of France. Also, you'll find lots of vintage cameras inside through time!
It's included as part of your Lacock Abbey ticket and it's a must.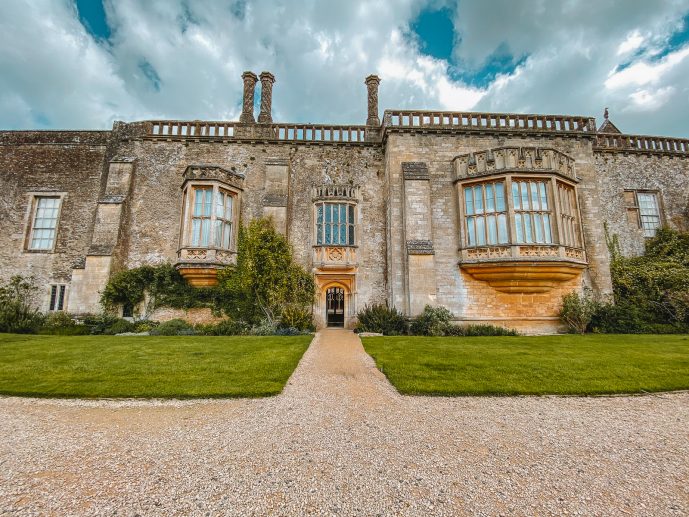 3. Visit all the Harry Potter filming locations
Did you know that three of the Harry Potter films were filmed in Lacock? Yep, that's right!
Potterheads will be in their element as there are so many filming locations that you can visit here.
The majority of them can be found in Lacock Abbey in the Cloisters. Here they filmed the scenes of Hogwarts Corridors, Professor Snape's classroom, Professor Quirrel's Defence against the Dark Arts Class and more.
In the village, you'll find Harry Potters parents house, Professor Slughorn's Hideaway and the location of Budleigh Babberton. It's one of the best things to do in Lacock.
As well as the Harry Potter movies, Fantastic Beasts and the Crimes of Grindelwald was filmed here too which is part of the Wizarding World franchise!
Read more in my complete guide to the Harry Potter filming locations in Lacock
4. Discover even more Lacock filming locations
It wasn't just Harry Potter that was filmed in Lacock, in fact you may recognise parts of the village from plenty of other TV Shows and movies.
The most famous is the Pride and Prejudice series from 1995. The team used the Red Lion as the ballroom where Elizabeth Bennet first met Mr. Darcy.
It also featured in Cranford, starring Dame Judi Dench and Wolf Hall which follows the early years of Henry VIII.
Also, The White Princess was filmed here which is a Starz production. This is set in the War of the Roses.
Downton Abbey the movie was also filmed here in 2019. They completely transformed the High Street for the filming.
Other productions filmed in Lacock include The Other Boleyn Girl, His Dark Materials, Mariah Mundi and the Midas Box and The King.
Spotting filming locations is definitely one of the best things to do in Lacock.
5. Stroll down the historic High Street
Everywhere you turn in Lacock, you'll find a hotchpotch of historic buildings which are now protected by the National Trust. Many of these date back to the 15th-century.
There are oodles of thatched cottages and timber-framed houses. It looks like you're walking through a postcard, even the bus stop looks absolutely amazing!
If you wander down High Street, you'll find loads of gorgeous building which are great for photos. The only thing you will find is there are cars parked everywhere.
You may recognise this street from Downton Abbey the movie, they filmed here in 2019.
6. Have lunch in The Red Lion
If you're looking for where to eat in Lacock then one of the top rated pubs has to be the Red Lion which dates back to 1875. It was built for John Ivory Talbot who owned the nearby Lacock Abbey.
It's famous for being featured in the 1995 Pride and Prejudice series but it also acts as a popular restaurant and hotel!
It has a large open fireplace and a gorgeous Georgian interior. You can enjoy food in their cosy restaurant with a fireplace or relax in their pub garden outside.
They serve up a selection of local 'real' ales and home cooked meals that source local ingredients from farms nearby.
This pub is extremely popular all year, so make sure to book a table in advance as it does tend to fill up!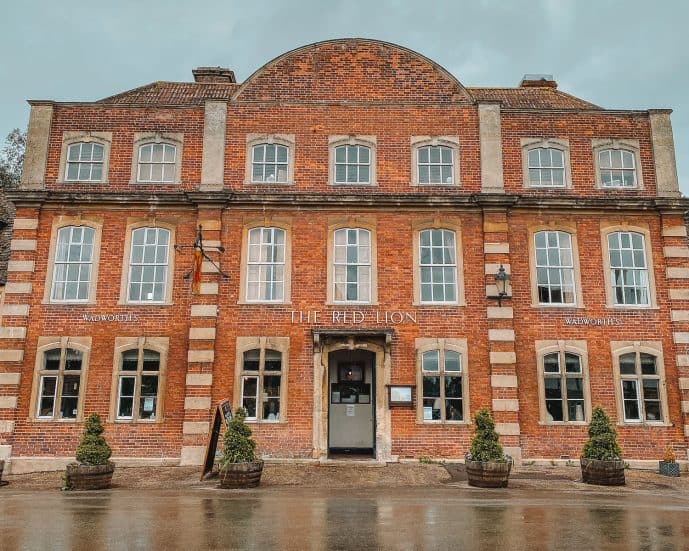 7. Visit the Lacock Bakery
One of the prettiest buildings in town has to be the Lacock Bakery which is set in an old cottage on Church Street.
It's often decorated with colourful bunting and has a cute vintage bike parked outside. You'll most likely smell the amazing scent of fresh bread before you step inside!
Once you enter, you'll find that it's an old traditional bakery which is a rarity these days. Even the staff are dressed in old fashioned clothes.
The bakery shelves and counters are filled with all sorts of fresh bread, pastries, doughnuts, cakes and their famous sugar mice (which I highly recommend trying).
I've been visiting this bakery for years and I've never had a bad experience. It's always reasonably priced and has freshly baked goods on the daily.
I would definitely visit here earlier rather than later in the day as it does act as the local bakery for the whole village. So, you may find things are sold out by the late afternoon.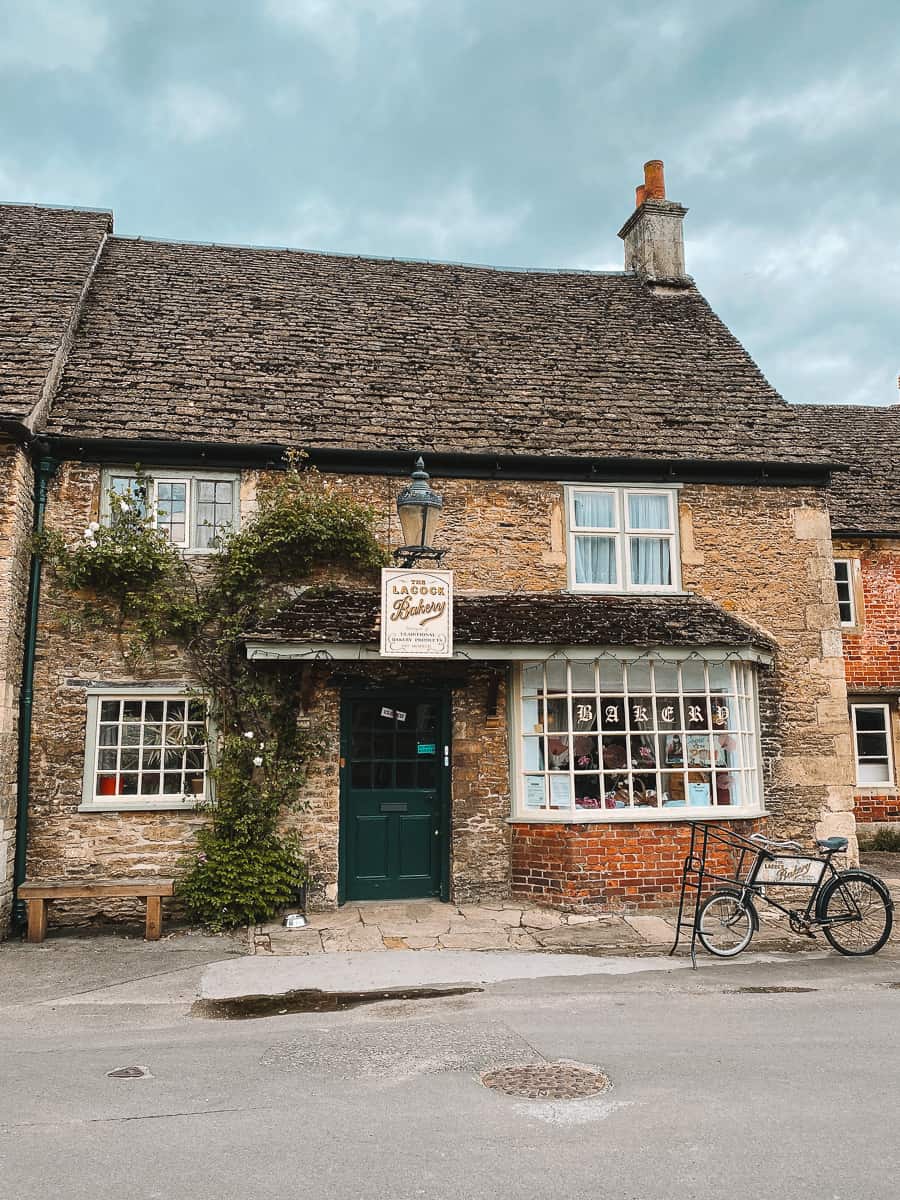 8. Have a pint in The Sign of the Angel
The Sign of the Angel is another popular Lacock pub that has a gorgeous timber-framed front! The buildings origins date back to the 15th-century and now it functions as a traditional inn and hotel in the village.
The restaurant is award-winning with two AA rosettes. They serve up breakfast, lunch and dinner if you were feeling peckish on your visit.
You'll dine with a rustic open fireplace and it's really cosy inside. Or, you can relax in their pub garden out the back. Booking in advance is essential to guarantee a table.
Did you know? This pub was used in Harry Potter as the Babberton Arms of Budleigh Babberton!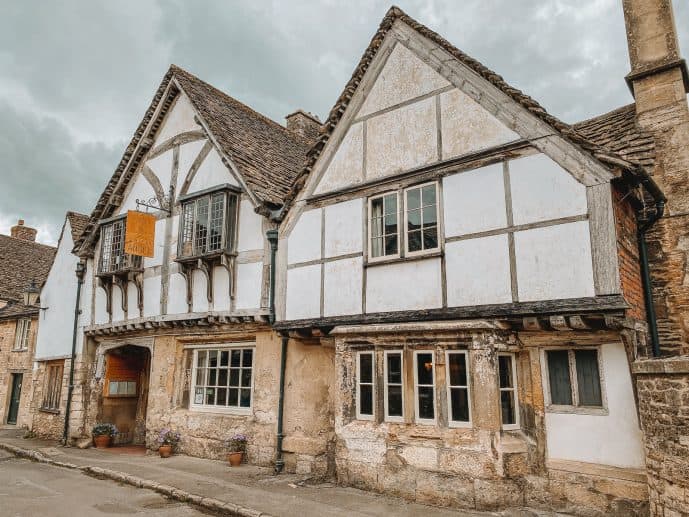 9. Browse the Lacock shops
If you wanted to go shopping in Lacock, this delightful village has plenty of places to choose from.
I would always recommend a browse in the National Trust shop on the High Street. They sell all sorts of Lacock themed souvenirs as well as guide books about filming locations in the village.
Opposite you can find the Lacock Post Office which doubles up as a Farm Shop selling local produce.
Potterheads will absolutely love the Watlings gift shop which sells lots of magically themed souvenirs. You'll find a sign for platform 9 and 3/4's outside the door.
One of my favourite Lacock Shops has to be the Quintessentially English. They sell all sorts of handmade soaps which makes it smell incredible inside. Shopping is definitely one of the best things to do in Lacock.
10. Visit the Antiques Courtyard
One of the best places to go shopping in Lacock is the Antiques Courtyard. It's a little hidden away from the main High Street but it's well worth making the effort to find.
You'll find the entrance to the courtyard to the left of The George Inn pub and it's filled with antique shops.
You'll find Sue Stokes Antiques and Pillars Antiques which are treasure troves filled with a hotchpotch of things. You'll see old furniture, jewellery, cameras and more!
There is also The Chocolate Barn where you can sample some handmade chocolates too.
11. Have tea at the King John's hunting lodge tearoom
One of my all time favourite tea rooms has to be the King John's Hunting Lodge tearoom. It's a bit of a mouthful but it's honestly the best tearoom in the village.
They are only open in the spring and summer months so definitely pop by if you get the chance!
If the weather is cold or raining, you can sit inside their cosy rustic tearoom which is filled with blue willow tea sets. Or, if it's sunny they have an extensive gardens to relax in!
They sell all sorts of loose leaf teas and scones with locally made preserves that you can pair with clotted cream. You can even buy the preserves after as a gift to take home.
If you would rather, they do have some light bites like sandwiches on the menu if you wanted some lunch. In the summer, booking is essential.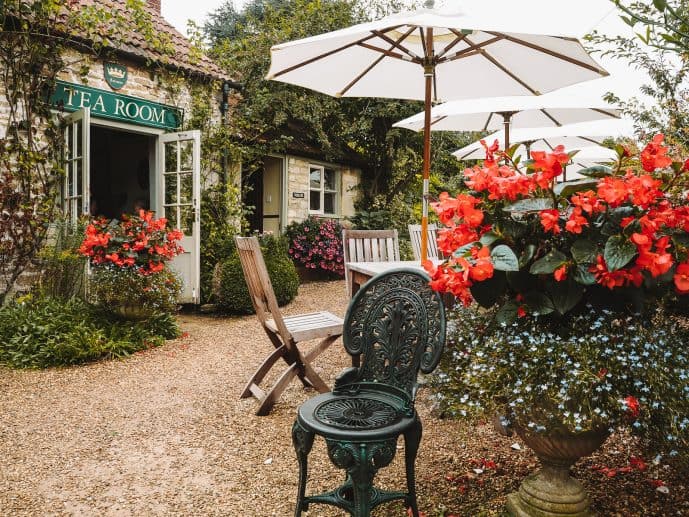 12. Visit The George Inn
The George Inn is another delightful pub that can be found on West Street. It's origins can be traced back to 1361 and its had a licence to sell alcohol since the days of Oliver Cromwell making it the oldest pub in Lacock!
Today, it's packed with rustic charm and has exposed stone walls and timber frame beams. A notable feature is their grand open fireplace with a dog wheel.
It's a Wadworth pub which is a quite a famous brewery in these parts. They are based in Devizes and are one of the only brewers that still deliver their beer in barrels by packhorse.
It's a great place to cosy up by their fire on a cold day, or relax in their garden with a cold pint.
They have a hearty menu of meals made with locally sourced ingredients from local producers. Booking for Sunday Lunch is essential!
13. Put your pennies through the letterbox
One of the best traditions in the Cotswolds is the custom of residents putting things out to sell on their doorsteps.
These little stalls run as honesty shops where you can pick an item and then pop your money in the letterbox!
You'll find all sorts of honesty stalls around the village with things like books, lavender, plants, even eggs and food parcels.
So, if you did fancy something, just pick it up, pay and be on your way!
14. Pop inside St Cyriac's church
The central church in the village is the delightful St Cyriac's church. Although the church today is Norman, it was built on the site of a Saxon place of worship.
It's dedicated to St Cyriac who was a Norman saint and martyr who was killed in the persecution of Diocletian.
He was only 3 years old when he was executed by the Romans for his beliefs in 313 AD. Churches dedicated to Cyriac are often found in Normandy and it highlights Lacock's connection to the area after the Norman invasion.
Much of the church was rebuilt in the 14th-century but it has had many renovations made since! Today, it's a Grade I listed church that you can visit. Everyone is welcome and it's one of the best things to do in Lacock.
It pretty but also packs a punch with history and you'll find magnificent things on the inside and outside in the church garden.
Look out for the numerous chancel statues of landowners in the area as well as the vaulted ceiling in the Lady Chapel. This looks very similar in design to the Lacock Abbey cloisters.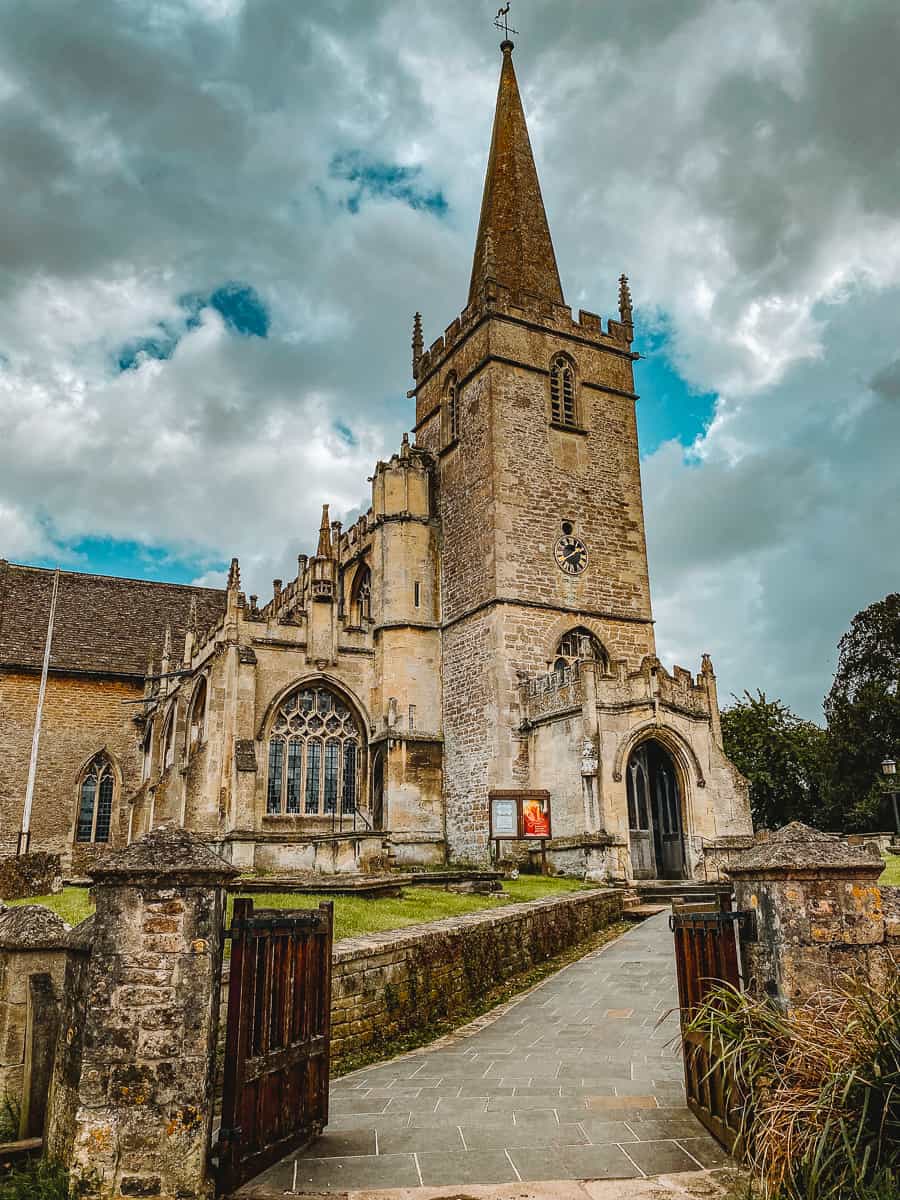 15. Visit the Lacock Tithe Barn
A great thing to do in Lacock in the rain is to pay a visit to the Old Tithe Barn. This is another monument that is owned and protected by the National Trust.
It's only a minutes stroll from Lacock Abbey and it's free to visit. Here, you can take a look at what medieval life would have been like in the village.
The Lacock Tithe Barn dates back to the 14th-century and was used by the nuns of Lacock Abbey to store grain.
As the nuns owned the land, the residents of Lacock had to pay rent to them which would allow them to live in the village. But, instead of paying money, they paid the nuns in grain and crops!
Although it fell into decline after the Dissolution of the Monasteries, it's now been beautifully restored. They often hold craft fairs inside. It's one of the best things to do in Lacock.
Make sure to check out the 18th-century lock-up which is attached to it. This would have acted as a jail for drunk and disorderly residents. They were locked inside until they sobered up!
16. Spot the curious vintage pharmacy display
Ever since I have been a kid, I look out for this hidden gem every time I visit. It's a really cool find and one of the more secret things to do in Lacock.
If you head over to the Red Lion Pub and then look to the right, you'll see an empty house with a curious shop window.
It looks like an old pharmacy and you'll find lots of bric-a-brac on display like old tablets, medicines, postcards, posters, and even old sweets!
This display has honestly been there for years and hasn't changed much apart from getting a little weathered with the sun.
It's actually really interesting to peruse over. So, make sure to check it out on your visit.
17. Buy some Lacock Pottery at John's pottery shop
Nearby to St Cyriac's Church, you'll find another beautiful Victorian building which used to be the village's workhouse.
Nowadays, it's a Lacock Pottery studio with kilns, a gallery and a shop. They sell ceramics made by a range of contemporary artists like David and Simone McDowell who have lived here since the 1980s.
You can easily buy some statement pieces for your home as there are lots of amazing colourful things to choose from!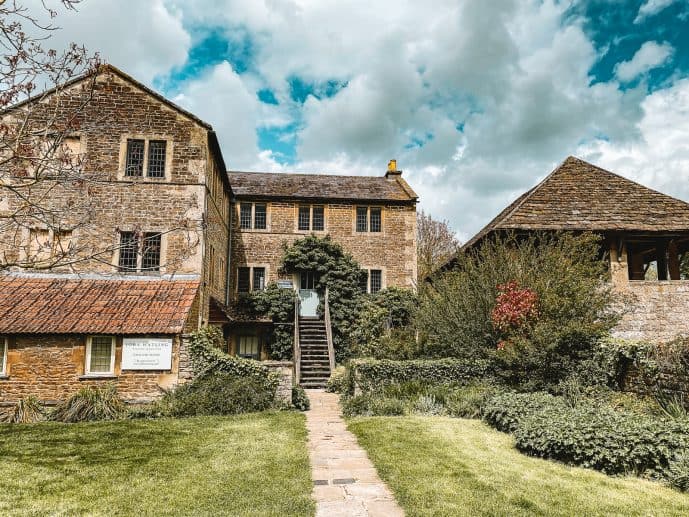 18. Walk down to the Old Ford
A short and scenic walk that you can take in Lacock is the one down to the Old Ford.
If you head to St Cyriac's church and then take the path opposite, you can walk down towards the old packhorse bridge to the river.
It's a lovely shaded walk to take on a sunny day and you can even go paddling in the river if you wanted to!
There are some benches to relax on and it's a great moment to find some peace and quiet from the crowds in the upper village.
Beyond the Lacock Ford, you can head up the hill to a fabulous viewpoint to take in views of the Wiltshire countryside.
Did you know? The Starz production of The White Princess used this Ford to film Knights on horses running over the river. But, they had to put turf down to protect the horse's hooves!
19. Admire the Lacock topiary
If you head down Church Street from the Old Bakery, you may spot some of the amazing topiary in one of the gardens in Lacock.
Over the years, these topiary bushes have changed shapes many times and they just keep getting better!
The most iconic is the one that looks like a castle tower. Although you cannot enter the private gardens, you can have a look at the talent from the roadside.
20. Head out on one of the many Lacock walks
As well as a walk down to the Old Ford, there are plenty of Lacock walks you can take in this area.
There's a walk you can take along the riverside by Lacock Abbey and the old Wier. It's a 2 mile circular and you can find directions here.
You can also head to Bide Brook on the Lover's walk and take a stroll in the pleasure gardens of Lacock Abbey grounds too (this would be chargeable).
If you were looking for something a little more challenging, there is the Bowden Hill walk. It's a 5.5-mile circular that takes you through lush meadows, the Old Wicks & Berks canal and eventually the hilltop!
FAQs about Lacock
What is Lacock famous for? Lacock is famous as a quintessential village in England but more recently it has risen to fame for being a filming location in many movies and TV shows like Harry Potter, Pride and Prejudice, Downton Abbey amongst others.
How far is Lacock from Chippenham? Lacock is 10 minutes drive from Chippenham or 4 miles.
How to pronounce Lacock? Lay – Kok.
Who owns Lacock Village? The National Trust now own, manage and protect the village today.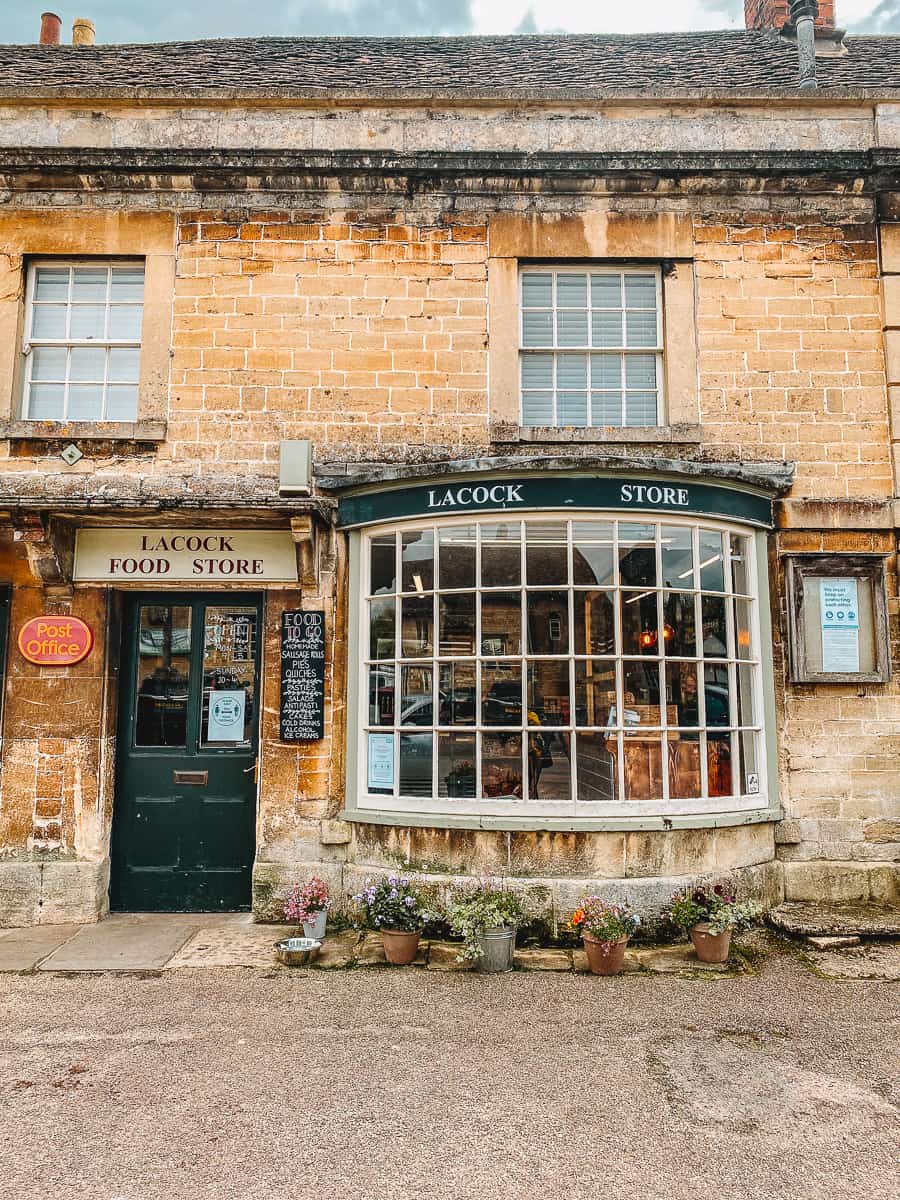 When is the best time to visit Lacock?
As Lacock is a gorgeous village and a starlet on the screen, you can expect this place to be busy all year.
But, it's especially busy in the summer months with tour groups and visitors. I would opt for a weekday to visit Lacock as opposed to a weekend. It can get overwhelming with the amount of people who visit here.
Making a trip to the Cotswolds in the shoulder season is always recommended as it sees fewer crowds.
The winter months are even better as you'll pretty much have the village to yourself which is perfect for photos!
How to get to Lacock in the Cotswolds
The easiest way to get to Lacock would be by car. The village is close to the town of Chippenham which can be accessed easily off the M4 Motorway. This connects Lacock with London, Bath and Bristol. Alight at Junction 17.
If you were visiting the Cotswolds car-free, you can get the train to Chippenham station and then take a connecting bus service to the village. You can then take the X34 service to Lacock.
If you were visiting from London, the village is a two-hour drive or if you're visiting from Castle Combe it will be around 10 minutes drive.
Lacock Parking
There are two main car parks in Lacock Village. One is situated directly outside Lacock Abbey beyond the National Trust Horse Stable Tea Rooms. This is free to park in but spaces fill up quick!
If you arrive later in the day, there is a large car park provided by the National Trust just outside of the village. It will take less than 5 minutes to walk to Lacock Abbey from there.
It costs £4 for all day parking and National Trust members get to park for free. It's the perfect place for and camper vans as there are dedicated spaces for you!
Where to stay in Lacock
If you wanted to extend your stay in the village, there are plenty of places where you can do that in the village!
You could stay at the Red Lion pub which starred in Pride and Prejudice. They have some boutique rooms on offer and you'll have one of the best restaurants in the town below your room.
Also, you could stay at The Sign of the Angel. The pub also has some recently refurbished rooms in their inn. It's one of the prettiest buildings in Lacock which is right near the Lacock Bakery.
Heading to the Cotswolds? Read more of my travel guides
How to see the wild Snakes-head Fritillary in Cricklade
A quintessential afternoon tea at Bradford on Avon
Why you must visit Great Chalfield Manor
Is Castle Combe the prettiest village in the Cotswolds?
The most amazing places to visit in Bibury with Arlington Row
Top things to do in Tetbury with the Chipping Steps
The best places to visit in Lower Slaughter and Upper Slaughter
Did this yew tree door inspire Tolkien?
The best things to do in Stow on the Wold
Best places to visit in Painswick and the legend of its yew trees
Save the best things to do in Lacock for later!