Have you ever stopped to wonder where the very end of England is? Well, the most westerly part of this little island is a place named Land's End Cornwall!
It's in an area called Sennen and you can actually make a visit to see the ends of British soil here.
Yes, this landmark has now become quite a cheesy tourist attraction, almost like a mini-theme park, but that doesn't mean it isn't AMAZING!
There are plenty of things to do in Land's End Cornwall like breathtaking viewpoints of the coast, scenic walks along the peninsula and everyone needs a bucket list photo with the famous Land's End sign.
Although a visit here may seem like a bit of a money sink, I'll let you in on some budget hacks to cut down costs and make it a cheap place to visit on your holiday too.
Here's my complete guide to visiting and all the amazing things to do in Land's End Cornwall.
What is Land's End Cornwall?
Land's End is a headland that sits at the most westerly point of mainland Cornwall and England.
This part of the rocky coast with its granite cliffs juts out over the Atlantic ocean. From here you can see the famous Longships Lighthouse.
On a clear day, if you look further beyond Lands End you can see the Isles of Scilly around twenty-eight miles away. If you were to follow that trail overseas you would reach North America!
It's one of the UK's most famous landmarks and over 500,000 tourists visit each year.
However, it is not, in fact, the most southerly part of Cornwall. The Lizard is a peninsula that owns that title.
It's one of the most beautiful coastal villages that was visited by Jack the Ripper, less commercialised and far quieter than this one!
The colourful chapters of Land's End history
Of course, Land's End has always been here since this island came to be! There is evidence of people on this land from 10,000 years ago from excavations.
During the time of the ancient Greeks, it was called Belerion which means 'the shining land' or 'place of the sun'.
It eventually became private land around 1066 but was conserved as an attraction that the public could explore.
The name Land's End propped up around the 1500s when it was recorded as 'Penn an Wlas' which is Cornish for 'end of the land'.
In the Victorian era, mass tourism had taken hold and many would make the journey by stagecoach to Sennen from Penzance.
It would be a long journey and they would stop off at the First and Last Inn before making their way out on the headland.
Most of the theme park and attractions around Lands End we see nowadays was built in the 1980s and 90s when it was sold off to Heritage Great Britain PLC.
King Arthur's Lost Land of Lyonesse
There are many legends surrounding Lands End Cornwall such as giants and faeries who lived in this area many eons ago. But, the most famous and intriguing is the Lost Land of Lyonesse.
This is a legendary land that is part of the Arthurian tales and is meant to lie beneath the depths of Land's End around the Isles of Scilly.
It's mentioned in the romantic tale of Tristan and Iseult and Lyonesse was Tristan's home. This largely Celtic legend is thought to be inspired by the story of Lancelot and Guinevere.
Although it is a mythical kingdom, it does draw many King Arthur enthusiasts every year.
There are countless attractions in Cornwall that claim to have a connection with the legendary king such as his seat at Tintagel Castle and Merlin's Cave.
Or, Bodmin Moor has Dozmary Pool where the Lady of the Lake gifted Merlin Excalibur!
What is the Land's End Landmark attraction?
The Land's End Landmark attraction today is leisure complex on the headland that sits at the edge of the coastline.
All of the resort complex overlooks the tip of Land's End. Within the area, there are a number of viewpoints, walks along the peninsula, and the all-important Land's End landmark sign that overlooks the very end.
As well as the free attractions there are a number of restaurants, food kiosks, souvenir shops, and pay-as-you-go attractions too.
Do you have to pay to visit Land's End Cornwall?
No, the Lands End Landmark Attraction is completely FREE to visit. You just pay a rather expensive all-day parking charge of £4 during the day in the offseason but it can go up to a whopping £6 in summer.
However, that doesn't mean that the theme park is free of charge!
Although there are many free things to do in Land's End like walks and viewpoints, most of the pay-as-you-go attractions will cost you a fair bit of money.
There are also lots of expensive distractions like gift shops, food stalls, and getting a picture with the sign is an investment in itself.
But, remember, you don't have to pay for them if you don't want to! The free views from here are breathtaking and worth the journey alone.
A little budget hack you can do if you're looking to save some pennies is visit Land's End later in the afternoon after 5 pm.
This is when most of the commercialised tourist attractions are shut but you can avoid the Land's End parking charge and it goes down to just £2 at the machines.
You can still walk along the headland, have dinner in the Land's End restaurant, a pint in their bar, watch an amazing sunset, and even take a picture with the Land's End sign for FREE!
The best time to visit Land's End
There isn't really a 'bad' time to visit the Land's End landmark attraction as it's open most days throughout the year!
Even when the theme park attractions aren't open, the land area itself is free to visit (save the car park) and there is a visitor centre, shops, restaurant, and hotel.
You can visit the area anytime in reasonable daylight. But, the restaurant opens from around 8 am and closes at 11pm.
The attractions open at 10 am, the food kiosks shut around 3 pm and the last entry to the attractions is at 4 pm.
This area is very exposed and it will always be blowing a gale with its position on the coastline – so it can be quite chilly even in summer!
It also isn't the greatest place to be when it's raining. Just be prepared for any weather by bringing an extra layer or a waterproof jacket. Umbrellas will fly!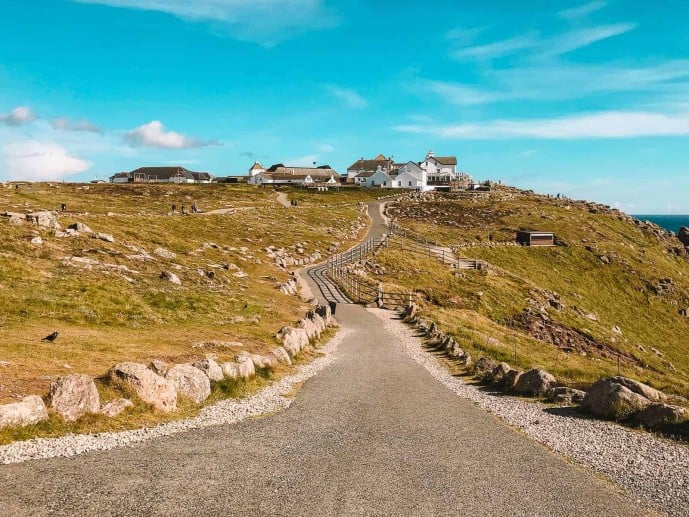 Top things to do in Lands End Cornwall
So, what is there at Land's End? Well, there are plenty of things to see and do around here that are worth making the journey.
From coastal walks on the headland, first and last places, attractions, museums, cuisine, and wildlife. There is something here for everyone.
Here are all the amazing things you can do in Land's End Cornwall.
1. Take a picture with the famous Land's End Sign!
The ultimate bucket list ticks off is to get a photo with the famous Land's End sign.
But, what many people don't tell you is that it's privately owned and they charge out the nose for it during the day.
Yep, a photo with the Land's End sign with the photographer there will cost you a whopping £12!
There also isn't the option to take a photo without the photographer there either, so, unfortunately, you're not allowed to take a photo without paying for it.
It doesn't stop people queuing for it though and it is thought that over 15 million people have had their photo taken with this sign since 1995!
I've had my photo taken here as a kid before and it is pretty cool as they put your name, hometown or country on the sign for you with the date of your visit.
But, if you weren't fussed about all that gubbins, there is a way to get a picture without paying a penny.
How to take a photo with the Land's End sign for free
Visiting Land's End can be extremely expensive if you visit during the day when everything is open.
But, if you visit after 5 pm the parking is a lot cheaper and the area is much quieter. After 5 pm is also when the photographer at the Land's End sign clocks off for the day.
The basic sign is still left there, it doesn't move as it's bolted to the floor!
It just won't have a few of the extra places and names on it as they bring those inside the photographer's booth.
So, if you were interested in getting a picture with the Land's End sign for free this is your moment.
We definitely took our chance when we saw it empty here and took as many photos as we could. Usually, during the day, the queues are huge!
2. Admire the Land's End viewpoint
Just beyond the Lands End sign and down the cliffside are a couple of amazing viewpoints that you can enjoy over the headland.
You'll be on top of 200 feet high granite cliffs on the coast and you can see the wonderful rock formations here with the Atlantic Ocean crashing on the shores.
Over the way, you can see the Longships lighthouse, the rocky tip of the headland, and the Isle of Scilly which is around twenty miles away on a clear day.
There are a couple of specific viewpoint areas that will have some signs telling you what you're looking at and the wildlife to spot. But, the views are really all around you, everywhere, wherever you look!
3. Take a walk along Land's End Peninsula
There are a couple of relaxing and scenic walks beyond the Land's End sign that will take you along the scenic peninsula here.
These have been well laid out in concrete which makes them extremely accessible too! It will only take you around 10 minutes to reach the coastline from the car park.
These paths will lead you down to the First and Last House of England where there are even more amazing views to see.
There are even some telescopes if you wanted to take a closer look. If you like you can then take an easy loop around the pathway back to the visitor centre, or you can carry on the southwest coastal path to Sennen Cove. It will take you 30 minutes.
4. Learn about Longship's Lighthouse
Did you know that there have been 130 recorded shipwrecks that happened around Land's End? That's not counting the many hundreds that weren't written down!
Shipwrecks were so common in this area of Cornwall that the smuggler's trade ran riot in the 18th century and many people of Sennen would steal the cargo that landed on the shore.
Wreckers were also in the business of luring ships on the rocks with false lights and then stealing the contraband.
To try and stop the number of ships that were lost on the rocks, a tower was built in the 17th century with an Argand oil lamp. But the high seas very often put it out or stopped its light!
So, Longship's Lighthouse was built as a replacement in the 19th century. Back then, these lighthouses had a warden who would live on the island and light the paraffin lamp manually at night! Eventually, over the years of development, it became automatic.
What we see today is an automated lighthouse from 1988 and it is now monitored and controlled from Trinity House in Essex!
5. Visit The First and Last House of England!
The first and last house of England has been on this spot since the 19th century. No prizes for how it gets its name!
The Land's End cottage was built for Gracie Thomas and she ran it as a souvenir shop for Victorian tourists who were visiting the headland. She would sell small pieces of granite with Land's End stamped on them.
Not much has changed about this place in that respect. There is still a gift shop inside the premises that has just got a lot larger and sells a lot more than just granite.
Inside you can find all manner of souvenirs like seashell gifts and rock. But, there is also an ice cream stand inside it as well. This is definitely another photo opportunity for your camera roll.
6. Check out the Land's End Beacon
An ancient tradition that we have here in the UK is the lighting of the beacons.
This usually happens on special royal occasions and the last time it took place was for the Diamond Jubilee celebration. This was where over 4,200 beacons were lit across the country and union territories.
Land's End has its very own beacon that you can see just outside the First and Last House that was built around the Millenium.
There is a small sign that says that "Alexander Sowerby lit this beacon on 31st December 1999 with assistance from Cllr. Menadue…with a promise to stop people being bullied at school!"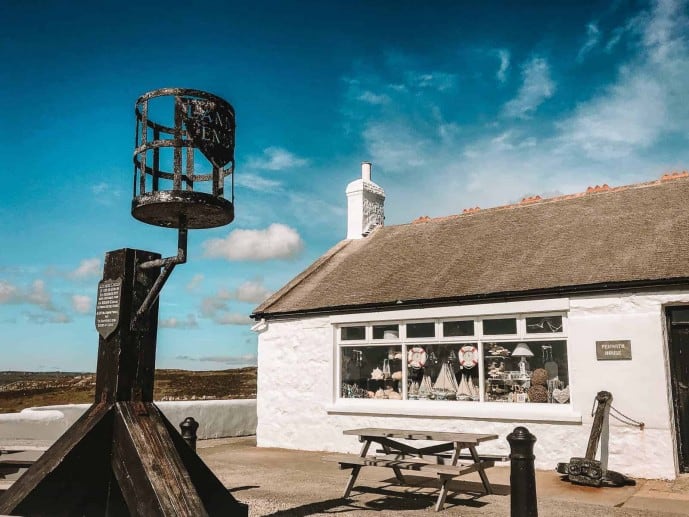 7. Send a postcard from the first and last postbox of England!
There is a very old postbox that sits at Land's End that has the inscription of 'GR' which means George Regina or King George!
The postbox was set up around the time of King George VI and there are even old pictures of the postie unloading the once-popular letterbox.
Unfortunately, this postbox is no longer in use but it has been kept here as part of its heritage.
If you did still want to send a postcard from the most westerly point in England, you can do so at the postbox by the visitor centre!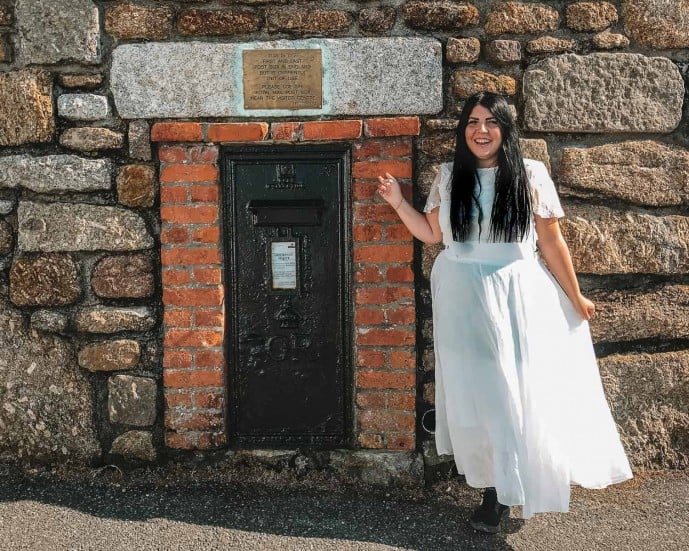 8. Find out about the End to End story – Land's End to John O'Groats
The End to End story is a FREE museum that you can visit at Land's End that will take you through the history of the longest journey from Land's End to John O' Groats.
The longest journey in the UK has been a challenge many want to overcome over the years. The first people ever recorded to take the journey on foot were John and Robert Naylor in 1871.
If you were wondering just how far it is from Land's End to John O' Groats, it's around 874 miles by road and for walkers, it's around 1,200 miles!
You could drive it without stopping in 14 hours, It takes most cyclists 14 days, and for walkers, it takes two or three months.
Now, there are people that take a horse, run it, take a motorbike, cycle, swim, drive and even skateboard the journey!
Inside the museum are photos, videos, and interactive exhibitions you can get involved in.
9. Visit one of the many pay as you go attractions
As well as the museum there are a fair few theme park attractions that you can pay for as you go. This means you can either pay for them individually or buy a family combo ticket for them all.
Arthur's Quest is an immersive experience that takes you through the history of Land's End and the mystery of the legendary Arthurian Tales.
It's narrated by Brian Blessed and I've done it before years ago. It's actually quite a cool thing to see. It's £4 a ticket for adults and £3 for children.
They also have some 4D cinema experiences that you can get involved in and the theme changes every year.
Sometimes it's an Aardman production like Wallace and Gromit, or more recently there is a Jolly Roger 4D movie that has more of a pirate theme. These are £5 an adults and £4 for kids.
If you'd rather save a little money and get a combo ticket, these are £40 for 2 adults and 2 children.
10. Make a phone call at the end of England!
Probably a little outdated now due to the fact we all have mobile phones and can even face-time our friends and loved ones. But, you can make a telephone call at one of the first and last red telephone boxes here.
To be fair, the phone signal is so bad in Cornwall, you may have to make a phone call via the telephone boxes if you can't call anyone!
I know for me, that my phone network was completely dead.
Our famous red telephone boxes have become a little bit of a rarity nowadays in the UK and most are used as emergency defibrillators.
So, if nothing else, I'd definitely snap up the chance of the photo opportunity!
11. Have your most westerly Cornish pasty
It's almost considered a crime in Cornwall to not try one of the local Cornish pasties and Land's End is no different.
If you don't know what a pasty is, it's essentially a pastry stuffed with meat and vegetables, or sometimes simply cheese.
You can try one at their Cornish pantry right here and have the first and last pasty at the end of England.
If you were bored with Cornish pasties there are also a number of food kiosks around the area that you can pop by for a bite to eat too.
There is the Bakehouse that serves up a wide range of take-away food like sandwiches and ice-creams or the Land's End Kiosk has chips, hot dogs, and pasties too.
If you have a hankering for something sweet there is the Land's End Doughnut Company and also some Land's End Ice Cream Parlour selling locally made delectable cones!
12. Go shopping in the West Country Shopping Village
If you did want some retail therapy at the very end of England, then you must check out the West Country Shopping Village.
They have a Taste of the West and the Land's End Trade Post that sells locally made foodie gifts to take home. Including locally brewed cider, beers, spirits, and fruit wines.
Conserves, cheese, fudge, and all sorts of things to buy!
The Land's End Clothing Company is also a popular label that sells its own branded clothing and beachwear. Included on the rails are some big designer names too.
13. Have some dinner at the Land's End restaurant & bar
The Land's End restaurant and bar have been recently refurbished and are an extremely popular pub and beer garden overlooking the sea. It gets seriously packed out in the summer!
You can stop by here for a spot of lunch or reserve a table for dinner later in the evening and the food is expertly prepared by their Head Chef Warren Russell.
As well as lunch and dinner they also serve up breakfast, teas, and coffee, or if you'd prefer there is a classic Cornish cream tea later in the afternoon.
Click here to see their menus!
14. Get stuck into some arts and crafts at the many workshops
As well as retail outlets, there are also some amazing arts and crafts workshops that you can stop by. You can see artisans at work or get involved in some yourself!
From art galleries, jewellery workshops, pottery, and even leatherwork. There are plenty of places where you can learn about the local craft and purchase handmade items too.
These craft workshops are located over the headland nearby Greeb Farm, it's definitely worth the journey to take a look inside.
15. Pay a visit to Greeb Farm
Greeb Farm is a 200-year-old farmstead over the Land's End headland that has now been refurbished.
It's now open as a family-friendly tourist attraction you can visit and is really popular with kids!
Inside there are lots of friendly and furry farm animals to meet like ferrets, sheep, rabbits, goats, pigs, and even miniature ponies!
Throughout the day there are times when the children can pet the animals and even feed them too.
Greeb Farm is a chargeable attraction that costs £3 for children and £4 for adults. It's included in the combo ticket with the rest of the pay-as-you-go attractions.
16. Marvel at the 'Magic in the Skies' fireworks display!
Every July and August, the Land's End landmark opens a little later on certain nights of the month for an epic 'Magic in the Skies' firework display.
The event lights up the skies around Land's End and will take you on a magical and musical journey retelling the ancient legend of the 'Lost Land of Lyonesse'.
Sometimes they even have live performances from singers throughout the evening!
It's well worth seeing if you find you're here on these nights throughout the summer as it's a truly unique place to watch a show. Click here for dates.
17. Find the smugglers tunnel at the First and Last Inn of England
Huge tax levies were placed on imported goods in the 18th century and so smuggling became common among fishermen and labourers.
This included stealing cargo that would wash up on the shores from wrecked ships. It would be smuggled illegally and then sold on for trade.
Wreckers even lured ships onto the shore. Once the ship crashed, they would steal the cargo and then kill anyone who survived.
Pubs were popular places to keep smuggled contraband and The First and Last Inn at Sennen was where the Sennen smugglers would operate.
There is a secret tunnel that runs directly from the pub underground towards the coastline so that the smugglers could avoid the authorities and you can still see it today!
The pub is also a really nice spot for a pint or some dinner if you fancied it. Click here for my complete guide with more details on the Sennen smugglers.
18. Visit St Sennen Church
Right next door to the First and Last Inn in St Sennen Church which was founded all the way back by St Sennin in 520 AD!
St Sennin is thought to have arrived in Cornwall from the Kilrush in Ireland as a Christian missionary.
On his travels, he founded many of the churches around the area.
The church we see today, however, is from the medieval period around the 13th century but it hasn't changed much since it was built. It's definitely worth checking out.
19. Take a walk from Land's End to Sennen Cove along the South West Coastal Past
You can access the South West Coastal Path all year round from Sennen and there is a great walk from Land's End to Sennen Cove over the headland.
The walk has some spectacular views from the cliffs and will take you around 30 minutes.
It is a relatively easy walk, however, some of the pathways are uneven and slightly steep.
There is lots of wildlife to spot around here including some migratory birds throughout the year and some pretty wildflowers come out in the spring.
The reward is arriving at the magnificent Sennen Cove village that has a gorgeous beach and coastline. There are also many cafés, art galleries, and a historic lifeboat house too.
20. Explore Sennen Cove
Sennen Cove is a historic fishing village that still boasts a working harbour and a lifeboat house from 1853.
In this pretty village are some cute art galleries, cafés, and fish and chip takeaways to enjoy.
Along the coastal area are some of the most breathtaking views in Cornwall and I loved sitting on the promenade with ice cream!
There are so many walks that you can take along the coast and it's a beautiful beach to chill out on too.
If you were thinking of catching some waves here, this is Cornwall's most westerly surf spot and is really popular.
Click here to read my complete Sennen travel guide
Where in Cornwall is Land's End?
At Land's End, duh?! haha, I'm just kidding!
The Land's End Landmark attraction is in Sennen which is the most westerly area of Cornwall on the coast!
As one of the most popular landmarks in the whole of England, it's well signposted all over the county and easy to find if you head south on the A30.
Land's End opening times
The area around Land's End and the South West Coastal path is open 365 days a year and you can visit pretty much anytime.
But, if you wanted to visit some of the restaurants and tourist attractions these do have restricted opening times.
Also, some of these attractions may be shut in the offseason from October – March, check the website for full details;
The Land's End restaurant – opens for breakfast from 8am and then shuts around 11pm at night
The Land's End attractions – open from 10am and the last entry is at 4pm.

The Land's End food kiosks – open around 10am and shut at 3pm.
How to get to Land's End Cornwall
The easiest way to reach Land's End at Sennen is by car. You can easily navigate to Sennen from Penzance.
From Penzance, look for the brown tourist signs that are marked Land's End and then follow the A30 for 9 miles until you reach Sennen.
You will need to park your car in the huge visitor car park here.
The Land's End parking cost is £4 for the whole day in the off-season but can jump up to £6 in the summer. This is cash only and paid to a parking attendant.
After 5 pm the car park charge reduces to £2 at the parking machines.
Can you get to Land's End by public transport?
Although it is not recommended due to the fact that services are infrequent, you can get a bus over to Land's End if you plan your journey in advance of travel.
The First Group has a bus service from the main bus station in Penzance and it runs directly to Land's End. These bus routes are 1, 1A, and 1B. There is no train station at Sennen but you can get a train to Penzance and then connect with the bus service to Sennen.
Can you stay at Land's End?
YES, there are a few luxury properties that are located right here on the headland for you to call home for the night. Some of these even overlook the gorgeous coastline!
The Land's End Hotel – is a classic Victorian heritage property that has had a contemporary makeover! You can book in cosy rooms with en-suites overlooking the spectacular views of the sea. You also have the benefit of the restaurant and bar on the complex. Click here to book.
Penwith Studios – is another luxury property inside the Land's End complex. It was originally called the Temperance Hotel in 1860 to encourage alcohol abstinence for indulgent Victorian's! Now the building has four modern studio suites with a sea view to book for the night.
Saddle & Stablerooms- is located by the First and Last Inn which is just a mile away from Land's End. It has some 5* guest house style apartments which provide a luxury living space. These have with bedrooms and kitchens for self-catering. They can accommodate 1 – 6 guests and have reasonable room rates. Click here to book!
The Land's End Hostel – There is a hostel at Land's End for those travellers who are backpacking. Click here to book.
Campsites at Land's End – There is no campsite and Land's End itself but there are some sites close by Land's End for tents and camper vans. Trevedra Farm Caravan & Camping Site is a popular choice.
Lands End FAQs
Why is it called Land's End? Because it is the most westerly part of England and in Cornish it's called 'Penn an Wlas' which means 'end of the land'.
Who owns Land's End Cornwall? It is owned by Sears Holdings which is now a publicly-traded company.
Is Land's End National Trust? No, they tried to buy it but were outbid by David Goldstone in 1982 who purchased it for £7 million. However, the cliffs immediately to the east and west of Land's End are owned by the National Trust.
Can I take dogs to Land's End? Yes, as long as they are on a lead. They are not allowed inside attractions or restaurants however.
Is there a beach at Land's End? No, but you can walk over the Sennen Cove nearby that has an epic beach!
Top things to do near Land's End Cornwall
So, once you have explored the amazing Land's End Cornwall, what now?
Well, there are plenty of more breathtaking attractions in the south of the county.
If you wanted to see an alternative to Land's End, The Lizard is the most southerly part of Cornwall! It's far less crowded than Sennen and has a gorgeous coastline to explore. Jack the Ripper also signed a guest book in the Top House Inn here.
Minack Theatre is open for theatrical performances throughout the summer, but visiting during the day is also amazing! It was made completely by hand by a lady called Rowena Cade.
It overlooks the spectacular Porthcurno Beach which is one of Cornwall's top beauty spots!
If you were looking for secret coves and beaches to hide in then I would recommend Porthgwarra. This quaint spot by the sea was featured in Poldark!
There is also the top-secret Songs of the Sea Cave Beach but this is quite hard to find and requires a fair bit of trekking. Kynance Cove is also magnificent but a very busy tourist hotspot.
Mousehole is a quintessential Cornish fishing village that is effortlessly beautiful with its small working harbour and cute streets.
Or, visit the magical and mysterious St Micheal's Mount from Marazion and uncover the myths, legends, and colourful history of this tidal island!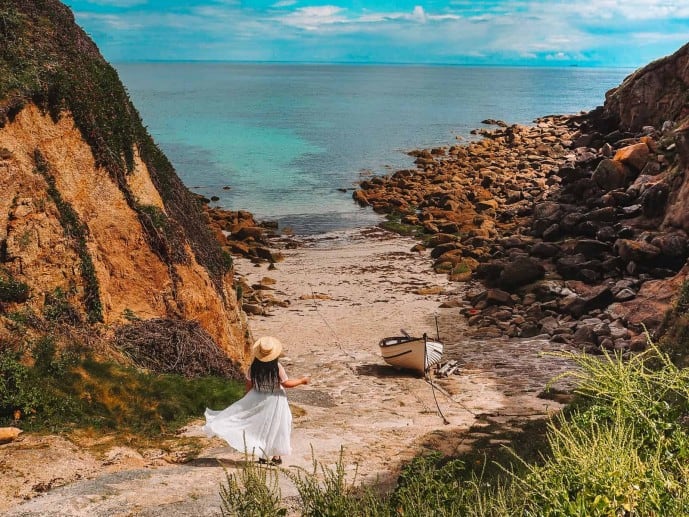 Read more of my Cornwall guides
St Aubyn Estates Cottages review
How to visit Tregothnan Estate in Cornwall
Things to do in Charlestown Cornwall
The Museum of Witchcraft in Boscastle
How to visit the Lost Gardens of Heligan
Things to do at the Jamaica Inn
How to visit Golitha Falls in Cornwall
A complete guide for the Cheesewring Hike
Secrets of the Admiral Benbow Inn
Where is Driftmark filmed in House of the Dragon
How to visit Holywell Bay from House of the Dragon
Magical things to do in Kynance Cove
Save these things to do in Land's End Cornwall for later!