Lavenham Suffolk is often regarded as the best example of a medieval wool town in England and the crowning jewel of the county.
As a settlement that thrived on the weaving industry, you'll find plenty of colourful timber-framed buildings dating back to the Tudor period.
It's a beautiful place to spend a day where you can explore the village, visit museums, enjoy some fine dining and even chase Harry Potter filming locations!
Here are all the lovely things to do in Lavenham Suffolk, a gorgeous medieval village in England.
Lavenham history
Although classed as a village today, this settlement has a history dating back to Anglo Saxon times and there is evidence of a market charter being granted by Henry III in 1257.
By the 14th-century, the weaving industry was the main source of trade in England. This was backed by Edward III to allow the country to prosper. In turn, this meant that Lavenham was able to thrive.
So much so that by the Tudor dynasty, this tiny town was the fourth wealthiest in all of England!
Their most popular cloth was a 'Lavenham Blew' which was sold as far as Russia. Despite its small population, Lavenham paid more tax to the crown than biggers cities like Lincoln and York.
The Lavenham Guildhall, or the Guild of Corpus Christi, was set up to regulate the weaving trade as well as acting as a bridewell in 1529.
Many of the timber-framed buildings found in Lavenham date back to the 15th-century and have never been altered due to the decline of the weaving trade in the 16th-century. In turn, this is when the fortunes of the town dwindled.
So, it has been perfectly preserved and hasn't changed much since. It appears to have been trapped in time.
Today, Lavenham is a delightful destination for day-trippers in Suffolk and Potterheads descend on the town to take a peek at the real Godric's Hollow from Harry Potter!
Best things to do in Lavenham
As one of the best examples of a medieval wool town in the country, simply wandering around Lavenham is a highlight of a trip to Suffolk.
But, there are plenty of things to do here as well that make it worth a visit. From museums to shops, spas, and restaurants.
Here are all the best things to do in Lavenham!
1. Lavenham Guildhall
One of the best things to do in Lavenham is to visit the impressive Lavenham Guildhall that dominates the Market Place in the heart of the village.
It was built in 1529 and called the Guildhall of Corpus Christi. Its function was to regulate the wool trade in the village.
It's now a gorgeous property owned and maintained by the National Trust as a museum. I would highly recommend visiting as you can learn about the weaving trade as well as this place acting as a bridewell!
It was horrible reading about all the punishments that used to happen years ago. Look out for the thumbscrews, a medieval torture device you can try.
After your visit to the house, you can relax in their walled gardens or enjoy a lazy lunch in their tea room.
Click here for the latest opening times and prices
2. Guildhall Tea Room
Even if you're not planning to visit the Lavenham Guildhall, you must pop inside their Tudor tea room located next door.
You can treat yourself to a coffee, homemade cake, or light lunch under wooden beams and see some historic photos of the village over time.
In winter, you can sit indoors or they have a delightful terrace in their Tudor walled garden in the summer.
Click here to see the latest opening times
3. Visit Harry Potter filming locations
Did you know that Lavenham was a filming location in Harry Potter and the Deathly Hallows Part 1?
It was used for Godric's Hollow village where Harry and Hermione chase down Bathilda Bagshot to look for the sword of Gryffindor!
The production team filmed here in complete secrecy, using both the Lavenham Guildhall and De Vere House for the movie for Harry Potter's birthplace.
You'll find the Harry Potter house on Water Street which is just a two-minute walk from Lavenham Market Place. It's one of the best things to do in Lavenham.
Click here to read my complete Harry Potter guide for Lavenham
4. Little Hall Museum
The Little Hall Museum is one of the oldest buildings in Lavenham and dates back to the 14th-century.
Painted in a delightful shade of ochre, this hall was constructed by the wealthy Causton family of clothiers.
Once the fortunes of Lavenham declined, this property fell with it. It was renovated by the Gayer-Anderson brothers in the 1920s. They were avid travellers who filled the property with various art and antiques.
Today, you can visit the Little Hall Museum to learn the history of Lavenham, relax in their walled Tudor knot garden and see the extensive collection of artefacts.
Click here for more details and opening times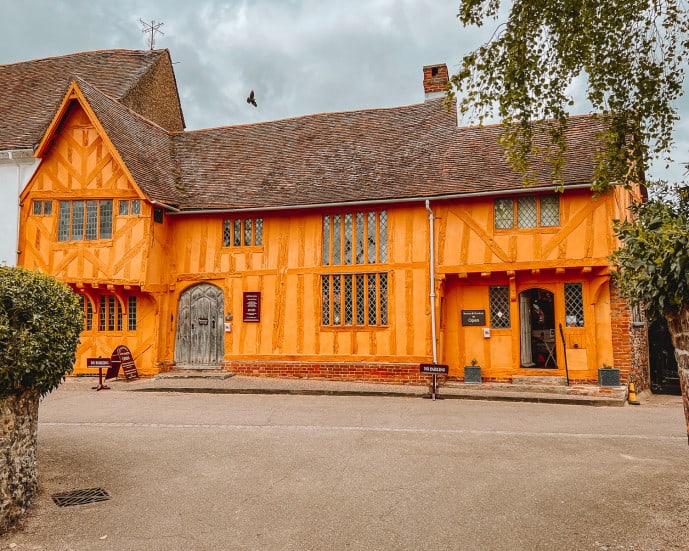 5. Explore Lavenham Market Place
Just outside of the Lavenham Guildhall and Little Hall Museum you'll find the colourful Lavenham Market Place.
There are some beautiful buildings located around here like the Lavenham Bakery called 'Sparling and Faiers' painted in the iconic Suffolk Pink!
You'll also find the Angel Pub, Blue Vintage Tearoom as well as the Market Cross by the Toll Cottage which is as pretty as a postcard.
If you wanted to find out more things to do in the village or local area, make sure to stop by the Lavenham Information Office on Lady Street.
Top tip: Lavenham Farmers Market also takes place on the fourth Sunday of every month outside the Lavenham Village Hall!
6. Have dinner at The Swan at Lavenham
The Swan at Lavenham is home to a top-rated restaurant in Suffolk where you can escape and enjoy a tasty lunch or dinner.
For lunch, they have the Mess Call 487 menu or you can enjoy their Gallery Dinner menu in the evenings.
You dine by candlelight under historic timber frames in their 15th-century coaching inn and it's a culinary experience not to be missed.
As well as serving up dinner, The Swan also hosts a delightful afternoon tea service. It's the perfect place to spend an afternoon in Lavenham where you can indulge in finger sandwiches, loose leaf tea, and dainty cakes!
Click here to see a menu and reserve a table
7. See the Old Grammar School where John Constable attended
Suffolk is often referred to as 'Constable Country' as this is the area where the famous artist John Constable grew up and painted his most celebrated works.
Areas like the Dedham Vale AONB boast gorgeous hamlets such as Flatford which is home to Willy Lott's Cottage that inspired his 'Hay Wain'.
Although he painted The Hay Wain in 1821, the area remains relatively unchanged to this very day!
John Constable attended school in Lavenham and you can find the Old Grammar School he attended on Barn Street. It's a gorgeous Tudor building painted in Suffolk Pink.
8. Visit the Church of St Peter & St Paul
There has been a place of worship located on this site since the Anglo Saxon era but the building we see today was constructed in the 16th-century before The Reformation.
The Church of St Peter and St Paul was built by public subscription and funded by the wealthy wool merchants that lived in the village.
A major benefactor was John de Vere, the 13th Earl of Oxford, you'll see the De Vere family crest throughout the building.
This fine example of medieval architecture is now Grade I listed and you must make a visit. It's one of the best things to do in Lavenham.
9. Admire The Crooked House
One of my favourite buildings in Lavenham has to be the bright orange Crooked House that sits on the High Street.
Dating back to 1395, it was originally built as part of a medieval hall. With Lavenham's flourishing wool trade, rich merchants set up guildhalls and houses to reflect their wealth.
The Crooked House was a result of this and so it remains today. It has had many uses over the years and has even been a popular tearoom!
It was put up for sale recently and two buyers nicknamed 'The Crooked Men' have purchased the house to host events as well as a private antique dealership.
You can now book this beautiful historic building for private meetings, dining, and parties. Click here for more details.
10. Explore all the gorgeous historic buildings
As well as The Crooked House, you could spend hours walking around Lavenham and admiring all the colourful and historic buildings found here. It's like a fairytale village.
During the wool trade, Lavenham thrived and many houses were built here by wealthy merchants in the 15th-century.
After the decline of the weaving industry in the 16th-century, many houses were never altered. So, you'll find that most are relatively unchanged.
The High Street, Market Place, Prentice Street, Water Street, Lady Street, and Barn Street have some of the most gorgeous timber-framed houses in all shapes, colours, and sizes!
Each one is completely unique and exploring the village is one of the best things to do in Lavenham.
11. Number 10 Wine Bar & Kitchen
Number 10 is a bespoke wine bar set in a delightful timber-framed building dating back to the 15th-century. You'll find it on the corner of Lady Street and Water Street.
It offers informal hospitality where you can relax and sample a selection of their wines along with cheese boards and a seasonal dinner menu.
They have a cosy fireplace and they also serve up coffees to drink over beer barrels throughout the day.
If you fancy spending the night, you'll find boutique accommodation in their beautifully restored building. You can sleep under timber frames in their Crown Post Suite.
12. Go shopping in the Curiosity Corner
There are plenty of shops in Lavenham but none so inviting as the Curiosity Corner that sits on the end of Church Street.
They sell a range of gifts in this treasure trove like jewellery, homeware, clothing, and souvenirs.
But, they are mostly known for their extensive collection of teddy bears! You'll find Steiff and Charlie Bears amongst the vast selection.
13. Lavenham Literary Festival
If you're a bibliophile, you may like to visit the village in mid-November for their annual Lavenham Literary Festival.
The village invites a range of speakers and authors to speak at the village hall and a plethora of other venues around the village.
You'll also find some festival dinners held at beautiful venues like The Swan.
To find out more details and suggested reading, click here
14. Have dinner at The Great House
Located in Lavenham Market Place, you'll find a gorgeous building called The Great House that has a history dating back to the 14th-century.
It functions as both a contemporary hotel and restaurant where they serve up a seasonal award-winning menu of French cuisine.
They are open for breakfast, lunch, and dinner as well as whipping up artisan cakes from their pâtisserie (made to order)!
Click here to see a menu or reserve a table
15. Relax at the Weaver's House Spa
As part of the amazing amenities included with The Swan at Lavenham, they have a holistic spa called The Weaver's House.
Even if you're not a guest, you can book a session with them daily. It's a haven of tranquility where you can escape for a few hours and enjoy the complete calm they have to offer.
Their treatments include full body and face massages, manicures, pedicures, and spa packages. There is also a heated pool, sauna, and steam room.
If you are staying at The Swan, you'll be happy to know each guest receives a complimentary 1-hour use of the facilities.
Click here to book a session at the spa
16. Take a walk in Lavenham Woodlands
Lavenham has a community project called the Lavenham Woodland where you can take a short & scenic walk in the countryside. It's one of the best things to do in Lavenham.
This walk allows you to see the Church of St Peter and St Paul from a different perspective as well as the old Lavenham to Long Melford Great Eastern Railway line.
If you head down the High Street, it will lead you to Dyehouse Field Wood which has many species of butterflies and wildlife to spot. This is where you'll find signs for the walk.
Click here for detailed directions on the National Trust website
How to visit Lavenham in Suffolk
Lavenham is an ancient medieval village located in the county of Suffolk in East Anglia. This is around a two-hour drive from central London.
If you're on a road trip, this is also a short drive away from Bury St Edmunds, Cambridge, Dedham Vale AONB, or Ipswich.
If you're not driving, there is no train station in Lavenham. But, the nearest station is Sudbury which is only 90-minutes from London Liverpool Street by train.
Once you get there, you can then switch to a bus service or taxi to reach Lavenham. A taxi would be the easiest option to avoid a long-winded bus route.
Lavenham postcode is Sudbury, England CF32 0HP. Click here for a Google Pin!
Lavenham parking
There is plenty of free parking in Lavenham. You can park directly outside of the Lavenham Guildhall in the market square but these spots do tend to get busy on weekends and afternoons.
If the central car parks are full, there is some more free parking located on Church Street next to The Cock Horse Inn and St Peter and St Paul's Church. Just follow the parking signs through the village.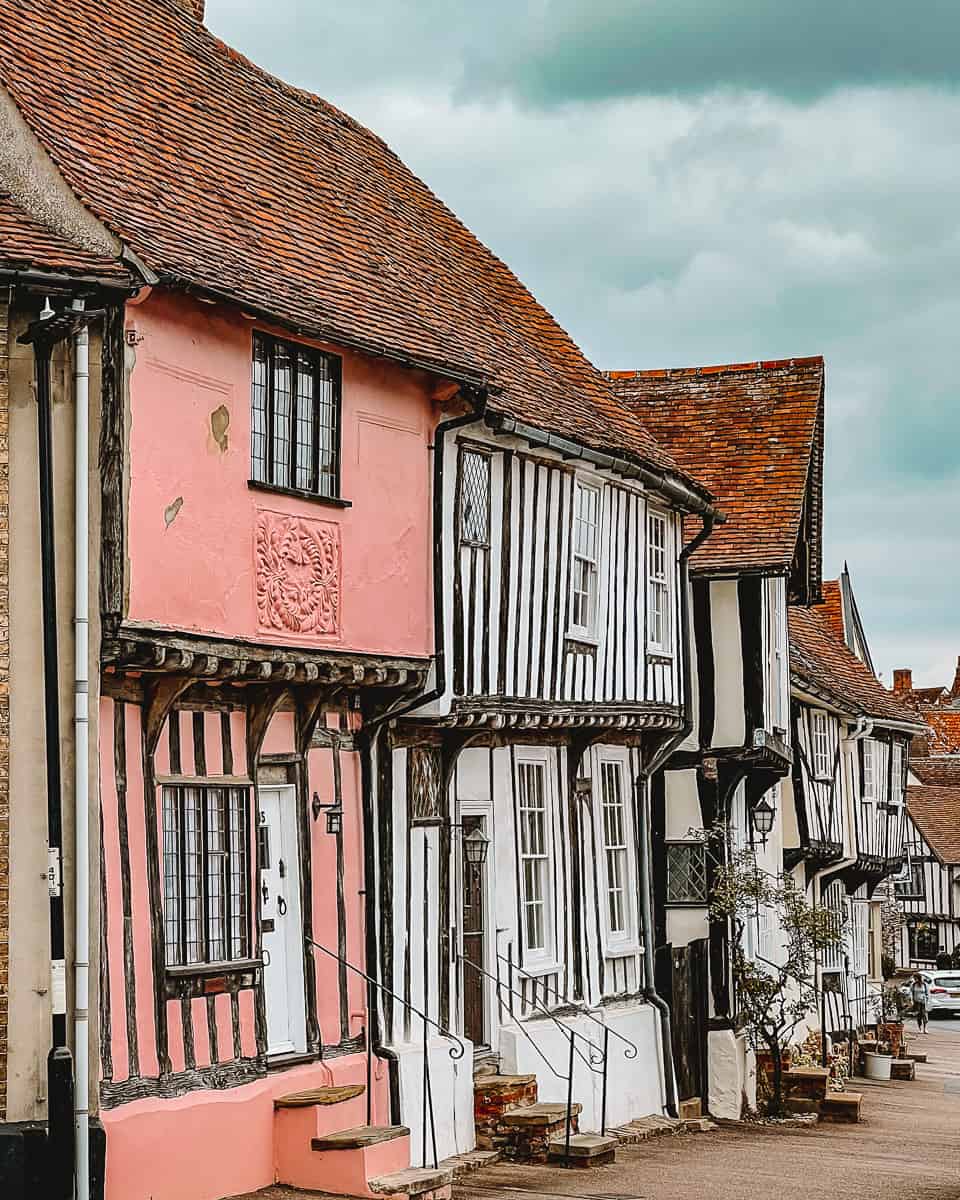 Where to stay in Lavenham
The Swan at Lavenham – One of the best places to stay in Lavenham is the Swan. They have 45 bedrooms and most are surrounded by timber frames! But, each has contemporary comforts. Click here for availability.
The Great House Hotel – Set within a 14th-century building the Great House has five contemporary bedrooms to spend the night. They have a top-rated French restaurant on the property. Check dates and rates.
De Vere House – If you wanted to spend the night in Godric's Hollow why not book the De Vere House B&B? It's the Harry Potter birthplace from the movies! Click here for details.
Read my East Anglia travel guides
How to visit the Norfolk Tulip Fields
A complete guide for Elm Hill in Norwich
A complete guide for Trinity Lane in Cambridge
Save these things to do in Lavenham for later!