Milldale is a gorgeous hamlet that lies in a rural area of the White Peak Estate in the Peak District National Park.
It's an idyllic and peaceful village that lies on the border of Derbyshire and Staffordshire and is somewhere you cannot miss on your visit.
Imagine gorgeous historic cottages tucked amongst the rolling hills of the countryside, ducks roaming free and a scenic river that babbles beside the hamlet.
Although it's small, it's a beautiful retreat and the perfect place to take one of the many hikes that you can find in the dramatic Dove Valley.
Here are the very best things to do in Milldale Village Peak District!
Milldale village history
The village of Milldale became famous due to the classic novel The Compleat Angler by Isaak Walton written in 1653.
It contains multiple conversations that Walton had with his friend Charles Cotton about fishing on the River Dove and exploring the surrounding areas.
Although the book was written many centuries ago, the novel has a heavy influence in this area today. Many names from the book are still used like the Viators Bridge in the heart of the village.
The name of the village derives from the old corn mill that used to run here in the 17th and 18th-centuries. You'll find the remains of which are now an Information Barn run by the National Trust. There's also an old millstone that you can spot lying in the River Dove.
Today, there are a surprising amount of visitors to this tiny hamlet as many hikers stop here as part of their walks through the National Trust's White Peak Estate.
However, I would say that there are many things to do in Milldale Village that make it worth visiting on its own.
There are only a handful of cottages found here but this gorgeous riverside hamlet has to be on your Peak District bucket list. Here is a list of the best things to do in Milldale!
Lovely things to do in Milldale village
1. Admire Duck Cottage
One of the most Instagrammable places in the Peak District has to be the delightful Duck Cottage that sits on a corner of Milldale.
It gets its adorable name from the number of ducks that make a home here on the River Dove. I don't think a day goes by where I don't see this wonderful cottage on my Pinterest Board or Instagram feed.
It's a photographers favourite for a reason and it looks charming at any time of year. So, I would get your cameras at the ready!
Duck Cottage was originally built in 1896, it's now been converted into a rural cottage retreat that you can spend the night in.
Click here to book your stay at the spectacular Duck Cottage!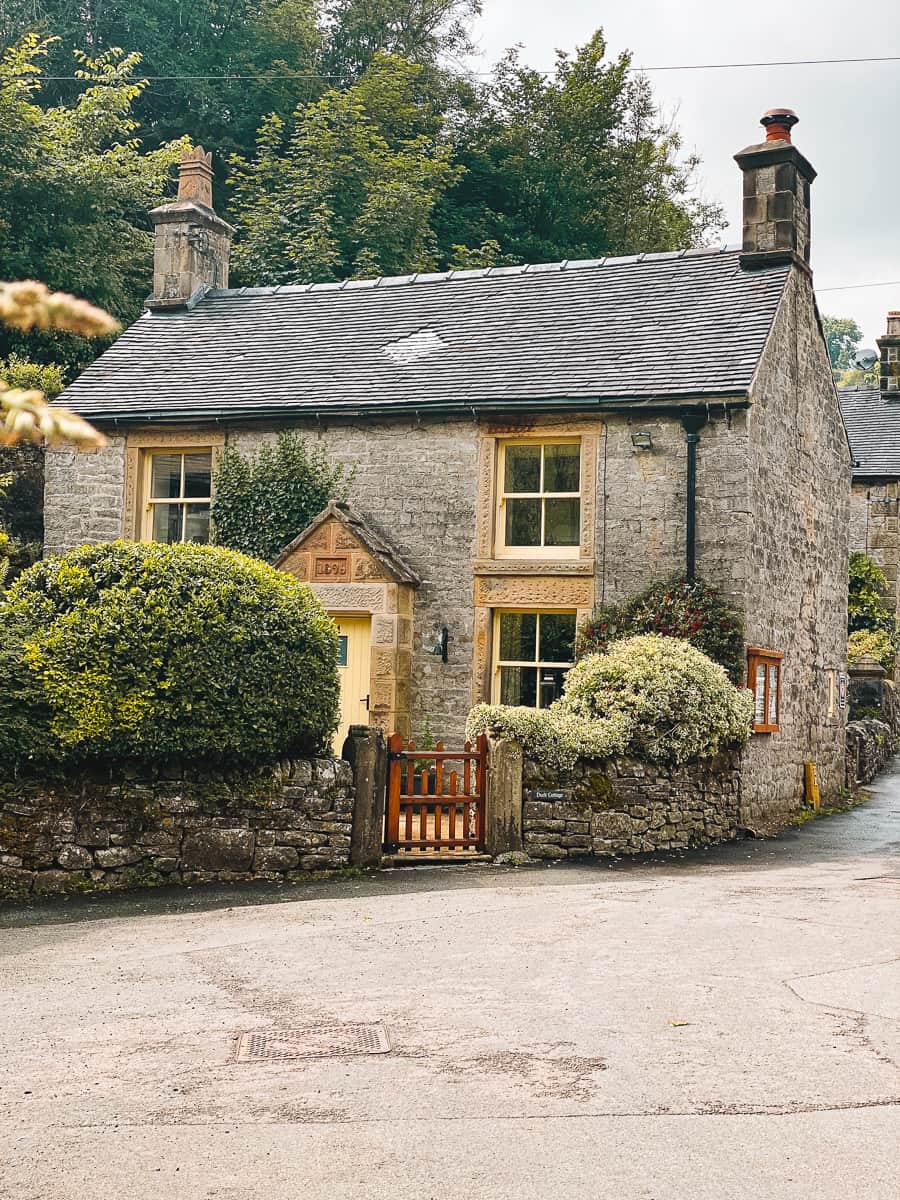 2. Sit by the River Dove and feed the ducks
Talking of ducks, you'll find plenty of them roaming about while you're here. There are even 'watch out for duck signs' which were so sweet!
They usually bathe in the River Dove at the far end of the village. So, you can take a seat and say hello while you're here. You can buy birdseed from Polly's Cottage if you fancy feeding them.
The River Dove at Milldale is the perfect spot to take a break for lunch if you're on a hike from Dovedale Stepping Stones. Or, if you wanted to relax for a while if the weather is nice.
It's one of the very best things to do in Milldale village.
3. Have an ice cream or coffee from Polly's Cottage Takeaway
There aren't any sit-in cafés or pubs in Milldale but if you fancied something to eat or drink you can stop by Polly's Cottage takeaway.
They serve up hot and cold drinks, snacks, sandwiches and light bites throughout the day.
My favourite offering was the locally made ice-creams they had on offer. I had a huge Bakewell Cherry waffle cone and it was mouth-watering on a hot day!
Although there is no seating at the cottage, there are lots of benches nearby the river to enjoy your coffee with a view.
4. Stroll through the quaint Milldale village
Although it's a small hamlet with a handful of cottages, Milldale is one of the prettiest villages in the Peak District!
So, one of the best things to do in Milldale is to simply take a stroll and admire all the scenery found here.
Just beyond Polly's Cottage, you'll find a red telephone box and from this point, you'll get a gorgeous view of the hills and the village below.
It's well worth getting your camera out as it's effortlessly picturesque and every corner is breathtaking to behold!
5. Visit the National Trust Milldale Information Barn
One of my favourite buildings in the village has to be the curious tiny house that's tucked away on the River Dove in Milldale.
But, as you approach, you find that it's not a house at all but an information barn so you can find out about some of the history surrounding this area!
This building is now all that remains of the old mill that used to process and crush corn and calamine that was mined at the nearby Chrome Hill.
It was lovingly converted by the National Trust and it's a great way to learn about Milldale's history from the Ice Age glaciers that formed the valley to the milling industry that gave the village its name.
There's also information on the sort of wildlife you can find in this area plus some details on walking routes too!
6. Cross the Viators bridge
If you wanted to walk by the River Dove in Milldale, you can do so by crossing the picturesque Viators Bridge at the far end of the hamlet.
It is a former packhorse bridge and gets its curious name from the famous book The Compleat Angler written by Izaak Walton in 1653.
In the book, Isaak talks of his scary descent on the zig-zag path known as Hanson's Toot. He looks down and notices the Viators Bridge;
"What's here, the sign of a bridge? Do you travel in wheelbarrows in this country? This bridge was made for nothing else – why a mouse can hardly go over it, tis not two fingers broad!"
It's had the name Viators Bridge ever since the book although it has been widened and rebuilt since Isaak's surprise!
In the 18th-century, there was a mill that used to run close to the bridge and the River Dove. Packhorses would then travel over this bridge to make their deliveries.
From the Viators Bridge, you can see the remains of a large millstone or runner stone in the water.
7. Hike to Dovedale Stepping Stones
If you're finished exploring the idyllic Milldale village then you can easily head over the Viators Bridge and follow the path through Dove Valley towards Dovedale Stepping Stones.
It's a gorgeous trail protected by the National Trust and very popular with hikers throughout the year due to all the dramatic scenery!
The walk is around 3 miles and should take you around 90 minutes – two hours. But, you may find it takes longer as you'll stop for lots of photos.
Dovedale Stepping Stones are one of the most popular attractions in the Peak District, if not the most popular. You could drive here to visit after Milldale rather than walking as there is a dedicated car park nearby.
The Dovedale walk from the car park is a short and flat trail through a valley where you can cross the stepping stones over the River Dove.
You may have to queue to cross them as it's usually extremely busy but it's worth the wait and you'll have an amazing time hopping over the water.
You'd be forgiven for thinking you'd stepped into Middle Earth from Lord of the Rings – the scenery in Dove Valley is that epic!
Click here to read my complete visitor guide for Dovedale Stepping Stones!
8. Visit Ilam Park
Another place you can visit from Milldale and Dovedale Stepping Stones is the historic Ilam Park. This was one of my favourite places to visit and highly underrated in my opinion.
It's another property owned and protected by the National Trust where you get sweeping views of the White Peak over the River Manifold!
The manor house on the Ilam estate was owned by the Port Family for 250 years until it was sold to David Pike Watts in 1809. He commissioned John Shaw to build the new Ilam Hall in 1821.
Today, the hall is a very unique YHA Youth Hostel and makes the perfect base to stay and explore the area!
You can walk around the park grounds here and The National Trust run a lovely tea room selling light lunches, coffee, tea and cakes throughout the day. There's also a secondhand bookshop.
Click here to book your stay at the YHA Ilam Hall!
9. Pop over to Alstonefield Village
Less than a mile up the road from Milldale is the picturesque Alstonefield village that sits at a height overlooking the Dove and the Manifold rivers.
The village is small and spread out but the main area surrounds a small green by The George Inn pub.
You'll find the quaint St Peter's Church here that is home to one of the oldest gravestones in England! Ann Green died in 1518 and you'll find the headstone clearly protected by a picket fence.
If you take a stroll around the village, you'll also come across an ancient Tithe Barn behind the Old Rectory.
If you get tired of chasing history, you can stop by the Alstonefield Village Café for a bit of tea and a homemade cake.
Click here to read my complete travel guide for Alstonefield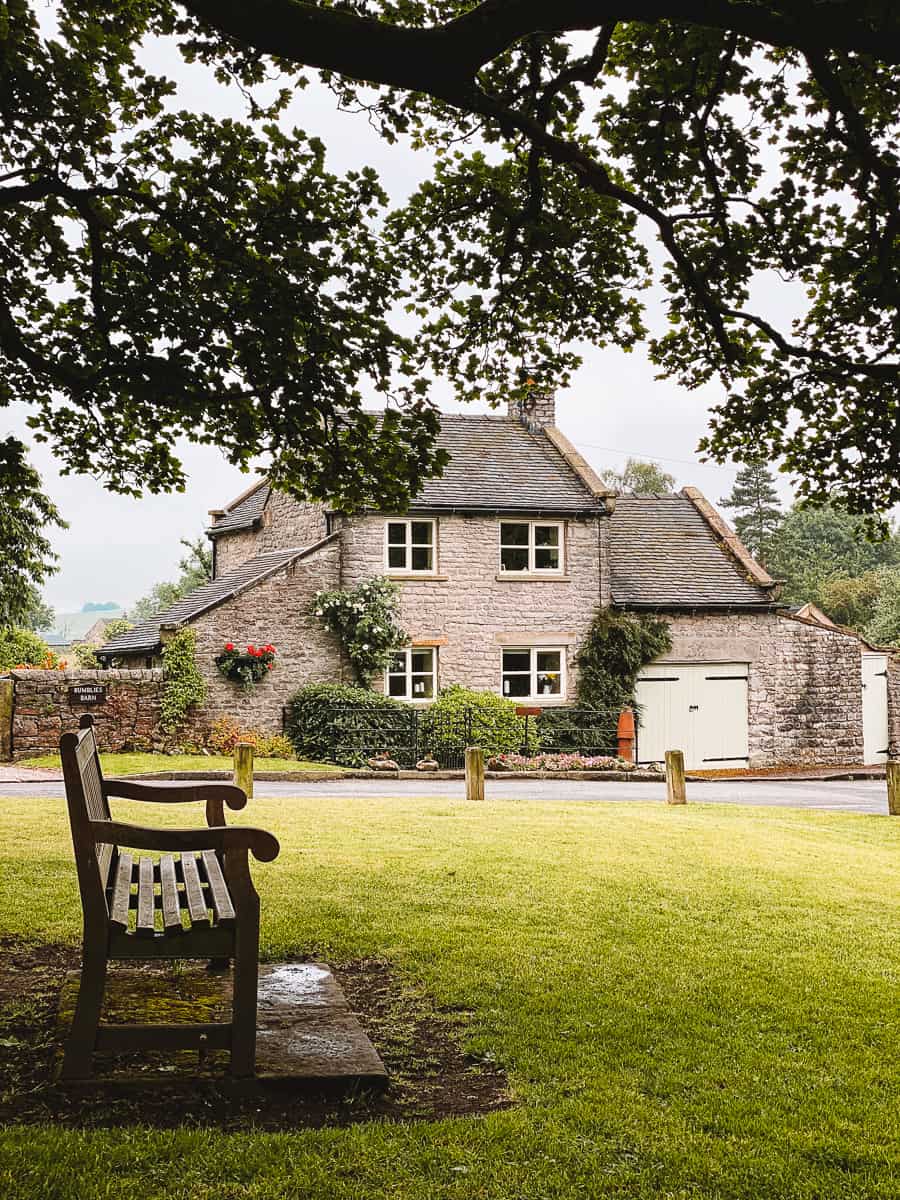 How to visit Milldale in the Peak District?
Milldale is a small hamlet that can be found in the National Trust owned White Peak Estate of the Peak District National Park.
It sits on the border of Staffordshire and Derbyshire and is near to the famous Dovedale Stepping Stones in Dove Valley.
It's quite a remote location and so the best way to visit Milldale would be to drive there. There are no bus services that stop in the hamlet.
The closest bus stop would be Alsop or Tissington and then it would be a fair walk from there. Click here for a Peak District public transport map.
I would recommend using a SatNav to find the village as the phone signal is terrible here. Milldale postcode is DE6 2GB.
Milldale car park
Milldale is a small hamlet and so there is limited parking in the village proper. You'll find two disabled parking spaces by the River Dove for accessibility and an extra 2-3 just down the road from there. But, these are usually always full.
The best place to park is in the Milldale visitor car park which is around 300 yards from the village itself. Its just a short walk along the main road to get there.
It's a completely free car park but this does tend to fill up in the summer months with hikers planning to spend the day in Dove Valley! So, if you were visiting in the high season I would aim to get here as early as you can to guarantee a parking space.
Saying that I've personally never had an issue with finding parking in Milldale at any time of day as it's a quite large car park.
Where is the nearest Milldale pub?
You may be surprised to find out that there isn't a pub in Milldale at all! This is quite unusual considering the number of visitors this tiny place gets.
But, never fear, there are a few places just outside of the village that you can visit for lunch or a well-deserved pint!
Just down the road from Milldale, you'll find the Watts Russell Inn at Hopedale. Click here to visit their website.
Where to stay in Milldale
Milldale is a tiny village with only a few buildings, so there won't be a 'typical' hotel in this remote area of the National Park.
But, there are a few beautiful cottages that rent out their properties for those travellers wanting to extend their stay!
Bankside Cottage is one that has exceptional reviews. It's a 3 bedroom property with a kitchen for self-catering!
There is also a nice cosy fire to settle down with on those frosty evenings or a garden terrace if the weather is fine.
Click here to book your stay at Bankside Cottage in Milldale!
Milldale FAQs
Are there toilets in Milldale? Yes, in the centre of the village by the National Trust information barn.
Is Milldale worth visiting? Yes, Milldale is definitely worth your time. It's a cute hamlet in the Peak District with quaint cottages and gorgeous scenery.
Is Milldale dog friendly? Yes, dogs are allowed in Milldale village but keep them on a lead due to the ducks.
Read more of my Peak District travel guides
How to Visit Mr. Darcy's Pemberley aka Chatsworth House
An easy Solomon's Temple walk in Buxton
How to find and cross Dovedale Stepping Stones
Why you need to visit Peakshole Water in Castleton
How to find Robin Hood's Cave in Stanage Edge
How to visit Little John's Grave in Hathersage
Visiting Malfoy Manor in real life!
Why you must visit Monsal Head Viewpoint
Longnor Pride and Prejudice Location
An easy way to find & visit Thor's Cave
Top things to do in Ashford in the Water
Chee Dale Stepping Stones walk
Why you must visit Scrivener's Books in Buxton
Things to do in Eyam Plague Village
How to visit Ramshaw Rocks from Pride and Prejudice
Save these things to do in Milldale for later!