If you're looking for quaint fishing villages to visit in Cornwall, Mousehole Harbour is a perfect choice. You couldn't get more quintessentially Cornish if you tried.
Famed for its tiny harbour mouth, this picture-perfect haven has a labyrinth of narrow streets, quaint houses and boats bobbing in the bay.
As a protected harbour, there is a huge history to uncover here as well as following in the footsteps of literary giants who adored it.
I'm not going to lie to you, getting to this harbour is no easy feat.
Navigating the maze of steep narrow roads can be stressful. But, it's definitely worth the effort to visit this adorable place by the sea.
It may be a tiny place but there are so many things to do in Mousehole while you're here that make it worth visiting. Here is a complete travel guide.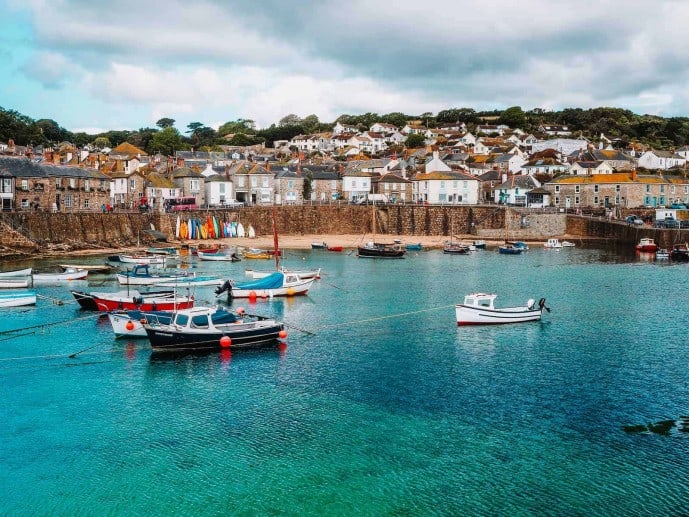 Why is Mousehole called Mousehole?
The strange name of this fishing haven has been attracting tourists for centuries but no one can ever really pinpoint why it's called Mousehole! It's a much-debated topic.
In Cornish, Mousehole is named "Port Enis" or "Porth Enys" from the Latin of Portus Insuale. That means "The Island Haven" presumably from St Clement's Island nearby.
Many say that the name Mousehole comes from the Cornish word "Moeshayle", meaning "young woman's brook".
Some say the name simply comes from the fact that Mousehole has a very small harbour.
Others have noted in old travel books like "The Land's End District" (1846) by Sir Edmund Antrobus that it comes from a hole in the cliffs nearby.
Those that saw the hole commented on it looking like a Mouse's hole and that's why they named it so. I guess the real origins will forever remain a mystery!
But, what we do know is that it's called Mousehole today and it's a suitable name for such an adorable village.
How to pronounce Mousehole in Cornwall
Something you must prepare for before you head to Cornwall is that fact that the spelling of place names are rarely pronounced how they look.
Take Rough Tor, it's actually pronounced like "Row Tor" instead of "Ruff Tor", or Marazion is pronounced "Ma-ra-ZY-un" as opposed to "Ma-RATZ-ion".
If you were to say Mouse Hole like "Mouse-Hole" here, you may be greeted with a few chuckles and sniggers.
Mousehole is pronounced "Mowzel" in Cornwall to locals. So, make sure you get your practice in before you visit!
The history of Mousehole Harbour
A famous historic fishing market
Mousehole was known as the centre of Cornish fishing trade with its endless shoals of pilchards as far back as the 13th century.
In 1292, King Edward I granted permission for the village to run one of the most westerly markets of mainland Britain here.
It was a bustling port of trade on the harbour, Mounts Bay and overseas, with hundreds of ships who would export cured pilchards to France.
Tragedies, smuggling & Cornish tongue
Unfortunately, it was not always such a harmonious place and lots of villagers faced starvation from the wild seas.
The storms meant fishermen weren't able to fish and many were starving in the 16th century.
That was until Tom Bawcock decided to brave the waters one night and rowed his boat out into the eye of the storm. It was risky, but he returned with a boat filled with pilchards.
Every year, the village celebrates this heroic act with Tom Bawcock's Eve on December 23rd.
You may be familiar with the tale from the children's storybook of The Mousehole Cat by Antonia Barber
Again, in 1595, Mousehole suffered an invasion of Spanish galleys who terrorised the village.
Many people were killed in the invasion and houses, holy places and livelihoods were completely burned to the ground. Only one Tudor property remains from that time as everything needed to be rebuilt.
In the 18th century, Mousehole became a huge centre for smuggling or 'free trade'.
As huge tax levies were placed on imported goods, it meant many of the labourers and fishermen couldn't survive. So, they looted shipwrecks and smuggled contraband.
It was also recorded in Mousehole that Dolly Pentreath was the last lady to speak solely Cornish by Daines Harrington in 1768. The language still survives today, but many speak both English and Cornish.
If you wanted to read more about smugglers in Cornwall, read this post.
Recent Mousehole history
Mousehole is now a picturesque sleepy harbour village on the coast and has seen literary giants like Dylan Thomas call it the "loveliest village in England".
But, even in the 20th century, it couldn't completely escape tragic events.
In December 1981 a lifeboat called Solomon Browne was sent out to rescue a stranded coaster, the Union Star. She was on her maiden voyage and sailed too close to the rocks at Tater Dhu.
The lifeboat and the 12 of her crew were lost at sea in the rescue attempt.
There is a Memorial Hall on Duck Street dedicated to those who lose their lives that night. The village also honours them by dimming their harbour lights in their annual event in winter.
Why visit Mousehole today?
This small area has had a huge history in the past but what is there to see in Mousehole today?
Well not only is it effortlessly adorable with breathtaking views of the Cornish coastline, but it also appeals to lots of different tastes.
History lovers, photographers, holidaymakers and those that simply love the beach. It has plenty to do if you know where to look!
From its teeny harbour, narrow streets, cosy cafés and the story of Stargazy pie. Here are all the amazing things to do in Mousehole Cornwall.
1. Stroll around Mousehole Harbour
The main attraction that draws people to Mousehole has to be its fascinating harbour.
Set right on the coast of the village, you can stroll along the harbour walls and get some amazing views of the coastline and St Clements Island.
There are many access routes where you can stroll along the harbour walls, or follow it around towards the Wharf to find more hidden coves.
You'll find boats bobbing at high tide and you can find the smallmouth to the haven which many believe is how the place got its strange name.
There is plenty of benches and rest points to take a pew, take some photos or have some fish 'n' chips! Just mind out for the seagulls.
2. Visit Mousehole Harbour Beach
Another magical part of Mousehole Harbour is the Mousehole Harbour Beach that appears here at low tide.
You'll see colourful surfboards and kayaks up against the walls, anchor ropes keeping boats at bay and you can chill out on the sands. We even met a friendly swan here who came to say hello!
As the harbour protects the village from the sea, there are still (and safe) waters to paddle and swim in.
There are actually two beaches in Mousehole, this one and the rocky pebbled one on the Newlyn side. I'll go into that later on.
It's good to note that dogs are not permitted on Mousehole Harbour Beach at any time of year.
3. Explore the labyrinth of narrow streets
Mousehole is famed for its drastically narrow one-way streets and sees many large cars get stuck trying to navigate the corners. It gets seriously bottlenecked in summer!
But, they are also a great place to explore and see what's hidden amongst them. From local art galleries, pubs decorated with colourful flowers and boutiques.
A common sight here is houses selling things like books and plants with an honesty system. Just take what you want and then pop your money through the letterbox!
I loved seeing some of the positive windows around here with displays of rainbows, cats, mice and positive messages. Plus, you can find an old village barometer.
There are lots of hidden gems to find in these historic lanes. Look out for the plaque commemorating Daines Harrington, the last lady to speak solely Cornish!
4. Follow in the footsteps of Dylan Thomas at The Ship Inn
The beauty of Mousehole is not lost on many and even figures in the literary world were captivated by its charm.
Most famously, the Welsh poet Dylan Thomas married his wife Caitlin Macnamara in the Penzance registry office.
They chose the village of Mousehole for their honeymoon on the harbour. He called it the "loveliest village in England"!
During their stay in the village, they would often visit the Ship Inn.
If you go inside today, you can find a whole section of the bar called Dylan's Corner. It was set up in his honour!
5.
Visit The Mousehole Shop

Most of the cute cottages and harbourside buildings are worth capturing in Mousehole. But, there is one in particular that is a photographer favourite; The Mousehole Shop.

It's a gorgeous whitewashed house with a teal door and windows, potted plants and even has some mice that scurry on the walls (look out for them!).

You can find it on Quay Street just above the Mousehole Harbour Beach. If you were searching for souvenirs on your holiday, you'll be glad to know that this cute cottage is as pretty on the inside as it is out.

As you walk in you'll find an array of gifts to take home from art, postcards, mugs, magnets, pottery and more! So, as well as taking endless photos of it, make sure you pop inside.
6.
Have brunch in Hole Foods

If you were looking for where to eat in Mousehole, then you'll be spoiled for choice as there are plenty of quaint cafés to hide in.

One of the best, in my humble opinion, is Hole Foods. An adorable bistro that serves up breakfast, brunch, lunch and cream teas!

The reason why I love this one so much is that it's sat right on top of the harbour, so you can eat and drink coffee with the most incredible views.

We popped in here for some breakfast before our big day of exploring the south coast of Cornwall.

It was a delicious start in the morning with friendly service. Click here for their menu.
7. Pop into one of the many Mousehole pubs & try Stargazy Pie
If you were after a more traditional pub lunch or dinner here after the sun goes down, there are plenty of historic Mousehole pubs to choose from.
From the Ship Inn that was a favourite of Dylan Thomas, to the Old Coastguard with their board games and the King's arms with a beer garden.
There is a well-known dish in Mousehole which was born of famine called Stargazy Pie.
It was invented from the story of Tom Bawcock who braved the stormy seas to bring back pilchards to the starving villagers.
After he brought back his catch, he put the pilchards in a pie but made sure that some of the pilchards heads were sticking out. Their dead eyes were then gazing at the sky hence the name Stargazy Pie.
He then fed it to the villagers and saved them from starvation. It's mentioned in the children's book The Mousehole Cat!
Whether you believe the legend is true or not, his legacy lives on.
This delicacy is only eaten on December 23rd on Tom Bawcock's Eve. It's a huge party held at the Ship Inn and the pub give it out for free just like Tom did. So, make sure you're in town for it.
8.
Visit Mousehole Bird Hospital

One of the sweeter things to do in Mousehole with a good cause is the Mousehole Wild Bird Hospital and Sanctuary.

It was founded in 1928 by sisters Dorothy and Phyllis Yglesias.

One day, their younger sister found an injured Jackdaw in their garden. They nursed him back to health and started the bird hospital on noticing the number of injured birds in need of help on the coast.

It became famous in 1967 after the Torrey Canyon oil tanker disaster. Over 8,000 seabirds were admitted to the hospital when they were injured or nearly killed with their feathers covered in the oil.

At one point it was run by the RSPCA but it's now run by public donations with volunteers and is a charity.

Each year over 1,500 mainland and sea birds are admitted to the hospital for treatment.

It's open for visitors from 10 am – 4.30 pm daily, admission is completely FREE but donations are welcome.

Inside you can learn about the amazing work the hospital does and how to help injured birds yourself.

Also, you can meet some of their fluffy patients. There are around 80 permanent resident birds here who are too sick to be sent back out into the wild. They have been given sanctuary for the rest of their lives.
9. Explore the pebbled beach in Newlyn
As well as the sandy Mousehole Harbour Beach there is another beach you may want to check out on the Newlyn side of town.
It's just in front of the Old Coastguard Hotel and has a small pool to explore in the cove.
It's not the easiest beach to navigate and you'll need to be careful of the waves around the high hide.
But, there are some steps that lead down to it. It's very popular when the weather is nice, even if it's uncomfortable to sit on!
10. Look over to St Clement's Island
Mousehole is also known as "Porth Enys" from the Latin of Portus Insuale which means "The Island Haven". Just over the horizon from the harbour, you can see the tiny St Clement's Isle where the name comes from.
Even as far back as the year 600AD, there was a religious chapel built on the isle in honour of St Clement.
In the medieval era, a small stone chapel was built in its place. It is said that once upon a time, a hermit used to live here.
Nowadays not much of the chapel remains and it has now been taken over by birds. You can sometimes see seals sunning themselves on the rocks!
It lies around 500 metres from the shore and it's apparently a popular spot to swim to and back.
Local boys used to do it as a rite of passage years ago… but with the temperatures of the water and the tides, it's a hard pass from me!
11. Walk to Penlee point or Lamorna Cove on the South West Coast Path
The South West Coast Path is a huge 630 mile National Trail, that takes you from Somerset, Devon, Cornwall and Dorset.
It's thought to be one of the most beautiful in the world as it takes you over the gorgeous UK coastline.
There are plenty of walks that you can take from Mousehole along the coastal paths here if you fancy stretching your legs;
Mousehole to Penlee Point walk: (0.4 km, 12 mins) is a tiny area that lies off the headland from Mousehole. It was location of the Old Penlee RNLI station and the launching point of the Penlee lifeboat that was lost in 1981. Around a century ago many people worked the stone quarries here. Now, it's a Site of Special Scientific Interest and has a gorgeous viewpoint from the cliffs shore.
Mousehole to Lamorna Cove walk: (2 miles, 1 hour) a little bit of a harder walk than Penlee Point, however Lamorna Cove lies within an Area of Outstanding Natural Beauty. It's a village and valley that has a stream leading out into the sea and cove. It's incredibly picturesque with huge boulders, a pebbled beach and turquoise waters.
12. Visit the Mousehole Harbour Lights in Winter!
The Mousehole Harbour Lights festival started off in 1963 when a local artist called Joan Gillchrest installed a string of coloured lights across both quays.
She wanted to bring the village a little Christmas Cheer in the winter.
It is now a huge tradition and event that takes place each year with bigger and better lights. Some within the village, some out on the harbour and even some at sea!
The event is run solely by volunteers in the village and they often have new projects. The biggest was installing a crucifix on St Clements Island you can see overhead.
The Mousehole Christmas event starts in December and is completely FREE to visit although donations are welcome (watch out for fraudsters trying to charge you). You can visit anytime between 5 pm and 11 pm to see thousands of festive lights twinkling against the night skies!
Why are the Mousehole harbour lights dimmed?
Every year, the Mousehole Harbour lights are dimmed to remember those who lose their lives in the Penlee lifeboat tragedy.
On the 19th of December, the Solomon Browne was launched from the nearby RNLI station.
It battled through 100mph winds and 60ft high waves to try and save the coast liner but never made it home.
The lights are dimmed on the 19th December for an hour as a mark of respect.
Practical tips for visiting Mousehole Cornwall
Getting here is not easy – The roads leading towards Mousehole are some of the narrowest in Cornwall. Although many of the single track roads are one way only, most allow two-way traffic. You'll need to navigate through these steep narrow streets and tight corners! We waited a good 30 minutes for someone to get their huge Jeep around a tight corner. Just be mindful.
It gets extremely busy in summer – Most beauty spots in Cornwall are extremely busy in the summer season. Mousehole is no different. If you want to bag a parking spot get there early or, better yet, plan your visit in the shoulder seasons of Spring and Autumn.
You'll be parking on the harbour walls – If the mainland car parks are busy or full in Mousehole, you'll need to drive along the harbour to find a space. It's okay getting in…not so fun trying to reverse getting out. I had serious anxiety reversing my car, I was sure I was going to go over the edge! But, all good, there is a barrier.
A great time to visit is at sunset – during the day is great, but it does get extremely packed. The views over the harbour around sunset are beautiful and there'll be a bit more room to breath.
Where is Mousehole in Cornwall and how to get there
Mousehole is located on the south-westerly coast of Cornwall and is perched nicely in between Penzance and Land's End on Mount's Bay.
To access the village you'll need to take the A30 heading south all the way until you reach the B3315 road towards the village.
Many people will recommend that you don't drive into Mousehole but park a little bit outside and walk in. If it's a busy day, cars get stuck here in a bottleneck all the time! You have been warned.
If you wanted to reach Mousehole on public transport you can easily access the village from Penzance by bus.
The M6 service by First Kernow runs from Jew Street and stops at Mousehole. The journey takes around 15-20 minutes.
Advice for the Mousehole parking situation
Le Sigh. Driving and parking in Mousehole is probably one of the worst parts of visiting.
Granted it is a small harbour and the roads were made for villagers way before the likes of cars were even invented. But, driving around these sharp corners and narrow lanes just plain sucks.
Especially as there are lots of people walking around too and you can get stuck in a head to head with another car. One of you will then have to reverse aaaall the way back. It can be painful!
There are a few car parks in Mousehole. The main one is by Quay Street which is the easiest of the car parks to get in and out of right as you enter.
If this is full, you can then drive around the narrow roads over the Wharf Car Park. This has a limited number of parking spaces on the mainland.
If this is full, you'll need to park on the harbour walls themselves!
Parking is manned by an attendant and you'll pay him a cash fee of £3 per day in summer and £2 in winter.
If all else fails there is some roadside parking outside the Old Coastguard Inn that is completely free on the roadside and you can walk into the village. Some say this is the better choice.
Where to stay in Mousehole Cornwall
The Ship Inn: Situated right on the harbour, this inn is one of the most popular in the village. Many of the rooms have a sea view and you have the added benefit of a top-rated restaurant and bar below. Click to book.
The Old Coastguard: Another seaside hotel in Mousehole with fourteen bedrooms with nearly all of them overlooking the sea with your very own terrace. Again, you have a restaurant and pub below you. Click for rates.
The Old Pilchard Works: a chic Bed and Breakfast with a garden and terrace. Located right in the heart of Mousehole. Click here for rates.
The Old Exchange – Why not book a spacious holiday cottage that sleeps 4 in Mousehole? It's a gorgeous detached property with a garden and you have the benefit of your own parking space while you're here. Click here to book.
What is near Mousehole?
After you've explored all that Mousehole has to offer. What next? Well, the west coast of Cornwall makes a fantastic road trip.
There are so many places to visit here including ancient sites, magical tidal islands and even the very ends of the earth itself!
Trefiggan Burial Chamber & Merry Maidens
Cornwall is filled to the brim with ancient sites dating back thousands of years to the Neolithic and Bronze Ages.
From stone circles, dolmen chambers are all surrounded with Celtic legend and folklore. There are a few ancient sites near Mousehole that may be of interest and are easy to access inland.
Trefiggan Burial Chamber is a type of Bronze Age chamber called an entrance grave. They were mainly used by early humans for funeral arrangements and rituals. This is free to visit and you can find it along the main road two miles south of St Buryan on the B3315.
The Merry Maidens of Boleigh are also a popular site with tourists. It's a Bronze Age stone circle that dates back 2,500 BC. The name for the circle used to be the Cornish 'Dans Meyn', meaning dancing stone.
However, the name changed in Victorian times to Merry Maiden. According to legend, these were local girls who broke the rules of dancing on the Sabbath day and were turned into stone!
This is a very similar story to the Hurlers on Bodmin Moor, read more about them here!
St Michaels Mount

Another spectacular spot you can visit in south Cornwall is Marazion, pronounced Maraz-eye-un', which is home to St Michael's Mount.

It's a tidal island that you can walk over on foot! It's a melting pot of myth's, magic and mystery and has one of the most colourful histories from 495AD.

St Michael's mount is 500 metres away from the mainland and can be walked to at low tide in the day.

Alternatively, you can catch one of the many boats heading over there at high tide!

The mount has a small harbour, village, gardens and the imposing St Michael's Castle on the top.

Click here for my top tips for visiting or read all about the legends and history here!
St Levan Church
St Levan is a gorgeous rural parish that sits on the west coast of Cornwall and is really close to Porthcurno village and beach.
Around the parish, you can meander around gorgeous coastal paths through farmlands and villages, clifftops to find hidden beaches and adorable historic chapels!
The parish church of St Levan has been here since the 4th century!
It was originally created by Duke Padern, a saint of Cornwall, who made a Dukedom here.
As well as exploring the church, you can find St Levan Stone outside which almost looks like it's been split in two. For centuries, this stone was a pagan site that has been connected with fertility. Nearby is also the site of St Levan's Holy Well.
Minack Theatre & Porthcurno
Minack Theatre is one of my favourite parts of England. It's an open-air theatre that sits high on a clifftop overlooking the sea.
As a previous performing arts student, I always dreamed of being able to perform in this amazing amphitheatre along the Southern coast.
They put on numerous performances to watch throughout the year and you can visit during the day as well.
It has some of the best views on the west coast!
Although this theatre looks like an ancient Roman amphitheatre it's actually only 100 years old and was founded by the wonder woman Rowena Cade.
She built this whole theatre by hand, using only basic tools, and it was her life's work. Today this theatre is famous all over the world.
Nearby is the stunning Porthcurno Beach which is not only one of Cornwall's best beauty spots but also a Poldark location!
Click here to read more about visiting this incredible open air theatre
Porthgwarra
One of my favourite finds on my recent trip to Cornwall was the secret hidden cove and Porthgwarra Beach.
Being an avid Poldark fan, I was on the hunt for some of the top filming locations and stumbled upon this serene cove on my adventures.
Fans will remember this as the spot where Ross takes a bath in the sea as Demelza watches on. It's one of the most iconic scenes of the series.
It is a little bit of a struggle to get to along single track roads but it is well worth the drive as it's a gem!
You can either relax at the top of the cove and have tea in the café or head down into the cave to access the crystal clear waters on the cove.
Click here for my complete guide to this secret cove in Cornwall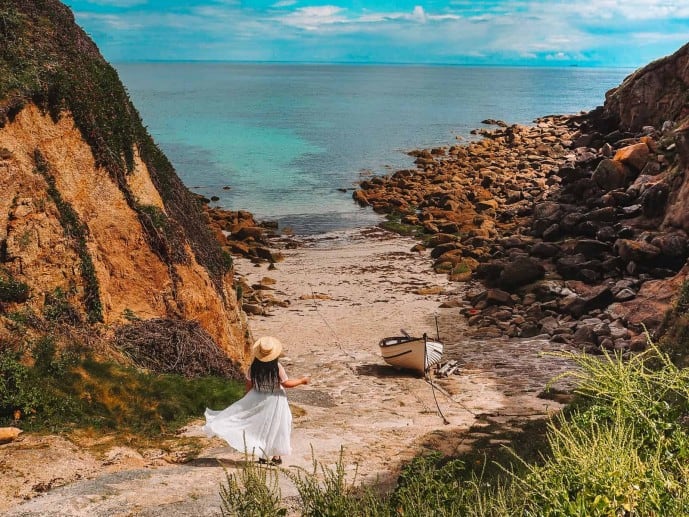 Land's End & Sennen Cove
No visit to the south of Cornwall would be complete without a stop off at Land's End to see the very end of England.
This landmark has been attracting tourists for nearly 400 years! Nowadays, it's a whole complex that you can visit.
The Land's End Landmark attraction is FREE although many of the things inside it do come with a charge and you will pay out the nose for parking.
You can make a phone call at the end of England, send a postcard stamped at Land's End, have the most southerly Cornish pasty, take a photo with the Land's End sign and go on the wealth of pretty walks around the area.
There really is something for everyone here and it can be as cheap or as expensive as you like. Or, head on over to the history of Sennen Cove which is a popular beach and surf spot.
The First and Last Inn is also worth a look in to see some of the old smuggling tunnels!
Read more about all the things to see and do at Land's End
Read more of my Cornwall guides
St Aubyn Estates Cottages review
How to visit Tregothnan Estate in Cornwall
Things to do in Charlestown Cornwall
The Museum of Witchcraft in Boscastle
How to visit the Lost Gardens of Heligan
Things to do at the Jamaica Inn
How to visit Golitha Falls in Cornwall
A complete guide for the Cheesewring Hike
Secrets of the Admiral Benbow Inn
Where is Driftmark filmed in House of the Dragon
How to visit Holywell Bay from House of the Dragon
Magical things to do in Kynance Cove
Save these things to do in Mousehole for later!