Munnar was by far my favourite stop of my week in Kerala with India Someday. As we wound our way up the hill from Fort Kochi, I already knew I was going to love it.
There just seemed to be an endless jungle for miles, with rolling hills, wildlife, and waterfalls. It seemed like I had found the Gods Own Country everyone had been talking about.
There are a thousand places to visit in Munnar while you're here but I'm going to boil it down to the very best to guide your itinerary.
From tea plantations and tastings, swimming in waterfalls, visiting wildlife parks, and being amongst the clouds with epic viewpoints. You'll be spoilt for choice!
Here are the top 20 things to do in Munnar – your ultimate Munnar travel guide!
Heads up: my trip to Kerala was a sponsored press trip with India Someday. But, all opinions and photos are my own. Click here for a review of their services, or see my full itinerary here!
Tips for visiting Kerala
I flew to Cochin Airport from Delhi via a 3-hour domestic Vistara flight for less than $50! Skyscanner is my go-to for checking cheap flight prices.
In Kerala the locals speak Malayalam, they even have their own songs and films that have been recorded in the language. As one of the most literate states, they speak excellent Hindi and English
Kerala is a politically appointed Communist state, so you'll see lots of communist flags and artwork around the area.
Getting around Kerala can be quite a minefield with public transport. But, there are buses and trains. I would personally recommend a hire car for your time here.
You'll need travel insurance, I always choose World Nomads for their flexible policies.
I stayed connected with my Keepgo WiFi Hotspot, these kept my mobile roaming charges capped! But, getting a SIM card in Delhi is also a great option that provides you with 1GB per day for 30 days.
In Kerala they use the rupee, I always found that State Bank of India (SBI) was the best as they take foreign cards as they don't charge you extra for withdrawals.
Kerala is a little more conservative than its neighbour Goa, but not as conservative as Delhi, so make sure that you dress appropriately. But, it's not uncommon for tourists to wear strappy tops, dresses that show your legs and shorts either. In Munnar, it does get quite cold in the evenings, so bring a warm jacket!
Where is Munnar in Kerala?
Munnar is a hill station in the South of India that is exactly 1,532 metres above sea level!
As well as having acres of dense jungle, it's also home to the highest peaks outside of the Indian Himalayas.
The Munnar as we know it today, with its tea plantations and factories, was founded by British explorers in the 19th century. Since then, it expanded and became accessible for tourists all over the world!
Thousands of people head up the hill each year to enjoy a holiday in cooler temperatures in amongst nature. It has some of the best views I've seen in all of Kerala!
When is the best time to visit Munnar?
Personally, I always avoid peak times to travel. I always find this makes hotel prices go up threefold and the place are so busy you can't really enjoy them! But, it couldn't be helped this time.
While I was visiting, it was a Navratri Festival in October and so a lot of domestic tourists were visiting Munnar over this time. That made the roads extremely busy as well.
Like a domino effect, all the attractions were packed out and the roads were jammed too!
The peak season of Kerala is September to March which is the best time to visit for the weather. But, I'd expect big crowds.
April – June is the summer months, which although hot, is the perfect time for wildlife spotting. It will be busier due to everyone wanting to escape the heat in the clouds.
Another great time to visit is in Monsoon from July – September. The rains will fall, making all the jungle nice and lush, plus there will be lots of waterfalls to enjoy in full force!
I would suggest the in-between seasons at the end of March or the end of September. This is still counted as the 'off' season so everything will be cheaper and you'll avoid some of the heavier crowds too.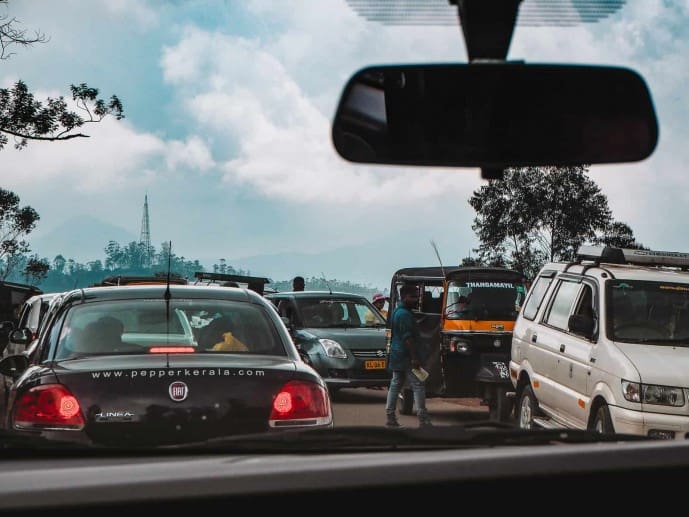 How to reach Munnar
The easiest and most convenient way to reach Munnar is to self drive from Alleppey or Kochi. This means you can take your time, stop where you like and have the freedom to go sightseeing.
But, there is the option to hire a driver if you don't plan on driving and also take a shared taxi too.
Public government buses are available but I'd recommend this as your final option or if you're on a shoestring budget.
Click here to ready my complete Munnar road trip guide, with sightseeing, lunch stops, and more!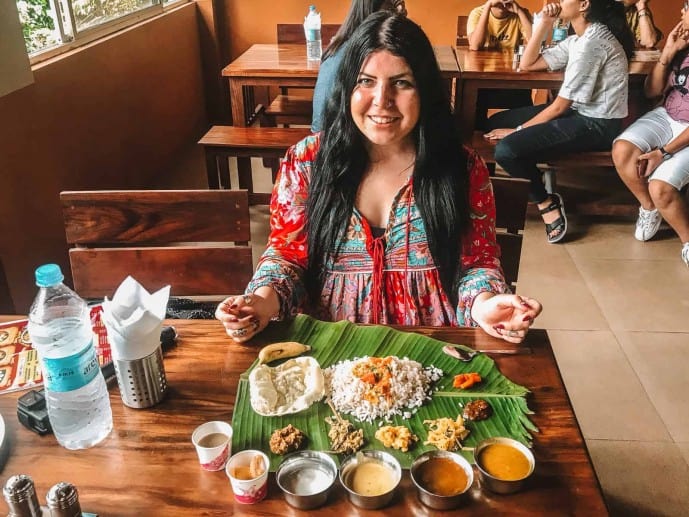 Do trains run from Kochi to Munnar Hill Station?
Although Munnar is technically a hill station in India, that boat sailed as soon as the British left.
There used to be a train that would run up to Munnar and even Top Station, but now both of those are relics and what is left was moved to museums.
In fact, the old train station in Munnar is now a factory and what is left of Top Station is simply cement!
The only way that you can get up to Munnar from Kochi is to drive up the winding hills by car or bus…
Kochi to Munnar bus
There are public buses but there aren't really many governments/private buses (like on redbus.in) designed for tourists to get here.
So, you'll need to do a bit of working out in order to reach where you're trying to go.
If you decide to take the public buses, you will probably end up getting around three buses in total and the journey will take around 5/6 hours without stopping.
Speaking from personal experience with riding hundreds of hours on local buses, I wouldn't recommend it unless you're on a tight budget! Imagine honking, crazy drivers going way to fast and lugging all your luggage around in the sweaty heat…
The whole journey will probably cost you less than 100 rupees though so it is a bargain if you're willing to make the effort.
Kochi to Munnar by self driving, taxi or a tour
If you have your own car and can self-drive up to Munnar, this is your best bet!
Not only will having your own transport mean you have more freedom and can stop where you like, but when you get to Munnar all your sightseeing can be done by car too.
Most tourists tend to hire a private taxi or sharing car to make their way up from Fort Kochi to Munnar. Or, you can do a day trip to Munnar too.
To me, hiring a car makes the most sense as once you're here, getting around can be quite a challenge without one.
But, if you are backpacking or you're without a means of transport, have a look at some of these day trips to Munnar here;
Private Day Trip around Munnar
How long will I need to stay in Munnar?
I would say to make the very most of the area you'll need at least 3 days.
That way you have time to actually make your way up here (the drive can take 4-6 hours from Kochi or Cochin airport) and then do some proper sightseeing.
Munnar is split up by certain road 'routes' and it's best to stick to one per day.
As most of the roads are winding, if you try to do too many or more than one route you may find you spend most of your time in traffic.
The most popular is the Top Station route, so if you don't like crowds or traffic I'd avoid that and look for a different way to spend your time. Luckily, in this list, I have around 20 things to do in Munnar, so you'll have plenty of options!
20+ things to do in Munnar – The ultimate list!
Are you ready for the ultimate Munnar bucket list? I may be biased, but I think the below has a great mix of the best things Munnar can offer.
There is historical places, culture, tea gardens, foodie stops, viewpoints, waterfalls and wildlife. So, you won't be bored!
Here are the top Munnar tourist places.
1. Take a selfie at Cheerappaya Falls
This is most likely the first waterfall you'll see in Munnar and it's worth stopping for a few snaps…along with half the other tourists that are heading up this way haha!
This is one of the most popular pit stops and so you'll see tourist cars backed up for miles along here.
Cheerappaya Falls has often been nicknamed the seven steps waterfall as it cascades down seven tiers of a rocky cavern. It also falls from 300 metres, so it's really pretty and perfect for photos! There's a small viewing platform at the bottom.
As I was the only western tourist there, I felt bad as the crowd parted ways for me to take some photos. But, I took the opportunity!
There will be crowds here with selfie sticks and tacky food and gift stalls too. But, it's worth it, even to stretch your legs on the long drive.
Read more about the prettiest Munnar waterfalls here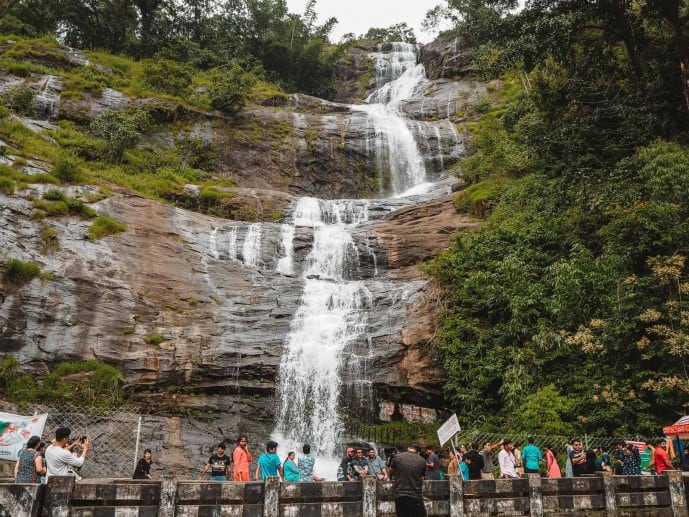 2. Visit Valara Falls
Valara Falls is another spectacular waterfall stop that almost goes hand in hand with Cheerappaya.
Although you can't really get close to it, you can see this waterfall crashing from 1000 metres high over the jungle!
The origin of this waterfall is the Western Ghats of the Deviyar river. My guide told me that the water flow in October was 'weak' compared to Monsoon (July – September). But, it didn't look very weak to me haha.
It is just a pitstop at the side of the road and this time with no viewing platform. So, you can stop and hop over the road to take some snaps.
Just be careful of traffic on your way over as there will be cars zooming down the Cochin – Munnar highway in both directions.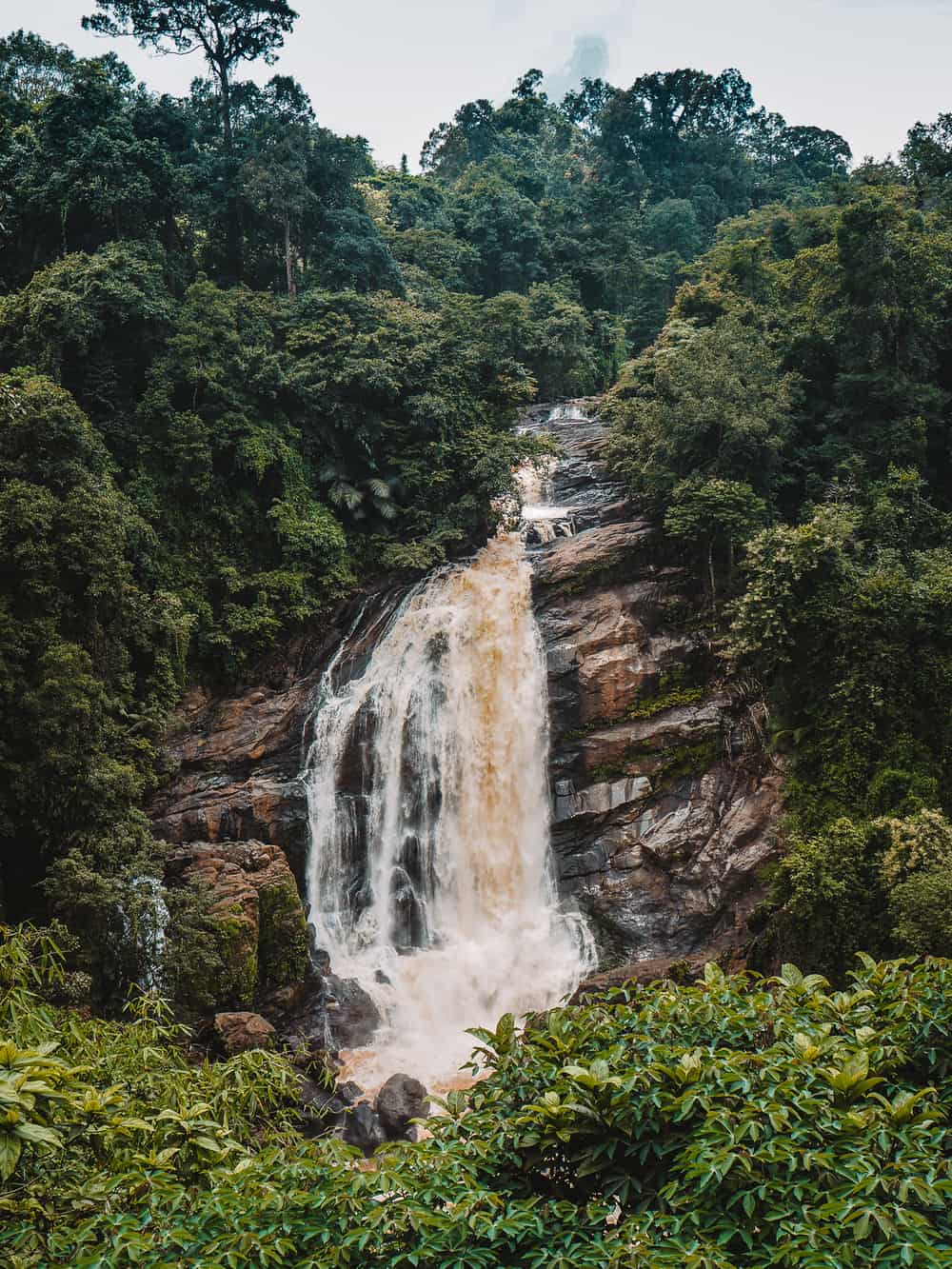 3. Eat a traditional Malayali curry on a Banana Leaf
Okay, so this is a little touristy. But, having a curry on a banana leaf in South India is a staple bucket list territory.
Not only is having a curry on a banana leaf totally cool, but it's also a great way to try a range of Kerala dishes. Kind of like a typical Thali, but on a leaf!
You will get a big pile of rice in the middle of your plate…or errr…leaf and it will be surrounded by little bowls of chutneys and curries. Some of these will be sweet, so make sure you ask which ones are desserts before you have it with rice lol.
I tried my traditional curry at Clay Oven, which had 3/4 curries, 2 chutneys, rice, a banana, banana chips, and pappad! Safe to say I was extremely full afterward.
I washed it down with a fresh pineapple juice and you could stick a fork in me after that. This is definitely something you need to try while in Munnar!
4. Stop at Kallar Falls
There are so many pretty waterfalls and what amazed me was how many are just a stop on the side of the road. You really don't have to go far to enjoy the beautiful landscapes around here.
One of these accessible waterfalls was Kallar Waterfalls in Munnar. It flows down a rocky river, under a bridge so it's a great place to stop to take some waterfall photos.
Unlike other waterfalls in Munnar, you can't go trekking or swimming in this one. It's just for a quick photo. But, worth putting on your list.
5. Admire the views from Karidipara Viewpoint
This was one of my favourite viewpoints in the whole of Munnar.
After our long drive from Fort Kochi, it felt good to finally reach the top and take a tea break. It's even better when you know that you'll be sipping on a chai with epic views!
Karadipara Viewpoint is a roadside restaurant that is just outside of Munnar on the Cochin – Munnar highway.
So, you can enjoy lunch or a chai with the views from the seating area or pay to enter the viewing platform below.
From here, you can see endless hills and, as we got here at sunset, the lighting was perfect for photos.
Entry to the viewing platform is 10 rupees a person but the views are priceless!
6. Watch Kalaripayattu, a Kerala martial arts performance
Kalaripayattu is an ancient form of Martial Arts that originates from the time when the warriors of Kerala used to be here!
The training for Kalaripayattu starts when a boy or girl is young and is seen as a lifelong profession.
With each level of training, the weapons get more intense. For example, you start off with wooden sticks and make your way up to swords and maces.
I was so excited to see this performance and I went to the most famous which takes place in Punarjarni Traditional Village in Munnar.
It almost felt like a colosseum when I arrived and we were going to watch gladiators fight! We saw men and women fight with sticks, swords, kicking footballs triple their height, and even jump through burning hoops of fire! Don't forget to join in for a few cheesy photo ops!
It is well worth going to see a Kalaripayattu in the evenings here in Munnar.
Click here for more details on how to book tickets online, prices depend on your seat category.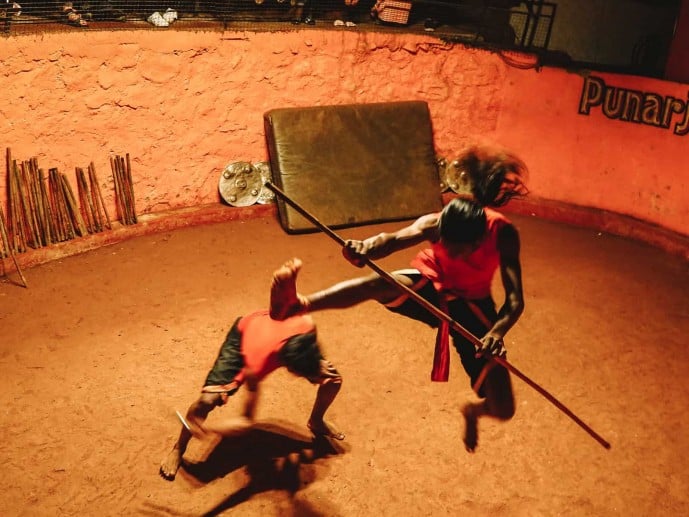 7. Go off roading in a 4WD Jeep
Although you can access most of Munnar in a car on the main roads, the most fun way to explore is by going off-road into the jungle!
You can hire a 4WD Jeep, or take a tour in one, and go riding around tea plantations and access viewpoints that are hidden to the public!
I'm not going to lie to you, it is a bumpy ride. So, ladies come prepared with a good bra ;) but it was the most fun I had in Munnar and it feels like a real adventure.
I travelled with Route 49 Adventures while I was here and we went everywhere in our Jeep. It's definitely a way to explore Munnar in style.
8. Visit the Letchmi Hills and tea plantation
If you're looking for a perfect photo spot to capture the tea fields, then the Letchmi Hills is a popular choice.
As well as the fact you can go on a trek through these hills, Tata owns a part of it for the Kanan Devan Tea Plantation too.
We took our jeep, off-roading through the Letchmi hills to have a look at some of the viewpoints. It was spectacular and had some of the most breathtaking views of the tea fields I had seen in Munnar.
When we got here, the visibility was quite low due to it being almost dark and the fact that the rains had caused a bit of mist on the hills. But, despite this, I still think the photos came out amazing.
The best time to visit would be at sunrise when the lighting is softest!
Read more: the best tea gardens in Munnar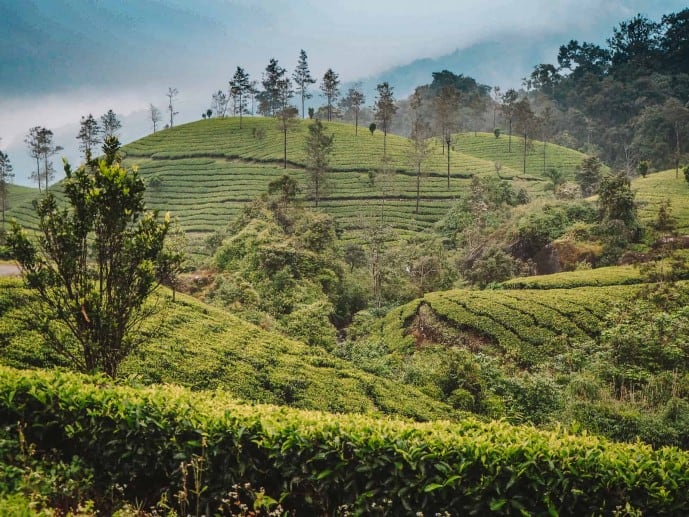 9. Spot a Nilgiri Tahr at Eravikulam National Park
If you're looking to visit one of the many wildlife parks in the area, Eravikulam is a great choice. It's one of the oldest national parks in Kerala.
Not only does the park provide breathtaking views, including the highest peak of Anamudi, you get the chance to spot a Nilgiri Tahr deer as well!
Eravikulam used to be a game reserve during the British Era, so many people from all over the world came here to hunt deer and other animals.
But, now the park has been set up to protect them and they are proud to have the largest Nilgiri Tahr population in the world!
You will have to buy a permit to enter the park and you'll be walking for just a few kilometres on solid concrete to spot one. But, it's worth it for the views even if you don't get to see a deer! My top tip would be to leave as early as possible.
Read more: my essential tips for visiting Eravikulam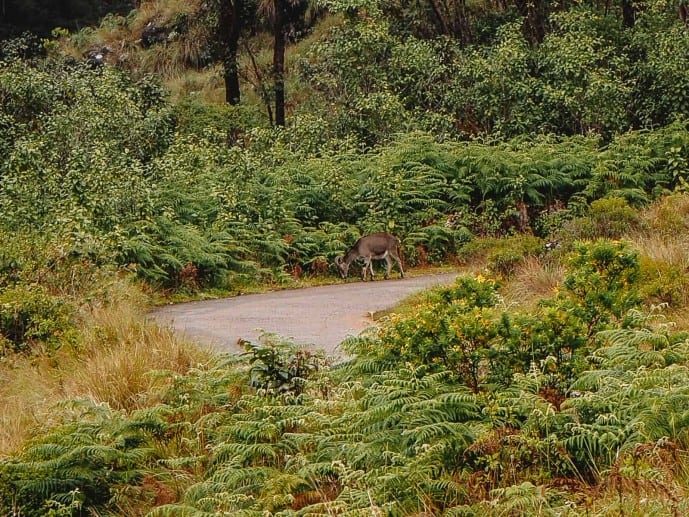 10. Go swimming in Lakkam Falls
Another waterfall that sits in the wider Eravikulam Plateau is Lakkam Falls. The reason why this waterfall is special is that you get to swim in the lagoon beneath it!
Although it is part of the national park, you don't need a permit to enter and it only costs 20 rupees for a standard ticket. But, if you want to explore further, enquire about the treks they have too.
When you're finished taking photos of this pretty waterfall, you can change to go swimming. I will warn you now it is cold in the water, but as it was so humid, I didn't care.
When I was walking around here, I felt a little nibble on my toes! Then, I realised I was getting a natural fish spa haha. I put my GoPro under the water to see them. It looked freaky.
Ladies, I would not pack a bikini to swim here but change into some modest clothing that covers you up to respect the culture. Trust me, I've learned from experience.
Read my guide for more details on visiting Lakkam falls here
11. Visit Lockhart Tea Plantation
Seeing a tea plantation is one of the top things to do in Munnar. But, you may be surprised to know that many of them are blocked off to the public so you can't enter them.
That means that there are crowds of people outside taking photos.
Personally, I wanted to get in amongst the fields and escape the crowds. So, I was really happy to discover that Route 49 Adventures have a permit to enter private tea plantations so you can go trekking inside them.
We took our 4WD Jeep into Lockhart Tea Plantation, one of the oldest in Munnar, which had picture-perfect views with the backdrop of the mountains too.
As part of our tour, we got to stop and take lots of photos, go trekking, meet the tea plantation workers and then head to the tea factory too.
This private tour was the highlight of my trip and I would 100% recommend you take this route if you really want to explore a tea plantation and escape the endless tourists.
Read more about my trip with Route 49 adventures here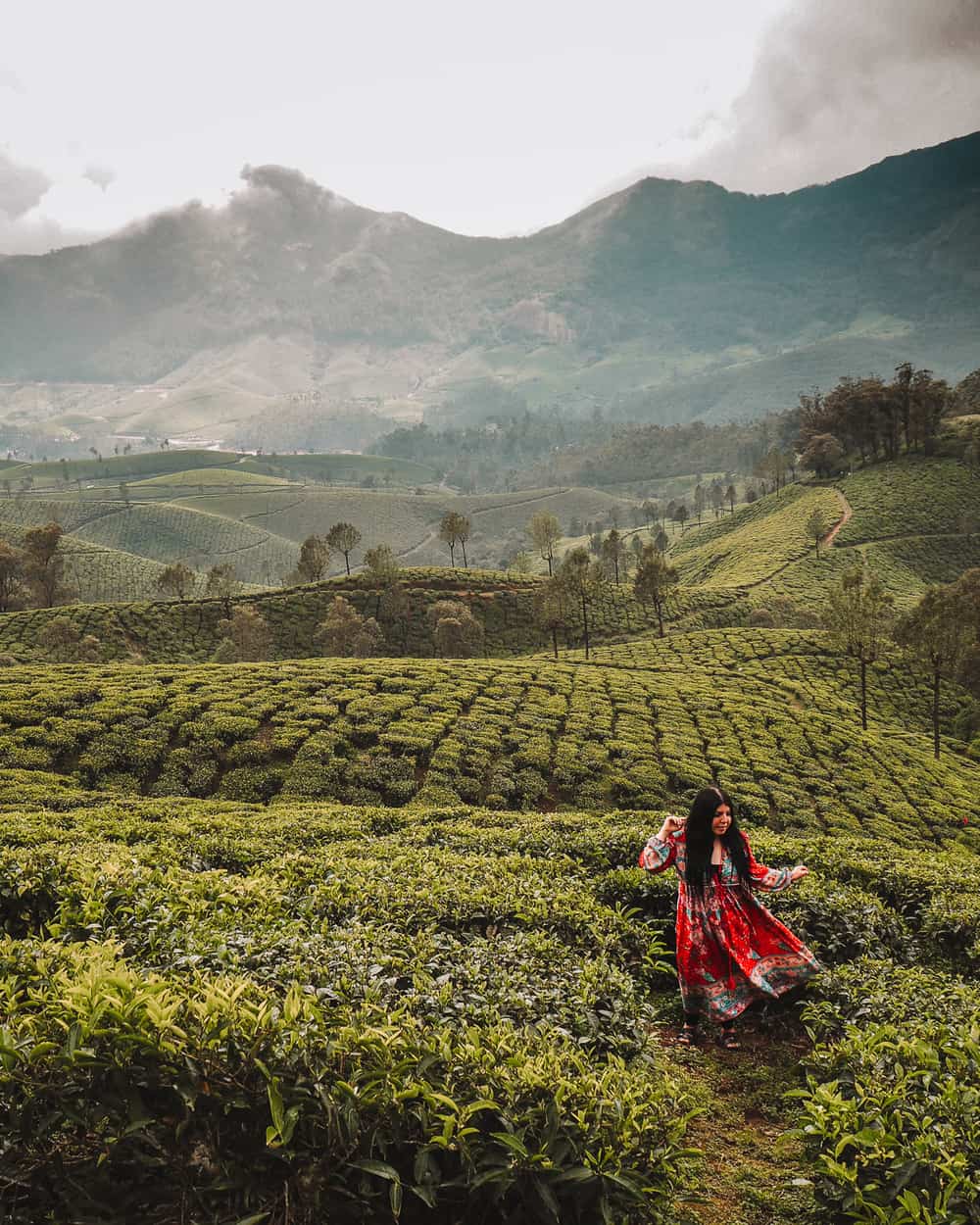 12. Learn how tea is made at Lockhart Tea Factory
If you want to get stuck in and learn about the history of tea production in Munnar, then you must visit one of the Tea Factory Museums.
Lockhart Tea Factory is one of the oldest tea factories in the area that still produces tea today.
In their factory, you can go on a guided tour to see the whole cycle of tea production, from the wilting process to oxidation which decides which type of tea it will be, to packaging.
You do have to put shoe covers on to enter the factory and photos inside are strictly prohibited. Not to mention the smell is so intense!
But, you can browse around the museum to see photos and equipment that used to be used during the colonial era. Plus, they also have a tasting area, café, and some fantastic viewpoints that you can relish in too. See here for details.
As well as Lockhart Tea Factory, there is the Munnar Tea Museum which is part of the Kannan Devan Hill Tea Factory. This is the oldest and largest tea production in Munnar and produces 22 million kilos of tea each year.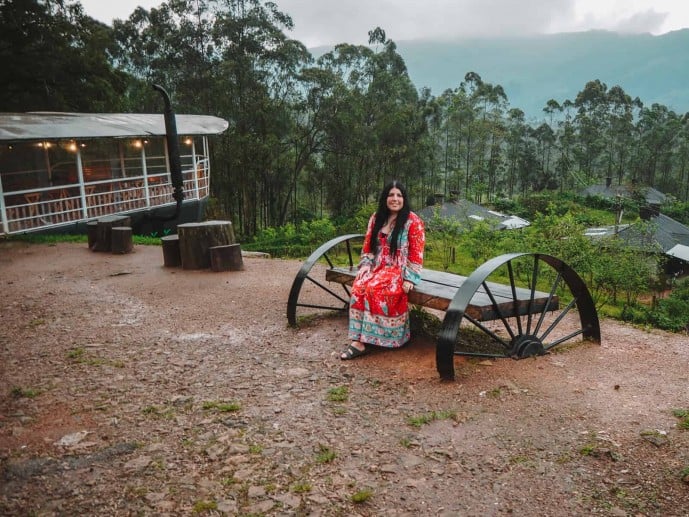 13. Go for a tea tasting at Tea Tales Munnar!
To finish our tour, we went on a tea tasting at Tea Tales Munnar which allowed us to sample some of the amazing teas grown here.
Although this was part of the tour with Route 49, I've put this separately as you can go for a tea tasting without buying the whole tour.
Unfortunately, on my visit, the power went out halfway through due to the rain but as they say, the show must go on!
We tried all sorts of teas like Munnar Green Tea, Pekoe Tea, even Rose Tea. I loved learning about how each tea is made and how the type of tea depends on how it's produced and oxidised.
If you're on a budget and don't want to have a whole tea tasting, pop into Tea Tales Munnar has a menu where you can sample teas individually to get a taste.
14. Visit Christ Church – the oldest church in Munnar
If you're looking for an activity to escape the rain, you may be interested to know that C.S.I Christ Church in the city is the oldest church in Munnar.
It's a quaint stone building that was built in 1910. If you make your way around the building, you can find the old baptism pool still intact!
You will need to take your shoes off to enter the church, but the inside is completely stunning. You'll find stained glass windows, chandeliers, and even London exchequer stamps on the walls.
A lot of third and fourth-generation British people whose fathers worked here, visit to find the names of their relatives on the walls or buried in the graveyard.
It is still an active church today, so avoid visiting during service time in the morning and evening.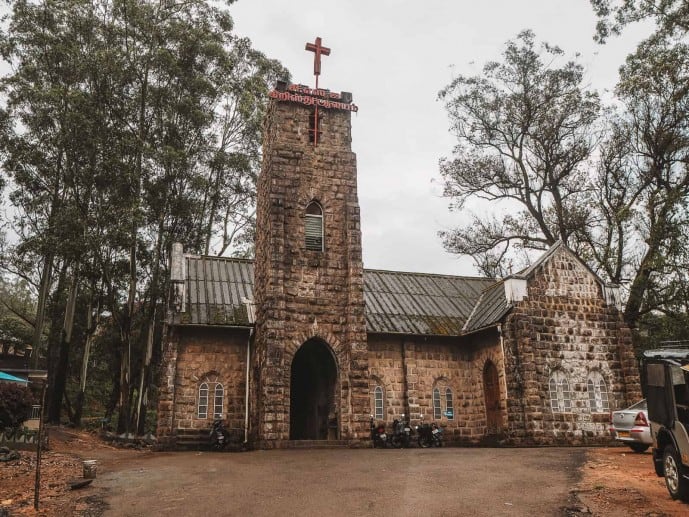 15. Try a local favourite snack – a deep fried banana!
I always love trying local snacks when I travel and a popular treat with locals here is to eat a deep-fried banana!
We stopped off at a random tea and cake shop in Munnar for a snack when I spotted them at the counter. My guide recommended that I try one and it was actually amazing!
We had ours fresh out of the pot and I would recommend looking for someone who has just made a piping hot batch of them.
In the UK, we aren't shy of battered sausages, pineapple, burgers, pizza, and even chocolate bars. If it's food that can go in the fryer, it's edible. So, I'm happy to have added a battered banana to my tick-off list.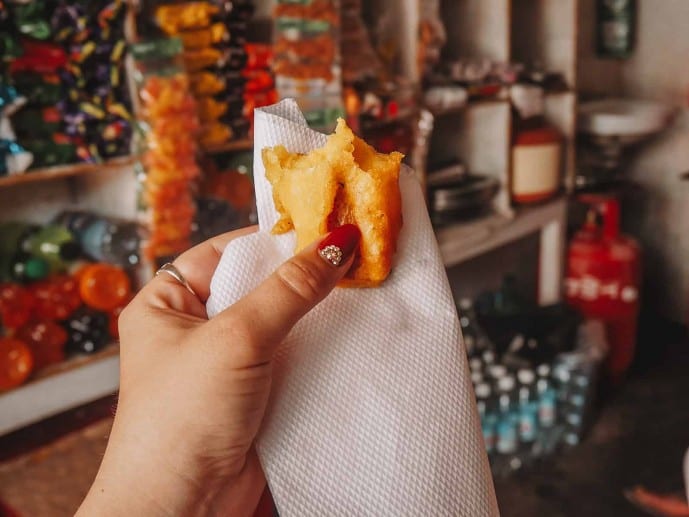 16. Drive up to Top Station to see Tamil Nadu
This wasn't my favourite activity by a long shot but as it's one of the most popular things to do in Munnar, I can't avoid putting it on the list.
Top Station is one of the highest viewpoints in Munnar and you may be surprised to know it's actually on the border of Tamil Nadu, a different state in India entirely!
It used to be a terminal shipment station for transporting tea that was part of the Kundala Valley Railway until 1924. After the great flood of 99, it was never rebuilt.
The reason why I wasn't a fan is due to the busy roads with endless traffic, the fact that you have to walk through miles of food stalls to get to the view, and then finally the 'view' we had travelled 2 hours for was shrouded in clouds!
But, you may get lucky though. It's best to leave as early as possible before the clouds roll in. So, sunrise treks and camping up here are popular.
If you are one of the unlucky ones like me, I would recommend grabbing a chai and waiting it out a while. We did that and eventually, some of the views did appear.
If you want to know more and whether a drive up to Top Station is worth it, read this post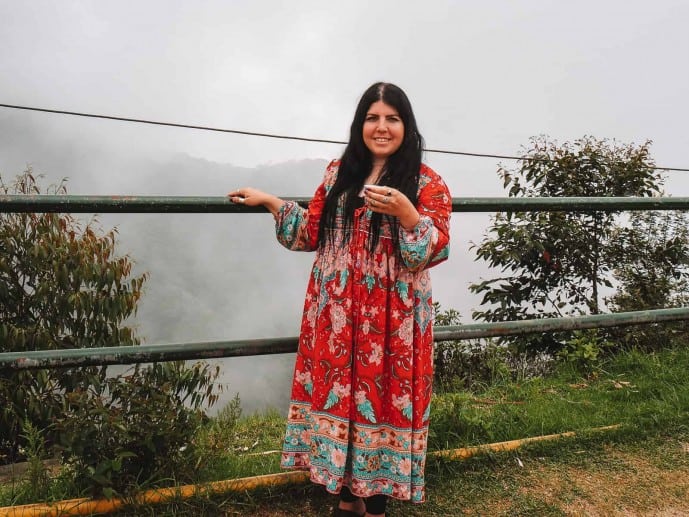 17. Make an echo at Echo Point
There are a few activities that are worth stopping for on the Top Station route and Echo Point is definitely one of them.
It's a gorgeous reservoir that sits in the hills and a phenomenon happens here where if you make a loud noise, it echos back! Hence the name.
It reminded me of a book I used to read as a child called the Little Beaver and the Echo. Where he's lonely and eventually finds a friend through his echo haha. So, it did bring back the child in me!
A lot of families stop here for picnics and for boating on the lake. To save time, I would suggest pulling over before the main car park as it's horribly congested through the day.
But, if you plan on spending a while here, find a spot, pack a picnic and enjoy the amazing views.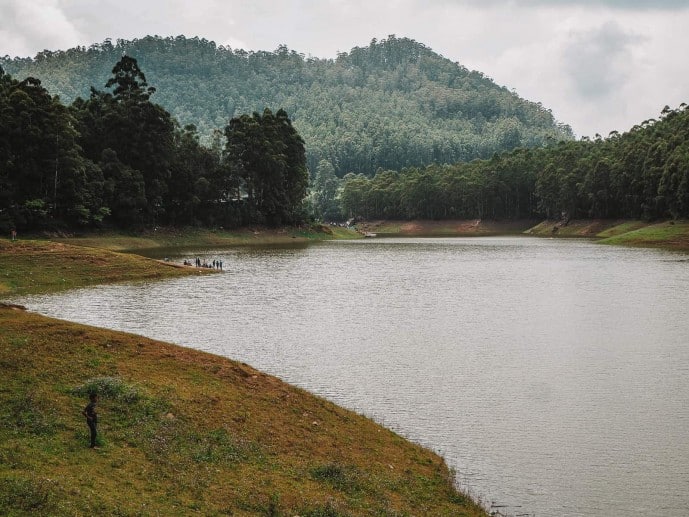 18. Spot wild elephants on the side of the road!
PLEASE DO NOT visit the elephant camps in Munnar. They are not ethical and the process to 'break' the elephants to make them friendly to tourists is barbaric.
You don't need to ride an elephant to enjoy them in Munnar, in fact, you can see wild ones just on the side of the road!
I was lucky enough to see 5 elephants on my trip here and it was much more special seeing them this way than visiting one on some farm.
As well as seeing wild elephants, I saw a Nilgiri Tahr, a Nilgiri Langur, and the Nilgiri Buffalo (which is rare) too. I was incredibly fortunate as I had a naturalist from Route 49 adventures who pointed them out to me!
Keep your eyes peeled as you drive around.
19. Visit a spice farm to learn what grows here
Spice farms are a little touristy, but if you are interested in learning what spices grow around Munnar that go into cooking the local food, it's worth a visit.
Most of the spice gardens are the same where you head around on a tour of a spice farm with a guide who shows you the various plants where they take spices. You can try some of the spices on your way around and exit through the gift shop.
I was warned by my homestay owner that you should be careful buying spices here and make sure it's a genuine product.
The most popular is Cinnamon Gardens Spice Plantation where they have over 100 species of spices, herbs, and Ayurvedic medicines.
20. Go boating at Mattupetty Dam
Mattupetty Dam was the first concrete storage gravity Dam to be installed in Kerala. It was installed to prevent floods, conserve water and generate power in the 1940s.
Nowadays, it's a popular tourist spot for those visiting Munnar. Here, you can walk over the Dam to get spectacular views of the reservoir.
There's also a lot of tourist activities here like boating, zorbing, speed boating, and paddleboarding. Many families bring picnics and you can also find a lot of stalls selling food, hats, and gifts to bring home too.
Did you know that Mattupetty is also known as Cattle Village, this is because an Indo-Swiss farm is nearby and you can visit to see lots of varieties of cows.
You have to drive over the Dam to be able to park here and it can get congested as it's a one-way road!
Where to stay in Munnar
If you're looking to really experience the magic of Munnar, then you need to stay outside of the city and in the countryside. That way you can relish in all the peace and quiet!
India Someday booked me into Mistletoe Munnar for a few evenings.
My double room was clean and spacious with a huge bathroom and hot water on demand. But, the highlight was the epic views from my private balcony!
I loved having breakfast here in the morning and taking in the views from the comfort of my own terrace.
I would highly recommend them. Click here to see Mistletoe's dates and rates.
Where are you heading next in Kerala?
I spent a week in Kerala and travelled from Fort Kochi to the hills of Munnar and also the backwaters of Alleppey.
So, make sure you read some of my informative articles to help plan your Kerala adventures;
Chinese Fishing Nets – tips to not get scammed!
What to expect during a Kathakali dance performance
Save these amazing things to do in Munnar for later!