An unexpected highlight of my recent trip to Somerset was the quaint village of Nunney and the impressive Nunney Castle ruins!
A 14th-century fortress that stands in the middle of a moat, it was first built by Sir John Delamere who was a soldier in the Hundred Years War.
Today, it's a romantic ruin but it's incredibly impressive and well worth a visit if you're in the area.
Here's a complete guide for Nunney Castle and all the best things to do in Nunney, Somerset!
Nunney Castle history
Nunney Castle is a French-style fortress that was built by the Knight Sir John Delamere in 1373.
He was a soldier who fought in the Hundred Years War and made his fortune in France. He also started to gain royal favour for his efforts in battle.
After the fighting, he returned to England and obtained a royal license from Edward III to build this castle beside his manor house that already existed on his estate.
This castle was not only to be his new residence but to show off his growing wealth and power to the locality!
It was a huge keep and rose some 60feet high with 2 metre thick walls. It had four corners with battlements and each side had a huge turret. At the time, all the turrets had capped rooftops.
It was an impressive residence that sat within a moat. There was a kitchen and chapel on the lower levels, a grand hall on the middle floor, and chambers on the very top!
Years ago, you could only enter the castle via a drawbridge that would be lowered over the moat. This was to protect the family and the people inside!
Civil War
Later in 1560, Richard Prater bought the castle. He was a wealthy man from London and had it completely redeveloped.
The Prater family were Roman Catholic and Royalists in support of Charles I. That was unfortunate during the Civil War and was to be their undoing when Nunney was taken over by Parliamentarian forces.
When Oliver Cromwell and Lord Fairfax arrived with their army in Somerset, they asked Richard Prater to surrender his castle over to them.
Richard Prater refused and then Nunney Castle was under siege. The Parliamentarians were merciless and opened cannon fire on the castle.
Even though they managed to breach the castle walls, Prater hoisted his Catholic flag refusing to surrender. But, two days later, victory was hopeless and so the garrison gave up the fight.
The castle was then completely ruined on Cromwell's orders and Prater was banished from Nunney. The Prater's only recovered the castle to the family when Charles II returned to power in 1660.
Eventually, the Prater's sold it to a William Whitchurch in the 1700s. He was going to make it ready to receive French prisoners. However, the castle eventually fell into decline.
By 1926, the castle had been altogether abandoned to ruin and was covered in a thick layer of ivy and rubble from the crumbling foundations.
At this point, it was handed to the Commissioner of Works who began a project to restore it. The castle and moat were then re-excavated.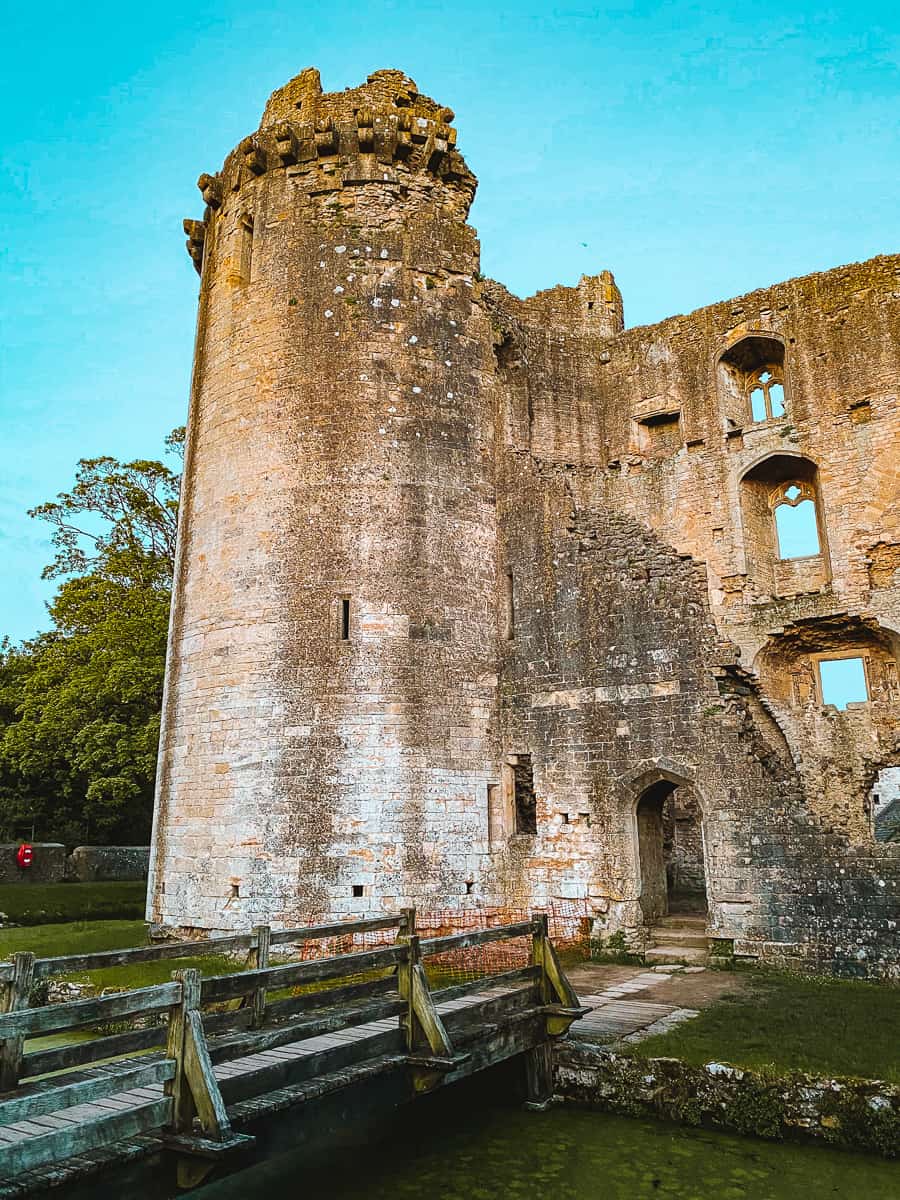 Who owns Nunney Castle today?
Today, the castle ruins are owned by English Heritage who are a charity that preserves ancient sites like this all over England.
Nunney Castle is both a tourist attraction and a scheduled monument that is protected to preserve its heritage.
So, if you did want to see this fantastic part of history then you must make a visit to Nunney while you're in Somerset!
How to Visit Nunney Castle in Somerset
Nunney Castle is located in the quaint village of Nunney in Somerset which is in the South West of England.
It's just a few miles away from the historic town of Frome and less than an hour's drive from popular attractions like Longleat, Stourhead, and Stonehenge. So, if you're on a South West road trip it's a great place to add to your itinerary.
Speaking of which, the best way to access Nunney is by car as it's quite a remote place and bus services here are infrequent.
Nunney Castle postcode is BA11 4LW
However, if you did want to visit car-free, there is a bus to Nunney from the towns of Shipton Mallet and Frome. It will drop you in Market Place near to the castle.
You could also walk to Nunney from Frome. It will take you around an hour through the countryside.
Nunney Castle parking: There is a large visitor car park that is located on Castle Hill, which is just a short walk away from the village and castle. Simply follow the parking signs as soon as you enter the village.
Is Nunney Castle free to visit?
YES! Although it's owned and protected by English Heritage the best thing about this castle is the fact it's FREE to visit.
I was quite shocked that it was free of charge if I'm being honest as the castle is so well preserved and it's massive.
I guess you can see most of the castle from the side of the road. But, I'm not complaining. If it's free it's me!
Nunney Castle opening times
Another great thing is that it's open to explore 24 hours a day, every day of the week! So, you're free to visit for sunset or sunrise which is perfect for photos.
Although it is recommended to visit within reasonable daylight hours. You won't see much otherwise as the small village doesn't have much lighting at night.
I stayed here a little longer after sunset and it was so peaceful at this time. Bats started circling the moat (I love them!) and all the colours at twilight were so soft.
What to expect on your visit
You'll see Nunney Castle as soon as you drive into the village. It's hard to miss as it's a huge fortress that's sandwiched between the hotchpotch of ancient houses.
I thought it was amazing to see the dramatic view of the castle turrets towering above the rooftops. It's only then you'll realise just how huge this stronghold is.
Its height makes it really easy to find on foot and so you'll have no trouble navigating your way towards the ruins wherever you are in Nunney.
Depending on which direction you're heading from, you'll cross over a pretty footbridge to reach the outer walls.
Eventually, as you approach the castle, you'll see a small gate that allows you to enter the castle grounds.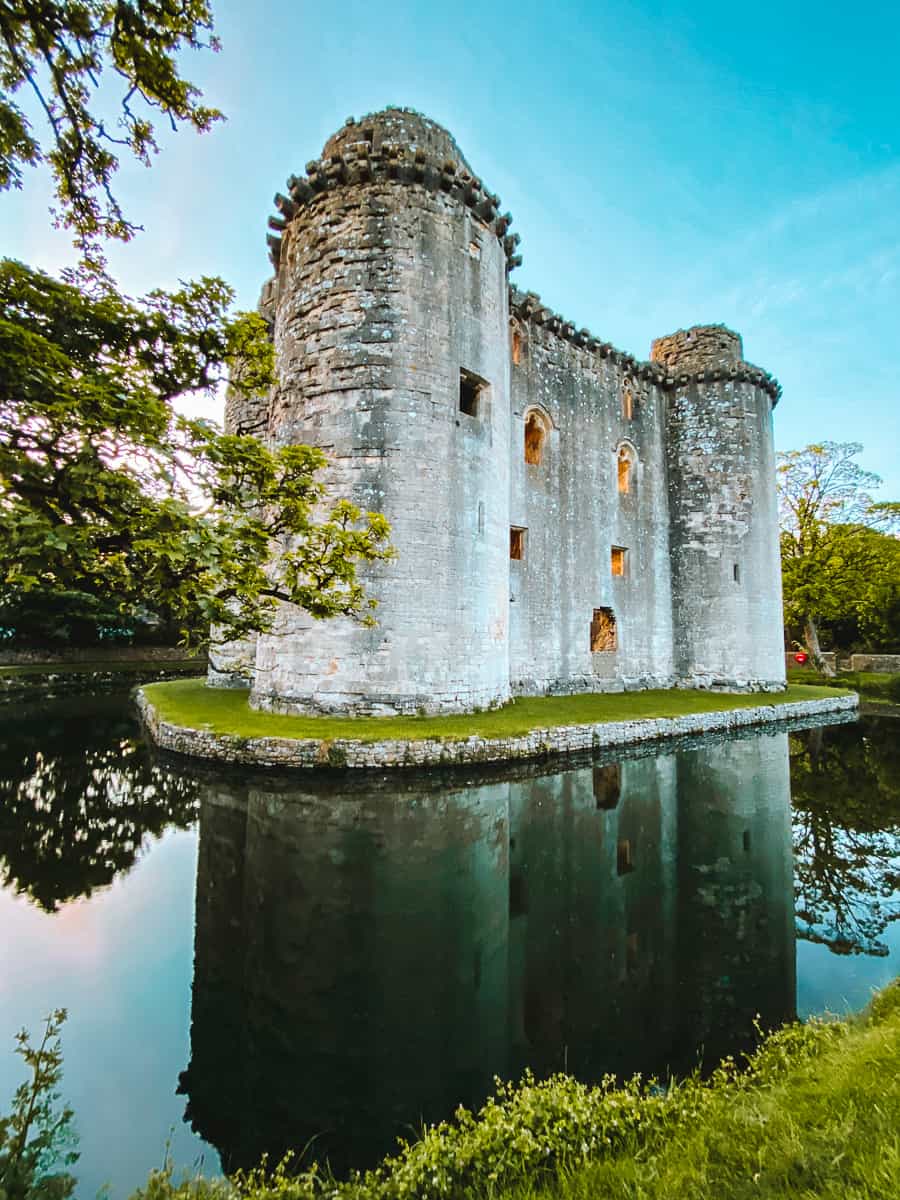 Take a walk around the ancient moat
As soon as you enter, you'll have access to the green around the ancient castle moat. It's actually one of the few castles that I've seen in England with the water is still in the moat today.
Although it's a twentieth-century reconstruction, it's a really rare opportunity to see one so well preserved.
Usually, castle moats have dried up over time and you just see a trench of where it used to be. Especially in ruined castles.
The pathway around the keep allows for a small but scenic walk where you can take in views of the huge towers and see the castle reflected in the water!
You'll probably spot some ducks around here with their ducklings in tow in spring. There have even been otters spotted swimming here too.
There are some benches placed around the green so you can take a rest. It's actually the perfect picnic spot with a postcard-worthy view if you've brought sandwiches with you.
Can you go inside Nunney Castle?
YES, you can! Although the castle stands in the middle of a moat of deep water, there is a small footbridge that allows you to cross over it and head inside the castle ruins.
It definitely transports you back in time to the medieval era with knights and their fortresses. You can just imagine them with shining armour and horses entering the keep.
Once you've crossed the threshold, you can explore the mysterious castle ruins and see what lies within!
Exploring the Nunney Castle ruins
It is hard to imagine what the inside of Nunney Castle would have been like in the 14th-century today.
Back then, there would have been a drawbridge, a keep, and three levels of floors with many rooms! Access to each floor would have been via circular staircases in the turrets
Nowadays, the castle is mostly a shell that you can see straight through. The turrets have crumbled and there are holes where the doors and windows used to be.
Much of the castle was destroyed during the Civil War but also one of the walls completely collapsed when it was left to ruin!
Despite this, it is still incredibly impressive to take a look around. You can walk over the cobbled floors, look up through the turrets and explore what's inside them. There are some great views of the village to be had through the gaps in the foundations.
Personally, I love castle ruins as I think they're incredibly romantic! So, I spent way longer inside than I intended to.
Top things to do in Nunney
So, after you've spent some time exploring the impressive Nunney Castle ruins. What now?
Well, there are a few amazing things to do in Nunney. Here's a complete list!
1. Head to the Nunney Castle café – Moat & Turret
If you were looking for a pick me up after you stroll around the castle, then I would recommend you head to the Moat & Turret café!
They have lots of cosy seating inside and their café is decorated with colourful bunting! If the weather is fine, they also have some outside seating too which is perfect for a sunny day.
Moat & Turret serves up afternoon teas, coffees, homemade cakes, and ice creams. Plus, they have a savoury selection of pastries and sandwiches that you can eat in or takeaway.
Click here to check out the Moat & Turret Facebook page
2. Visit the medieval Nunney Church of All Saints
Another one of the top things to do in Nunney is to visit the fabulous medieval Church of All Saints. It's a Grade I listed building that dates all the way back to the 12th-century around 1174!
It is believed that the current structure was built on top of an ancient Saxon site. You can also find a well-preserved Norman font inside the church today.
Most of the nave aisles, towers, and transepts are medieval but there is a 19th-century chancel and sacristy too.
Many of the lords of Nunney Castle are buried here including Sir John Delamere who built it. Make sure to look out for the infamous cannonball that hit the church during the Civil War!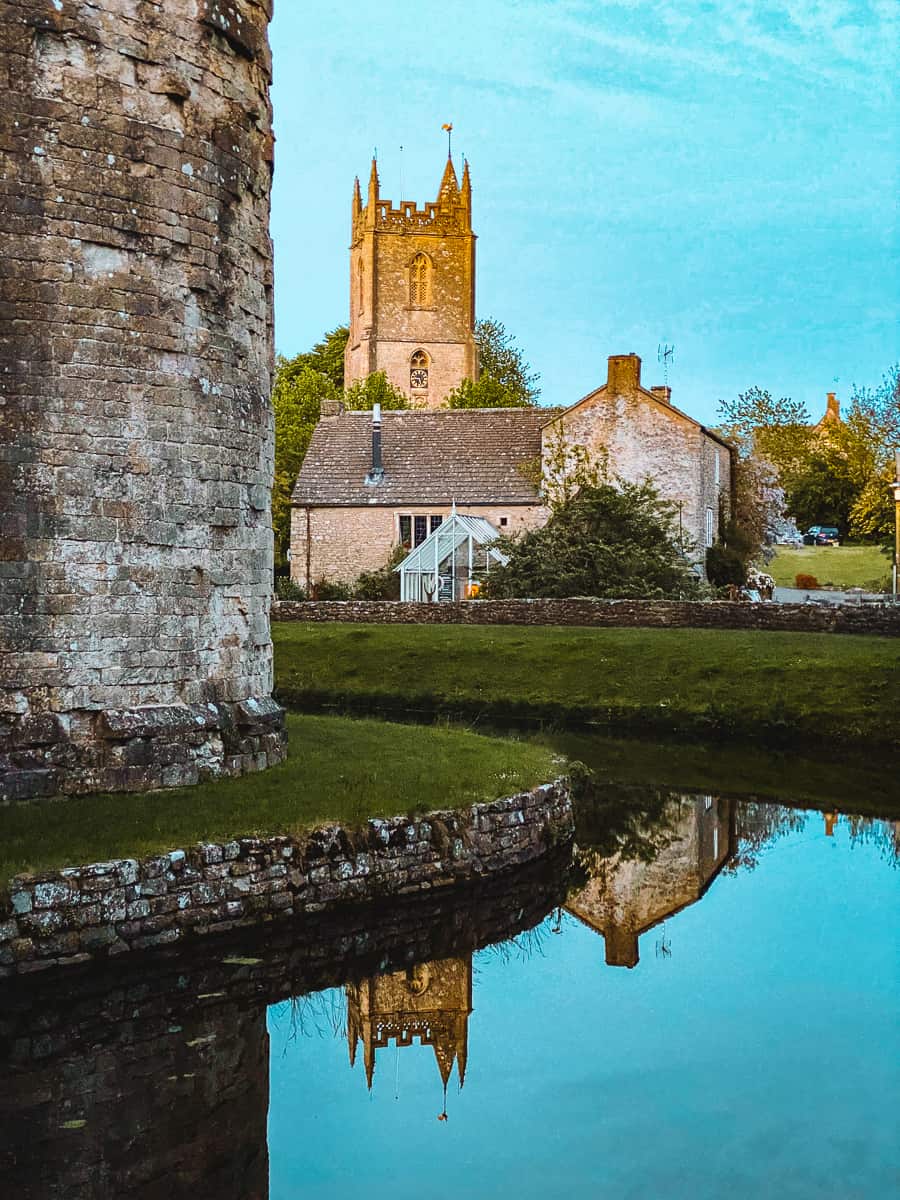 3. Have lunch at The George Inn
If you were looking for a place to grab some lunch or dinner, then look no further than the George Inn.
It was originally a 17th-century coaching house and has unrivalled views as it stands opposite the ancient Nunney Castle!
You can sit outside in their walled pub garden by the stream or sit inside their rustic setting of stone-clad walls by the fireplace.
They have a well-stocked bar full of local brews and their menu offers meals from local suppliers. There is a huge range of pub meals and light bites to choose from.
4. Explore the quintessential Nunney village
What I loved the most was wandering around this quintessential Somerset village and taking it all in.
Nunney is tiny but full of pretty ancient buildings and has a small stream running through it. You'll find plenty of footbridges here to cross over the water and take in the idyllic views.
There were small babbling brooks, cascades, and weeping willows sighing into the stream. In spring, the houses had wisteria on the walls and vivid blossoms were out. It really was picture-perfect.
It's well worth taking a quick stroll through the streets to see what you can find.
5. Attend the annual Nunney Street Fayre
Once a year, the village holds the Nunney Street Fayre. It's been a local tradition since 1976 but the village was actually granted a royal charter to hold this yearly event in 1260!
Today, it's one of the best things to do in Nunney and a festival that sees visitors descend on the village from all over the South West and beyond.
It's a great time of year to visit as the streets will come alive with in excess of 100 market stalls, local food, and live music on the castle stage.
There's also plenty of street entertainment and activities for children, so it makes a great day out for families!
The Nunney Steet Fayre happens every summer, so look out for details on their Facebook page.
6. Visit the historic town of Frome
As you're in Nunney, you're just a few miles away from the historic market town to Frome (pronounced Froom).
Everywhere you look, you'll find ancient buildings and they boast one of the best-preserved medieval streets in Europe.
It's called Cheap Street which is full of timber-framed buildings and it even has an old leat that runs in the middle of the street!
The best part of a visit is walking up the cobbled St Catherine's Hill which is one of the prettiest parts of the town. It's full of independent shops and cafés.
You can go shopping along here or head into the Frome Museum to learn about its history.
7. Fall in love with Stourhead
Another amazing attraction near Nunney is the majestic landscape gardens surrounding Stourhead House.
They were planned out by Henry Hoare 'The Magnificent' in 1741 after his Grand Tour of Europe and it was made to feel like visitors were walking through a fresco painting!
Indeed, you'll find Roman temples, grottos, and statues which remind you of Italy. It also boasts one of four surviving Palladian bridges in the entire country.
You can head into Stourhead house and take the lakeside walk around the gardens. Then, head up to the Temple of Apollo which is featured in the film Pride and Prejudice for a fabulous view!
It's the most beautiful place and you can visit it all year round. In fact, many say you should visit in all four seasons. It's now owned and protected by the National Trust. Click here for more details.
Or you can visit the incredible King Alfred's Tower for FREE nearby. It's an incredible 50-metre tall folly that provides incredible views over three counties!
8. Take a day trip to Longleat, Stonehenge or Wells
Nunney is less than an hour's drive to some of the most popular attractions in England.
You could head on over to Longleat Safari Park which has an impressive Elizabethan House on the grounds. The safari park allows you to drive through wildlife enclosures and then you can head on foot to see their zoo.
You also have Stonehenge which is one of the most famous ancient monuments in the country near Salisbury in Wiltshire. It's now another English Heritage site but there is a way to see it for free – click here to find out how!
Or, you could head to the tiny city of Wells which is home to the impressive Wells Cathedral. Inside, you can see one of the oldest working clocks in the world and it's full of historical streets like Vicar's Close.
Nearby, you could drive to the ancient Isle of Avalon and walk up Glastonbury Tor!
Where to stay in Nunney
If you fancy spending the night in Nunney then you're in luck!
The George Inn has some cosy accommodation above their pub to stay the night. It has the best setting possible as you're just inches away from the castle!
They have ten guest rooms that have just recently had a renovation. Some even have four poster beds.
In the morning, you'll be greeted with their award-winning breakfast to set you up for a day of exploring.
Click here to book a room for the night
Top tips for your visit
Toilets – there are no public toilets provided at Nunney village. However, there is the Moat & Turret Café and the George Inn that provide facilities for customers.
Shoes – It can get quite boggy around the moat if it has been raining plus the castle ruins are all cobbles. So, come prepared with good footwear.
Water – the moat around the castle is quite deep and the path area around the outside of Nunney castle is quite narrow. So, keep an eye on kiddies playing!
Drones – Although it would be fabulous to get drone photos here as it's quite a narrow space, unfortunately, they are banned without prior approval from English Heritage.
Is Nunney Castle dog friendly? Yes, dogs are allowed to visit as long as they are kept on leads.
Read more of my Somerset travel guides
How to hike up Glastonbury Tor
Clifftop Cheddar Gorge walk guide
The best things to do in Wells
A complete guide for Vicar's Close in Wells
Why you must visit Burrow Mump
The hidden gem of Rickford Chapel
How to find the Clevedon Sugar Lookout
The abandoned pier of Weston-super-mare
The most Instagrammable places in Bristol
How to find the colourful houses of Bristol
Visit the Roman Baths at Night
House of Frankenstein in Bath review
How to visit SEE MONSTER in Weston-super-Mare
Save the best things to do in Nunney for later!