Are you looking for all the amazing things to do in Painswick? I have a whole list of them right here.
This place one of my favourite places in the south of the Cotswolds as it's effortlessly picturesque and there is also plenty to see and do.
It's a historic wool town that is often called 'The Queen of the Cotswolds' and is often referred to as one of the best-preserved medieval settlements in the area!
It's particularly famous for its 99 clipped yew trees that have a mysterious legend surrounding them.
Here's a complete guide for visiting with the very best things to do in Painswick Cotswolds!
The history of Painswick
There has been evidence found on the nearby Painswick Beacon of an Iron Age settlement called Kimsbury hill fort. As well as Iron Age items, excavations revealed a Roman Villa nearby too.
The town itself developed during the Saxon era when an early St Mary's Church was constructed. However, it wouldn't be recorded until the Domesday books in 1086 when a priest was assigned to the church.
Back then, it was called Wiche meaning 'dairy farm' and the land was owned by the powerful De Laci family after the Norman invasion.
Later, in the 13th-century, a Pain Fitzjohn became Lord of the Manor and the name Painswick started to be used for the town.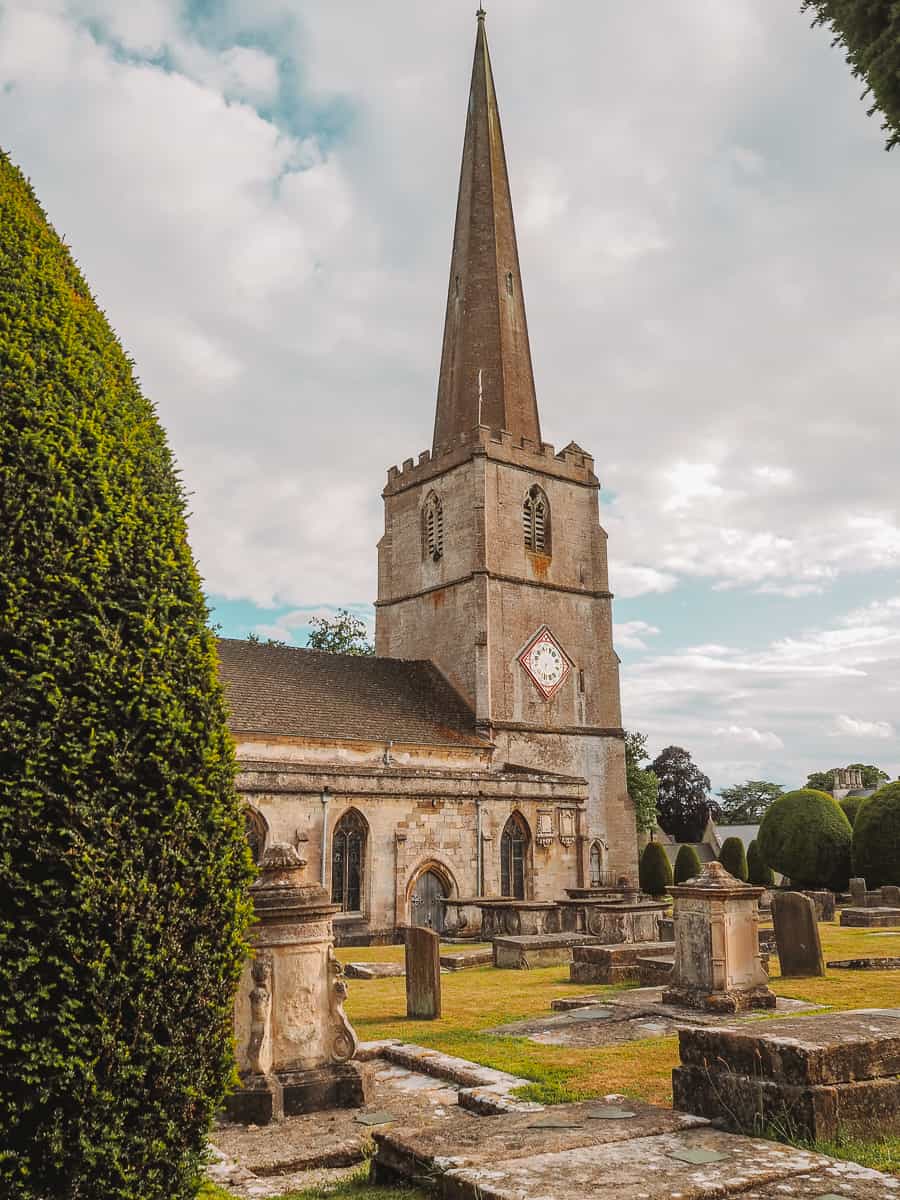 During medieval times, the town made its money through weaving cloth. So, you'll find many of the houses and gables were build south-facing for the best use of natural lighting.
Because of the weaving trade, there were many ancient houses built here with donkey doors. These doors were made bigger to allow donkeys to enter houses with their baskets of wool! You can still see some of these today on Bisley Street.
During the Civil War, Charles I laid a siege of Gloucester and so Painswick became the victim of canon fire target practice!
The Royalist army was stationed on Painswick Beacon but St Mary's Church spire had significant damage made to it as Parliamentarians used the church as a stronghold. You can still see the scars from the cannonball fire today.
Nowadays, Painswick is a sleepy, quintessential Cotswolds town which I would highly recommend visiting. It's famous for its 99 yew trees and Rococo garden!
Things to do in Painswick Cotswolds
So, what is there to do in this fabulous medieval settlement today? Well, there's actually quite a lot!
From historic buildings, a fabulous churchyard, art galleries and the famous rococo gardens you'll find no end of things to do in Painswick.
1. Visit St Mary's Church
St Mary's Church is an iconic view in Painswick and it's church spire towers over all the ancient buildings here!
It has a history since the Saxon era as an ancient parish church but it was first recorded in the Domesday Books of 1086 AD. The first building that stood here was built in 1049 AD.
Later, additions to the church were made by the powerful De Laci Family who took control of the land after the Norman invasion.
Today, the oldest part of this church is St Peter's Chapel that was built in 1377. St Peter was the patron saint of the De Laci's.
The incredibly tall spire was added on in 1632 but unfortunately it became target practice in the Civil War! The Parliamentarian's were stationed here as the church acted as a defence hold.
Today, it's famous for having some 300 'Kneelers' which showcase some of the finest church craftsmanship in the country!
You can see them inside the church and they all have different scenes from the bible and the town. The church welcomes visitors to see the magnificent interior all year.
The church garden with its 99 Yew Trees and ledger tombs were creations from the 18th century.
2. See the 99 Yew Trees in St Mary's Church Garden
Painswick is famous for its fabulous church garden which is filled with 99 clipped yew trees!
Although most yew trees in the UK have been here for centuries since the introduction of Christianity, these were planted in the 18th century.
There is a legend that says that the Devil would not allow the 100th tree to grow. But, I will let you into a little secret, you will actually find that there are over 100 yew trees here today!
The church ended up testing fate with another tree to mark the millennium. However, soon after it toppled over in storm and many blamed the mysterious curse!
The town also holds a clipping of the yew trees each year which sees two tonnes of raw waste collected. Although yew trees are poisonous to eat, they have healing properties that help with cancer treatments!
It's honestly one of the prettiest church gardens I have visited in the UK and you could get lost for hours in here.
There are plenty of yew tree pathways, ledger tombs, and benches to relax on. It's one of the best things to do in Painswick.
Look out for the timber-framed lychgate and the residence which used to be the gravediggers hut.
Click here to read more on St Mary's Church garden and the curious legend about the yew trees!
3. Attend annual the Painswick Clypping Ceremony
If you're lucky, you can plan your visit for the annual Clypping Festival & Painswick Feast. This is something completely different than the clipping of the yew trees festival.
The Painswick Clypping Ceremony is a time-old tradition that happens in September and derives from the Old English word meaning encircle.
During the festival, the town parishioners come together and circle around St Mary's Church holding hands. Then they dance and sing hymns.
The ceremony ends with some Puppy Dog pie. But, don't worry there are no puppies inside!
4. See the 19th-century stocks near the Old Courthouse
Once you've left the churchyard, make sure that you exit towards St Mary's street as you'll get to see the old 19th-century stocks! It's one of the more curious things to do in Painswick.
They lie just outside where the Old Court house used to be and it's quite a treasured piece of history.
Before we had a centralised justice system, the law here used to be dealt with something called Courts Leet. They would handle serious and petty crimes like theft or being drunk and disorderly.
If you had committed a crime or were causing a nuisance, the punishments would normally be physical.
If it was murder, you would surely be sent to the gallows. If it was fighting or obstruction you could be whipped or flogged on the whipping post.
But, one of the lesser punishments was to be locked in leg irons for a certain amount of time much to the merriment of your neighbours!
5. Wander around the quaint Painswick Streets and Heritage Trail
Painswick is full of amazing historic streets to stroll down. As a medieval settlement there is no end of gorgeous buttercream buildings and timber framed thatched cottages.
You could wander around aimlessly just taking it all in. But, Painswick do have a little heritage trail that you can follow too.
If you exit out out of St Mary's Church you'll find a sign of what the church used to look like in the 19th century.
There are similar signs on New Street, Gloucester Street and Bisley Street that have even more vintage photographs.
You'll also find facts on them about the people who used to live here and notable events that happened in the area too.
It was honestly so fun getting lost and following how this gorgeous town would have looked all those years ago.
6. Admire all the ancient houses and donkey doors
There are a number of historic houses on these streets worth noting. Most of them date back to the 14th-century! Admiring the houses here is definitely one of the best things to do in Painswick.
As the town used to make a lot of its income through wool, you'll notice that many of these houses are south facing as the weavers used to work in them and needed good light!
If you take a wander down Bisley Street you'll see two original donkey doors. These were houses that had entrances made big enough for the donkeys who would carry baskets of wool for the weavers.
In the Civil War, King Charles I stayed in The Court House on Hale Lane This is now a luxury hotel but legend has it that the king still haunts it today!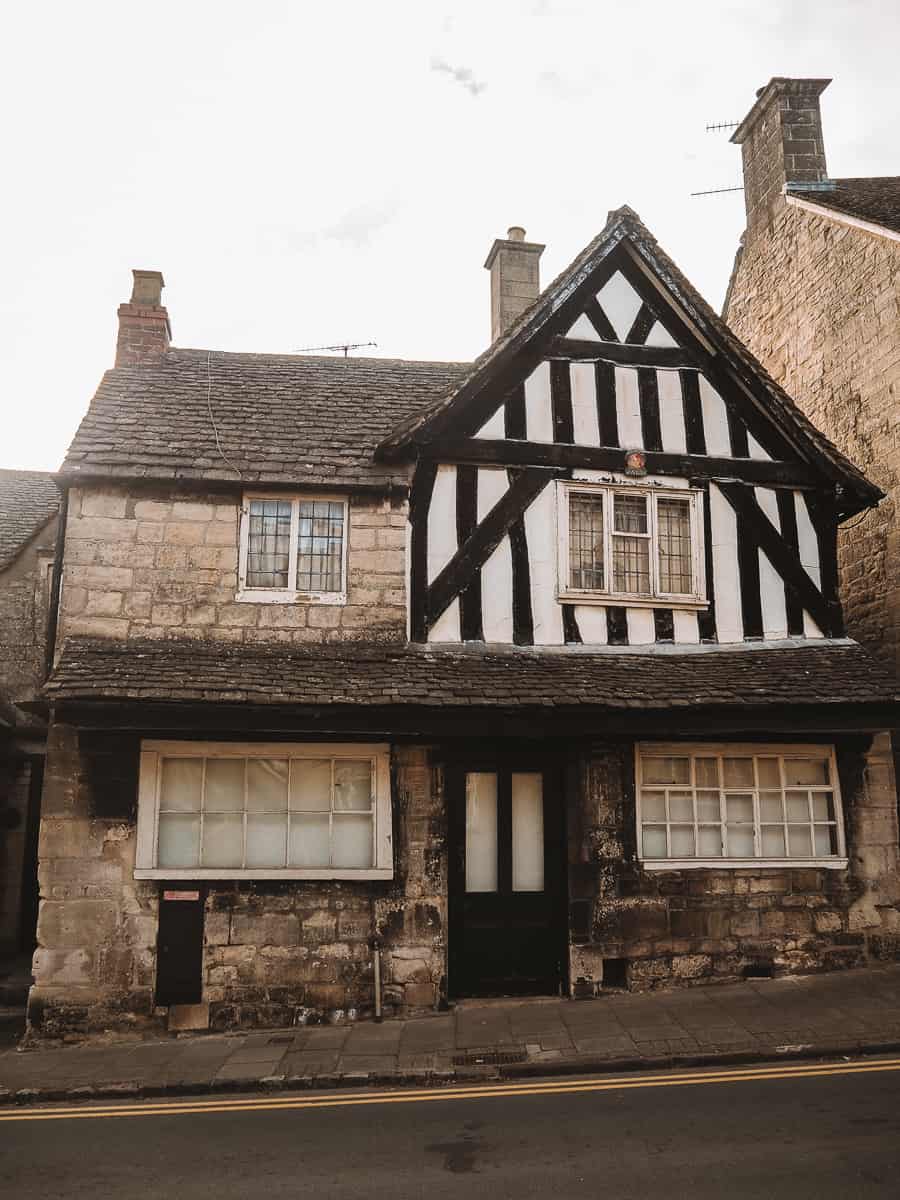 7. Behold the John Ashton Beer Collection
This collection is quite an unusual treasure trove to behold. It's recently opened as a museum of the Arts and Craft movement.
It was founded by some enthusiast furniture makers and a part of John Beer's collection is on show at Christchurch in Painswick.
You'll find lots of famous names in the Arts and Crafts movement showcased here like William Morris, Ernes Gimson and Baillie Scott. Even Audrey Hepburn has a place!
It's a labour of love and a private museum which is well worth seeing. But, it's usually only open on weekends so planning your trip in advance is essential to avoid disappointment.
8. Visit the Painswick Pooch Coffee House
If you're looking for a great place for a pick me up in town, then head on over to the Painswick Pooch Café!
As the name suggests it's a dog friendly café and there is lots of room inside to sit down and relax with a coffee or tea. You'll be surrounded by contemporary artwork.
You can also pair up your hot drink with a delicious homemade cakes which are often seasonally themed.
9. Have lunch in the Falcon Inn – home to the country's oldest bowling green
The Falcon Inn is almost an attraction in its own right as it first opened as a coaching inn in the 16th-century.
Although it's been remodelled over the years, it has remained the chief inn of the town ever since!
It's also home to the oldest bowling green in the country and the Painswick Falcon Bowls Club still operate behind the pub today.
The building functions as a cosy pub where you can grab some lunch or a cold pint. It's also a boutique hotel which have rooms that overlook the Painswick church garden!
10. Reflect in the Quakers Meeting House and Garden
One of the most hidden gems of Painswick is the Quaker Meeting House that sits on Vicarage Street.
If you were not aware of what Quakers are, they are a religious society and they regularly meet here in Painswick in the Friend's House.
Visitors are welcome to explore their beautiful tranquil garden behind the building which has amazing views.
I decided to sit here a while at sunset and honestly it was so lovely just to relax on one of their benches with some peace and quiet.
In summer, there were flowers growing and so it smelt amazing. The views over Slad Valley were breathtaking.
11. Spot The Casual Vacancy filming locations
If you are a fan of Harry Potter, you may have heard about or J. K. Rowling's other best-selling book The Casual Vacancy.
It follows the story of a seemingly peaceful village called Pagford with cobbled streets and an ancient abbey. But, beyond the pretty facade reveals a town at war with arguments and scandal.
After their parish council leader passes away, some of the Pagford residents begin the battle for the Parish Council seat!
It was Rowling's first book after she finished the Harry Potter series and it was so popular it was made into a mini-series for the BBC.
The production team used the town of Painswick to film an underwear shop in Pagford as well as other scenes!
12. Explore the Painswick Rococo Garden
Another reason why Painswick is famous is due to the planned Rococo Garden that is near to the town.
Rococo refers to an art style which was fashionable in Europe during the 1700s. It uses ornamental decoration, pastel colours and asymmetry.
It was designed in the 1740s for the traditional English Country Gentleman as a pleasure garden and for holding parties.
Unfortunately it fell into decline in the 20th-century, so in 1984 there was a rescue project which saved it from ruin. It's now the country's only surviving rococo garden.
Around the gardens, you'll find all sorts of colourful follies, wildflowers, grottos and duck ponds. It's the perfect place to escape for a few hours. It's one of the best things to do in Painswick and there is also a tearoom there as well.
Click here for the latest opening times and prices
13. Walk to Painswick Beacon
The Painswick Beacon circular is a 2 mile walk near to Stroud which will take you back to Painswick's past.
During the Iron Age, Painswick Beacon used to be the location of an ancient settlement called Kimsbury hill fort.
Pottery, coins and other pieces have been excavated here which date back to the Iron Age. There were also Roman pottery fragmemts that date back to the first century BC.
As well as its ancient past, it's also believed to have been occupied in 1643 during the English Civil War as an outpost for King Charles I. He was stationed here during his siege of Gloucester.
Today a lot of the area is owned by a private golf course, but there are permissive pathways that take you on a lovely walk around Painswick beacon.
You'll get panoramic views all around you of Slad Valley! It's one of the best things to do in Painswick.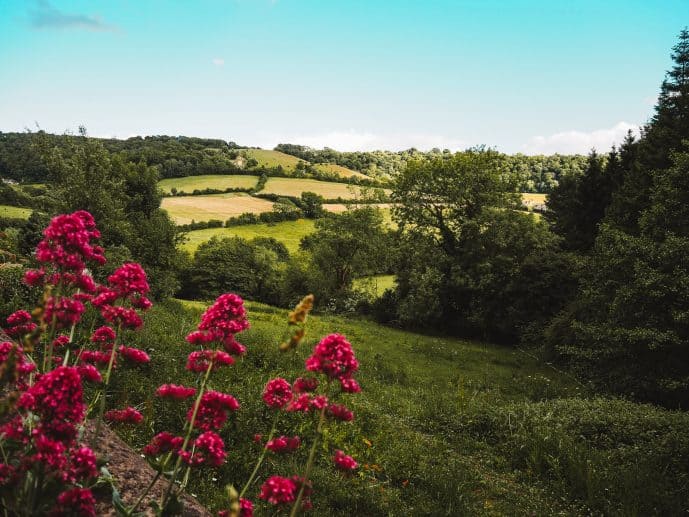 14. Take a Painswick walk along the Cotswolds Way
As well as Painswick Beacon there are many walks that you can take around here as Painswick falls on the Cotswold Way National Trail.
You can opt to take a scenic walk around the town on their heritage trail, or to the Painswick Rococo garden which is 2 miles away.
Alternatively, you can head to Slad Valley on a 6 mile circular that will take you to the inspiration for Laurie Lee's Cider with Rosie!
If you were feeling a little more adventurous, the Cotswolds Way path will take you even further to the gorgeous town of Chipping Campden (where the train begins/ends) and even the city of Bath.
Where is Painswick in the Cotswolds and how to get there?
Painswick is a town located in Gloucestershire in the Cotswolds. As this is located in the countryside the easiest option would be to drive to the town.
You can access Painswick from the A46 road between Cheltenham and Stroud. Stroud is the closest town around 3 miles away. You can plugin the Painswick postcode GL6 6UZ into your SatNav to help you navigate to it!
Parking can be found in the nearby Stamages Lane Car Park which is the Long Stay.
If driving is not an option for you, you can travel to Painswick by bus. The Number 66 service from Cheltenham drops you off in Painswick right outside of the church. Click here for more details and to plan your journey.
Where to stay in Painswick
The Painswick – This gorgeous history property overlooks the gardens and Slad Valley. It has gorgeous boutique rooms and you can relax on the terrace with a drink from their bar to take in the views. Click here for details.
Courthouse Manor – This hotel is set within a fabulous historic building and has some immaculate grounds to explore. They have a beautiful selection of en-suite rooms! Click to book.
FAQs about Painswick
How old is Painswick? Painswick has had a recorded history since the Saxon era but there is a Roman Villa that has been excavated near here and even evidence of an Iron Age settlement on Painswick Beacon. So, you could say it's thousands of years old!
What is Painswick famous for? Painswick is a famous medieval settlement and has often been described as one of the finest preserved medieval towns in England. It's also famous for its 99 yew trees that can be found in St Mary's Church garden and the Painswick Rococo Garden.
How far is Painswick from Tetbury? Painswick is approximately 15 miles away from Tetbury and the drive will take you 30 minutes. It's also a 10-minute drive to Stroud.
Is Painswick in the Cotswolds? YES, it's located in the far south of the Cotswolds near Tetbury. The Cotswolds AONB covers five counties in total so it's a HUGE area.
Does Painswick Green come from Painswick? A lot of people associate the name Painswick with Painswick green! However, there is no relationship between this colour with Painswick town (that I could find!)
Read more of my Cotswolds travel guides
Top things to do in Bibury and a tour of Arlington Row
Places to visit in Tetbury and the Chipping Steps
The best things to do in Lower Slaughter and Upper Slaughter
Harry Potter locations in Lacock village and the best places to visit!
The best things to do in Stow on the Wold
Did this yew tree church door inspire Tolkien?
The best places to visit in Castle Combe
How The Bell Inn Inspired the Prancing Pony in LOTR
The Most Instagrammable places in Gloucester
Harry Potter filming locations in Gloucester Cathedral
Save these things to do in Painswick for later!