If you've ever wanted to experience a flight-free piece of the East in the UK, then you need to visit Scarborough in North Yorkshire. A trip to Peasholm Park on the heritage coast is truly a bucket list item.
It's a Grade II listed, oriental themed park that opened up at the turn of the 20th century and its character was based on the legend of the Blue Willow tea sets.
As you wander around the glen you'll find mysterious islands, pagoda temples, majestic waterfalls, cherry blossoms and extremely rare champion trees.
There is also plenty to do that appeals to all tastes including dragon boating, a putting green, wildlife spotting, oriental gardens, a quaint café and witnessing Naval warfare!
Here's a complete visitor guide with all the amazing things to do in Peasholm Park Scarborough.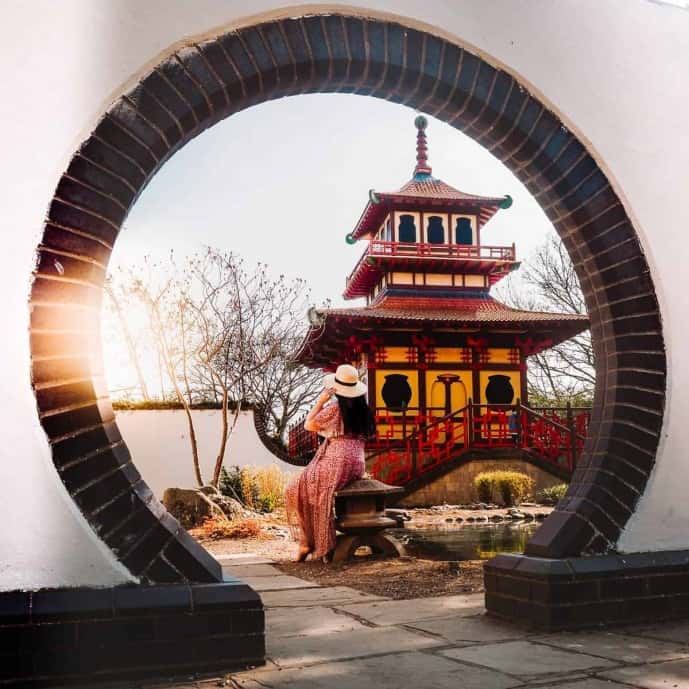 What is Peasholm Park?
Peasholm Park is municipal park located in the centre of Scarborough which is a historic spa and seaside resort.
It was opened up to the public in 1912 and its oriental theme gave it an edge that no other park in the UK had at the time.
It was chosen as a space for galas, concerts and shows and was extremely popular with locals and tourists alike. Its unique Eastern charm still inspires and continues to draw thousands in every year.
It's consistently been voted as one of the UK's best parks and, at the moment, it's ranked at number 6. It's also been voted as one of the best 25 parks in all of Europe.
Oh, did I mention that it's also open 24 hours a day and is completely FREE?!
Peasholm Park history
So how on earth did this exotic theme park arrive in Scarborough? The story begins with a medieval manor house in Northstead that was built in the 14th century for Richard III.
It used to stand where Peasholm Park is now and the land still belongs to the Crown today.
By the 20th century, the manor house had completely decayed and the land was opened up for farm allotments.
In 1911, the Scarborough Cooperation bought a piece of the land called Tuckers Field to open up a public park.
The oriental theme was the brainchild of Harry W Smith, who was the Borough Engineer.
Inspired by the story of the Blue Willow tea sets, he purchased Japanese statues from the nearby Killerby Hall. Also, exotic plants were transported overseas from the French Riviera.
By 1912, Peasholm Park was ready to receive the public and it instantly became a top attraction in the town!
Galas and concerts were held here and in 1927, they added the miniature Naval Warfare on the lake. It still runs today and is now world-famous!
Throughout the years, Peasholm Park has had a number of highs and lows including vandalism. But, it's stood strong and is a true testament to Scarborough's heritage.
Peasholm Park still continues to inspire thousands that visit here from all over the world and never fails to create fond memories.
Amazing things to do in Peasholm Park
Although Peasholm Park is a protected heritage attraction today, that doesn't mean it isn't kept up to date and completely oblivious to modern times.
There are so many things to do here that appeal to all ages and interests.
From concerts on the bandstand, Naval Warfare, putting green, boating, locally made ice creams, and Pagoda temples!
Here are all the things to do in Peasholm Park today.
1. Learn the legend of the Blue Willow tea sets
To really understand some of the unique features of this park, you should definitely become acquainted with the legend of the Blue Willow tea sets.
Apparently, this famous story was only created to promote sales but it's beguiling all the same.
It's the very reason why this park came to be; The legend goes that there was once a Mandarin official who had a pretty daughter called Koong-se.
The Mandarin decided to hire a secretary called Chang. His role was to take over managing his accounts and while doing so he fell in love with Koong-se.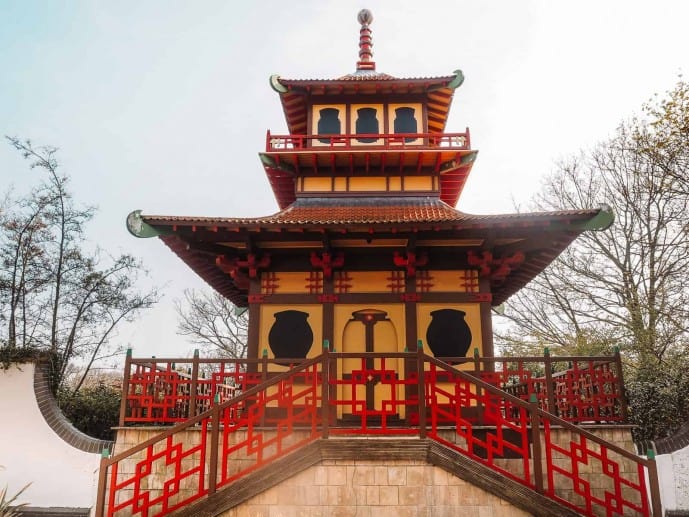 When Chang asked The Mandarin to wed his daughter, he was angry and said that Chang was unworthy.
Chang was then banished from the Mandarin's estate and a fence was constructed so he could not see Koong-se.
Koong-se was then arranged to marry a noble duke called Ta-Jin and a banquet was made to honour their betrothal.
On hearing this, Chang borrowed a servant's uniform and infiltrated the castle. He snuck inside Koong-se's room and they made plans to run away together.
A doomed escape
The Mandarin and Ta-Jin were so drunk, Chang and Koong-se thought they could leave undetected. But, her father caught sight of them crossing over the bridge and chased them!
Koong-se and Chang narrowly managed to escape and stayed with a maid that the Mandarin had banished for conspiring with the couple.
The Mandarin received a report from his spies that a man with Chang's likeness was staying in the maid's house and so it was raided by the Mandarin's men.
Chang and Koong-se both managed to escape again by jumping into the river and they sailed to a distant land.
He became a writer but it became his undoing as the Mandarin traced his writing back to their new home.
The Mandarin got his revenge and Chang died by his sword, Koong-se was also burned alive in their house.
The Gods were so touched by their love story they immortalised them as two doves flying together in the sky for all eternity.
Okay, so not the most romantic story, but if you wonder about the park – you can find the features that were inspired by the tale!
2. Stroll around Peasholm Park lake with it's magnificent waterfall!
The very first thing you'll see as soon as you enter Peasholm Park is the fabulous lake with a huge waterfall at centre stage.
On top of the waterfall tucked in between lush trees will be the mysterious Pagoda on Peasholm Park Island. It's almost like a siren luring you in.
I loved the fact that they had fairy lights and oriental lanterns that lined the lake! It definitely reminded me of Hoi An in Vietnam or Disney's Mulan.
It must be magical at night time. While you're here, you can take a walk around the scenic lake that will have more waterfalls, brooks, colourful cherry blossoms, and willows sighing over arched bridges.
Visiting this really brought me back to backpacking around South East Asia. Even on a busy summer's day here in Scarborough, you'll find it to be very tranquil.
3. Go boating in a dragon boat, swan or canoe!
Another unique feature is the renowned Peasholm Park Dragon Boats that you can take for a spin around the lake.
The dragon boating is extremely popular on sunny days and looks fabulous with the oriental backdrop!
You can hire 3-5 seater dragon boats for 30 minutes to take around the lake. A 2/3 person boat will be £5.60 and a 4/5 person boat will be £8. If you were a smaller party, you can hire canoes to row around the lake for £3.
Peasholm Park boating is open from 10am – 5pm on select days of the year. It runs from April – November mostly on weekends, half terms and summer holidays.
If you didn't fancy riding a boat yourself, they do boat rides on the Swan Launch Princess where someone will do the work for you!
It's an extremely popular activity and you may be queuing a while at the hire counter. Totally worth it though as it looks like so much fun.
4. Take the Peasholm Park tree walk
If you were particularly green-fingered, you will love the collection of plants and trees that Peasholm Park has to offer you.
Quite recently a survey carried out by the National Tree Register revealed a good number of Champions Trees that had been growing on the grounds for years.
A champion tree is the largest, widest or tallest of a tree species in the UK.
So, the Friends of Peasholm Park have created a tree trail that you can take to spot some of the most special trees.
There are American Red Oaks, Eucalyptus trees, a London Plane, many types of Palms and Cucumber Tree. Also Acacia and Wingnut trees.
But, the most extraordinary tree finding that caught worldwide attention was a pair of Dickson's Golden Elm's. This tree was long thought to be extinct, until it was rediscovered in 2004.
They used to be very common in the UK until the 1970s when the Dutch Elm Disease destroyed nearly all of them. It was spread through a fungus carried by elm bark beetles!
Peasholm Park have not one but two of these extremely rare species and one is now a Champion Tree! Don't forget to check them out.
Within the trees, you should also look out for wildlife like geese, swans and squirrels. Also, there is a fun sculpture trail that has made use of some of the dead trees over time.
5. Cross over the arched bridge to Peasholm Park Island
One of my favourite parts of exploring Peasholm Park is crossing over their gorgeous arched wooden bridge to Peasholm Island.
This bridge was installed due to the Blue Willow tea sets legends. It's where Chang and Koong-se made their escape!
This is where you can cross over the lake and while you're here you can watch dragon boats floating underneath you.
Peasholm Park island has a loop walking trail you can take all the way around it at the bottom and you can see the bottom of the feature waterfall. Or, climb up its steep hill to reach the Pagoda at the top!
It's good to note that although the park is open 24 hours a day, the island will be closed off at around 5 pm to protect it.
6. Admire the Peasholm Park Pagoda temple & oriental gardens
A walk up Peasholm Park Island is enough to take your breath away but what's at the top will be totally worth the effort!
At the top of the mount, you'll find an incredible oriental planned garden with archways, arched bridges, Japanese blossoms, trees, and shrubs around a beautiful lake.
Dominating over those gardens is the fabulous Peasholm Park Pagoda that was originally designed in 1929 by George W. Alderson.
Unfortunately, in the 1990s, it was burned down by vandals and so it had to be renovated. But, it still looks beautiful today in bright colours.
You can't go inside the pagoda itself but if you climb up the steps and walk around the outside, you'll get some of the best views of the waterfall cascade and the park!
7. Pop inside Peasholm Park café
After all that exploring, you'll probably be in need of a pick me up. Luckily, you don't have to go far as there is a cosy café on the grounds.
The Peasholm Park Café is delightfully situated right on the lakeside, so you either sit inside or enjoy their outdoor seating.
I had a super delicious homemade carrot cake and a coffee whilst overlooking the waterfall while I was here. It was right in the sunshine and was so relaxing as I watched the dragon boats float by.
As well as hot drinks and snacks, the café also serve up sandwiches and hot lunches if you would prefer. Or, you can get something to take away! Their menu is really reasonably priced.
8. Watch the famous Peasholm Park Naval Warfare battle
The Naval Warfare show was originally installed as a tourist attraction in 1927 and has a claim to the title of one of the longest-running shows of all time.
This unique performance is still something that draws in thousands of visitors every year. "The smallest manned navy in the world" has even caught international attention and is shown on the BBC.
The Peasholm Park Naval Battle was the brainchild of Mr. George Horrocks.
He was an entertainment manager of the park and also the open-air theatre in Scarborough at the time.
When it first opened, spectators would watch World War I Dreadnoughts, Q-ships and Submarines go into battle. These were all man-powered and would see men cramped inside 20 ft ships.
Nowadays, they are run by electricity but are still man-powered by controls.
They have models of famous ships used in World War II like the HMS Ajax, HMS Achilles and HMS Exeter. Plus, other vessels like 'Jervis Bay', 'British Pride' and 'Ark Royal'.
You'll also see aircrafts that fly over your heads! It's a lot of fun and a good giggle to watch the 30-minute battle unfold on the water.
If you were interested, shows take place on special dates during June – August. Prices are £4.50 an adult and £2.50 child with family tickets available.
9. Go putting or play miniature golf
If you didn't play miniature golf while on holiday by the sea, did you even go?!
Well, the good news is that Peasholm Park has a pitch and putt mini-golf course.
Try and beat your friends and family with a friendly match surrounded by the gorgeous nature of Northstead Manor Drive and the park.
The pitch and putt are open on select days from March until September and it costs £3.70 per person for one round. You will also need to put down a £2 deposit for golf clubs.
10.
Attend a Proms in Peasholm Park!

Just like when it first opened in the 1910s, Peasholm park holds numerous events throughout the year which are popular with visitors of all ages.

The Peasholm Park bandstand that sits within the lake regularly holds FREE concerts with brass or silver bands and piano on select weekends.

These are completely free of charge and anyone is welcome to watch at the theatre seats surrounding the lake.

There are also a number of chargeable events to attend like the Naval Warfare, a night at the orchestra, and open-air cinema events!
Peasholm Park opening times & ticket prices
Peasholm Park is open to the public 24 hours a day and 7 days a week. There is absolutely no charge to enter the park itself.
However, a lot of the attractions like Peasholm Park Island and the dragon boating are only open during busy seasons and weekends.
There isn't really a 'bad' time to visit this gorgeous park as there will be something blooming during any season of the year.
But, if you wanted to experience everything it has to offer, I'd opt for spring, summer or a weekend.
Is Peasholm Park dog friendly? Well-behaved dogs on leads are allowed inside the park with well-behaved owners!
Where is Peasholm Park Scarborough & how do I get there?
Peasholm Park is located in the North Bay of Scarborough in North Yorkshire, UK.
It's really close to the North Bay Beach and from there you can access the park within a few minutes walk.
By Car: If you were planning on driving here, the postcode for your Satnav is YO12 7TR. There are two pay and display car parks nearby. Or, you can find plenty of free parking spots on Peasholm Drive. You'll need a parking disc from a local hotel, restaurant or shop.
On Foot: I found it really easy to access on foot from South Bay. I first paid a visit to Scarborough Castle and then walked down from there. The walk was really scenic along the coast.
By Bus: If you needed to get public transport, you can easily take a bus to Peasholm Park from Scarborough train station. The 843 Coastliner stops right outside at the entrance at the dedicated bus stop. Click to plan your journey.
Where to stay in Scarborough
The tradition of taking the waters at Scarborough Spa has been around for centuries but today, we can take a much more modern approach.
The Crown Spa Hotel was the first purpose-built hotel in Scarborough (and some say the world!).
It provides the perfect staycation for a few relaxing days of pampering.
They have a plentiful selection of boutique rooms and many of those are seaside facing. It's located high up on the cliffs, so you can get an incredible view of the town from the comfort of your bedroom!
Spend a few hours in their Victorian spa, get fit at the gym, or enjoy a lovely afternoon tea. It's all waiting for you here.
Click here to book or see my full review of this fantastic hotel here
Looking for more places to visit in Scarborough?
I'm not going to lie, Scarborough really blew me away!
I had no idea just how much history there was here to uncover. It has over 3,000 years of heritage.
It's the oldest seaside resort in England and there really was such a thing as the Scarborough Fair (yes, just like the Simon and Garfunkel song).
It has a 12th-century castle dominating the skyline, an ancient Georgian spa resort and you can even follow in the footsteps of literary giants like Anne Bronte!
It has the Rotunda, the UK's first purpose-built museum, Victorian funicular railways, pirate ships that can take you around the bay and many more attractions.
There is SO much to this place beyond the arcades, sweet shops and beaches. You just need to dig a little deeper.
Click here to read all the must-see places in Scarborough!
Read more of my posts on Yorkshire
A complete Harry Potter Guide to York
The top haunted places to eat in york
The odd story behind York's shortest street!
A day trip to Whitby to see Dracula
A go-to Whitby photography guide
Why you must visit Robin Hood's Bay
The top places to visit in Scarborough
The ultimate travel guide for Staithes
Brontë Waterfall walk – Wuthering Heights inspiration!
The best things to do in Haworth Brontë Village
Like it? Pin it!