One of my favourite places to visit on the Yorkshire coast is Robin Hood's Bay which is just a few miles out of Whitby.
It's an old smuggler's hideout named after the heroic outlaw himself and it's perched deep between the cliffs by the sea!
To the locals, it's known as 'Bay Town' and it's a quaint little place with cobbled 'ginnels', cottages, traditional fisherman's pubs, and an old coastguard lookout.
It makes an incredible day trip in the North York Moors National Park and there are plenty of things to do in Robin Hoods Bay that make it worth visiting too.
Here's a complete travel guide and why you simply cannot miss experiencing this timeless fishing village.
Why is it called Robin Hoods Bay?
There is a certain amount of mystery involved as to why the village got the name Robin Hood's Bay.
According to legend, the famous outlaw Robin Hood saved the local fishermen by fighting off some French pirates who came to pillage their fishing boats.
After lots of fighting, the pirates eventually surrendered to Robin Hood and his merry men. The hero returned the fish and loot to the locals. As they were eternally grateful, they renamed the village after him.
However, is there any evidence that Robin Hood visited Robin Hoods Bay? Not a scrap and a far cry from the stories involving Nottinghamshire. But, that's not to say he didn't visit.
There has long been evidence of Robin Hood found in Yorkshire too. In fact, he was born there and more legends around the outlaw mention Yorkshire than Nottinghamshire. It's a long and heated debate between the two counties!
Many say that Robin Hood wasn't just one man but a few and it was a nickname for those outlaws who wanted to fight the rich and defend the poor. Or, he resembled a pagan forest spirit.
I guess we'll never know. But, it would be nice to imagine that the legends were true!
I recently went on a Robin Hood road trip in Nottinghamshire, if you were interested in reading more about the outlaw and places related to him in the UK, click here to see my Robin Hood Road Trip guide.
Robin Hoods Bay history
Robin Hood's Bay and the coast around it has a long history dating all the way back to the Jurassic Period and the time of the Dinosaurs.
But, the first evidence of human activity dates back 3,000 years ago to the Bronze Age.
By the Saxon and Norman times, the area was known as the parish of the Fylingdales. For a short while, it was owned by William the Conqueror's relative, Hugh of Chester.
Then, it passed onto Whitby Abbey via the Percy Family. It became known as Robin Hoods Bay or 'Robin Oode Bay' in the 14th century during the time of Edward III.
Smuggling in Robin Hoods Bay
In the 16th century, the bay and its port far surpassed the size and importance of the nearby Whitby. A mere two centuries later it became a smuggler's paradise!
Its convenient position hidden in the cliffs meant that they could operate undetected.
Huge tax levies were placed on imported goods by the crown to fund battles. Things like brandy, rum and even fisherman's salts saw increases of over 250%!
For the rich, it was a mere convenience but for the poor, they needed these goods to survive.
So, many took up free trading by looting Shipwreck's and some were in the business of Wrecking.
A Wrecker would lure ships onto the shores with a false light. Once the ship crashed on the rocks they'd steal the cargo and kill the passengers.
After all, dead men tell no tales and smuggling was a hanging offense if you were caught by the excise men!
The smugglers at Robin Hood's Bay would use houses and the local pubs, like the Fisherman's Arms, to hide their contraband and you can still visit many of these today.
Press Gangs and the Victorian Era
As well as the authorities, Press Gangs became a common threat on the North East Coast.
'Impressment' meant taking men to join the army or navy as a compulsory act without notice. Many men who were 'pressed' would never return home.
Although fishermen were supposed to be exempt, it wasn't always the case. So, women took to warning the men to hide once the Press Gangs entered the village.
During the Victorian Era, the bay reached its peak with the fishing trade and it became a tourist hotspot as well. Ever since its beauty has attracted thousands of tourists each year!
What is in Robin Hoods Bay?
Robin Hood's Bay is like a portal into a world forgotten and, as you descend down the steep cliff, you'll wonder whether you've accidentally stepped back in time!
This quintessential fishing village has a labyrinth of steep, higgledy-piggledy streets with historic cottages and cobbled ginnels (an old northern word for a small alleyway).
You'll find traditional fisherman's pubs and taverns with real ale contrasted with modern delis and coffee houses.
There are also historic museums, churches, an Old Coastguard Station plus a fantastic stretch of sand to explore at low tide!
There is SO much to see and do in this hamlet you'll be spoiled for choice and every corner is as cute as a button.
1. Wander around the cute streets, cottages and ginnels
For me, the most fun I had here in Robin Hood's Bay was getting completely lost in the endless maze of houses and streets.
They didn't seem to form any pattern and it appeared to be an infinite network of steep, topsy-turvy steps or stiles leading to small passageways.
I'd wander down cobbled streets with names like Sunny Place, historic homes with colourful doors, low archways, and ginnels.
As a photographer, I couldn't stop pushing the shutter as there was just so much inspiration at every turn.
There were historic windows, flower pots, nautical decorations, and even old ships to find. I could have continued for hours as it was just so adorable.
Make sure you take some time to explore what's hidden behind the beach as well as what's on it!
2. Go rock pooling on Robin Hoods Bay Beach
As if by magic, the harbour at Robin Hoods Bay reveals a secret beach at low tide!
It's recently been recognised for a Quality Coast Award and is one of the top 30 beaches in the world.
However, it's not your typical dry sandy beach, it's more like the waterbed that lies beneath. So, as well as wet sand, you'll find lots of rocks, puddles, seaweed, and a lot more over the slipway.
Be careful as you make your way down to the beach if it's just been high tide as it may be a little slippy.
It's a great spot to go for a walk while the tide is out and you can have a look at all the sea worm tracks in the sand.
Another one of my favourite things to do on the coast is rock pooling, you'll find many things hiding away like limpets and sea crabs.
Is robin hoods bay beach dog friendly? The beach has no restrictions for dogs all year round.
Make sure to check tide times: You can only access the beach at low tide, so make sure you plan your visit right. Here's a link.
3. Find the secret Boggle Hole
If you fancy a longer walk along the beach and coast you can walk a mile to the south on Cleveland Way and find the famous Boggle Hole.
The name Boggle is another name for a goblin or hobgoblin. These are mischievous little people that like to cause havoc but also the local folk believed they could heal.
Supposedly the Boggles lived in these caves called Hob Holes and the locals would bring their child here to be cured by them. Hence the name Boggle Hole!
It was also notorious for being a Smuggler's haunt back in the day and this is where they would often store contraband!
The old Watermill on the clifftops, which is now a hostel, used to be where the smugglers would plan their operations.
Today, it's one of Yorkshire's hidden gems that's located at the bottom of the cliffs on a sheltered bay. You can meander down, explore the caves and enjoy the secluded beach!
4. Visit the Old Coastguard Station
Robin Hoods Bay Old Coastguard Station is a National Trust visitor centre that sits right on the edge of the bay by the harbour.
Around two centuries ago, it was a public house for fishermen but, in an attempt to combat smuggling, a Coastguard was appointed as a lookout.
Afterward, it wore many hats, becoming both accommodation for tenants and even a Universities Marine Laboratory for Yorkshire Universities in 1912. It was hugely renovated over time and even had its own seawater tank for studies!
By the 1990s it was put up for sale and the National Trust took over to protect it.
Nowadays, it's a great interactive exhibition that has oodles of information on the geology of the area, which makes it so special and of course, the connections to smuggling!
Inside, you can see a replica of an old smuggler's house and how they would hide their contraband in the most creative of ways. From Barrels to Bibles, corsets, and shoes, they would find a way.
You can also make waves, generate wind power and see your own rock pool findings onsite. The rangers here will be more than happy to have a chat about what wildlife has been spotted in the bay.
The Old Coastguard Station exhibition comes with a small charge of £1 for adults and 50p for children. It's open from 10am – 5pm.
5. Follow in the footsteps of smugglers in the Robin Hoods Bay Pubs
This historic hamlet has a wealth of old fisherman's pubs that used to be popular smugglers haunts in the village.
The smugglers would often hide contraband in the cellars to move on for trade and to make sure they would be undetected by the excise men.
There are a few notorious inns that played that role but the most famous was the Fisherman's Arms.
One night, in 1799, it was raided and the excise men found 200 casks of gin and brandy and 150 sacks of tea!
Unfortunately, that has now closed but there are plenty of other pubs to choose from such as the Smugglers Bistro, The Laurel Inn, the Ye Dolphin, and The Bay Hotel.
All of these places provide local ales and a fantastic dinner menu for some pub grub.
6. Get some retail therapy in the Robin Hoods Bay shops
Another reason why people visit this village is to explore the range of independent boutiques and shops.
Every shop has a traditional edge which makes it all the more fun. Like the family-run Old Drapery that sells all sorts of clothes and beachwear if you've left home without.
Bibliophiles will love the pokey Robin Hood's Bay Book Shop with plenty of classic and modern books on the shelves, or Muir Lea Stores has a huge range of groceries!
Jet Black sells some of the famous Whitby Jet that has been hand collected off the beach and set into gorgeous silver jewellery. Or, Hew Gifts is perfect for some souvenirs to take home.
My personal favourite was Berties located on the hill towards the bay. They sell a delightful range of chic homewares and plants!
7. Admire the historic Old St Stephen's Church
St Stephens Church is the perfect spot for history lovers. It's a building frozen in time and nothing has changed since it was built on farmland overlooking the bay in 1822.
However, this is not the first church to have been built here. This has been a holy place for thousands of years!
The interiors include many boxed pews that have a curious arrangement with some that are front-facing and some backward! They have not been repainted since 1917.
If you look out into the graveyard, you'll find a wealth of history with local families dating back over 200 years.
You may also notice that many of the names of these gravestones bear the same names as cottages and streets in the village. They were named in memory of them!
The church welcomes visitors to take a look around. Entry is free but donations are welcome. Don't forget to pick up a leaflet that will pinpoint the highlights.
8. Pop inside the Robin Hoods Bay museum
A delightful find within the village is a small exhibition that sits in the Old Coroner's Room and Mortuary.
It's called the Robin Hoods Bay and Flyingdales Museum and was purchased all the way back in 1891 on a 1000 year lease!
It was originally created as a public reading room for newspapers and it still is used for this purpose today. There are numerous historical records and old papers to browse.
As well as books, they have a fabulous collection of historical artifacts.
From the last lifeboat to be launched from the bay, models of old ships, contraband recovered by the excise men, and even old cartographers maps. There are 1000 years of history to uncover.
Look out for the original banner of the Robin Hood and Little John Friendly Society that has the outlaw himself displayed on it.
The museum is run solely by volunteers and is located on Fisherhead. It's completely FREE to visit but donations are encouraged.
9. Go on a Robin Hoods Bay Ghost Walk
So, would you like to know who haunts Robin Hood's Bay? Apparently, it's one of the most haunted villages in the country!
By day this village is stunning and glistens with the sun but by nighttime, it's a completely different story. Almost unsettling as the mist rises over the sea.
Poltergeists roam around these narrow streets and the spectres of children can be found in the windows. But, none is so famous as Headless Bert, or Bert Marshall!
He was a frugal farmer who would go to no end to save money, even stealing teeth from the dead to replace his own.
One night, Bert was stinking drunk and made his way home from his local pub alongside the old railway lines. He accidentally tripped and fell, knocking out his dentures.
When he bent over to get them, he drunkenly slipped and fell on the railway lines. Then, he was decapitated by a fast-moving train!
His family searched everywhere for his head in order to bury him in one piece, but it was never recovered.
Supposedly, Headless Bert roams the streets for all eternity, carrying his false teeth and looking for his lost head.
You can find out many more exciting ghost stories like this one on the Robin Hoods Bay ghost walk…if you dare! Click here for details.
10. Hike along The Cinder Track or Cleveland Way
There are plenty of Robin Hoods Bay walks that you can enjoy exploring the local area. They are fabulous trails along the coastline and through the countryside!
The Cleveland Way is a national trail that stretches over 109 miles. It takes you along the North York Moors National Park and it takes weeks to complete. But, you can experience a small slice of it around here.
Why not walk from Robin Hoods Bay to Whitby? The walk will take you around two and a half hours along the spectacular NY Moors coastline.
Or, you can head out on The Cinder Track which is a popular, off the beaten track route connecting Scarborough and Whitby. The route will take you via the old railway lines built-in 1885.
The railway disbanded in 1965 but parts of it still remain, like the old railway bridges. This makes it a really interesting area to ramble on.
11. Visit Falling Foss Waterfall & Tea Garden in Sneaton Forest
Just a few miles drive from Robin Hoods Bay is an incredible waterfall tucked away inside Sneaton Forest.
Falling Foss waterfall & Tea Garden is an enchanting tea room that is located on the grounds of the historic Midge Hall. It's a fabulous place to relax and unwind by the May Beck.
Here you can have a light lunch, coffee, or afternoon tea whilst overlooking a gorgeous cascade!
Nearby, you can explore the idyllic woodlands and the famous Hermitage stone.
The café is only open seasonally from April – September 10.30 am – 4 pm and can occasionally shut-in inclement weather.
12. Attend The Victorian Weekend
Every year, Robin Hood's Bay holds a Victorian Weekend in the chilly month of December. It's the perfect setting for it as the whole town really does look frozen in time!
It sees hundreds of visitors come dressed in full Victorian attire. You'll find ladies at leisure, lords, chimney sweeps, fishermen, and plenty more characters.
There is often a competition for the best dressed.
As well as dressing up, you can enjoy carol singing and a whole range of traditional games like splat the rat.
Plus, more harrowing tales of ghosts and smugglers.
The whole village is beautifully festive at this time of year with plenty of decorations and twinkling lights. Entry is FREE!
Where is Robin Hoods Bay in Yorkshire?
Robin Hoods Bay is tucked away down the cliffs in the North Yorkshire Moors National Park.
There are two parts to the bay, the upper part of the village and the lower part. The lower part of the village is mainly a car-free town.
You can easily access Robin Hood's Bay from the A174 main road that snakes through the National Park. You'll see a turn-off for the visitor car parking.
Plug in this Robin Hoods Bay postcode in your SatNav; YO22 4RE.
How far is Robin Hoods Bay from Whitby? It's a 6-mile drive from Whitby Abbey that will take you around 15 minutes. There is also a Whitby to Robin Hood's Bay bus service you can check out here.
Can you drive down to Robin Hoods Bay?
Yes and No. Visitors must park on the upper cliffs of the bay in either of the two pay and display car parks.
Then, you'll need to walk down the steep hill towards the harbour through the village.
However, if a member of your party is not able to do this, it is possible to drive down to the village and drop them off.
Then you can circle back up to the visitor car park. The same goes with holiday cottage accommodation as there is no parking available on the lower side.
Robin Hoods Bay parking is available in the two-car parks near Station Road. Parking is £2.20 for an hour and it goes up to £6 for the whole day.
The Fisherhead Car Park in the lower part of the village is private and for residents only.
Please DO NOT drive large cars, vans, or lorries down into the village. The roads are single-track and extremely narrow. There was a huge bust up on my visit which saw a large van and a car in a serious head-to-head for over an hour and lots of beeping and shouting was involved!
Robin Hoods Bay accommodation
If you were daydreaming of calling this dreamy village home (I know I was!), there are plenty of holiday cottages and B&Bs that you can rent for a few nights.
Here are some of the top-rated retreats and cottages in the area;
Victoria Hotel – a true classic, this Victorian Hotel was built in 1897 and has some of the most spectacular views from its position on the headland. Although the rooms do have some of the period features, they also have a contemporary design and conveniences. It has a popular pub with real ales, a tasty restaurant and tea room on site. Click here to book.
Fernleigh – set in an old Victorian Sea Captains home on the headland of Upper Robin Hoods Bay, this family-run B&B has 5 luxurious en-suite rooms to rent. Most of the rooms have sea views! You're just 5 minutes walk from the bay and on the gateway to the coastal paths! Click for rates.
Apple Farm Holiday Cottage – If you wanted to stay in the lower town then try Apple Farm Cottage which is just 700 yards away from the bay. It's a 17th-century farmhouse that has been renovated. It has all the amenities you could wish for including a kitchen, patio, living room and three bedrooms! Click to enquire.
Places to visit near Robin Hoods Bay
Once you've finished exploring the village, you'll be right in the heart of the North York Moors National Park.
There is an infinite choice of breathtaking places to explore here, including fairytale woodlands, waterfalls, bustling towns, small villages, and harbours too!
Here are some of my top picks in the area;
Whitby
Whitby is one of my favourite places in all of Yorkshire! It's a gorgeous coastal town that sees countless visitors and you can climb up the 199 steps to visit the dramatic Whitby Abbey on the headland.
This is the birthplace of Bram Stoker's Dracula as he stayed here at the Royal Bay hotel. It was the view from his hotel room that inspired his famous story of a blood-sucking vampire!
They take their Dracula heritage very seriously here in the town and you'll see plenty of things to do with the Count.
Beyond Bram Stoker tourism, Whitby is a must-stop on the coast.
Those on the Captain Cook Trail will love the memorial museum and you should try out the Endeavour experience where you can sail in a recreation of the HMS Endeavour.
There are so many quaint streets with independent shops and pubs to pop into.
Also, you can explore the busy harbour, take a stroll along the pier and enjoy epic views of the coastline. Don't forget to pop inside the Magpie Café for their famous fish 'n' chips!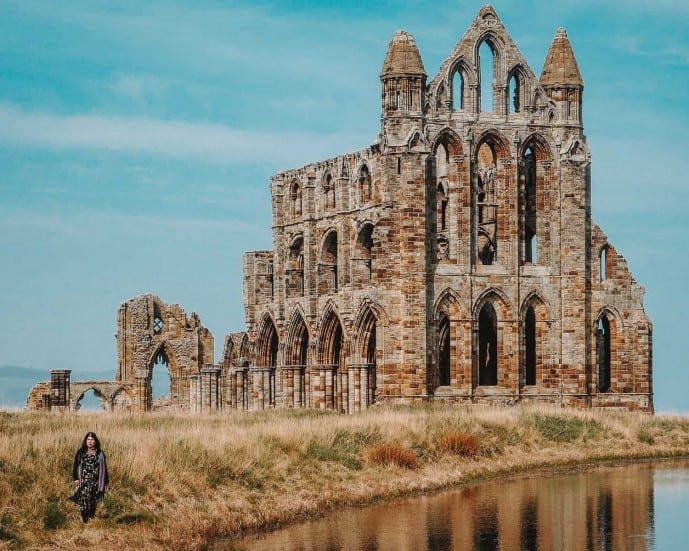 Staithes
Staithes is another quintessential fishing village on the coast that sees far fewer visitors than Robin Hoods Bay.
It's a little hidden gem and is another spot on the Captain Cook Trail. He was hired here as a shop boy when he was just 16 and it's thought that his time here inspired him to become a captain.
You can take another steep walk down the cliffs towards the harbour below.
Here, you can explore the many ginnels, cottages, and heritage lifeboat station.
There's plenty to do including relaxing on the beach, painted illusion trails, a walk along the harbour, lunch at the Cod and Lobster, or paying a visit to the Staithes Heritage Museum.
Read more in my complete travel guide for Staithes
Scarborough
I was always told that Scarborough wasn't that great, but this couldn't be further from the truth! There are over 3,000 years worth of history to discover.
Simon and Garfunkel were right about there being a Scarborough Fair which makes it the oldest seaside resort in England.
You can explore the castle at the top of the hill that dates back to Roman times, or visit the forgotten spa where society would visit to 'take the waters'.
It has some original Victorian funicular railways that still run and you can visit the UK's first purpose-built museum, the Rotunda.
Don't forget to visit one of the nation's favourite parks while you're here. The Oriental-themed Peasholm Park was originally built in 1912 and was based on the willow tea sets!
Click here to read all the must-see places in Scarborough
Like it? Pin it!