One of the most underrated and incredible places to visit in the Lake District is the unassuming village of Rydal.
A lot of people skip this pretty place amongst the big players like Keswick, Grasmere, Ambleside, and Bowness-on-Windermere.
But, I would encourage you to stop by Rydal while you're here.
Not only does it have an amazing history to uncover with famous past residents like William Wordsworth, but there are also a lot of amazing things to do in Rydal as well (beyond what Tripadvisor tells you).
You can visit historic homes, chase waterfalls, find forgotten caves, and be on a gateway to many panoramic walks in the area too!
I am determined in this post to shine a light on this idyllic village in the Lake District. So, here's is a complete travel guide and a list of things to do in Rydal.
Heads up: my visit to Rydal was part of a press trip with Go Lakes. Although I was a guest, all photos and opinions are my own.
Why visit Rydal in the Lake District?
Britain is full of spectacular villages tucked away in the countryside. Some of them time has forgotten altogether. But, there aren't many villages that have such an interesting story to tell as Rydal does.
Over time, this tiny hamlet with just a few buildings has seen many literary giants make a home here like William Wordsworth, Thomas de Quincy, and Hartley Coleridge (son of Samuel Taylor Coleridge)!
Their influence has left quite a legacy in Rydal including the famous Rydal Mount that Wordsworth lived in until his death. However, I wouldn't make the mistake of thinking that's all there is to see.
There was a reason why these influential people chose to live here in the first place and that's because it's special!
The beautiful landscape and nature around Rydal have been the muse of so much romantic literature, artwork, and poetry. It almost feels like you're walking through a portrait hanging in a gallery.
It's a quiet, peaceful area where you can escape the crowds for a while and take a walk. While you're exploring take the time to look a little closer and you'll discover so many interesting things.
Rydal History
It may surprise you to know that Rydal's epic history started way before William Wordsworth even set foot in the Lake District.
Originally, Rydal was part of Westmorland in Cumbria and its name derives from Old Norse meaning the "valley where rye was grown".
Rydal Water was also known as Routhemere. It was first mentioned in recorded history in 1240 and a manor home was assigned to Roger de Lancaster in 1270. Isabella Lancaster then married Thomas Fleming of Coniston.
Rydal Hall was the first notable building in the area built by Sir Thomas le Fleming at St John's Knott in 1409. The Fleming family remained on the lands until 1940 when the last Squire le Fleming died.
Records show that the hamlet was majorly a farming village over time and still is a working village today.
As well as having famous residents over the years including the famous painter Fred Yates, it has also seen many artists through time visiting the area.
J M W Turner, Francis Towne, Joseph Wright of Derby, John Constable, the playwright John Drinkwater and Woodrow Wilson are all have meant to pay a visit. Some even created artwork or poetry from their visit!
Top things to do in Rydal
1. Visit William Wordsworth's Rydal Mount
The main reason why tourists flock to this village is to follow in William Wordsworth's footsteps on his literary trail.
William Wordsworth lived in many properties across the Lake District in his time including Dove Cottage in Town End and the Allan Bank in Grasmere too.
Rydal Mount was to be the final property that he lived in with his wife and children as a family home in 1813.
He lived here until his death in 1850 at 80 years old. He published his famous poem 'daffodils' from here in 1815.
The Tudor cottage dates back to the 16th century and Wordsworth rented the house from Lady le Fleming who lived in Rydal Hall.
As well as visiting the historic home which has been beautifully preserved from the time he was here, you can also visit the manicured gardens that Wordsworth designed himself.
Rydal Mount is open from Wednesday – Sunday from 11 am – 4 pm. Click here for more details and ticket prices. It's recommended to call ahead and check if it's open due to being closed for special events throughout the year.
2.
Stay and visit Rydal Hall

Ever since the 1940s when the last Fleming lived in the residence, Rydal Hall has been repurposed for public use.

During the Second World War, it was used as a school and then after that a hotel.

Ever since 1963, Rydal Hall has been let to the Diocese of Carlisle. It was then transformed into a hotel and retreat centre for all religions and faiths.

As well as staying or camping here, you can attend one of the many events that they hold throughout the year.

Spiritual retreats, musical events, art workshops, concerts and talks – there's a lot going on that you can check out here.
Rydal Hall Thomas Mawson Gardens
As well as having a look inside Rydal Hall, the gardens surrounding it are magnificent and well worth a peek.
They were originally designed by Thomas Hayton Mawson in the Arts and Crafts design movement. As well as the beautiful gardens in front of the house, they have extensive grounds to explore.
In here they have sculpture trails, interesting plant life, and all sorts of wildlife to spot too like endangered red squirrels. It is open to the public with a suggested donation of £3.
3.
Discover Rydal Falls at "The Grot"

One thing I absolutely loved about the Lake District was the opportunity to chase waterfalls here!

We don't have that many to boast in England, so it's always lovely to be able to visit some when you get the opportunity.

I was really surprised to find out that Rydal has its very own waterfall. Not only that but it's one of the top-rated waterfalls you can visit in the Lake District National Park too.

Rydal Waterfall sits on the grounds of Rydal Hall and is just beyond "The Grot" which was built by Sir Daniel Fleming in 1668.

Click here to read my complete guide for finding Rydal Hall Waterfall
He built the grotto specifically as a viewing station so that tourists visiting the area could enjoy the falls.
Although this seems normal today, it was unprecedented back then and is one of the first of its kind in England.
William Wordsworth visited these falls with his nephew and even mentioned them in his poem 'An Evening Walk'.
As part of the Rydal Hall grounds, it's free to visit but there is a suggested voluntary donation
4. Have tea in The Old School Room Tea Shop
Rydal Hall also has its very own tea shop that you can stop by if you fancied a tea break or some light lunch.
Originally built by Sir Daniel Fleming as a schoolroom for his sons, it has now been transformed into a retreat on the grounds.
As well as sitting inside the tea shop, the outdoor seating area is very scenic with a small cascade outside.
You can purchase sandwiches, soups, homemade cakes, ice creams, and hot and cold drinks too.
Also, every few weeks the Old School Room Tea Shop display artwork from local artists that you can admire and purchase. Such a great idea!
5.
Explore St Mary's Church

The quaint St Mary's Church in Rydal that sits at the bottom of the village is also somewhere I would recommend visiting.

William Wordsworth helped Lady le Fleming choose the spot to build the church over an orchard. It was eventually built on her commission in 1824.

The gallery inside the church was reserved for private worship by the le Fleming family.

William Wordsworth worshipped here as he lived in Rydal Mount and he was Church Warden for a year from 1833-4. There is a small memorial plaque dedicated to him inside.

Interestingly enough, there is no graveyard here as it was built on the rocky ground beneath Nab Scar.

After you have popped inside, I would recommend exploring the grounds and visiting the nearby Dora's Field.
6. Relax in the daffodils at Dora's Field
The Rash Field outside of St Mary's Church is now known as Dora's Field and owned by the National Trust.
As William Wordsworth was renting Rydal Mount from Lady Anne le Fleming. He didn't own the property or have any rights over it.
Lady le Fleming threatened Wordsworth that she may withdraw the tenancy and give the cottage to a relative.
So, William Wordsworth got crafty bought the Rash Field outside of St Mary's Church.
He decided to start designing a house with George Webster that would block the views of Rydal Water from Rydal Hall. Eventually, Lady le Fleming withdrew the threat.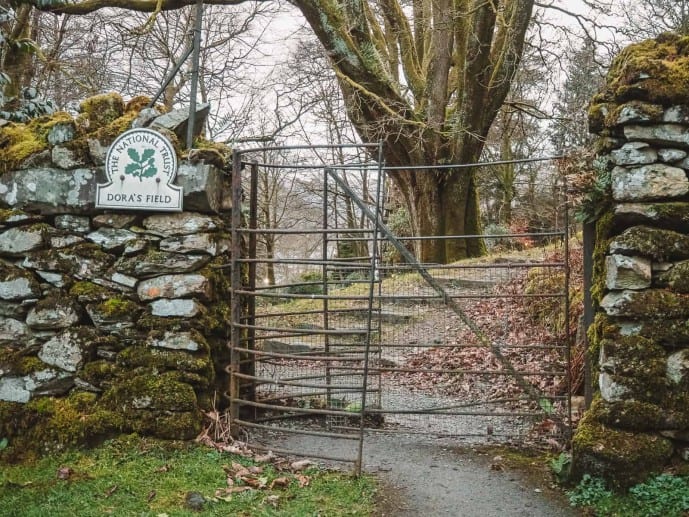 Although Dora's Field is stunning and has a beautiful bed of daffodils, the reason why it was created has a more tragic tale.
William Wordsworth's daughter Dora died in 1847 of tuberculosis. She was very talented herself writing travel journals of the area and Wordsworth adored her.
So, he decided to plant hundreds of daffodils in the Rash Field dedicated to her memory. It was renamed Dora's Field.
As well as lots of daffodils here, there are quirky forgotten staircases, trees, and benches to relax on too. It's a great place to relax.
7.
Cross over the scenic Pelter Bridge

Every time I drove through Rydal, I would see this awesome stone bridge on the side of the road over the Rydal Beck.

So, I decided to check it out while I was here. The Pelter Bridge is actually classed as a Grade II listed building that has three arches.

Although they don't know the exact date it was built, it used to be a packhorse bridge.
Although there isn't much to do here apart from looking at it, if you were looking for an awesome photography spot in Rydal this is it!
It has the bridge, the Beck flowing underneath it, swaying trees, and the rolling hills of the countryside in the background. What more do you need?!
The Pelter Bridge also allows you to access Pelter Bridge Car Park which is the gateway to Rydal Water walking routes along the River Rothay.
8. Take a walk around Rydal Water
Rydal Water lake was a popular spot for William Wordsworth who used to picnic here often and it acted as inspiration for many of his poems.
Also, his friend Thomas de Quincy loved Rydal Water so much he purchased 'The Nab' right on the waterside.
The Rydal Water circular walking route, or the "Wordsworth Walk", is really popular for many reasons.
It's easy, it's scenic and you get to take in a lot of the sites of the area too. You'll even get to walk down "Coffin road", which used to be the route to take the dead from Rydal to Grasmere for burial.
It will take you around two hours to do the whole thing.
The best way is to start is in White Moss by White moss waterfall, you carry on around Rydal Village. Head to the Badger Bar, cross over to Rydal Water, head through to Rydal Cave, and then back to White Moss.
9. Find Wordsworth's Seat
As part of this walk, if you're a fan of Wordsworth, a place you may be interested to visit is Wordsworth's seat.
It can be found near Rydal Water and is a place where William Wordsworth used to sit to find inspiration…in public for the benefit of passing tourists!
Apparently, he even had an agreement with the coachman who would stop here purposely so that tourists passing by could see him thinking and writing.
It's quite an easy spot to find on the A591. If you head past the Glen Rothay Hotel towards Grasmere, it can be found along the road around a 10-15 minutes walk from there.
10. Visit the Rydal Caves & Loughrigg Fell
A hidden gem, within the hidden gem of Rydal, is the spectacular Rydal Caves.
Although it would be lovely to say these were natural pre-historic caves, they were actually man-made and formed part of the Loughrigg Slate Quarry in the 19th century.
From the White Moss and Rydal Water Car Park, this walk is really easy and it should take you no longer than 20 minutes or so to reach it.
The cave itself has a body of water that is home to many fish, even goldfish according to locals, so you'll need to hop over the stone steps to go inside. Once you go in, make sure you turn back to see the teeth shape!
After Rydal Cave, you can carry on along Loughrigg Terrace to head up to Loughrigg Fell, a fabulous viewpoint. Although it's not a great height, the views are breathtaking.
Click here for my Rydal Cave guide
11. Visit the High Sweden Bridge
Another amazing graded bridge in the Rydal area is the High Sweden Bridge. This is also another lovely walk in the countryside that I wish I had more time to complete.
Another historic packhorse bridge, dating back to the 1700s, was built to cross over Scandale Beck.
Most people start the 'High Sweden Bridge' circular from Ambleside, but if you're in Rydal it's easy enough to find.
Head onto the A591 towards Ambleside until it turns into Rydal Road. Turn left when you see the Rydal Farm on your right.
Walk onto Peppermint Coppice and head onto the Scandale Beck path towards the High Sweden Bridge. Then you can head back to Rydal the same way or circle back to Ambleside.
12. Admire Nab Cottage, home of Thomas de Quincy
As I was heading up to the Rydal Cave, I fell head over heels in love with a white cottage that was perched on the riverside.
It was so striking compared to the rugged landscape of Nab Scar, that I couldn't help but notice it. So, after I headed back I had to know what this house was.
I found out later that this was The Nab or Nab Cottage that was originally built in 1556. The most famous resident to live here was Thomas de Quincy.
He was a romantic author, essayist, and laudanum addict with his most famous work is the "Confessions of an English Opium-Eater".
This shot him to fame overnight and is said to have started the addiction literature movement.
He lived at Nab Cottage with his wife and baby son in 1817. But, he struggled with his opioid addiction with six kids at home and they were forced to leave.
Hartley Coleridge, son of Samuel Taylor Coleridge, also moved into Nab Cottage until his death. Wordsworth sat with him by his bedside in 1849.
Today, it has been preserved and is a delightful little B&B with magnificent views. Click here to see more.
Other notable cottages of famous residents in Rydal
I was pretty amazed that this tiny hamlet had so many famous residents here over time!
Hart Head Cottage was home to the painter Fred Yates who lived until 1914. He was a landscape painter and a good friend of US President Woodrow Wilson.
Fox Ghyll was another home of Thomas de Quincy and his family.
Fox How was a building that was encouraged by Wordsworth for Dr. Arnold of Rugby the author of "Tom Brown's Schooldays".
Manor Cottage was home to the famous Armitt sisters Mary Louisa, Anna Maria, and Sophia. Mary Armitt compiled a short history of Rydal and wrote "The Church at Grasmere". The Armitt Library & Museum was created by Mary Louisa Armitt in 1912.
13. Have dinner or a pint at the Badger Bar
Although it is a small place, there are a few places to eat in Rydal and the Badger Bar in the Glen Rothay Hotel is a local favourite.
It was originally built in 1624 as David's Inn in Rydal and then became the private-owned 'Ivy Cottage'.
Today, the Badger Bar is the oldest part of the building with the hotel being mostly Victorian.
The reason why it's called the Badger Bar is that you can see their colony of Badger's here in the evenings.
The staff feeds them scraps from the restaurant and over the years they have become regular customers. If you'd rather see them from your armchair, click here to see their badger cam!
The Badger Bar serves up a hearty lunch from 12 pm-3 pm and a classic pub dinner from 6 pm- 9 pm. Click here to see their menus.
14. Walk to Ambleside or Grasmere
Rydal is right in between the historic village of Grasmere and the bustling town of Ambleside.
You could be in Ambleside in 30 minutes walking time or Grasmere in 45 minutes. But, I would leave lots more time as it's really pretty with lots to see on the way.
Better yet, you could plan a walking route from Grasmere to Ambleside and visit Rydal village, cave, and water in between!
Both of these locations are unique in their own way. So, here's an overview with things you can do in both;
Ambleside
Although Ambleside is a bigger town in the Lake District, it hasn't lost any of its charms.
It has lots of infrastructure too with a petrol station, high street shops, boutiques, and coffee houses.
Here, you can visit the incredible Stock Ghyll Waterfalls that cascade from a height of 70 feet. Or, see the famous icon the Bridge House which is a 17th century home built on a bridge to avoid Land Tax. Click to read more here.
The Armitt Library Museum is located here which was created by Mary Louisa Armitt who lived in Rydal.
The Stagshaw Garden is meant to be a beautiful place on the way to Waterhead.
From Waterhead Pier, you can also take a cruise on Windermere, the largest natural water lake in England. Or, visit the Jetty Museum.
Click here for my complete guide to Ambleside
Grasmere Village
Grasmere is my favourite place in the Lake District and it's another famous home of William Wordsworth too.
If you want to follow in the footsteps of William Wordsworth, I would recommend heading over to Dove Cottage next. You can then visit the Allan Bank where he lived as well.
The historic St Oswald's Church is worth a visit where his grave and those of his family are in the churchyard.
Also on the church grounds, you can visit the Wordsworth Memorial Gardens.
Grasmere is famous for its amazing cafés like Hardy's and the Windermere Tea Gardens.
Plus, there are some quirky and historic shops like Barney's Newsbox with thousands of jigsaws to buy and Sam Read's newsagents which have been here since 1877.
No visit to Grasmere would be complete without popping in to try Grasmere Gingerbread shop.
Created by Sarah Nelson in 1854, it's a top-secret recipe and a famous favourite of locals and tourists alike!
Click here for my complete guide to Grasmere
Where is Rydal in the Lake District?
Rydal is located in-between Grasmere village and the town of Ambleside in the Lake District and you can access it on the main road (A591) that snakes through here;
How to travel to Rydal
By Car: From the M6, you need to take the A590 which is heading to the Lakes and Bowness-on-Windermere. Carry on this road until it changes to the A591 towards Keswick. You'll pass Ambleside and Rydal is just 2 miles from there. Parking options are below.
By Bus: Although Wordsworth put a stop to trains ever reaching further than Windermere, that doesn't mean it isn't accessible by public transport.
For centuries people travelled by Stagecoach and horses around the Lakes but now there is a more convenient Stagecoach bus service that runs between Windermere and Grasmere.
Take the 599 from either Windermere train station, Ambleside, or Grasmere, and stop off at Rydal on the way!
Rydal Parking options
Rydal is a really small village and lots of cars can put pressure on the infrastructure here. So, it's best to be prepared on where to park before you arrive.
There is a limited amount of unrestricted spaces on the lane by Rydal Church but if you plan on parking there, there is a small donation of £2 required to go towards the church.
You can park at Rydal Hall and purchase a £5 parking permit for the whole day. This also gets you a £2 discount at the tea shop too!
There is limited parking at Rydal Mount for coaches and blue badge holders only. There are pay and display car parks at Pelter Bridge, White Moss Walks, and Rydal Water too.
These are camera-controlled with Park With Ease (they track license plates). So, be careful to be on time or you'll get a hefty fine!
Read more of my Lake District guides
Places to visit on a Windermere Lake Cruise
A complete guide for the Blea Tarn walk
How to visit Hodge Close Quarry
All The Witcher filming locations in the Lake District
A complete Cathedral Cave walking guide
How to visit Claife Viewing Station
Save these things to do in Rydal for later!