If you're on the Yorkshire coast and you're looking for all the incredible things to do in Scarborough then you've come to the right place!
"Are you going to Scarborough Fair?" Is probably the time old question beautifully portrayed in a ballad by Simon & Garfunkel. But, did you know that refers to a medieval fair and there are tonnes of other incredible things to do in Scarborough today?!
Scarborough is oozing with history and its craggy cliffside and pristine beaches provide some breathtaking views of the Yorkshire coastline.
You can meander along with the Scarborough Spa from the 18th century, admire the sandy beaches and bustling harbour on the promenade, visit romantic castle ruins and explore lush green oriental parks.
You can also get some lip-smacking food to boot including the time old Fish 'n' Chips, lashings of ice cream and a cracking cup of tea and scrumptious cake.
Scarborough is the oldest Seaside resort in all of England and so it's the perfect location to base yourself and enjoy a taste of the great British beach holiday.

Here are the very best things to do in Scarborough!
First off, is there really a Scarborough Fair?
Ever since I heard the song by Simon & Garfunkel, Scarborough has been on my bucket list. Sounds silly, but that's really all it took for me to be curious from a young age.
The Scarborough Fair actually refers to an annual trading fair from the Middle Ages that was given a royal charter by King Henry III of England.
It used to last around 45 days and was a venue for tradesmen all over England to bring their wares.
It was not exclusively for the English however, traders from Norway, Denmark, the Baltic, and Byzantine empires also came to trade.
As part of the festivities, that drew crowds of thousands of people, there used to be feasts, horses decorated for competitions, bands playing music, jesters entertaining the crowds, and all sorts of pleasure-seeking people that used to attend!
Unfortunately, big events like this also meant huge taxes and fights with other towns holding their own fair. The most notable was a battle with Seamer which is still observed on St Swithen's day.
By the 18th century, after Seamer was granted a royal charter, the interest in the Scarborough Fair ceased and it was no more.
Now, it really only lives on through the famous medieval ballad 'Scarborough Fair' that was written and adapted since the 18th century. It grew famous after Simon & Garfunkel adapted it, as shown in 'The Graduate'.
How to reach Scarborough in England
Scarborough is based on the Yorkshire coast and is just on the border of the North York Moors National Park.
If you're heading up to the city of York by train from London, you can then hop on the train over the Scarborough and it should take you around an hour to reach from York. The whole journey from London will take roughly 3 hours.
If you're driving, Scarborough is around a 90-minute drive from York city centre, or 45 minutes from the neighbouring town of Whitby, home of Bram Stoker's Dracula!
17 amazing things to do in Scarborough
1. Explore Scarborough Spa
The original draw for the town and partly the reason why we even have a train line connection to Scarborough today was the famous Scarborough Spa.
Ever since the 17th century, when Mrs. Farrer discovered the natural mineral water here, people have flocked to Scarborough for a taste.
'Taking the waters' was a popular thing to do in the 18th century, around Jane Austen's time and the most famous evidence of this is in Bath Spa in Somerset.
People believed that the water had healing properties and could heal all sort of ailments including rheumatism.
So, then came the rise of the Spa Resort, where nobility would rent out houses and join society in the town who were also taking the waters there.
It became so popular in Scarborough, that spa houses and saloons were made to cater to tourists who wanted to take the waters. This included a promenade, theatre, bandstand and shops.
There have been many spa houses and saloons in Scarborough that were built and swept away with the tide, but the one that still stands on the seafront today was constructed by Sir Joseph Paxton in 1858. The same architect that built Chatsworth House and the Crystal Palace.
Today the Scarborough Spa still exists and it's one of the top things to do in Scarborough. You can visit their Grand Theatre, cafés, terraces and bandstand on the seafront.
When I visited it was under construction, however, it was still beautiful to look at and imagine a more popular time in the past.
2. Cross over the Scarborough Spa Bridge
Now, this bridge may seem insignificant as you stroll on by but it actually has an interesting history!
As popular as the Scarborough Spa was, the only way for people to access the beach, the harbour and visit Scarborough Castle was by a steep descent from St. Nicholas Cliff.
Back then, although taking the air was popular, the wealthy weren't very fond of exertion. So, the Cliff Bridge Company decided to build this iron bridge in the hope of attracting more paying customers.
When the bridge opened in 1827, people crowded around in droves to see mail coaches and horses gallop across it! As an easy connection route providing magnificent views, it became so popular in Scarborough that there used to be a toll booth that charged you to cross it with the option to purchase season tickets.
Today, fortunately, it's free and you have the option to cross over here or take the walk down to the seafront via St. Nicholas Cliff. I fell in love with this view of Scarborough coast and it's beautifully bright teal paint.
3. Stroll along the Scarborough beachfront
The Scarborough Spa is easily connected with the Scarborough beachfront and it's a beautiful walk on a sunny day.
You can take in the views of the sea and the coastline or be taken in by the many distractions here. It's one of the best things to do in Scarborough.
Penny arcades, horror shows, Bingo halls, ice cream shops, pubs for a pint, fish 'n' chips, bouncy castles, theme park rides and all sorts wait for you along the seafront.
There are stalls selling sandcastles, buckets and nets to go fishing. It's pretty much a money sink!
But, there is some free stuff to do. You can lie on the beach if it's sunny or paddle in the ocean and simply sit outside and take in the view! The choice is yours.
4. Visit Scarborough Harbour and ride the Hispaniola pirate ship
If there is one thing that can't be missed while you're in Scarborough it's a visit to the bustling harbour.
Noisy, busy with fisherman bringing home their daily catch and with the potent smell of the sea, you can see all sorts of life here. Including seagulls hunting for a bite of fresh fish to eat!
It's one of the best things to do in Scarborough.
If you're looking for a truly unique experience at Scarborough harbour, then I would recommend a ride onboard the Hispaniola; Scarborough's very own pirate ship!
Now, it's not as big as the Black Pearl and you certainly won't be heading to join Jack Sparrow in the Caribbean, but you can still enjoy a zip around Scarborough bay for some spectacular views.
There's a man worthy of Blackbeard's crew hurling you in on the front with a sign, so you can't miss it!
It's only £3 and you get twenty minutes on the ocean. Although it looks pretty sturdy around the harbour, when you actually get out into the sea it's pretty choppy! So, I hope you've got good sea legs.
5. Buy an instaworthy ice cream at the Holy Cow
Now there's two things I want when I get to a seaside town; Fish 'n' Chips and ICE CREAM! A Mr. Whippy with sprinkles, creamy Cornish dairy, in a crunchy cone or a tub and spoon I don't mind as long as I get some. But, when I heard there was a photo-worthy ice cream shop in town I had to pay it a visit.
Holy Cow is an independent ice cream shop right on the seafront that serves up some of the prettiest ice creams in town. Their colourful creations include Oreo, Bueno, rainbow glitter and a magical unicorn cone.
When the lady said that this beauty only cost £2.50, my jaw nearly hit the floor. Anything Instagram worthy like this would cost you a fortune so it's an absolute bargain. So, you must visit and make sure you take a few photos too.
6. Climb up to Scarborough Castle
The dramatic Scarborough Castle is perched high on the cliffs and can be seen all over the town.
Its elevated position is a sign of its power through the centuries and today it's like a siren calling you in to explore.
Here you can walk into 3000 years of history! There have been settlers here since the Iron and Roman ages. It really is one of the most spectacular things to do in Scarborough.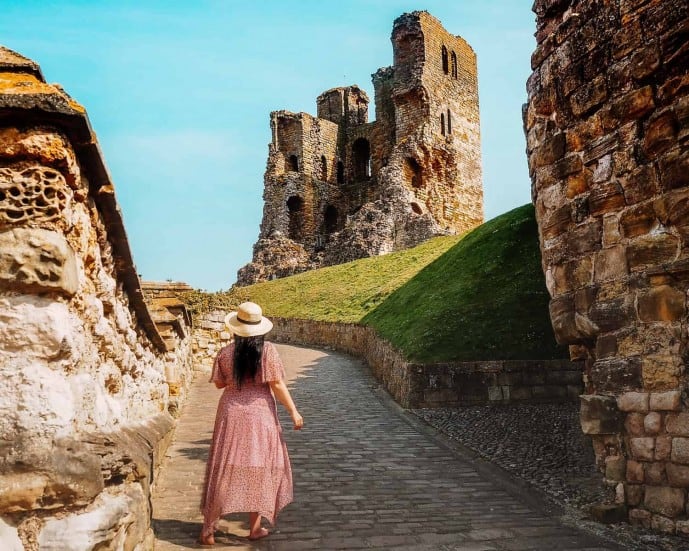 However, the fortification ruins we see today originally started out with King Henry II's Great Tower, or the Scarborough Keep, and was built in the 12th century in 1159. It acted as both a Royal Palace as well as a stronghold.
King Henry III then maintained Scarborough castle in the 13th century and it was the greatest royal fortress in England at the time.
Edward I used it as his royal court and Richard III was the last king to stay at Scarborough castle in 1484 while preparing an army to defeat Henry Tudor (later King Henry VII).
It was regularly under siege in the Tudor era and was the centrepiece of many famous battles including the Civil War of the 17th century. The Jacobite rebellions saw the castle become a jail to keep traitors to the crown in the 18th century.
Today, it's owned by English Heritage and we can explore the ruins and barracks of this great castle. Beyond a ruin, It provides breathtaking views of Scarborough and the ocean below. You see why this location was chosen as a fortification as you can see enemies approaching by ship or on land for miles!
Click here to read my complete guide for Scarborough Castle
7. Pay respects to Anne Brontë's grave at St. Mary's Church
The Brontë sisters, Charlotte, Anne and Emily have written timeless classics such as Wuthering Heights, Agnes Grey and Jayne Eyre.
Although they all had pseudonym pen names to hide the fact they were of the 'fairer sex', today they are celebrated as some of the greatest authors of all time.
Anne Brontë, or Acton Bell in her works, contributed to the poetry book that the Brontë sisters commissioned at their own expense. She also produced two novels 'Agnes Grey' and 'The Tenant of Wildfell Hall' which back in 1848 sold more copies than Wuthering Heights!
She, unfortunately, died in 1849 of consumption now known as tuberculosis, a year after her sister Emily and her brother Branwell died of the same disease. There were also two elder Brontë sisters Maria and Elizabeth that also died of consumption in their early years.
Related post – How to Visit the Brontë Waterfall near Haworth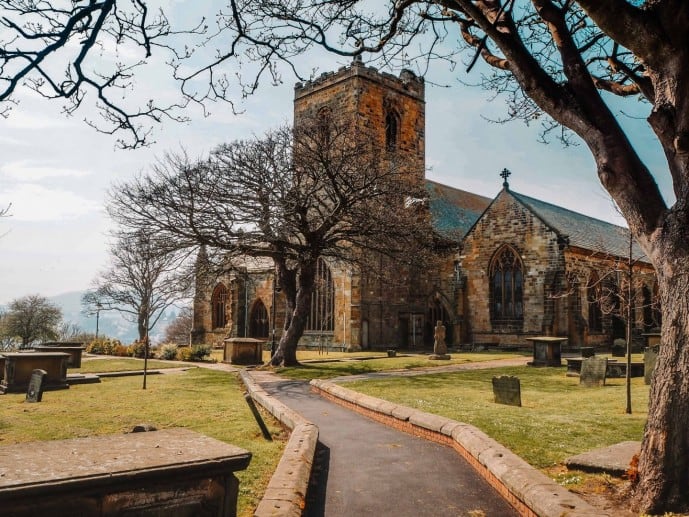 Anne is the only member of the Brontë family that was not buried in Haworth where they were from. She visited Scarborough in the hope that the change in the air would help her symptoms. But, she died in the Wood's Lodgings where the Grand Hotel is now placed.
You can pay your respects today to her grave where she is buried overlooking the sea in St. Mary's Church near Scarborough Castle. Apparently, Charlotte Brontë visited her grave and was annoyed to find spelling mistakes declaring her age wrong! She was 29 when she died but the stone reads 28.
8. Walk along the cliffside
Now, one of the most amazing things to do in Scarborough is a walk along the cliffside.
What I loved about Scarborough was the best of both worlds. You could explore down below on the seafront, or climb up to the cliffside and see some amazing panoramic views of the area!
The Esplanade above the Scarborough Spa, South Bay, St Nicholas Cliff, North Bay and the Scarborough Castle area are great walking trails to find some of these panoramas.
You just have to hike up to the hill first which can be challenging.
9. Go on the Grand Hotel Scarborough Hotel Tour
The Grand Hotel Scarborough used to be the classiest establishment on the strip. When I was talking to some locals in the area, it was only for the wealthy and taking tea here would cost a small fortune to the working classes.
It's a Grade II listed building, completed in the South Bay in 1867. It was, at that time, the largest brick building in Europe with its signature turret rooms.
It has seen many notorious guests walk through its doors like Winston Churchill and Anne Brontë and It used to have a Grand Ballroom and restaurants where guest would dine and dance 'til the early morning.
You can still go inside to explore even if you're not a guest and have a look at the Grand's spectacular architecture. They do free hotel tours every day at 12pm where they can tell you more about the hotel's history and take you around some of the ballrooms!
10. Take the Central Tramway, a Victorian cliffside funicular
If you love history than a ride on this is one of the best things to do in Scarborough!
During the Victorian Era, Scarborough was a very popular seaside town with its cliffside walks to take the air. But, some of it was inaccessible with visitors having to walk down the steep hills to access the beach and then up again to their hotel or the high street.
Scarborough decided to open its first cliffside railway funicular 1873 which was the first funicular railway in the UK by the Scarborough South Cliff Tramway Company Limited. It connected the Esplanade with Scarborough Spa and was pumped by seawater.
Then came the Queen's Parade Lift in 1878 connecting the Queen's Parade to the North Cliff on the Promenade Pier. Followed by the Central Tramway in 1881 which was then operated by steam. The St. Nicholas Cliff lift opened in 1929 and the North Bay Cliff Lift opened in 1930.
Out of five cliff lifts that were built, only two are now open to the public. Those are the Central Tramway and Scarborough Spa's cliff lift. It's a really fun way to get around Scarborough and quite cheap too!
11. Explore Peasholm Park and Island
Peasholm Park has been voted the people's favourite park in England and I could see why as soon as I entered.
It has a taste for the exotic being inspired by the Orient and the iconic blue and white pattern on Willow tea sets.
Click here to read my guide about the amazing Peasholm park!
The Legend of the Blue Willow Tea Sets
Apparently, this famous legend was only created to promote sales of the tea sets, but it's beguiling all the same;
There was once a Mandarin who had a beautiful daughter called Koong-se.
The Mandarin hired a secretary called Chang to take charge of his accounts and while doing so he fell in love with her.
The Mandarin said that Chang was unworthy of his daughter and he was angry at the match.
Chang was banished from the Mandarin's estate and a fence was constructed so he could not see Koong-se.
Koong-se was set to marry Ta-Jin a noble Duke and a banquet was made for their betrothal.
On hearing this, Chang borrowed a servants clothes and infiltrated the castle visiting Koong-se in her room. There they made plans to run away together.
Her father and the Duke had drunk so much wine they almost escaped undetected but her father caught sight of her and chased them over the bridge!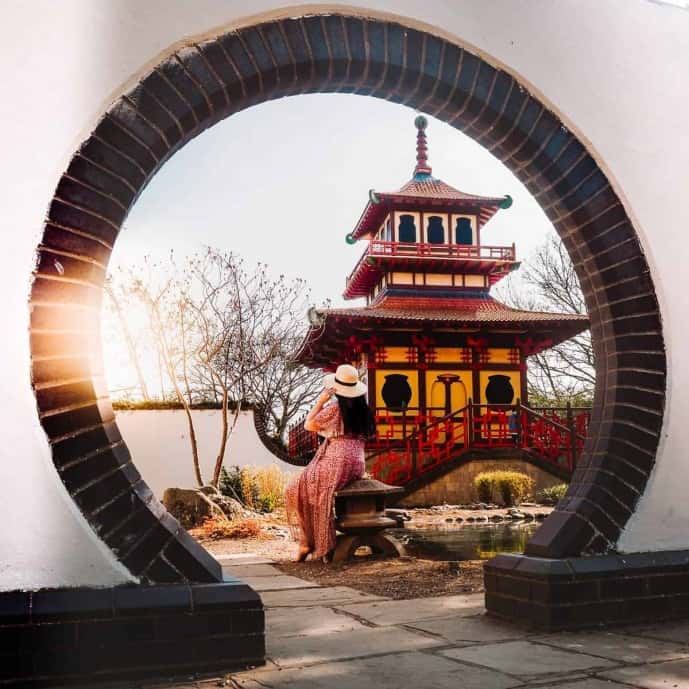 Koong-se and Chang escaped and stayed with a maid that the Mandarin had banished for conspiring with the couple.
The Mandarin heard from his spies that a man with Chang's likeness was staying in that house and so it was raided by the Mandarin's men.
Chang escaped, jumping into the river and took Koong-se with him and they sailed to a distant land. He became an excellent writer but it became his undoing when the Mandarin traced it back to their new home. Chang died by the sword and Koong-se was burned alive in their house.
The Gods, touched by their love and story, immortalised them as two doves flying together in the sky for all eternity.
Peasholm Park
Okay, so not the happiest or romantic of tales but it was enough for Mr Harry. W. Smith to have the vision of building an Oriental pleasure garden which opened its doors in 1912.
It soon became one of Scarborough's top attractions and to this very day is in the top ten parks to visit in UK.
Here you can stroll along the lake to take in the cherry blossoms or take to the waters in a canoe or one of their cute pedal dragon boats!
Peasholm Island, with its epic waterfall, can be reached by crossing over their oriental style bridge.
When you make your way up to the top you can see the colourful pagoda in the peaceful gardens. Or, see the source of the waterfall.
The best part about the gardens is it's completely FREE. There is also a lovely café for a coffee and a cake stop by the lake. It also regularly holds performances that you can watch from their theatre.
It's easily one of the top things to do in Scarborough.
12. Visit the Rainbow huts by the seaside
Okay, so technically this isn't a thing to do in Scarborough but if you look at any website about the town, you'll see these colourful huts popping up!
Yes, they're a good photo op but make sure that you're not trespassing on someone's holiday home that they've rented. Luckily, I was here in April and there was not a soul about.
If you were hoping to rent one of these, you can look up Scarborough Beach Chalets to check out rental prices. In summer it would be the perfect place to relax.
13. Visit the Rotunda Museum
The Rotunda Museum is one of the oldest purpose-built museum's in the United Kingdom, yep, Scarborough has a lot of firsts!
It was built in 1829 with instruction of William Smith and houses some of the largest collections of Jurassic Geology on the Yorkshire Coast.
William Smith, known as the 'Father of English Geology', made one of the first geological maps in the world and it can be seen here today.
He was a genius of his day with many rich patrons supporting his ideas. But, as he had been to debtors prison and didn't have the noble title to go with his name, he was never really given appropriate credit or reward in his time.
Today, the Rotunda is a tribute to William Smith's life and works and contains over 8000 fossils and minerals from the Jurassic period. It's the perfect activity for a rainy day and only costs £3 to go inside!
14. Have Britain's best Fish 'n' Chips at Papa's
It's a big claim but, apparently, Papa's has Britain's best Fish 'n' Chips. They won Britain's Best Takeaway in 2017 and gave everyone Fish 'n' Chips for 1p for the day on winning the title.
You can see the name Papa's in big gleaming lights on Scarborough seafront and the huge queue of patrons waiting to go inside and order. I was really impressed that a cod and chips cost only £5 and it was a really good meal.
The best in Britain? I'm not sure but it was tasty and there's nothing better than chips by the sea!
There is an outdoor seating area if you're taking away and when I sat down I dropped my coke can which exploded over everyone, sorry folks!
But, if you wanted to go inside you can sit down in their restaurant next door.
Watch out for the seagulls while you're eating here, they can be vicious!
15. Play arcades at the Scarborough Fair Collection
If you're wanting to find out more about the origins "Scarborough Fair", then you must check out the Scarborough Fair Collection. Another one of the great things to do in Scarborough.
Although there's not much from the Middle Ages, it houses loads of vintage steam fair rides, arcades, steam engines, organs, vintage motorbikes, classic cars and more.
They have a well-stocked tea bar with coffee, tea, sandwiches and cakes to enjoy with a ballroom and be entertained by the vintage dance organs.
There are events and shows all throughout the year, so check here for more details.
16. Check into the Crown Spa Hotel
The tradition of taking the waters at Scarborough Spa has been around for centuries but today, we can take a much more modern approach.
The Crown Spa Hotel was the first purpose-built hotel in Scarborough (and the world!) and provides the perfect location for a few relaxing days away.
As the only four-star hotel along the Yorkshire coast, you can book in for their spa break rates or simply check into this luxurious property and use their facilities including a pool, sauna and wellness suite.
The Crown Spa Hotel offers a variety of spa treatments if you fancy pampering yourself too!
I had the pleasure of staying at the Crown Spa Hotel during my visit and have a whole review about the experience here.
17. Take a day trip to Robin Hood's Bay, Staithes or Whitby
So that's all the things to do in Scarborough. But, If you've based yourself here for a few days, why not explore some more of the Yorkshire Coast in the spectacular North York Moors National Park?
Robin Hood's Bay
Robin Hood's Bay gets its name from the notorious hero who robbed from the rich and gave to the poor.
Originally from Nottinghamshire, legend has it that Robin Hood and his Merry Men travelled as far North as here!
It's a beautiful bay which you can only access on foot. Wander around the quaint cobbled streets or go crab hunting on the beach.
Read more in my complete Robin Hood's Bay travel guide
Staithes
Staithes is another harbourside town and working place of the notorious Captain James Cook. There's even a whole Cook trail for him if you're a fan.
You can stroll along the harbour, have lunch in the Cod & Lobster, take in the spectacular views from the cliffside or visit the James Cook museum to see his shop front but only if you're keen (it's not much to write home about).
Click here to read my full Staithes travel guide with things to do!
Whitby
Whitby is a popular place and home to Dracula! Bram Stoker stayed at the Royal Bay hotel and was inspired by his view of the dramatic Whitby Abbey ruins and the 199 steps to writing his famous vampire novel.
They take their Dracula heritage very seriously and there are even a few Goth weekends held throughout the year.
Beyond Dracula, Whitby is a MUST STOP in my opinion. It's truly stunning with epic views of the Yorkshire coastline and beyond.
Click here to find everything to do with Dracula in the seaside town of Whitby Or, Read my complete Whitby photography guide!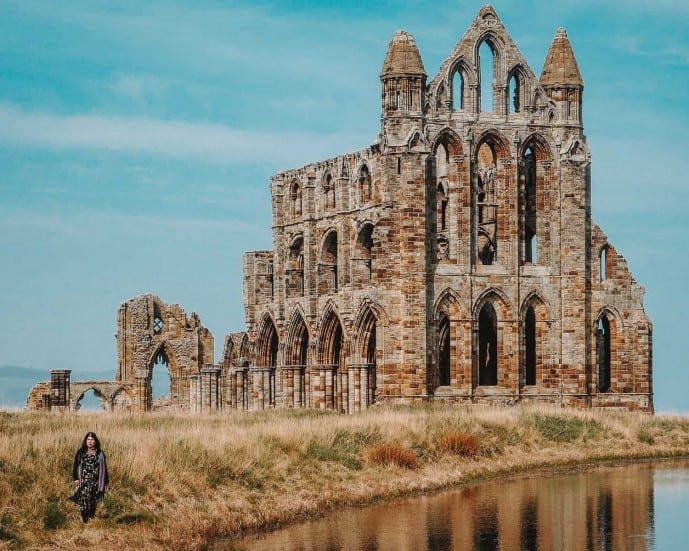 Save the best things to do in Scarborough for later!