One of the prettiest villages on Exmoor has to be Selworthy, a historic hamlet that looks like you've stepped back in time.
Tucked away in the rolling hills of West Somerset, you'll find a settlement of thatched cottages in ancient woodland.
It's owned and protected by the National Trust so, as well as admiring the cottages, you can treat yourself to a cream tea and some local souvenirs.
Here are all the magical things to do in Selworthy, a fairytale village in Exmoor National Park!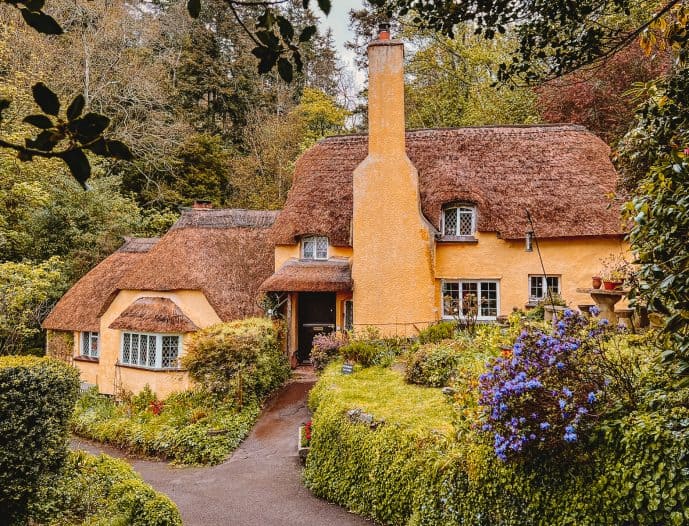 Selworthy history
The Holnicote Estate surrounding the village dates back thousands of years and there is evidence of Iron and Bronze Age settlers in places like Bury Castle and Dunkery Beacon.
Selworthy means "enclosure or settlement near sallows or willows". It was recorded in the Domesday Book as 'Selewrda'.
Before William the Conqueror, it was owned by Queen Edith of Wessex but after the Battle of 1066, it was gifted to Ralph de Limesy.
Later, King Edward I gifted the area to Henry to Pynkeny and eventually it was part of a marriage dowry for Sir Thomas Dyke Acland in 1802.
The village on Selworthy Green was actually built as a model village for Holnicote Estate. Sir Thomas built the cottages and green to provide housing for old age and infirm residents. It has a similar design to Blaise Hamlet in Bristol.
The Holnicote Estate was given to the National Trust in 1944 by Sir Richard Acland and the charity has protected it ever since.
It's now an Exmoor tourist attraction with a gift shop and tearoom. The cottages are also rented out as holiday accommodation.
Things to do in Selworthy Exmoor
1. Selworthy Church of All Saints
Before you head into the historic village, it's worth making a stop at the medieval Selworthy Church of All Saints.
It's whitewashed and dates back to the 15th century with a tower that dates back to the 14th century. It's now protected as a Grade I listed building.
If you head inside you can see their 17th-century hourglass pulpit and a parish chest covered in iron. There is also a chained book 'Defence of Apologie of the Church of England' from 1609.
Even if you didn't want to pop inside, the views you get from the church door are worth seeing! You can view the rolling hills of the countryside for miles.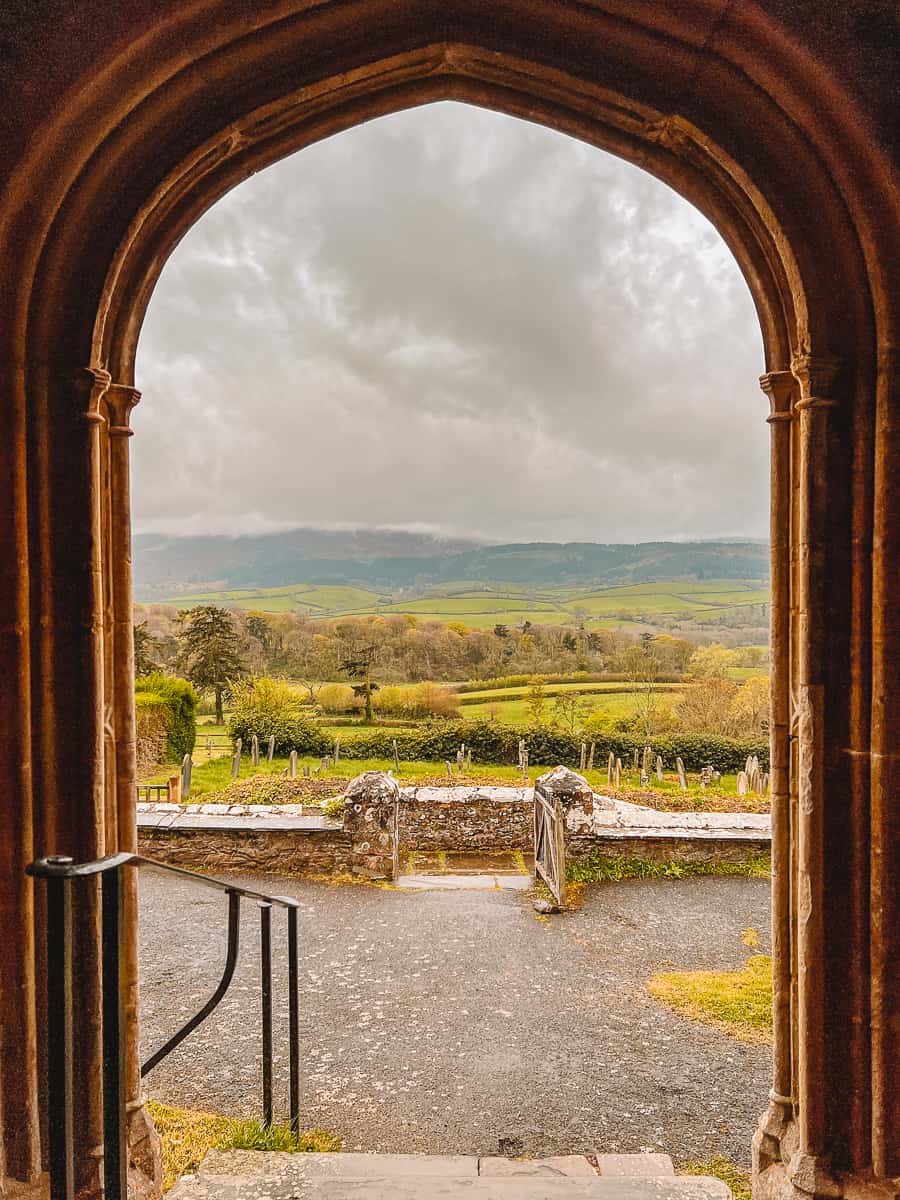 2. Selworthy Green – fairytale thatched cottages
As you descend into Selworthy Green, you will feel like you're slowly stepping back in time or entering a portal into a fantasy world.
There is no sign of modern life in the hamlet. Just gorgeous ochre thatched cottages that are dotted around the green and surrounded by the woods.
There is a pathway that will take you on a short circular walk by all the cottages. On my visit, it was raining and chilly so the stoves were on and there was smoke coming out of the chimneys.
Birds were chirping and colourful butterflies flew past. There were wildflowers, bluebells, and snowdrops all around you. It was breathtaking and really did look like it belonged in a fairytale.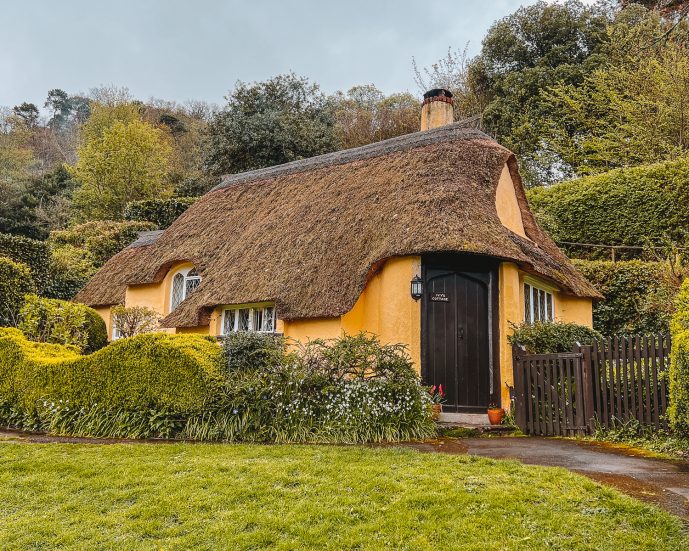 3. Visit the Periwinkle Tearooms
You really can't visit Exmoor and not indulge in a traditional cream tea and you can do so in Selworthy's Periwinkle Tearooms.
It's set within one of the historic yellow thatched cottages and you can choose whether to sit inside by the cosy fire or outside in their gardens.
A cream tea comes with a pot of tea, a homemade scone, clotted cream, and fruity jam. It's a lovely treat!
Or, you can indulge in one of their light lunches. They usually have daily specials, sandwiches, and homemade cakes.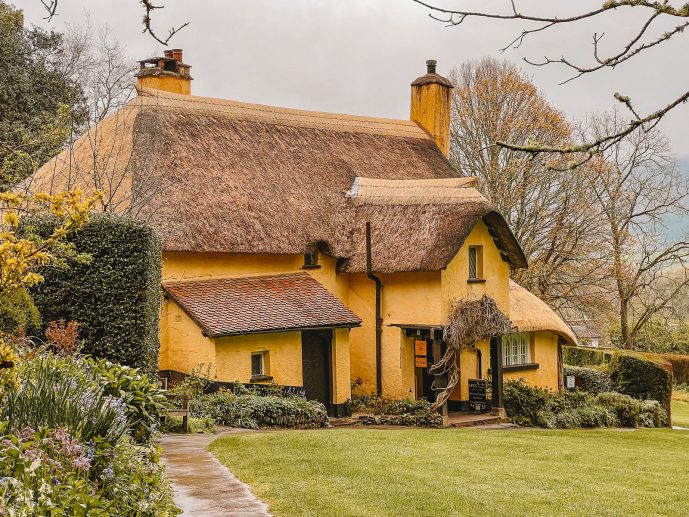 4. Selworthy Shop – Clematis Cottage Gift Shop
If you wanted to buy some locally made souvenirs then you have to pop inside Clematis Cottage Gift Shop.
It's filled with unique and colourful gifts that you can buy for loved ones including artwork prints, scarves, pottery, and crafts. There's also some jewellery, wax candles, postcards, and preserves.
All proceeds go towards the local vendors and National Trust charity and keep Selworthy protected for years to come.
5. Selworthy Walks – Selworthy Wood, Bury Castle & Selworthy Beacon
After you've explored Selworthy Green, you can make your way through Selworthy Wood for a walk into nature.
There are many routes that you can take that lead you up to places like Bury Castle. It's an old Iron Age hill fort that is a scheduled monument.
Or, you can head over to Dunkery Beacon which is the highest point on Exmoor. From, here you can see for miles!
It's a Bronze Age landscape and you can see many prehistoric burial barrows around the area.
6. Stay the night in a Selworthy Cottage
If you really wanted to feel like you were in a fairytale you can actually book to stay in one of these magical thatched cottages overnight.
The National Trust rent these out as holiday accommodation and they make great retreats into the countryside!
You can book to stay in Selworthy Farmhouse, Ivory Cottage, Dunkery View, and many more!
It will have everything you need including a sitting room, bedrooms, a stove, kitchen, and a bathroom.
Many of the cottages require a two-night minimum stay but they look like a dream to rent out.
One day, I'd love to stay here for the weekend and live out my best Cottagecore/Fairycore life!
Click here to book your very own fairytale thatched cottage
7. Explore the wider Holnicote Estate
Selworthy is part of the Holnicote Estate which is over 12,000 acres and is owned and protected by the National Trust.
So, there are plenty of amazing places to visit nearby. You can drive, cycle or hike through the countryside.
The estate has over 300 red deer and 150 miles of public bridleways. Highlights include Dunkery Beacon, Webbers Post, and Horner Wood.
Plus, there are lots of lovely villages, harbours, and beaches to explore on the North Devon coast.
8. Visit Allerford
In between Selworthy and Porlock is the gorgeous village of Allerford with its historic Pack Horse Bridge.
It's a tiny settlement that spans the Aller Brook and there are plenty of historic houses to be found here.
You can visit the Blacksmith's Forge, West Somerset Rural Life Museum, and a Victorian Schoolroom.
Why not make a stop at Cross Lane House Tea Room and have a cream tea by the river?
9. Bossington Beach
Bossington is a coastal hamlet that lies near Porlock Village. Again, there are lots of thatched cottages that lie near the pebbled Bossington Beach.
You will find Kitnors Tea Room here near the car park that serves up traditional cream tea.
Bossington Beach's shingle ridge was formed over 8000 years ago. It used to protect a freshwater meadow that was known for its fertile soil.
You'll still find lots of defenses here that date back to the Second World War and Old Lime Kilns.
Many people use this beach for spotting coastal birds like Shore Larks, Snow Bunting, and Great Grey Shrike.
10. Porlock Weir
I remember visiting Porlock Weir as a child and seeing the Trotters Independent Trading 3-wheeled car from "Only Fools And Horses" (it's not here anymore).
But, coming back here as an adult made me appreciate how quaint this harbour is! It's absolutely stunning with some thatched cottages on the headland.
You can wander around the historic harbour and visit the Boat Shed Museum. Stop by the Harbour Gallery Café or have a pint in The Bottom Ship Inn.
Once you're finished exploring, you can make your way over to the shingle beach and head out to Bossington Bay!
How to visit Selworthy in Exmoor National Park
The fairytale village of Selworthy is located just a few miles from Minehead in West Somerset and on the border of Devon in Exmoor National Park.
The easiest way is to drive and you can find Selworthy signposted around a half mile away from the A39.
You can use the postcode TA24 8TR in your SatNav to guide you here or use this Google Pin for directions.
Alternatively, you can walk to Selworthy as part of the Holnicote Estate walking trails. It's a popular diversion from the South West Coast Path.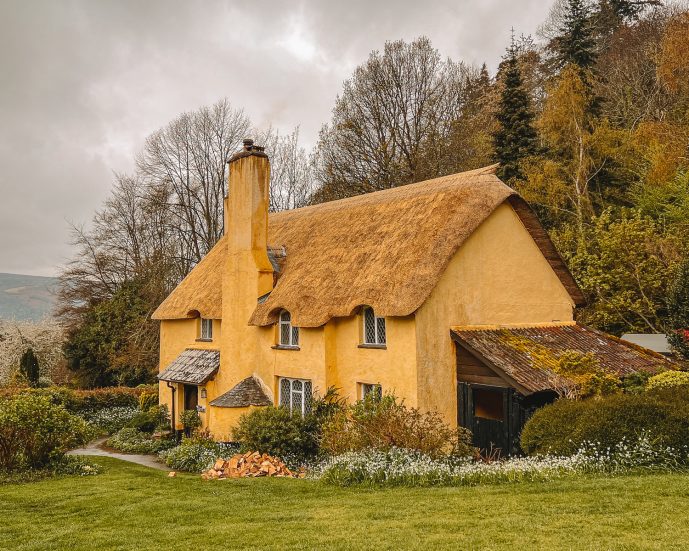 Selworthy parking
Once you arrive in Selworthy, there is limited parking found opposite Selworthy Church. But, remember to park with consideration.
If this parking area is full, you'll find a larger overflow car park just beyond it with lots of spaces to park provided by the National Trust. It's free.
This car park is high on a hill and has a great view of the rolling hills of the Holnicote Estate!
Selworthy opening times
Selworthy Village is open 24 hours a day to explore. But, the facilities, like the gift shop and Periwinkle Tearoom, are open from 11 am – 5 pm in Exmoor National Park.
Although it's owned by the National Trust, this fairytale village is completely FREE to visit.
It was one of the highlights of my visits to Exmoor and I would highly recommend visiting. It's like a step back in time or walking through the pages of a storybook.
Selworthy FAQs
What is in Selworthy? Beautiful thatched cottages, a medieval church, a tea room, walks, and a gift shop – it's a fairytale!
Who owns Holnicote Estate? The National Trust who are a registered charity.
What county is Selworthy in? It's on the borders of Devon and Somerset but it's on Exmoor!
Looking for more things to do in Exmoor?
Exmoor National Park has many attractions that you can enjoy. You can either go inland towards the River Exe or stick by the coast to explore this rugged landscape.
Combe Martin is a wonderful seaside bay that you can visit that has a beach, cliff walks, and a café.
Or, why not visit one of my favourite places which is the seaside resort of Lynton & Lynmouth? It's also known as 'Little Switzerland' as it's similar to the Swiss Alps.
You can explore Lynmouth Harbour first and see sights like the Rhenish Tower, Glen Lyn Gorge, or Lynmouth Street for some shopping.
Then, you can take the Cliff Railway up to Lynton and walk over to the magical Valley of the Rocks!
Or, you could visit the far reaches and explore Dunster Castle & Gardens. It used to be a Motte & Bailey until it was transformed into a country house.
Don't leave without paying a visit to the Dunster Medieval Village with its iconic Yarn Market. There are lots of museums, galleries, gardens, shops, and cafés to indulge in.
Read more of my Devon guides
How to visit Lydford Gorge & White Lady Waterfall in Dartmoor
The House That Moved in Exeter
Babbacombe to Oddicombe cliff railway
Visiting Agatha Christie's House in Dartmouth
Walk the Agatha Christie Mile in Torquay
Top things to do on Burgh Island
A delightful afternoon tea at the Burgh Island Hotel
Top things to do in Cockington
Harry Potter locations in Exeter
Is this Exeter's Diagon Alley?
Walking down the Narrowest Street in Britain!
How to visit Wistman's Wood on Dartmoor
How to visit Brentor Church in Dartmoor
Woolacombe Bay Holiday Parks Review
Save the fairytale village of Selworthy for later!