If you've ever wondered what was at the most westerly point of England, it is an amazing parish and village called Sennen.
It's home to quaint settlements, sandy beaches, surf spots, historic chapels, wild landscapes, and rugged clifftops overlooking the Atlantic!
It's a stunning area of south Cornwall that you cannot miss and, without a doubt, one of the best areas to start off your adventures would be Sennen Cove.
Imagine white sands, turquoise waters, historic cottages, art galleries, seaside accommodation, and friendly pubs.
It has everything here and plenty of attractions around it for an incredible day out. Here is an essential guide with all the amazing things to do in Sennen Cove Cornwall!
The history of Sennen & Sennen Cove
For such a tiny parish of Cornwall, Sennen and Sennen Cove have quite a colourful past to uncover.
You wouldn't think it today as you meander around that once upon a time there was King Arthur, smugglers, and mermaids here in amongst the fishing nets.
But, it's true! Sennen has many myths, legends, and historic tales.
Lost Land of Lyonesse
There are many legends surrounding Sennen such as giants and faeries who lived in this area many eons ago. But, the most famous and intriguing is the Lost Land of Lyonesse.
This is a legendary land that is part of the Arthurian tales and is meant to lie beneath the depths of Sennen around the Isles of Scilly.
It's mentioned in the romantic tale of Tristan and Iseult and Lyonesse was Tristan's home.
This largely Celtic legend is thought to be inspired by the story of Lancelot and Guinevere.
Sennen Whopper & Mermaids
Have you ever heard of the Sennen Whopper? Apparently, it was a spirit that could predict storms and stop you from heading out to fish if there was a storm brewing.
But, one night two fishermen decided to row out against the tide through the mist and didn't heed the Whoppers warning.
They never returned and neither did the Whopper!
Sennen Cove is also famous for having many mermaids who would swim around here. They would enchant the local men and draw them out to sea.
A royal resurrection
A fun fact about Sennen cove is from 1497 when Perkin Warbeck landed on the shore and claimed to be Richard, Duke of York. One of the lost Princes in the Tower!
He convinced a load of the local fishermen to join him and take on Henry VII in Exeter and went onto seize St Michaels Mount. He fought off Henry's men for months.
He eventually was found out to be lying so he was arrested and imprisoned.
Luckily, the Sennen fishermen just got a slap on the wrist, were fined, and sent home. Not so lucky for Perkin, he was executed.
Sennen Smugglers
Sennen was at the centre of the smuggler's 'free trade' as it sat at the southern tip of Cornwall.
If you're not aware of smuggling, it was a movement that reached its peak in the 18th century.
Huge tax levies were placed on goods like brandy, wine, and salt for fishermen. These levies meant that local fishermen couldn't survive.
So, people started to loot shipwrecks that were common in this area. If you want to know more you can read my post on the Jamaica Inn here.
The rocky shores and coves here were the perfect spots to lure in ships, wreck them and steal the cargo! Local villagers were told to turn a blind eye to the trade.
The centre for the operations was located in the First and Last Inn at Sennen that was used to store the contraband away from the authorities.
The inn was owned by Dionysius Williams at the time who was a wealthy farmer and landlord. He financed a lot of the smuggling operations that were going on in the area.
He leased the inn to Annie and Joseph George who were also his smuggling agents! They decided to blackmail their landlord over his smuggling and refused to pay him any rent. Eventually, William's decided to kick them out as they had outstayed their welcome.
Annie was furious and decided to hand over King's evidence against him. The landlord was then arrested and sentenced to a long-term jail sentence.
Unfortunately for poor Annie George, Sennen did not appreciate her betrayal. The village decided to stake her on a beach at low tide covered in fishnets. When the water eventually rose, she drowned!
Why visit Sennen Cove today?
The area of Sennen does have a pretty intriguing and gruesome history but don't fret. Visiting today is perfectly safe! It's also one of the most beautiful areas of Cornwall.
Not only is it the most westerly point England so you're at the very edge of the earth.
There are so many gorgeous beaches to relax on or head out on the surf.
You can find museums, cornish mines, art galleries, shopping, traditional sailors pubs, lookout points and some ancient sites too.
There are so many reasons to visit Sennen, you could be here for weeks!
Things to do in Sennen Cove
1. Sennen Cove Beach – Whitesands Bay
The main reason why tourists flock to Sennen Cove is the beautiful stretch of sand known as Whitesands Bay. As you drive downwards through the rolling hills of the Sennen countryside, you'll suddenly be immersed in the sea and sun!
The bay stretches for miles at low tide and you'll always find people sunbathing, playing games, or paddling in the turquoise waters. It can get extremely packed out in summer.
If you didn't fancy getting out onto the beach, a stroll along the promenade next to it is also extremely pretty. You can look at the endless views of the sea and coast.
Pedn-men-du is the cliff's edge that protects the bay from the waves of the Atlantic Ocean.
You really can't visit the seaside without all-important Cornish ice cream! There are a few stalls that sell locally made cones.
2. Visit the Sennen Harbour and RNLI Sennen Cove Lifeboat Station
The quaint Sennen Harbour has always been at the forefront of the livelihood of the village through the fishermen's trade, shipwrecks, and the likes of free traders!
Even today, you'll see plenty of commercial fishing boats bobbing away in the harbour.
But, there is always a dark side to these gorgeous postcard-worthy villages.
The tempestuous waters here can take a turn at any moment and Sennen has always been a famous shipwrecking haven because of the treacherous currents around the rocks.
The RNLI Sennen Lifeboat Station has been here since 1853 and is one of two in the area.
The other is the Penlee Point station near Mousehole. Although the cliffs of Pedn-men-du do offer some protection, the lifeboats here have to work under some of the most treacherous conditions in the UK.
You can visit the Sennen Cove Lifeboat station to learn about the history of lifeboat rescue in the area, the amazing work the RNLI do, water safety, and also see their Tamar-Class all-weather boat (ALB).
Visiting the station is FREE from 9-5pm daily but donations are welcome. All proceeds go towards the RNLI.
3. Check out the Roundhouse Capstan Gallery
One of the most iconic buildings in Sennen Cove and west Cornwall is the Roundhouse Capstan Gallery. This interesting circular building is Grade II listed and was originally built in 1876.
It was made to house a huge man-powered capstan wheel that sailors would use for winching boats up and down the slipway. It used to be completely exposed here on the harbour.
Ever since 1983, it has been an art gallery that showcases Cornish art.
It's spread across two floors and you can see a delightful range of paintings, jewellery, pottery, and crafts for sale.
Any Poldark fans will love the range of Ross postcards on offer!
On the lower floor of the gallery, you can still see the old wheel that used to turn here.
You can visit the Roundhouse from Thursday – Sunday from 10.30am to 4.30pm.
4. Learn to Surf at the Sennen Surf Centre
Did you know that Sennen Cove is not only one of the most westerly surf spots in England but it's also a place you can learn all about it too?
If you've ever had the itch to learn how to ride the crest of a wave, then The Sennen Surf Centre is one of the longest-running surf schools in the entire country.
They are an award-winning organisation that has well-trained staff who can take you out on the water whether you're a beginner, or are looking for something more advanced. What an amazing beach to learn on!
I tried surfing once in Seventeen Seventy, Australia and it was not my cup of tea.
I think I swallowed more of the ocean than actually riding it and I got a few sand burns. But, I'd always love to learn again.
You can book a single lesson, a whole course or private lessons. It's completely up to you.
5.
Check out the Sennen Cove Shops

Although Sennen is a quite remote area of Cornwall, a great thing is that it has some shops and conveniences here too.

So, you don't have to travel far to purchase something, whether that be groceries, gifts, or souvenirs. The only downside is that most shops are closed from November to March.

The shops here are proudly independent and quintessentially Cornish!

The Boat Stores has all sorts of beach wares, gifts, souvenirs, clothes, a farmers market, and also some wines, beers, spirits.

Or, head to the Curio Shop which is a gallery and a gift shop. There are all sorts of treasures to find inside.

If you find yourself lacking in surf gear you can head to the Sennen Surf Co to get kitted out with wet suits, boards, costumes, and more!
6. Spot mermaids from the Old Success Inn
The Old Success Inn has been a licensed pub since the 17th century. For years it was independent until it was taken over and protected by the St Austell Brewery.
Like most traditional Cornish pubs this premises has, its own fair share of tales. Like the reports of the Sennen Whopper and Mermaids being spotted in the cove.
As I mentioned before, Sennen was a hive of smugglers and free trade and the Old Success Inn used to be in the thick of it.
It is said that smugglers would hide their contraband here. It's now had a new lick of paint since the brewery has taken over and the menu has been much improved.
So, if you were hankering for some lunch or a pint, check it out! It's right on the bay and has some amazing views. Click for a menu.
If you were looking for something light, another great place to eat in Sennen is the shabby chic Little Bo Café. They serve up homemade dishes overlooking the cove.
7. Climb up to the Mayon Cliff Old Coastguard Lookout
Mayon Cliff has always looked out over the Sennen coastline for centuries so it made the perfect place for a lookout spot.
The Sennen coastguard station here was established in 1812 and the granite lookout on top of the clifftop was then built-in 1891.
It was finally decommissioned in the 1940s and this was around the time that the lookout was gifted to the National Trust.
The first piece of land was a gift from the notorious Ferguson's Gang. They were a core group of five women who were passionate about the protection of rural areas and saving them from being destroyed.
They had great respect for the National Trust and secured the land for them. Finally, the National Trust came to own the rest of the area in the years up until 1964.
From Sennen Harbour, you can take an easy walk up the lookout point and take in the amazing views of the cliffs.
The lookout is open to visit seasonally in the summer. If you're lucky enough, from here, you can see some wildlife in the surf.
There have been all sorts spotted like seals, bottle-nosed dolphins, porpoises, and sharks!
Killer whales have even been spotted hereabouts. If you carry on walking around the clifftops, you can see the Mayon Cliff Ship Wreck washed up on the rocks.
Or, Maen Castle which is a Bronze Age settlement from thousands of years ago!
8. Gwenyver Beach
If you hadn't guessed it yet, the name of this beach comes from Gwenyvere who married King Arthur in the Arthurian Legends and then ran off with Lancelot!
Many say it was named after her as she was a great beauty.
Unlike Whitesands Bay, Gwenyver Beach is a lot more secluded as it's harder to access down a steep cliffside.
Although the beach is safe at low tide, don't attempt to climb down when the tide is rising as it could be dangerous!
On a clear day, you can just make out the Isles of Scilly from here or the Brisons rocks of Cape Cornwall. So, relax and take in the views while you dip in the sea or chill out on the sands.
9. Walk the South West Coast Path to Land's End
You can access the South West Coastal Path all year round and there is a great walk from Sennen Cove that leads you over the cliff tops to Land's End.
The walk has some spectacular views of the ocean and will take you around 30 minutes.
It is a relatively easy walk, however, some of the pathways are uneven and slightly steep.
There is lots of wildlife to spot around here including some migratory birds throughout the year and lots of wildflowers dotted about in the spring.
The reward is arriving at the magnificent Land's End Landmark Attraction that has spectacular coastline walks and the all-important Land's End signpost!
10. Explore the Lands End Landmark Attraction
No visit to Cornwall would be complete without a stop off at Land's End to see the very end of England.
This landmark has been attracting tourists for nearly 400 years!
Nowadays, it's a whole complex that you can visit. Yes, it is a little tacky as a theme park but there are plenty of amazing things to do.
The Land's End Landmark attraction is completely FREE although many of the things inside are chargeable and you will pay a lot for parking.
You can send a postcard stamped at Land's End, make a phone call at the end of England and take a standard photo with the Land's End sign. There are also many pretty walks around the area.
Read more about all the things to see and do at Land's End
11. Check out the First and Last Inn at Sennen
The First and Last Inn at Sennen was another major hideout for the Sennen smugglers in the area.
There is a secret tunnel inside the pub that runs directly underground towards the coastline so that the smugglers could avoid the authorities and you can still see it today!
The smuggling days here are long gone but you can still find the tunnel here covered in a sheet of glass.
As well as an old smugglers hideout, the pub is a really popular place for food. They have an amazing menu with pub favourites and the catch of the day. Plus, locally brewed ales.
But, watch out, they say that the ghost of Annie George still haunts the pub!
Click here for my complete guide with more details on the Sennen smugglers
12. St Sennen Church
Right next door to the First and Last Inn is St Sennen Church which was founded all the way back by St Sennin in 520 AD!
St Sennin is thought to have arrived in Cornwall from the Kilrush in Ireland as a Christian missionary. On his travels, he founded many of the churches around the area.
The church we see today, however, is from the medieval period around the 13th century but it hasn't changed much since it was built. It's definitely worth checking out.
Practical travel tips for Sennen Cove
Getting to Sennen – The roads towards Sennen Cove and around Sennen are narrow, winding country roads. Sometimes they are single-track lanes that can get bottlenecked in summer. Make sure you use passing places and watch your speed on the steep roads down.
The best time to visit Sennen – Summers and weekends can pack this place out. If you are visiting in high season, visiting during the week or early morning is best. If you want to avoid the crowds, come later in the day or visit around the shoulder seasons of Spring and Autumn.
Bring an extra layer – Even in Cornwall's hottest days, the chilly breeze can bite. Don't make the mistake of not bringing an extra layer. Plus, we're in the UK where its never guaranteed. Sennen is like its own micro-climate so it could be sunny one minute and raining the next.
Walking at Sennen – There are plenty of places to head out for walks on the South West Coast Path. But, a little cheat is to climb up to the Myon Cliff lookout tower. You get breathtaking views with very little effort.
Is Sennen Dog Friendly? – There is a dog ban at Sennen Beach from 1st July to 31st August between 10am and 6pm and is dog friendly outside these hours and from 1st September to 30th June.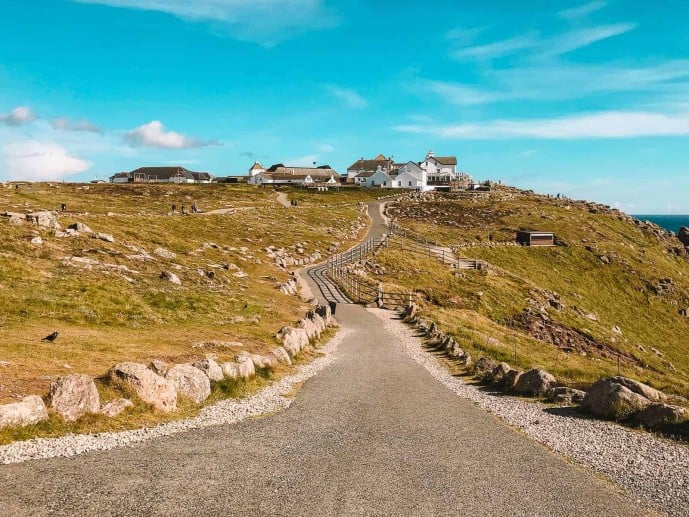 Where to stay in Sennen Cove
The great thing about Sennen is there are plenty of places to stay in the area and call home for the night. These can be B&Bs, holiday homes, and cosy Inn's too. Here are some of the best;
The Old Success Inn – Yep, you can stay the night in this historic inn right on the cove side.

But, don't worry, the rooms are nice and modern. There are plenty of sea view rooms to choose from. Click to book.
Sennen Rise – Set on a rural manor farm, this little hideaway has a few boutique rooms to book with a garden and terrace. It's close by Sennen Cove. Click to book.
Saddle and Stable Rooms – These are a 5* apartment-style rooms that you can book that are part of the First and Last Inn at Sennen. They can sleep 2-8 people and are dog friendly. Click for rates.
The Land's End Hotel – What could be better than staying at the very end of England?! The Land's End Hotel and the Penwith Studios provide some chic accommodation with amazing views of the Land's End! Click to book.
Land's End Hostel – Accommodation in Sennen can be expensive but it doesn't have to burn a hole in your pocket. The Lands End Hostel is located in the quaint hamlet of Trevescan. Just half a mile from the Lands End Landmark.
I recently stayed with St Aubyn Estates Cottages in Porthgwarra. It was perfect for exploring the West coast. Click here to read my detailed Pendower Cottage review.
Where is Sennen Cove in Cornwall?
Sennen is at the most westerly point of England and you can easily access it from the south of Cornwall.
Simply follow the A30 road west all the way towards Lands End. Just before the Land's End Landmark attraction, you will arrive at Sennen village.
From here, turn off on Cove Hill and take the steep road down to Sennen Cove.
Sennen Cove Parking: There is some parking at either end of Whitesands Bay. We opted for the Sennen Harbour Car Park that has a limited number of spaces. But, be mindful of keeping strictly in the lines as the harbour master is strict! Car parking costs start from £1.20 an hour and go all the way up to £5 for an all-day spot.
Sennen Cove Bus: if you don't have a car to take you around Cornwall, it is easy to get a Sennen Cove. The A1 First Kernow Service runs from Penzance and stops at Lands End, the First and Last Inn and Sennen Cove.
Places near Sennen Cove
So, after you've explored all that Sennen has to offer. What next? Well, there are plenty of places to explore on the west coast of Cornwall.
From historic mines, open-air theatres, telegraph stations, hidden beaches, and coves. You could spend a whole day here exploring these beauty spots.
Geevor Tin mine & Levant Mine
Just like fishing, mining is ingrained Cornish history. Although there are no mines working today, there are still some of the abandoned buildings that they used to be accessed from around the area.
These fall part of the Cornish Mining World Heritage Site.
Most of the buildings are now National Trust properties or independent museums where you can learn about the mining trade and how it used to give work to so many.
Fans of Poldark will need no introduction, being familiar with the trials and tribulations of Wheal Grace and Wheal Leisure owned by the Poldark's!
The Geevor Tin Mine is located in the parish of St Just nearby that has been here since the 18th century when it had its humble beginnings as Wheal Mexico. You can take a tour of the mine here or have lunch in their amazing sea view café.
Levant Mine is owned by the National Trust that protects what the old Levant Mining Company started in the 18th century.
It produced tin, copper, and Arsenic. In the mining trades heyday, there were 400 men, women, and children who worked here.
It closed its doors in 1930. It also doubles up as Tressiders Rolling Mill in Poldark!
St Levan
As well as the Levant Mine, the parish of St Levan is a beautiful area to explore. It lies just beyond Sennen and St Buryan.
There are so many coastal paths on the headland that can lead you to quaint hamlets, beaches, and chapels.
A highlight is the parish church of St Levan which has been here since the 4th century. It was founded by Duke Padern, a Saint of Cornwall.
You can pop inside the chapel or explore the grounds where you can see the famous St Levan Stone and St Levan's Well. Before it was a Christian site, the kissing stone was associated with fertility.
Minack Theatre & Porthcurno
It may seem a bit strange to suggest visiting a theatre during the day, but you haven't seen a theatre quite like Minack in England.
It's an amphitheatre that is built right on the clifftops on Minack head. Although you could mistake it for being ancient, it's only a century old.
Rowena Cade built this theatre completely by hand using basic tools. She started the project in 1929 and it was her life's work.
As well as visiting for performances the theatre is open for visitors and it's spectacular.
You can swoon over the amazing coastal views and get lost in the labyrinth of seats, steps, and tunnels.
Nearby is stunning Porthcurno Beach which is another Poldark location.
Porthcurno was, at one time, a leader in international communications! You can visit the Telegraph Museum to see the old station.
Click here to read more about this incredible theatre
Porthgwarra
If the likes of Sennen Cove are too busy for you, why not head out to some quieter, secret coves along the west coast?
There are SO many secluded places to find and some remain top-secret. But, if you go exploring you'll easily find them.
Porthgwarra was one that I found on the lookout for Poldark filming locations across Cornwall.
It's a quaint harbour that has a tunnel carved out of the rocks leading down to the beach.
Poldark fans will not need reminding that this is the place where the famous swimming scene was shot. It includes a certain brooding soldier taking a skinny dip while his kitchen maid watches on..!
You can only get to it by walking or meandering down some seriously narrow lanes by car. But, the journey is totally worth it to visit this pristine beach with its tiny harbour.
This is a popular spot for snorkelling and rock pooling, plus you can see many seals in the surf around here who come to say hello.
In the high season, there is a café that is open nearby.
This is a great area to explore the South West Coast Path and you can walk from here to the top-secret Nanjizal Beach!
Click here for more information about this secret cove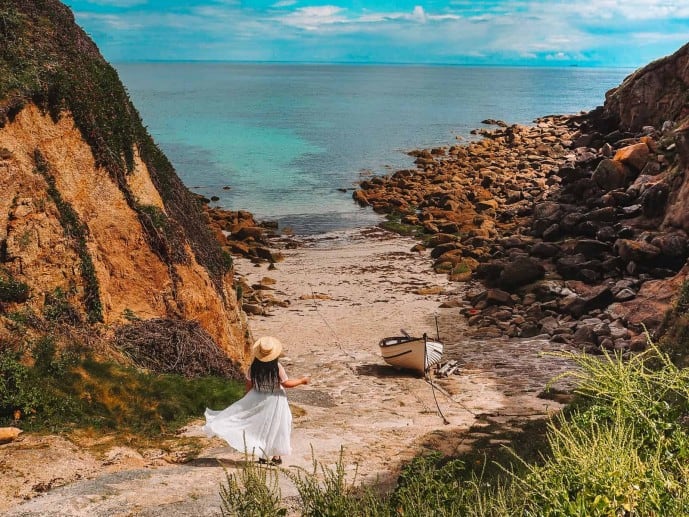 Mousehole
This quintessentially Cornish historic fishing village and port get its unusual name from its small harbour.
It's actually pronounced 'Mow-zul' to locals rather than 'mouse-hole' and there is a lot's to do around here in amongst the scenery.
You can take a walk around the harbour and see the ships pull in, or you can take a walk around the quaint houses in the village.
There are also fair few cafés like Hole Food's to have some breakfast, lunch or a coffee break and I loved The Mousehole shop.
Driving around Mousehole, with its narrow winding lanes, can be a nightmare in summer. If you can, I would try to park just outside the village and walk in rather than parking on the main harbour.
Click here to read my complete Mousehole travel guide
St Michaels Mount
Another spectacular spot you can visit in the area is Marazion, pronounced Maraz-eye-un', which is the home of St Michael's Mount tidal island!
It's a hive of myth, magic, and mystery and has one of the most colourful histories of any tidal island in England from 495AD.
St Michael's mount is 500 metres away from the mainland and can be walked to at low tide in the day.
Alternatively, you can catch one of the many boats heading over there at high tide!
The mount has a small harbour, village, gardens, and the imposing St Michael's Castle on the top.
This is, without doubt, one of the most magical places to visit in all of Cornwall so don't forget it on your itinerary!
Click here to read my top tips for visiting or if you're interested in the history and legends of the mount here's a guide on all its secrets
Read more of my Cornwall guides
How to visit Tregothnan Estate in Cornwall
Things to do in Charlestown Cornwall
The Museum of Witchcraft in Boscastle
How to visit the Lost Gardens of Heligan
Things to do at the Jamaica Inn
How to visit Golitha Falls in Cornwall
A complete guide for the Cheesewring Hike
Secrets of the Admiral Benbow Inn
Where is Driftmark filmed in House of the Dragon
How to visit Holywell Bay from House of the Dragon
Magical things to do in Kynance Cove
Save these things to do in Sennen Cove for later!