Are you looking for all the things to do in Snowshill Cotswolds? I have a fabulous list right here!
Although Snowshill is a small hamlet, there are plenty of attractions in and around this idyllic village that make it worth visiting.
From walks in the countryside, a fabulous manor to explore, a stroll around the village that starred in Bridget Jones's Diary and views from the Broadway Tower!
Here is a complete list of the very best things to do in Snowshill Cotswolds.
Snowshill history
There have been excavations made in Snowshill that place a Bronze Age settlement in the area.
But, this village was first recorded in 821. At that time, King Coenwulf of Mercia gifted Snowshill Manor to Winchcombe Abbey.
Two hundred years later, it was recorded in the Domesday Books of 1086 as Snawesille.
The cottages in the village date back to around the 15th-century and were mainly occupied by people who lived and worked on the manor estate.
The manor remained the property of the abbey until the Dissolution of the Monasteries by King Henry VIII when he then took over the land in 1539. He included the property in his dowry to marry his last wife, Catherine Parr.
After Queen Mary I came into power, she was ashamed of her fathers actions against the Catholic church and so she moved the property out of the royal household and sold the property on.
Over the years, it had various owners who were largely absent and it was also occupied by tenant farmers for over 150 years! Eventually, this great manor fell into decline and was abandoned.
In 1919, Snowshill Manor was purchased by Charles Paget Wade who restored the property.
He lived in a small cottage on the grounds and used the house to store his fabulous collection of some 20,000 artefacts. On his death, he bequeathed the property and estate to the National Trust in 1951.
Today, Snowshill is a sleepy town in the Cotswolds that doesn't see many visitors. But, its charm will soon rub off on you!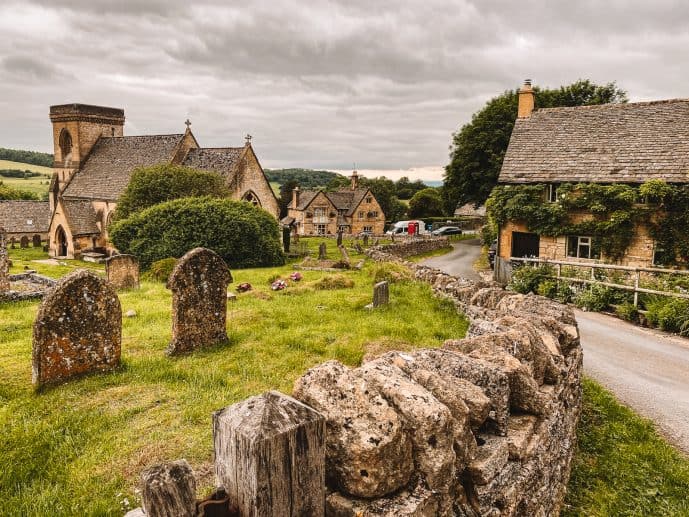 Is Snowshill worth visiting?
100% yes! Although it is known for the famous Snowshill Manor, the village itself and the countryside surrounding it is well worth a visit.
In fact, I found that Snowshill was one of my favourite villages in the Cotswolds as it was so quaint and there were fewer crowds.
It won't take you long to explore the hamlet, but there are many attractions around Snowshill you could pair up with your visit!
The top things to do in Snowshill Cotswolds
So, what is there to see in Snowshill while you're here? Well, although it's a small place it packs a lot in!
As well as the pretty hamlet to explore, there are plenty of amazing attractions around Snowshill too.
From the breathtaking manor, planned gardens, lavender fields, and the iconic Broadway Tower. Here is a list of the best things to do in Snowshill.
1. Visit Snowshill Manor
A visit to Snowshill Manor is one of the best things to do in Snowshill. It's where this village's story began and today it's a delightful property owned by the National Trust. s
Of course, the manor we visit today was largely reconstructed by Charles Wade who bought it in 1919.
He first saw the estate in Country Life Magazine when he was a Sappers engineer in World War I. He said if he survived the war, he would buy the property.
So, after the war, he did just that and bought the manor and farmland for £3,000 when he inherited a family fortune!
Although it was a good price (for the time) it needed a wealth of reconstruction. There was no electricity or running water and the gardens were muddy farmland.
Although he kept most of the original interior features like the wooden ceilings, everything you can see in the manor today is down to Charles Wade and his eclectic collections! In his lifetime he collected over 20,000 objects.
Charles Wade was a collector but he was also an artist, poet, architect, and craftsman. So, he brought something a little different to his home.
This place was honestly one of the most amazing National Trust properties I have seen to date. Every room had a name and each of them were unique, colourful, vibrant and filled with treasures.
You'll find prayer cabinets from the Middle East, Samurai warrior uniforms, and weapons. Even a room filled with musical instruments!
In the dining hall, you'll find a coats of arms of every monarch that has been in power since Henry VIII. Charles Wade painted them himself and put his own name and coat of arms up on the wall.
It's a fabulous place to visit and I would highly recommend it. It can get very busy on weekends, so opt for a weekday if possible.
After, you can relax with a nice cup of tea or coffee in the Snowshill Manor Café run by the National Trust.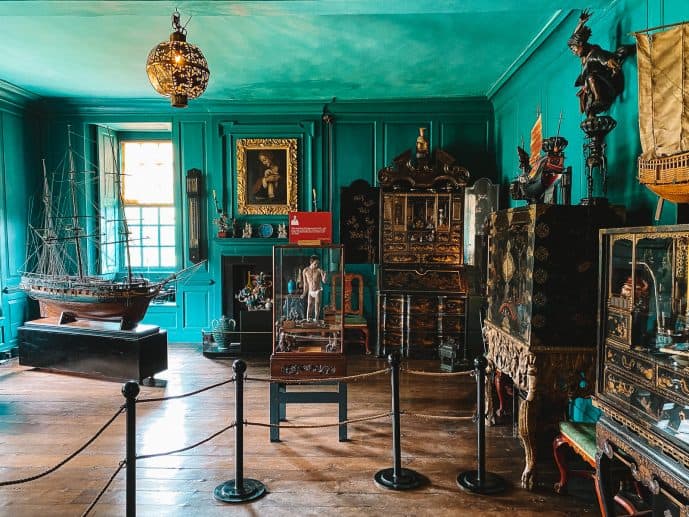 2. Explore Snowshill Gardens
As well as the Snowshill Manor, you can explore the incredible planned gardens around it separately.
These gardens are filled with amazing colours and creations by the talented Charles Wade. When he arrived, the gardens were no more than a muddy farm. But, with his vision, he transformed it into an oasis of showcasing the Arts and Crafts movement.
He worked with the architect Baillie Scott to create a series of outdoor rooms and courts. He wanted to create vistas with a hint of something different.
Around the gardens you'll find wildflower fields, teal sundials, venetian wells, a kitchen gardens and more.
Look out for the incredible dovecote which sees many white doves living here and you can watch them fly around the place! Also, the Sancta Maria Byre and Jolly Roger is a pseudo-baronial banquet hall.
One of my favourite parts was admiring all the cute model houses that Charles Wade had carved in his workshop!
You'll find the model village in the upper gardens and it's called 'Wolf Cove', it even has its own model railway! It was reconstructed recently by the National Trust.
3. Make a trip to Cotswold Lavender
If you're visiting in the right season around June – August, you have to make a stop at the amazing Cotswold Lavender fields!
It's a sea of purple tucked away in the Cotswolds and you can explore it to your heart's content. The farm opens up their lavender fields for visitors each year to enjoy it before it is cropped for harvest.
The harvest usually happens when the lavender is at its peak in August – so always check the website or their social media channels for the latest status to avoid disappointment!
These fields tend to get packed out on weekends, so if you wanted some clear photos I would always opt to get here very early or during the week.
As well as the lavender fields, there is a wildflower field to explore and you can pop into the distillery and see how they distill the lavender for essential oils.
Also, you can relax in their café that sells all sorts of lavender flavoured foodie items like lavender ice cream, cake, and tea!
If you're not lavendered out just yet, their small shop sells lavender themed beauty products to take home. There is soaps, handcreams, shampoo and beeswax products too.
The whole place smells incredible and it's one of the best things to do in Snowshill. Tickets are £7 for an adult.
Read more of my top tips on visiting these gorgeous Lavender fields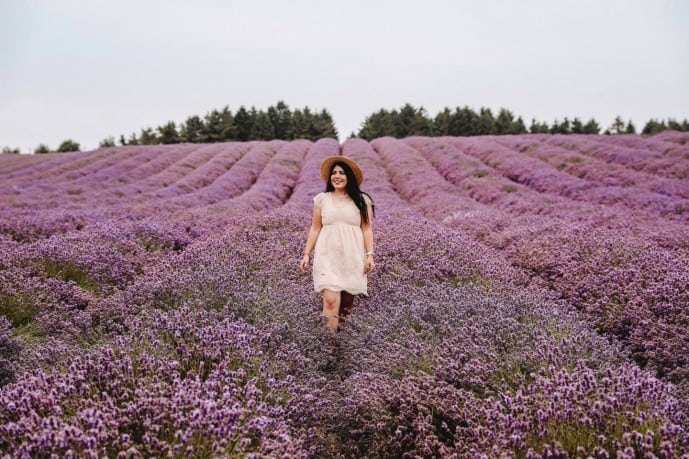 4. Explore the idyllic Snowshill village
As well as the big attractions surrounding Snowshill, you must make a stop at the pretty village itself before you go.
It's a picturesque secluded hamlet filled with a hotchpotch of ancient cottages that surround a small church on a green.
It's also one of the highest villages in the Cotswolds. As its name suggests, if there is snow in the Cotswolds, Snowshill will see it first!
It's not a big place and you could easily walk around this village in 10-15 minutes but it certainly will make an impression on you.
A wander around the green and exploring all the historic cottages is easily one of the best things to do in Snowshill.
5. Pop inside St Barnabas Church
The whole of Snowshill village surrounds a historic church which is prettily perched at the centre!
This is St Barnabas Church and its historic origins are largely unknown. But, as the area was gifted by King Coenwulf of Mercia, it is presumed there was a Saxon place of worship here.
The building we see today is Victorian and was constructed in 1864. But, it is not recorded who the architect was which is unusual for the era. I guess it remains a mystery!
If you have time, you can pop inside as visitors are welcome. The front gate is usually closed to keep birds out but you can open them (make sure to also close them behind you). Then, you'll find the door is usually open with a latch.
The interior is entirely Victorian and you can see lots of amazing Victorian glass. But, there is also an octagonal Tudor Rose font and oak panels to admire.
6. Have lunch in the Snowshill Arms – Father Brown filming location!
If you're looking for where to eat in Snowshill then, as well as the Snowshill Manor Café, you can visit the Snowshill Arms.
It's a cosy traditional inn that dates back to the 15th-century! Today, it's a Donnington Brewery so they serve up a range of real ales from the barrel.
On the menu, you'll find a selection of warm pub meals as well as light bites like sandwiches for lunchtime. A traditional Sunday Roast is also extremely popular here but make sure to book your table in advance.
Fans of Father Brown will recognise this pub from series 2. They filmed 'The Mysteries of the Rosary' episode here!
It follows the story of Professor Ambrose getting abducted after sending his friend Father Brown an ancient prayer book.
7. Spot the Bridget Jones's Diary filming location
Talking of the little screen, big movies have been filmed in Snowshill as well.
Fans of Bridget Jones's Diary may recognise this village from the British comedy filmed in the millennium starring Renee Zellweger.
It's where Bridget, a 30-year-old singleton from London, is on her quest to find "Mr Right".
In the movie, she travels to see her family for Christmas in her hometown! They used Snowshill as that village.
Although these scenes were set at Christmas, they filmed them all in July. So, the whole village had to be covered in artificial snow and many plants had to be cut down. All the houses were filled with Christmas lights and decorations too!
As well as filming one of the houses as her parents home, they also filmed scenes on the green outside St Barnabas' Church.
8. Head out on one of the many Snowshill Walks
Taking a Snowshill walk in the countryside is one of the best things to do in Snowshill. In fact, here you're in the heart of the Cotswolds which is home to endless picturesque walks.
You can easily take the Snowshill to Broadway Tower walk from here which is around an hour and is 3.6 miles.
Or, you can take the Snowshill to Broadway Village circular walk which is around 6 miles and stops at the tower along the way.
The Snowshill, Stanton, and The Edge walk is also extremely popular which is another 6 miles circular along the Cotswold Way. There is a pub at both Stanton and Snowshill for a rewarding pint or bite to eat!
9. Climb up Broadway Tower!
'The highest castle in the Cotswolds' is the breathtaking Broadway Tower which is located just a few miles from the hamlet of Snowshill.
It's an iconic landmark that is perched on top of the Cotswolds escarpment and it was built by Capability Brown in 1798.
It became a favourite holiday retreat of Pre-Raphaelite Brotherhood who are some of my favourite artists! Both Dante Gabriel Rossetti and Edward Burne-Jones visited here.
William Morris also stayed here who was associated with the Arts and Crafts movement. You'll find a lot of his famous patterns as souvenirs in the gift shop.
Click here to read my complete visitor guide for Broadway Tower!
I have to admit it's a little bit of a cash cow today as you will be paying £12 an adult to climb up the tower as well as a £3 parking charge! Especially as your visit takes around 10-20 minutes inside.
But, it's well worth seeing this important piece of history and enjoying the stunning views from the top. You can see for miles over towards Birmingham, Shropshire, Warwickshire, Wiltshire, Gloucestershire and beyond.
If you didn't want to go inside, you can always enjoy the view of the tower from the grounds. After, you can enjoy a coffee or lunch in the Morris & Brown café onsite.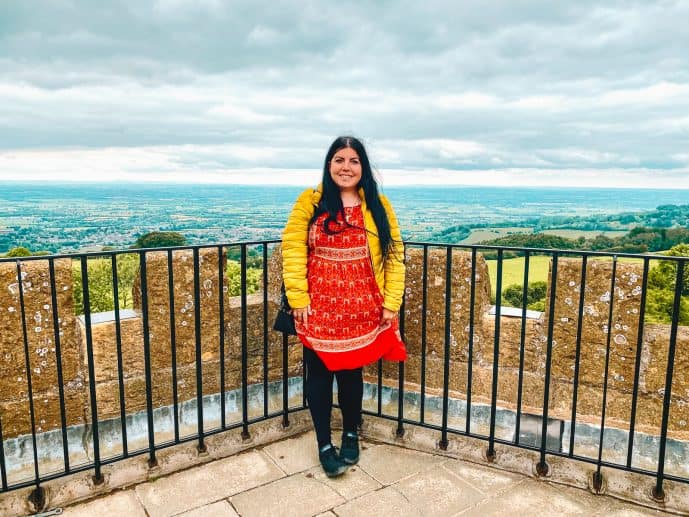 10. Visit Broadway Village
After your visit to the Broadway Tower, I would highly recommend driving or walking down to Broadway village.
It's a gorgeous place that was popular with many Arts and Crafts artists of the day. Gordon Russell established a workshop and showrooms here in the early 1900s. You can visit the Gordon Russel Museum to find out more.
There was also the 'American Colony of Artists' living in Broadway around the 1880s such as John Singer Sargent and Francis Millet.
Today, it's a quintessential village surrounding a gorgeous High Street where you can take a stroll and enjoy the endless views. There are plenty of cafés, tearooms and shops to delve into.
I would highly recommend walking beyond the High street towards the Broadway Ashmolean Museum. Here, you'll find some of the prettiest honeycombed houses in all of the Cotswolds!
Where is Snowshill in the Cotswolds?
Snowshill is located in the North of the Cotswolds in Gloucestershire. This is in the South West of England.
It's near to Moreton-in-Marsh, Broadway, Chipping Campden and Chipping Norton. So, it's the perfect place to stop on a North Cotswolds road trip.
As it's a small village, you may want to pair up your trip with a couple of other villages and towns around it.
How to get to Snowshill
By far the easiest way to access Snowshill would be to drive. It's quite a remote area of the Cotswolds which is at a height.
You'll be driving down quite steep and narrow roads to reach the village. These will be single track with passing places. Lots of cyclists share these roads with cars here, so be careful as you go!
The village is near broadway, Snowshill postcode is WR12 7JU.
There is no train station here but you can alight at Moreton-in-Marsh which is 7 miles away from the village.
You can take a taxi to Snowshill directly from Broadway. But, as taxi services are limited call the Broadway Tourist information on 01386 852937 for more information.
There are also no bus services in Snowshill. You can take the bus to Broadway and from Broadway, Snowshill is a 2-mile walk.
Snowshill Parking
There is a free car park in Snowshill that you can park in to explore the village. This can be found just before the Snowshill Manor car park.
This does tend to fill up on weekends as it's quite small and a lot of people park here to go on long walks in the area.
If you cannot find space here, there is some off-road parking in the village outside St Barnabas' Church and Snowshill Arms. But, park with consideration and be respectful of residents.
Of course, if you've parked up to visit Snowshill Manor, you can leave your car there and walk to the village.
Where to stay in Snowshill
As National Trust now own Snowshill Manor and Gardens, they also own some of the cottages in the village as well!
So, if you have ever wanted to stay here for the night you're in luck as these can be rented out as holiday accommodation.
There are plenty to choose from and the options are Honor's Cottage, Spring Cottage and Diston's Cottage.
They each come with a rustic fireplace to cosy up by in winter or you can enjoy relaxing in your very own cottage garden on warm evenings.
They are not cheap and you do have to book a minimum of a couple of nights but it looks like the perfect place for some rest and relaxation!
Click here to find out dates and rates
FAQs about Snowshill
Why is Snowshill called Snowshill? Because if there is ever snow in the Cotswolds, Snowshill is the first to know as it's so high up!
How old is Snowshill? Its recorded history dates back to 821! This is when Snowshill Manor was gifted to Winchcombe Abbey by King Coenwulf of Mercia. But, there has been evidence of a Bronze Age settlement way before that!
How far is Snowshill from Broadway? Snowshill is only 2.9 miles from Broadway or a 5-10 minute drive. So, it's the perfect place to go after your visit.
How many people live in Snowshill? In the last census, there were 164 residents in Snowshill!
Where to next after Snowshill?
When in Snowshill, you're in the heart of the North Cotswolds which is perfect for a road trip to explore this area.
After your visit to Broadway, I would recommend heading over to the buttercream historic town of Chipping Campden! There are lots to see and do here like the Market Hall, Almshouses, and Hidcote Gardens.
Moreton-in-Marsh is another famous historic town that has plenty of shopping on their High Street. I'd also recommend the Bell Inn pub that inspired Tolkien's Prancing Pony in Lord of the Rings.
Stow-on-the-Wold is another amazing place to stop by with its Yew Tree Door which looks like something out of The Hobbit.
Bourton-on-the-Water is one of the busiest Cotswolds villages but for a good reason! It's often called the Venice of the Cotswolds due to its fabulous location on the River Windrush. You can visit the famous model village, motor museum, Dragonfly maze and more!
But, if you wanted to escape the crowds, I would recommend heading to Lower Slaughter and Upper Slaughter. Despite the names, they are absolutely gorgeous places that look like a postcard.
Or, head to Bibury which is another one of the prettiest villages in the Cotswolds. A stroll down the majestic Arlington Row is a must.
Read even more of my Cotswolds travel guides
A complete guide for Honington village
The best things to do in Castle Combe
All the Harry Potter filming locations in Lacock and the best things to do
Top places to visit in Corsham
How to visit the Great Chalfield Manor Poldark location
The top things to do in Tetbury and the Chipping Steps
The best places to visit in Painswick and the legend of the 99 yew trees
Why you must visit Burford in the Cotswolds
The hidden gem of Minster Lovell Hall Ruins
Visiting the Downton Abbey Village of Bampton
Instagrammable places in Gloucester and the Harry Potter filming locations in the cathedral
What to do at Gloucester Docks
How to visit the Cotswolds Confetti Fields
Save these things to do in Snowshill for later!