A gorgeous sleepy harbour village nestled between the two cliffs of Cowbar and Penny nab, Staithes in Yorkshire is a delightful find on the coast.
As you wander down the steep pathway towards the sea, you'll find a labyrinth of red-roofed cottages and higgledy-piggledy streets.
It will transport you back to a bygone era and It's almost frozen in time.
As well as being captivated by its timeless beauty, there are so many things to do in Staithes that make it worth a visit.
From art galleries, trails and festivals, a scenic harbour, rock pool beach, cosy pubs and even following in the footsteps of Captain James Cook! The choices are endless.
Here is a complete guide for Staithes in Yorkshire and the things you simply cannot miss!
The history of Staithes in North Yorkshire
You will be shocked at how much history one small harbour village can have!
Staithes, pronounced 'st-ee-uhz' to locals, is proudly part of the Jurassic Coastline in the UK. This means that there are fossils that have been discovered in the area that date back 56 million years to the time of dinosaurs!
But, If you've ever wondered where the modern name comes from, Staithes is a Viking word meaning 'Landing Place'. This suggests it was a popular port to land their ships and go raiding.
Ever since it has been a popular fishing port and it attracted the likes of Captain James Cook.
He was hired as an apprentice at William Sanderson's shop in the village. It's thought that his time spent by the sea here led him on to be one of the most famous navigators in the world.
A lifeboat station was established at Cowbar Nab in 1875.
The beauty of Staithes has long attracted artists and painters of all kinds and in 1894 around forty local artists established "The Staithes Group". They would use the village and coast as a focal point.
The fishing trade reached its peak in the early 20th century when 80 vessels were anchored in the harbour.
This made it one of the most popular ports in the area and you'd find plenty of the traditional North East Coble fishing boats.
As well as fishing, Staithes is famous for The Boulby Potash Mine which is one of the deepest in the UK.
Although today there are mostly pleasure boats docked in the harbour, you can still catch a glimpse of the Coble boats.
You may also recognise this village as the setting for the Cbeebies TV programme Old Jack's Boat!
Why visit Staithes today
Although Staithes has had a long history of a busy working harbour, today it's taken the pace down a few notches.
It's now a quaint harbour village that is as pretty as a postcard and perfect for a day trip out.
You can get lost in their endless laneways, go beachcombing and rock pooling at low tide, spend a lazy day at a pub or café or discover its many coastal paths. There is something for everyone here.
If you're a fan of history, there's plenty to uncover plus some galleries for art lovers.
Photographers will be in awe of how many gorgeous photo opportunities there are and also families will appreciate the many distractions for little ones.
Nature lovers and hikers will never get bored of the endless scenic trails.
When is the best time to visit?
There really isn't a 'bad' time to visit Staithes but this is Yorkshire and it's known for its inclement weather.
So, it's best to try and choose a good weather day or at least when it's dry.
It's not much fun wandering about a coastal town in the rain. But, many hardened locals will tell you it's not bad weather, but bad clothing and preparation!
Where is Staithes in North Yorkshire?
Staithes harbour village is located in the Northern boundary of the North York Moors National Park in UK. It's around 16 miles north of the popular town of Whitby.
The village is almost split into two. You have the 'new' Staithes village at the top of the cliff which has the visitor centre located by the car park.
Then, you have the 'old' Staithes village and harbour that can be accessed at the bottom of the cliffs via an extremely steep hill!
How to get to Staithes
The easiest way to access the hamlet is by car as the area is quite remote in the countryside. But, there are some public transport options as well if this is not an option.
You'll need to follow the main A174 road through the North York Moors National Park until you see a sign for Staithes.
The postcode for Staithes car park is TS13 5AD.
Bus to Staithes: There is a Whitby to Staithes bus on the X4 service that runs regularly for a car-free day out! It will take around 30 minutes and drop you right outside Captain Cook's Close at the top. Plan your journey here.
Staithes parking – warnings & important information
You will need to park in the mains Staithes Car Park at the top of the cliffs to access the harbour and village.
The hill is extremely steep to walk down so, if someone in your party will find this a challenge, then you can drop them off at the bottom and drive back up to the car park.
Anyone who isn't a resident with a permit or staying at a holiday cottage is not allowed to park down the village.
The roads in the village are single laneways and extremely narrow, so it's especially important to avoid driving large camper vans or large cars into the bottom of the village.
You won't be able to get it through and you'll have to reverse all the way out. I saw a few locals in a huff about this!
Things to do in Staithes
So, what is there to see in Staithes? Well, as well as being one of the prettiest villages in Yorkshire there is plenty to see beneath the surface.
From artists trails, museums, sandy beaches, cafés and rocky harbour fronts; the list is endless.
Here are all the amazing things to do in Staithes on your day out!
1. Wander around Staithes cottages and ginnels in the higgledy-piddledy streets
Staithes have
a labyrinth of cobbled streets and alleyways. Plus, they also have many 'Ginnels' which is a historic Northern term for a narrow passageway between buildings!
You could easily get lost exploring and find some hidden gems within the pretty historic homes.
Many of the cottages have colourful doors and windows, flower pots, gnomes, scarecrows and other nautical items gathered on their doorstops.
You'll also find that nearly all the homes here are named after old boats and hardly any are numbered.
Apparently, this caused a stir with the Royal Mail who asked the residents to put numbers on the houses rather than names.
You see, the regular posties around Staithes knew these houses like the back of their hands and could locate them easily. But, the other postal staff and their machines were getting confused!
There are two steep sides to the lower village that is split by the Staithes Beck that leads into the sea. So, you'll need to walk over the harbour bridge to see the two.
Many of these cottages are rented out as holiday homes! So, if you did want to call this place home, you can make it a reality for a few nights.
2. Take a walk around Staithes Harbour
Staithes Harbour is again split into two sides between Cowbar and Penny Nab which are the two cliffs it's surrounded by.
On the Northside, you will have the heritage RNLI Lifeboat Centre and a walkway around Cowbar Nab.
On the South Side is Penny Nab where you can access the pubs, galleries, tidal beach and another walkway around the Harbourfront.
In the middle is the harbour entrance where you may be lucky to see some of the local ships sailing in for the day.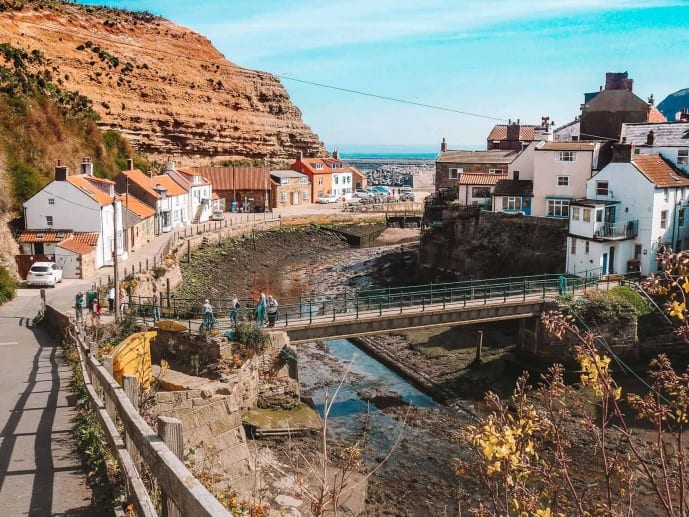 It's hard to believe that once upon a time there would be over 80 vessels in this harbour. As I was visiting at low tide, I just saw a few pleasure cruisers that had washed up at low tide.
Although the cliffs do offer the village protection most of the time, unfortunately in 1953 there was a great storm.
The rough seas here washed away most of the harbour front. The houses and pubs lost all its possessions to the tide and saw many a bottle floating away.
On the south side of Staithes Harbour is a popular pub called the Cod and Lobster. It's perfect for a pint or a bite to eat.
However, you'll be fighting for an outside seat and to make an order at the bar. Especially on sunny weekends!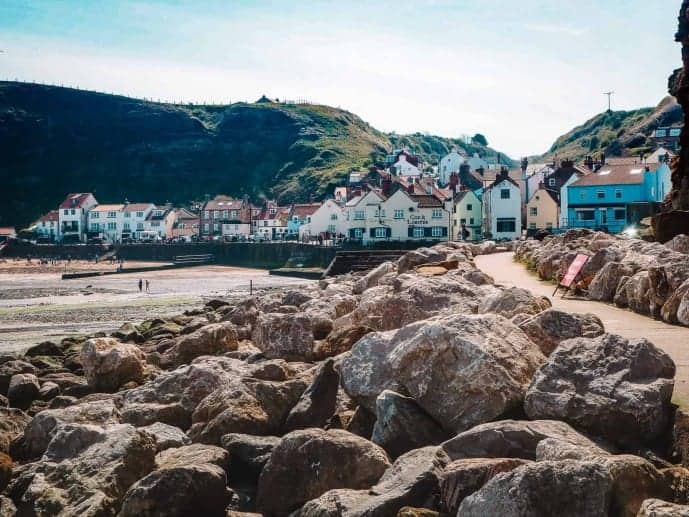 3. Find the best photography spot in Staithes
A local fisherman outside of his cottage saw that I was a photographer here and pointed me in the direction of where the photographers take their 'postcard' shots!
I couldn't have been more grateful for the tip-off.
If you are a photographer and you wanted to take some of these amazing photos, then I will let you in on the secret viewpoint in the village.
You will need to walk from the south side of the harbour over to the north side where the RNLI Lifeboat centre is.
As soon as you cross over the Staithes Beck bridge, you'll need to make a left up the 'Cowbar Bank' Road.
At the top of the road, you'll hit a corner and you'll see some steps over grass veering off to the left.
You'll be walking past some cottages to your right. Take those steps to the top and you'll find a fabulous viewpoint at the top of Cowbar head. This is where you can get those Instagram shots for your feed.
I had this place pretty much to myself for a long while despite it being a Bank Holiday weekend. So, it is a little bit of a hidden gem. Of course, I took a gazillion photos here!
I will never forget this mind-blowing viewpoint and neither will my legs. I'm not going to lie, it was a breathless struggle.
4. Visit the Staithes Heritage Centre
If you're on the Captain Cook trail in Yorkshire and wanted to find out more about his life, then look no further than the Staithes Heritage museum.
Captain James Cook took up an apprentice role for William Sanderson in his shop at the young age of 16.
In those days no railways and poor roads meant that most of the trading took place overseas. It's thought that this is where James changed his interests from farming to sailing.
Unfortunately, William Sanderson's shop wasn't protected and closed down years ago, but the museum has a life-size recreation of the storefront and village in 1745. The only recreation in the world!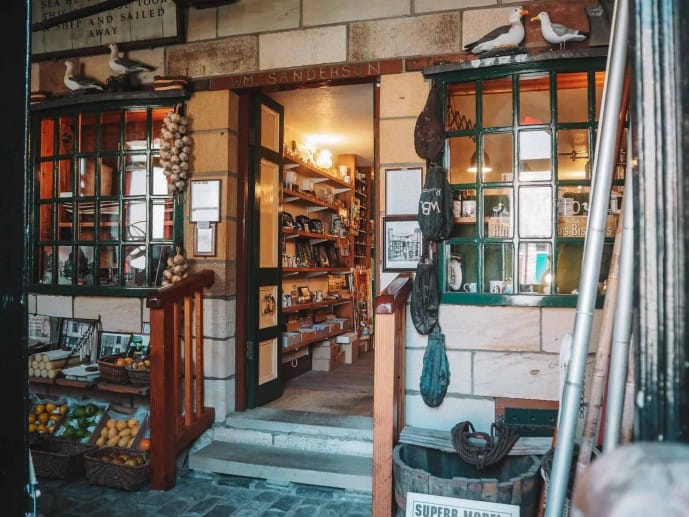 Inside the museum, you can learn all about Captain Cook's adventurous yet controversial voyages around the globe.
There are over 200 books, 61 Webber engravings plus numerous letters, coins, glassware and medals pertaining to his life.
Although he is known as one of the greatest sailors of all time, one cannot deny his huge involvement in spreading deadly diseases to tribes in the Pacific.
It's also this that caused his untimely end by stabbing while trying to kidnap Hawaii's monarch, Kalaniʻōpuʻu.
He wasn't eaten alive like rumours will have you believe, they are not cannibals. But, they did cook him.
As Hawaiian Islanders believe the power of man is in his bones, they boiled him in order to easily remove them.
Not a nice ending and a world away from his humble beginnings as a shop boy in Yorkshire!
The museum is quite small, over two floors and a little dated. But, it is definitely worth seeing if you wanted to learn a little more about the huge history of the village.
Entry is free but donations are appreciated to keep the museum running. Opening times are 11 am – 4 pm Saturday to Thursday. The museum is closed on Fridays.
5. Explore and Learn at The Staithes Art Gallery
In 1894, a group of forty or so local artists decided to form the first Staithes Artist Group.
They were known as the "Staithes Group" or the "Northern Impressionists".
The art colony were inspired by French Impressionists like Monet and Cézanne and reflected this in their oil and watercolour portraits of the area.
The group included famous Northern artists like Joseph R. Bagshawe, Thomas Barrett, Frederick W. Jackson and James W. Booth.
But, the most prominent of them was the renowned artist Dame Laura Knight.
She kept a studio in Staithes along with her husband Harold Knight. This is where she practised English Impressionism in her etchings, watercolours, oils and drypoint.
She went on to become one of the most popular painters in the country and was the first elected female member of the Royal Academy!
Her success paved the way for more female artist recognition in the male-dominated art world.
The group disbanded in 1909 but the village doesn't fail to inspire artists with its beauty today. You will find many dotted around capturing it in their works.
If you wanted to see some of the local art created here, then you need only visit the famous Staithes Gallery near the harbour front on the south side.
Inside it, they have many historic and contemporary paintings that reflect the area. So, pop in and see if anything inspires you!
6. Discover the setting for Old Jack's Boat
Fans of Cbeebies may recognise the seaside hamlet from a well-loved TV Programme.
Old Jack's Boat plays out the adventures of Bernard Cribbins or 'Old Jack' who is a retired fisherman living in Staithes!
Although the programme uses mostly animation, it also uses lots of scenes around the harbour, the beach, some of the cafés and clifftops too.
So, you can spend a good amount of time following in the footsteps of Old Jack, his dog Salty and their boat 'The Rainbow' if you wanted to.
They even have a sign with him on at the seafront for a quick photo op.
If you wanted a small recap, you can watch it on BBC iPlay here.
7. Find all the spots on the 'Painted Illusions' Trail
Maybe you'll see a Seagull who won't fly away, some fishing tails and nets that don't sway with the wind or a suspicious sailboat tucked into a corner.
When you look a little closer, it's a trick of the eye! Almost like magic.
You've just been introduced to the Painted Illusions Trail here in Staithes.
Created by renowned local artist Paul Czainski, the trail includes 8 places that will make your mind boggle.
You'll have to hunt to find them all on this treasure trail and you'll see mermaids with mirrors, a profile of Laura Knight, Noah's ark, birds and seashells, all painted in 3D.
If you would rather follow a trail, then make sure to pop into the visitor centre to pick up a leaflet with more information!
8. Go Rockpooling on Staithes Beach
Once the tide is out, the seas make way for a gorgeous sandy beach to relax on if it's a sunny day. You'll almost forget you're in England if the weather is fine.
As well as the golden sands, there is also a whole waterbed to explore by the cliffs where you can go rock pooling.
When I was a kid, rock pooling was one of my favourite things to do. You could always count on spotting some limpets, snails or a crab or two trying to camouflage into the rocks. I've even seen a starfish in the waters.
Just be careful and watch the tide as you're out there. You don't want to get stuck!
If you've forgotten your bucket and spade or fishing nets, don't worry just pop into The Kessen Bowl that has everything for you!
Staithes Tide Times: If you wanted to visit the beach at low tide for rock pooling or the harbour walk. Make sure you check the tide times here.
9. Go Shopping in Staithes
While we're on the subject of shops, Staithes has a delightful range of gift and craft shops waiting for you if you fancied a bit of retail therapy!
Of course, there are your usual Co-ops, but I'm talking about independent boutiques that have something unique to offer.
I already mentioned the Staithes Gallery earlier but if you fancy getting crafty, then I would recommend a visit to Cobbles. They have a delightful range of unique gifts and gemstone jewellery.
Emporium Gift Shop is also another one of my favourites that has some souvenirs inspired by the local area with ceramics and artwork too.
If you have a sweet tooth, why not visit Betsy and Bo who run a sweetshop and deli or the traditional Seafish or Butcher shops?!
10. Plan your visit for Staithes Art Festival
Every year in September, the village hold their Staithes Festival which features an exhibition of over 100 artists and their works.
The art will be displayed in over 60 temporary galleries in spaces around the village and the whole area will have a buzz to it.
Entry to the festival is amazingly free of charge and throughout the week they will have talks, workshops, concerts and a whole number of heritage events going on.
I got a small taste of what was on offer with the display at the top of the car park, but I can't imagine what the atmosphere is like at the festival time! It's definitely worth booking the date on your calendar.
For more information on the festival, click here
11. Take a walk along Cleveland Way
Some people say that the best part of Staithes is leaving it along the spectacular coastal walks in the area.
Staithes is part of the Cleveland Way, which is a national trail along the North York Moors National Park.
The whole trail is a whopping 109 miles from Helmsley to Filey but you can enjoy a small piece of it from the village.
The most popular trail from here is the route from Staithes to Runswick Bay.
It's around 3 miles one way and will take you past some gorgeous villages like Port Mulgrave, headlands like The Crocodile Head and endless sea views too.
The whole trail will take you to take you less than an hour with no breaks, but I'd leave at least 90 minutes to two hours as you'll definitely want to stop and take photos!
Click here for more Cleveland Way trail information
Where to eat in Staithes
After all that exploring, you're probably keen on something to eat.
The good news is that Staithes has a whole range of traditional pubs and cafés to drop into while you're here.
Here are some of my personal favourites below;
The Cod and Lobster – one of the most popular Staithes pubs is the Cod & Lobster that has a prime position on the harbour front. It will be packed to the rafters most days of the week and getting a table is as rare as hen's teeth! But, it's totally worth the wait. I had an incredible lunch here overlooking the bay. Click to see a menu.
Endeavour Restaurant – Named after Captain Cook's famous ship this 200-year-old pub on Staithes High Street has recently had a facelift. It now has a popular restaurant below deck and a range of rooms upstairs. A village favourite, the kitchen uses strictly local produce and fish on their menu.
Captain Cook Inn – Located at the top of the cliff, this traditional inn serves up home-cooked meals in their restaurant. As well as food, they also offer up barrels of real ale and have a huge variety. They also have a house ale called The Northern Navigator.
Did you know? Staithes have a local pub crawl known as the 'Roxby Run'? It starts at the Fox and Hounds in the nearby village of Dalehouse, then moves onto the Staithes Athletic club, The Captain Cook Inn, the Royal George and then finishes at the Cod & Lobster. I'm surprised if you'll be standing at the end!
Staithes Accommodation
If you're looking for where to stay in Staithes, there are plenty of quaint holiday cottages and cosy B&Bs in this labyrinth of streets!
Endeavour – The Endeavour has now had a renovation which classes this heritage property as the most luxurious inn on the strip. You'll find clean fresh en-suite rooms, with a local favourite bar and restaurant below. Click to book.
The Royal George – Another traditional B&B with cosy rooms inside for rent. Again, you have the added benefit of a restaurant serving up traditional pub food and a popular bar onsite. Click for rates.
Staithes Holiday cottages – If you would rather stay in a holiday home, then there are plenty to choose from. You won't find all of them on the main hotel booking websites so here's a list.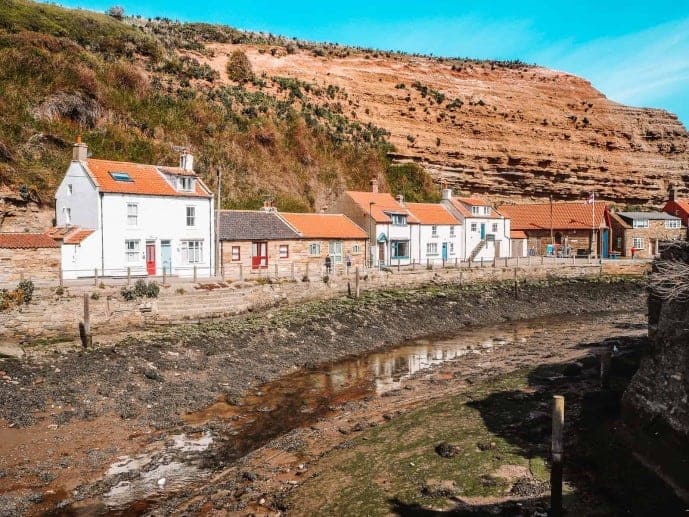 Places to visit near Staithes
The North York Moors National Park is a stunning piece of the coastline and there are a number of amazing places to visit in the area.
Here are a few of my favourites picks;
Robin Hood's Bay
Robin Hood's Bay is another village that gets its curious name from the notorious hero who robbed from the rich and gave to the poor. Although it has never been proved!
It's a beautiful bay and village which, like Staithes, you can only access on foot down the cliffs.
You can wander around all the quaint cobbled streets, steps, alleyways and ginnels and admire the sweet historical homes.
Head down to the beach via the slipway and go crab hunting. Or, there are plenty of amazing coastal walks to enjoy and cafés to pop into for a pick me up.
It's honestly one of the most magical villages on the Yorkshire coast, so don't miss it!
Click here to read my complete Robin Hood's Bay travel guide
Whitby
Whitby is one of the most popular coastal towns in the North York Moors and sees countless visitors climbing up the 199 steps and Whitby Abbey on the headland.
This is the home of Bram Stoker's Dracula! He stayed here at the Royal Bay hotel and it was the view from his room that inspired his famous vampire novel.
They take their Dracula heritage very seriously in Whitby and you'll find countless attractions dotted around the town. There are even a few Goth weekends.
Beyond Dracula, Whitby is a MUST STOP in my opinion.
Captain Cook fans should try out the Endeavour experience where you can sail in a recreation of the HMS Endeavour over the bay.
It's truly stunning with quaint streets, pubs and epic views of the Yorkshire coastline.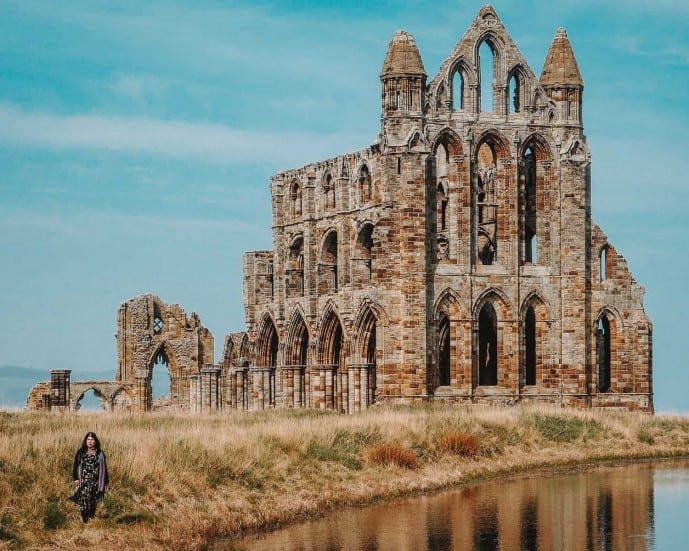 Scarborough
Okay, so this is just on the border of the NY Moors but I'll still count it as it's a gorgeous place to visit!
Yes, there are lots of arcades, shops, funfairs and tat but there is also a wealth of historical attractions to uncover beneath the candy floss and flashing lights.
Like, did you know that its dominating castle dates back 3000 years? Or, that Scarborough is England's oldest seaside resort? It's also one of the oldest spa resorts where the aristocracy used to 'take the waters'. Famous literary giants, like Anne Bronte, did that for her health.
The town also claims the title for the first purpose-built hotel in the world, a Victorian funicular railway and the first purpose-built museum in the UK, the Rotunda.
A top favourite park of mine is Peasholm Park which also has been voted as one of the nations favourite parks. It's Grade II listed and its Oriental theme was based on the Willow tea sets!
It's home to the smallest manned navy in the world and you can watch a Naval Warfare battle on the lake.
There is SO much to Scarborough and it honestly blew me away. Click here for a guide!
Like it? Pin it!