If you're thinking of heading around the Cotswolds for a road trip, you absolutely must include the idyllic town of Tetbury on your itinerary.
As a place that has over 1300 years of recorded history, it oozes heritage and tradition on every street corner. It even has a royal connection with the Queen's son, Prince Charles, living nearby (oo err)!
As well as being one of the most charming towns in all of the Cotswolds, it's also the second largest. So, there are plenty of amazing things to do in Tetbury to keep you distracted.
From medieval streets to police museums, attractive churches, royal shops and historic market halls. You can never be bored exploring!
Here are the very best things to do in Tetbury in the Cotswolds.
Tetbury's icon is the…Dolphin?!
As you wander around getting involved with all the things to do in Tetbury, you'll soon start to notice that dolphins are everywhere. They are on street signs, lampposts, even door knockers!
Now, it's not uncommon for a town to choose an animal for their coat of arms. However, as Tetbury is miles and miles away from the sea, it seems rather unusual for the town to choose dolphins of all things.
Well, according to the town, there are many stories surrounding the dolphins. The most popular is that a member of the renowned De Braose family, who were from Tetbury, had their life saved by two dolphins in the Irish Sea.
When they returned, they changed the town's crest to dolphins and it has been part of its towns identity ever since.
There is now a Dolphins Running Club, a Dolphin Hall and Dolphins Dramatic Society!
12+ Best things to do in Tetbury
1. The Chipping Steps
No visit to Tetbury would be complete without a journey up and down the iconic Chipping Steps. It's the oldest part of Tetbury that dates all the way back to the medieval era!
'The Chipping' is an old word for market and years ago this used to be the place of the regular 'hiring and mop fair'. These mop fairs used to see farmers and labourers arrive to seek work on fixed terms!
The most charming part of The Chipping is the 'Chipping Steps' which you can find in the far North-East corner.
Here, you'll find a higgledy-piggledy set of cobbled steps joined by an adorable set of medieval weavers cottages.
Traditionally, Tetbury is famous for being weaving town and so it's always lovely to see that these old cottages have been preserved.
The steps were ordered to be 'cut' in 1781 by the Feoffees of Tetbury. The Feoffees were set up in the 17th century as the local big wigs who saw over the administration and development of the town. They are still running today as a charity organisation.
This is by far the most photographed area of the town, so have your cameras at the ready. I was so surprised at how much time I spent exploring here.
But, it is just so pretty, I couldn't stop taking photos of it! It's one of the best things to do in Tetbury.
Click here to read more about the Chipping Steps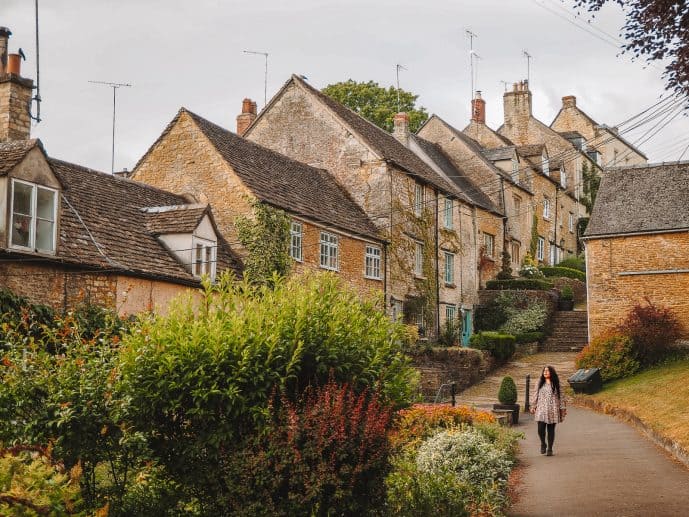 2. Tetbury Market House
If you head on over to the heart of the town, you'll find the historic pillared Market House that almost looks like it's standing on stilts.
First built by the Feoffees of Tetbury in 1655, this Grade I listed building is still owned by them today!
Over the years, this centrepiece has played many roles including the being the headquarters of administration, a wool shop, and even a jail for the local police station.
Whereas most market halls are now purely for decoration in England, Tetbury's is still used for the same purpose nowadays. So, you'll find Craft Fairs, Exhibitions and even farmers markets taking place underneath the pillars every week.
There is always something interesting happening here, so make sure to pop along and see what you can find.
If you're lucky, you may even meet (or hear) the Tetbury town crier. This is a medieval tradition before newspapers where a man would cry out news to the public. His name is Tony and he pops out for special occasions!
3. St Mary of the Virgin Church
The church spires of the Cotswolds are what have guided people for centuries as they travel through the county and you won't miss the spire of St Mary's of Tetbury that's for sure!
Its church spire is a whopping 186 feet making it the fourth largest church spire in all of England. Beyond the spire, this church also has a fascinating history connected to it.
It's thought to be one of the oldest places of worship in Gloucestershire, being founded in the 7th century by King Ethelred of Mercia. He ordered for a monastery called 'Tette's monastery' to be built on 15 acres of land.
Although none of the original monastery is left today, what we do see is a medieval church on the same site that was built in the 12th century.
Following that, the huge church spire was added in the 14th century. Over the years, there have been many improvements made but the church spire and tower have remained a constant!
As well as admiring its architecture from the outside, it's well worth popping inside on your visit. The church is famous for its box pews and you can see an effigy of William de Braose as well.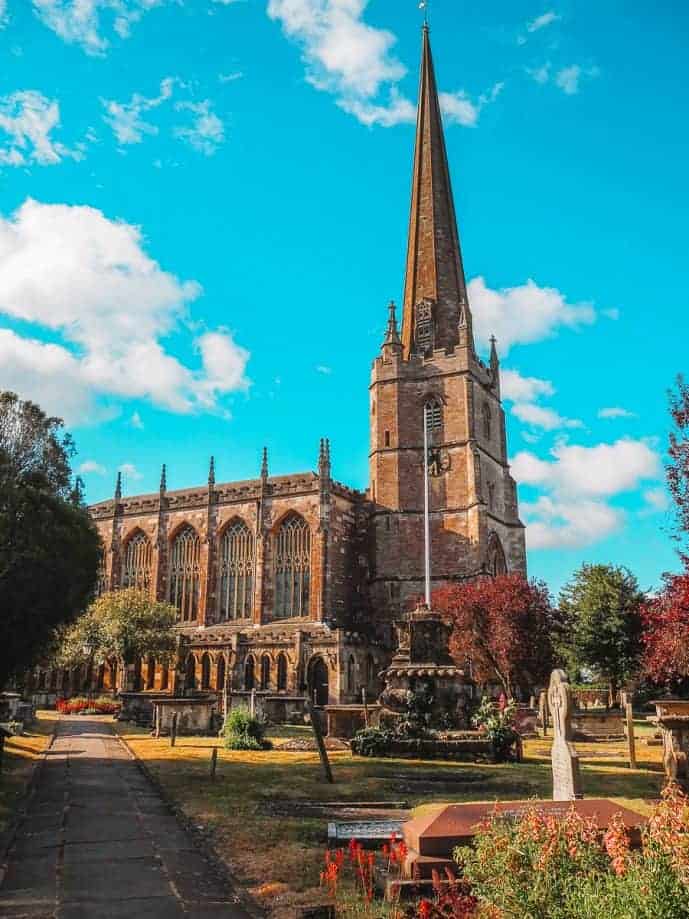 4. Visit the Highgrove Shop on Long Street
As I mentioned earlier, Tetbury has been considered a royal town ever since 1980 when Prince Charles moved into Highgrove House and made it his family home.
Ever since his presence has been felt in the town and he even opened up his creatively inspired gardens to the public!
In 2008, he opened the Highgrove Shop on Long Street and it has since become the most popular shop on the strip. Inside, they have a huge collection of gorgeous souvenirs you can purchase.
From spirits, biscuits, clothes, plant pots, books, things for the home and gardening too!
It's definitely worth popping in and buying something. All proceeds go towards the Prince of Wales Charity Fund which transforms lives and communities in the UK. Every year the trust donates millions to community-based projects.
5. Go Antiques Shopping
Another one of the amazing things to do in Tetbury is to go Antiques Shopping. If you carry on walking down Long Street, you'll see plenty of antique shops and even whole yards with things for sale!
These shops sell anything and everything like furniture, bric-a-brac, art, statues and all sorts of curiosities. I loved the fact that most of these shops were all set in historic buildings.
For example, Brownrigg is set in a gorgeous Georgian Home whereas Alderson Antiques is set in a traditional Elizabethan townhouse. It totally sets the scene!
You'll find lots of antique dealers dotted around Tetbury but the majority are on Long Street and Church Street.
6. Visit the Tetbury Police Station & Courtroom
If you have ever considered yourself a bit of an armchair sleuth, then you may enjoy a visit to the Tetbury Police Museum at the bottom of Long Street.
This FREE and unique exhibition is set over two levels and covers all things related to crime and detection in the Cotswolds and beyond!
It all started when the Tetbury Magistrates Court moved to Cirencester in the 1960s. So, the town decided to create a museum to preserve its heritage. It's now one of the best things to do in Tetbury.
Inside, you'll find a sergeant in his living quarters who is always watching over everyone who visits and on the lookout for troublemakers. Plus, you can find lots of police artifacts, a recreated courtroom, and old jail cells.
It's a great budget activity for all ages. Click here for more information and opening times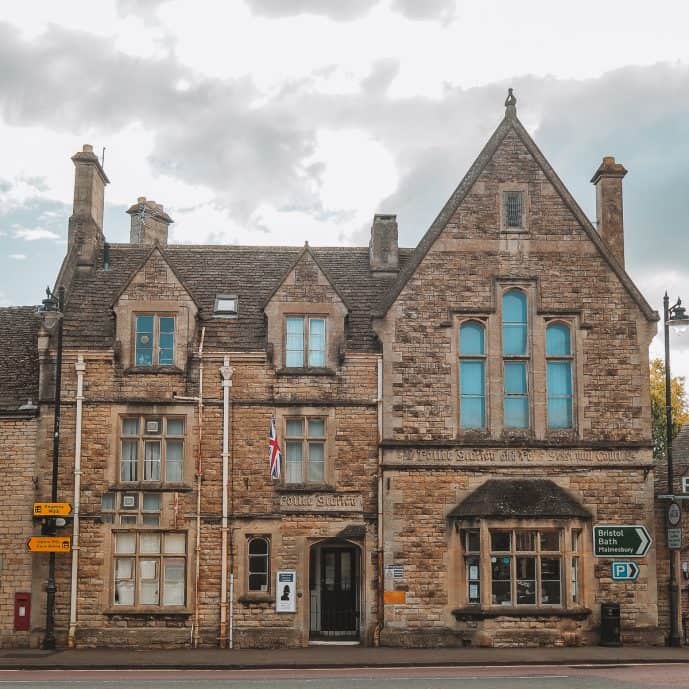 7. The Tetbury Goods Shed
The South West is famous for Great Western train lines that changed the way that people travelled forever in the 19th century.
Over the years, many train station fells into disuse and the Beeching process meant that many were shut down.
Tetbury was one of those stations that were closed in the 1960s. However, instead of tearing down the old station it sat abandoned in the same spot for years.
That's until Tetbury decided to repurpose the building and make something new to serve the community! It's now one of the best things to do in Tetbury.
Nowadays, it's been transformed into the Tetbury Goods Shed which is run as an arts & music centre by volunteers.
They have plenty of events here throughout the year, so it's always worth checking whats going on.
As well as regular events, the Goods Shed have a friendly, unique cafe that is placed inside an old railway carriage! Such a cool idea.
As you walk around the surrounding park, you can even see the abandoned railway lines still in place.
8. St Saviours Church
Although its spire may not be as grand as St Mary the Virgin, St Saviours Church has lots of charm and character.
This Grade II listed, the Anglican church was built for the 'parish poor' in the early 19th century as people couldn't afford to pay for seats in Tetbury's main church.
It was built in a beautifully ornate Victorian style and designed by a local architect, Samuel Dawkes. The whole building is made out of local Cotswold stone and slate.
As you walk through the courtyard, you'll pass through its adorable lychgate (which is also Grade II listed!).
I found the whole place to be extremely peaceful and it's definitely worth popping inside to see it's stained glass windows and pews with poppyhead ends.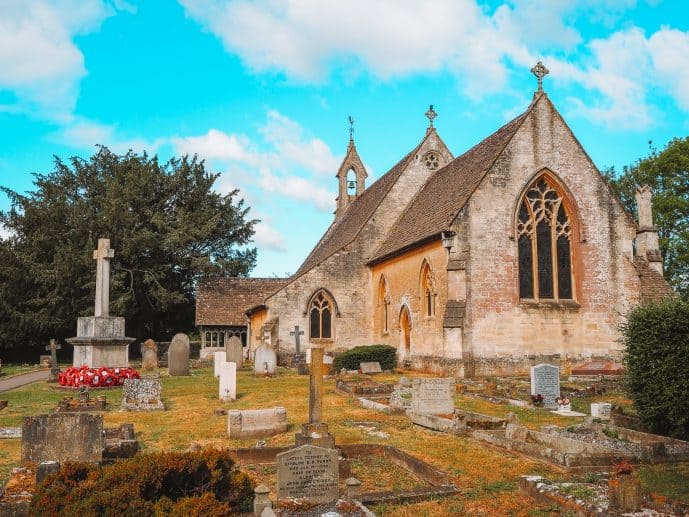 9. The Royal Gardens at Highgrove House
Many people visit Tetbury solely to admire the Highgrove Royal Gardens which have been beautifully designed by HRH The Prince of Wales over the last 30 years.
Originally a Georgian estate built in the late 18th century, Highgrove House is now the official residence of The Prince of Wales and the Duchess of Cornwall.
Apparently, when Prince Charles first moved in, there was little more than a neglected kitchen garden and an overgrown copse. But, now the gardens have transformed into a delightful display that can be enjoyed by the public!
As you make your way through each garden 'scene', you'll find creative areas such as a sundial garden, treehouses, a cottage garden, Wildflower Meadow and many more.
The best time to visit Highgrove Royal Gardens is anytime between April and October where you'll find the flowers and plants are more in season.
You can take a tour, have lunch there or even treat yourself to an indulgent afternoon tea!
Click here for more information such as opening time and ticket prices
10. Westonbirt Arboretum
You may be surprised to know that the National Arboretum at Westonbirt is only a few miles away from Tetbury! So, it makes the perfect add on to your trip.
This epic estate has over 18,000 indigenous and exotic tree species that are spread over a whopping 6,000 acres. You can explore the many pathways and lakes in this magical tree world and even find some fun sculptures to admire along the way too.
I visited Westonbirt in the summer months which was lovely but I'd definitely say that the best time to visit would be in the Autumn.
The price does go up during this time but the Autumnal colours are just spectacular. Every tree will have leaves of bright reds, yellows and oranges and it must be incredible to see!
Click here for more information
11.Chavenage House
I had been dying to visit Chavenage House for an age and I finally was able to do it on my recent visit to Tetbury.
The reason why I wanted to visit so badly is that I am a die-hard Poldark fan and this very house plays the ancestral Trenwith Estate!
As soon as I arrived, I could almost imagine Ross riding his horse down the driveway… swoon… anyway, I digress…
Of course, the real name of the estate is Chavenage and the present house was built as an Elizabethan Manor in 16th Century. But, the wider estate has a history dating back to the 9th century with Princess Goda, sister of Edward the Confessor, being the first owner!
Today, the estate is owned by the Lowsley-Williams family who has lived here since 1845 and they open up their wonderful home to visitors. It's just a few miles away from Tetbury.
They open up for guided tours between May through September. Check here for details.
12. Annual events in Tetbury
As well as all these amazing things to do in Tetbury, the town also have a wealth of annual events that take place throughout the year, so you never know what may be happening on your visit!
In May, they hold Wacky Races where you'll find quirky carts and wheels make their way around a track with prizes for the winner.
Or, at the end of May, you could witness the famous Tetbury Woolsack Race which dates back to the 17th century! You'll find many contenders running up and down Gumstool Hill with a heavy woolsack on their backs.
TetFest happens in July and showcases many local musicians or you may like to see Tetbury in Bloom or the Summer Show in August. As well as flowers, there is arts and crafts, a parade, classic cars and more.
The Beating of the Bounds takes place in September which is an Anglo-Saxon ceremony to bring in the Harvest.
Or, Tetbury at Christmas time is really special with twinkling lights, markets and carols!
Where is Tetbury in the Cotswolds and how to visit?
Tetbury is located in the county of Gloucestershire and sits in the Cotswolds Area of Outstanding National Beauty (AONB).
It's located two hours from London, 40 minutes from Bath, 40 minutes from Gloucester, 20 minutes from Cirencester, and around an hour from Oxford.
The most convenient way to access Tetbury would be to drive as there is no train station that connects Tetbury.
If driving is not an option, there are buses that you take to access Tetbury from Gloucester and Cirencester.
Where to stay in Tetbury
Calcot Hotel and Spa – Set in a historic building, you'll find uber-stylish rooms for rent here! With a unique boutique design and a fresh feel. This 4-star hotel has 220 acres and includes a wellness spa, restaurant and fitness centre! Click to enquire.
The Hare and Hounds Hotel – This hotel is set in a magnificent Victorian property and became a hotel in the 1920s. Today it has over 40 rooms to book for the night. You'll find a peaceful retreat with a recommended restaurant onsite! Click to book.
The Royal Oak Tetbury – This hotel is made of traditional Cotswolds stone and is set in the heart of Tetbury. As well as being a historic Georgian Freehouse, which cooks up traditional pub food, they have some boutique rooms to rent as well!
Heading around the Cotswolds? Read more of my related posts!
A complete guide for Castle Combe
Harry Potter locations in Lacock and best places to visit in the village
Visit the amazing Minster Lovell Hall ruins
Things to do in Lower Slaughter and Why you must discover Upper Slaughter
The ultimate travel guide for Bibury and Arlington Row
The Tolkien Door at Stow-on-the-Wold
The best things to do in Stow on the Wold
The legend of the 99 Painswick Yew Trees and the best things to do
A complete visitor guide for Broadway Tower
The Most Instagrammable places in Gloucester
Harry Potter filming locations in Gloucester Cathedral
Save these things to do in Tetbury for later!