Did you know that there is an independent country that sits in the heart of Vilnius in Lithuania? Neither did I before my visit!
The self-proclaimed "Republic of Užupis" is a bohemian art district and it's one of the quirkiest neighbourhoods in the city.
There are so many unique things to do in Užupis that you will need to spend at least half a day here to fit everything in!
From getting your passport stamped, going through border control, swinging over the Vilnia river, and admiring the colourful street art; there's magic to be found on every corner.
What is the republic of Užupis?
Užupis is a self-proclaimed free republic. Although many people see this tiny 'country' as a little tongue-in-cheek, when you enter through the border control it's hard to believe that it isn't a country in its own right.
Užupis day is on April Fool's day (April 1st), so many people think it's a farce, but is it?
It has its own constitution, border control, immigration stamp, anthem, president, parliament, bishop, churches and flag. It also has a guardian; the bronze angel of Užupis!
So, instantly, as soon as you arrive you can feel its independence from the main city.
There will be Užupis street signs and cameras, and bus stops and you can even buy Užupis currency. It's such a cool concept.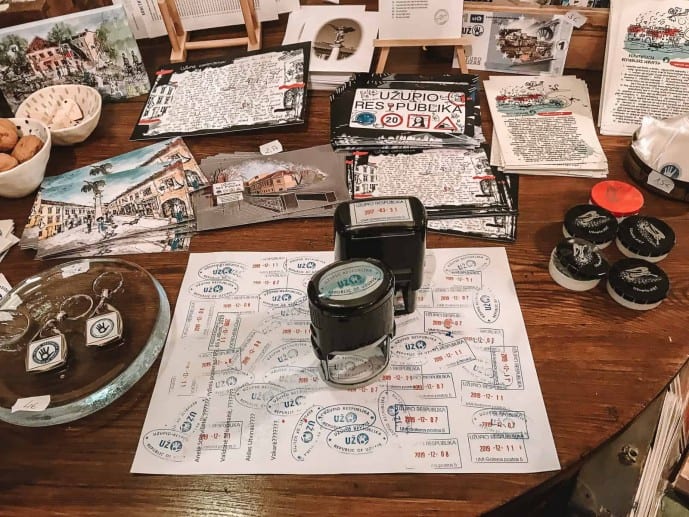 The history of Užupis and how it became a free republic
Dating back to the 16th century, Užupis is one of the oldest districts in Vilnius. It was the cities poorest area with many manual workers and home to the red light-district.
This district was also mostly inhabited by the Jewish community. Sadly, during the Holocaust under the Nazi occupation, a lot of them were deported or killed in concentration camps.
This meant that the houses in the district were abandoned and were taken over by the homeless, prostitutes, drunks, and criminals.
It turned into a dangerous part of town that people avoided and It ended up being the most neglected part of the city until Lithuania's independence from Soviet rule.
After the independence, artists in Vilnius took advantage of the cheap accommodation in the area making it a new hive of creativity.
In 1998, almost a decade after the independence, the residents in the city of Vilnius declared the area as the "Republic of Užupis".
Ever since it has been a thriving bohemian art district with its own voice. Attracting artists, writers, individualists, independent businesses, tourists, and lots of media attention to boot.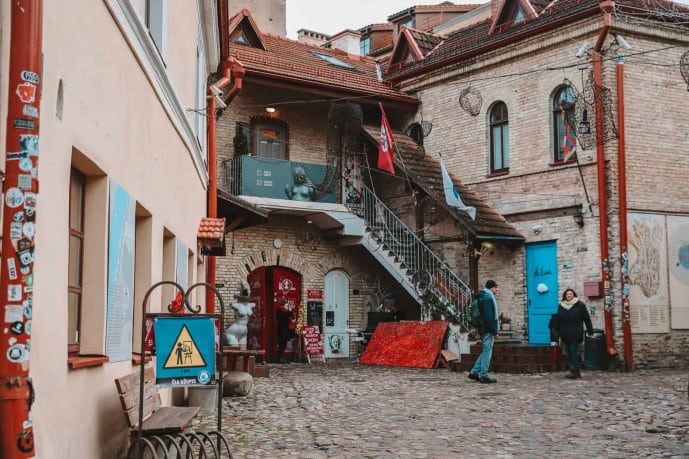 How to find Užupis in Vilnius
Užupis means "behind the river", so that's where you'll find this amazing area! In fact, it has seven bridges which all cross over into the 'country'.
You can easily access Užupis from St Anne's Church, the Bernadine Gardens, and the City Bastion too.
I was guided around Užupis on my private walking tour. I found that Vilnius was really easy to explore on foot and the city is well signposted throughout.
But, if you find you need a helping hand use Google Maps or download offline maps.me for directions.
Uber also works amazingly and is really cheap in the city. There is a competing company called Bolt too but I always use Uber as I find it cheaper and more convenient. If you're setting up Uber for the first time, use my code for a discount on your first ride "sophiep4481ui".
Click here to book a FREE walking tour of Vilnius
15 quirky things to do in Užupis, Vilnius
1. Firstly check out the Republic of Užupis sign and learn the laws of the code
The most telltale sign that you have made it to the Republic of Užupis is if you see the famous sign.
For reference, this sign is next to the Bridge of Užupis close to the Orthodox Cathedral on Maironio Gatve. With a welcome message written in different languages, you may notice some unusual icons painted on it too.
These are the Užupis rules of code that must be obeyed at all times.
Happy face – It means that you should be smiling in Vilnius at all times
20 – means you should take it slowly to enjoy the country
the Mona Lisa – is there to remind you that it's an art district
Car falling into the river – means that you are now beyond the river, so take it easy!
You'll see these icons dotted around the streets here too, so keep a lookout.
As well as the beginning of your adventures through Užupis, it makes an awesome photo opportunity. So, don't miss it!
2. Cross over the Bridge of Užupis and find the Mermaid
After you've snapped a selfie with the sign, it's time to make your way over the famous Bridge of Užupis over the River Vilnia.
But, before you walk completely over the bridge, make sure you turn back around halfway and try to find the Mermaid of Užupis hidden in a wall on the river bank.
It was sculpted by Romas Vilčiauskas and has been compared to the little mermaid in Copenhagen.
Her hair is similar to Medusa in all different directions and she looks almost forlorn like she wants you to join her.
So say, the legendary mermaid of Užupis will lure you in with her charms and those who are caught under her spell will never leave!
But, I can think of worse fates than being surrounded by historic houses, art installations, and amazing restaurants every day that's for sure.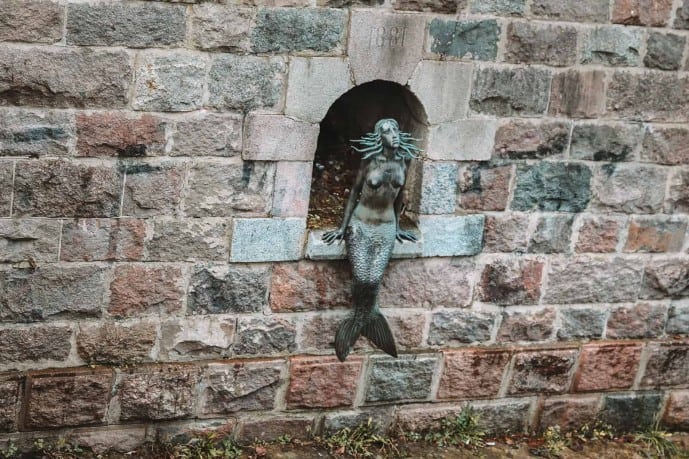 3. …Or, have a play on the swing of fate (secret Užupis swing)
Another popular attraction of Užupis is the famous swing of fate that hangs directly under the Bridge of Užupis and over the middle of the River Vilnia.
This colourful swing covered in dream catchers can be a little treacherous to reach if it has been raining and the water levels are high. So, don't risk getting soaked!
But, if it's nice weather, the water levels are low and you're looking for the perfect photo spot. The Užupis swing is IT.
Unfortunately, when I visited it, was a snowy day in December and the water would have been FREEZING. So, maybe next time in the Summer months!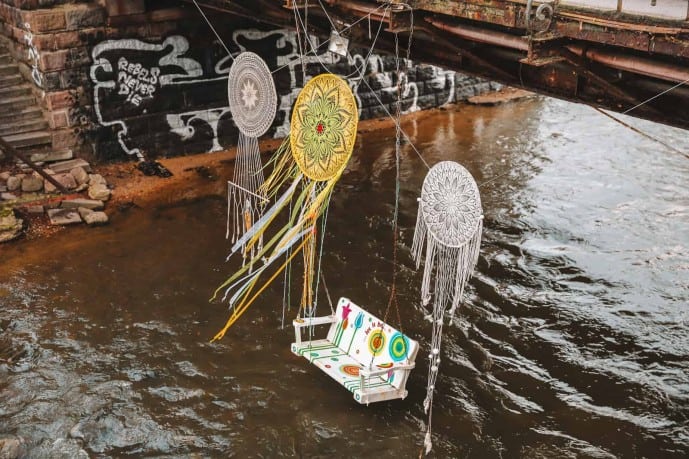 4. Pass through Užupis Border Control
Yep, that's right, when you cross over the bridge and enter Užupis you'll officially pass through its border control.
But, don't worry, there won't be an immigration officer, and you won't have to buy a visa or get your passport stamped (although you can do this if you like later on).
It's just some signs and artwork to let you know you've entered Užupis, again a cool photo opportunity!
5. Learn about Užupis Parliament in the Užupio Kavine
As I mentioned before Užupis as a republic has its own Parliament. If you'd like to check it out, then make sure you visit Užupio Kavine or the Uzhupis Parliament-Cafe just beyond the Užupis Bridge.
You'll easily be able to tell which one it is as it has the Užupis flag proudly flying above the door.
This café was the place where the first inaugurations of Užupis with Artūras Zuokas becoming the first long time president of Užupis. It had 11 cabinet ministers and its own style of Foreign Affairs.
Instead of having ambassadors from different countries, they had representatives in poetry, the elements, whistling on the streets, cats etc. As well as being the parliament for this republic, it's also a great terrace restaurant and café which is popular in the summer.
So, if you're looking for a place to have a drink overlooking the river, check out their menu here.
6. Walk through the art installations of Užupis next to the Vilnia river
There are many hidden art installations in Užupis but the most interesting of them all are the ones that sit next to the river Vilnia.
Here, you can find all sorts of creations including 'backpacking Jesus' and the Mermaid of Užupis playing the piano (but to be honest I found her creepy!).
There are also wind chimes, records, poems, and the most bizarre sculptures all with the backdrop of the Vilnia stream.
I always find that the meaning of art is in the eye of the beholder, so have a look around and create your own stories about what they mean!
It's all part of Art Incubator that I'll go through below.
7. Visit the Art Incubator and get your Užupis immigration stamp
Just opposite is this installation is the famous Užupis Art Incubator. It's the first art incubator in the Baltic states and has been running for well over 10 years.
This outside of the shop has paintings, sculptures, and even a piano that you can play on!
You may be interested to find out that this building also acts as Užupis' immigration control.
Well, it's a shop really where you can buy all sorts of Užupis souvenirs. Inside they sell all different artwork by local artisans including badges, postcards, t-shirts, pottery, and much more.
If you're eager, you can buy your very own copy of the Užupis constitution to take home and even stamp your passport with your very own Užupis immigration stamp!
My guide didn't recommend putting it in my actual passport as this may cause complications with getting visas for other countries that are strict on their immigration (i.e. Russia).
So, I got my copy of the constitution stamped instead. But, it's up to you.
8. Admire the amazing Užupis street art
If you take a short walk around the back of the Art Incubator or through the courtyards and streets of Užupis, you can admire all the amazing street art.
Some of the murals have more of a political message of protest and others are amazingly bright and colourful!
It's well worth exploring this area for the treasure trove of art installations alone, including the Dream Tree of Vilnius.
You can find many ordinary objects like street signs and blockades that have been transformed into art pieces. It felt to me like walking through a Banksy exhibition.
It's truly what makes Užupis so unique and a fun place to be around.
9. Take a selfie in the Užupis constitution
One of the most popular things to do here is to check out the famous Užupis constitution. It's been translated into 23 languages and can be found on Paupio gatve.
Unlike other constitutions in the world, this one is quite remarkable and unique.
For example, the constitution states that "Everyone has the right to die, but this is not an obligation", "Everyone has the right to have no rights" and " Everyone has the right to understand nothing".
There are also other weird statements like "A cat is not obliged to love its owner, but must help in time of need" and "A dog has the right to be a dog" lol!
You'll probably notice a lot of tourists taking a selfie in the constitution.
Apparently, if you do, you're now an honorary resident of Užupis! So, make sure you take one as a souvenir.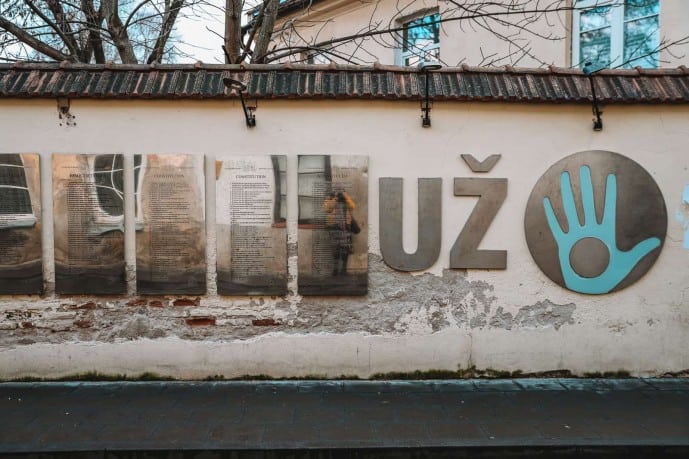 10. Relax in Tibet Square
Tibet Square is the local park in Užupis and in the centre has its very own colourful mandala sculpture which was blessed by His Holiness the 14th Dalai Lama himself.
If you didn't know, for many years now the political situation in Tibet has been risky at best.
Tibet has been controlled by China which uses brute force to stop many of its residents from speaking and writing in the Tibetan language, celebrating their culture, wearing their traditional clothes, and even worship of their Buddhist sects.
They have imprisoned and killed many Tibetan professors, teachers, and anyone that protests their policies.
It forced the Dalai Llama to flee the country, saw the main Buddhist temple of Lhasa abandoned and many Tibetan people sought refuge in India (mostly Dharamshala) and around the world.
Užupis and the Friends of Tibet in Lithuania made this statue as an offering of support. The similarities between Tibet and Lithuania are very similar in terms of occupation and control.
Nowadays, It's the perfect place to relax in the summer with a book or just enjoy some nature within the republic.
11. Go shopping in one of the many Bohemian boutiques
Užupis is one of the most unique places I think I've ever visited, it has its own spirit and so it's only natural that there are some incredible independent boutiques.
As well as the Art Incubator, there are also stores like Baltic Shamans which sell all sorts of fair trade sustainable clothing, jewellery, and art pieces.
Another cool shop to check out is Kolekcija on Uzupis Street. They sell all sorts of handmade crafts, pottery, candles, and souvenirs of Užupis too!
I loved the fact that they had their own little art installation outside of the shop where you could pretend to be the Angel of Užupis.
It was really clever great advertising to encourage people to visit the shop after they've taken a photo.
12. Find the Bronze Angel of Užupis
So, where is the real guardian of the country, the Angel of Užupis? Well, it's actually just down the street from Kolekcija in the Central Square of Užupis.
The bronze statue of the Archangel Gabriel blowing a trumpet was made by the same sculptor as the Užupis Mermaid and was erected in 2002.
It was placed there in memory of a famous caricaturist and animator Zenonas Šteinys.
Now, it's a symbol of the republic and represents the independence that Užupis has from Vilnius. Also, someday this is a message that artistic freedom is back following its independence from the Soviets.
13. Have a drink in the alternative Špunka pub
If you're looking for a place to have a local craft beer or some Lithuanian mead, then head into Špunka.
It's a quirky, hole-in-the-wall pub on Užupio Gatve and is popular with locals and tourists alike.
According to locals if the beer tastes and smells good it's up to Špunka's criteria and so they have an adventurous selection of locally crafted beer to choose from.
This is a great place to try a new brew, so ask the bartender for their best recommendations.
I'm not going to lie to you, any night of the week this place is packed out!
There are only a few chairs, so most people are stood up. So, if you're looking to visit when it's quieter I would go during the daytime
14. Eat at Sweet Root
Another highly recommended restaurant to visit if you're feeling peckish is the restaurant Sweet Root.
If you consider yourself a foodie, this is the place you need to reserve a table!
It serves up seasonally inspired local cuisine and, where possible, they try to use locally sourced organic ingredients.
They actually even have their own Sweet Root garden located around 50 kilometres out of Vilnius.
They hold their tasting dinners from Wednesday – Saturday from 6 pm – 11 pm and the whole experience lasts around 3 hours.
In this tasting, you'll be taken on a journey of all the flavours of Lithuania that are not only expertly prepared but presented too.
The whole experience costs around 75 Euros but includes eight dishes, a welcome drink, water and coffee, and tea.
15. Visit Bernadine Cemetery
Bernadine Cemetery is one of the oldest and most famous cemeteries in Vilnius. It was established in 1810 by Bernardine monks and is thought to contain over 14,000 burial sites.
There are many famous people buried here including scientists, artists, and some of the family members of the KGB. Many of the gravestones have photos of the deceased alongside them.
In the Victorian era, it was very fashionable to dress up deceased family members for a photoshoot to keep as a memory.
Also, many locals say that if you walk around here in the springtime you can see bones protruding out of the grounds of the shallow graves. So, your walk may prove a little spookier than you were intending.
On a lighter note, the graveyard is located on a rolling hill next to the River Vilnia and provides some lovely views.
Where to stay in Užupis
There are many great places to stay inside the republic of Užupis or just nearby for all types of budgets.
Click any of the links below to check for availability and to book your stay!
Looking for more amazing things to do in Vilnius?
Užupis is just one small area of this amazing and vibrant capital city of Lithuania.
From jaw-dropping viewpoints, historic buildings on every corner, street art, and delicious cuisine there really is something for everyone who visits.
I spent a week here with Tinggly who are awesome, they sell gift boxes for travellers which are the perfect gift if you prefer to travel than receive stuff.
I stayed in their blogger house and we had an amazing week.
Click below to check out my informative guides;
The 40+ top attractions in Vilnius
The top photo spots in Vilnius
The Instagrammable Love Story Cafe of Vilnius
The best viewpoints in Vilnius
The ultimate guide for Three Crosses Hill
Why you need to visit Vilnius in December
Hill of Crosses: How to reach there from Vilnius
Many thanks to Tinggly for sponsoring my visit to Vilnius in your blogger house! Although I was a guest all opinions and photos are my own unless otherwise stated
Save these things to do in Uzupis for later!