I didn't know much about the capital of Lithuania before I landed in this city.
But, once I arrived and experienced all the unique and amazing things to do in Vilnius, I fell head over heels in love with it!
Vilnius is not the typical destination people think of when booking a trip to the Baltics. But, I think it's incredibly underrated and worth exploring.
From an Old Town that looks like something from a fairytale, gothic castles, and breathtaking viewpoints.
Colourful churches on every street corner, an epic craft beer scene, and some tasty local cuisine; there is enough to keep you occupied here for weeks!
So, without further ado, here are all the amazing things to do in Vilnius on your trip.
Heads up: my accommodation in Vilnius and some tours were sponsored by Tinggly, who is an awesome gift card experience company! Although I was a guest, all opinions are my own.
Some top tips before you visit Vilnius
If you're travelling to Vilnius, don't forget to take out Travel Insurance. I use World Nomads which can cover you for every type of trip.
In Lithuania, they use the Euro. Although many businesses and attractions here do take cards, I would have cash on you at all times.
If you're going to need WiFi, make sure you ordered this hotspot that can keep you connected and keep those roaming bills capped!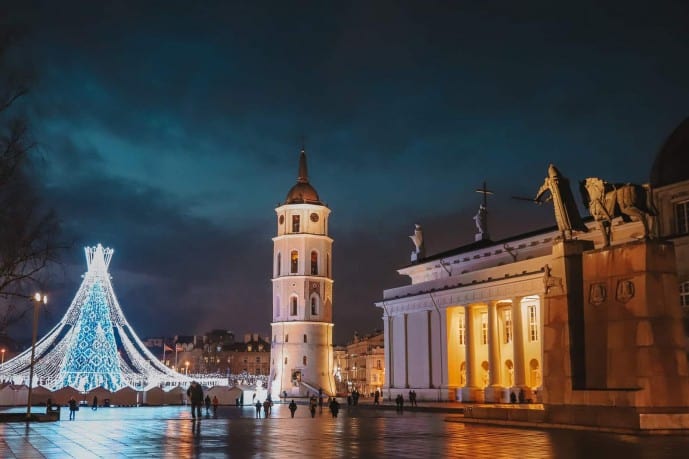 How to get around Vilnius city centre
Vilnius Old Town is really easy to get around on foot. So, once you reached the meeting point in Vilnius Cathedral Square you shouldn't be walking more than a few kilometres to reach some of the main sites.
I always use Google Maps if I have WiFi, or download Maps.Me if I'm going to be offline.
If you're going further afield, you may want to invest in a Vilnius City Card that will get you FREE transport and access to some of the local museums. It's a great investment. You can also download the Trafi App for times and directions.
Uber and the competing app Bolt work in Vilnius to get you around the city too. It was cheap and convenient. I preferred Uber as I found it cheaper and more reliable.
40+ things to do in Vilnius
1. Browse Vilnius Cathedral Square
In Vilnius, all roads lead in the Old Town lead to the Cathedral Square!
My guide on a Vilnius walking tour also told me that you can always navigate your way around the city by heading down to this spot.
You see, the city is actually quite hilly and so if you're heading downwards, you'll know you're on the right track to the square!
Usually considered as a meeting point for locals, the Cathedral Square sits at the heart of the Old Town. It is home to the Vilnius Cathedral, the Clock Tower, the Palace of the Grand Dukes, and lots more.
So if you want a nice little introduction to Vilnius, this is your first stop.
Years ago, before Duke Gediminas united and founded Vilnius, it actually used to be a series of villages. Even today, there are markers where those used to be in the square.
Throughout the year, this is also the location of many community events like Concerts in the Summer and in December it comes alive with the annual Christmas Tree and Markets!
I visited in December and loved the festive feel of the square. They have a show stopper of a Christmas Tree all lit up and there is a lot of festive cheer around this area too.
Read more – why you need to visit Vilnius in December
2. Find the Magic Brick and make a wish!
Now, when you're wandering around Cathedral Square you may find some bits a little interesting. Including a few tiles that look different from the rest.
One of those is a set of footprints. This is to represent the Baltic Way which took place in 1989.
It was a peaceful protest against decades of Soviet Rule which saw thousands of people unite together holding hands across Lithuania, Latvia, and Estonia.
This event showed the world that the Lithuanian people were tired of being occupied by a foreign country and wanted their independence.
Just over a year later, Lithuania was granted independence in 1990.
As this act was seen as a miracle, a special tile was placed in the Cathedral Square which people now call the 'magic tile'.
Lithuanians step on this tile facing the cathedral, spin around 3 times, all the while making a wish! So, make sure you try it out for yourself while you're here.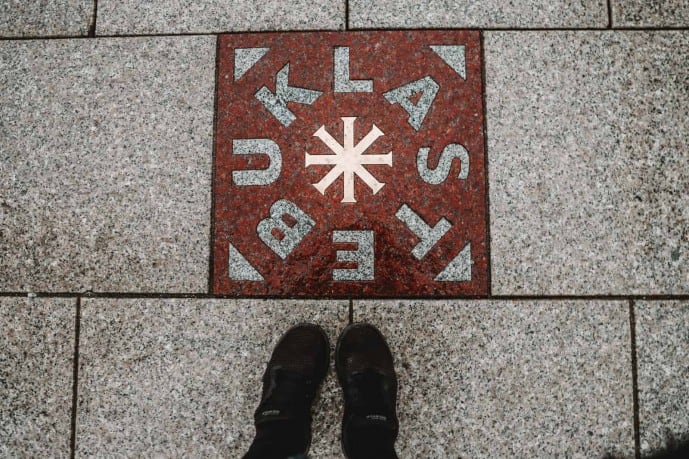 3. Visit Vilnius Cathedral (Cathedral Basilica of St Stanislaus and St Ladislaus of Vilnius)
This Cathedral is seen as the most important icon of Roman Catholicism in the city and is a top pilgrimage site for catholics in Lithuania.
When you enter the cathedral, you'll often find pilgrims falling to their knees in prayer. The Cathedral Basilica of St Stanislaus and St Ladislaus of Vilnius is seen as the heart of Catholic spiritual life.
Years ago, the Grand Dukes of Lithuania was crowned here and many famous icons in Lithuanian history have graves inside its walls.
The original cathedral was built all the way back in 1251 when the majority of Lithuania was Pagan. Then, when Lithuania converted to Christianity in the 14th century the cathedral was expanded.
By the 17th century, the foundations were falling apart and it was reconstructed into the Neo-Classic style.
During the Soviet Era, it was converted into a warehouse. But, masses started again in 1988.
As well as religious monuments and memorials, there are over forty pieces of art by famous Lithuanian painters.
It's truly a beautiful place to visit and the architecture is breathtaking. You must remain silent inside out of respect and dress modestly.
Vilnius Cathedral is FREE to visit and is open 7am – 7pm all week. It may be closed to visitors during mass times.
4. Climb up the Vilnius Cathedral Bell Tower
Just outside the Cathedral Basilica of St Stanislaus is the Vilnius Cathedral Bell Tower. This was an important part of the cities defense walls and the historic Lower and Upper Castle in the 13th century.
Only the bottom part of the Bellfry tower is original, the rest is a reconstruction from the 19th century.
As the tallest and oldest tower in Vilnius, it stands approximately 52 metres high and overlooks the whole of the Old Town.
You can pay to enter the Bell Tower and learn about its history inside, but the real payoff comes from the views from the top.
Here, you can see a beautiful panorama of the Old Town, the Cathedral, the Palace of the Grand Dukes, and Cathedral Square!
5. Visit the Palace of the Grand Dukes of Lithuania
The Palace of the Grand Dukes is a reconstruction of the original palace that used to sit in the Lower Castle from the 15th – 17th centuries.
At this time, Lithuania was known as the Grand Duchy of Lithuania. This was a state that was founded by Lithuanian people but formed unions with kingdoms like Poland, Prussia (Germany), and Austria.
It was one of the most successful warrior states at that time and used Vilnius as its capital.
The Palace used to be the centre of the political, diplomatic, and cultural aspects of the state and home to the Grand Dukes of Lithuania too. It became one of the most famous palaces in Europe at that time.
Unfortunately, it was destroyed in the 18th century and what we see today was a huge reconstruction of the original building that used to sit here. Even today, you can find people excavating artifacts from the original foundations!
The Palace is HUGE so you'll need at least a few hours to explore. Perfect for a rainy day. It's split up into 4 sections, so if you didn't want to see all of it, you can pay less for just one of the routes.
But, I would recommend seeing the whole thing. There are historical exhibitions, excavations, lavish reconstructed rooms (my favourite part) and also artwork too!
Tickets for the Palace cost 2 Euros per tour route, or you can pay 7 Euros for all 4. Guided tours cost extra. See the official website for opening times.
6. Climb up the Gediminas Castle Tower to take in the views
If you want to learn some more history about the Upper Castle of Vilnius, then head up to the iconic Gediminas Castle Tower.
If you haven't got the memo yet, Duke Gediminas is pretty popular around these parts. That's because he is known as the founding father of Vilnius!
He had a prophetic dream on a hunting trip where he dreamt of a wolf made of iron, howling with the power of a thousand wolves. A Baltic Shaman then translated his dream and told him he needed to create a strong city like the wolf and it would be talked about for centuries, hence the howling.
So, Gediminas united the villages, and Vilnius was born!
The Gediminas Tower of the Upper Castle is the last remaining part of his legacy here. Years ago the whole upper castle was a defensive fortification built by Gediminas' grandson, Duke Vytautas.
Today, you can climb up to the tower to find incredible views of the whole of Vilnius! The cherry on top? It's completely free!
There is a castle museum that is chargeable if you want to go inside which has a better view from the top. But, if you weren't fussed the views from the bottom of the tower are pretty amazing too.
Read my complete guide for Gediminas Castle here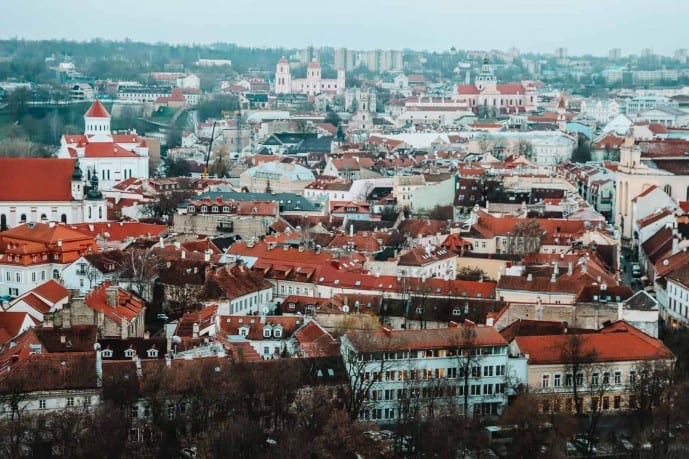 7. Visit the National Museum of Lithuania
A short walk from Cathedral Square will take you to the National Museum of Lithuania.
Outside, you'll see a statue dedicated to King Mindaugas. He was the first and last Lithuanian King in the short-lived Kingdom of Lithuania in the 13th century.
This is a chargeable museum but there are hundreds, if not thousands, of artifacts inside! Making it the largest collection of Lithuanian historical and cultural heritage in the country.
The exhibits will take you on a journey of Lithuania from the prehistoric age to the present. So, it's well worth checking out if you want to learn all about it!
The National Museum costs 3 Euro a ticket and is open from 10am – 6pm Tuesday through Sunday.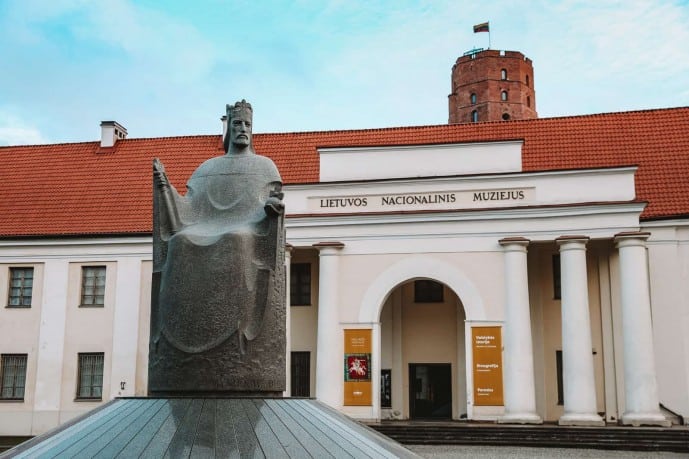 8. Climb up Three Crosses Hill
Another amazing viewpoint in the city is the incredible Hill of Three Crosses in Vilnius.
There is a legend surrounding this hill (known as Bleak Hill) that 14 Franciscan monks were invited to Vilnius and started preaching about God. At that time Lithuania was Pagan and the people didn't really appreciate the monks bad-mouthing their Lithuanian Gods.
So, the people revolted and kill them all. 7 were executed and thrown from Bleak hill and the other 7 were crucified thrown into the Vilnia River. Today, they are known as the Franciscan martyrs of Vilnius.
This monument is a memorial to them that was torn down twice during the Soviet occupation. Today, it's a popular viewpoint where you can see the whole of the Old Town.
Out of all the views in Vilnius, this one was my favourite. This is because you can see the whole of the city from there and the best attractions, like the Gediminas Tower.
It's easy to walk up, open 24 hours a day, and is completely FREE to visit.
Read my complete Three Cross Hill guide here
9. Take a walk down Pilies Street
Once you've finished exploring the Upper and Lower Castle, make sure you head down Pilies Street. "Pilies" means Castle in Lithuanian and this historic cobbled area used to lead directly down the castle years ago.
Today, this picturesque street is home to historic architecture, boutique stalls, coffee houses, restaurants and so much more. If you carry on to the end, you'll find the Vilnius Town Hall.
There is so much life happening in this part of town and so I would recommend scheduling time to explore a few places.
My favourite part of Pilies street was veering off down the small pretty side streets, courtyards and alleyways. You never know where it may lead!
10. Have some cheap eats or Lithuanian Mead at Snekutis
I think if there is one bar or restaurant you need to visit while in Vilnius, it's the quirky and eccentric Šnekutis!
There are 3 of them in the city and all have a fantastic selection of craft beers and a cheap and cheerful menu serving up traditional Lithuania cuisine.
It's a great place to sample a few dishes as the prices won't break your budget! Some of their specialities at their Cold Beetroot Soup and Potato Dumplings are known as Cepelinai.
The one reason why I popped into Šnekutis was to sample their Lithuanian Mead! Mead from the Baltics is one of my favourite drinks and so whenever I have the chance to drink some I snap it up! It's delicious and I would highly recommend trying.
You can take a look at Šnekutis' menu here and which bar you want to visit!
11. Visit the Free Republic of Užupis
One of my favourite areas of the city was the bohemian Free Republic of Užupis!
Once upon a time, this area was one of the poorest parts of the city, it was home to Jewish migrants and labourers. Once the Nazi occupation came around, unfortunately, a lot of the residents were deported to hard labour and concentration camps.
So, the town became derelict making way for less desirable members of society to move into the neighbourhood and it got a bad name. In fact, during the Soviet era, it was the most neglected part of the city!
When Lithuania got its independence, a lot of the artists took advantage of the cheap housing that became available there. It was then a huge art district.
Then in the 1990s, they declared the district the Free Republic. Although many see this as a little tongue-in-cheek, they do have border control, their own flag, priests, churches, and parliament! It also has a resident mermaid and an angel who guards them all.
Užupis is an awesome place to explore and you can find street art murals and installations, boutiques, art galleries and so much more.
Make sure you take a bucket list selfie in the Užupis consitution. It means you're officially a resident of Užupis!
Read more – the top attractions in Užupis!
12. Find some epic Vilnius street art
Street art in Vilnius is a big thing here and you can find a lot dotted around the city and in Užupis too. It speaks in Vilnius' own unique voice and makes some awesome photo opportunities too.
The most famous mural that Vilnius is known for is the shotgun mural of Donald Trump and Vladimir Putin called "Make Everything Great Again" by artists Dominykas Čečkauskas and Mindaugas Bonanu.
It sparked worldwide media attention and was extremely controversial at the time. But, the President of Vilnius celebrated the work, claiming that the people of Lithuania are not "silenced censorship".
This could be found on Pylimo Gatvė outside Keule Ruke a popular restaurant in Vilnius. But, it has been taken down in 2019 with a pink mural that reads "make compassion great again"
13. Take a stroll down Literatu Street
If you're looking for unique finds in Vilnius, then head down to Literatu street in the Old Town – it's sure to spark some curiosity!
The wall first began in 2009, when a group of artists decided that Literatu Street should live up to the name. This street is like a temple for those that are fans of Lithuanian literature as there are artworks mounted to the wall dedicated to Lithuanian writers!
They started small and placed a few artifacts, like tiles, paintings, abstract symbols, excerpts, and even FALSE TEETH!
Over the years, this has been expanded and now there are over 200 plaques dedicated to authors who have a connection with Vilnius and even those from around the globe.
Literatu Street is open to the public, is FREE to visit, and accessible 24 hours a day
14. Visit the Gate of Dawn
The Gate of Dawn, or Sharp Gate, is one of the most important religious and historical monuments in the whole city. It's located on Ausros Vartu Street and was one of five gates in the cities defense wall that were built during the Grand Duchy of Lithuania.
As was tradition, many of these gates had religious artifacts inside to protect the city from attacks and bless travellers that walk through them.
The chapel inside the Gate of Dawn contains a portrait of The Blessed Virgin Mary Mother of Mercy or the "Vilnius Madonna" who is said to perform miracles. Even today, when you walk through the gate, you'll see many locals pause and say a little prayer towards her portrait that can be seen through the window.
It's lucky that this gate survived at all, because all the others were destroyed on orders from the government in the 18th century!
Today, you can cross under the gate and visit the small chapel above the archway. I'd try to avoid mass times but the portrait is definitely worth a peek!
The Gate of Dawns is open 24 hours a day to take photos from the outside. The Chapel is FREE to visit and is open from 6am – 7pm Monday to Sunday.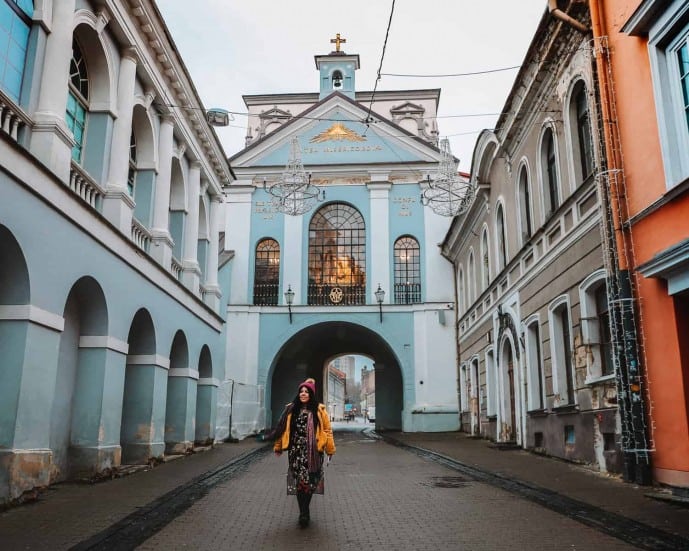 15. Admire the Pink Church of St Casimir
Ah, the effortlessly pretty pink church of St Casimir. As there are SO many churches in Vilnius, I'd try to visit just a few while you're here. This is one of them.
It's located just off the Town Hall Square in the Old Town and is a Roman Catholic temple.
As the oldest baroque church in Vilnius, it was built in the 17th century by the Jesuits and is dedicated to the holy prince Saint Casimir.
It has had quite a colourful history since it was built, becoming an Orthodox church, a museum about Atheism during the soviet era, and then going full circle back to a Catholic Church today.
You can visit the inside of the church during the restricted opening hours, but even if it's closed it's worth stopping here for a photo!
The Church of Casimir can be shot from the outside 24 hours a day. It's also FREE to visit. From April – September it's open 10am – 6.30pm Mondays to Fridays and 8am – 6.30pm on Sundays. From October – March it's open 4pm – 6.30pm Mondays to Fridays and 8am – 2pm Sundays.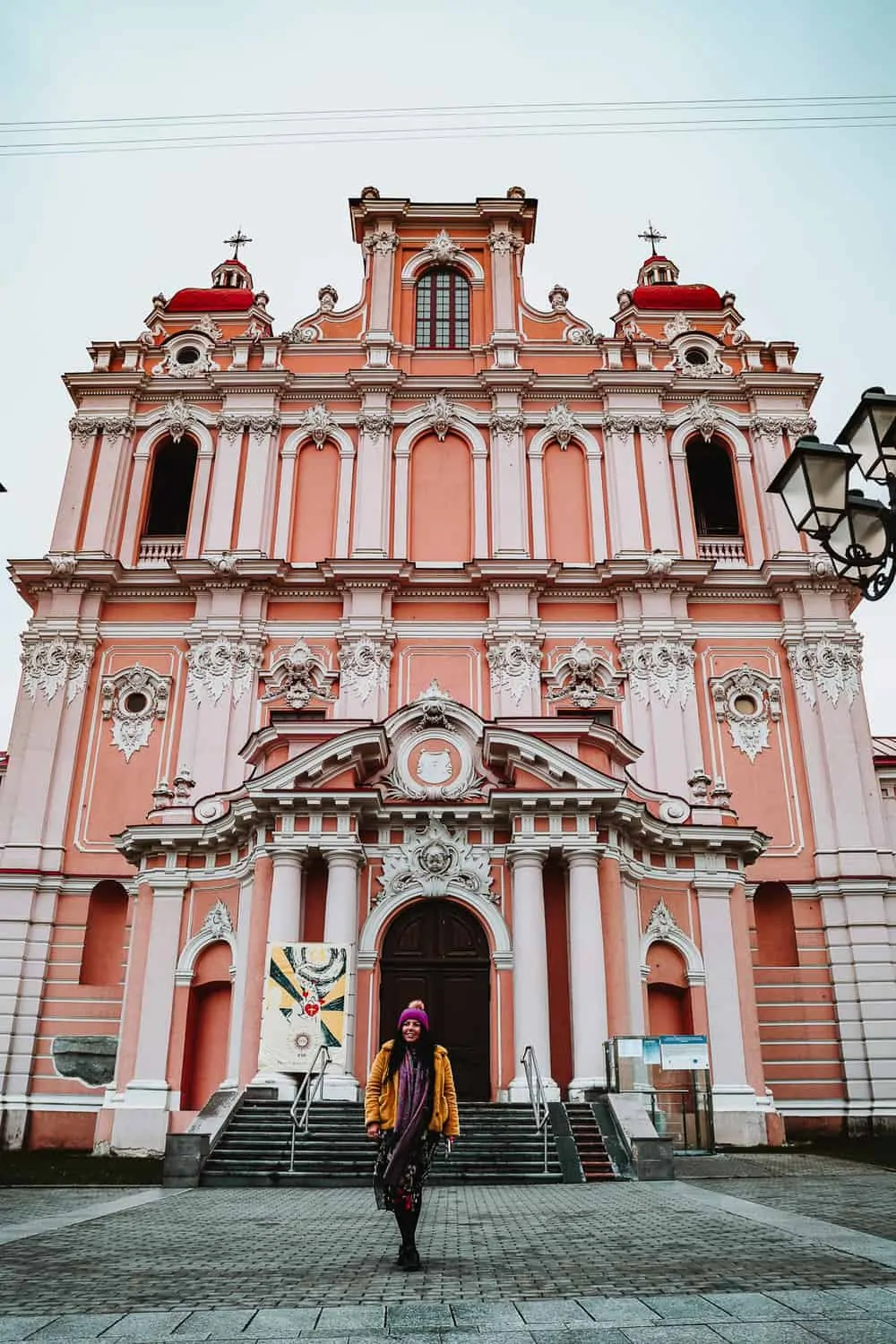 16. Visit the streets of the Vilna Ghetto (Jewish Ghetto)
Stikliu, M. Antokolskio & Žydu streets were all part of the Jewish Ghetto in Vilnius established during World War II. You can access this from Town Hall Square.
You'll notice Hebrew on the signs and you can visit the spot where the Great Synagogue was destroyed during the Nazi era.
Look out for the 'The Walls Remember, People Tell' street art around here, these are paintings inspired by real people who used to live in the area.
All of them have small QR codes to scan to learn a little more. See some more details here.
Today, the streets around here are incredibly quaint and colourful with cafés, bars, and boutiques for shopping.
Throughout the summer, you'll often find beautiful installations like umbrellas or lanterns hanging above you!
My favourite café was the Augustus Ir Babora Café which I'll explain more about below. It had the most EPIC Christmas decorations, but also has a gorgeous interior throughout the year.
17. Have a Instagrammable lunch at Augustus Ir Babora Love Story Café
One of my favourite coffee houses in Vilnius was the Augustus Ir Babora Love Story Café!
I was first introduced to it on my Vilnius walking tour and couldn't help gawking at the pink exterior, with loads of shiny baubles and PINK UNICORNS!
Check out my complete guide for this café including the love story here!
Then, when I popped my head inside, I knew I HAD to pop back and have lunch there so that is exactly what I did. The interior is just as pretty with flowers and trellises and I made sure I was first there for photos!
Their menu serves up breakfast, lunch, dinner, champagne, pastries, coffee, and the most exciting cakes too! It was so tasty and I would go back in a heartbeat.
Check out their page here. The café is open from 9 am – 11 pm daily. Reservations are recommended for large groups and at peak times.
Read more about the most Instagrammable places in Vilnius here
18. Visit the Frank Zappa Memorial
I am a long-time fan of Frank Zappa, throw back to me at 14 first listening to "Hungry Freaks, Daddy" and being hooked from there!
So, when I found out that there was a memorial dedicated to him in Vilnius I had to check it out.
Frank Zappa is American, so I wasn't sure why his bust would be in the capital of Lithuania but I was sure there was a good reason for it.
I later found out that the statue was erected in 1993 after his death to mark a new era of Post-Soviet Lithuania.
Frank Zappa often spoke of revolution in his songs and became an icon to the youth in the city after their newfound freedom!
You can visit the memorial on K. Kalinausko g. 2B, but it's quite hard to spot at first. Look out for the amazing graffiti surrounding it.
19. Lean about Lithuanian history at the Museum of Occupations and Freedom Fights
An important place that I feel every tourist should visit in Vilnius is the Museum of Occupations. This former gymnasium was the headquarters of both the Gestapo and the KGB.
Lithuania has a long history of foreign forces occupying their country for centuries like the Teutonic Knights of Prussia (Germany), Russian Moscovy troops, Nazi invaders, and finally the Soviet Union, or the KGB.
This museum highlights what life was like during the Nazi and Soviet eras. How the KGB converted the country to Atheism and communism. How many of the churches were destroyed and how so many Lithuanian people were deported to hard labour camps, imprisoned, or killed.
There was no freedom during these times. there was no listening to popular music, watching mainstream TV, freedom of speech.
Lithuanian language and text were banned. Corruption was everywhere and you didn't know who to trust. People were watched at every moment. This was shockingly even until the 1990s!
Many Lithuanian freedom fighters fought against the Soviet troops and were jailed and killed. Parents were separated from their children and sent away. Children were deported to labour camps in Siberia that saw just over 100 days of daylight a year and subzero temperatures.
A lot of the exhibitions are memorials to those who fought for Lithuania's freedom at that time.
Head into the KGB Prison
The most disturbing part of the museum is the KGB prison in the lower decks. Here you can see where prisoners were kept. How they were held in tiny cells, tortured and you didn't know if tomorrow would be your last.
The tiny courtyard outside shows the place where inmates would walk for 15 minutes a day.
The part that really gave me the chills was the death chamber. Inside they play a short film that re-enacts what it was like. You were brought to the room and without a word shot. It was shocking and heartbreaking.
But, I feel that although these are dark places, learning about history is necessary so these things do not happen again. It's an enlightening visit.
The Museum of Occupations is a must-visit. It costs 4 Euros and is open from 10am – 6pm Wednesday to Saturday. 10am – 5pm Sundays.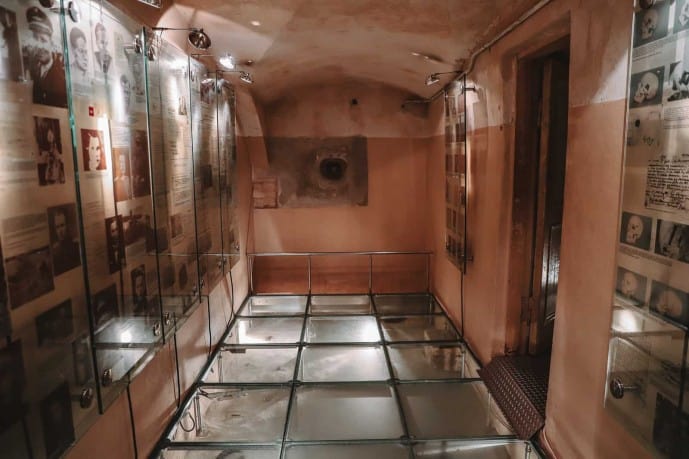 20. Take a food tour of Vilnius
During my week spent in Vilnius, one of my favourite tours had to be the 'Flavours of Vilnius' tour that I took with Urban Adventures.
On our three-hour tour, we explored and ate our way through the Old Town. Trying all sorts of Lithuanian cuisine and alcohol as we went!
We got to learn the history behind a lot of the Lithuanian dishes, like Zeppelins or Cepelinai, and other popular foods like Rye bread too.
It was a great introduction to Lithuanian dishes as I really didn't have a scooby about what sort of food they ate in the country before that.
I would highly recommend it and you can book onto the tour here. Make sure you arrive hungry!
Read my full review of the Vilnius food tour here!
21. Go on a walking tour of Vilnius
I love a free walking tour as they are a nice introduction to the city. You get to orientate yourself, know the area, learn about the history and visit some of the top attractions too!
Vilnius with locals run a fabulous free walking tour that runs from the Cathedral Square daily at 10am and 12pm.
This classic walking tour will take you through the quaint Old Town of Vilnius and Užupis too! Like with most 'free' walking tours you pay what you feel the tour is worth (I usually tip around 10 Euros per head).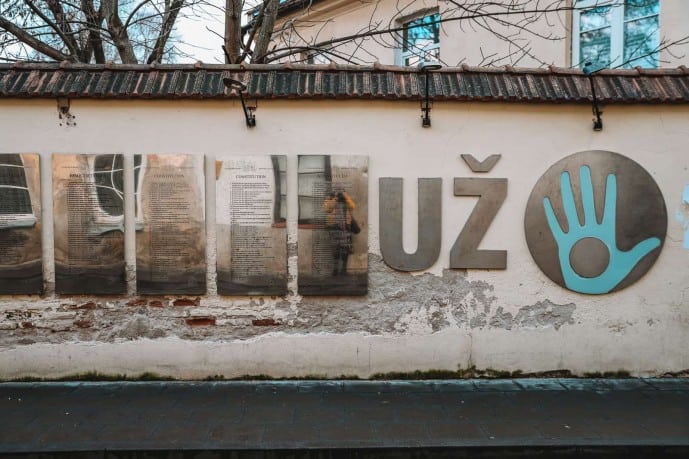 If the Old Town isn't your bag, why not go on an alternative tour of Vilnius? This will take you through the street art areas, Halle Market, and some of the vibrant streets of Vilnius New Town.
I went on a private walking tour with them which I would also highly recommend if your budget can stretch.
I had a knowledgeable guide who customised the tour with some classic sites and what I was interested in. As it was private, I got all the time to ask any questions I needed to as well.
Click here to see all the tours provided by Vilnius with Locals!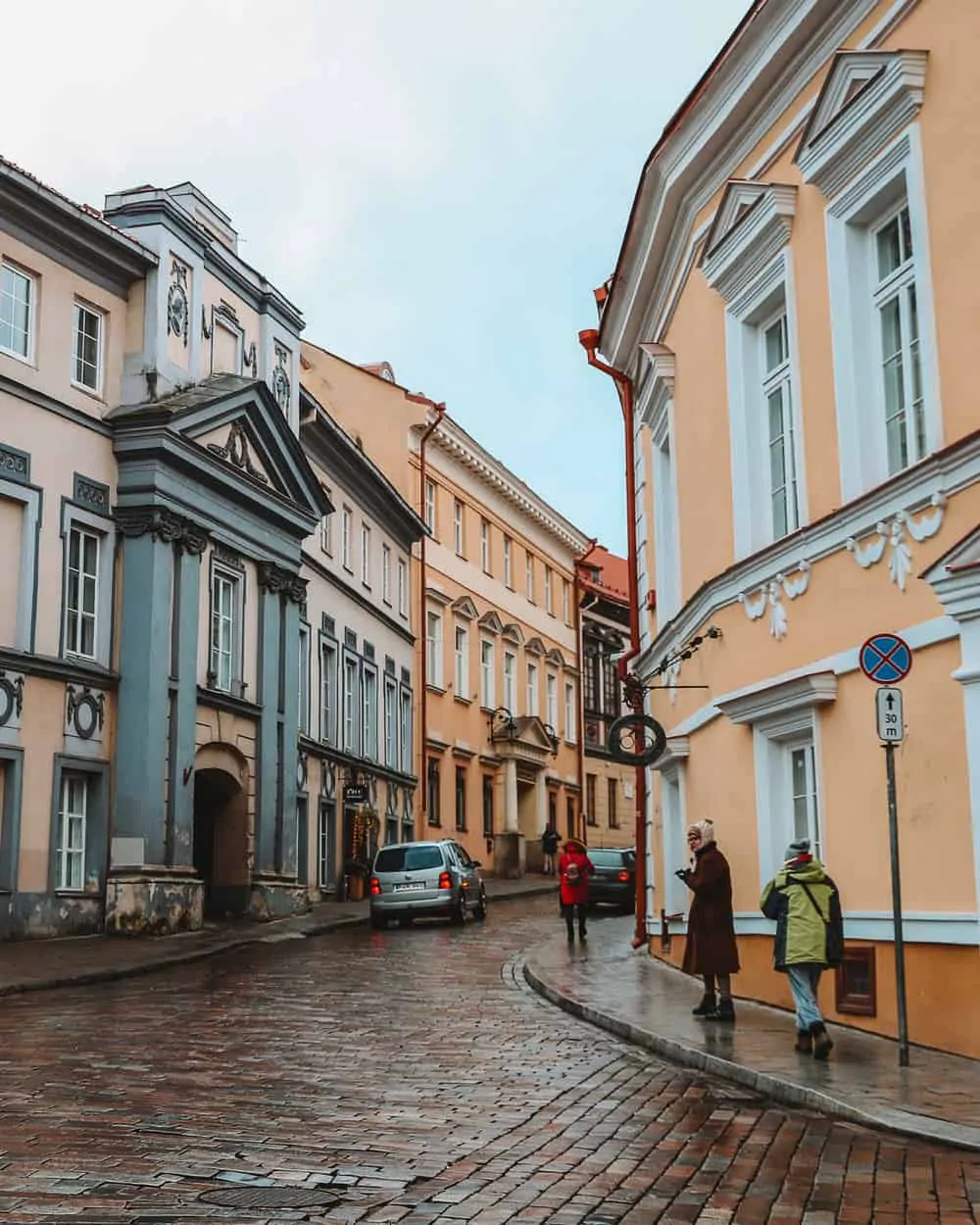 22. Have a massage at Azia Spa
If all that exploring has taken its toll, or you've booked in for a relaxing break in Vilnius. Then I would book yourself in for a relaxing massage at Azia Spa.
This zen space can be found in the heart of the Old Town and is extremely popular. There were people coming in all the time for treatments and massages.
You can have a Thai massage, Segmented massages, facial treatments, and body scrubs too.
I visited Azia Spa as one of my experiences with Tinggly. I had a one-hour body scrub and full body massage treatment. It was really relaxing and just what I needed after some busy days exploring! After my massage, I was treated to some green tea and I felt so refreshed.
Prices start from 45 Euro for a one-hour treatment which is really reasonable for full-body treatments.
Click here to check out packages and treatments at Azia spa
23. Have dinner in the highest building in Lithuania (TV Tower)
The Vilnius TV Tower is the tallest building in Lithuania and an attraction in the new part of the city. It is HUGE at over 1,000 feet high, so you're bound to feel like you're up in the clouds.
As well as simply visiting for the views alone, you can also enjoy a delectable dinner up in the air too.
Traditional Lithuanian dishes start on their menu at 7 – 8 Euros, so I would definitely make a booking if you're keen. Here's their menu.
If you want to know what you can expect, they have a nifty 3D tour here. Or, I'll leave it as a surprise! Reservations in advance are highly recommended.
Tickets to visit the 19th floor of the TV tower and Freedom museum cost 8 Euros for adults and concessions are cheaper.
24. Visit the film locations of the Chernobyl series
If you've been hooked on the new HBO series of Chernobyl about the infamous disaster in Ukraine. Then you may be interested to know that a lot of it was filmed in Lithuania, mostly in Vilnius!
This is due to the fact that Vilnius has some perfect Soviet backdrops in the city. The mini series took over 1000 hours to film and is one of Lithuania's biggest productions to date. They even have location tours now.
The Fabijoniškės district plays the part in the infamous Pripyat, The Museum of Occupations plays the KGB prison and a few of the former government buildings and guest houses were transformed into courtrooms and hotels.
25. Buy some food with the locals at Halés Market
If you really want to experience something local then Halés Market (Halés Turgis) should be your place.
Originally set up as a horse market in the 15th century, it then became a grain market in the 16th. But, things really took off at the beginning of the 20th century and it became a huge food market in 1906. In 1914 it was officially known as Halés Turgis.
It's the oldest market in Vilnius that is still thriving today and sells everything from all sorts of meat including pigs ears, fruits, cheese, mushrooms, bread, to clothes and electricals.
But, there are some food stalls in the market as well that sell tasty bagels, pressed juices, a cheese tasting stall, and "KEULĖ RŪKĖ" who sell all sorts of alternative burgers and craft beers.
It's well worth putting this stop on your itinerary for lunch to do what the locals do!
Halés market can be found on Pylimo gatve and is open from 7am. But, most of the food stalls will not open until 9/10am. It shuts around 6pm each evening and is closed on Mondays.
26. Climb up to the City Bastion
The City Bastion used to be a stronghold as part of the city defense walls during the Duchy of Lithuania but later on, it became a barracks for the garrisons of German troops during World War II.
Today, the hill by the City Bastion is a popular park and viewpoint in the city and from here you get a great view of the churches, Užupis, Gediminas Tower, and beyond.
This viewpoint around the area is FREE but if you wanted to visit the terrace in the City Bastion museum this is chargeable.
In the museum, you can learn about Vilnius as a fortification and the history of its defenses through the ages.
The City Bastion Viewpoint can be visited 24 hours a day, but if you want to go inside the museum or onto the terrace, this is only open from Tuesday – Sunday from 10am – 6pm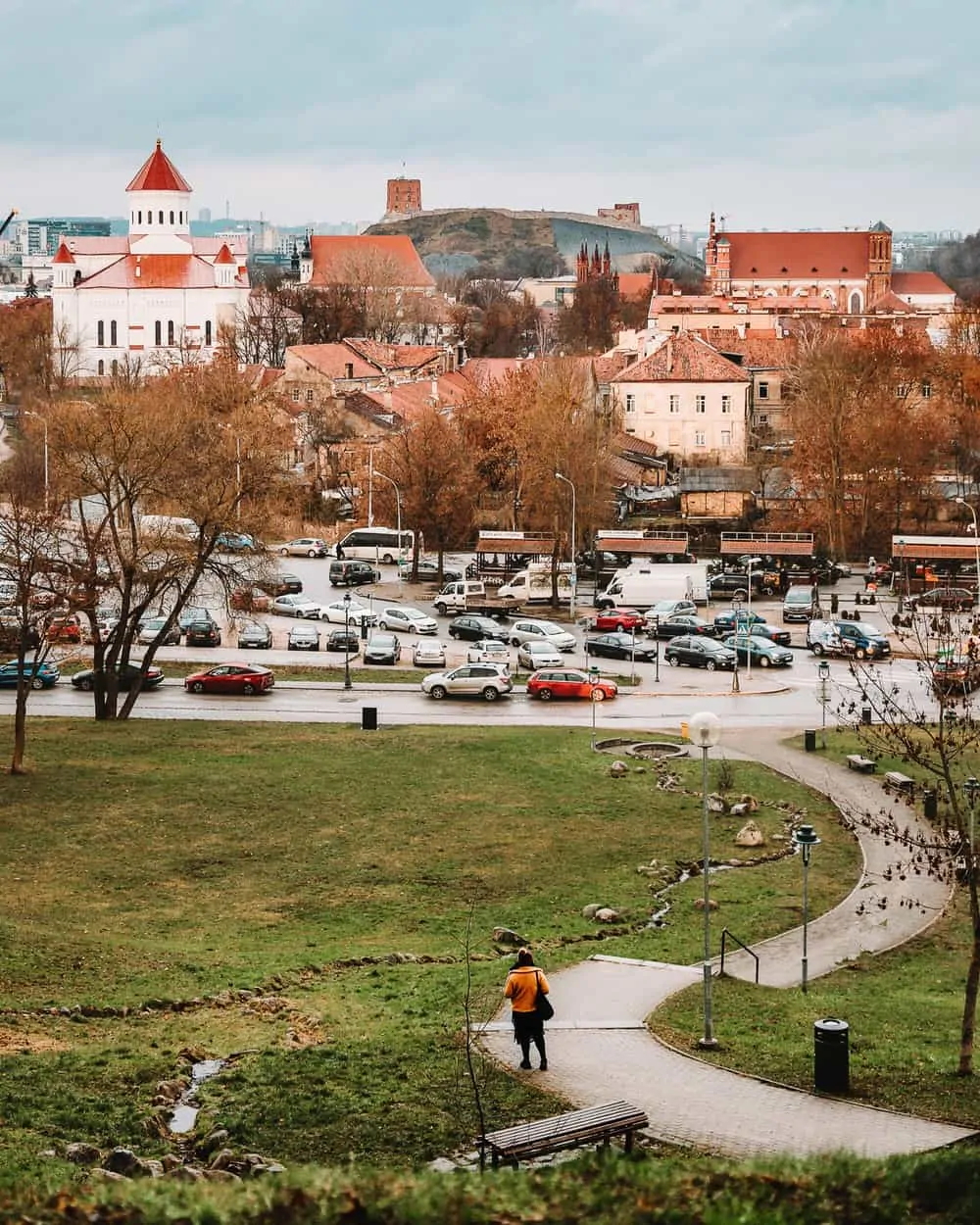 27. Visit St. Anne's Church
Another church that really caught my eye here in Vilnius was the flamboyant Gothic church of St Anne. Made with red bricks, it is one of the finest examples of a Gothic building in Lithuania.
This church is the reason why Vilnius Old Town is included on the UNESCO world heritage list as it hasn't changed in over 500 years! It was originally built for Anna, the Grand Duchess of Lithuania, and the wife of Vytautas the Great.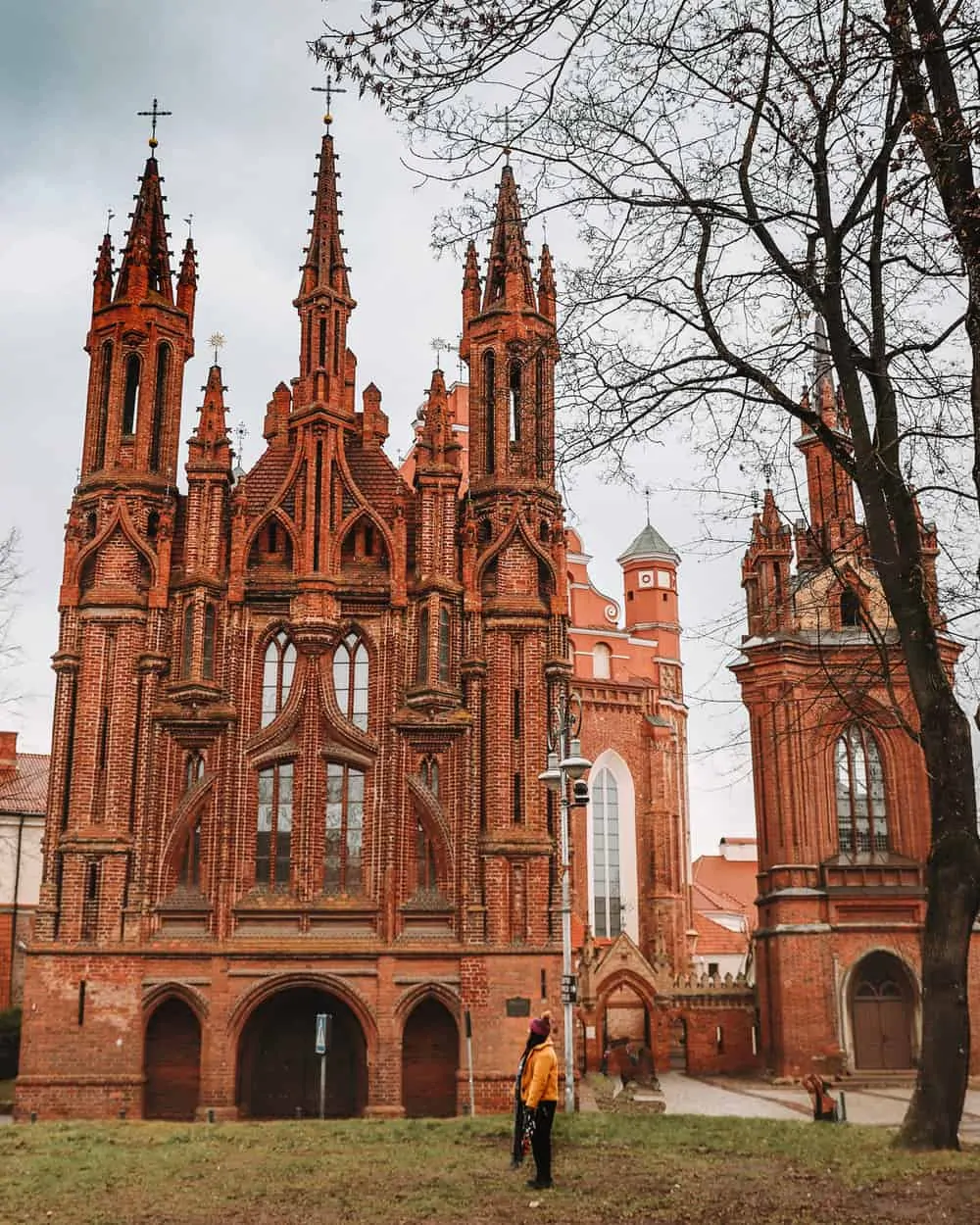 There is a popular legend that Napoleon Bonaparte fell in love with this church and he wanted to take it back to Paris "in the palm of his hand". But, the reality is that the French soldiers used it for shelter during the Napoleonic wars. Not as romantic as all that!
There is still no evidence to whom the exact architect was behind this church but many believe it was Michael Enkinger.
I will warn you that the church is located next to a busy road. But, there is a grassy area opposite to take a nice photo. Just be patient with the traffic and masses of tourists using the crossroads!
St. Anne's Church is FREE to enter and open daily. May – September from 11am – 6pm and October – April from 5-7pm.
28. Try Lithuanian Mead or Craft Beer
Oh, Baltic mead, how I have missed thee!
Lietuviškas Midus is the main brand of Lithuanian Mead served up around here and I was on the hunt for the best spot to try some. Šnekutis came highly recommended, so that's where I went! I wasn't disappointed. The mead from here was incredible.
In England, our mead is served up like a wine. So, I can't drink it in huge quantities without falling flat on my face. But, with traditional Lithuanian mead, you can drink it cold and by the pint; it's absolutely delicious!
It's made light with honey, but it's deceiving as it's also really strong. You could drink a few pints like juice and then be absolutely trashed.
If you want to go in for a proper tasting session, I would recommend visiting Lietuviškas Midus' Brewery. They have slots available daily. See here for details.
29. Eat at Drama Burger
OMG, I am still dreaming about my meal at Drama Burger!
Drama Burger is an epic chain of Lithuanian burger joints in the city and you can find the best one on Gediminas Avenue.
Inside they serve up gourmet burgers, signature fries, and even beers on tap!
I had their Phillie cheese steak burger and it was layers of bread, juicy beef, and layers of yummy cheese with jalapeño sauce. Heaven.
All I will say is just GO, you won't regret a thing.
Click here to see Drama Burger's website and menu.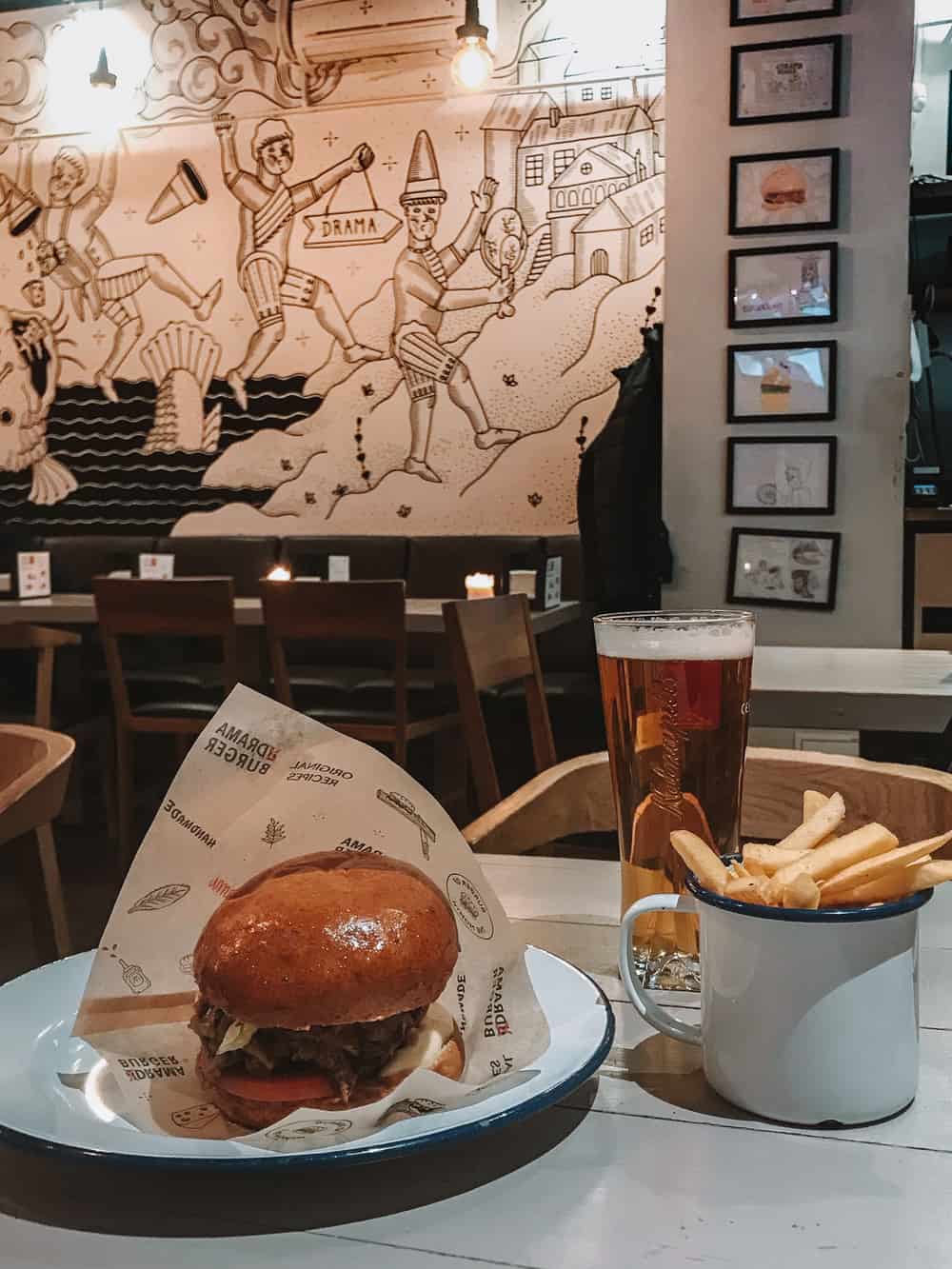 30. Visit the Presidential Palace of Lithuania
The Vilnius Presidential Palace is located in the Old Town and, as the name would suggest, is the office of the President of Lithuania!
The palace has a long and noble history and has stood here since the 14th century during the Grand Duchy of Lithuania. But, through time, the building suffered major fires and had to be reconstructed.
During the 19th century, this building was home to many important Russian governors. It was even used by both Tsar Alexander I and Napoleon while they were in Vilnius!
During the Soviet Era it was used as a Military office until finally in 1997, it became the official seat to the Lithuanian President.
Every Sunday at 12 pm you can see a solemn flag hoisting ceremony, where soldiers of the Honour Guard Company of the Lithuanian Armed Forces dress up in Medieval attire. They dress up in reconstructed uniforms from the Grand Duchy of Lithuania in the 14th century as part of an ancient tradition.
There are free tours to go inside the Palace on Saturdays. But, it's also a nice stop on your tour of Vilnius Old Town for a photo opp!
31. Take a tour of the Vilnius University Library
This library is one of the oldest and largest academic libraries in Lithuania founded in the 1570s by the Jesuits.
It now holds over 5.7 million documents and its bookshelves cover a whopping 166 kilometres.
Due to its long history, it's also beautifully decorated with paintings, chandeliers, and portraits in rooms such as the astronomical observatory and the Philology Room.
I was gutted I didn't get a chance to explore the inside of the library, but you can go inside on an organised tour if you're interested.
You will need to fill in a form and then you pay 8 Euros for a tour that will take you around the Library, University Halls and Courtyards too.
Click here to find out more about booking a tour of the library
32. Climb up the Church of St John's Bell Tower
The Church of St John's is meant to have the most amazing views from the top of its bell tower. So, it's a pity that it is only open during the summer season.
Unfortunately, I took way too long to find it before I realised that it was completely closed!
This bell tower has unobstructed open views from its windows at the top which is why people prefer it over the Cathedral Square Bell Tower.
It's also in the centre of the old streets. So, you get a birds-eye view of the gorgeous rooftops, cobbled streets, and church spires.
You will have to climb up 193 wooden stairs to reach the peak which is around 45 metres high. So, if you're relatively fit and not scared of heights it's perfect.
If you're interested this church was built in 1387, so it has a lot of history to tell and is worth popping in to have a look too.
Tickets cost 3 Euro's and it's only open in the Summer.
33. Walk through the Bernadine Gardens
As I visited Vilnius in December, I didn't get to visit these gardens for long. But, in the summer I reckon this will be a small green oasis in the heart of the city.
The park is a reconstruction by Vladislovas Štrausas in the 19th century of the gardens that stood here from the 15th century all the way up to World War II.
They were originally set up by Bernadine Monks that were invited to Vilnius. The gardens were built as part of their monastery.
Finally, in 1870, the three parks that were next to each other, the Botanical Gardens, the Cathedral Park, and Bernadine gardens, all became one park.
Today, you can find fountains, sculptures, flowers, benches, and grass to sit on or have a picnic!
It's a lovely peaceful part of the city with great views of the Gediminas Castle and Hill of Three Crosses.
The Bernadine Gardens are FREE to visit and open from 7am – 10pm all week
34. Visit Town Hall Square
Once Lithuania became a Christian state in the 14th century it was granted Magdeburg rights.
This was a decree of the Flemish rule which granted certain members authority in the city. Vilnius needed a headquarters for the authorities and so the Town Hall was born.
It was a place that housed the local magistrate, held city meetings, had a courtroom and there was even a prison underneath in the basement.
Originally it was built in the Gothic style but the style we see today is a Neoclassical reconstruction by Laurynas Stuoka-Gucevičius.
Today it serves as a community-building with events held throughout the year. You can see a concert, visit an art exhibition, literature events and much more!
Make sure you have a look on the Vilnius Town Hall website for what's on while you're here.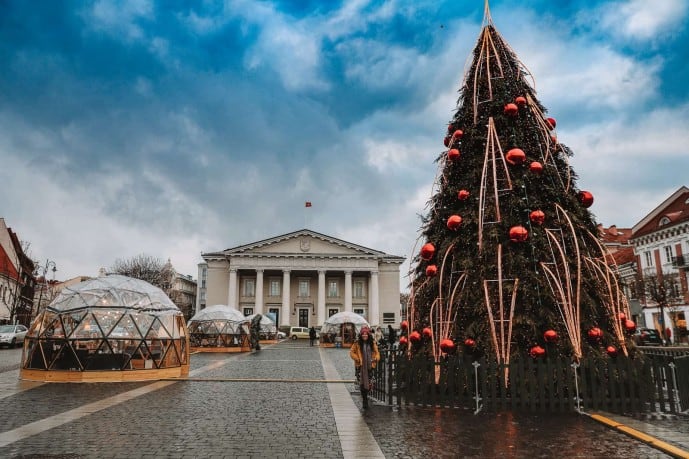 35. Stroll down Ausros Vartu Street
One of my favourite streets in the whole of Vilnius is Ausros Vartu Street. I think if one street captures the essence of Vilnius, this is the shot.
You've got the Gate of Dawns in the background, a whole range of historic architecture including the Philharmonic building, church spires, and cobbled streets. It really is as pretty as a postcard.
Of course, as well as capturing it there are a lot of shops, restaurants, and chapels you can pop into to pass the time too.
I particularly loved the chapel in the Gate of Dawn where you can see the portrait of the Blessed Mary.
36. Admire the Basilian Monastery
With its striking shade of yellow and beautiful baroque design, you'll notice the Basilian Monastery it in an instant, even from afar!
The first church that stood here was to mark the spot where the three Lithuanian Christian Martyrs (Anthony, John, and Eustace) died. According to legend, in 1347, the Grand Duke Algirdas' wife Julijona built a wooden Orthodox Church in their honour.
Later, in the 17th century, the church belonged to the Uniates of the Basilian Order. Then it switched hands to the Orthodox Church in the 19th century and eventually, after the independence, went back to the Uniates!
So, this seemingly small but beautiful gate on Ausros Vartu street has a big history to offer beyond a pretty photo spot. I didn't end up going inside as it was closed, but the church itself has a mix of Gothic, Baroque, and Russian Byzantine styles.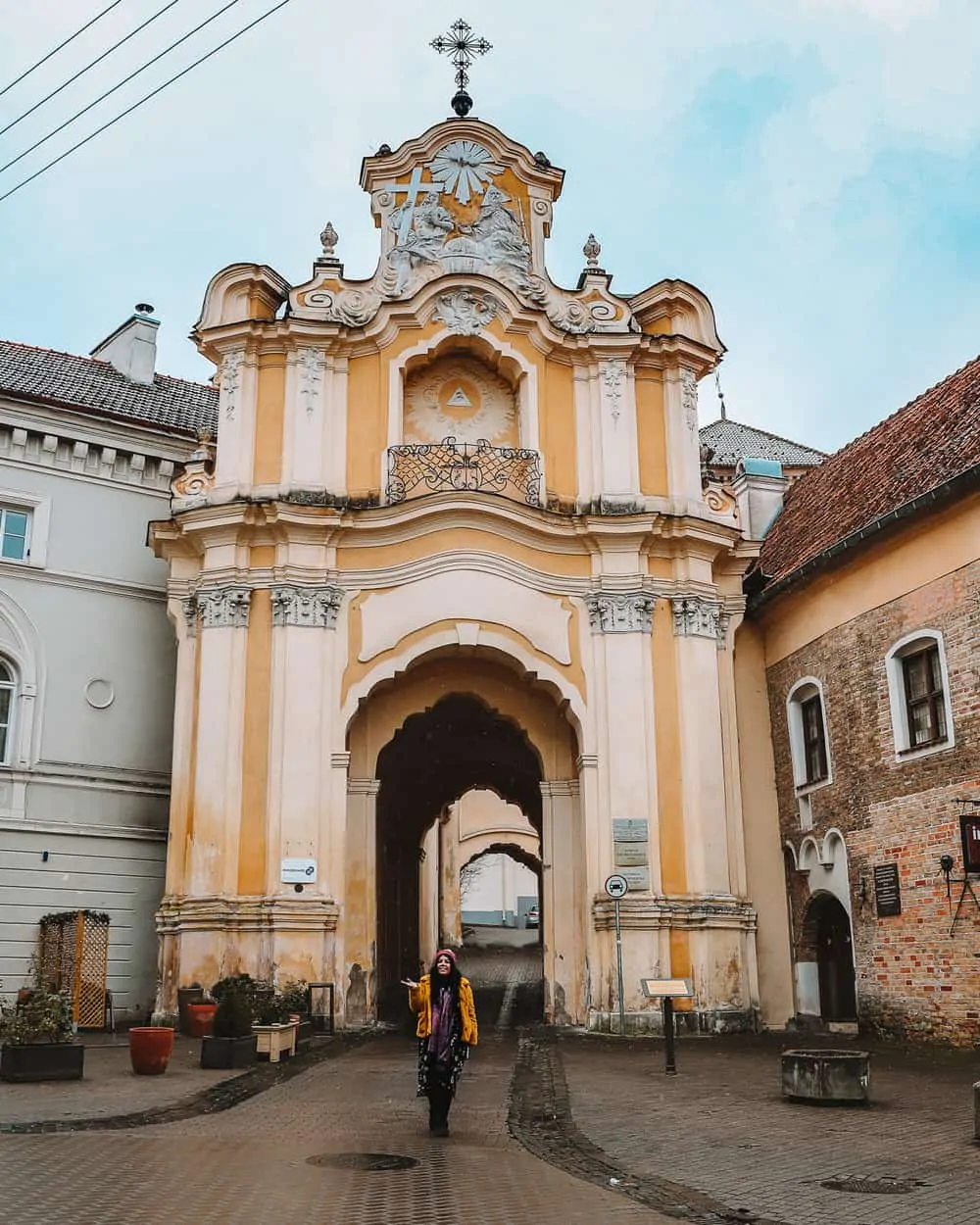 37. Step inside the Church of St Peter and St Paul
Another church you must add to your list is the 17th-century Baroque church of St Peter and St Paul.
The architecture on the outside of the church is stunning, but when you go inside you can see what the church is famous for; over 2,000 stucco figures and a Rococo pulpit!
It was included amongst the world's most beautiful churches on Churchpop, alongside cathedrals in England and Italy.
According to legend, before a church was placed here, it was a site of a Pagan temple dedicated to Milda. But, it was destroyed and burned down due to the Russian invasions.
The Church is open from 6am – 6.30pm Monday to Friday.
38. Browse an Art Gallery Museum
As well as the historical architecture of the Old Town, the New part of Vilnius has many art galleries that exhibit all sorts of art from classical portraits to contemporary works and installations.
If you only have time for one, I would recommend visiting either the National Gallery of Art (LAM) or MO Museum.
MO is filled to the brim with contemporary artwork and regularly holds new exhibitions to visit. LAM highlights Lithuanian and international painters through time.
Browsing an art gallery is something I LOVE to do in cities and I had my heart set on the MO museum. But, unfortunately, I ran out of time.
39. Hop around the pretty courtyards and streets of the Old Town
Courtyard shopping or walking down old streets maybe your next favourite hobby while you're in Vilnius.
A short walk on Pilies Street could turn into a few hours if you get lost down the small alleys and the labyrinth of laneways in the Old Town.
Here are a few of my favourite streets and courtyards in the old town;
Pilies Street (Above) – Or, Castle Street is as the name suggest a street that leads to the castle or..what's left of it now.
Bernardinu Street – Just of Pilies Street this gorgeous alleyway is packed full of historic buildings, cute alleyways and oil lamps. It's perfect for those photographers who like to seek out all the photoworthy nooks and crannies.
Stikliu, M. Antokolskio & Žydu (Jewish Ghetto) – If you get to the end of Pilies Street opposite the Town Hall, take a left turn and you'll find yourself in the Jewish Ghetto.
Courtyards – The hidden courtyards in the historic part of town have often been a favourite of photographers. Some popular ones are the Alumnatas Courtyard and the courtyard of Sidabrynas Antique Shop.
Click here to book a courtyard tour of Vilnius
40. Go shopping on Gediminas Avenue
Another famous street that leads off from Vilnius Cathedral Square is Gediminas Avenue. Compared to the Old Town, this street was only built in the 19th century.
It was made when the railway line between St Petersburg and Vilnius was built and the development of the city demanded it. It was built during the Russian occupation, so it was originally called A. Mickiewicz. It then changed to Stalin avenue and Lenin Avenue.
Eventually, when Lithuania was granted its independence it was renamed Gediminas Avenue after the Grand Duke Gediminas who founded Vilnius.
Today, it is the home to many government authorities in Vilnius but it's also home to hundreds of retail outlets, restaurants, cafés, and the Museum of Occupations.
There is so much to do on Gediminas Avenue it may take you a while to browse around!
Recommended day trips to take out of Vilnius
So that's all the things to do in Vilnius, but if you're here for a few days and fancy a day trip, there are lots to choose from.
Lithuania is a small country and so most big cities and attractions can be reached in less than a few hours from the capital.
During my week here, I got to explore many cities and attractions outside of Vilnius and wrote helpful guides for each of them;
Europos Park
Europos Park is a contemporary art museum founded in 1991 and set in nature. It can be found around 19 kilometres out of Vilnius City Centre.
There are around 100 sculptures that can be found throughout the park all created by international artists. It even has the largest sculpture made by TV sets that earned a place in the Guinness Book of World Records.
You can get there by taking bus number 66 straight to the location of the park. Entrance is 11 Euros an adult.
Visit the official website for visiting times and prices for Europos Park
Trakai
Home to Eastern Europe's only Island Castle, Trakai used to be the capital of Lithuania years ago. It was founded by Gediminas, built upon by his son Kystus and eventually expanded by his son Vytautas.
The romantic island castle you find in Trakai today in the middle of Lake Galvé is a reconstruction of the gothic one built in the 15th century.
It's one of the most popular attractions in Lithuania, so you really can't miss it! Plus its only 30 minutes from Vilnius making it the perfect day trip.
As well as the castle, you can explore Lithuania's smallest national park, learn about the Karaite community, sample Kibinai pastries and hop around historic mansions.
Read my complete Trakai guide here and the best way to get there here from Vilnius!
Kaunas
Kaunas is often called Vilnius' quirky brother and, as the second-largest city in Lithuania, it's well worth checking out.
Not only does this city have its own epic castle, but there are also some unique attractions to explore like Fort IX, the world's only Devil Museum, and neighbourhoods covered in street art!
It's only an hour and a half by train, so I highly recommend getting up early and making the most of it. If you happen to go on a Saturday, there's even a FREE walking tour!
Read the top attractions in Kaunas here and where to find the best street art
The Hill of Crosses
The Hill of Crosses is one of the most important attractions in Lithuania and is a symbol of light and hope. It's a testament to the strength of the Lithuanian people despite their dark past.
There are thought to be over 250,000 crucifixes that have been left at the site. Most to remember loved ones who passed away or to symbolise a body they could not bury. Some leave crosses as a sign of love.
I went on a day tour to the Hill of Crosses from Vilnius but you can do this self-guided too. Make sure you read my guide all about it below.
Read my complete Hill of Crosses travel guide here
Heading around the Baltics?
I love Baltic countries and have had the pleasure of visiting a few during my years of travelling.
If you're heading around some of the neighbouring countries, make sure you browse some of my blog posts;
How to spend one day in Tallinn
A photography guide to Tallinn
A photography guide to Helsinki
Moomin Cafe: why you need to visit one in Helsinki!
Like it? Pin it!