Are you looking for all the amazing things to do in Woodstock UK? Well, there are far more things to see and do here than just Blenheim Palace.
Don't get me wrong, the palace is lovely and famous for a reason but I wouldn't leave until you've checked out the historic town of Woodstock just outside of it.
It's centred around a quaint marketplace and is filled with ancient buildings, shops, pubs, cafés and museums to enjoy!
Here is a complete list of all the lovely things to do in Woodstock UK, Oxfordshire!
The history of Woodstock UK
Although the name Woodstock is now synonymous with the famous 1969 music festival in the USA, the historic market town of Woodstock in Oxfordshire has a history dating back before the Domesday Books of 1086.
In Olde English, Woodstock means "Clearing in the Woods" and it was a Royal Forest during the Anglo-Saxon era. It was mainly used for royal hunting parties and King Ethelred the Unready held an assembly here.
In the 12th-century, King Henry II gave Woodstock a royal charter and for years Woodstock Palace was located just beyond the town. It was a popular rest stop of royalty and the St Mary Magdalene Church was set up for those royal family members who were visiting.
The English Civil War saw the Parliamentarians tear down Woodstock Palace. But, the restoration of the monarchy saw the 1st Duke of Marlborough start work on Blenheim Palace.
The land was a gift from Queen Anne and the stately home got its name from the victory of the Battle of Blenheim in 1704. It's now famous as the birthplace of Sir Winston Churchill.
Today, thousands of people visit Woodstock due to Blenheim Palace being nearby which is a UNESCO World Heritage Site!
Lovely things to do in Woodstock UK
So, what are the best things to do in Woodstock Oxfordshire? Well, most people make a beeline for Blenheim Palace, look around and then leave.
But, there is so much more to this area than just the palace and grounds. Woodstock is a charming Cotswolds market town that is well worth a visit as there is so much to do.
You'll find quaint streets, ancient coaching inns, antique shops, curious church bells, museums and a whole lot more. Here is a list of the very best things to do in Woodstock UK!
1. Explore Blenheim Palace UNESCO World Heritage Site
By far one of the best things to do in Woodstock has to be a visit to the world famous Blenheim Palace!
It's a majestic country home and gardens that has over 300 years of history here in Oxfordshire. It's also the only country home outside of the Royal Houses of England to have the word palace in its name.
It was built in 1705 after the 1704 Battle of Blenheim. The gardens and surrounding estate (even the town of Woodstock) were remodelled and designed by Capability Brown in the 18th-century.
For centuries, it has been the seat of the Duke of Marlborough and the 12th Duke and Duchess of Marlborough still live there today.
It's now famous for being the birthplace of Winston Churchill and became a UNESCO World Heritage Site in 1987.
You may recognise this amazing house and gardens from the silver screen. Many famous movies have been filmed here like Cinderella, The BFG, Gulliver's Tales, Transformer's and Harry Potter!
A ticket to the house and grounds is quite expensive at £29.50 for an adult but you could spend all day here. You can also come back for 12 months if you exchange your ticket for an annual pass at no extra cost!
They regularly hold events throughout the year like the Blenheim Flower Show and Blenheim Christmas Markets and Lights Trail which you can attend for an extra fee.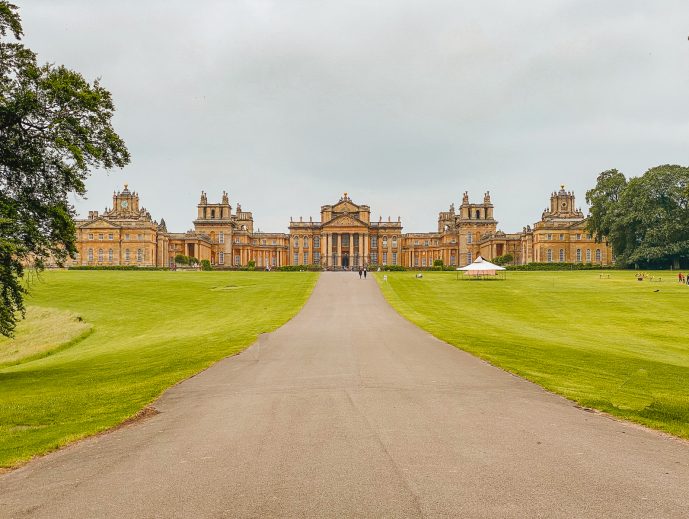 2. Head out on a Blenheim Palace Walk
Did you know that the grounds around Blenheim Palace are free to access and have many permissive pathways on the estate?
That's right, so you could enjoy some Blenheim walks with spectacular views of Blenheim Palace completely free of charge if you wanted to.
There are two ways to access Blenheim Palace for FREE. One free entry gate is in Woodstock and the other is in Combe Lodge. You simply enter through either one of those free gates and stick to the public rights of way.
Whilst exploring Blenheim Park you can see the Blenheim Column of Victory, the Grand Bridge of Blenheim, Blenheim Lake and more! There are over 2,000 acres of parkland to explore.
It's very popular and the perfect place to go walking in Oxfordshire. You'll see lots of wildlife and you can also bring a picnic on a sunny day.
Click here to find out how to enter Blenheim for free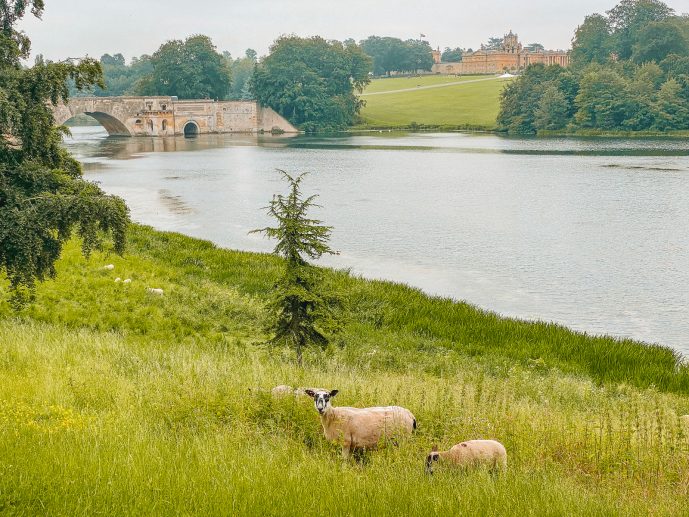 3. Visit the Harry Potter Tree!
There are plenty of trees on the Blenheim estate but none so famous as the Harry Potter Tree!
It's one of the most iconic trees that live on the estate as it has a huge gaping hole on the front and it sits besides the Blenheim Lake!
It's a Cedar of Lebanon tree and is thought to have been planted nearly 300 years ago when Capability Brown remodelled the gardens.
Today, it's called The Harry Potter Tree as it featured in the Harry Potter and The Order of the Phoenix movie in 2007.
It appeared in a flashback scene in Snape's Worst Memory where we see him at Hogwarts being bullied by Harry's father Jame's Potter!
It's been protected with a fence and chains to protect it as it's so old but you can still get some amazing photos.
It's also located on the FREE public rights of way on Blenheim estate so you don't need to pay to visit the palace in order to see it. A perfect day out for Potterheads.
Read my complete guide on how to find the Harry Potter Tree
4. Admire the honeycombed Woodstock houses
Woodstock is on the fringes of the Cotswolds and so it's just like any other quintessential town there, absolutely gorgeous!
It's filled with a hotchpotch of ancient honeycombed buildings in all different shapes and sizes. Many of these homes date back to the 17th-century but others, like the Macdonald Bear Hotel, have parts dating back to the 13th-century!
You'll love strolling around taking it all in and walking down its mesmerising streets and alleyways. Everywhere you look you'll discover something wonderful.
It's not an overly large town so I would highly recommend starting your visit in the central Market Square.
You can then make your way over to Park Street, Market Street, High Street, Brown's Lane and Rectory Lane. It's one of the best things to do in Woodstock.
5. Visit the Woodstock Town Hall
Woodstock Town Hall is a Georgian building that was constructed in 1766 by the famous architect Sir William Chambers. He also designed Somerset House and The Pagoda at Kew Gardens in London.
Inside are two main rooms of the Mayor's Parlour and the Assembly Rooms. Today, it's a Grade II listed property and a place where they hold significant events, exhibitions and even host weddings!
It opens for visitors on Monday, Wednesday and Friday from 9 am – 1 pm. You can pop inside to see the Assembly Rooms with their wonderful Woodstock wall hangings and tapestries on display.
This is part of the Woodstock Textiles Trail which I will explain more about below.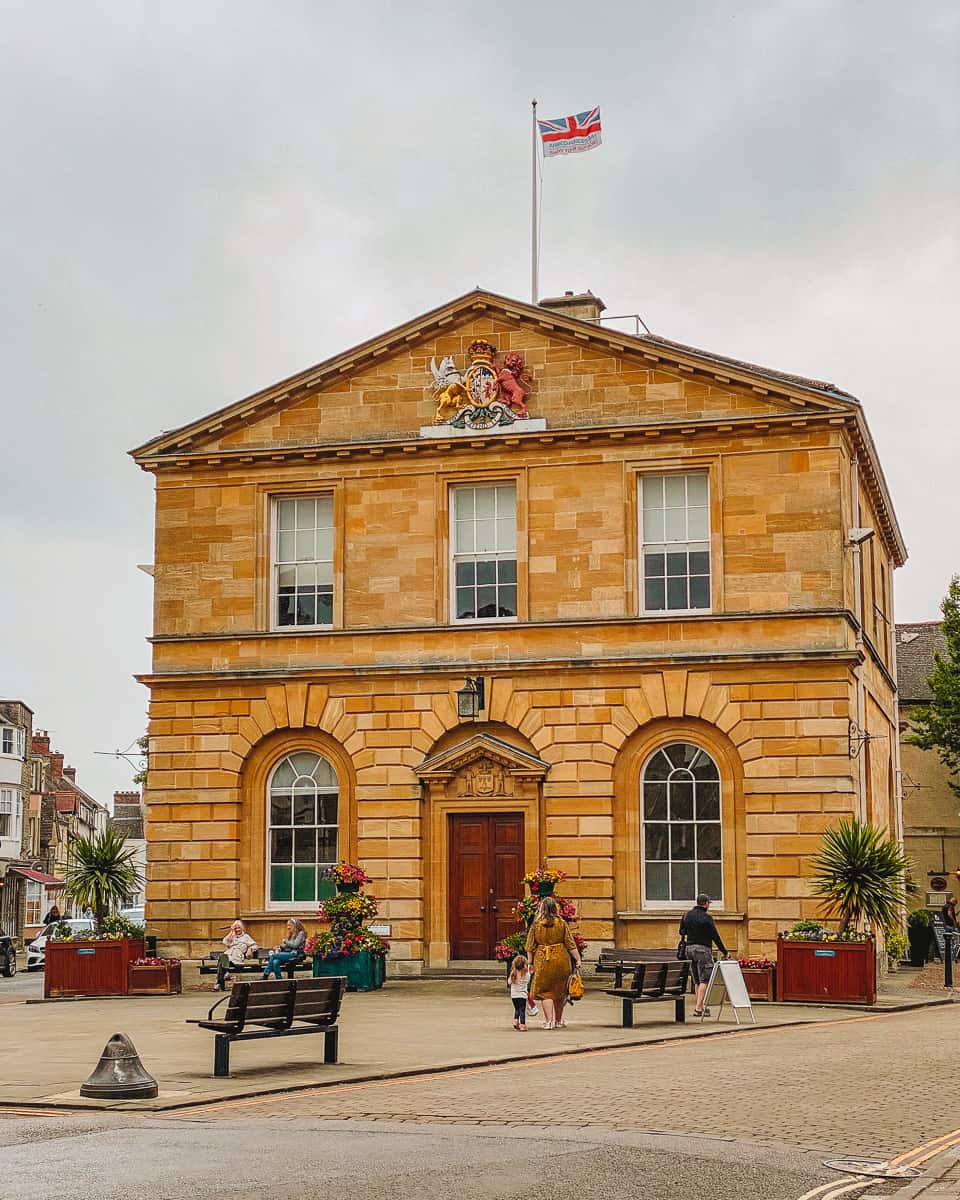 6. Hear the musical clock of Woodstock Church
If you take a stroll from Woodstock Market Place to Park Street, you'll eventually stumble on Woodstock Church or St Mary Magdalene church.
It's a historic place of worship that was built in the reign of Henry I and was built solely for the convenience of the court during royal visits to the Woodstock Manor royal hunting lodge.
It was built on top of an existing Norman building as you can still see a Norman doorway at the entrance.
It's a gorgeous place with lots to see inside but it's mainly known for its huge collection of 200 hand-embroidered kneelers and its amazing musical clock.
The Woodstock church clock plays a tune four times a day at 9 am, 1 pm, 5 pm and 9 pm and it has a different tune for each day of the week!
I was sat in the churchyard in the afternoon around 5 pm and I feel quite fortunate that I arrived just in time to hear it. I was quite taken aback as I've never heard a church clock like it!
Of course, you can go inside the church to explore and see its colourful stained glass windows, ancient chancel and kneelers. It's one of the best things to do in Woodstock.
The Woodstock churchyard is also pretty with lots of flowers and provides a peaceful place to relax.
7. See the Woodstock Stocks
This reminds me of that woodchuck tongue twister. But, it would be changed to 'how much wood would a wood stock, stock if a Woodstock could stock wood?' haha!
But, in all seriousness, there are some great Woodstock stocks that you can check out in front of the Woodstock museums. These are quite unique and unusual as there are actually five-hole stocks instead of four.
Usually, these sorts of stocks would have an equal number of holes. This is because they were used as punishment for petty criminals who would have to sit here with both their ankles in the stocks. As they sat there in the open, locals would scorn at them as they passed by.
The other reason why these are unique is due to a roof being placed over them. This could have come later when it was converted into a public bench but it's not usual that stocks would have a nice shelter from the rain.
Most criminals who were punished in this way would be left outside to face any kind of weather as part of their punishment!
8. Have lunch at one of the many Woodstock pubs
If you wanted to stop and have lunch somewhere in Woodstock, you have an endless choice of amazing pubs.
You'll find them dotted around Market Square and High Street. A lot of them are 17th-century coaching inns with oodles of heritage!
Although you can expect sky-high prices, experiencing the amazing food this town has to offer is one of the best things to do in Woodstock. Here are some of the best Woodstock pubs:
9. Discover the Oxfordshire Museum & Soldiers of Oxfordshire Museum
There are two Woodstock Museums that are worth visiting and are in the centre of the town opposite St Mary Magdalene's Church. They are easy to find as both museums share the same building!
One is the Oxfordshire Museum and the other is the Soldiers of Oxfordshire Museum which is next to the Woodstock Library.
The Oxfordshire Museum in Woodstock is great for those who want to learn about the history of the Oxfordshire over time. The entry is completely FREE!
Their displays and galleries cover chapters as far back as the DInosaur's! There are also exhibitions on the Roman's, Anglo-Saxon's, medieval times, Victorian times, the World War's and today!
Next door is the Soldiers of Oxfordshire Museum which is a memorial to all those who served their country from Oxfordshire. This section does come with a fee, adult tickets are £6 and children are £3.
Both Museums are closed on Monday's. The Oxfordshire Museum is open from 9.30 am – 5pm Tuesday – Saturday. The Soldier's Museum is open 11 am – 5pm Tuesday – Saturday. Both museums are open from 2pm – 5pm on Sundays.
10. Have Ice Cream from Alfonso Gelateria
One of my favourite places in Woodstock had to be the Alfonso Galateria. It's an adorable ice cream shop with the most fabulous decor!
It was founded by Lewis who wanted to bring his big love for Italian ice cream back to Woodstock. In Italy, a gelateria is a place that brings community together and it is such a lovely place in Oxfordshire to do just that!
All their ice cream is traditionally made using Italian methods and they had the most mouth-watering flavours.
I tried their rum and raisin waffle cone which was to die for and it had huge raisins that were plump with rum!
They are open from Tuesdays – Saturdays from 9 am – 5.30pm and Sunday's from 10 am – 4.30 pm.
11. Find antiques in the Woodstock shops
Shopping is easily one of the best things to do in Woodstock. As well as the many boutiques and art galleries dotted around Woodstock, you'll also find the most fabulous antique shops to visit!
Each one of them is a like a treasure trove of pre-loved items and most specialise in different areas.
You'll find the Antiques of Woodstock is a specialist in antique wood furniture, while Martha's Attic has home decor interiors.
My favourite one is the Antiques at Heritage on Market Place. It's a hub of over 12 antique dealers and you'll find a wealth of items inside this 15th-century building.
Books, art, furniture, accessories, silver, pottery, porcelain, clocks and much more. It's a really popular place so make sure you have a browse!
12. Start the Woodstock Textiles Trail
Many towns and villages in The Cotswolds are famous for the wool trade and the art of weaving which saw many Flemish Weaver's move to the UK in the Middle Ages.
Woodstock is famous for its wall hangings and tapestries and they have a Woodstock Textiles Trail that you can follow.
It starts off at the Oxfordshire Museum where you can admire the The Stonesfield Embroidery made in Herefordshire. A rare surviving example of 18th-century needlework.
Then, you can see the The Woodstock wall hangings at the Woodstock Town Hall. These include 7 panels of woven tapestries. St Mary of Magdalene Church has some 200 hand embroidered kneelers by the same weavers.
If you're heading into Blenheim Palace there are even more tapestries to see. The Blenheim Palace tapestries were sourced by the 1st Duke of Marlbourgh. He commissioned designer de Hondt and the weaver Judocus de Vos from Brussels to weave them!
Click here to read more about the Woodstock tapestries trail
13. Visit Winston Churchill's grave in Bladon
If you have visited Blenheim Palace, you'll quickly realise that it was the birthplace of Sir Winston Churchill. He was a British statesmen and Prime Minister for the United Kingdom during the Second World War.
Winston Churchill was born at Blenheim in 1874 and was part of the Spencer-Churchill family. He was a relative of the Duke's of Marlborough and spent a considerable amount of his life here at the palace. He proposed to his wife Clementine in the Temple of Diana.
Like the rest of the Spencer-Churchill family, Sir Winston Churchill is buried in St Martin's Church in the small village of Bladon.
The church dates back to the 11th century but what we see today is a building dating back to 1802. If you wanted to visit the grave for yourself, it's just a few miles drive away from Woodstock.
14. Pop over to village that featured in Downton Abbey!
If you love Downton Abbey then you may be pleased to know that the village they used for filming is not in Yorkshire but actually nearby in Oxfordshire.
It's a quaint hamlet called Bampton and it's only a few miles away from Blenheim Palace and the town of Woodstock!
The historic part of the village was used for filming around St Mary's Church and it looks like it's been trapped in time.
Here, you can visit many filming locations used in the show! The church where Mary and Matthew were married, Downton Cottage Hospital, The Grantham Arms, Isobel Crawley's house, and much more!
Read my complete guide for all the Downton Abbey filming locations at Bampton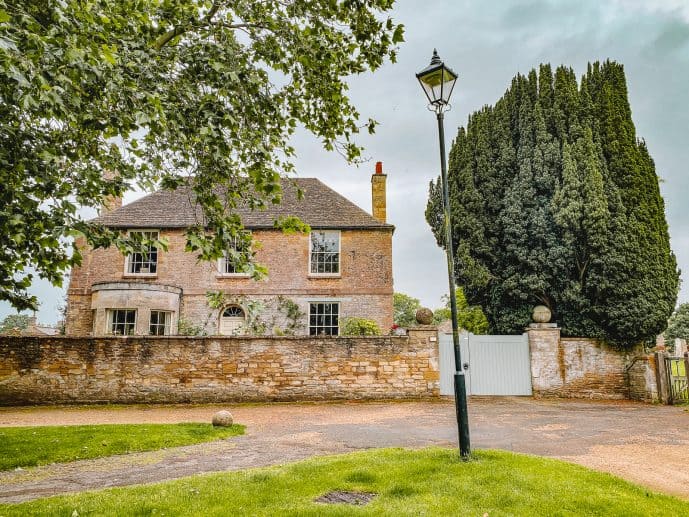 How to visit Woodstock UK
Most people who are travelling to the UK will have Blenheim Palace on their list of attractions to visit along with the amazing historic city of Oxford.
Woodstock and Blenheim Palace are in the county of Oxfordshire which is in the South West of England.
It's so easy to visit Woodstock as it's just an easy two-hour drive from London. Plus, you're only a 20-30 minute drive from Oxford too.
As Woodstock is on the fringes of The Cotswolds, it also makes a fabulous stop on a road trip if you're exploring this area.
If you are travelling from London without a car, you can easily catch a train to Oxford Parkway train station in an hour. Then, take a connecting Oxford to Woodstock bus in just 15 minutes!
Woodstock Parking
There is plenty of pay and display Woodstock parking available near to the Woodstock Town Hall.
Plus, you'll find some time-restricted spaces near St Mary of Magdalene Church on the side of the road. Always check restrictions but many of these are two hours free.
If you're visiting Blenheim Palace, you can leave your car there and the town is just an easy 15-minute walk to the town centre.
I personally parked for free in Combe Lodge for the walk around Blenheim Palace. The circuit took me around to Woodstock from there. It's a great place for all-day parking.
Where to stay in Woodstock
There are a wealth of places to stay the night near to Blenheim Palace in Woodstock;
Killingworth Castle – a highly recommended countryside retreat just 2 miles away. It has boutique rooms and a restaurant onsite. Click here to book.
The Macdonald Bear Hotel – a striking building in the heart of Woodstock. You'll find a touch of luxury here with their four-poster beds. Click to book a room.
Blenheim Buttery – a 17th-century building overlooking Woodstock's market square! Click here to see rates.
Read more of my Cotswolds travel guides
Top things to do in Bibury and why you must visit Arlington Row
The best places to visit in Castle Combe
The best places to visit in Upper Slaughter and Lower Slaughter
Why you must visit Tetbury and the Chipping Steps
The top things to do in Snowshill
The best things to do in Stow on the Wold
Did this Yew Tree door inspire Tolkien in Stow on the Wold?
A complete guide to Lacock village and the best Harry Potter locations
Why you must visit Burford the Gateway to the Cotswolds
Things to do in Painswick and the 99 Yew Trees
My top tips for Cotswolds Lavender
What to do at Gloucester Docks and the very best photography locations
Harry Potter filming locations at Gloucester Cathedral
A complete guide to Broadway Tower
Save these things to do in Woodstock UK for later!