Did you know that there are many amazing things to do in Zermatt in Switzerland even if you don't plan to ski?
Many people visit this magical village in the Swiss Alps for winter sports but there are plenty of reasons to visit beyond skiing even in winter!
Zermatt is one of the prettiest places in all of Switzerland located in an alpine valley under the famous Matterhorn Mountain.
There are plenty of things to do here beyond the slopes such as panoramic viewpoints, walking trails, cable cars, mountain railways, restaurants, shopping, and spa experiences too.
Here are all the magical things to do in Zermatt for non-skiers!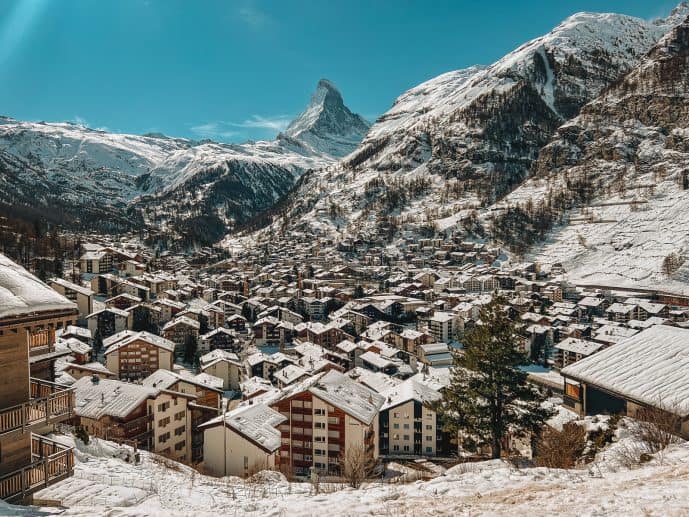 Things to do in Zermatt – Non-Skier edition!
1. Arrive on the Glacier Express
One of the top ways I would recommend arriving in Zermatt would be on the Glacier Express.
It's a panoramic train journey that covers 290 kilometres (180 miles) from St Moritz to Zermatt and vice versa.
It crosses over 3 cantons of Switzerland, Valais, Uri, and Graubünden. It crosses over 291 bridges and 91 tunnels.
The journey takes roughly 8 hours so it's often nicknamed the slowest express train in the world.
But, the views you get are outstanding and include the famous Landwasser Viaduct that makes the time fly.
I decided to splurge and bought a Glacier Express Excellence Class ticket. This is the highest class tier on the train and comes with a plush carriage and six courses of food with wine pairings.
It's not the cheapest experience but it was one of the best train journeys I've ever taken.
Whichever class you decide to take, make sure to book tickets far in advance as it does sell out!
Click here to read my Glacier Express Excellence Class review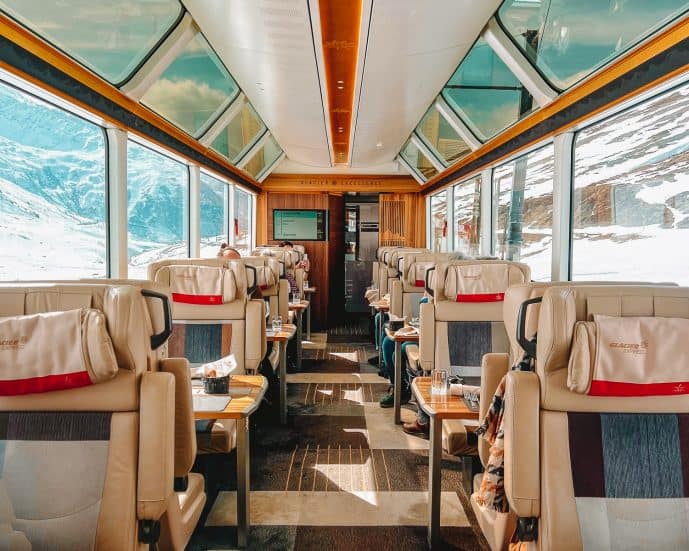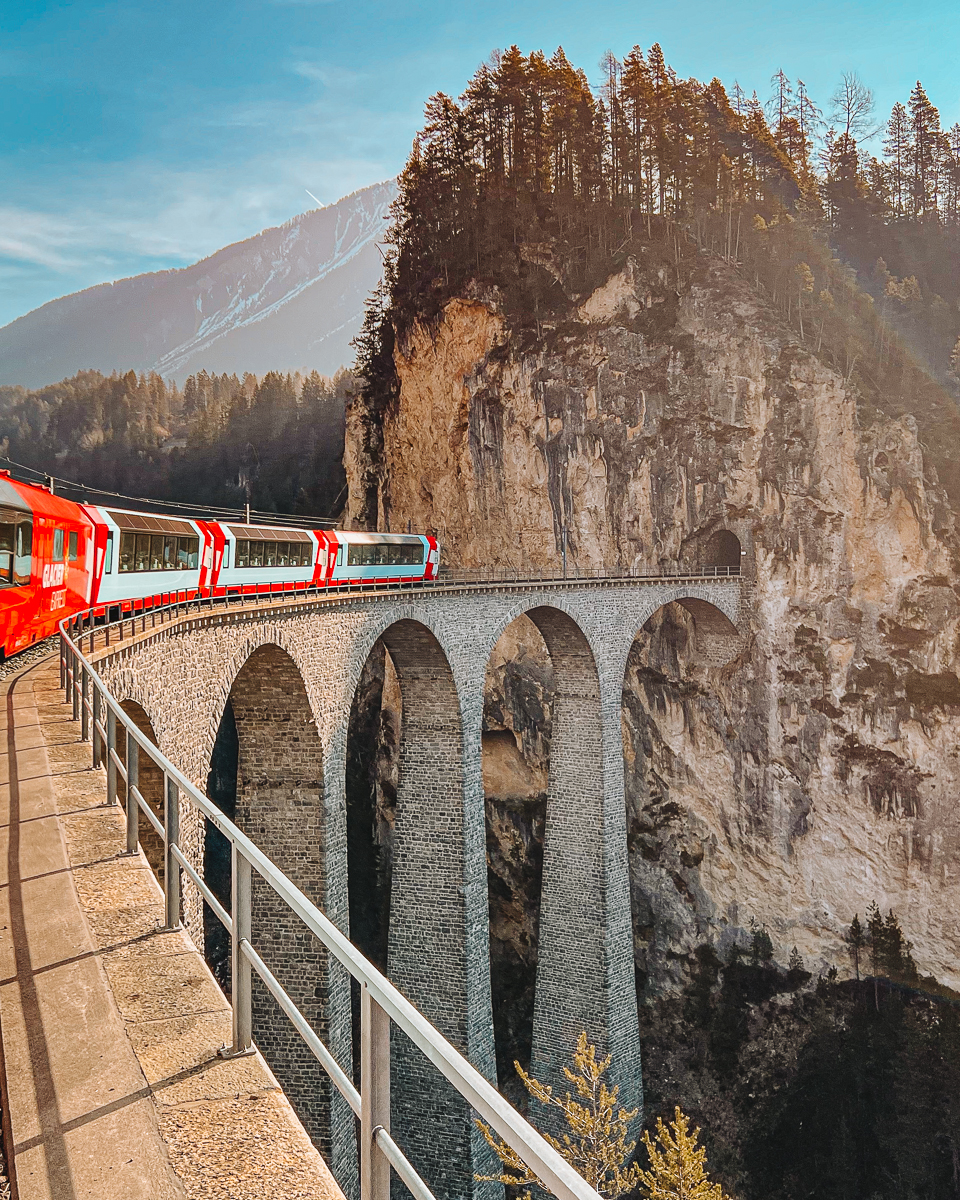 2. Shop on the High Street (Bahnhofstrasse)
The beating heart of Zermatt is Bahnhofstrasse which is the place you'll find lots of fancy shops, cafés, restaurants, and hotels.
You'll find lots of high-end designer boutiques on this street selling designer clothes, expensive watches, and skiing/climbing equipment.
But, if you just wanted to browse for souvenirs there are many shops to choose from. You'll find traditional Zermatt souvenirs, chocolate shops, and clothes.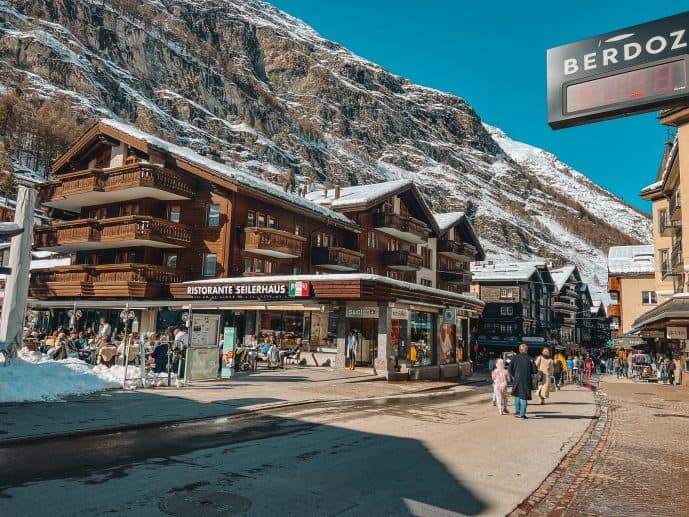 There are also many cafés and bakeries if you wanted to buy some lunch or snacks. The Co-Op is located in a shopping centre opposite the train station.
Once the sun goes down, Bahnhofstrasse comes alive with evening restaurants, clubs, and bars. There is something for everyone here.
3. Stroll along the Matter Vispa
The river that snakes through Zermatt is called the Matter Vispa and it provides a scenic walk through the village.
It's over 30 kilometres long and the water in this river travels straight from the mouth of the Gorner Glacier.
You can follow the trail the whole way through the village towards the Matterhorn Glacier Paradise area and beyond to Furi.
There are many bridges that cross over this river and in winter it often freezes up making it look magical!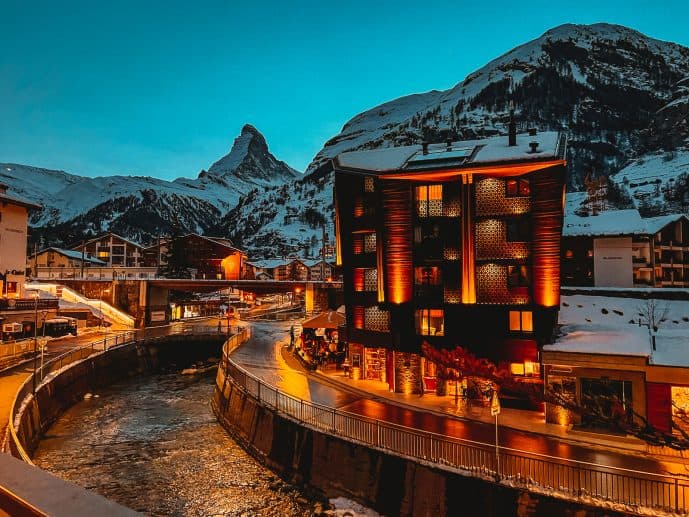 4. Explore Zermatt Old Town / Hinterdorf
One of my favourite things to do in Zermatt is to visit the Old Town also known as Hinterdorf.
It's an area filled with wooden buildings like stables, barns, and storage huts that were built in the 16th – 18th centuries.
You'll notice a lot of the huts are balanced on stone blocks that look like toadstools! It's fascinating to look around.
The entire place feels like you've stepped back in time and it makes an incredible photography spot.
On my most recent visit, we had a day of heavy snow and this area of Zermatt looked like a fairytale.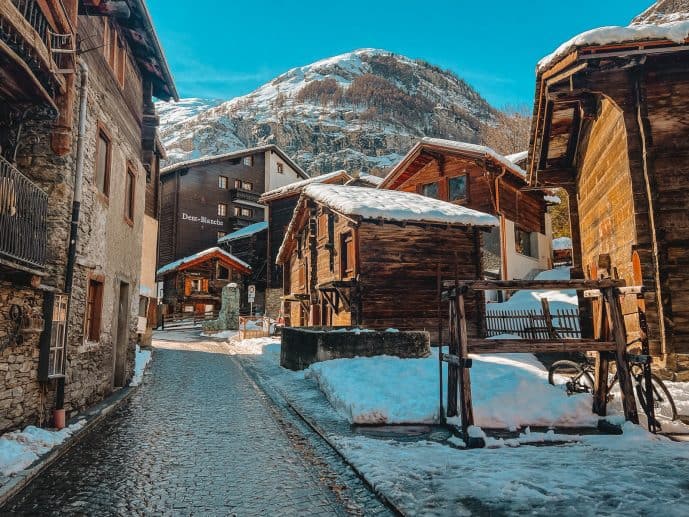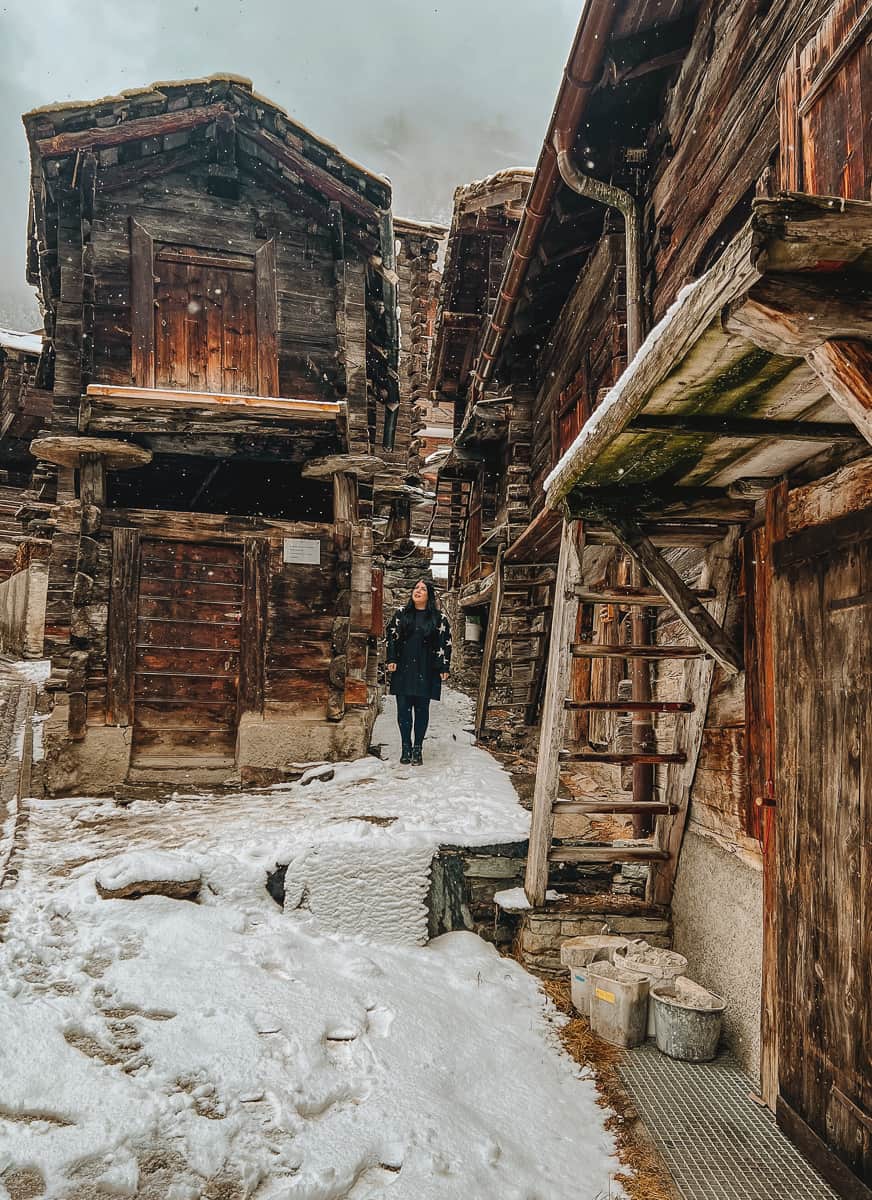 5. Visit Harry's Ski Bar
Just near to the Zermatt Old Town, you'll find the lively après-ski hangout called Harry's Ski Bar.
It was a former henhouse called "Hennugädi" that was converted by Harry Lauber and his son in 2014.
It's now one of the most popular bars in Zermatt where you can sit inside or outside with a drink. You can chat with others, sing and dance all night long.
It can get very busy here in the afternoons and evenings but that's part of the atmosphere. You must pop over when in Zermatt!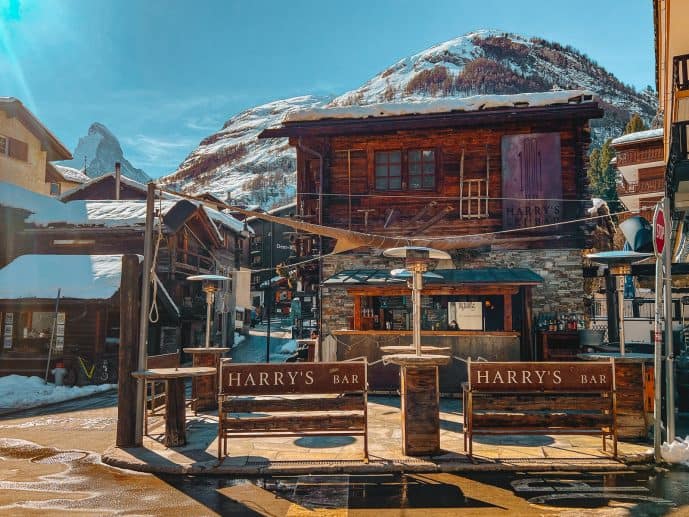 6. Visit the Matterhorn Museum
One of the cultural attractions you can visit in Zermatt is the Matterhorn Museum which is located near Zermatt Church on Bahnhofstrasse.
Don't be deceived by its small booth to enter, the museum is a huge complex located underground! It's one of the best things to do in Zermatt.
They have rebuilt a replica of the Hinterdorf here and you can watch the fateful events of the first ascent of the Matterhorn in 1865. They have the original snapped rope.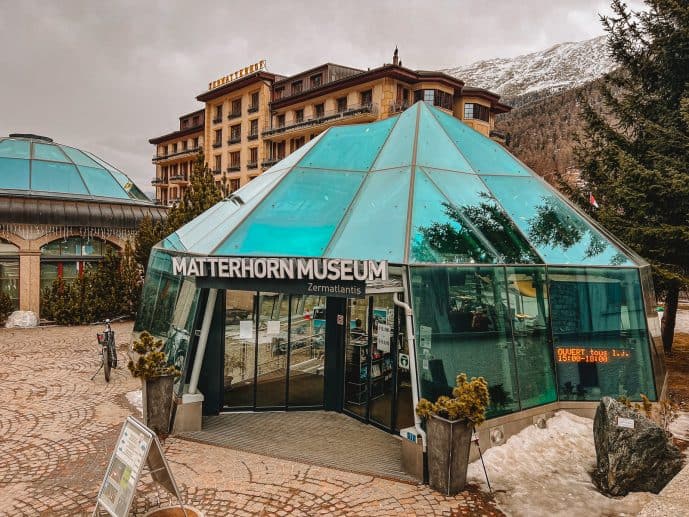 There is a multimedia room showing clips of the film "Der Berg ruft" or "The mountain calls" by Luis Trenker.
Plus, there are many historic items from the Neolithic period, the medieval period, and climbing equipment used throughout the years until today.
The museum is only open from 3 pm – 6 pm in winter and 2 pm – 6 pm in summer. So, make sure to plan an afternoon out of your itinerary to visit. There's a lot to see inside.
Tickets are 12 CHF an adult and there are concessions available. If you have a Swiss Travel Pass entry is included!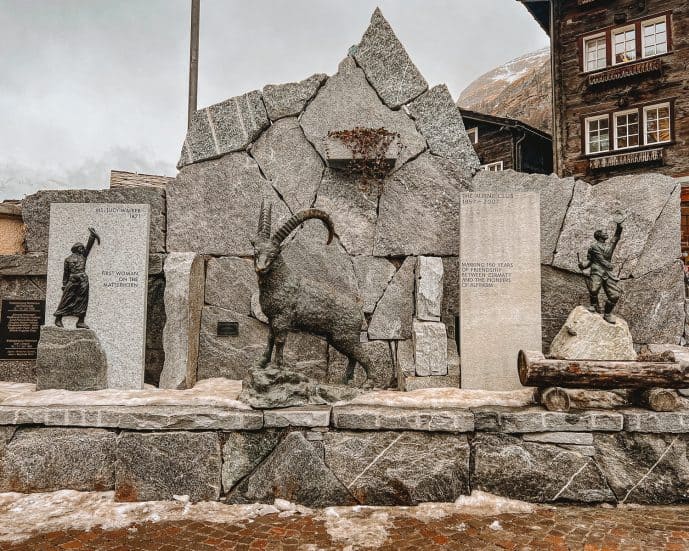 7. Have a drink at Schonegg Infinity Terrace Bar
If you were looking for an amazing rooftop bar in Zermatt then you must visit the Schonegg Infinity Terrace Bar.
It belongs to the Relais & Chateaux Hotel Schonegg and it has one of the best views of Zermatt and the Matterhorn in town.
You can visit here for coffee, lunch, or an Aperol spritz during the day or you can visit for drinks at night time overlooking the lights of the village.
It may be a little chilly to eat out here at night time but they have some heaters that will keep you warm. It's one of the best things to do in Zermatt.
8. Grab a Crêpe from Stephanie's Crêperie
If you were looking for some quick eats in Zermatt then look no further than Stephanie's Crêperie on the main high street.
You'll probably smell how amazing these crêpes are before you see them and so I would follow your nose to the takeaway counter.
They sell all sorts of crêpes here like savoury cheese crêpes or sweet crêpes with chocolate, icing sugar, and strawberries.
There is almost always a long queue at Stephanie's but these crepes are well worth waiting for!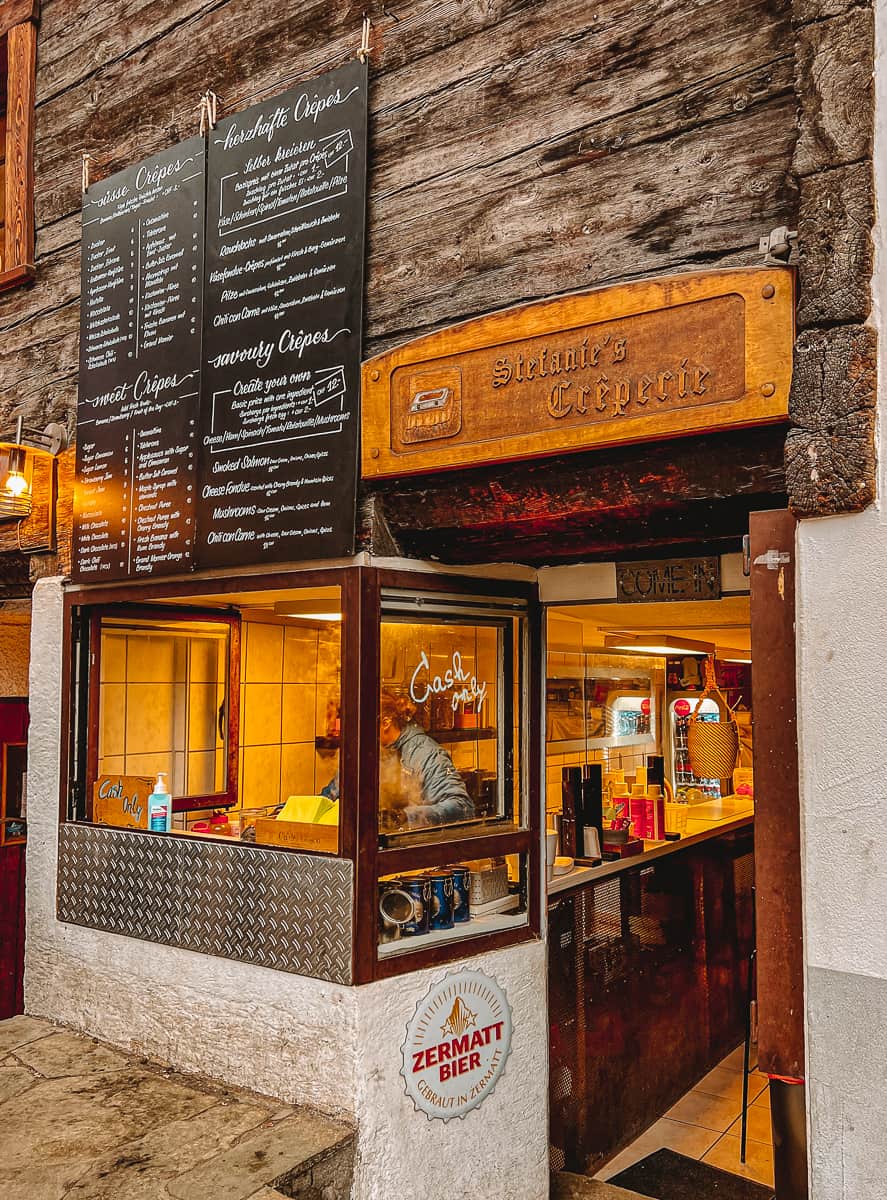 9. Visit the Matterhorn Viewpoint
If you wanted to take some amazing photos of Zermatt then you must visit the Zermatt Matterhorn Viewpoint.
It's located on top of Mürini Hill and it's a great option as it's free to visit, open 24 hours a day and you can walk there in around 10-15 minutes from Zermatt station.
It's the perfect place to visit during the day for spectacular panoramic views of the village and Matterhorn Mountain. But, make sure to stop by here at sunset on a clear day.
The views of the village with the sun setting and the sky changing colours is a magical experience. It's one of the best things to do in Zermatt!
Need directions? Click here to read my post with directions to the Zermatt Matterhorn Viewpoint
10. Take the Gornergrat Train
One of my favourite things to do in Zermatt, and one I do every time, is to ride the Gornergrat train up to Gornergrat Station.
The train will take you to heights of 3,100 metres above sea level and it provides spectacular views of Matterhorn mountain on the way.
There are many stops on the Gornergrat train route like Findelbach, Riffelalp, and Riffelberg to access Riffelsee Lake. You can choose to ride the whole way or stop off at the station on the way up!
The highlight would be the Gornergrat Bahn which is the terminus stop on the route. Up here, there are so many attractions to enjoy. It's an entire complex with its own observation tower.
There are restaurants, a shopping centre, a chapel, a museum, a 3D cinema experience, and ski routes as well.
You can even stay up here if you would like at 3100 Kulmhotel Gornergrat. How cool would that be?!
Tickets are not cheap at 88 CHF an adult. But, it's a fabulous experience and never fails to amaze me.
Pick a seat on the right-hand side of the train leaving Zermatt and one where the windows will open for the best views! If it's particularly busy, you can buy a priority boarding ticket.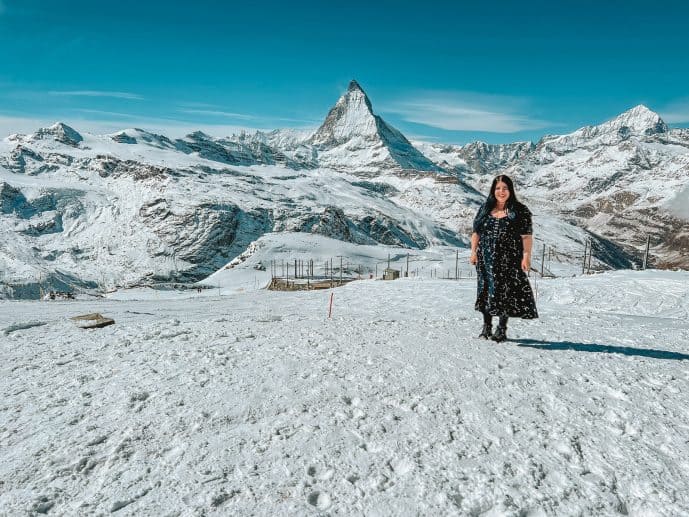 11. Sunnegga Funicular
If you didn't want to go as high as the Gornergat station, then you can still get great views of the mountain by heading up the Sunnegga Funicular.
The funicular travels up a rock tunnel in the mountains up to heights of 2,288 m (7500 feet) and you'll travel up to the top station in 4.5 minutes flat!
Once you reach the top of the mountain, there is a small café, restaurants, and some skiing routes.
You can travel over to the likes of Restaurant Paradise to have fondue overlooking the Matterhorn or head to Restaurant Enzian.
If you're visiting Sunnegga in the summer you'll find walking and cycling routes plus Zermatt's 'beach' of Leisee.
A single ride costs 15.50 CHF and a return ticket is 22.50 CHF. Children under 15 get 50% off and those under 9's go free.
You can book tickets online or purchase them at the station on the day that you intend to travel up. It's one of the best things to do in Zermatt.
12. Have dinner at Grampi's Pizzeria
As you're so close to Italy in this region of Switzerland, it's definitely an idea to indulge in some traditional Italian cuisine whilst in Zermatt.
Grampi's is one of the most popular restaurants in the village that serves up homemade pizza and pasta dishes in the evening!
I've been here many times when staying in Zermatt. It has a vibrant atmosphere, has some of the tastiest pizzas and it's good value for money as well.
Just make sure to put in a reservation for a table a few days in advance as they are usually always fully booked. Walk-ins are possible but be prepared to queue for a long time.
For some reason, as I was a solo diner, I couldn't book a table this time around which was a shame as their food is so delicious.
13. Visit Zermatt Church (Parish Church of St Mauritius)
Zermatt has a few chapels but the main church spire you can see all over the village would be the Parish Church of St Mauritius.
It has a history since 1285 in this area but the building we see today was reconstructed in the Italian style and was consecrated in 1916.
There are many interesting features to the church since it was renovated in 1980. It's actually on the Swiss Inventory of Cultural Property of Regional Significance because of its altars and font.
It's free entry so feel make sure to explore if it's open during the day. There is a fabulous artwork on the ceiling of Noah's Ark by Paolo Parente.
Tourists and locals alike are welcome to attend mass at Zermatt Church. You can experience the sung mass with a local choir every Sunday.
Just outside, you can visit the Mountaineer's Cemetery where many famous mountain climbers are buried.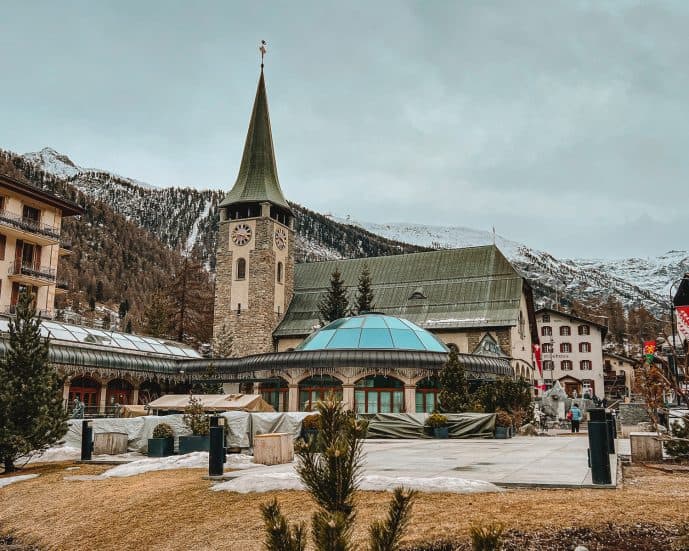 14. Zermatt Glacier Paradise
Zermatt Glacier Paradise is a relatively new attraction in Zermatt and takes you to heights of 12,739 feet (3,883 metres) in the mountains. It's one of the best things to do in Zermatt.
It has 360-degree views of the Matterhorn Glacier, 13 other glaciers, and the mountain range. It's mind-boggling and won't believe your eyes!
The gondola ride is an attraction in itself and, on a clear day, you'll be treated to some spectacular panoramic views of the Swiss Alps.
But, when you reach the top there will be more attractions waiting for you as well. At the top station, they have a restaurant, ice palace, walking trails, and cinema lounge.
It's not cheap at 95 CHF for an adult return ticket. Children from 3-8 are free and children from 9 – 15 get 50% off. But, this ticket is to go to the top station.
You can travel on the gondola to stops such as Furi/Schwarzee for a reduced rate if you didn't want to go the whole way.
Click here to book tickets for Zermatt Glacier Paradise
15. Grand Hotel Zermatterhoff
Although today there are many hotels in Zermatt, the Grand Hotel Zermatterhoff is the largest and most famous in the village!
It was constructed on public subscription by the residents of Zermatt to encourage tourism.
It's been a symbol of Zermatt since it opened in 1879, has been listed as a member of Historic Hotels Worldwide, and is one of the top hotels in Switzerland.
Walt Disney stayed here whilst filming "The Third Man on the Mountain" (1958) and he opened The Matterhorn Bobsled ride in Disneyland California inspired by his visit.
Audrey Hepburn was also a famous guest so you have to pop inside, even if you're not staying!
There are many cafés, restaurants, bars, boutiques, and a spa amongst other reasons to pay a visit.
16. Have Zermatt spa day
If you're not skiing in Zermatt and you've already been to the bigger attractions, then it may be an idea to have a relaxing spa day.
Zermatt has many spas available and even some at the bigger hotels that non-guests can use for a small fee.
There is a SchlossSpa which is Switzerland's first CBD spa or the Capricorn Spa which has a view of the Matterhorn from its outdoor heated whirlpool.
The Grand Hotel Zermattehof has its Borni Alpine Spa and the Mont Cervin Palace has Spa Nescens which is meant to be fantastic.
Hotel Sonne has some outdoor jacuzzis and you are surrounded by snow and icicles that look like something from a fantasy movie!
17. Take a Zermatt walk
There are many walks that you can take in Zermatt, even in the winter as many of the walking routes are scraped for hikers. The walking trails are some of the best things to do in Zermatt!
The most popular walking route is up to the Gornergrat passing the likes of Findelbach, Riffelalp, Riffelberg, and Riffelsee Lake.
If you're here in the wintertime, you can make a journey from Riffelhaus station to Iglu-Dorf Zermatt.
These are ice caves with incredible views of Matterhorn mountain. You don't even have to stay to enjoy them as they have a bar/fondu restaurant that's open to the public.
You can also take the Matterhorn Glacier Paradise Gondola up to the likes of Furi or Schwarzee and then walk back down to Zermatt if you like.
There are also walks to and from Sunnega and the Gourmetweg which has many restaurants to visit along the way to eat traditional cuisine from the region!
18. Indulge in Swiss Chocolate
Swiss Chocolate is famous all over the world and so it makes sense to indulge in some whilst you're in Switzerland.
You've probably heard of Lindt Chocolate which is the most famous brand and they have a large boutique on Bahnhofstrasse.
You can treat yourself to a box of their truffles or the cute chocolate bunnies they make in the spring season.
However, Lindt isn't the only chocolate shop in the village! Personally, I preferred the Läderach Chocolate shop opposite the Zermatt train station.
They had a chocolate counter where you could select some of their artisan truffles to be wrapped up in a box with a gold bow!
I brought some to take home and, although they were expensive, they were also delectable.
19. Gemeindebibliothek Zermatt / Zermatt municipal library
Did you know that Zermatt has its very own library? The Gemeindebibliothek Zermatt is located almost opposite the Parish Church of St Mauritius.
It dates back to 1731 and it's a public library that locals and tourists can visit it has over 5,500 items in its collection.
They have a selection of books, mountaineering guides, newspapers, DVDs, audiobooks, and documentaries. There are even PC workstations if you needed to work/study.
If you head outside to the Parish Garden they have their very own book tree that you can use.
The Zermatt library is open all week except Wednesday and is also closed on weekends. It's completely free to visit!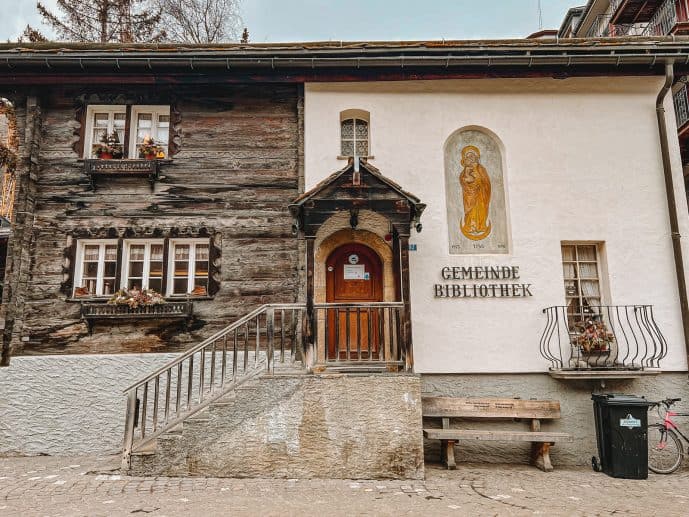 20. Visit Zermatt viewpoint at night time
One of the highlights of my trip was visiting the Zermatt Matterhorn Viewpoint at night time.
This is when the sun goes down, the sky starts to turn a gorgeous indigo blue and the Swiss chalet lights start to switch on in the valley.
It looked like something from a fairytale in winter with all the snow on the rooftops and made a great photo opportunity. It's one of the most magical things to do in Zermatt.
Just make sure to wrap up warm as it can get quite chilly up here at night!
The steps and the viewpoint are well-lit at night time as it's a residential area but I would have a torch handy just in case.
21. Take a Zermatt day trip!
Most people only spend a few days in Zermatt as it's quite a small place and you can do most of these activities in 1-2 days at a leisurely pace.
But, if you were here for an extended amount of time and wanted to take a day trip to another part of Switzerland this is easy to do!
If you're not driving, Swiss Trains are some of the most efficient in the world and you can easily take a train to the likes of the Oberalp Pass, Brig, Bern, Interlaken, and even Lucerne!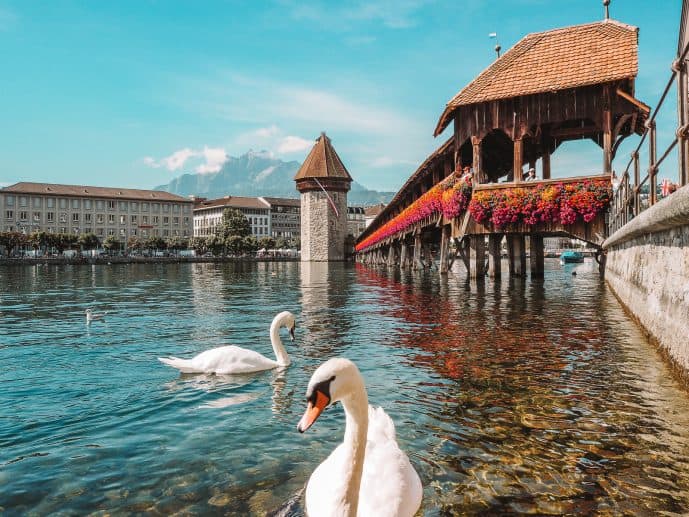 How to get around Zermatt
Zermatt is quite unique in Switzerland due to the fact that it's a car-free village. It's such a lovely escape and makes a great change of pace from busy cities.
If you're driving in Switzerland, you usually have to park at the huge multi-storey car parks in Tasch and then get the train to Zermatt.
Once you arrive, there are electric taxis that can take you around and drop you off at your accommodation.
Personally, I would prioritise accommodation with a pick-up service as dragging cases up steps and hills here can be a challenge!
Many of the big hotels provide free transfers to and from the train station. Or, if it's close you could walk.
After you've settled in, it's very easy to walk around all of these things to do in Zermatt and most of the big attractions can be accessed on foot!
You then access the mountains and see the Matterhorn via funiculars, cog trains, and gondolas/cable cars.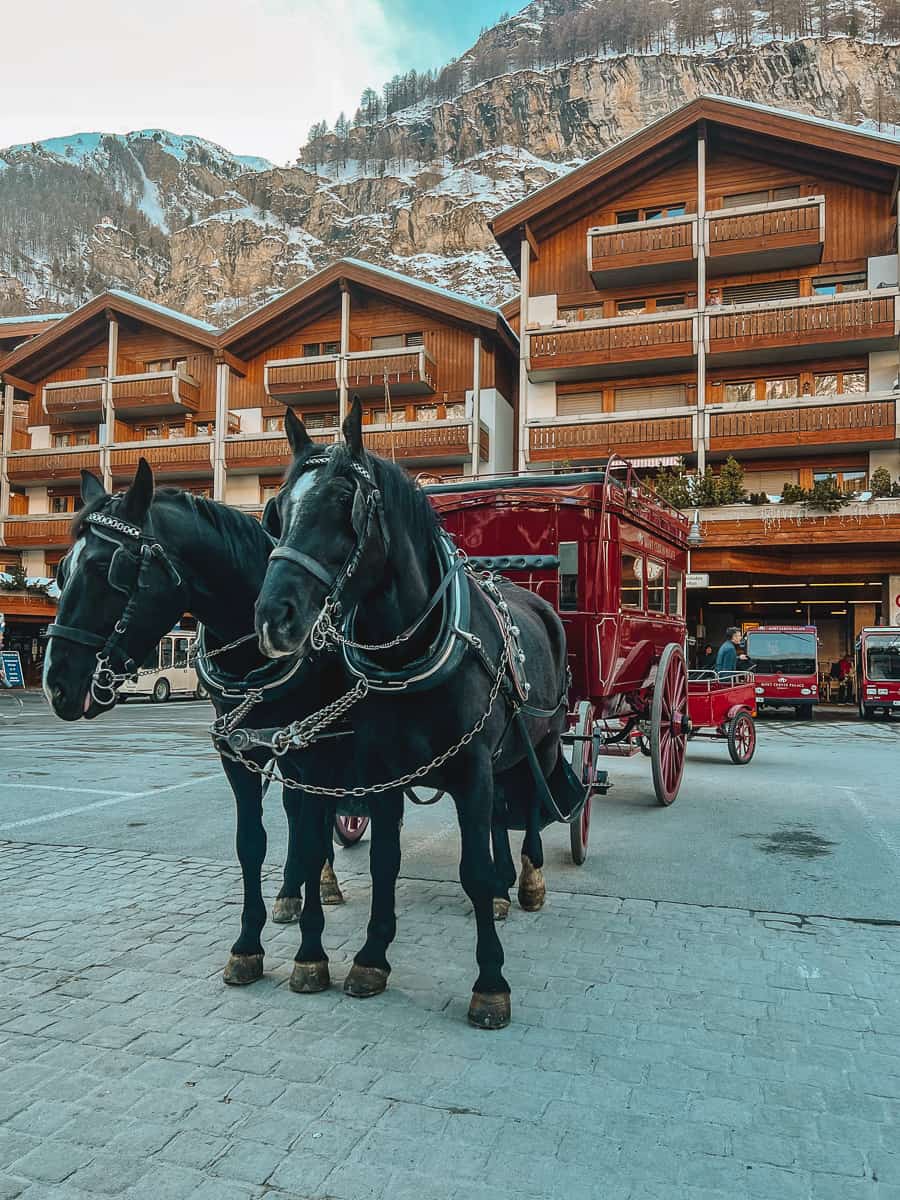 Where to stay in Zermatt
Chalet Hotel Schönegg has one of the best views of the village and Matterhorn in Zermatt and many rooms have a panoramic view of the mountains from their balconies.
There is also an infinity terrace bar, luxury restaurant, and spa & jacuzzi onsite to enjoy.
Although it is located on a hillside, the Chalet Hotel Schonegg has a lift down to a tunnel where you can access attractions like the Sunnegga funicular, the high street, and the Gornegrat cog train in just a few minutes walk.
This is where I stayed and I would highly recommend booking it. It was wonderful and the staff was very friendly.
Click here to book your stay at the Chalet Hotel Schonegg!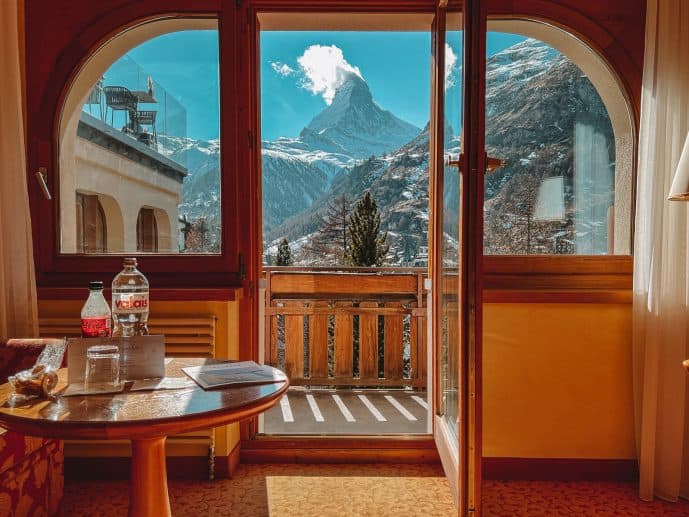 Read more of my Switzerland travel guides
Is Zermatt Velaris from ACOTAR?
B2 Wine Hotel Library in Zurich
Secret Giacometti murals in Zurich
Heading up to Jungfraujoch – Top of Europe
How to see the Matterhorn in Zermatt
Männlichen to Kleine Scheidegg walking guide
The famous Kapellbrücke Bridge
A Sherlock Holmes guide for Meiringen
The best afternoon tea in Interlaken
A 007 guide for Schilthorn Piz Gloria!
Save these things to do in Zermatt for later!