The dramatic Burgh Island is my new favourite place in all of Devon since my visit this month.
A mysterious tidal island sitting off the coast of Bigbury-on-Sea with the amazing Art Deco Burgh Island Hotel perched on top! It's a little gem that has to be experienced while you're here.
As a lifelong Agatha Christie fan, I was visiting purely as a fan to follow in her footsteps.
But, regardless of whether you love the Queen of Crime or not there are plenty of things to do on Burgh Island.
You could spend a half-day walking over the island to discover its secrets or book in for afternoon tea or dinner at the swanky resort too.
Here's my ultimate Burgh Island travel guide with all the amazing things to do there!
Heads up: my visit to Burgh Island was part of a press trip with Visit South Devon. But, I paid for afternoon tea at Burgh Island Hotel myself and would do so again! All opinions and photos are my own.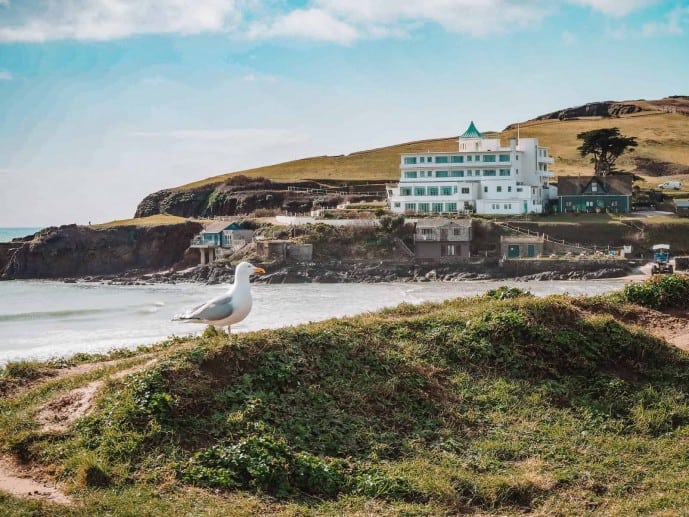 What is Burgh Island in Devon?
Burgh Island, pronounced 'Berg' Island, is a small 26-acre tidal island located in the South Hams area of South Devon. It has long been a haunt to smugglers, fishermen, the infantry, and celebrities alike.
It's located bang slap opposite the small fishing village of Bigbury-on-Sea and you can only access it on foot at low tide.
It has had various owners over time, but now the majority of the island is owned by the Burgh Island Hotel. The hotel is run by Deborah Clark and Tony Orchard and part of the island was bought by "Project Archie".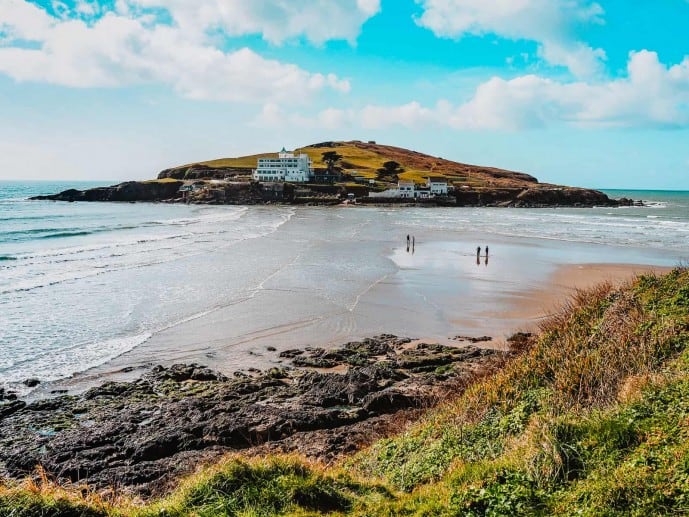 The history of Burgh Island
Ancient times
Although today Burgh Island is known for its famous Art Deco hotel which invited the likes of Agatha Christie and Noel Coward in its heyday. The Island has had a long history way before that.
There are suspicions that the island was a tin trading post in ancient times, based on some archaeological discoveries at the River Erme nearby.
St Michael's Island and the Monastery
Over time, the island has had many names including St Michael's Island and Borough Island too. But, over time this became shortened to Burgh.
There is evidence of a monastery that was set up on the island, but any traces of that are buried beneath where the Burgh Island Hotel now stands.
The Pilchard Inn is dated from 1336 and may have been lodging for the monastery. Which has seen many smugglers and wreckers bring their contraband inside its walls.
There is a ruin of a small chapel on top of the island that was used as a "huers hut" for fishermen during the Pilchard season.
The beginnings of the Burgh Island Hotel
Eventually, the island was bought by George H Chirgwin in the 1890s, who was a music hall star.
He decided to build a secluded wooden house on Burgh Island. It was here he would invite guests for exclusive getaways and parties.
Once he died in 1922, the property was sold to Archibald Nettlefold in 1927.
He was a filmmaker of Nettlefold Studios and he decided to build more of a substantial Art Deco Hotel open for guests.
The Burgh Island Hotel became extremely popular in the 1930s. Welcoming affluent guests and celebrities into its rooms. Including Winston Churchill, Lord Mountbatten, Edward VIII, and Wallis Simpson.
World War II and restoration
During World War II the hotel was used as an RAF recovery centre for wounded pilots and workers. It suffered significant damage during this time and fell into decay.
The Hotel has since been lovingly restored back to its former glory in the 21st century and is seen as a temple to Art Deco. It's a Grade II listed building.
Burgh Island and Agatha Christie
Burgh Island was a popular writers retreat for Agatha Christie and she used to hide away here in the Beach House on the island.
This little hut overlooking the sea was where she wrote two novels 'Evil Under the Sun' and 'And Then There Were None'.
Burgh Island was a huge inspiration for both Soldier Island in 'And Then There Were None 'and the exclusive Jolly Roger Hotel in Devon where Poirot stays in 'Evil Under The Sun'.
Today, Agatha Christie fans can stay in 'Agatha's Beach House' which is a modern beach apartment with views of the bay. It has all the amenities you could wish for and even an outdoor hot tub!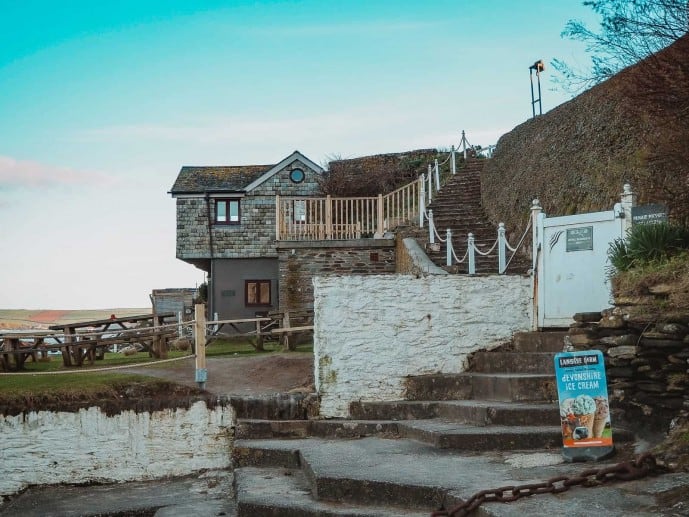 What was filmed on Burgh Island?
There have been plenty of films and TV shows filmed on Burgh Island in Devon including some of the Agatha Christie novels that the island inspired.
'Evil Under The Sun' starring David Suchet as Poirot was filmed here in 2001and there were two Miss Marple's starring Joan Hickson too.
'Nemesis' in 1987 and 'The Mirror Crack'd from Side to Side' in 1992.
Other features include, 'Sheepdog of the Hills' (1941), 'Catch Us If You Can' (1965), 'Lovejoy' (1994), and 'Nightwalk' (2013).
Can you visit Burgh Island and is Burgh Island open to the public?
YES, although the Burgh Island Hotel does have some strict rules for visiting.
Burgh Island itself is completely FREE and open to the public all year round.
There are no restrictions to how long or when you can visit save the tide. Plus, there are many walking paths over the island where you can explore.
On a sunny day, you can enjoy a day lounging at Bigbury-on-Sea beach or enjoy some walks with amazing views of the silver sea and the coast all around you. The choice is yours.
Where is Burgh Island in Devon?
Burgh Island is located in the South Hams coastal area of Devon near the rural village of Bigbury-on-Sea.
It's located down some pretty hair-raising single-track country roads, so I would be careful as you go while driving here.
We actually got stuck for around 20 minutes due to a large lorry blocking the roads!
You'll also be driving down a steep hill to reach the coast. Burgh Island is located around an hour away from Torquay (28 miles), 45 minutes from Dartmouth (20 miles), and 45 minutes from Plymouth (19miles).
How to get to Burgh Island
Driving and Parking for Burgh Island – Bigbury-on-Sea Car Park
You cannot drive over to Burgh Island so the closest place that you can park up is Bigbury-on-Sea. You can put in TQ7 4AZ into your SatNav.
Here is where you'll find most of the public facilities like free public toilets, a seasonal beach shop and the outdoor Venus Café.
Parking charges for Bigbury-on-Sea are quite steep if you plan to stay here for a couple of hours. But, this is Devon and every parking spot has a charge.
The Bigbury-on-Sea parking charges apply from 8 am – 6 pm every day including Sundays and Bank Holidays.
1 hour = £1.50
2 hours = £2.70
3 hours = £4.20
4 hours = £5.50
4 – 24 hours = £12.00
By Bus to Burgh Island
The easiest place to grab a bus to Burgh Island is the Plymouth to Bigbury-on-Sea 'Tally Ho!' service.
The number 875 bus runs directly from the Plymouth Parade to Bigbury-on-Sea and takes around an hour and 20 minutes.
However there is one service a day (!). It runs from Bigbury-on-Sea to Plymouth at 9.30 am and from Plymouth to Bigbury at 1.30 pm.
I would personally try to plan an alternative route back as it seems quite unreliable.
Click here for more details and bus times
Walk over to Burgh Island at low tide on the causeway
Once you've arrived at Bigbury-on-Sea, you can walk over to Burgh Island along the tidal causeway.
Unlike other tidal islands like St Michael's Mount, this causeway isn't paved. It's completely sand. So, I'd make sure you have appropriate walking shoes to make your way over as it will be wet!
You can only walk over to the island at low tide, so make sure you check the tide timings here as these change daily.
If the tide is high when you arrive, there is a quirky sea tractor you can ride for a small fee.
Burgh Island Sea Tractor
If the tide is high, you can catch the sea tractor over to Burgh Island.
It's open to the public, is £2 each way, and has been transporting people over since 1969 (more below)!
Top travel tips for visiting Burgh Island
Burgh Island is a super popular spot in the summer months and can pack out when the weather is fine.
So, here are some of my top travel tips before you visit!
Toilets at Burgh Island
There are some FREE public toilets to use at the car park on Bigbury-on-Sea.
Toilets are for customer use only at the Pilchard Inn on Burgh Island itself. The Burgh Island Hotel is only open to non-residents with a prior afternoon tea or dinner reservation.
So, I'd make sure you use the facilities before you visit.
Burgh Island Tide Times
This is vital if you plan to walk over to the island itself at low tide. Always plan your visit around the tide timings.
We luckily were able to be taken over in the Burgh Island Hotels' 4X4 as we had afternoon tea. Plus, there's always the sea tractor if you arrive at high tide.
Facilities at Burgh Island
There is a pub, The Pilchard Inn, on the island that serves up drinks and food. Plus the Pilchard Inn Café serves up ice creams and drinks in peak season.
There are also numerous walking paths for visitors.
Restaurants on Burgh Island
There are a few restaurants at Burgh Island. The Pilchard Inn which I've mentioned before. Plus, the ones inside The Burgh Island Hotel with prior reservations.
You can eat at their Palm Court for afternoon tea, the Nettlefold Restaurant with the Captain's Cabin. Or, you can book dinner in their Grand Ballroom.
Is Burgh Island dog friendly?
Dogs are allowed on the Burgh Island grounds all year round.
However, they are only allowed from 1st Sep – 31st March on the Bigbury-on-Sea beach.
Dogs are allowed on the smaller beach to the west of the causeway towards Challaborough all year round.
Phone Signal at Burgh Island
Phone service is pretty much non-existent on Burgh Island most phone networks!
Even the Burgh Island Hotel recommends calling them from the Bigbury Golf Club on the peak of the hill before you arrive for a pickup.
There was one small area in the car park that had phone service but it's temperamental and quite weak!
Is Burgh Island Hotel open to non-residents?
YES, but only if you have a reservation for afternoon tea or for lunch & dinner in their restaurants.
My Mum and I weren't residents but we enjoyed a lovely afternoon tea here in their Palm Court.
I would recommend booking before you arrive on the day so they can expect you.
10 amazing things to do on Burgh Island
If you're wondering whether a visit to Burgh Island is worth it, I would 100% say YES!
There are plenty of things to do on Burgh Island and around Bigbury-on-Sea that make it an amazing day out. Here's a list to inspire you.
1. Take in the views of Burgh Island from Bigbury-on-Sea
The best views of the island, in my humble, opinion is from the clifftop car park at Bigbury-on-Sea!
As soon as you arrive you will get majestic views of this tidal island and get an idea of just how wild it is on the South Hams coastline.
This is where people usually gather waiting for the tide to clear along the causeway, so you can wait in your car or grab a hot drink from the Venus Café that sits here.
They have a great menu of drinks and locally produced sandwiches and hot meals to enjoy. Plus, they sell Devonshire ice creams too.
There is a small viewpoint area at the top car park with benches and a sign explaining more about Burgh Island.
I loved sitting here just gazing at the island over the sea and seeing the silver cliffs in the distance too!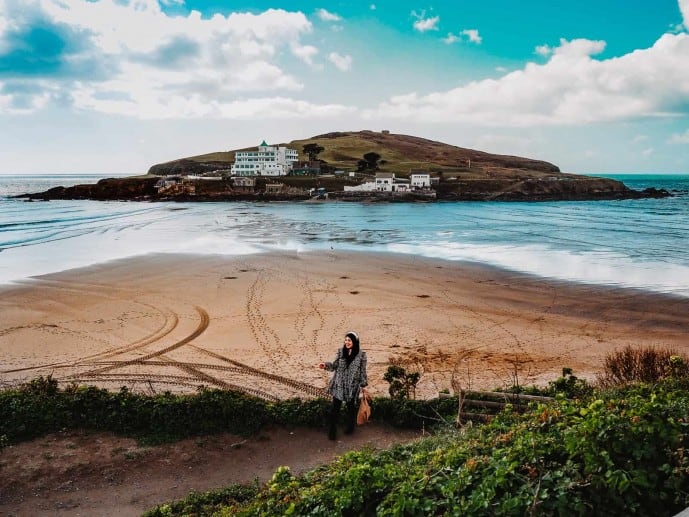 2. Walk over to Burgh Island at low tide from Bigbury-on-Sea beach
Even before the tide has cleared, you'll see people walking and gathering on the beach patiently waiting for the waves to part.
It's a popular spot with hikers taking in the South West Coastal Path, dog walkers, and even with people metal detectors digging for treasure!
There isn't a cobbled pave way or anything like that on Bigbury beach, it's just a sand causeway. So, be careful as you step and wear good waterproof shoes.
As the sea tractor wasn't working when we arrived we went on their amazing 4×4 over the sand to reach the Burgh Island Hotel.
The landscape was amazing as we passed and it did look like a lot of fun to hike over.
3. Or, take the Burgh Island Sea Tractor – the only hydraulic tractor in the world!
The traditional and most popular way to make your way over to Burgh Island is to take the Burgh Island Sea Tractor.
It's a third-generation hydraulic Sea Tractor and it's the only one running in the world!
According to the hotel, although you'll want to scream with delight, you're not supposed to show it! In true stiff upper lip style.
It's quite high up when you climb the steps and it will take you straight over the sea to the hotel.
The Burgh Island Sea Tractor was on limited service when we arrived. So, unfortunately, we couldn't go over in it!
But, it gives me another reason to go back. Burgh Island Sea Tractor tickets are £2 each way and is open to members of the public.
4. Have lunch in the Pilchard Inn, a smuggler's haven
The Pilchard Inn has stood on Burgh Island since the 14th century and is classed as one of the oldest pubs that is still licensed in the country.
Originally, this used to serve the local fisherman in the area who were out to get their catch. Also, it has seen many smugglers, bootleggers, and shipwreckers in its time hiding contraband here.
Devon has a long history of wrecking, where locals used to entice ships onto the rocky shore and profit from the wreck.
A famous seafaring smuggler operating from the island was Tom Crocker. He had a tunnel that ran from the Pilchard Inn to a cave on the island's western shore.
It was here he could shift his contraband away from the customs officers. One day they caught Tom Crocker and, shot him on the porch of the inn.
Although his tunnel has now been bricked up, the ghost of Tom Crocker still supposedly haunts the island til this very day.
Today, the Pilchard Inn is owned by the Burgh Island Hotel and serves many locals and tourists alike.
It's open to the public and you can treat yourself here to a local ale or some lunch or dinner from their traditional menu.
Their signature crab baguettes are always a favourite and you can see their lunch menu here!
5. Take a walk around Burgh Island and take in the views
Burgh Island is really popular with walkers and you can head around the island on its many walking paths. It is recommended that you stick to the signed walking routes and don't steer too far off.
It's a small island and you don't want to get too close to the edge of the cliff.
The walking paths will take you on a quick loop around the island where you will walk past the Burgh Island Hotel. Then the hotel tennis courts, the shipyard and you can head straight up to the top of the hill to the "Huers" Hut.
It's a short walk but Burgh Island really does have 360 panoramic views to enjoy where you can see Bigbury-on-Sea and the South Hams coast.
6. Pay a visit to the Burgh Island "Huer Hut" at the top of the hill
The small building located at the top of the hill used to be the remains of a small chapel after the monastery had been built.
It was called St Michael's Chapel bit in 1411 and formed part of the monastery. But, later once it was abandoned, it was used as a "Huers" hut for the local fisherman.
During Pilchard season the fisherman, called a huer, would look and call out when they saw the arrival of the pilchard shoals.
Once he had spotted them he would tell the town or village of their arrival so that the fishermen could go out and catch them!
The Huer would cry out 'Hevva, Hevva!' or 'Here they are!'.
Today, the remains of the building are nothing more than an empty ruin. But, inside there are some amazing windows where you can peak out at the views beyond!
Inside, there is a small sign about the history of Burgh Island and the uses for this hut.
7. Take a tour around the Burgh Island Hotel
I have been wanting to stay in the Burgh Island Hotel for years now and it has been a small dream of mine to look inside the hotel.
Although in the past they have been very strict about non-residents visiting, you are allowed to go inside if you have an afternoon tea or dinner reservation!
So, finding my change I booked my Mum and I in for one of their afternoon teas in the Palm Court.
The staff are very welcoming here and you are free to have a nose around their terrace and some of the dining halls when they are not in use.
Here, you can see some fabulous pictures of what the Burgh Island Hotel used to look like, old vintage holiday advertisements for 'Devon's little Bermuda', and some amazing Art Deco architecture and decor too!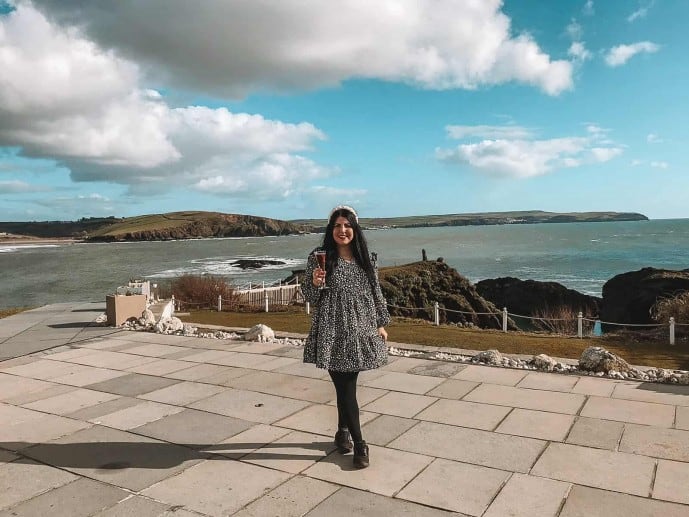 8. Take afternoon tea in the Burgh Island Hotel Palm Court
It was my birthday on my visit to Devon and Burgh Island so we decided to treat ourselves to one of the signature afternoon teas at the hotel.
As soon as we arrived, we were relieved of our coats and guided inside the magnificent Palm Court.
It's a lovely Art Deco room, overlooking the sea and has a fantastic peacock dome that lets natural light inside!
My Mum and I had a table right by the ocean so we could look out over at the cliffs and coast and we sipped champagne whilst listening to Swing and Jazz.
Our vintage 1920s afternoon tea came with dainty finger sandwiches, tasty sweet treats, and scones with cream and jam! Plus, bottomless loose leaf tea.
It was an absolute dream come true and I couldn't have asked for a better birthday celebration. Click here to read all about my experience in my afternoon tea review!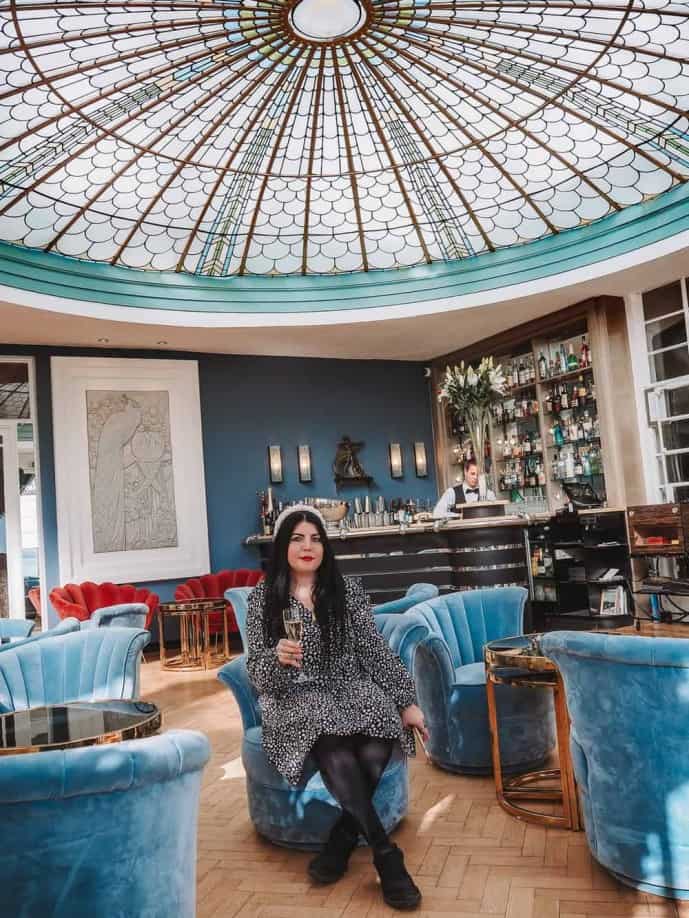 9. Visit the secret Burgh Island Mermaid Pool
The Burgh Island Mermaid pool is a famous private cove that is part of the craggy island. It was bordered up with a sluice gate during World War II while the island was used as an RAF recovery area.
It's a natural bathing pool filled with seawater so you may find that you get a bit nippy in the winter months! So, always check with the staff about going in.
Unfortunately, the mermaid pool is only open to residents of the Burgh Island Hotel at this time. It's a secluded area so you'll have maximum privacy.
Our host said he rarely sees more than 10 people down there – so it's like having your own private beach! Perfect in summer.
10. Follow in the footsteps of Agatha Christie at Burgh Island
Agatha Christie used to hide away here on Burgh Island to read her novels and would rent the small beach hut on the cliff face overlooking the sea.
She would often have tea or dinner in the hotel in the evenings. Rubbing shoulders with famous politicians like Winston Churchill, celebrities like Noel Coward, and even royalty who walked through the doors.
Today, you can admire the beach hut where she used to write her books and even stay there yourself.
Unlike the hotel, this beach suite is full of modern amenities and has its own kitchen, lounge, bedroom, outdoor decking, and a hot tub to relax in!
Where to stay on and near Burgh Island
Of course, there really is one place to stay on Burgh Island and that's the fabulous Burgh Island Hotel!
Inside it has 27 rooms and suites that are all unique with different themes and colour schemes.
I had the pleasure of taking a sneak peek of one of their signature rooms, the Noel Coward suite that is on the top floor.
Inside was a bedroom, bathroom, and living room all overlooking the coast and Bigbury-on-Sea!
It is honestly my dream to stay here and one day I will return to stay the night.
More things to do around South Hams and South Devon
While you're here around Bigbury-on-Sea, there are so many places that you can explore around the area. You're right in the heart of an Area of Outstanding Natural Beauty.
From secret coves and beaches, harbourside towns, and even stately manor homes. Devon is full of incredible places to explore.
Beaches to visit near Burgh Island
Of course, Bigbury beach is a great place to spend the afternoon. But, there are some more sandy beaches nearby if you were thinking of relaxing for a while.
Challaborough Beach – a small sheltered horseshoe cove bay to the west of Bigbury. It's a great place to relax on the sandy shore or try your luck at surfing with the rough waves.
Bantham Beach – This beach is large, calm, and clean winning a blue flag award! It's a great beach for kids and has lots of facilities nearby.
Torquay
Torquay is the birthplace of Agatha Christie and also is a lovely scenic harbour town by the sea.
You can spend hours exploring this popular Victorian seaside resort with its iconic swaying palm trees.
Take a stroll along Princess Pier, or enjoy relaxing in the Princess Gardens. Head over to Meadfoot bay or learn about its pre-historic history in the Torquay Museum.
If you're an Agatha Christie fan there are lots to do here that is Queen of Crime related and you can even head out on the mystery mile.
This was made in honour of her and takes you from the Imperial Hotel to the Grand Hotel.
On the way, you'll get to see some of the main sights of Torquay, visit her commemorative bust, and visit places like Torre Abbey with their potent plants garden!
Don't miss a visit to Kent's Cavern while you're here too. These caves were formed over 2 million years ago and existed in the time of Wooly Mammoths and Sabre-Tooth tigers!
Inside you can take a tour of the caves and see bone fragments recovered from pre-historic humans 44,000 years ago. Mind-blowing.
Click here to read my complete guide on the Agatha Christie Mystery Mile!
Cockington Village
A mere half-mile from Torquay into the countryside will take you to the tiny Cockington village.
You'll feel like you have been transported back in time to a world of thatched cottages, Lutyens-style buildings, old manor homes, and waterwheels.
Some of the buildings, like the Old Forge, were mentioned in the Doomsday books – so, you definitely need to schedule a visit.
Cockington Court is also part of the Agatha Christie trail and is where she used to visit her friends, the Mallock family. They used to own it in her time and here she would take part in amateur dramatics.
Today, the court area is a fun day out for all the family with lots to do. Play parks, craft studios, a farm, beautiful gardens, and the country park too.
Click here to read my complete guide to Cockington Village!
Babbacombe
Babbacombe is a lovely historic area near Torquay with lots of museums and cliffside beaches to explore.
I loved taking their cliff railway there down to Oddicombe Beach!
This historic funicular is run by a charitable trust and has been taking people up and down the Babbacombe cliffs since 1926.
The colour of the beach here is red sand and you'll see some amazing views of the coast and sea.
We actually stayed near Babbacombe Bay at the Cary Arms & Spa on our visit. Our beach suite was right on the bay and had the most magical views.
Click here to read my complete guide for the Babbacombe Cliff Railway
Dartmouth, Brixham & Greenway
Dartmouth and Brixham are some of my favourite harbour towns in Devon. There is something so quaint about them.
Brixham, with its colourful houses that fall into the sea, is a historic fishing town.
Although it is effortless picturesque today, it used to be a haven for pirates and smugglers!
You can even climb on board a replica of the Golden Hinde. You can get lost in the fish markets, visit the old lighthouse, take a boat ride out or just admire the views!
Dartmouth is another gorgeous fishing town a few miles from Brixham that sits on the River Dart. Boasting a castle and the famous Bayard's Cove Fort, there is plenty to do here.
We stayed in the incredible Bayard's Cove Inn, which has amazing views of the bay and a popular award-winning restaurant.
In Dartmouth, you can spend a day wandering around the harbour town, catch the ferry to Kingswear, visit one of the many museums or go shopping in the independent boutiques.
A popular stop from Dartmouth is to head over to Greenway, a summer home owned by Agatha Christie!
You can take the steam train, the ferry, drive or walk over and it's an amazing day out even if you're not a fan of the crime writer herself.
Click here to read my complete guide for Greenway House!
Totnes
Although I only spent a short amount of time one evening in this picturesque place, I am already plotting to return.
Totnes is a historic market town in Devon and has amazing independent shops and restaurants all around it.
I would personally recommend a visit to Ben's Wine & Tapas on Fore Street.
The Watson family also owns many organic Ben's farm shops around Devon. So, the food is all organic and fresh from Riverford Farm.
Some highlights of a visit to Totnes would be a peek at their historic clock tower and to take a walk up to Totnes Castle. An old Normal fort.
A countryside retreat near Totnes is the amazing Dartington Hall estate which dates back to the 14th century!
As well as having rooms to stay the night, the whole estate is filled with amazing things to do.
You can visit their historic deer park and estate, wander around the historic gardens, take part in an art class or visit their Barn Cinema!
Click here to read my complete hotel review of Dartington Hall
Read more of my Devon travel guides
The House That Moved in Exeter
Harry Potter locations in Exeter
Is this Exeter's Diagon Alley?
Walking down the Narrowest Street in Britain!
How to visit Wistman's Wood on Dartmoor
How to visit Lydford Gorge & White Lady Waterfall in Dartmoor
How to visit Brentor Church in Dartmoor
Woolacombe Bay Holiday Parks Review
Magical Valley of the Rocks Devon guide
Like it? Pin it!