The Holy Island of Lindisfarne is hands down one of my all-time favourite places in the North of England.
There is nothing quite like driving over to this magical tidal island for a day out.
It's almost a hidden secret, with a long history of Celts, Vikings, and Scots and something you must-do if you find yourself in Northumberland.
But what is there to do on Holy Island, exactly?
Well, there is so much you may be spoiled for choice. You can visit fairytale castles, ancient ruined monasteries, Viking museums, boutique shops, delicious cafés and enjoy panoramic views to boot.
Just make sure you're not distracted and miss the tide times though. It's really easy to get stuck!
Here is my complete guide and the most magical things to do on Holy Island in 2023 (Lindisfarne).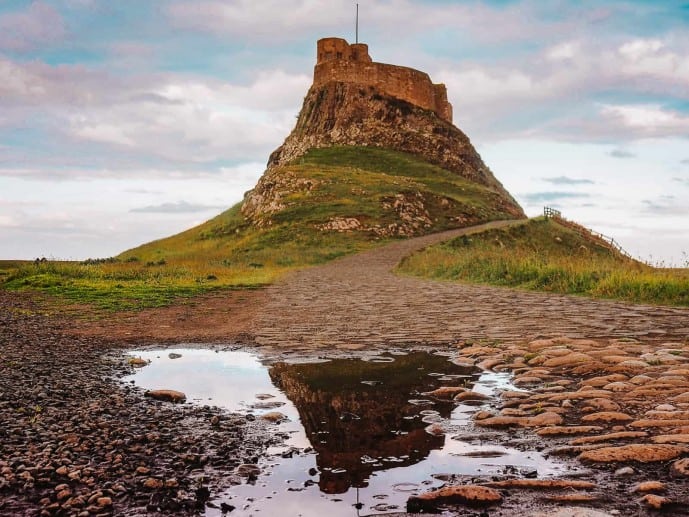 The history of Holy Island (Lindisfarne)
So, what makes the Holy Island of Lindisfarne so special? Well, there has been a history recorded on Holy Island since the 6th century back to the times of King Ida!
In 634, St Aidan crossed over to the island and founded the Lindisfarne Monastery here. The monastery then became the seat of Celtic Christianity in the Kingdom of Northumbria.
Another notable Christian who has a connection with Lindisfarne is St Cuthbert who arrived on the island in 685.
He is mentioned in one of the oldest existing pieces of English writing and you can visit his part of the island today (funny story, I'll explain later on)!
The most important thing that Lindisfarne is known for is that it's the first place the Vikings invaded England in 793. This catastrophic event is said to have started the 'Viking Age'.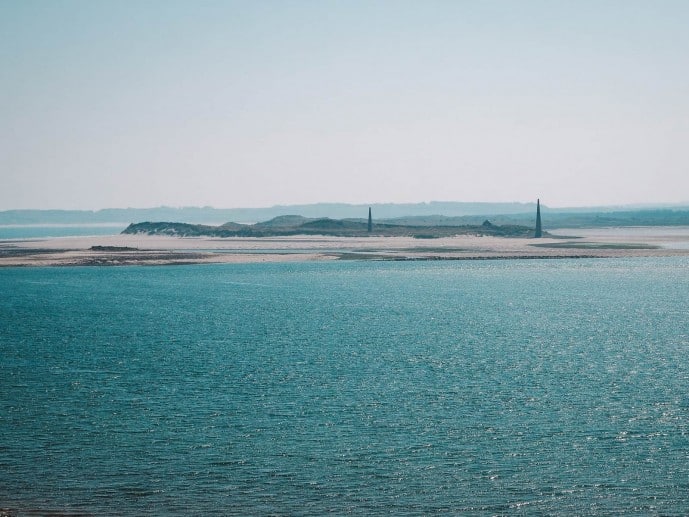 They landed on the shore and raided the monastery, killing many of the monks and stealing precious artifacts inside!
After that, the Lindisfarne Priory was established in the Norman Era but dissolved with Henry VIII.
Then, the Lindisfarne Castle was built in 1550. This was to protect England from a Scottish Invasion and was commissioned by both Henry VIII and Elizabeth I!
How to get to Holy Island in Northumberland
The Holy Island of Lindisfarne is a tidal island off the coast of Northumberland. It can only be accessed at low tide.
Once the waves depart, the ocean will reveal the Holy Island Causeway!
In Britain, I don't think one summer goes by without us hearing about a car, or camper van that has been stuck or swept away by the high tide.
It can happen to anyone. So, please, PLEASE, read the tide timings before you go and don't take any unnecessary risks!
Holy Island crossing and tide times
When planning a journey over to Holy Island you must check the tide timings first.
The low tide happens every day, twice a day and the times vary massively every day too. So, always make sure you check the official times before your visit.
It's really easy to lose track of the time when you're on Holy Island, as it's just so good!
I'm pretty sure that they move the tide timings around 30 minutes before high tide to give people enough time to leave. But, I wouldn't leave it too late as the tide comes in quicker than you think.
Click here to see the tide timings for Holy Island!
What to expect crossing the Holy Island causeway
Although the ocean reveals a mystical causeway at low tide as if by magic, it really isn't as magical as all that. It's essentially just a tarmac road that anyone can drive over.
But, driving over to this island is an experience like no other. The views of the coastline and the isolation of the place add to the mystery.
However, you should know what to expect before you go. So, here are some pointers;
It's completely free to cross the causeway, there is no toll, you're just restricted by tide times
Most of the causeway is a two-way road, but parts of it go into a single track. So, you may need to take turns in cars passing. This causes a bit of a queue.
The speed limit is national (60 mph) on the causeway but many drive slow to enjoy the views. To play it safe go around 30 mph.
You are permitted to stop and take photos along the causeway. Just make sure you pull over on a solid tarmac lay-by rather than soft sand. Or, you may find your car stuck!
You'll find there may be traffic when everyone is trying to get off Holy Island around Beal etc. So, don't leave it too late to leave.
Crossing Holy Island FAQs
What time is low tide on Holy Island? This is different every day and happens twice per day. Always check the tide timings before you go. If you lose phone service, many attractions around the area will have the tide times written down and the island has many times to check too!
How long does it take to cross the Holy Island Causeway? From Beal, the whole road and causeway is around 2/3 miles and is National Speed Limit (60 mph). But, most tourists drive slow to enjoy the view (much to the dislike of locals). So, depending on traffic, you could be over to Holy Island in around 5-15 minutes!
Are there buses that run to Holy Island? There is a new HOPPA minibus that runs from Berwick-upon-Tweed train station to Holy island. Times change with the tide. Click here for details.
Is there a Holy Island ferry? No, well not for tourists anyway! Most people visit at low tide so the water would be too low.
Cycling to Holy Island – There is special cycling route to cross over to Holy Island alongside the Causeway.
Can you walk over to Holy Island? YES! Many people walk over as part of St Cuthbert's Way. The pilgrim's route is 3 miles and is marked by poles. Years ago, it was the only way to access the island. But, is not recommended without a local guide. It takes a few hours so make sure you factor tide times into your walk to avoid getting stuck!
Holy Island Parking options
Holy Island sees as many as 650,000 tourists visit every year. So, where do all of these cars park on this tiny island?!
There are plenty of parking options available during the day.
There is a HUGE car park with plenty of spaces just before you enter the village from the causeway. This is preferred as it stops congestion helping to protect the village. The parking charges are £3.50 for 3 hours and £5.50 for 24 hours.
There is another car park in the village itself for buses and coaches with limited numbers of blue badge parking. There is also 24 hour public toilet/bathroom facilities too should you get stuck.
11+ amazing things to do on Holy Island
So, once you're here safely, what is there to do on Holy Island exactly?!
There is SO much that you can do on this gorgeous little island, you'll be spoiled for choice. Some are completely free and others have a small cost.
So, whatever your budget it makes a great day out for everyone.
You can wander along the many beaches, visit the historical sites, go shopping, take a hike, stop for a coffee and drink some delicious mead. Or, simply take in the beautiful views all around you!
Here are the top things to do on Holy Island;
1. Visit Lindisfarne Priory and learn the history in the museum
I think your journey on Lindisfarne should begin with a little background of the island and its heritage.
So, I would highly recommend that you visit the Lindisfarne Priory & Museum run by English Heritage first.
It's one of the top things to do on Holy Island. Your ticket will give you access to the museum and the ruins of the priory itself. One doesn't really make sense without the other.
Inside the museum, you can learn about the violent and bloody Viking raids, the cult of St Cuthbert and see many artifacts recovered over time.
Once you're done in the museum you can make your way over to the Lindisfarne Priory and explore the ruins created over 1,400 years ago! This is my favourite part.
It's amazing that what remains has survived over the centuries, through the many invasions and even the Dissolution of the Monasteries by Henry VIII.
On my visit, it was a rare and gorgeously sunny day, so I enjoyed taking a rest in their garden within the priory.
Here, you can also find some statues and monuments.
Opening times for Lindisfarne Priory are 10 am – 4pm. It may be closed on certain days. Check here for the latest prices and times.
2. Discover the interesting Lindisfarne boat sheds on the harbour
One of the most interesting things I think to see on Holy Island is the iconic Lindisfarne boat sheds that sit on the coast.
These sheds are made from recycled boats that have been turned upside down and now act like storage houses.
This is a tradition that has been around for over a century due to the fact the fishermen thought it bad luck to send a boat to the junkyard!
Although many have been destroyed by fires over the years, more and more crop up once a boat has gone out of service to recycle them – such a cool idea!
You can find these in different colours along the seafront near the Lifeboat House.
Even Lindisfarne Castle owned by the National Trust has used the design to create a locker room next to their ticket office.
It's now part of the heritage here and draws in many photographers each year.
3. Visit the iconic Lindisfarne Castle
Like the priory, Lindisfarne Castle is another one of the top things to do on Holy Island.
I've briefly touched upon the history of Lindisfarne Castle before but I think it's so interesting that the castle is so new compared to others in the country.
I mean, I say 'new', but we do have a history spanning back more than two millennia here in Britain!
It was first developed as a defense fortress in 1550 by Henry VIII to protect the country from a Scottish Invasion.
After his death Queen Elizabeth I founded the fortress. But, once she died, the two countries became united so there was no use for it.
The castle we see today, however, was renovated by a man named Sir Edwin Lutyens.
He visited the castle with Edward Hudson, the owner of Country Life magazine, who owned the castle.
They both worked together to create a new castle in an Arts and Crafts style in 1901. So, really it's only just over a hundred years old.
Although rather plain inside, it is still worth a visit to learn about the history of the island and the many uses of the fort. Also, the views you can get from the top are spectacular!
This castle is around a miles walk from the main car park and has steep cobbled roads to access.
Lindisfarne Castle is owned by the National Trust and is FREE for National Trust members. Check for up-to-date opening times and prices.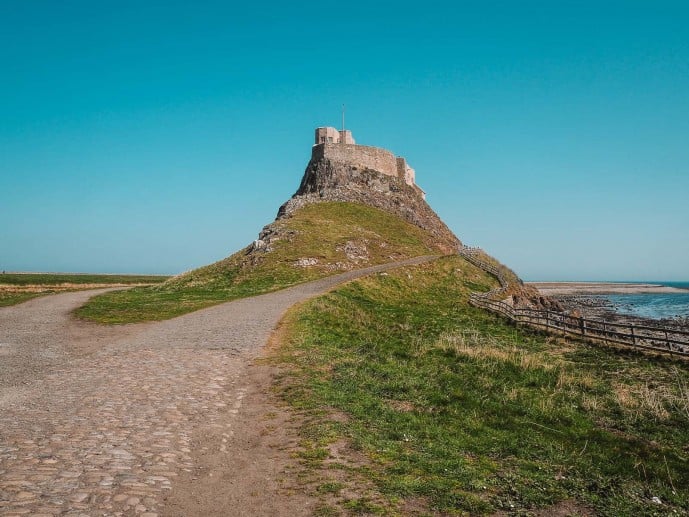 4. Cross over to St Cuthbert's Island (Hobthrush Island)
If you've learned anything about St Cuthbert in the museum, you'll know he was a pious man with a will not easily crossed.
Once he retired from the monastery, he decided to live his life as a Hermit to contemplate life off the coast of Holy Island.
This island was Hobthrush Island, later nicknamed Cuthbert's Island, and he made his way over there to live out his days.
However, he soon found out that he was too close to Holy Island and the monks could still shout over to him.
So, he then moved to the Inner Farne Islands in a cell to isolate himself even more. He didn't receive visitors and only gave blessings through his window to those who made a voyage to visit him.
Bit rude but, you know, this is Cuthbert we're talking about.
There are a small cross and rocky grave to commemorate St Cuthbert on the island but his remains are in Durham Cathedral.
You can walk over to St Cuthbert's Island yourself that is accessible at low tide off the island. The path can be found at the back of St Mary's Church.
The views from here looking back at the island are breathtaking. It is a bit rocky in parts and lots of the rocks are jagged.
There's also lots of slimy seaweed and seawater in between the rocks, so take care and make sure you have good shoes on!
5. Take a walk up to the Lookout Tower
Another fabulous view you can get of Holy Island, the Lindisfarne Priory, and Lindisfarne Castle is from The Lookout Tower.
This used to be a Lookout Tower for the coastguards built over 70 years ago on the island but has since retired.
Now it has been transformed into a FREE viewpoint that gives you incredible 360-degree panoramic views of the whole island.
It is a rather steep climb up to the top from the back way, but if you head over to it from the harbourside view it's a bit easier.
Other views on Holy Island
There are plenty of other viewpoints including this one you may wish to check out while you're here.
All of them provide unique views of the wetlands, castle, rocky cliffs, and beyond.
Window on Wild Lindisfarne – a visitor information point where you can learn about the wildlife and the wetlands here built-in 2012. They have a huge glass window to watch wildlife and the staff will be more than happy to answer questions.
The Harbourside – My favourite views of the Castle can be found at the Harbourside point. From here, you get fab views of the ocean and there's even benches to enjoy it! Great lunch spot if you've brought sandwiches.
Castle Point – After your visit to the castle, make your way over passed that to Castle Point. Here you can get amazing view of the Farne Islands!
6.
Sample some FREE Lindisfarne Mead in St. Aidan's Winery

No visit to Holy Island is complete without a visit to St Aidan's Winery.

Here you can try some FREE samples of the famous Lindisfarne Mead made on the island.

Mead is one of the oldest drinks in the whole world, often used as an aphrodisiac, with its origins starting in China.

It's a fortified honey wine that has been exclusively made on Holy Island since the medieval era.

It was believed that if the soul was in God's keeping, the body must be fortified with Lindisfarne mead. Not a bad rule to keep!
The current St Aidan's Winery was founded in 1962 and makes amazing flavours of the original recipe. You can try the original, the darker spicier version and there's even pink mead too!
It's often nicknamed the Nectar of the Gods, so sampling some here is a must.
You can also buy some bottles in their shop to take home and some traditional drinking horns – made by the same team as Game of Thrones.
Click here to read my complete guide for visiting the winery! St Aidan's Winery is open for FREE samples and a brief explanation of the drink daily.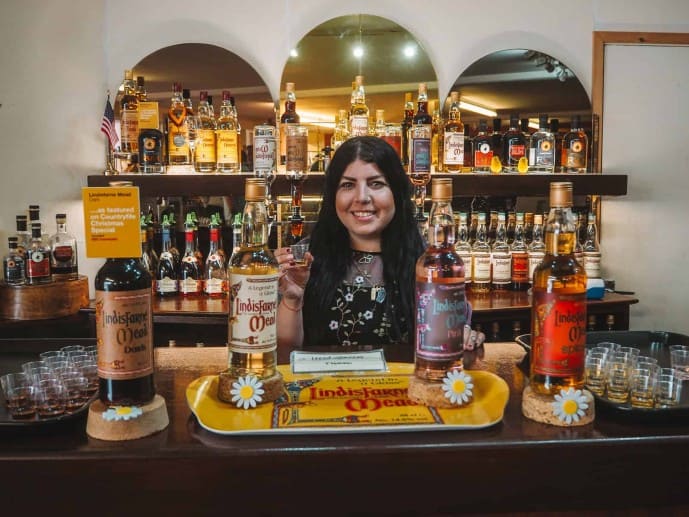 7. Have a break at Pilgrim's Coffee House & Roastery
I've been visiting the island since I was a kid and before there weren't many restaurants or cafés to choose from. What I love is the fact that now there are so many different options.
Pilgrim's Coffee House is a relatively new café, built in 2006 on the island.
It's a little hidden away so you will have to look for it. But, inside they serve up tasty flat whites, lattes, iced coffees you name it.
Along with their great selection of drinks, they also have tasty homemade sandwiches, snacks, and even homemade cakes and vegan options too!
I had one of their crab sandwiches that was delicious and went for one of their vegan lemon cheesecakes. Honestly, I couldn't believe it tasted so similar to the real thing.
I would highly recommend visiting while you're here, there is indoor and outdoor seating. But, just be prepared for long queues throughout the day and on weekends.
Click here to read more about Pilgrim's Coffee House!
8. Explore the many Holy Island shops & art galleries
Although it is a small island, there are still plenty of places if you wanted to get your shopping fix.
The great thing about it is that some of these are individual businesses from people who live on the island, so you're supporting local too.
There is the Celtic Crafts store that sells a range of crafts and jewellery. Or, visit the Lindisfarne Scriptorium an art gallery on the same street as Marylane.
There is also a shop in the Lindisfarne Priory that sells books and Viking souvenirs too that is worth checking out. Or, check out the National Trust Shop for even more Lindisfarne souvenirs.
9. Pop inside St Mary's Church
St Mary's Church or its full name, The Parish Church of Saint Mary the Virgin, is a small temple right next to the Lindisfarne Priory on Fiddlers Green.
Although everyone flocks to see the famous ruin of Lindisfarne Priory, St Mary's Church also is just as old and has oodles of history too.
The first St Mary's Church, made of wood, would have stood here in St Cuthbert's time, when he was a bishop, in 700AD.
This would have also been around the time that the Vikings invaded and when the Lindisfarne Gospels were being made too!
By the 9th century, the continuous raids caused the monks to flee. Taking all the precious relics and St Cuthbert's bones with them!
Then, in the Norman era, a new church was built nearby. St Mary's church had significant improvements made and it was rebuilt in stone 1200s. It hasn't changed much since then.
Even during the Dissolution of the Monasteries, it carried on as a Parish Church. On the grounds, you can see the famous Petting Stone outside which would have bore a cross years ago.
It is well worth popping your head inside for a quick look too.
Amongst the gorgeous stained glass windows and nave, you can see "The Journey" an Elm tree statue created by Fenwick Lawson.
It represents the monks leaving Lindisfarne all those years ago with the remains of St Cuthbert.
10.
Admire The Lindisfarne Castle Gertrude Jekyll Garden

Gertrude Jekyll is a famous name in the horticultural world. She was born in 1843 and excelled at many things including sewing, art, photography, and writing.

But, she was especially good at planning gardens! Her work took her abroad to France and even the USA.

She wrote many articles for Country Life Magazine and had green fingers planning over 400 gardens throughout Britain. One of these was on Holy Island.

Jekyll created this colourful Arts and Crafts garden alongside Sir Edwin Lutyens in 1911.

There are blooms to look at throughout the year but the best time for the most colour is in July and August.

You can find all sorts of flowers such as hollyhocks, chrysanthemums, and different types of Sweet Pea. It's well worth a visit.

There is another garden that you can visit here too called the Gospels Garden.

A quiet space that's perfect to bring a good book. Here you can find manicured gardens with crosses and statues too.
11. Visit the Lindisfarne Heritage Centre Museum
Although it doesn't look like anything particularly special on the outside, the Heritage centre museum is well worth popping into.
It acts as a Visitor Centre for the Island, has a small shop with locally made edible treats, and a series of small exhibitions.
You can learn about the flora and fauna on the island, the Viking raids, and the Lindisfarne Gospels. They're considered a masterpiece of medieval art and were made right here on the island.
Unfortunately, the originals are held in the British Library but you can see copies of the books and how they were made in the Heritage Centre.
The exhibits also explain some of the stories that were written which bring them to life!
If you're really into your history, then how about checking out The Old Lifeboat House? This historic boathouse on the harbour was the beginning of many lifeboat rescues since the 1820s.
It's now been restored into a small museum with exhibits on saving lives at sea.
Here you can also learn the famous story of Grace Darling, the daughter of a lighthouse keeper on the Farne Islands, who saved 94 lives.
Top Travel tips for visiting Holy Island
Bring appropriate clothing – even on a really sunny day in Northumberland, it could still be quite chilly with the breeze as it's an island. Bring a jacket just in case. Also, as it's the North of England rain is common and can come over all of a sudden. So bring a brolly!
Wear good shoes – although most of the island is relatively flat, there are some parts like the Lookout Tower, The Lindisfarne Castle, the cobbled paths and grasslands around the island that are not even. Also, some places like St Cuthbert's Island can be wet. So, bring good footwear.
Don't lose track of time – Holy Island is amazing. But, you can easily get distracted by the tide times! Don't miss your crossing if you're stuck for time. If you do happen to miss the low tide. Not to worry, there will be a second low tide later on in the evening. Make the most of it and enjoy the island or dinner. FYI – there are free toilets to use, open 24 hours, in the car park.
Second tide time is better – Although everything will be open during the day with the first low tide. I actually preferred going over for the second low tide in the evening. In June, it didn't get dark until 11 pm so it was like a ghost town walking around! Perfect if you want to escape the crowds. There will be pubs open for dinner until around 8pm.
Cash is king – although many people take cards, bring cash with you just in case!
While you're thinking about it, remember to get travel insurance! I always go with World Nomad's for their reliable policies
Places to eat on Holy Island
Eating on Lindisfarne Island is always a little bit of a hassle, especially on busy days if you're not prepared.
Most of the restaurants are packed up due to the limited choice on the island and stop serving around 2pm.
About 15 years ago on my first visit to Holy Island, there weren't as many options as there are now. We weren't prepared and we basically couldn't find anywhere to eat!
Eventually, we saw a cute little old lady selling prawn sandwiches! A bit of luck, but not guaranteed.
Despite there being more options nowadays, it can still pack out. So, if you wanted a pub lunch or afternoon tea, make sure you arrive early or if possible make a reservation;
1st Class Food / Post Office Café – This café, shop and takeaway has been running for over 21 years! You can buy stamps to send a letter home, books to read about the island, have tea and a cake, or treat yourself to a crab sandwich.

There's lots to do here and opens at 9am. Vegan options available. Read more.
The Ship Inn – this highly recommended restaurant starts serving lunch around 11.30am, so make sure you head in and grab a table so you don't miss out! They serve up a wholesome range of classic pub grub with local beers on tap. click here to see a menu.
Is there a food shop on Holy Island? If you're looking to buy some food to takeaway on Holy Island, The Island Store is a local supermarket. It sells packaged sandwiches, drinks and the usual food that you can find in a supermarket. Perfect if you just want lunch on the go!
Holy Island Accommodation
If you ever wondered if you could stay on the island itself, the answer is YES!
There are plenty of options available from a hotel, to a room at the inn and your typical cosy Northumberland B&B's too.
These can't be found on Booking.com, so make sure you book directly. Here are a few options below;
Belvue Guesthouse – a brand new property for 2019, so brand new rooms and facilities!
Lindisfarne Hotel – the original hotel on Holy Island, not cheap but comes highly recommended
The Ship Inn – modest rooms above a cosy pub with a super restaurant
If you're looking for cheap accommodation near Holy Island, check out the Lindisfarne Backpackers Hostel here.
The Lindisfarne Inn
Of course, there is nothing like staying on Holy Island. The feeling of isolation you get when the crowds go home is like no other.
But, If you'd rather not be restricted by tide timings, you can stay just off the Holy Island of Lindisfarne in Beal.
During my visit, I stayed at the Lindisfarne Inn, part of The Inn Collection. It was a lovely cosy hotel, with spacious rooms and a restaurant serving up delicious food.
Although I wasn't staying on the island, it's located just minutes from the Holy Island Causeway.
So, I got to visit in the evening time for the second low tide at night. The place was like a ghost town! It was an amazing experience and I'll never forget it.
Click here to read my full review of the Lindisfarne Inn!
So, where now? Places to go near Holy Island
Once you've finished your incredible time on Holy Island and the tide is slowly trickling in. Where to now?
Well, there are plenty of places that you can visit in the local area to keep the magic going.
Northumberland is England's best-kept secret with lots to offer visitors and you're only a few miles away from the Scottish Border point too!
So, you could be in a whole new country by the end of the day.
Seahouses / The Farne Islands
If you want to visit another island today, there are plenty to choose from in the area.
One of my fondest memories of visiting Northumberland was taking a boat ride over to the Farne Islands and being able to see Puffins in the wild!
Our cruise took us from Seahouses, a town around 30 minutes from Beal, over to the Islands.
First, we got to see a close-up view of some of the islands and then we docked up and had a quick tour of the main Farne Islands for around 40 minutes.
A good thing to note is that on the Farne Islands the birds have pretty much taken over! So, some islands will be shut off throughout the year for mating season.
On the island, they had a puffin talk, explaining amazing facts. Like, did you know a puffin's colourful beak is only there for the mating season?
After that, it falls off and they have a black beak!
We also got to rent some binoculars and get a closer look at these cute creatures who have made this place home. It was incredible and highly recommended.
Click here to read my complete guide on how to see Puffins on the Farne Islands!
Bamburgh Castle
As the King of all Castles, if you only have time to visit one, let Bamburgh be it!
This incredible fortress sitting dramatically on the coastline has a history tracing back to the iron age in 10,000 BC!
This castle has also featured in many famous battles including the War of the Roses!
Finally, it was purchased by Lord Armstrong in 1894. It's now open to the public and inside you can visit the defense walls, the museums, and even the staterooms.
There is oodles of history to learn here and it makes a great activity, rain or shine!
But, watch out for ghosts. This place is supposed to be haunted! It's privately owned. Click here for opening times and prices.
This is also the location of Uhtred's Bebbanburg in The Last Kingdom on Netflix! Click here to read my fan guide for Bebbanburg here.
Dunstanburgh
One of my favourite walks in Northumberland is the short walk from Craster village to the ruin Dunstanburgh Castle.
This walk will take you past the historic harbour, along the flat coastal path for around a mile or so until you reach the ruin.
It's a great way to get rid of the cobwebs with the breeze and walking around here at sunset on a clear day is unforgettable.
The castle is open for visitors throughout the day.
Click here for my Dunstanburgh hiking guide
The Scottish Border
Did you know that the Scottish border is less than 30 minutes drive away from Holy Island?
That's right, so you could drive up and be on the borderline between the two countries!
Don't worry you don't have to pay anything to cross the border and there is no Visa required either. It's just a sign really on the road.
But, tourists love to stop by and take a photo with the 'Welcome to Scotland – Fàilte gu Alba' sign on the A1.
There's a small lay-by you can pull over safely to take a few snaps. It's a must-do bucket list item in this part of the world!
St Abbs
I am absolutely in love with Scottish Border villages and the ones located on the east coast up to Edinburgh are particularly adorable.
St Abb's is a gorgeous fishing village near Eyemouth which is as pretty as a postcard. From here, you can explore the harbour, have a coffee in St Ebbcarr's Café, or take a long walk over to St Abb's Head!
This coastal path was one of my favourite walks on my visit and provides spectacular views of the sea. Also, keep your eyes peeled for lots of wildlife!
Marvel Fans may jump for joy when they find out that this village is the location of New Asgard in Avengers: Endgame!
Where Thor turns fat, eating pizza, drinking beer, and shouting at kids playing Fortnite. There's even an official sign twinning the harbour with the fantasy realm.
Click here to read my complete guide about visiting New Asgard!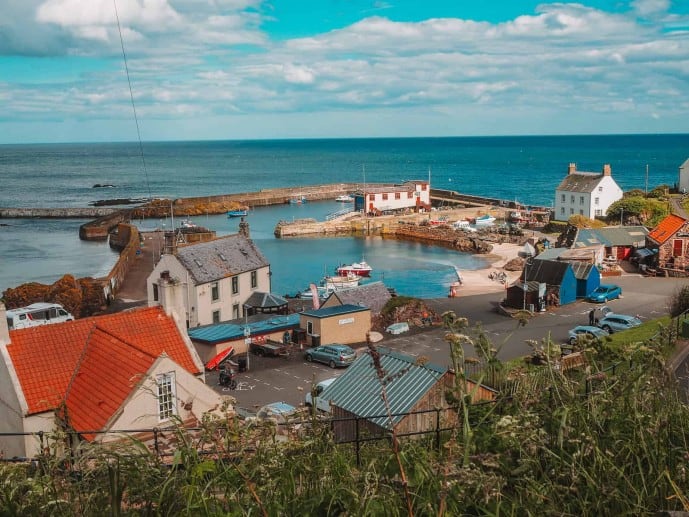 Read even more about Northumberland
Harry Potter locations at Alnwick Castle
Visiting the Alnwick Cherry Blossom Festival
A complete guide for Ford and Etal
Eating in the largest treehouse in the world
How to do the Steel Rigg to Sycamore Gap walk on Hadrian's Wall
Visit the magical Barter Books in Alnwick
Why you must visit Bamburgh Castle at Christmas
Save these things to do on Holy Island Northumberland for later!
Disclaimer: With thanks to Visit Northumberland and The Inn Collection Group for sponsoring my visit. Although I was a guest, all opinions are my own.