Uffington White Horse is, without a doubt, one of the most mythical and magical places in the whole of Oxfordshire.
An ancient Bronze Age geoglyph that was scarred into these rolling hills over 3,000 years ago does hold an air of mystery to it!
But there is so much to this area beyond the gleaming white horse. The surrounding landscape is a hotbed of ancient landmarks that you can explore.
From a huge Iron Age Hill Fort, where St George killed the Dragon, Neolithic burial chambers and hills from the Ice Age.
You'll be walking in the footsteps (and graveyards) of early humans, Saxon kings, Viking invaders, legendary giants, and Tolkien's Middle Earth.
All with the gorgeous backdrop of the Oxfordshire Downs countryside.
Here is an essential guide for visiting Uffington White Horse Hill with everything that you can do around here.
What is the Uffington White Horse?
Uffington White Horse is a pre-historic Bronze Age Hill figure that has been carved into the hillside of Oxfordshire.
It measures around 110 metres long and is made of deep trenches of chalk. Recent excavations have placed the horse being made between 1740 and 210 BC.
Studies have not been able to prove the reason why this figure was made. Some say it may have been a territorial marker relating to the ancient Uffington Castle just nearby and others say it's a fertility symbol.
What we see today on the hillside is actually a lot different from what the horse would have originally looked like all those years ago. In fact, they predict it was 3 metres deep.
The shape drastically changed over the centuries just like the land around it.
The Uffington White Horse can be seen from over 20 miles away and it's almost miraculous that it has survived all these years!
The full history & excavations
The reason why this horse survived through the centuries was due to the cleaning rituals of "chalking" or "scouring" days.
This tradition has taken place here for the last three millennia. It's almost like an ancient ceremony!
People will gather with hammers and buckets of chalk and spread out all over the horse. Then, they will kneel down to smash the chalk into a paste and colour between the lines.
It's a custom that was noted by famous antiquarians like Francis Wise in 1736. He reported that it was an annual event since time immemorial where thousands of villagers from all over the Vale of the White Horse would relish in the task.
Now that it's been gifted to the National Trust, it's a slightly quieter affair that is carried out by a handful of volunteers. Anyone who would like to help is welcome!
During World War II, the white horse was completely covered with turf and hedge trimmings. This is so that Luftwaffe pilots wouldn't recognise it from the air and use it as a target practice for raid bombings.
There were many theories about the horse being made during the Saxon era after King Alfred the Great won his victory against the Danes. But, recent excavations in the 1990s proved, without a doubt, it was made in the Bronze Age.
It's the oldest white horse figure we have here in Britain and has inspired many more similar creations around the country.
Is Uffington connected to Tolkien's Middle Earth?
In later years, there have been many connections made to this area and J. R. R. Tolkien's Middle Earth.
While Tolkien was an academic at Oxford, he was known for going on long walks and tours across the Berkshire Downs (as it was known then).
It is said that he used much of Uffington to inspire places in his legendarium both in The Hobbit and Lord of the Rings.
Tolkien's son, Christopher, believed that Dragon Hill was used as inspiration for Weathertop. This is where Frodo is stabbed by a Ringwraith.
Also, many say that the white horse represents the sigil for the Kingdom of Rohan.
Nearby, you have Wayland's Smithy which is a Neolithic burial chamber on the Ridgeway Trail. Many say that Tolkien used this spot to inspire the Barrow-Downs in Lord of the Rings. This is where Frodo and the hobbits encounter the evil Barrow-Wights.
Although many of these places are a far cry from how they are represented in the book and movies.
It just goes to show what an amazing imagination Tolkien had when creating his legendary world.
Click here to read my Lord of the Rings guide to the Cotswolds
Where is the Uffington White Horse?
The white horse is located in Oxfordshire on the aptly named White Horse Hill which is elevated around 860 feet above sea level!
It's in a very remote part of the countryside and buses don't run here. It's near the civil parish and village of Uffington.
This is around 5 miles from Faringdon and Wantage, 10 miles from Swindon, and 23 miles from the city of Oxford.
How to see the Uffington White Horse
Uffington White Horse is FREE to visit and open 24 hours a day. But, there are many ways to see the horse around the area;
From the roadside
It is possible to see Uffington's White Horse from the roadside and not visit the site at all.
In fact, this would be your best viewing option as the horse is far easier to see from far away!
But, I would always recommend visiting.
You can see it very clearly from B4507 Road and even from nearby Faringdon Folly (although it's far)! Failing that, the best views are from the air but this is strictly a no-drone zone.
By walking
Uffington is accessible along the historic Ridgeway national trail which is Europe's oldest road dating back 5,000 years!
So, you could visit this as part of a hiking trip. Other ancient sites nearby would be Wayland's Smithy, Liddington Castle, Devil's Punchbowl and Alfred's Castle.
Uffington White Horse Parking
The best way to access Uffington White Horse Hill would be from the National Trust Car Park at the site.
Use the postcode SN7 7QJ. It costs £2 for two hours or £4 for the day.
Parking is FREE for National Trust members. From here, the site is only a five-minute walk away along the hillside. You only need around an hour or so to see everything.
Tips and warnings before you go
I definitely feel compelled to lay out some practical guidance for you before your visit. This is so you are totally prepared and know what is (and isn't) here!
Toilets – There are NO toilets at Uffington or in the car park. It's a very remote area of the countryside. The nearest would be in the village of Uffington located just a few miles away.
Facilities – There are not many facilities here at Uffington. There is the car park and a small picnic area that has been fenced off from the sheep grazing in the area. But, failing that, you'll only find fields and kissing gates to access the sites.
Walking is hard – As it's quite hilly, you may find walking around here quite hard. The castle is elevated and Dragon Hill is reached via an extremely steep hill. As you'll be walking across fields with no laid-out paths there are many burrow holes. So, wear a good pair of walking shoes!
Dogs & sheep grazing – This area is home to many sheep who graze in the fields, so you will need to keep your dog on a lead at all times. Sheep also naturally come with a lot of poo and you'll find plenty of it here. So, check the ground first before you sit down or set up a picnic!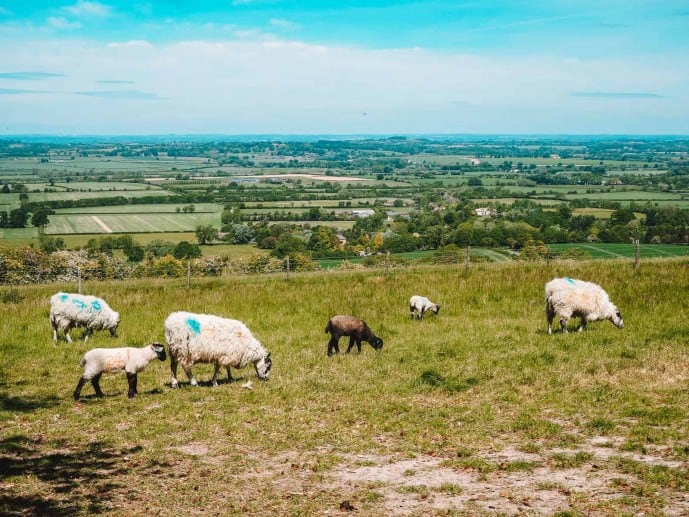 Things to do at Uffington White Horse Hill
So, once you get here – what is there to do?! Well, there is an endless list of things.
You could stroll along the hillside and visit the ancient landmarks, sit and eat a picnic, fly a kite from the top of the castle, or walk along the Ridgeway Trail.
Here are the very best things to do on White Horse Hill.
1. Enjoy the endless views of the Oxfordshire Downs
The main draw of this magnificent area would be the views you can get of the Oxfordshire Downs and the White Horse Vale beyond.
On a clear day, you can see for miles into the distance and admire the patchwork blanket of fields. Notable landmarks that can be seen from here are the Faringdon Folly Tower, Ashdown House, Swindon's David Murray John Tower, and unfortunately some wind turbines too!
There is also plenty of wildlife to spot, I saw many Red Kites and Buzzards whilst exploring. They came very close, probably trying to hunt for the small voles that make a home here.
It's the perfect place to set up a picnic or read a good book in the sunshine!
2. Admire the Uffington White Horse
Although the white horse is taped off for its protection, you can still see it from the path leading from the visitor car park.
You'll notice that the closer you get to the horse, the harder it is to see its shape.
So, it's best to take some photos at a distance as you walk along. It's amazing to think that this horse has survived for 3,000 years and has witnessed many of England's turbulent chapters over time.
When I was a child, I used to come up here with my family being local to the area, and was able to walk all over the horse. I remember touching the chalk and even rolling down the hill. But, no more.
If you did want to get closer to the horse, you should look out for their scouring days. These happen each year and anyone is welcome to attend and help clean the chalk. It's a wonderful opportunity.
Folklore & Legends of the white horse
Some say that Uffington White Horse is a mother and her invisible foal is beside her. At night time, both of them walk down the hill to The Manger to eat and drink at Woolstone Wells
A local legend says if you stand on the eye of the horse and turn three times clockwise, your wish will be fulfilled!
Apparently, the Uffington White Horse flies every one hundred years to be shoed by Wayland at his nearby smithy. Wayland's Smithy is a burial chamber located not far from here.
There is a theory that King Arthur is not dead but merely sleeping. When he awakens, the Uffington White Horse will rise up and dance on Dragon Hill below.
Many say that this horse represents the Celtic goddess of Epona, protector of horses.
Others say it isn't a horse but a dragon! It was made in ode to St George who is thought to have killed a poisonous dragon on nearby Dragon Hill.
3. Walk down to Dragon Hill
Dragon Hill has a curious name and is often the site of many Pagan and spiritual ceremonies throughout the year. Especially around Solstice and Equinox days and also St George's Day.
This is due to the fact that a local legend says that St George defeated the fire-breathing dragon on this hill!
The story goes that the residents needed to give human sacrifices to the dragon in order to abate its thirst for blood. One day, the townsfolk chose the King's daughter as the sacrifice.
As no one would take her place, St George rode his horse on top of Dragon Hill to save her.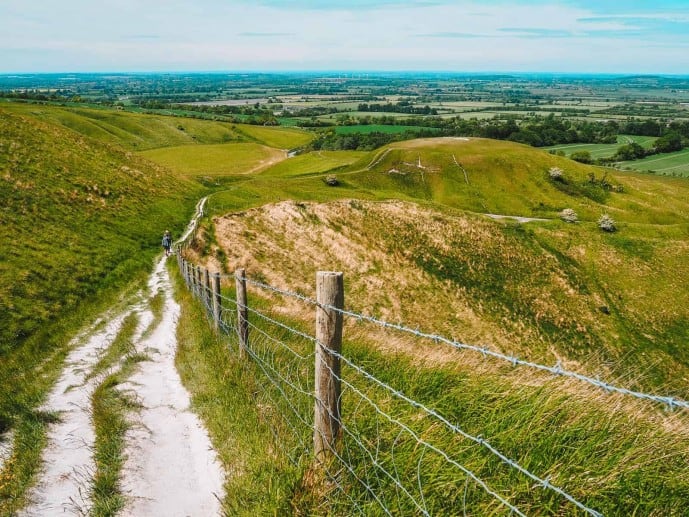 He tamed the dragon and managed to stab it with his lance. Apparently, the blood spewed everywhere over the hill and it was so poisonous that no grass has ever managed to grow there since.
Sure enough, you can see a patch of chalk on top of the hill. This is the legendary spot where the dragon fell.
Of course, there is very little truth to the tale as St George was not English and has never been recorded as visiting Uffington. But, it is nice to imagine.
Excavations have proved that this hill was formed naturally from the Ice Age around 2.4 million years ago.
During the Bronze Age, a Celtic Briton tribe made an artificial flat top to perform sacrifices. Maybe to the white horse that looms over it?
It's well worth a climb down here and you get some magnificent views of The Manger and Giant's Steps.
Click here to read more about the legends and history of Dragon Hill!
4. Admire The Manger & Giants Stairs
You may notice as you're wandering around Uffington White Horse, that you'll see a strange sloped valley that sits in the middle of it. This is called the Manger.
From recent excavations, it has been proven to have naturally formed in the Ice Age with melting water around 2 million years ago.
According to legend, this is where the White Horse mare and her foal come to eat at night time once the crowds go home!
Years ago, this was a famous spot for a cheese rolling game during the Scouring Festival. It happened again for the Millennium but has since been banned for health and safety reasons.
If you look to the side of The Manger, you'll also spot some ice-cut crevices or ripples in the hillside. These are nicknamed The Giant's Stairs.
5. Discover Uffington Castle
Uffington Castle is now just a ruin on the hillside but it is definitely worth visiting while you're here, simply for the fabulous views!
It's an impressive example of an ancient Iron Age hill fort that was built over 3,000 years ago, around the same time as the white horse.
Many say the two are related in some way. The reason why this fort is so singular is due to its size.
It's very rare to see a castle of this magnitude survive.
You can wander about the two huge circular ramparts on the mound which would have been lined with Sarsen stones once upon a time.
From various excavations, there have been many coins and pieces of pottery recovered here which date back to the Iron Age and Roman era.
It is suspected that inside the fort, there would have been many huts created to house families at the settlement.
The surrounding fields would have been used for cultivation.
As the highest point of Uffington, many people come here to fly kites when the wind is strong enough!
6. Look out for ancient Burial Mounds
You may not know it but on your visit to White Horse Hill, you could very well be walking on top of ancient gravesites!
Indeed, Uffington has been a hotbed for funerals as far back as the Neolithic Period five millennia ago.
Excavations have revealed many skeletons of pre-historic humans all the way up to the Saxon period.
Many believe that Uther Pendragon, father of the legendary King Arthur, is buried beneath Dragon Hill.
You will have to keep an eye out for these burrows or mounds on your visit and some will be hard to spot.
But, if you wanted to see a more prominent burial site, why not walk along the Ridgeway Trail to Wayland's Smithy?!
7. Discover Wayland's Smithy on the Ridgeway Trail
Wayland's Smithy can easily be accessed from White Horse Hill by walking along the ancient Ridgeway Trail.
This pathway is Europe's oldest road and travellers have walked on it for 5,000 years.
You'll be walking in the footsteps of early men, Romans soldiers, and even King Alfred the Great!
Wayland's Smithy gets its unusual name from the Saxon God of metalworking. During the Saxon era, people believed that smithing was a magical practice and that this was the home and smithy that Wayland made for himself.
There is a local legend that says if you tether your horse here and leave a coin, Wayland will re-shoe it overnight!
Antiquarians have noted this spot for centuries and eventually, it was excavated and protected in the 19th century.
Recent radiocarbon tests have proven that this was a Neolithic Burial Chamber used for funeral celebrations over 5,000 years ago.
It's a great spot to relax in the shade while you're on the trail and you're free to explore this house of the dead whenever you wish.
Click here to read more about this amazing landmark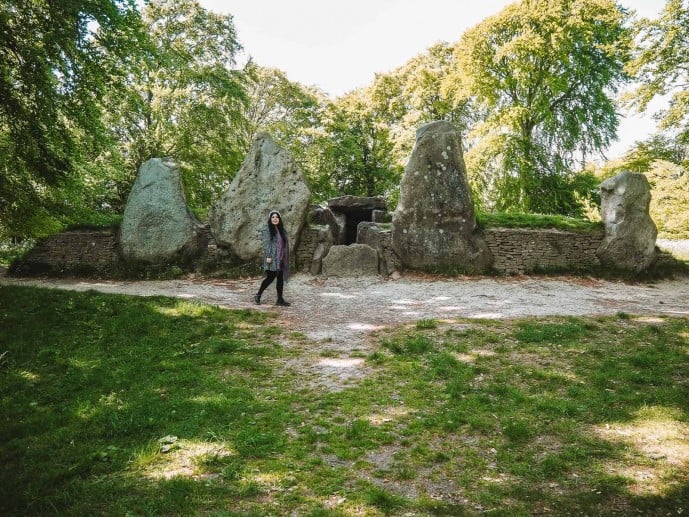 8. Sound the Blowing Stone at Kingston Lisle
Just a few miles drive away from Uffington White Horse is the sleepy village of Kingston Lisle.
Although it doesn't have much by way of tourist attractions, a curious Sarsen stone perched in a residential garden brings in the crowds every year!
The Blowing Stone of Kingston Lisle has amazed travellers for centuries mainly due to the fact if you blow inside one of its perforated holes, it makes a huge trumpet sound like a horn.
There is a local legend that says King Alfred the Great sounded the stone to summon his men who were camped at Uffington White Horse Hill.
The noise could be heard all the way up the hillside and his men marched down to follow him. They went on to a Saxon victory against the Danes at the Battle of Ashdown in 871.
Although it is located in a residential garden, visitors are allowed to visit the stone at any time and have a go at blowing it themselves. Donations are encouraged and go to charity.
You can find it at the bottom of the aptly named Blowing Stone Hill!
Read more about visiting the blowing stone here
Where to eat nearby
Many say that the best way to enjoy a visit to Uffington would be to pack a picnic and eat your lunch or dinner here with the views!
But, I can totally understand if this isn't your thing or if the cold weather makes it impossible.
There are a few pubs located just a few minutes drive away from the hill if you would rather. They will be open for drinks at the bar or a hearty lunch or dinner.
The closest is the White Horse Restaurant located in a cosy traditional inn on Marsh Way in Faringdon. They have a traditional British and I have heard that their steaks are particularly good.
Failing that, you could visit the Blowing Stone Inn located in Kingston Lisle. Or, The Fox and Hounds Inn is nearby in Uffington Village.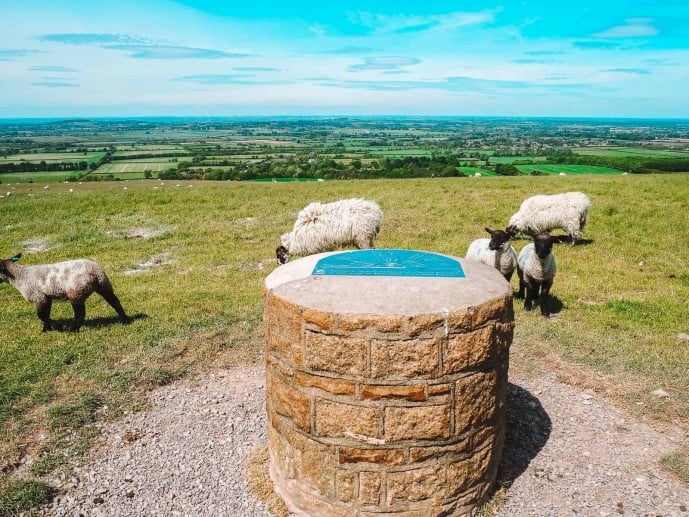 Where to stay near Uffington
The White Horse Inn – This pub is located less than a mile away from White Horse Hill and has plenty of boutique rooms to book for the night. It's one of England's oldest Inn's and is an ideal base to access the many walks in the area. You also have the benefit of a top-rated restaurant and pub onsite. Click here to book.
White Horse View B&B – if you would rather have a more homely feel, why not book a bed and breakfast? As the name would suggest they have some cosy rooms to book with a view of the white horse from your window! Click for rates.
The Greyhound Inn (Wantage) – Just nearby in the town of Wantage, you can stay in the town where Alfred the Great was born! Their boutique rooms are set above a popular pub and restaurant and have a gorgeous design with traditional exposed beams. Dreamy. Click to enquire.
Places to visit in White Horse Vale
After your visit, there are plenty of places that you can explore around the gorgeous countryside of White Horse Vale.
Uffington Village is definitely worth exploring and you can go on their delightful village trail. This will take you past the thatched cottages and old buildings mentioned in Tom Brown's School Days.
If you time your visit right, you can visit the Tom Brown's School Museum that explores the locations in Tom Hughes's novel as well as the history of the town and area. It's FREE to visit.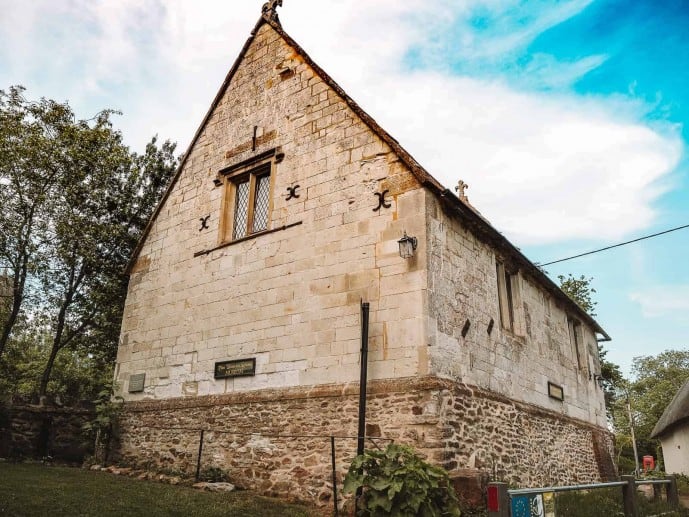 Faringdon is also a lovely ancient market town that has a history dating back millions of years and was, at one point, under the sea!
It has had a weekly market running for the last 800 years since Henry III granted them a royal charter. But, it is mostly known nowadays for its famous eccentric resident Lord Berners!
He moved to Faringdon in the 1930s and caused a stir by teasing the townsfolk. He would paint his flock of pigeons pink, have a giraffe as a pet, and invite horses for afternoon tea.
Berners was also famous for throwing his legendary parties with a glitterati guest list having the likes of Salvador Dali and Aldous Huxley.
In his eccentric style, he built the Faringdon Folly Tower just to annoy the local residents and today it's a much-loved icon in the town.
From here, you can see the Uffington White Horse and find a quirky sculpture trail in the Folly Wood.
Further afield, you can visit the amazing ancient city of Oxford with its historic colleges, buildings, shops, Tolkien trail, and Pitts Rivers Museum. Or, the Visit the ruins of Minster Lovell Hall.
Click here to read more places to visit in Faringdon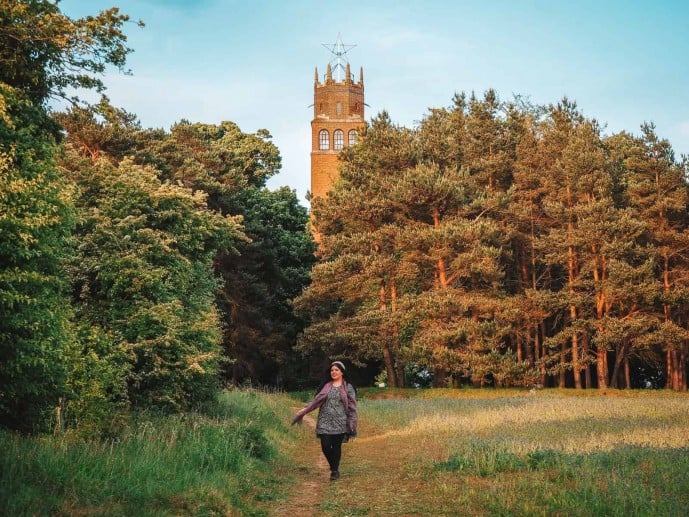 Read more of my posts on Oxfordshire!
Visit Burford, a gateway to the Cotswolds
Discover the ruins of Minster Lovell Hall
How to visit the magical Badbury Clump bluebell woods
Visit the Rollright Stones Circle near Long Compton
Visiting the Downton Abbey Village of Bampton
How to visit the Harry Potter Tree at Blenheim Palace for FREE
Save the Uffington White Horse for later!