If you're paying a visit to Stratford upon Avon, you may be on a trip to watch a play at the Royal Shakespeare Theatre there.
But, did you know that there are many more things to do at the Royal Shakespeare Company Stratford Upon Avon?
The RSC has all sorts of activities for a day out before the curtain call.
You can go on an RSC theatre tour, dine in one of their many cafés and restaurants, explore an award-winning exhibition and take in some spectacular views from the RSC Tower! It's all here waiting for you in Shakespeare's Stratford.
Here are 9 brilliant things to do at the Royal Shakespeare Company in Stratford upon Avon!
Who are the Royal Shakespeare Company?
The RSC is a charity organisation that honours the memory of Shakespeare through performing his plays, his contemporaries, and modern playwrights.
It was first established in 1875 as the Shakespeare Memorial Theatre when Charles Flower donated a building site to the town.
Ever since Shakespeare died in Stratford in the 17th century, tourists and writers have paid a visit to The Bard's birthplace in Henley Street.
So, it was only natural to place a theatre here to continue in Shakespeare's memory and perform his play's for those who love his work.
The Royal Shakespeare Theatres we see today are partly reconstructions due to a fire in 1927. But, since then, the RSC has grown into more than just a building.
It's a huge charity that performs in three theatres and on tour, hires thousands, and lives in the hearts of millions who have watched a play here.
How to reach Stratford upon Avon
Stratford upon Avon is a market town in England that is in the county of Warwickshire. It's easily accessible from the North and the South by road and public transport.
Stratford upon Avon by car – Stratford is well connected with the Motorway networks in UK. If you're heading here from the South, you can drive on the M40 and take junction 15 and then the A46. From the North, you can take the M1, M5, M40 and take the A46.
Stratford upon Avon by train – Stratford upon Avon has a train station with direct train routes from London Marylebone and Birmingham New Street. Check National Rail for details.
Stratford upon Avon by bus – There are National Express coaches that run from London Victoria to Stratford Upon Avon and takes 3 hours. Or, local buses by Stagecoach from Birmingham and Leamington Spa run here daily.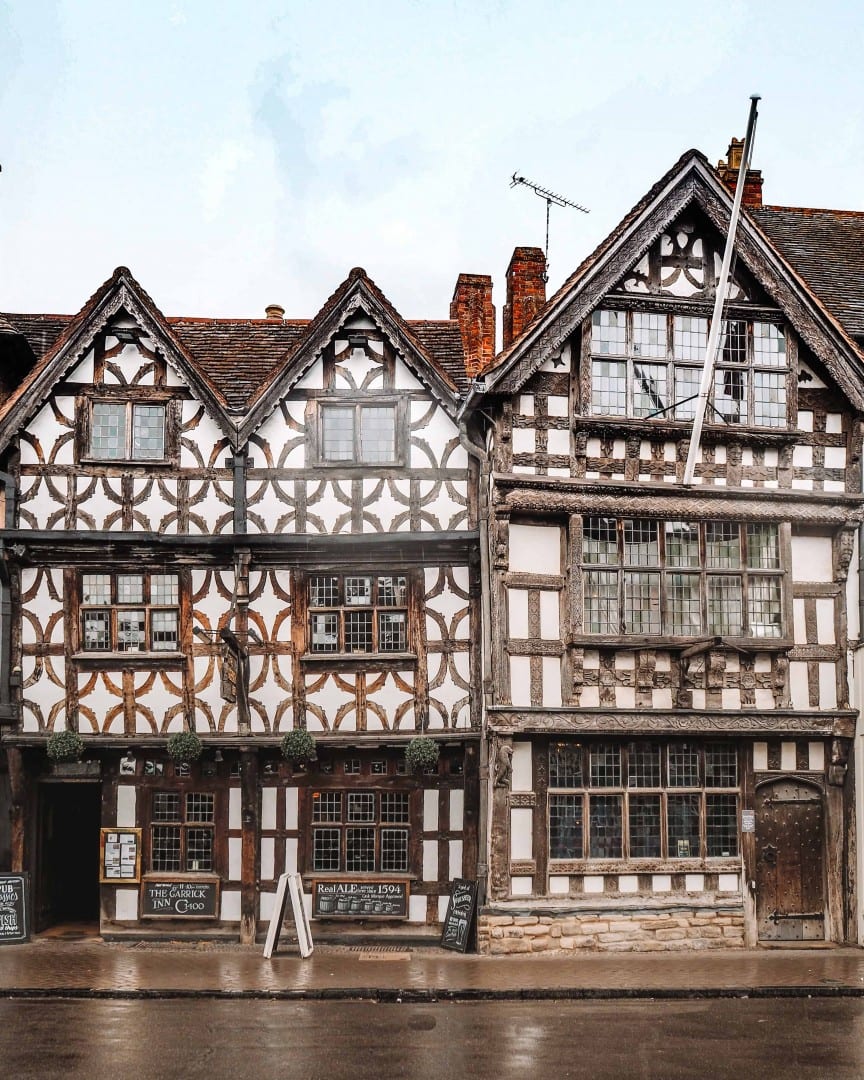 Where to find the Royal Shakespeare Company Stratford upon Avon?
You can't really miss the RSC in Stratford upon Avon!
It's a huge red brick building built right on The Waterside of the River Avon. You'll probably see their huge RSC tower first that's 36 metres high.
Stratford Upon Avon is quite compact and easily accessible on foot with Shakespeares' Birthplace being only a 6-minute walk to the RSC theatres and only a 15-minute walk from the train station.
RSC Explorer Pass
To save some money on your day out in Stratford, you may consider investing in an RSC Explorer Pass.
The standard adult Explorer pass is £15 and includes a backstage theatre tour, the play's the thing exhibition, and access to the RSC Tower. Children's tickets are £7.50. It's the best way to do it as this saves you £5 on all the attractions.
9 brilliant things to do at the Royal Shakespeare Company Stratford Upon Avon
1. Explore the Royal Shakespeare Theatre's
All are welcome to walk through the RSC theatre doors and it's a must-visit while you're in Stratford Upon Avon.
You can pop in to buy tickets, look at their gift shop, dine in their cafés and restaurants and you're even free to simply explore around.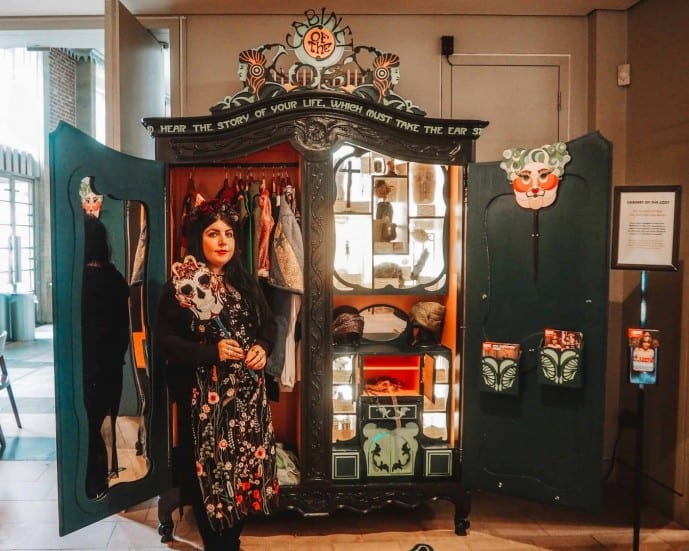 You never know what you might find around here and there are loads of FREE things to do.
Pick up a leaflet to explore with a mini Shakespeare treasure hunt. Yes, it's for kids, but it does give you lots of ideas, where to find works of art and little-known Shakespearean facts.
You can even sit on their own 'insult chair'. Did you know that Shakespeare was the absolute master of insults and put-downs?
Some of my favourites are;
"Poisonous bunch-backed toad!"
"Thou crusty batch of nature", "thou lily-livered boy"
" Thou elvish-mark'd, abortive, rooting hog!"
and the ultimate Shakespearean 'yo mama' joke, "villain, I have done your mother".
2. Take an RSC theatre tour
The RSC runs a variety of backstage tours which will take you behind the scenes of what goes on in the theatre.
Did you know that every play in the RSC is planned four years in advance of it being on stage? No? Neither did I!
The process starts way before they cast the players.
I went on the Audition Tour which took us through both sites of the Royal Shakespeare Theatre and The Other Place.
Don't worry, you don't have to audition haha. But, you do get to see rehearsal rooms, costumes stores, behind the scenes of the theatre, dressing rooms, and the actual theatres themselves.
Our guide was also extremely informative and I loved trying on some of the costumes and props!
The RSC actually provides a variety of tours you can book as well as the audition tour.
You can go on a Backstage Tour, Front of House Tour, Open Air, From Page to Stage, and Curtain Call. Tours last around an hour. Click here to see more information and to book.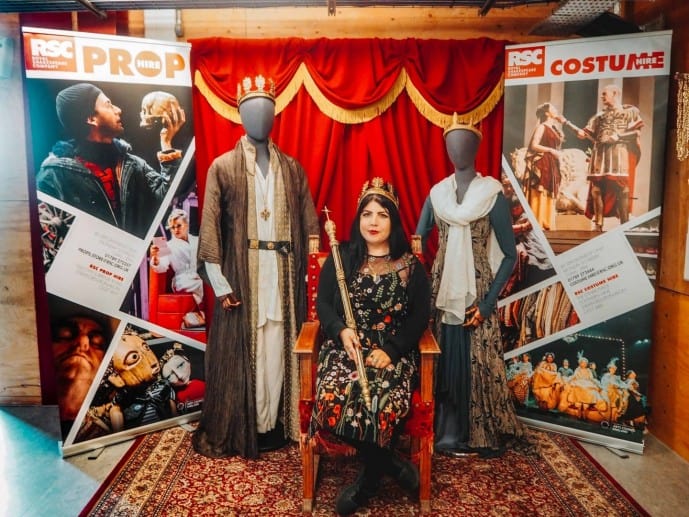 3. Visit the Swan & Riverside Café
Even if you're not here to see a play or tour, you must stop at one of the RSC's popular cafés. They actually have two; The Swan Café and the Riverside Café.
The Swan Café is inside the theatre and is beautifully decorated with portraits of actors, comfy chairs, and a sparkling chandelier in the middle. But, as it was a sunny day, we decided to have our coffee stop outside in the sunshine.
The Riverside Café is ideally located right on the banks of the River Avon so you can simply sip a tasty coffee with a view or treat yourself to a sandwich and their freshly made cake offerings.
My Mum and I decided to stop for lunch here and I chose one of their brioche baguettes which was prawn and rocket. To finish I had their raspberry macaroon which was huge with cream filling.
It was utterly delicious and the views overlooking the River Avon and the Clopton Bridge couldn't be beaten!
4. Visit the award winning The Play's the Thing exhibition
The Play's the Thing exhibition takes you on an epic journey of 100 years of theatre and stage here.
On display are some of the highlights in the RSC's costume archives from famous actors who have 'tread the boards' here and an original portrait of Shakespeare with his complete works too.
But, this museum is anything but stuffy. There are loads of interactive things to do like games, practice costume changes, quizzes, you can have a go at the stage pulley system, listen to music, and more.
Everything teaches you about Shakespeare's plays and what goes on behind the scenes and on the stage!
This exhibition is open daily and comes as part of your Explorer Pass.
Free exhibitions at the RSC
For All Time
On your way to The Play's a Thing, don't miss a visit to the 'For All Time' sculpture by Brighton-based artist Steven Follen.
It's a face, inspired by Shakespeare's Romeo and Juliet, made of 2,000 pieces of hand-folded steel! The metal stars actually reflect the position of the constellations on Shakespeare's birthday.
The inspiration for the piece also came from the quote by Juliet in the play "When I shall die, take him and cut him out in little stars, and he will make the face of heaven so fine…".
It's a fabulous photo stop, don't miss it!
RSC Gallery
The RSC has a free My RSC gallery that is open all year round showcasing Shakespearean-inspired artworks by local schools, staff, creative teams, and actors. It was created by Luke Jerram through a competition held in 2010.
You can go and visit it in the Royal Shakespeare Theatres. Although, you won't find it in one particular room!
The gallery is hidden around the theatre in a series of boxes, so when you find one you can lift the lid to see what's inside and the story behind it.
5. Take in the spectacular views from the RSC tower
If you'd like to check out Stratford upon Avon from above, you have to check out the RSC Tower.
Standing at 32 metres high above the town, you'll get to see unrivaled views of Stratford, River Avon, the countryside, and beyond. On a clear day, the views expand for 20 miles!
Grab a map or read the signs for all the places you can spot on your visit. You can see the 14th century Clopton bridge over the River Avon, Shakespeare's birthplace, Hall's Croft, the Holy Trinity Church, and more of the main sights in Stratford.
Beyond, you can see Charlecote home of the Lucy family, Snitterfield where Shakespeare's father came from, and Welcombe Hills and Obelisk.
You can walk up 174 steps if you wish but thankfully there is a lift to get to the top! Tickets are £3 and are included in your Explorer Pass.
I've written a whole blog post you can read about RSC Tower here!
6. Pop into The Other Place
The Other Place was the brainchild of Buzz Goodbody and was originally quite literally a tin shed!
She had an artistic vision to bring modern and experimental artworks to Stratford upon Avon and so founded this very spot to do it.
Throughout the years it's served many purposes as costume storage, rehearsal space, and theatre for performances.
Plays that were performed in this theatre while it was a tin shed were very intimate and you could hear even the slightest whisper. Making the murder plots and tragedies in plays like Macbeth and Hamlet even more harrowing to watch.
Nowadays it's a huge part of the RSC with its own theatre, café bar, rehearsal, and workspaces. It's definitely worth a visit while you're in town!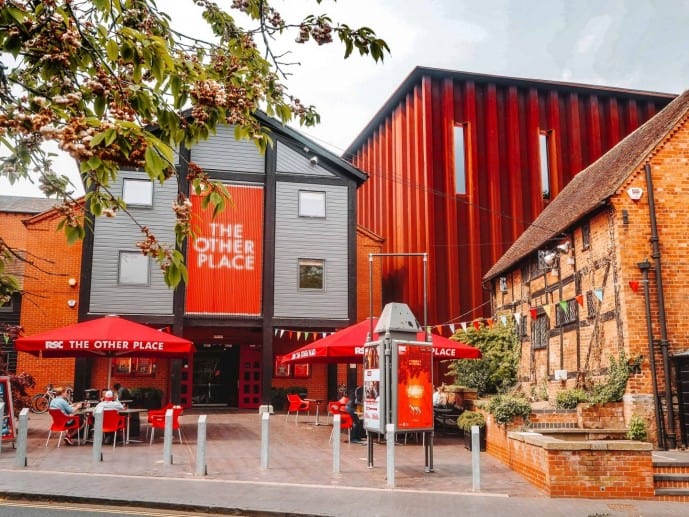 7. Enjoy delectable pre-theatre dining at Susie's café
You know you're in a theatre town when there are pre-theatre dining options and the RSC has some great places to eat before the first act.
As well as their Rooftop Restaurant, they have a pre-theatre dining menu at Susie's Café Bar inside The Other Place.
Here, they have a whole delicious menu of choices to gorge on including a la carte and set menus. They start serving at 4.30 pm – 6.15 pm and prices start at two courses for £14.95 or three for £18.95.
The setting of Susie's Café Bar in The Other Place is really cute, with bunting, fairy lights, and even the company of Puck and a fairy from A Midsummer Night's Dream, who we decided to join!
Forget your assumptions about Café food at Susie's. Everything was prepared and served on par with the finest of quality restaurants in Stratford. My Mum and I went for the three-course menu and were raving about their scrumptious dishes.
To start we had a baked Lebanese falafel with sweet pickled cabbage, chickpea purée, and herb dressing. It was a great start to awaken the palette.
Next up was the main course and we both decided on the Coq au vin, one of my favourites. It was a huge filling portion and served perfectly and piping hot.
Finally, we both went for the Belgian Chocolate Cake, with griottine cherries and crème fraiche. It was incredibly indulgent but SO good!
We were so full after we left, so there's was no fear of getting hungry during the performance later on. If you didn't fancy a whole set menu, you can order sides and nibbles from the menu too, or just treat yourself to drinks from their bar.
Click here to make a booking and see their menu
8. Watch a show at the RSC
Watching a show at the RSC should be at the top of your Stratford bucket list!
There is so much work that goes into these critically acclaimed shows with incredibly talented performers, musicians, stagehands, and technicians so you know you're in good hands.
A night at the RSC is always a fantastic evening of Shakespearean entertainment.
My Mum and I were really excited to watch their new production of The Taming of the Shrew, we had an excellent view sat in their stall seats.
If you're not familiar with this particular Shakespearean comedy, it follows the story of Petruchio trying to court and "tame" Kate, the insubordinate shrew. Hence, the title of this entertaining tale unfolds.
Traditionally, the play explores male patriarchy where men have all the power. But, in this production, the roles were reversed and it's a Tudor matriarchy instead!
Petruchio is now a woman and Kate, the shrew, a man. Which makes for a hilarious but powerful performance.
Although the gender roles had been switched, it was so seamless it was like it had always been so.
During Shakespeare's time, women weren't allowed on the stage. So, to see so many powerful women on stage and steal the show was inspiring! The Tudor costumes, performances, music, and production were outstanding.
Although there are sometimes walk-ins on the day, it's recommended to book seats in advance to not be disappointed.
They also have VIP experiences you can book which include flowers, three-course dinners, and front row seats!
9. Go shopping for Shakespearean souvenirs in the RSC gift shop
I love popping into the RSC gift shop while I'm in Stratford.
Here you can buy a number of Shakespearean gifts to take home. Books, pens, magnets, notebooks, keyrings, programmes, mugs, bags, even quill, and ink all have to do with The Bard! You name it, it's here.
They also sell Shakespeare's full works if you're keen to read more or you can take home the play or programme of the play you're watching that evening. There is so much choice!
The gift shop is closed after performances, so make sure you buy whatever souvenirs and programmes you wish any time before the show starts during the day.
If you miss out, you can also shop their souvenirs online too!
Want more Shakespeare in Stratford upon Avon?
If you're mad about Shakespeare's there's a whole wealth of things to do in Stratford upon Avon, it is his home after all!
Shakespeare's family was from here, he was born here, lived and went to school here, got married, had a family, and eventually died in Stratford.
So, you can visit a bunch of museums, houses, and locations that played important parts in Shakespeare's life. My favourite was Anne Hathaway's Cottage!
I've created the ultimate blog post that gives you 17 unmissable places to visit in Stratford Upon Avon if you love Shakespeare.
Where to stay in Stratford upon Avon
If you plan to visit Shakespeare for a theatrical weekend at the RSC, then you must check in to the Arden Hotel which is slap bang opposite the Royal Shakespeare Theatres!
That way, after the final curtain call, you're only a few steps away from your bed or the bar.
Famous actors such as Judi Dench and David Tennant have walked through their doors and stayed here for the night and they have 30 luxurious bedrooms and suites.
I stayed in one of their feature rooms which were fit for a princess with two bathrooms and a comfy king-sized bed and living space.
They're also home to the No 44 Waterside Brasserie that serves up a delicious pre-theatre dining menu before performances.
Their gardens have unrivalled views of the RSC Theatres and you can sip on a glass of champagne or gin and tonic at their Champagne Bar.
I've written a complete review of my experience at the Arden Hotel here
With thanks to the RSC for sponsoring my visit with my Explorer Pass, pre-theatre dining, and Theatre tickets. Although I was a guest, all views and photos are my own (unless photos are credited).
Save these things to do at the Royal Shakespeare Company Stratford Upon Avon for later!