If there was one place that I knew I wanted to visit on my National Park trip, it was Thor's Cave Peak District!
I mean, who doesn't want to visit a mysterious cave high up in the peaks that is named after the God of Thunder?!
Although many people have heard of Thor's Cave or seen pictures of it on Instagram, not many people know that it requires a bit of a hike to get to it and it can get really crowded.
But, the good news is that the Thor's Cave walk doesn't have to be extensive and there are some easy and short walking routes suitable for all the family.
Here's is a complete guide for Thor's Cave walk with the easiest route to Thor's Cave Peak District!
Friendly note: Please don't leave rubbish up in the cave and expect others to clean up after you. Leave no trace and preserve the beauty of these natural places, thank you!
What is Thor's Cave Peak District?
Thor's Cave is a naturally formed cavern in the White Peaks of the Peak District National Park in Staffordshire.
It's located in a dramatic and steep limestone crag that's 870 feet above sea level or 265 metres. You can see the entrance towering over the Manifold Valley below!
It can be accessed via a popular bicycle and walking trail called the Manifold Way and it never fails to intrigue visitors who are cycling and walking by here.
Its awesome name, elevation, and mysterious nature attract thousands of visitors each year in the Peak District.
Although it has been here for thousands of years, it's become quite Insta-famous recently so you can expect large crowds, especially in the summer!
How was Thor's Cave formed?
Thor's Cave is known as a Karst Cave which means that it was naturally formed from the dissolution of soluble rocks.
It's based in a limestone crag which is entirely made from layers of dead marine animals from millions of years ago. So, It is thought that the cave formed over the course of thousands if not millions of years.
A Karst cave is caused by water leaking below the surface of the crag mixed with strong winds which naturally dissolve the limestone and cause various sinkholes. Those sinkholes then grow larger to form the huge cavern in the crag that we see today.
But, don't worry, the cave shows no sign of dissolving further. It's thought that Thor's Cave was formed thousands of years before the Palaeolithic Period which was around the time of the Old Stone Age!
Thor's Cave history
Most of what we know about the history of Thor's Cave has come from excavations that have been made over the years. There were excavations made in 1864 and again by GH Wilson between 1927 and 1935.
During those excavations, it is thought that the cave was formed naturally into a cavern and that prehistoric humans and animals were some of the first settlers in the cave.
We know this as several Palaeolithic Stone Age and Bronze Age materials like flint weapons and axes have been found buried in there. Also, Roman and Anglo-Saxon settlers left items behind like combs made of bone and pottery.
By 1904, the Leek Manifold Light Railway was built and provided a station up at Thor's Cave for tourists to visit. It became an extremely popular attraction but it ended up closing in 1934.
Nowadays, the cave is still popular with visitors who make the journey up on foot to the top of Thor's Cave.
Why is Thor's Cave called Thor's Cave?
People often wonder, why is Thor's Cave called that? Well, to be honest, it remains a mystery for many and most of the popular theories have never been proven!
Thor's Cave is also known as Thor's House Cavern and Thyrsis's Cave. Although the cave has been synonymous with the Norse God Thor, the God of Thunder, there is no evidence to suggest any truth in it.
However, there is evidence of an Anglo-Saxon settlement here from recent excavations and the Saxon equivalent of Thor was the God Thunor.
Other's believe that it comes from the Old Welsh Word of Tor, meaning tall hill or tower and some say it relates to the legends of sprites and fairies. The old word for Fairy being Thurse.
Local folklore suggests that the 'Fiddling Hobthurse of Thor's Cave' is said to be a harmless sprite whose fiddling and screeching can be heard in the cavern. Can you hear it on your visit?
Fun Facts about Thor's Cave
The limestone hill which houses Thor's Cave is made up of layers of dead marine animals from millions of years ago.
It's thought that the cave was formed over millions of years and was inhabited by humans during the late Stone Age around 11,500 years ago.
There is evidence that animals and humans have both used this cave as a home. Giant Red Deer and huge Brown Bears used to live in this cave 20,00 years ago! Can you imagine meeting a massive bear in here?
Many Bronze Age, Roman, Saxon and early Medieval artefacts have been excavated from here. You can see them on display at the Buxton Museum and Art Gallery.
Although it is called Thor's Cave there is very little evidence to suggest it is related to the Norse God of Thunder.
Years ago, Thor's Cave used to have a railway station up here! It was a popular stop on the Leek Manifold Light Railway. Nowadays you can only walk up to the cave (sigh).
You can find rare butterflies in the woodland copse here. Northern Brown Argus and Dark Green Fritillaries are a regular sight.
This cave was used by The Verve for their first album cover art 'A Storm in Heaven'. Also, they used it as the location for their single 'Blue' in 1993.
It was also used in the Ken Russell film, 'The Lair of the White Worm' (1988). It's a horror movie starring Hugh Grant (although so dated it's now arguably a comedy). It was used to play Stonerich Cavern and it's where they find the d'Ampton worm.
How to get to Thor's Cave Peak District?
Thor's Cave is located in the White Peak area of the National Park which is in the south in the Staffordshire area.
You cannot drive directly to Thor's Cave, you have to park up and walk to get there.
The easiest way to access Thor's Cave is to drive to either Leek Road or Wetton and then walk to the cave from those parking places through the Manifold Way.
To give you an idea, Thor's Cave is a…
10 minute drive from Alstonefield
15 minute drive from Dovedale
30 minute drive from Buxton
30 minute drive from Gradbach (Lud's Church)
40 minute drive from Matlock
50 minute drive from Castleton
The Buxton Road from Ashbourne will take you to Wetton and from there you can carry on down the hill through Leek Road to find a small car park.
If you're not driving, there is number 405 bus service which stops in Leek and Wetton but it only runs on weekdays. You can then alight at Wetton to reach the walking route to the cave.
Thor's Cave coordinates: 53.0916° N, 1.8545° W
Thor's Cave OS grid reference: SK130556
What is the best time to visit Thor's Cave?
Thor's Cave is an extremely popular attraction in the Peak District and has been for decades since there was a railway track here.
But, in recent years, the likes of Instagram and TikTok have made this an even bigger star attraction and you'll find it can get very crowded.
Thor's Cave is a year-round walking track but it can get mucky in the Winter and rainy seasons. So, I would always opt for Spring or Summer when it's dryer. Saying that I visited in July and there were thunderstorms (quite fitting).
I would also recommend that you visit during the week and as early as you possibly can. This is especially important if you wanted photos. I got there around 8.30 am and I had to queue to go in!
Another good time to go would be around sunset later in the evening. But, it may be a bit busier than sunrise.
Thor's Cave opening times & ticket prices
Thor's Cave is a natural cavern and, although a tourist attraction, it is completely FREE to visit!
It's not managed by a company so you can visit Thor's Cave 24 hours a day, all year.
Although I would always recommend visiting with a reasonable amount of daylight as there is no artificial lighting around here and it could be dangerous navigating in the dark.
How long is Thor's Cave walk?
There are many walking routes to Thor's Cave that you can take in the Peak District National Park. It all depends on your fitness and how long you would like to walk.
These are some of the most popular trails:
Wetton to Thor's Cave walk – 3.5 miles and 1-2 hours.
Thor's Cave and Manifold Valley circuit – 5.6 mile loop or 2-3 hours.
Dovedale to Thor's Cave walk – 11 miles or 5-6 hours.
However, you don't have to make Thor's Cave walk this extensive or long if you didn't want to.
If you have children, are stuck for time, want to take photos at sunrise, or cannot walk too far, there are some shorter walking routes available.
Short & easy Thor's Cave walk
If you didn't want an extensive hike or complicated walk, there is an easy Thor's Cave route. You simply park near to the Manifold Way which is a flat walking and cycling trail.
It's not as exciting as some Thor's Cave walks but the Manifold Way is extremely scenic and if your main aim is to simply visit the cave (there is no shame in that), then this is the short walking route for you!
It's far more accessible as it's a flat path, so you can see the cave entrance above the Manifold Way easily even if you don't plan to climb up to it.
Once you're on the Manifold Way trail, you walk along the flat concrete path until you reach the Thor's Cave information board. This provides some more information on the cave and you can see it from here towering above you!
Head over a small bridge just beyond the board onto the cobbled path leading through the Wetton woodland.
On this cobbled path, you'll eventually see a stairway on your right with steps leading upwards towards the crag. Then, you can walk up the 200 steps to the cave!
This easy Thor's Cave walk will take around 20-30 minutes one way. I'll give specific walking directions below.
Thor's Cave Parking
The easiest way to access the Manifold Way path is to park on Leek Road to Wetton via the small car park found on this Google Map Pin here.
You'll find a National Trust sign for Wetton Hill on the gate nearby. You can access the Manifold Way on the opposite side of the road through the 'no vehicle' signed entry gate.
Or, you can park at the Weags Bridge Parking found at this Google Map pin here. The Weags Bridge Parking postcode is ST13 7TX or OS Grid Reference SK 09575610. This will be slightly longer as the parking is further along the Manifold Way trail.
Alternatively, you can park up for free in Wetton car park but the walk will be significantly longer as you will need to walk further to get to the cave. The loop is around 3-5 miles.
The Wetton car park postcode is Carr Lane, Wetton, ST13 7ST. It's open from Monday – Saturday from 8am – 6pm with a limit of 10 hours.
Sundays and Bank Holidays there are no time limits but be mindful there are only 25 spaces here and it can get full by 9am on weekends!
Important note: always park in designated parking areas. Don't park in passing places or on soft roadside verges as these can erode the landscape and block access for local and emergency vehicles.
Thor's Cave Walking Directions
1. From the car park find your way to the Manifold Way Trail
So, once you have left the Weag Bridge Parking or the Leek Road parking, you'll need to make your way to the Manifold Way trail.
As well as a walking path, it's a popular cycling trail so be mindful of cyclists coming either way.
Whichever side you start out on, keep walking down the path until you see the information board for Thor's Cave.
If you're coming from Leek Road, you'll see Thor's Cave entrance pretty much the whole walk down!
2. When you reach the Thor's Cave sign, walk beyond it over the bridge
Once you reach the Thor's Cave information board, I would recommend stopping here to read more about it and the history of this cave.
Then, you'll see a pathway that lies just beyond it that leads over small bridge heading into the Wetton woodland.
3. Carry on up the cobbled path until you see a stairway on your right
The path changes to mud and cobbles here which can get quite slippy and muddy if it's been raining.
Once you make your way up the cobbled path continue walking into the woodland until you see a turning on your right with more steps leading upwards.
The steps are quite distinguishable. They will be uneven in places so remember to take care.
4. Walk up these stairs until you reach the entrance of Thor's Cave!
There are around 200 stairs or so that lead you up to the front entrance of Thor's Cave.
They are not all connected in a row, sometimes you'll need to walk over uneven muddy pathways to continue on the walk. These can be quite wet if it's been raining.
However, always keep going upwards via the stairs until you reach the entrance of the cave! Depending on what time you visit, there will be a queue of people.
What to expect at Thor's Cave
The one thing that I did not expect was to have to queue to get inside Thor's Cave. I got there around 8 am and there was already a queue of around 4 groups before me to head in. So, if you want to avoid this, get there as early as possible or visit on a weekday.
I also didn't expect the climb into the cave to be so difficult and steep as it was! The reason why people are queuing is to allow people to scramble in and out of the cave as you have to climb over big boulders and rocks. It takes some time.
On that note, please, please be careful when climbing in and out of Thor's Cave. Even when it is not raining, the stone here has been rubbed within the edge of its life due to footfall.
So, you'll find that a lot of it is smooth and can be extremely slippy and challenging. Remember to take your time and slide out on your bum if you have to like I did!
You may get muddy but it's better than falling and hurting yourself – plus, flintstone slides are always fun.
Thor's Cave climbing
Once, you've scrambled inside the cave, it's quite plain sailing from here to explore it and look around.
However, it's still very uneven and requires some careful footing, so you'll need to walk slowly through the cave and use the sides of the cavern for support.
People are constantly walking in and out of the cave. So, it's important to take turns and give people enough time to safely climb out.
Not everyone has the same abilities, so make a judgement call and give some visitors more space. I saw many people ignore this and then it made it awkward to pass each other and people ended up falling over.
Exploring inside Thor's Cave
Once you've got inside the cave, there are a series of tunnels that you can explore that stretch really far back into the crag.
So, if you wanted to go further into the cave you can do that and see what lay's beyond. Luckily, there's no chance of seeing any huge bears anymore!
Just make sure you have a torch of some description to see where you're going. They are long tunnels and completely pitch back. It's quite creepy exploring them, especially if you're on your own!
Many people say that Thor's Cave is haunted and a solitary figure stands here who is thought to be a Roman soldier. Or, perhaps you'll see the less than harmless sprite that is meant to live here?!
Thor's Cave photography tips
The best times to visit for photography are either early morning or later in the day for the best lighting and to avoid the crowds
Its also best to avoid weekends, summer holidays and bank holidays as these periods are extremely busy.
If you can't visit at those times, I would still say to visit as early or late as possible. You'll need to wait for a lull in the crowds to get some photos without people in it!
Thor's Cave drone photography is allowed and you can get some amazing images if it's good weather
The inside of the cave is low light despite the cave opening. I took a tripod inside the cave for sharpness and I was able to set it up just fine.
Climbing on top of Thor's Cave
If it's a dry day, many people walk up to the top of the limestone tor to get some amazing photos of Manifold Valley from above.
When you leave Thor's Cave, instead of turning left to head back down to the Manifold Way, go right and upwards following the path that leads up to the top!
It's quite a climb and a steep rocky path but it's so worth it for those amazing panoramic views.
Unfortunately, on my visit, there were thunderstorms predicted and it was tipping down with rain. So, I gave the walk on top of Thor's Cave a miss as it was far too slippery!
Thor's Cave walk tips
There are toilet facilities at Wetton Car Park and Wetton Mill, there are no toilet facilities near to Thor's Cave or on the Manifold Way Trail
Always check the weather forecast (click here to see BBC Weather for Wetton) before you leave but know that it could change at any moment
This trial can get extremely slippy and muddy when it's been raining. Always wear appropriate footwear and be extra careful.
By all means take food and snacks with you but don't litter and take your rubbish with you
The cave can get extremely busy, if you want to avoid crowds I would recommend to visit as early as possible
What to wear for Thor's Cave?
The Peak District is famous for its random and changeable weather. It could be sunny on one side of the park and raining on the other!
Always check the weather forecast before you go and bring an extra layer just in case of adverse rain or wind.
I went and it was tipping it down but I didn't have the luxury of time to pick another day to go so I braved it. I thought it may be quieter in the rain but I was so wrong. It's always crowded haha.
I would wear clothes and shoes that you don't mind getting dirty as these pathways can be quite wet and muddy. The cave also requires a bit of a scramble to get inside.
Always wear some good waterproof and ankle supporting shoes as these pathways are uneven and slippery. Wellies may be hard to walk over the slippery cobbles and steps. I wore trainers and regretted my choice.
Thor's Cave packing list
Water – this is really important as there are no facilities around here or taps that I saw to refill water bottles. You'll be climbing up lots of steps.
Snacks – the nearest facilities are at Wetton or Wetton Mill which aren't open all the time! So, make sure to bring food with you but take rubbish home.
Ankle supporting shoes with a good grip – I came when it was raining and it was SO slippery on the way up and down. A lot of the stone on this walk has been rubbed into smooth flint by the footfall so be extremely careful. If you're worried, just go on your bum or use your hands and knees. I'd rather an embarrassing muddy bum for a day then cuts, bruises or worse; broken bones! I was covered in mud afterwards but I'm just relieved I didn't fall.
An extra layer for changeable weather – As you're in the Peak District, it's famous for its changeable weather. It was dry when I set out but then started to tip it down later. Always check the forecast before you go and bring a warm or waterproof layer.
A torch – your phone is good enough but a head torch or wind up hiking torch would be perfect if you're climbing inside! It gets super dark in the smaller tunnels despite the large opening.
Camera / phone – pics or it didn't happen, let's be honest! You may have to be patient for some photos without lots of people in them but it's so wort waiting for.
Are there places to eat near Thor's Cave?
There is no Thor's Cave Café around here I'm afraid, although that would be lovely! So, I recommend packing snacks with you on your walk (just remember to take all rubbish with you!).
However, the National Trust owned Wetton Mill do run a small tearoom, use postcode DE6 2AG. You can walk or drive there and they have a limited number of free parking spaces.
Important Note: You can't use the Wetton Mill parking area for the Thor's Cave walk as it's for Mill customers only.
It serves up teas, coffees, ice creams, and sandwiches throughout the day. The Wetton Mill tearoom opening times are Thursdays – Sundays from 10 am – 5 pm.
There is a lovely outdoor seating area by the river with ducks walking about and it's very serene. The perfect place (salvation) for a pick me up!
But, if you fancied a more substantial meal or a much-deserved pint, you can visit the Royal Oak Inn which is near Ashbourne in Wetton. Use the Postcode DE6 2AF.
Thor's Cave FAQs
Is Thor's Cave in the Peak District? Yes! It's in the Staffordshire area and quite close to Alstonefield, Dovedale, Ilam Park and Milldale!
Is Thor's Cave a hike? Yes, but it doesn't have to be extensive. There are many different walking routes which range in difficulty. The Manifold Way Route will take you around 20-30 minutes.
Is Thor's Cave dog friendly? Yes, I saw many people bring their dogs in the caves (so cute) but remember to keep them on a lead at all times to protect the wildlife.
Is Thor's Cave hard to climb? This is subjective but there are approximately 200 steps (a best guess) to climb up to the top of the crag to reach Thor's Cave! I didn't find it hard to climb up those steps but I was definitely out of breath! However, you can take your time as you walk up. When you get to the top, the cave requires a bit of a scramble to get inside and out and you need to be careful when exploring in here too. These steps are definitely not accessible.
Why is it called Thor's Cave? No one really knows why, it remains a mystery! But, there are many theories, one is that it was named after the God of Thunder but there is little evidence of this. Other's say it's an adaption of the old Welsh word 'Tor' meaning high rock, hill or tower.
Can you drive to Thor's Cave? You can drive near to it but you have to access the cave on one of the Thor's Cave walking trails.
Is Thor's Cave in Dovedale? It's not in Dovedale, but you are only 4 miles away from the Dovedale Stepping Stones. You can do the Thor's Cave to Dovedale walk easily. The Dovedale car park is only a 15 minute drive from Wetton.
How big is Thor's Cave? It's MASSIVE! It's 7.5 metres wide and 10 metres high. From the cave entrance, there are several tunnels that stretch far back inside the crag and you can explore deep inside them.
Can you go Thor's Cave wild camping? It is illegal to go wild camping in the Peak District National Park and Thor's Cave as its privately owned.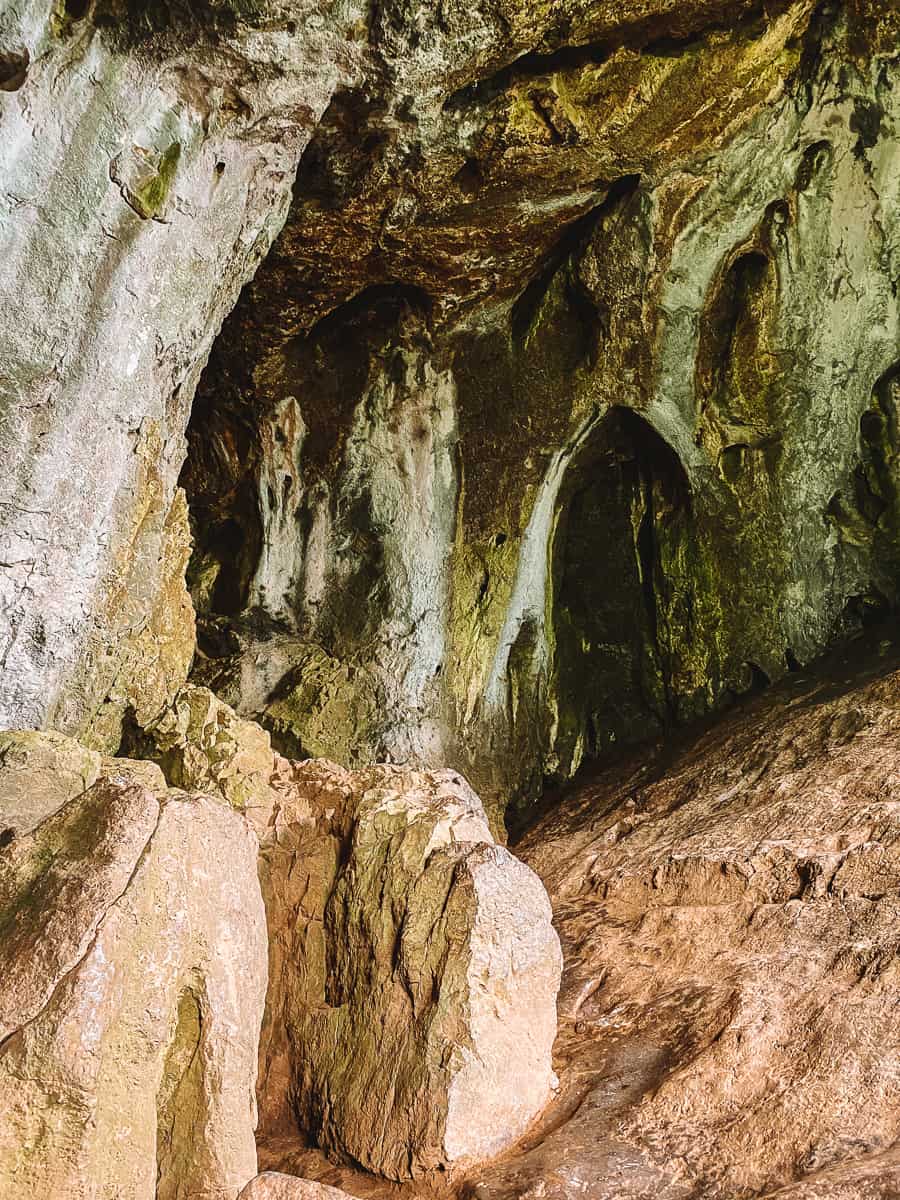 Where to next in the Peak District?
Once you've finished visiting the amazing Thor's Cave, you're in the very popular and scenic White Peak area of the Peak District.
After this, you could head over to Wetton Mill to the tearoom or over to the quaint village of Alstonefield.
You're also only a few miles drive away from Dovedale Stepping Stones, Ilam Park, or the idyllic village of Milldale.
Or, if you're up for another walk, you're only a 30-minute drive from Gradbach and the incredible Lud's Church which is an emerald green gorge that used to be a medieval place of worship!
Read more of my Peak District guides
How to visit Malfoy Manor in Real Life!
The best things to do in Milldale
A magical easy walk to Lud's Church
How to get to the incredible Bamford Edge
How to find Robin Hood's Cave in Stanage Edge
A complete guide to Peakshole Water in Castleton
How to visit Little John's Grave from Robin Hood
Why you need to visit Monsal Head Viewpoint
How to get to Solomon's Temple in Buxton
How to visit & cross Dovedale Stepping Stones
Best things to do in Ashford in the Water
Save Thor's Cave Peak District for later!