A Merlin filming location I have been wanting to visit for an age is the Three Bears Cave in Fforest Fawr near Castell Coch.
It featured in series two of the show in the 'Lancelot and Guinevere' episode when we meet the rather disgusting 'giant baby rats' called the Wilddeoren in the Tunnels of Andor!
A visit to these caves will take you on a short and scenic walk through the forest and there's even a magical sculpture trail to see while you're here that's perfect for Merlin fans.
Here is how to visit the Three Bears Cave Merlin filming location in Fforest Fawr, Cardiff!
Ogofau'r Tri Arth or Three Bears Cave history
Three Bears Cave, also known as The Three Arches, are not natural caves but three mine entrances in Fforest Fawr.
The land around Tongwynlais and Pentyrch is rich in coal, limestone, and iron ore deposits. Mine's were set up here to extract the ore and it would then be transported to the Taff furnace nearby in Pentyrch by packhorse.
Iron extraction peaked during the 1800s due to competition with another production company in Merthyr Tydfil and Tremorfa. They used a cheaper process to mass-produce the steel.
The Pentyrch Iron Works closed in 1870 but these three entrances still remain and today are locally known as Three Bears Cave!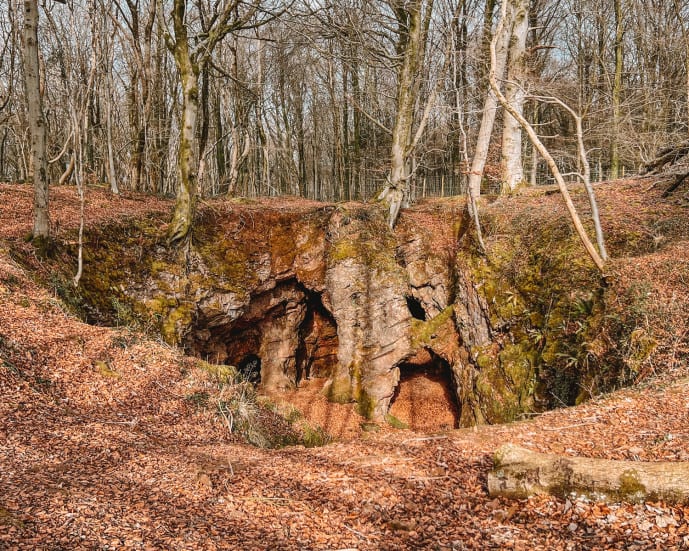 Three Bears Cave Merlin filming location!
Fans of the popular BBC series Merlin will recognise Three Bears Cave from series two of the show. In episode 4, 'Lancelot and Guinevere', we see first see these caves when Arthur and Merlin go looking for Gwen.
The bandit outlaw Hengist believes he has captured Morgana for ransom but he actually captured her servant. He brings Gwen back to his fortress where Lancelot is also a prisoner.
Hengist asks King Uther for a ransom in exchange for Morgana's life. But, as he has Gwen, Uther is not willing to send the ransom to save her. So, Arthur and Merlin decide to come to the rescue on their own!
Arthur directs them to 'The Tunnels of Andor' on the map they are following as it will save a day's ride to Hengist's fortress on the Mercian border.
However, he then mentions to Merlin that the caves are infested with Wilddeoren describing them as' giant baby rats' that feast on human flesh!
Luckily, the Wilddeoren are blind and guided by smell. So, they put stinking berries on their bodies to mask their scent as they travel through the tunnels.
These scenes all took place at Three Bears Cave, although the team did put some CGI mountain scenery in the background to make it look more like Camelot.
Click here to see the scene of Arthur and Merlin discussing the Wilddeoren!
What else has been filmed at Three Bears Cave?
As well as Merlin, there have been other TV productions that have been filmed here. The most popular is Doctor Who.
In series 8, episode 3 these caves are featured in 'Robot of Sherwood' with Peter Capaldi and Jenna Coleman.
It also featured in BBC's Sherlock The Hounds of the Baskervilles episode as a place called Dewer's Hollow. You may also recognise these caves from BBC's 'Torchwood' and SkyOne's 'Stella'.
Starz Originals also chose Fforest Fawr as a filming location for series 3 of Da Vinci's Demons along with the exterior of Castell Coch nearby.
How to visit Three Bears Cave
So, if you wanted to visit the Merlin filming location for yourself, you'll need to navigate over to Fforest Fawr and Castell Coch which both lie above the village of Tongwynlais.
It's really easy to visit from Cardiff and it's only a 20-minute drive from the city. It's also located just off the M4 motorway.
If you didn't have a car, I would recommend catching the bus to Castell Coch then walking from the castle through Fforest Fawr to the caves. The 132 service from Cardiff railway station takes you to Tongwynlais in 45 minutes.
You'll alight at Bute Street and then it's a 15-minute walk to the castle up the steep hill! You'll see a sign for Fforest Fawr in the castle car park.
Fforest Fawr postcode is Tongwynlais, Caerphilly CF83 1NG. Click here for a Google Pin!
Fforest Fawr parking
When you reach the turning for Fforest Fawr, you'll find a huge sign directing you into a large car park.
You must park up here for the Three Bears Cave walk as you cannot drive any further into the forest.
Fforest Fawr parking is completely FREE, so a day out here makes a great budget activity to do in Cardiff.
When you park up, make sure to clock the carved dragon that's sitting in the car park watching over the cars! Merlin fans will love this.
How long is the Three Bears Cave walk?
From Fforest Fawr car park, the walk to Three Bears Cave takes around 10-15 minutes if you choose to take the flat walking track.
But, I would highly recommend that you take the Fforest Fawr Sculpture Trail route (follow the blue footprints) as you'll get to find some magical, mythical creatures and wizards hidden in the forest – it's perfect for Merlin fans and little ones alike! It will make the walk around 20-30 minutes one way.
You can actually visit Three Bears Cave on a walk from Castell Coch too. But, this takes a little longer as the trail from the castle up to Fforest Fawr is very steep.
Three Bears Cave directions from Fforest Fawr car park
So, although the walk from Fforest Fawr car park to Three Bears Caves is a short one, I'll give you some directions on what to expect.
There are two options to reach the cave. Both are easy but it all depends on how long you want to spend here and what you want to see on your visit.
Option 1 – Follow the Fforest Fawr Sculpture Trail
The first option is to follow the Fforest Fawr sculpture trail route. This can be followed via the blue footprint signs on the markers here.
Once you reach the metal gate by the sign in the car park, make a right and into the forest!
If you follow this track, you'll eventually see the first statue of a Goblin head (?) and plenty more after this!
When you reach the sculpture of a wizard, follow the path around to the right. You'll see a stag sculpture. Keep straight here and gradually loop to the left.
You can then head through the forest towards the flat walking track. You'll see the wooden bear statue that marks the area!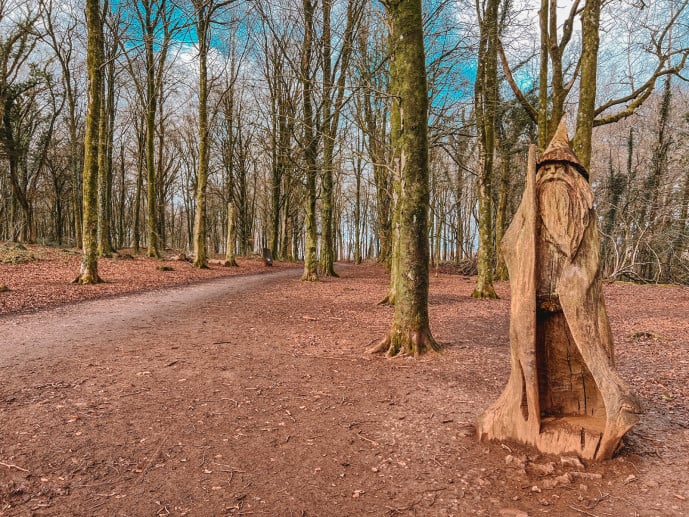 Option 2 – Take the flat path the whole way there!
So, if you wanted to skip the Fforest Fawr sculpture trail and get to the caves as quickly as possible – make sure you follow the flat track.
At the Fforest Fawr sign, you'll see a huge metal green gate that stretches across the bridleway. Walk through the pedestrian gate at the side and follow this accessibility track all the way down until you see the wizard on your right.
The path here forks. You can either take a right on the sculpture trail or keep following the flat path left.
If you take a left, walk all the way down this track until you see a wooden statue of a bear and a sign for Three Bears Caves!
The bear statue is how to find Three Bears Cave!
Whichever option you take, you'll know you've found Three Bears Caves by the wooden bear sculpture that's here. It's a rather impressive sight of an angry bear hugging its cub.
Here, you'll see an information board with some history of the caves and the wildlife you can find around these parts that are worth a read.
Then, all that's left is to climb up to the green metal fence and peer through to see the caves!
Fans of Merlin and Doctor Who will love being here and it actually feels quite surreal to see it.
In Merlin, the production team added some dramatic mountain scenery above the caves with a bit of CGI. That obviously won't be here on your visit but you can just imagine the Wilddeoren crawling out of them!
Can you go inside Three Bears Caves?
No, unfortunately, you cannot enter Three Bears Cave for your safety as it used to be an old mine.
I know that a couple of years ago there was a wooden fence here that people could easily climb over and walk down to the caves.
But, they have put a stop to this and that old fence has been replaced by a huge metal one. However, the gaps through the fence still give you a great view of the caves for photo opportunities.
I was so happy to finally see the Three Bears Cave Merlin filming location I didn't mind in the slightest – I wouldn't want to meet any Wilddeoren in there anyway!
My top tips for the Three Bears Cave walk & FAQs
Wear a good pair of shoes – Although the Fforest Fawr walking track is well laid and flat, I would still take a good pair of walking boots with you. The forest can get mucky. If not, I would opt for the roadside track as it's mainly gravel.
Toilets – There were no public toilets at Fforest Fawr car park. So, I would use some facilities before you go. Castell Coch has toilets for visitors.
Where to eat in Fforest Fawr – There is no tearoom or food van at Fforest Fawr car park. So, make sure to bring water and snacks with you. Castell Coch does have a seasonal tearoom or you can visit the Forest Tea Rooms Tongwynlais nearby.
Is Three Bears Cave dog friendly? Yes, your furry friends can walk here lead free! I saw many dogs enjoying a walk here on my visit to Forest Ffawr!
Why not visit Castell Coch next?
After your visit to Fforest Fawr, you can walk to Castell Coch or head back to your car and drive down to the castle nearby. It will be a 5-minute drive.
This is another Merlin filming location that featured in multiple episodes including The Changeling in series 3. This is where Arthur is forced into an arranged marriage to Princess Elena. The castle acts as her home.
Castell Coch is known as a fairytale castle in Wales and, although it has a history of over 700 years, the building today is a 19th-century Gothic revival folly.
Also known as the "Red Castle", it was built by John Crichton-Stuart the 3rd Marquess of Bute, who was one of Britain's wealthiest men at the time.
After he inherited the castle in 1848, he tasked the architect William Bruges to rebuild the castle as a summer residence where he could profess his feelings to his wife.
As well as the outside of the castle looking like a fairytale, the staterooms inside are filled with symbolism, mythology, and fantasy. In fact, the whole castle is a giant love letter!
My favourite room was the drawing-room parlour that had a huge celestial domed ceiling. The wallpaper was filled with scenes and animals from Aesop's Fables.
It took my breath away and I think it was one of the most beautiful rooms I have ever seen. I will never forget what it felt like to enter that room.
Click here to read my complete guide for visiting Castell Coch!
Are you looking for even more Merlin filming locations?
Although most of Merlin was filmed in Château de Pierrefonds in France, there are plenty more Merlin filming locations that you can visit in the UK near Cardiff.
After your visit to Three Bears Cave and Castell Coch, you can head up to Caerphilly Castle. Parts of this were used for Hengist's Fortress like the Great Hall.
Or, drive down to Dunraven Bay on the Glamorgan Heritage Coast where Arthur and Merlin decide which chalice is poisoned in the Labyrinth of Gedref.
Most Merlin filming locations can be found in the Wye Valley and the Forest of Dean. The most important one is Puzzlewood. Here, you can see where they filmed many scenes for the show in all five seasons and they even have Morgana's Hut still on display.
There's also Raglan Castle, Chepstow Castle, and Goodrich Castle. Plus, you can visit King Arthur's Cave near Symond's Yat and the aMazing Hedge Puzzle.
One of my favourite Merlin filming locations has to be Speech House Lake as the Gates of Avalon. Plus, there are plenty more locations in the Forest of Dean like Clearwell Caves and Cannop Ponds!
Click here for my Merlin travel guide for Puzzlewood in the Forest of Dean!
Read more of my South Wales blog posts
The best things to do in Monmouth
The Monnow Bridge & gate guide
The best bookshops in Hay-on-Wye
Why you must visit Llanthony Priory
The most crooked church in Britain
A complete guide for Barafundle Bay Beach
How to visit Dobby's Grave at Freshwater West
A complete guide for the Green Bridge of Wales
How to visit the Blue Lagoon in Wales
Save the Three Bears Cave Merlin filming location for later!