A bucket list item in its own right, the famous blue trains in Sri Lanka are a must for any traveller visiting this small coconut island!
You will wind around hills, tea fields, and villages and take in endless breathtaking views the whole way.
If you haven't factored in a train ride during your trip to Lanka, stop what you're doing and change your plans!
Trust me, you can't miss this.
The most famous of these train journeys is the haul from Kandy to Ella and back. So, if you're going to do just one train or you're stuck on time, make this it.
Train travel in Sri Lanka is some of the most cost-effective and efficient means of transport and it doesn't feel like travelling as you'll be having too much fun hanging out on the train and admiring the backdrop anyway!
Here's a guide to taking the famous blue trains in Sri Lanka, including prices, booking and what carriage to take if you wanna perform your own stunts :P
Top 10 tips for the blue trains in Sri Lanka!
1. Not all the trains are blue
Every time that I saw the famous Sri Lankan train journey pictures on social media, they were all blue trains.
They looked so beautiful against the winding green tea fields and mountains. So, I knew I definitely wanted to get pictures in one.
But, when I arrived, I quickly realised that not all the trains in Sri Lanka are blue!
The blue trains in Sri Lanka are the modern trains that run on the mountain railway from Kandy to Ella but they also have really cool vintage red trains!
This one is perhaps a little cooler actually as it's a steam train and all the carriages are old school and even the conductors wear a traditional uniform.
It looked so pretty and at the back, you can sit in the observation deck seating which looked like so much fun!
So, if you did want to catch a blue train, it's worth asking what time the blue trains come through the station.
I caught the train from Ella on the 9.20 am train and it was blue. But, if you're after the vintage train, you'll have to be up early around 6.40 am to catch it!
For a timetable of train journeys in Sri Lanka, you can search on the official website!
2. Ditch the observation deck, it's better in 2nd or 3rd class
A lot of travellers are so desperate to book the observation deck tickets but I don't really think it's a big loss if you don't get one. I personally had the best time in the 3rd class reservation.
I just went to the station the day before to book my seat for around 400 Sri Lankan Rupees (LKR) which is around £2. 2nd class is around 600 rupees (£3 approx).
It's not a luxury but everyone gets their own seat, no one is allowed to get on who doesn't have a ticket and you can hang out the doors and take in the view!
There is no air conditioning but everyone opens the doors to let the air in any way.
3. You don't need to reserve in advance, but it's worth it
You can just turn up on the day at the station to get your tickets. I sometimes found this was the only way to get a reserved seat.
This was such a luxury compared to India where I have to book well in advance.
The stations kept telling me that some of the classes were full the day before, but on the day of travel, they would have a cancellation or extra seats.
So, it's worth rechecking if they have told you it's full. You do pay a lot less for non-reservation (it's around half the price) but you're not guaranteed a seat and it fills up fast!
There really isn't any limit to how many people can hop aboard those carriages either so you're guaranteed to be squished.
Although you will probably be just sitting in the doorway anyway, be aware that you will be joined by a lot of people doing the same.
In reservation, the doorways were pretty much empty.
4. It's one of the most beautiful train journeys in the whole world
Honestly, the views from the train going from Ella to Kandy were so stunning.
You will wind past tea fields, rolling hills, local villages and a sea of palm trees when you near Kandy.
It's absolutely breathtaking, especially when the sun is shining.
Personally, I loved people watching in the villages. Seeing all the life that was going on.
Ladies in the tea fields, children playing outside their houses, builders working and families cooking and talking. It was beautiful to watch.
5. 1st class is an option that has air conditioning
If you're visiting when it's really hot, or you just fancy some luxury, there is a 1st class option for reservation.
Make sure you book these carriages way in advance as there is only one or two per train and they do sell out.
Personally, I didn't book these are they are around 1200 rupees per seat (£6) and none of the carriage doors opens. Not great for photography!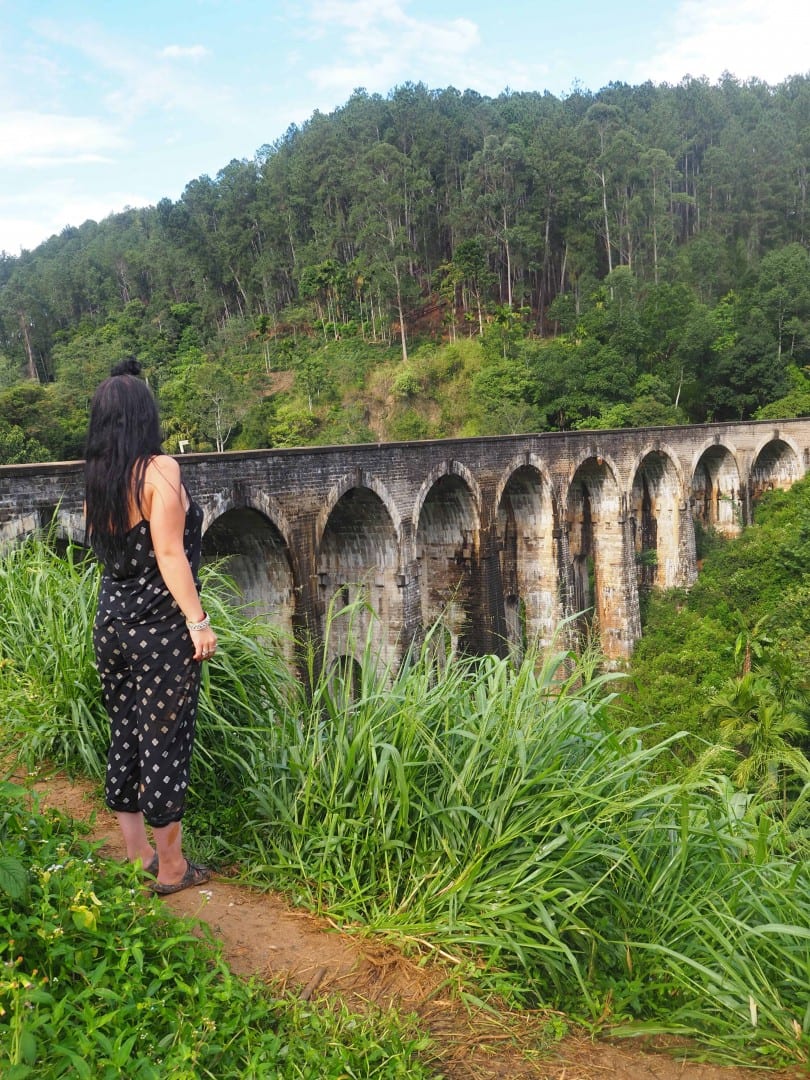 6. You can hang out the doors and windows but make sure they open!
The 2nd and 3rd reservation carriages were great as they allowed you to hang out the doors and open the windows to take in the fresh air.
But, some of the carriage doors in my carriage were locked!
This is to stop anyone boarding who doesn't have a reservation.
In the end, I asked the conductor to open the remaining doors for me. He kindly obliged after I asked a couple of times haha!
7. Ask where your carriage will arrive at the station…before your train gets there!
It's really easy to step onto the station and stand on the opposite end to where your carriage ends up.
Then, it's a mad rush to run to your carriage and sometimes the trains don't stop for too long!
Make sure you ask one of the station masters or the people who are waiting for the train too.
They can help you to stand in the right place.
8. Watch your legs if they're hanging out of the train
At first, I had my legs hanging out of the train, but, as I was visiting in monsoon season the grass and foliage were overgrowing on the tracks!
That meant that my legs were constantly getting brushed and scratched by the plants.
The train also pulls up SO close to the side of the mountain at points. So, I quickly drew my legs back in until we were in a wide-open space.
Or, if you do hang your legs out, wear jeans or trousers.
I also had a cricket nose dive into my face when I was sitting in the doorway! Haha, it took me by complete surprise.
9. If you only do one train journey, let Ella to Kandy be it
There are train connections throughout the whole of Sri Lanka but the most famous one is Kandy to Ella and vice versa. It's the most breathtaking and easily the most beautiful panoramic journey in Sri Lanka.
I would say if you're only going to do one train journey then let it be this one.
I did do a journey from Colombo to Galle which was nice and ran along the south coast but easily my favourite was the Kandy to Ella.
10. Make sure you take a train during the day
The views you will see on the train ride are part of the package and if you take a train journey at night time, you will miss out on the incredible show!
I would highly recommend that if you are starting your journey, you take a train in the morning time to get the most out of the light.
For example, the Kandy to Ella train takes 6 hours so if you take the 3 pm train ride most of it will be in the dark.
Final Words…
Surely, you must be convinced to take one of the blue trains in Sri Lanka by now!
Although travelling from place to place can be dull, the train journeys will honestly be a highlight of your holiday here.
It doesn't feel like travelling when you're passing through jaw-dropping views at every turn.
Make sure you plan a train journey (and throw your legs outside the door) when you take a trip to Sri Lanka.
For some more detailed information, you can check out the legend The Man in Seat 61. He is the guy I go to first for all my train travel queries all over the world!
Make sure you read some of my other articles on Sri Lanka!
I travelled all over this little coconut island. So, after you have taken one of the famous blue trains in Sri Lanka, make sure you read some of my informative guides;
My big fat list of things to do in Sri Lanka!
Top experiences in Nuwara Eliya
How to spend two days in Kandy
My complete Udawalawe elephant safari guide
Why you shouldn't miss Polonnaruwa
The best beaches on Sri Lanka's south coast
The best places to visit in Mirissa
Save this blue trains in Sri Lanka post for later!