Egypt is one of the cheapest places to buy gold in the world! Gold bullion in the UK is in short supply and prices have skyrocketed.
So, lots of tourists fly from the West with the hope of buying gold in Egypt and taking home some pretty pieces.
But, unfortunately, there's a dark side to this trade. If you're not experienced in buying gold, a lot of sellers can see you coming from a mile away.
So, it's best to get prepared and know what to look out for. Even if it's your first time buying, don't say that and you need to act like it isn't.
A lot of local Egyptians know what to look out for when buying gold as they've done this all their lives. But, for us, it's hard to know when we're being played and what rights we have after our purchase.
I was scammed for gold in Egypt.
It wasn't a great deal of money, almost $300, but it's a lot to chuck down the drain when it wasn't rightfully owed. I learned a lot in the mere eight hours after my purchase.
So, I've made the mistake so you don't have to and want to pass this knowledge onto you.
Here are some top tips for buying gold in Egypt from someone who got scammed!
The Gold Scam in Egypt or 'The Play'
A fresh tourist who's come to Egypt with bright eyes, cooing at the shiny gold in the cabinet is like music to any gold trader's ears.
They've probably, quite literally, just walked off the plane and put their trust in the gold traders in Egypt. I mean, the seller knows their gold right?
So, they should be able to give you sound advice and a fair price.
Well, that's where they're wrong. Now, not all gold traders in Egypt do this. Some are totally fair and run an honest business.
But, some gold traders in Egypt are crooked and so it's always a good plan to walk into the shop with a certain level of resistance before you purchase.
Whether you've walked into the shop of your own accord, with your tour guide or group.
Here are some ways that you could be scammed;
They won't show you the weight of the piece before they say the price
The weight won't be included on the receipt
It won't be 18 carat gold but 9 carat or not gold all together!
Only showing you the more expensive pieces
Tell you the price is based on the 'workmanship'
Compliment or pressure you into buying it (which is a sign of a bad seller)
That you're not buying gold you're buying money (which is true in a way)
Bumping up the price as they know they will need to pay commission to the tour guide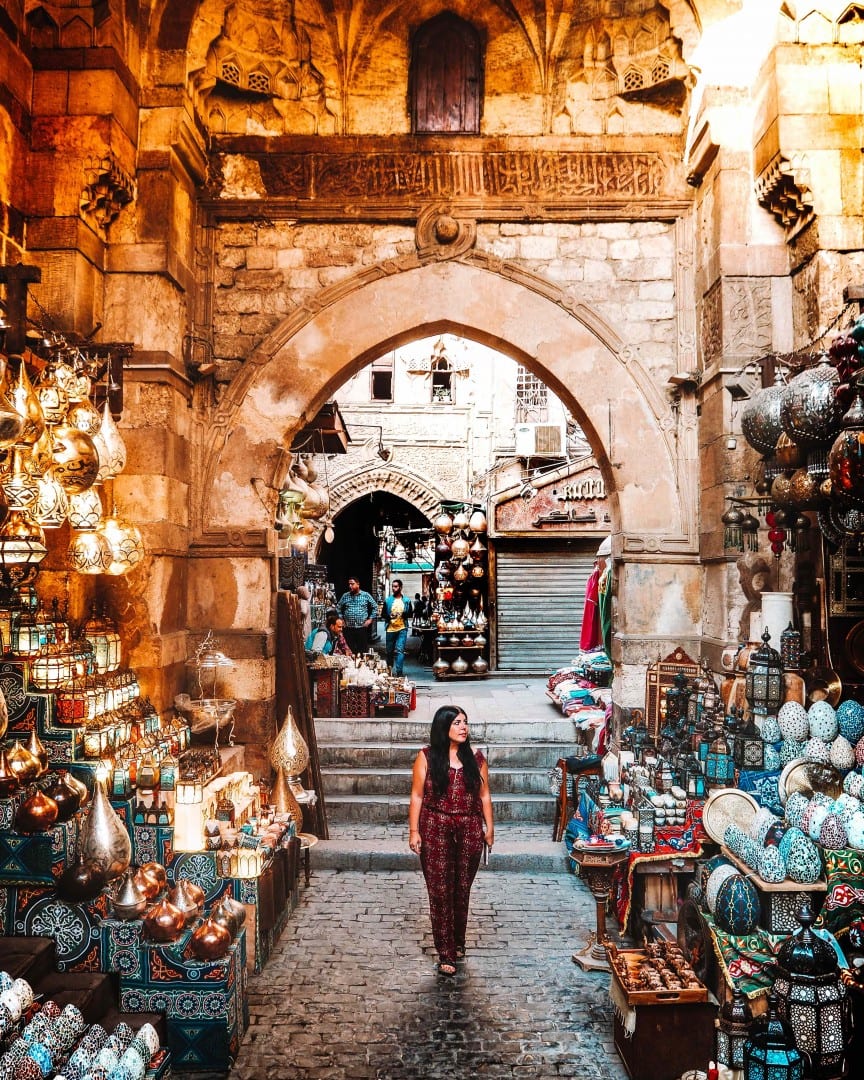 How I got scammed for buying gold in Egypt
Ever since I was a kid, I've dreamed of visiting Egypt. My Nan went to Egypt and had these amazing souvenir statues in her house and gold jewellery she'd bought there on her neck.
A cartouche, her name in Arabic, and a Nefertiti head pendant. I loved those pieces and was so taken by them.
In school, I was obsessed with ancient Egypt, mostly due to the Mummy movie. I would drag my parents to the British museum and always said I would visit Egypt.
But, I left it on the back burner for many years. So, I finally made it to Egypt to enjoy my dream trip. I thought I would treat myself to my own cartouche necklace. Just like my Nan's.
During my travels, I took a private trip to Abu Simbel from Aswan with a tour guide and driver. On our way back from the temples, the tour guide put the thought in my head; "Would you like to buy any gold while you're in Aswan?".
Suddenly, after I had this amazing day, I thought "why not?". I did want one after all and I had heard Aswan was the best place to buy it.
The scam took place at New Scarab Jewellery
So we made our way to one of the jewellery warehouses called New Scarab Jewellery in Aswan. That's what the building says when you arrive and supposedly they're located on Al Khazzan street.
But, you can't find it under that name online or at that address on Google Maps. Also, the contact phone numbers on the receipts is false.
Online, it's known as Scarab Jewelry and Sondos Papyrus located at Nagaa Al Karour,This was next to the Thutmoses perfume palace.
Not to go all conspiracy theory on this, but by all accounts, it looks like they give a false online presence. Probably to stop scam reviews!!
How New Scarab Jewellery centre scammed me in Aswan
The guide called the warehouse to tell them we were on our way. It was quite late in the evening, around 7pm, and I was surprised that they were still open being honest. We arrived and I was offered a cup of coffee. It was the worst cup of coffee I ever had.
By all accounts, this place looked super legit. It's a popular place that tour buses stop at and it's a huge warehouse full of jewellery, silver, gold, stones, statues etc. all beautifully displayed in cabinets.
I asked the man to show me his gold cartouches that he had for sale. He showed me a couple of them, most were quite thick double-sided with my name personalised to go on one side.
I asked for cheaper options as they were quite pricey. He showed me a couple of the one-sided pieces but told me that there was a risk of it bending as they were flimsy.
After I deliberated for a while, I finally chose a double-sided pendant, he told me that I would have a big discount on it. He told me the price of the pendant would be $400USD and this was a big 'special' discount as usually they were around $500.
He also told me that the weight was 4 grams. Obviously, just by looking at it, I couldn't tell but presumed it would be heavy.
Then, onto the chain. I picked out my perfect 18 carat gold Figaro chain that was classic in design and thick enough to compliment the pendant.
They looked perfect together. All the while, he was telling me 'not to think too much' and it looked perfect on me! The chain was heavy, I could tell that, but he then told me that the chain would be $400USD with a discount.
I was debating it for a while. It was SO much money. But, because I was 30 the following year and it was a beautiful keepsake from Egypt, I was swaying towards it. I'd also never get it for this price in UK.
Then, add onto the fact he told me that the gold would pay for itself and it wasn't just buying gold it was like buying money; I wanted the gold. I handed over my debit card and spent $800USD on the gold necklace.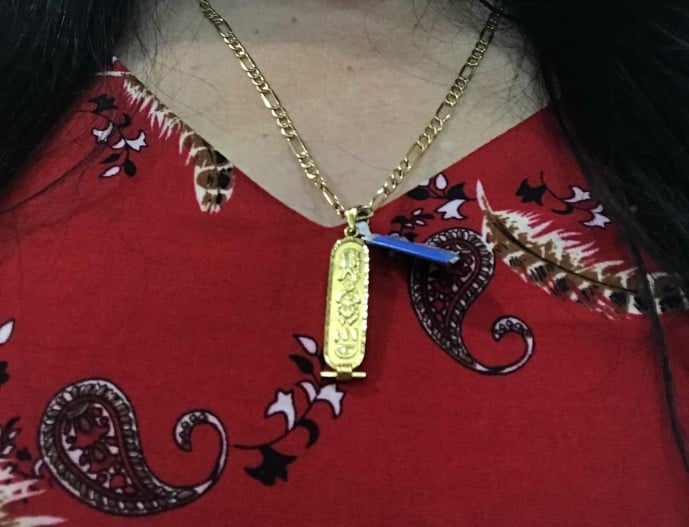 How I found out I had been scammed by New Scarab Jewellery
He handed me a receipt and told me that I would be receiving it in an hour at my hotel, the Mövenpick in Aswan, as they needed to add the personalisation.
An hour later, I received a call in my room and I came down to reception to pick up my necklace. I was SO excited to see how it turned out.
I tipped the person delivering it as is custom in Egypt and returned to my room with the finished product. It was so lovely, I just kept looking at it.
I called my Mum and she said she would be interested in one for her too. I didn't have time to go back to New Scarab Jewellery.
So, I asked my hotel reception of any gold traders nearby. The receptionist saw my gold necklace and out of curiosity asked how much I paid.
When I told him the price, he was stunned.
"Oh, no, no, no" he said. "What?" I replied, anxious as I was getting a little worried by his response. He replied "That's far too much, they have scammed you. I've heard of this happening in Cairo but NEVER in Aswan. Most people are honest here".
My mind was racing and I saw red. I couldn't believe it. I'd been scammed for this necklace. I was straight on the phone to my tour guide "Hello Sophie? What is it?".
Let's just say, I went crazy down the phone and demanded my money back. He kept blabbering down the phone about how the deal is done etc.
But, I wasn't having any of it. He said he would call New Scarab Jewellery and see what could be done.
How I got my money back from the gold scam by New Scarab Jewellery in Aswan
The tour guide came back and said that they would give me $50USD back and see me in their shop again to discuss.
The receptionist at the Mövenpick strongly advised against it and told me I should be asking for the full $280USD. As this was the right amount back for the weight.
As it was around 11pm, the kind receptionist then took over for me, calling the tour guide and New Scarab Jewellery to organise to get my money back in Arabic.
He told me to go to my room while he sorted it and advised the tourist police what happened.
He then called me around 30 minutes later to say that I would be getting the full $280USD back. I didn't even have to see them again at all. The receptionist at the Mövenpick collected the money and sure thing, I got $280USD delivered under my door in an envelope
It was so kind. Of course the next day I gave him a tip and gave compliments to the manager for his help. They also reiterated that this sort of thing doesn't happen in Aswan and they were shocked.
They say their shop is called Scarab Jewellery and Sondos Papyrus online. But it's actually New Scarab.
Top tips for buying gold in Egypt
I mean I could go 'all woe is me' on this incident but where is the point in that? I can only be grateful it wasn't more money. Some people spend thousands here.
I lived in India and was pretty savvy to scams. But this was premeditated and callous. Aswan isn't known for ripping people off, so it came as a shock for most people I told.
It was a hard lesson getting scammed for gold in Egypt, but I learned a lot from it.
So, here are some tips I have for you if you're thinking of buying gold in Egypt.
1. Never go shopping with your guide
This is the biggest mistake. Never buy gold in Egypt with your tour guide. Always go shopping anywhere in Egypt on your own.
Tour guides will most likely steer you to the shop that they have a connection with and gain commission from your purchase. Knowing that the shop owner will bump up the price to cover the commission.
This will be ON TOP of the tip you'll most likely give to the tour guide after. So, for them, it's a win-win situation.
In my case, that commission was well over $100 if not more. I already gave him a hefty tip as he told me a sob story about having eight kids who needed medical treatment. I felt like such a mug after.
2. Check the 18carat gold price for that day before you go
18 carat gold is usually sold on weight per gram. It doesn't matter how fancy it looks, it's not about the 'workmanship', the global price for gold is the standard price.
At the time that I bought mine, the price per gram for 18 carat gold was around £560EGP, £25 approx and $30USD.
So, whenever you're buying a necklace or jewellery, always check the grams that the piece weighs and work out the price on your own.
You can check the price per day of 18-carat gold here.
3. Don't shop for gold in Cairo, go to Luxor/Aswan
While this was happening to me and throughout my travels in Egypt. Everyone advised not to go shopping for gold in Cairo. The globally accepted price per gram of 18 carat gold is thrown out the window here!
It's almost like a few successful quick scams to unfortunate tourists have set a precedent and new buyers fall into that trap.
If you are planning to head to Cairo and elsewhere in Egypt. Hold off buying anything until you get down to Luxor and Aswan.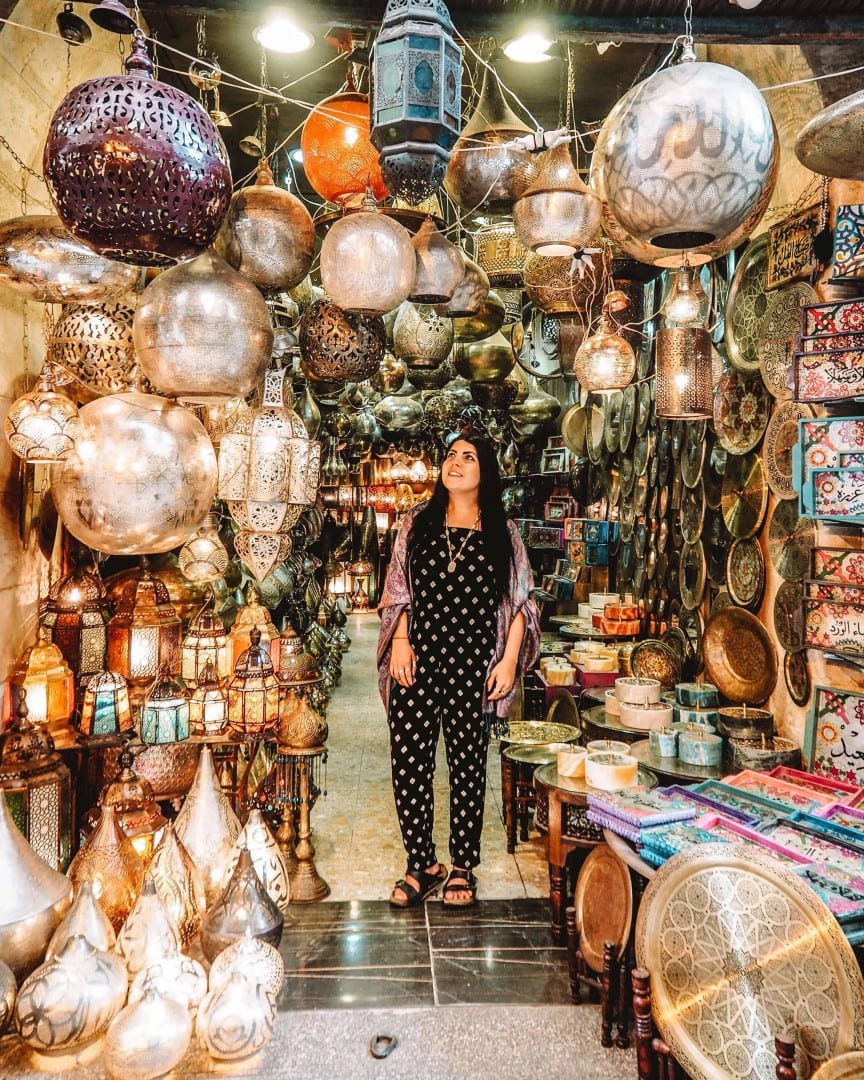 4. Go to a reputable retailer, don't shop in the markets
Don't even think about shopping for gold in the street markets and bazaars. You really cannot trust if this is real gold or the quality of it for that matter.
You should always visit a recommended retailer. Usually, these are like shopping centres, institutes, or warehouses.
People may tell you that these a 'government approved', that's not true. But, they are more reliable than the markets.
Any gold jewellers worth their salt will have their gold displayed in cabinets or keep it in a safe, offer you a certificate of authenticity, and show you their traders license. Some of them may be artisans themselves and can show you their handiwork.
It can be hard to ask advice from a hotel or tour guide as you never know if they gain commissions. But, I would check Tripadvisor reviews to gage other experiences and look out for scams.
5. Always make sure you can see the weight of the gold piece on the scales in front of you
Most gold retailers will have small weighing scales and any that are honest will have it on the counter to weigh it in front of you.
They will weigh the piece and tell you the weight in the current 18-carat gold price per gram for that day.
In my case, I didn't see the scales. He weighed it behind the counter, so I was none the wiser.
Usually, this will be quoted firstly in Egyptian Pounds, then in US Dollars. Always double-check the conversions that they are writing down for yourself. I have a free app called 'Currency Converter' on my phone that will do this for me, even offline.
If the gold also contains any jewels or precious stones, the price will differ depending on the worth of those stones.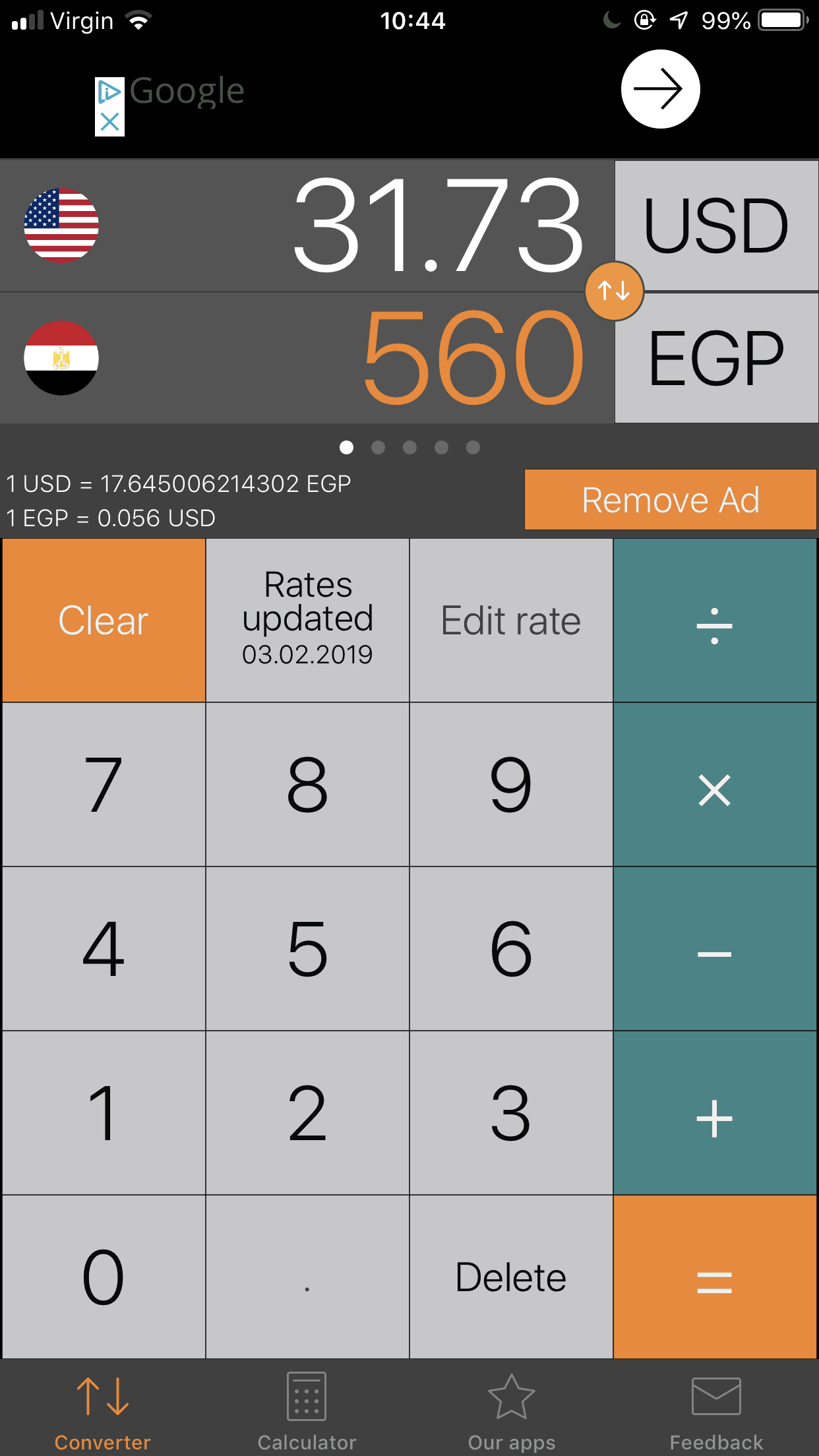 6. Make sure that on any cartouche necklaces, the name is in 18carat gold as well
If you're getting your name in hieroglyphics on your gold necklace, then a common scam is to charge for an extra gram of 18 carat gold.
But, then when they apply it, it's actually 9 carat which is far less in value. Not by much, but it's still a scam.
What will happen is that over time the added 9 carat gold on the cartouche will weather differently from the 18-carat gold cartouche and look brassy as it isn't as pure.
Always double-check that the extra gold being applied is also 18 carat.
7. Get a certificate of authenticity and a receipt with the weight on it
Any reputable retailer will give you a receipt with the weight of the gold on it and a certificate of authenticity for the purchase.
These authenticity certificates don't have a 'standard' theme, they vary from retailer to retailer.
I received a receipt with the price on it, but not the weight. It was all written in Arabic so I couldn't tell, but the receptionist translated it for me. Obviously proving that they ripped me off! Never again.
8. 18carat gold will be stamped with 750
Any genuine jewellery in gold or silver will have a recognised stamp, proving its authenticity and the amount of pure gold that is within each gram.
Although King Tutankhamun may have had pure gold, any jewellery metal today is never 100% pure. It would be too soft to mould;
Sterling silver will have a stamp of 925 as it is 92.5% pure silver.
9 carat gold will have a stamp of 375 meaning it is 37.5% pure gold.
18 carat gold will have a stamp of 750 meaning it is 75% pure gold.
Always check for a stamp on any jewellery you buy. If it doesn't have a hallmark or stamp, it could be fake.
9. If anything goes wrong, alert the tourist police
Any Egyptian local who has bought a fake gold necklace and it turned out to be 9 carats or has been scammed for their gold doesn't take it lightly.
Even a couple of years after they've bought it, if something goes wrong or it loses colour, they will demand their money back.
Now, we don't have that luxury of a few years as we're on holiday, but we do have certain rights after our purchase if we feel we've been misled or ripped off.
Firstly, you have every right to go back to the retailer and demand your money back. I would suggest bringing a local to help. Don't go by yourself or you'll probably just get bribed or bullied into keeping it. These guys are master of their trade.
Secondly, you can alert the tourist police about the purchase. This may mean filing a report and may come at a small fee.
But, at least they can assist you to escalate the issue and get some, if not all of your money back. Egypt needs all the tourism it can get and they don't want tourists having a bad time.
Thirdly, if you have suspicions, take it to a few different gold retailers and ask them to price it for you and get their honest opinion.
There seems to be a rule of code among the jewellers in the area, but they will help if you won't rat them out.
Don't get scammed buying gold in Egypt!
Now, I got scammed for buying gold in Egypt, but that doesn't mean you have to! I really wouldn't like the same thing to happen to anyone else, especially on their holiday.
For me, it's a situation I would rather forget, and am over it now. But, I felt obligated to share this to hopefully avoid the same thing happening to others and to make people aware.
Gold in Egypt may be cheaper than in the UK but please be hesitant before shelling out your cash for it. You really don't know if you're being taken for a fool or not and these guys are masters at their craft.
Make sure you're well prepared and follow these tips to avoid gold scams in Egypt.
Read more of my Egypt articles
My perfect 2 week Egypt Itinerary
The perfect Egypt packing list
The most Instagrammable places in Egypt
My guide to the Valley of the Kings
The ultimate 4-day Nile Cruise
Top places to visit in Luxor at night
The perfect guide for Abu Simbel
My survival guide for the pyramids
Why you NEED to visit Alexandria
Top tips for riding a hot air balloon in Luxor
Like it? Pin it!