Hornbill Festival was one of the most awe-inspiring, mind-blowing, and downright spectacular events I think I've ever attended to date.
The cocktail of Nagaland culture, tribes, and heritage all came together to stir a sense of wonder and adventure.
It's a major calendar event for any traveller heading to North East India in December and I would highly recommend you book your ticket over there – you can't miss it!
But, I feel there are some Hornbill festival tips for travel that you need to know before you arrive to prepare you for what you're getting into.
Here's my list of little-known Hornbill Festival tips!
If you were after some context before reading these tips, please read my complete guide to Hornbill Festival here.
Here are my top Hornbill festival tips
1. You can only get to Kohima and Kisama Heritage Village by road
Hornbill Festival is a celebration of Nagaland tribes and culture which takes place from the 1st December – 10th December each year.
The festival grounds are based in Kisama Heritage Village which is around 18 kilometres from the main city of Kohima.
Both of these places can only be accessed by road. The closest airport to Kohima is in Dimapur which is around a 3 to 4 hour drive away.
I would personally choose your vehicle wisely as the roads in Nagaland were some of the worst I have experienced in India and I can tell you I've been to many places in India!
I personally got an overnight bus from Tezpur to Dimapur then hopped on a bus to Kohima at around 6 am.
Nagaland transport is pretty basic. The buses aren't as often and prepare for long delays on the road. Dusty tracks and potholes galore.
For more tips on travelling around North East India, see here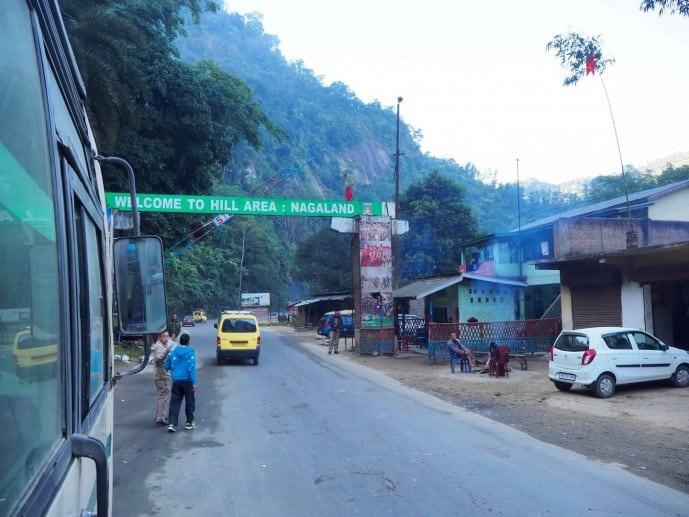 From the main city of Kohima, you can catch a shared or private taxi to Kisama Heritage Village.
But, during festival times, taxi prices are sky-high. So, if you're on a budget haggle hard.
I had just travelled for 26 hours by bus, so I was prepared to pay any money just to lie down and go to bed haha.
2. Kohima will be crowded, so expect widespread delays
Although Nagaland is called the state of festivals, Hornbill is the biggest festival event in the calendar each year.
Kohima is the capital of Nagaland which is already crowded and when the festival is in town the infrastructure can't handle the number of tourists and people attending.
This means you can expect widespread delays in traffic getting to the festival and around Kohima. Tourists come in their droves, be warned.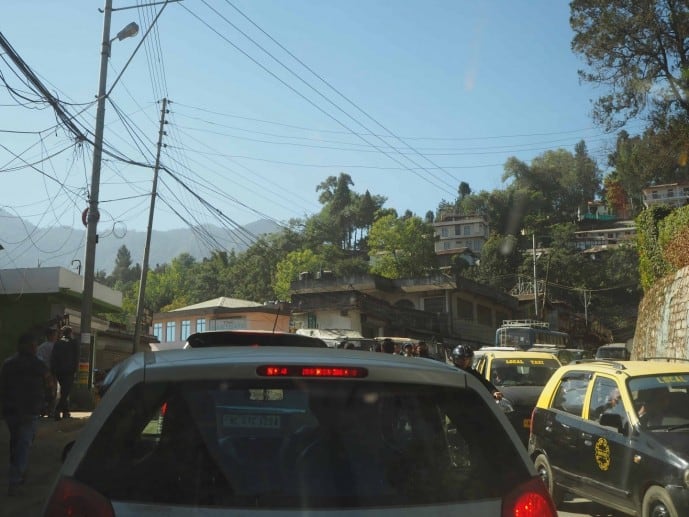 3. Hotels and guest houses book up FAST
Tourists and visitors book up hotels and guesthouses months in advance of the festival so don't expect to be able to book a place last minute. You may get lucky if there are cancellations.
There aren't endless amounts to choose from in Kohima and also, the room rates here will be sky high.
If you're planning to attend last minute I would check out the temporary camp sites set up around the area for the festival. These will not only be cheaper but will have some availability.
I stayed at Camp David Kigwema, click here for details
4. If you're camping, bring the proper equipment
That being said, if you are camping, bring the proper equipment. Most of the campsites will rent you out a tent nothing more.
You will need to rent the equipment for an extra charge.
Kisama Heritage Village is shrouded in shadow for a good part of 15 hours in a day. Expect temperatures to drop below freezing!
I couldn't believe how cold I was each day. I struggled to sleep as I was shaking so much on the first night – that was with a sleeping bag designed to handle minus temperatures.
Bring or rent a roll mat, a decent sleeping bag, travel pillow, buy an extra blanket.
Buy some extra layers of clothing OR bring a water bottle like me (lol). Do all you can to keep warm or you'll have a miserable time not sleeping!
5. The festival is pretty much free, but you pay a small surcharge for cameras/video cameras each day
As I was staying in near Kisama in Kigwema I didn't pay for the festival each day.
That's a small benefit of staying in the campsites. But, if you were heading in from Kohima each day it's only 2o rupees for entry, 30 rupees for a camera and 70 rupees for video. That's a steal for this beautiful festival!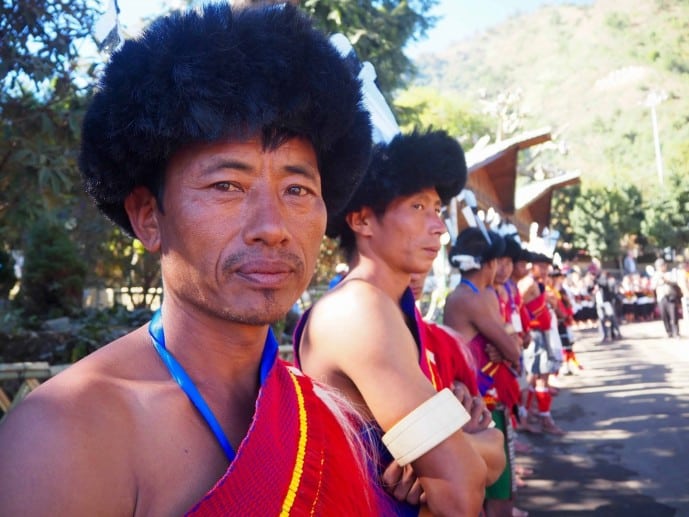 5. Come prepared with warm clothes
Holy moly, I couldn't believe how cold the festival got each day. In the morning from around 7 am – 1 pm it was so hot that I had to have a hat to cover my hair from the blistering sun.
But, from 2pm onwards, the temperatures dropped considerably and I was freezing until the next morning. Make sure you bring or buy warm layers of clothing.
After the morning showcases in the show ground, I would head back to my camp to grab a jacket and socks.
Then, head back for the afternoon. Most of the festival ground is open-air and so there is nowhere to get warm from the chill. I would suggest heading back to your guesthouse if you're struggling.
The kind ladies at my campsite would fill my water bottle each evening. It was a life saver! OR, get a rice beer jacket on.
6. You'll be meeting with 17 major tribes of Nagaland and they will be Naga
The festival is the celebrate and educate on the beautiful agricultural state of Nagaland. Here, you'll be meeting the 17 major tribes. These are;
Angami – Ao – Chakhesang – Chang – Dimasa Kachari – Garo – Khiamniungan – Konyak – Kuki – Lotha – Phom – Pochury – Rengma – Sangtam – Sumi – Yimchungru – Zeliang
Each of them has a different heritage, culture, cuisine, and tribal dress to learn about. Make sure you take some time to meet them and learn about their amazing culture.
My favourite was Konyak as they are the famous head hunting tribes. I actually headed to Longwa near Mon after this to get up and close with the headhunters of Nagaland. More to come on this.
7. Nagaland is devout Christian, so be respectful
I was so shocked to learn that Nagaland is a devout Christian state. This was a movement by missionaries in the 1980s to stop the tribes from battling and killing each other and to put a stop to head hunting.
So, always be respectful when talking about the bible here. I'm actually an Atheist but to make it easier I just said I was Christian.
You will hear Christian verses and songs everywhere, especially as it's near Christmas time in December. As I was missing the Christmas build-up at home in UK, this was comforting to see and hear.
Of course a lot of the Naga youths are curious to learn about your religion and where you come from, so just respect their views when having those debates.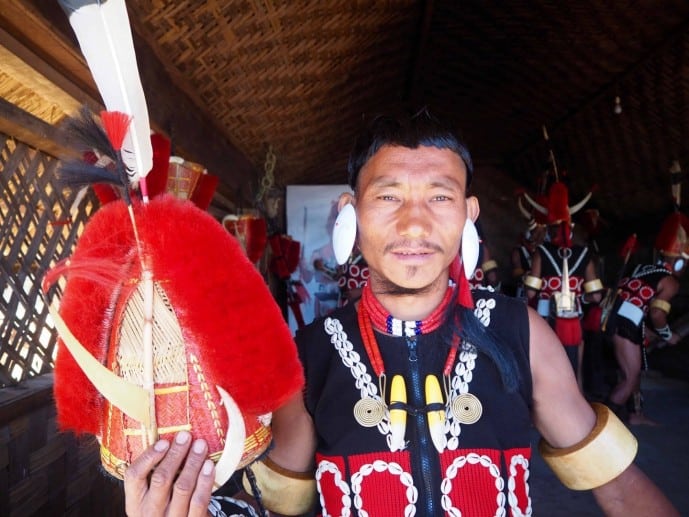 Personally, I had a hard time with it. Although I don't disagree that the Christian values have increased relations, I felt uncomfortable with the colonialist feel to it.
When I asked about what their religion was before the Christian take over the youths didn't know anything. All they knew was that they fought.
The festival is set up to celebrate their heritage and culture and I feel, in someways, it should remain that way. But, I guess we'll never know.
8. Bring your own booze, or drink the rice beer
Nagaland has a (rather lax) alcohol ban that's been in place since 1989 so make sure you bring your own booze if you don't want to drink rice beer.
Rice beer is the local alcohol that is served at the festival.
If you're heading to the festival grounds at night you can drink some with the locals around the many campfires set up outside the Morung's.
You'll find a lot of young people getting super drunk on the stuff then rocking out at the concert in the evening.
It's rather entertaining. It is hit and miss what you'll get in terms of flavour and strength but it's cheap as chips so, who cares?!
9. Be prepared for the VIP's
This is a government and affiliate sponsored event and a lot of political representatives, CEO's and ex army heroes come to visit the festival.
NOTHING can happen before these guys arrive, walk along the red carpet and start the opening ceremony speech before the events of the day. Although this is a nice gesture, they're notoriously late.
Add to that, that voting time was just around the corner for the Indian government and so the audience were treated with an hours speech.
All I can say is be prepared for it. It's bougie but it has to happen.
10. Visit in the morning for the best lighting…and warmth!
Heading to the festival grounds in the morning time really brings this festival to life as the sunlight just makes all the colours shine!
The blue skies shining off the thatched huts and the vibrancy of the tribal textiles makes it all the more mesmerising.
Plus the fact that it's nice and warm. When the sun goes down over the hills at 2pm, the wind and shadow make it like a tundra.
11. Watch out for innards and dog meat on the menu
Nagaland definitely isn't the place for vegans and vegetarians. Innards of pigs and cows and dog and horse meat are some of the carnivorous delights to be found on the menu.
So, if you were feeling brave go for it. Of course there are vegetarian options like egg curries and Thali's but it won't be endless.
Nagaland is predominantly a meat eating state.
12. If you're a solo female traveller, you're in safe hands
I travelled here solo and, at first, I was slightly worried about attending and camping alone.
I rarely book guides or tours as I find I'm much happier finding my own way around. But, I can verify that Hornbill is totally fine for solo female travellers.
I was walking back in the pitch black at times to my camp and didn't face any trouble. As this is a tourist festival, I guess that it's safer here than in other parts of Nagaland.
When I went to Longwa it was a different story. Read my complete guide for Longwa here.
13. If you're a photographer, go early and beat the crowds
The number one tip you'll know as a photographer anyway is to get up early and beat the crowds.
The best time of day to take pictures at the festival is just before the morning showcase in the huts.
This is the time where the tribes will be practicing. Perfect timing. Add the fact that the natural lighting in beyond perfect makes for some creative captures.
If you are a photographer and are looking for more guidance; you can read my full photography guide to Hornbill Festival here
14. If you're bringing children, there is a children's play area
Hornbill is set up for families and so there is a children's area to take them if they want entertaining.
This place has rides, ziplining, costume competitions, and shows with local children.
Although I didn't personally visit (entry isn't allowed for adults without kids), it did seem like it was a great place to have fun and educate the kids on Naga culture too.
15. This is a big source of income for Kohima and the tribes, try not to haggle too much
Nagaland sees rain for the majority of the year and Hornbill is a massive source of income for the tribes and Kohima itself.
The masses of tourists ensure that the festival can keep running each year and provides for the residents throughout the year when tourism is low.
I saw a lot of people (quite harshly) haggle with the tribes for textiles and crafts and weren't prepared to pay a penny more.
But, just keep in mind that these guys don't earn a lot throughout the year and these are handmade.
Those scarves and shawls took a long time to make, typically they can take weeks.
Don't cut them too short. Give a little.
16. If you want decent coffee, hit up Nagaland Coffee!
Like any festival, sleeping isn't usually an option for light sleepers like me.
Plus, the noise from the campsite and freezing temperatures (despite the hot water bottle) made for a really cold night of shaking.
So, I found a little paradise in Nagaland Coffee which is directly behind the showground.
I wasn't the only one; all the tourists seem to hang out here like it was the Starbuck's of Nagaland.
It was one of the only places to make artisan espresso coffee! They also used to do banana muffins for 30 rupees to go with it. A little indulgence in the morning.
If you're a coffee-lover, you must visit. All hail Nagaland Coffee!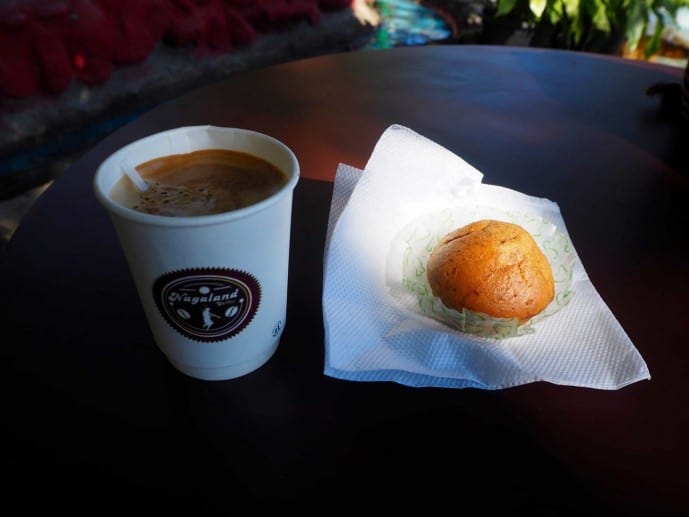 17. The tribes are really friendly
Despite the horns, the intimidating weapons and the fact that the guys are dressed up in their native tribal dress; they're super friendly.
Everybody was kind and open to you taking photos of them, open to conversation, and just happy to have you there!
I was solo and I find when I travel alone it makes you more open to experiences.
The guys (and girls!) felt less intimidated to talk to me and I had such a good time because of it. It was a fantastic opportunity to learn about a culture so unfamiliar to my own.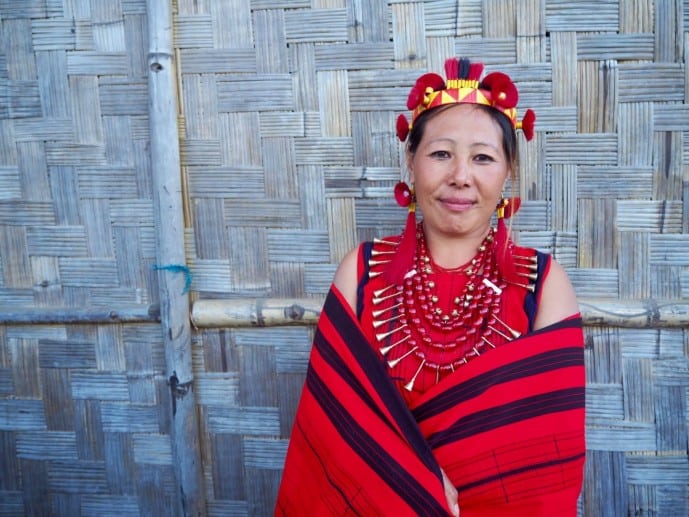 18. Book your bus ticket out in advance
So, you've made it into the festival without a hitch, and now is the time to get out?! Well, it's not easy.
If you've got the money, I would recommend hiring your private taxi back to Dimapur or for onward travels after Hornbill in advance.
Booking a bus was tough. I had to take a sharing jeep to Kohima to the booking offices.
There are so many tourists and locals trying to get home from the festival. It was pot luck if I got a ticket. I booked mine two days before and I still could only get the last single seat at the back.
Not ideal when the roads have a pothole every other mile, but I was on a time limit and needs must!
As soon as you arrive in Kohima, I would book your ticket out at one of the travel desks there.
There are no travel desks or bus booking stands on the Kisama festival grounds.
I booked with Network Travel in Kohima, but there are also Deep Travels and Blue Hill Travels to book buses.
19. Make sure you put Hornbill Festival on your list!
The biggest tip of all, don't miss this festival while you're in North East India!
It was honestly one of the most interesting and mind-blowing festivals I have ever visited.
I know it's a tourist festival and it's totally different in other parts of Nagaland but I fell in love with the culture, the tribes, and the Naga ways of living while I was here.
I guess the nicey-nicey festival vibe had that effect on me.
You honestly can't miss this opportunity; make sure you book your ticket to attend Hornbill Festival!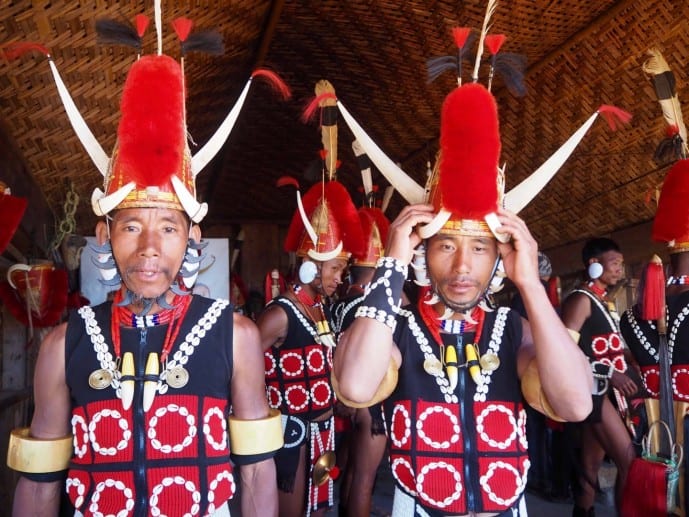 Read more of my Nagaland articles
If you liked these Longwa travel tips, make sure to read more of my articles on Nagaland!
My complete Longwa travel guide
Top tips for meeting the Headhunters of Nagaland
The ultimate Hornbill Festival guide
How to get the best photos at Hornbill festival
Read more of my North East India articles!
Top things to do in North East India
My top transport tips for North East India
Best places to visit in Arunachal Pradesh
My ultimate Tawang travel guide
How to find the double-decker root bridges in Meghalaya
A complete travel guide for Guwahati
A complete Kaziranga Safari guide
My top North East India travel tips
Like it? Pin it!