Tintagel Castle is one of the most famous historical sites in all of Great Britain.
It's where legends, myth, and magic blend with history on the spectacular Cornish coast.
Tintagel is famous for being the birthplace of the legendary King Arthur of Camelot. A heroic leader of the Knights of the Round Table, and the man who pulled Excalibur from the stone.
Whether you believe the legends are true or not, visiting Tintagel Castle has to be on anyone's bucket list when travelling to England.
Yes, it's now a ruin, but its breathtaking position on Tintagel island and the fact it has a little magic about it makes it worth every penny. I've been visiting since I was a child and every time I discover something new.
However, as one of the busiest tourist attractions in all of Cornwall, there are quite a few practical things you should know before visiting.
Here are my best Tintagel Castle tips that will save you time and money plus some more things to do in Tintagel to make it worth your while!
What is Tintagel Castle?
Tintagel Castle is a medieval fortification that is located on the peninsula of Tintagel Island off the West coast of Cornwall.
It had a long history of settlers, even during the Roman era, and was mentioned in the famous Arthurian tales by Geoffrey of Monmouth.
According to him, this was the place of King Arthur's conception. However, the Tintagel Castle ruins we see today were built by Richard of Cornwall in 1233.
It fell into disrepair centuries ago and became a tourist attraction in the Victorian Era when the site started being excavated.
Half of the Tintagel Castle ruins are on the mainland and the other half is on the island.
There's now been a monumental bridge built to connect the two sides for the first time in 500 years.
Did you know? although the site is run by English Heritage, Tintagel Castle is owned by Prince Charles!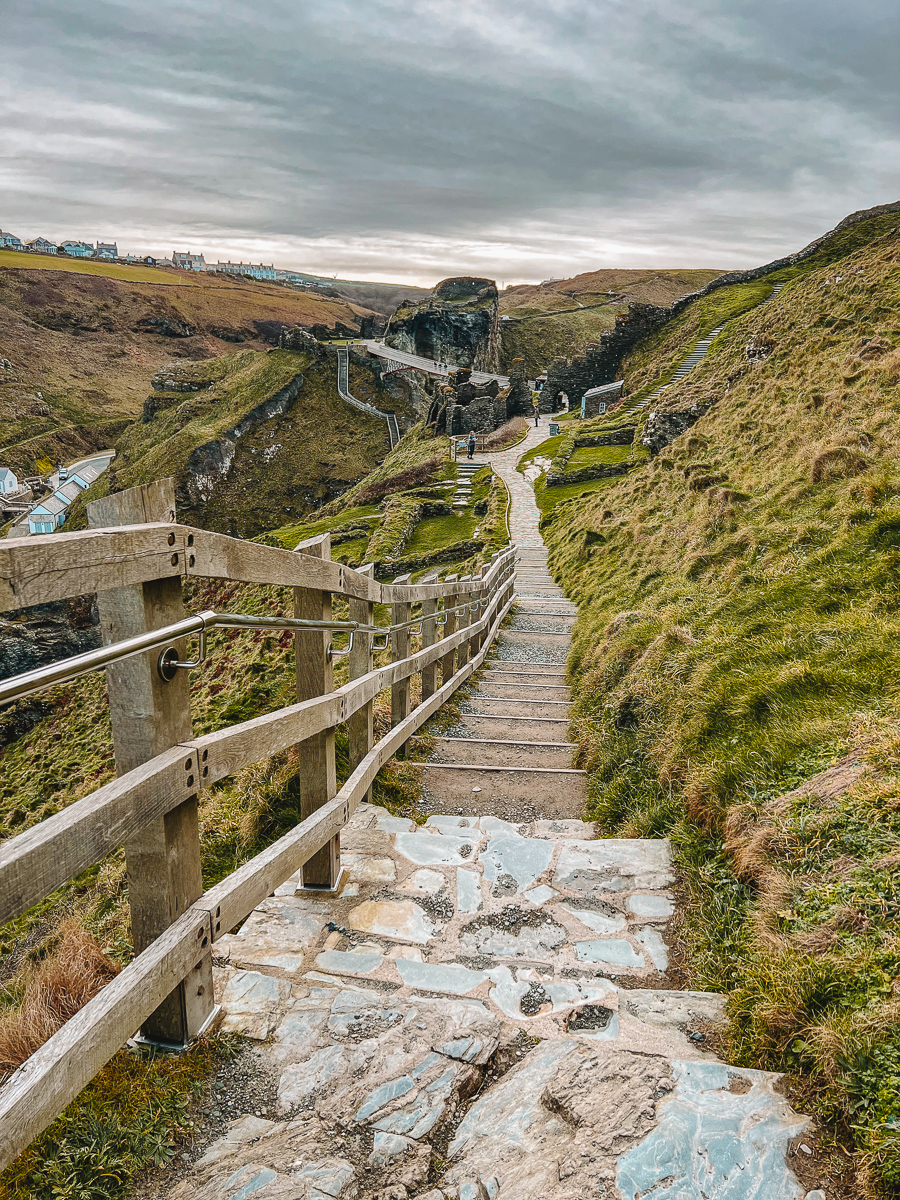 Is Tintagel Castle worth a visit?
100% YES! It's not a cheap attraction by any means, especially for big groups, but a visit to the castle will be worth every single penny.
Being immersed in endless chapters of history, experiencing the magical legends, and the breathtaking views of the coastline all make this a place to remember.
There is something here for every type of traveller; history nerds, Arthurian fans, or just those who want to see the stunning scenery!
The legend of King Arthur's Tintagel Castle
So what is the King Arthur Tintagel Castle connection?
Well, there are many legendary tales but the one that is most famous was written by Geoffrey of Monmouth in his 'History of the Kings of Britain' from 1136.
In the book, he wrote that Tintagel Castle was the place where King Arthur was conceived and the story is quite an unusual one. Way beyond the birds and the bees guys!
King Arthur was the child of King Uther and Lady Igraine. The famous wizard Merlin was entirely responsible for making that happen.
The legendary tale goes that King Uther was mad with lust for Lady Igraine. But, she was married to Gorlois, The Duke of Cornwall.
King Uther was so obsessed with her, he tried on many occasions to attack Tintagel Castle in order to have her.
Eventually, Merlin wanted to put a stop to the madness and so he enchanted Uther to look like Gorlois. Uther's men retreated and Gorlois and his men pursued them.
While Gorlois was away, Uther then was let into the castle and took Lady Igraine. Gorlois dies on the battlefield and the Lady Igraine, who falls pregnant, marries King Uther. She has a child who eventually becomes King Arthur!
There is also another tale by Alfred, Lord Tennyson who writes of Tintagel in his 'Idyll's of Kings'.
In the poems, it says that Arthur washed up ashore in Merlin's Cave beneath Tintagel Island. Merlin then saves the boy and brings him up to the castle to be looked after.
Related post – Visiting Uther Pendragon's Castle in the Yorkshire Dales
Arthurian discoveries made at Tintagel Castle
So, is there any proof that King Arthur or Merlin lived at Tintagel Castle? Well, there is no evidence to prove or disprove it.
Medieval kings have fought and bargained for this land for centuries just because it's meant to be where King Arthur could have lived!
There have been numerous excavations made around the area looking to find truth in the tales.
Apparently, from those, it was proved it was indeed a settlement around the sixth century and was the stronghold of an ancient Celtic King.
In 1998, a piece of slate was recovered with the inscription 'ARTOGNOV' which is Latin for the British name Arthnou.
Further investigations have proved it was from the 6th century. Could this be from of Arthur's legendary seat?
There are many who say he was real and even those that claim to be from the bloodline of the house of Pendragon. So, who knows?!
Tintagel Castle History
Beyond the legends, there are some chapters of the castle's history that we do know for sure through excavations, historical accounts, and records.
Through the numerous digs over the years, we know that the Romans settled on his site around the 1st century AD. Then, a little later, a Celtic king and his court used this place as a stronghold in the 6th century.
It gained monumental fame when Geoffrey of Monmouth wrote his tales in the 12th century about King Arthur. So, many notable people across England wanted to own the land of this legendary King!
These Arthurian tales inspired Richard of Cornwall, brother of King Henry III, to build a castle on top of the island in the 13th century. Little is known about what the castle was used for if he used it at all!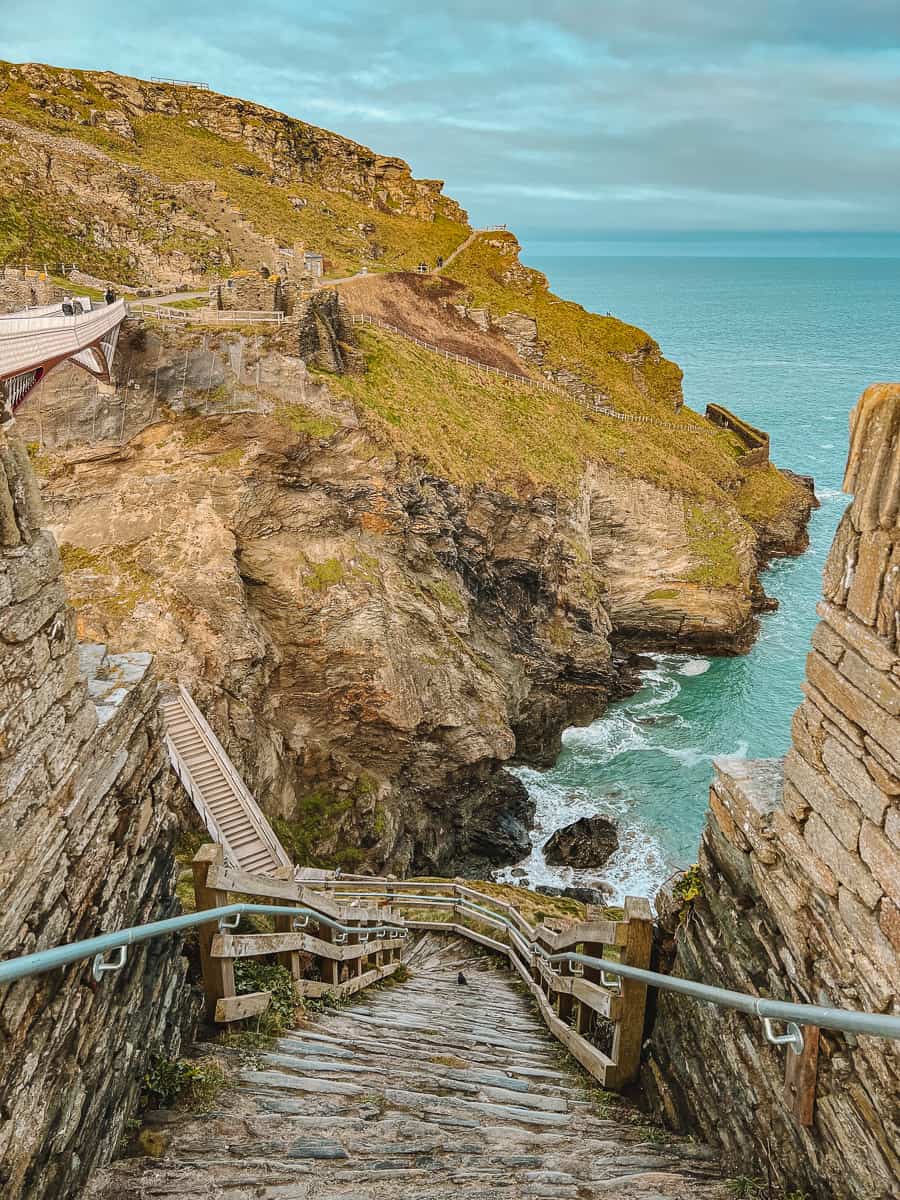 When the Duchy of Cornwall was created a century later, it was still being managed but eventually, it fell into decay and was abandoned by the 17th century.
Around this time, the name King Arthur's Castle started being used to describe the fort and the legends have preceded it ever since.
Around the 19th century, excavations started to take place in the area and the ruin became a popular tourist attraction. Even today, it's estimated that 250,000 visitors make the journey across to Tintagel Castle every year.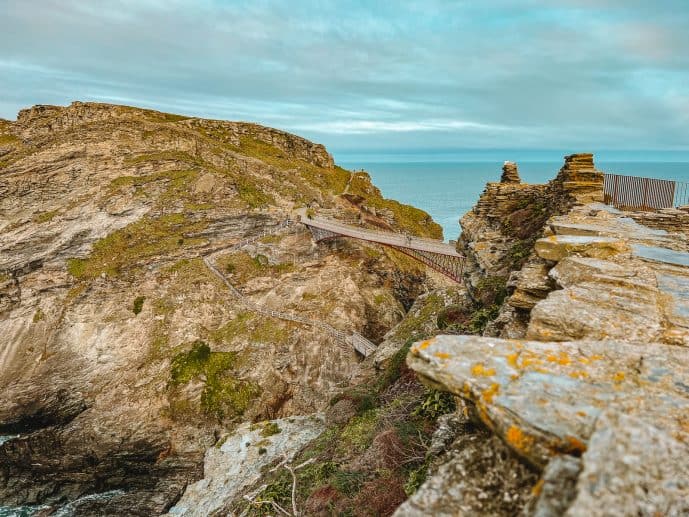 The Tintagel Castle Bridge
For centuries, the two sides of Tintagel Castle on the mainland and the shore have been entirely separated.
It used to be quite a tough journey. You'd take a really steep walk down to the coast, then a treacherous walk up the cliff on a set of 150 steps.
Now, English Heritage has revealed a brand new bridge that has connected the two sides of Tintagel Castle for the first time in over 500 years!
It was a monumental feat of clever engineering that will allow better access for many plus you'll be able to experience the history too.
But, it was met with a lot of controversies and many said it added more "Disneyfication" the site.
I, personally think this it's great and allows more people to visit and if anything honours its history. Regardless of the nay-sayers, it's here and you can choose to use it or not!
If you're scared and don't want to cross the Tintagel Castle Bridge, the old entrance is available for access which is a steep walk down Castle Road. Then you climb up the cliff steps to the top of Tintagel Island.
Practical tips for visiting Tintagel Castle today
A Tintagel Castle visit is a must for anyone on holiday in Cornwall, but there are quite a few things you should know before you go.
For example, Tintagel isn't open all year round. Also, when it is open, they have now established timed ticket allocations. So, booking online beforehand is recommended.
Here are my top tips for visiting Tintagel Castle!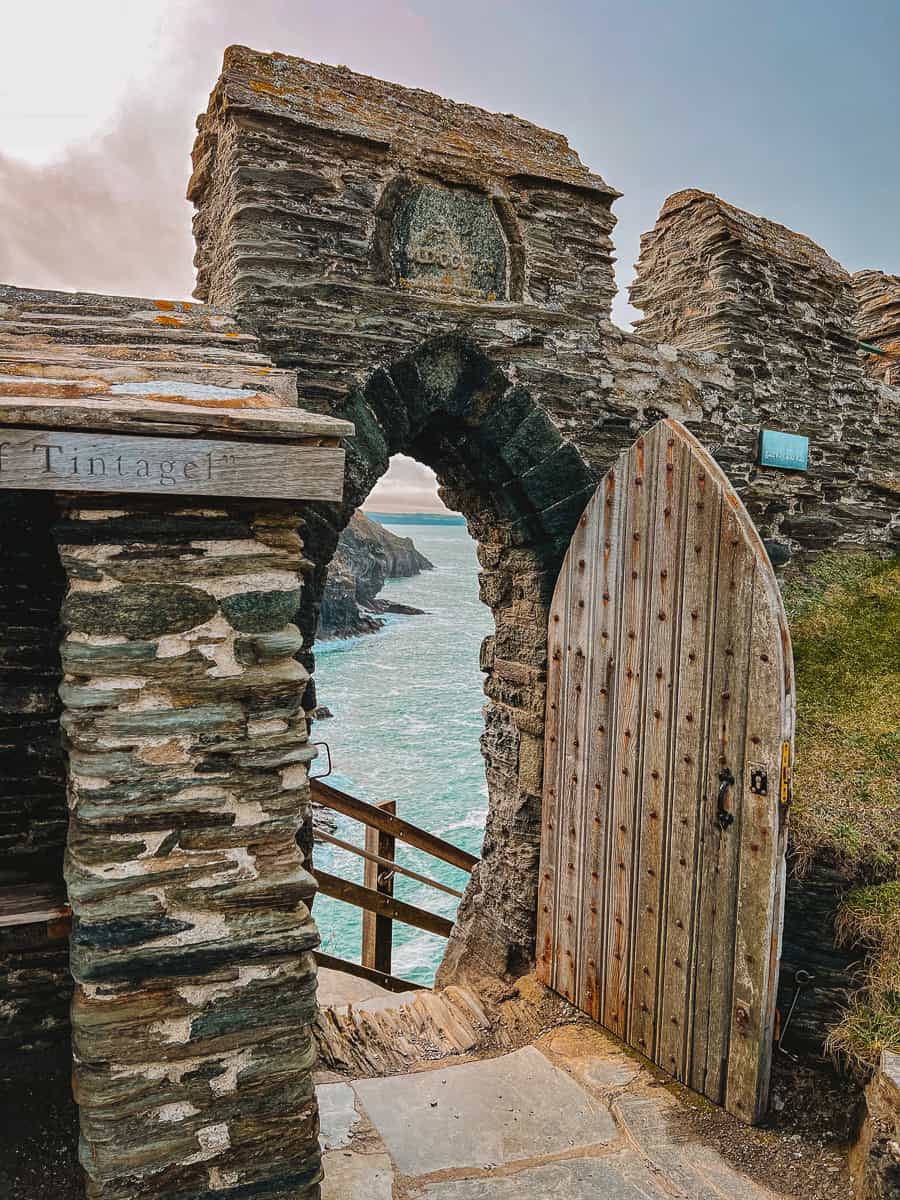 1. Tintagel Castle is open seasonally throughout the year
As Tintagel Castle is so exposed off an island on the coast, it often closes due to adverse weather conditions which we have a lot of in the UK!
So, it doesn't open all year round and is closed off through the majority of the winter season.
During the off-season, Tintagel Castle is only open on weekends and even then it could be closed if the weather isn't great. So, always make sure you check the website for closures.
This also means that the facilities around the castle like the cafés, toilets, and shop are closed too.
From around the month of April, the castle is open every day and all the facilities will be accessible.
Tintagel Castle opening times: In high season, Tintagel Castle is open most days from 10 am – 5.30 pm (last entry 4.30 pm). But, these can vary throughout the year.
When is the best time to visit Tintagel Castle? The best time to visit is in the shoulder seasons of Spring or Autumn. This is April, May, June, and September in the UK. The Summer season of July and August is incredibly crowded. It's also best to avoid weekends and a half terms or to visit later in the afternoon when it's a lot quieter.
2. Your Tintagel Castle ticket will have time-restricted entry
Since the new bridge has been built at Tintagel Castle, English Heritage has now introduced a timed ticket system to try and combat the number of crowds and protect the site.
But, don't worry, the time allocation is only to cross the bridge.
Once you're over at Tintagel Castle, you're not time restricted and no one will usher you on to leave!
To avoid disappointment and waiting around all day, it is recommended to book your tickets online and in advance. This way you can book a time that suits you and visit at the time you need to.
You don't want to get all the way here, turn up at the ticket booth, and be waiting around all day to cross!
Not only will this save you some time, but also cut down the HUGE queues that used to come with a visit to the castle.
Click here to book tickets online
3. It's cheaper to buy Tintagel Castle tickets online
Another incentive to book your tickets online before you go is it's actually cheaper than paying for tickets at the door.
You'll also be able to choose your visiting slot, so you won't be waiting around all day in Tintagel and can make the most of your time.
Online Tintagel Castle ticket prices are £14.80 for an adult (£16.30 with a donation) and £9.80 for children (£8.60 with a donation). Family tickets and concessions are available.
Don't forget English Heritage Members get to visit completely FREE (parking is paid for though).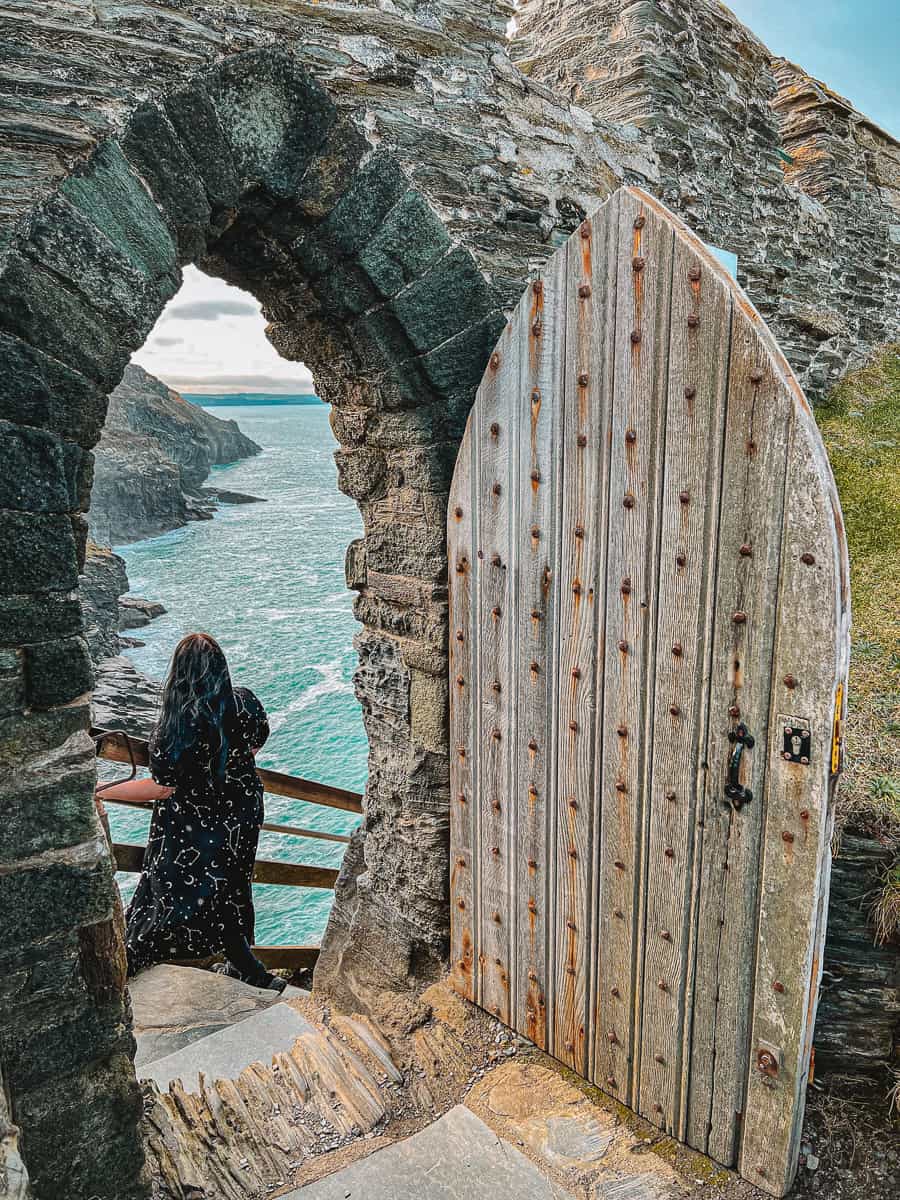 4. Try to pick a good weather day to visit Tintagel
Saying the UK doesn't have the best weather is an understatement and it's true that we do see rain even in the summer season.
But, it is always best to try and pick a good weather day to visit Tintagel Castle.
I know that's now more difficult with the introduction of restricted ticket times, but it really isn't much fun here in the wind and rain as it's so exposed.
Plus, on a sunny clear day, you get the best views of the coastline! It's breathtaking when the sun lights up the cliffs and ocean.
In stormy weather, high winds, or particularly grim rainy days, English Heritage will shut the complex off to the public for safety.
5. Make sure you dress appropriately for the weather
As Tintagel island is exposed and sits off the coast, it's rare that you won't find a strong breeze around here.
Even on the mildest of weather days, you can still find that you get chilly as the wind can bite! Bring an extra layer, a hat (that won't blow off), or a waterproof jacket with you.
Also, a lot of the castle has uneven and rocky territory on the headland. My biggest tip is to wear some good walking shoes to explore the island.
I went in Birkenstocks which were actually fine in the end but I wouldn't say flip-flops or heels were safe!
6. Choose Tintagel Castle parking wisely
There is no parking at the site of Tintagel Castle provided by English Heritage.
However, as it's such a popular place there are a few Pay & Display car parks dotted around Tintagel. Some are close by, and some are around 600 metres walk away on foot.
The closest is the Tintagel Castle Car Park, Further into the town you have King Arthur's Car Park and even the Sword in the Stone Car Park too!
The Tintagel visitor centre car park charge hourly rates of 60p from 9 am – 5 pm (they're free after 5pm – 9am) with some all-day rates available of £5.50. You need to allow at least three hours for your visit.
In high season and especially in summer, the local area does open up some overflow parking fields and you pay an all-day fee that goes to charity.
7. Bring snacks or a picnic with you to the top!
When the castle is open, there is a small gift shop and café. They sell hot and cold drinks, snacks and light lunches.
But when the castle is closed so are the facilities. Once you're over on Tintagel Island there are no cafés or shops to speak of here.
As a visit to the castle does take a couple of hours many people bring drinks with them or a picnic to have something to eat at the top of the castle.
At the very least, you should bring a bottle of water with you as there's a lot of walking involved.
We decided to purchase some Cornish pasties and some cold drinks at the Cornish Bakery at the top of Castle Road before we visited the site.
8.
…Also use the loo before you go

That also goes for toilet facilities.

When Tintagel castle is open there are some accessible toilets to be found by the ticket offices. But, once you're in the queue to cross over the island and when you're walking around the island, there are no toilets there.

So, I would make sure that you use the facilities in the village before you explore the castle.

When the castle is closed, the toilets are closed off too!

So, if you did want to explore the mainland area around the castle in the off-season. Use the public facilities in the village beforehand by the visitor centre.
9.
Prepare for LOTS of people & walking!

Tintagel village and Tintagel Castle are some of the busiest sites in all of Cornwall.

So, on weekends, sunny days and summer holidays you can almost guarantee that it will be packed out with people.

If you hate going to crowded places, I would try and go during the week or later in the afternoons when there will be fewer crowds.

Tintagel Castle also involves a lot of walking. Although they have installed the new footbridge which makes accessing the castle A LOT easier, it still isn't completely flat.
10.
Leave enough time in your day to visit

With the old accessway to the castle, going up and down the cliff was a one-way system. On busy days, you could be waiting over an hour for your turn to head up to the castle. Plus, it was EXHAUSTING to climb up and down.

That's why they have brought in the timed ticket system, so you're not waiting for hours in the sun (or rain!).

But, having a timed ticket doesn't fully stop the queues and Tintagel Castle is a BIG site with lots to see and do.

I would personally allow at least 3-4 hours to visit Tintagel. Minimum. This is so you can find a parking spot, have time to access the castle for your ticket time and then explore the castle and island fully too.
11. The new bridge will take you 57 metres above sea level
The new footbridge that connects the mainland of Tintagel to the island was a monumental feat of engineering.
It cost over £2.5 million and took over a year to build the two, five-ton cantilevers in Devon
It was transported over to Tintagel and the construction onto the cliffs took just two weeks with a special cable crane! The two pieces were then put together to make a 70-metre-long bridge.
As you walk over you can get some of the best views of the coast which haven't been seen in over 500 years. But, it's not for the faint-hearted as it takes you 57 metres over the cliffs below!
12. What you see of Tintagel castle will mainly be ruins
I think it's always good to know what to expect on your visit and Tintagel Castle can be disappointing if you were expecting a whole castle like Warwick.
Tintagel castle is mostly a ruin but there will be plenty more ruins than you were expecting! These all paint a really good picture of how the castle and medieval village would have looked years ago.
English Heritage also does an amazing job of preserving the ruins that are still here and there are notice boards pretty much every step of the way.
These boards will have information on what part of the castle you're standing in and sketches of what it would have looked like years ago. These really help to paint a good picture in your mind!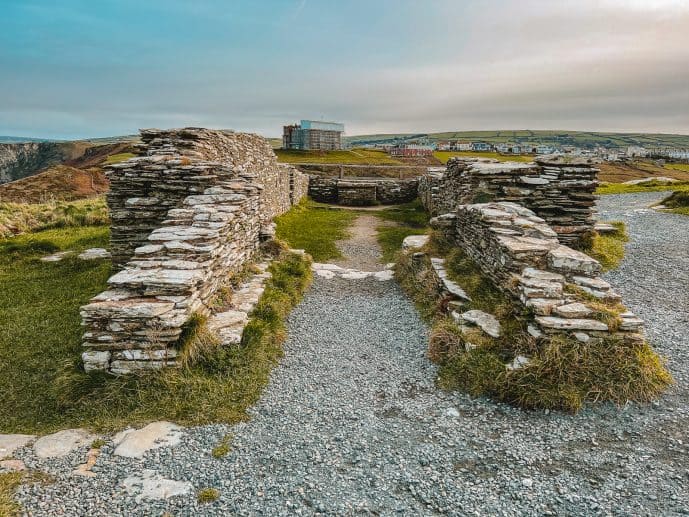 13. Be careful around the uneven territory on the island
So, what is walking around Tintagel Island really like? Well, it's a rugged clifftop with a wild landscape.
As much as English Heritage has tried to make most of it accessible as possible with flat walking trails, a lot of it is grassy and rocky.
I like the fact that you're free to walk all over the island and you're not restricted around the ruins whatsoever.
You'll see plenty of people sitting on top of them, kids jumping around and everyone is allowed to go where they please!
I would just be mindful of the fact that the pathways and trials are uneven and can sometimes be a challenge. Also, the number of people means that there may be some bottlenecks.
14. You cannot miss snapping a photo with the King Arthur statue.. or, er, Gallos…
A new addition and highlight to Tintagel Castle is the amazing statue on top of the headland.
It's an 8-foot-tall Bronze Sculpture of King Arthur holding Excalibur that overlooks the Atlantic Ocean.
The piece was created by sculptor Rubin Eynon and it was flown in by helicopter for its construction.
It's really cool as it's almost been made to look ghost-like and hollow due to the fact he's a legendary king!
But again, like the new bridge, this is controversial and the residents of Tintagel fear that it added a "Disneyfication" to the town.
They don't advertise it as a statue of King Arthur but simply 'Gallos' the Knight of Tintagel.
Personally, I think it's a great addition and adds a taste of the legend to the site which is a big part of why people visit. It's also definitely a photo opportunity you cannot miss.
15. Explore ALL of Tintagel island to see the breathtaking views!
A lot of people just explore the ruins of the castle, think that's all there is to see, and then go to leave. But, the island is SO much more than just ruins.
There are so many walking trails that take you to secret spots around here like the old prison well and the maze of ancient house ruins that were here in the 6th century. You can even imagine yourself feasting in the Great Hall!
Another amazing reason to explore more of the island is to take in the magical views of the coastline.
From the peninsula, you get 360-degree views of the landscape from Cornish towns, coves, and cliff faces. If you look closely at the ocean you may spot seals!
16. Don't miss out on the secret Tintagel Island Garden
Another spot on the island that people often miss is the remains of the medieval walled garden on Tintagel Island.
Many say that Richard of Cornwall was so inspired by the Arthurian tales and the love story of Tristan and Iseult he built the garden.
Nowadays, although flowers no longer grow here, there is a trail to be found of carved stones that tells the tragic love story.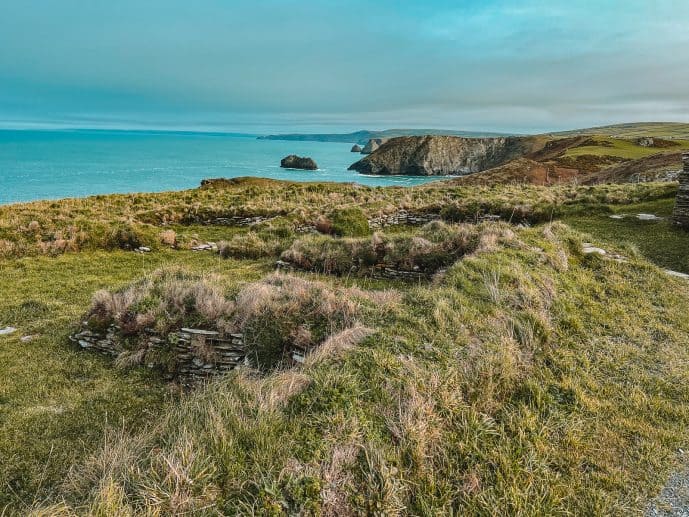 17. You can't leave without entering Merlin's Cave
Now that the new bridge has been installed it may be easy to forget about visiting the secret beach that sits underneath Tintagel Island.
It's also completely FREE to visit. During high tide, you cannot see it, but as the tide goes out a beach is revealed with a large cave!
This cave is called Merlin's Cave and the legends say that this is where the Wizard Merlin lived all those years ago. It's been so well connected with the tales that there is now a 'sleeping Merlin' face carved into the rocks.
Always check the Tide Times before you visit so you're not disappointed! Also, prepare for the fact that Castle Road towards the beach is really steep.
Click here for detailed directions on how to visit this cave
18. If you don't have a car you can take a bus or Tintagel Castle tour!
If you don't have a car to take you around Cornwall, it is possible to take a bus to Tintagel.
The nearest train station to Tintagel is Bodmin Parkway around 15 miles away. From here, you can connect with a bus to Camelford and then switch over to a service heading to Bude that stops at Tintagel. Or, you can take a bus from Boscastle at the same service.
However it's often infrequent, so it's recommended to have a car.
If you were eager to take a tour to Tintagel there are group tours that run from Plymouth, parts of Cornwall, Devon, Glastonbury, and even London! Most of these are private tours with individual rates like on Tor's Tours.
19. Don't forget to visit Tintagel Gift shop
Is it even an attraction if you don't exit at the gift shop? Once you've climbed down the stairs toward Tintagel Beach you can visit the English Heritage Tintagel gift shop.
They had lots of amazing souvenirs like tapestries, knights, princesses, and King Arthur memorabilia. As well as goblets, postcards and keyrings.
English Heritage also has its very own mead and wine collections which are worth a taster. You can purchase bottles to take home.
20. There is a FREE Tintagel exhibition at Tintagel Beach
As I'm completely obsessed with the Arthurian Tales, I was delighted to find that Tintagel Castle have a FREE exhibition about the legend next to the gift shop.
This will give you some context about the history of Tintagel Castle and the story of King Arthur!
Here, you can learn about how Arthur was born here and the legendary wizard Merlin lived beneath the castle in the cave.
Tintagel Castle really is where history meets legend and you can decide for yourself if this is the location of Camelot!
Can you see Tintagel Castle without paying?
If you're on a tight budget, it is possible to see the ruins of Tintagel Castle without paying from the mainland.
The land around the castle is free to walk on and so you can easily catch some great views from down at Merlin's Cave (which is FREE).
Also, the walk around the National Trust Glebe Cliffs and over the headland by the Camelot Castle Hotel both provide good views.
What you're paying for is to get up close to the ruins, experience the history and explore the island with its amazing views and attractions.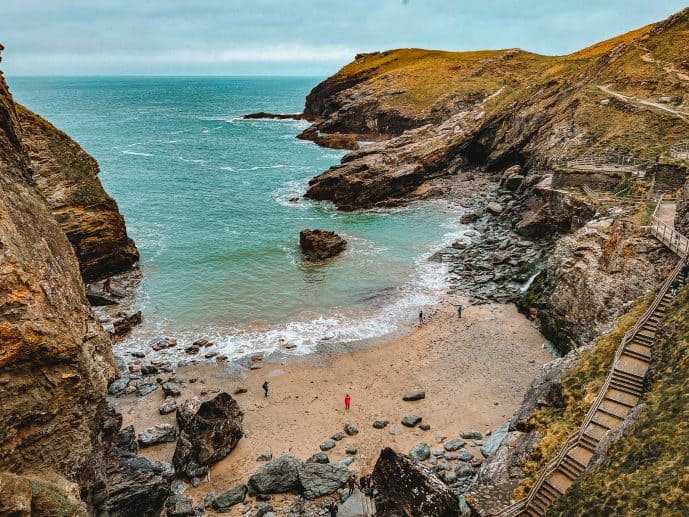 Frequently Asked Questions about Tintagel Castle
What does Tintagel mean? In Cornish, Tintagel means 'village on a mountain' (Tre war Venydh).
How do you pronounce Tintagel? It's pronounced 'Tin-TA-jul'.
Who built Tintagel Castle? Richard of Cornwall built Tintagel in 1233. He was brother to King Henry III and became the 1st Earl of Cornwall.
What happened to Tintagel Castle? It gradually decayed over time with natural erosion due to disuse.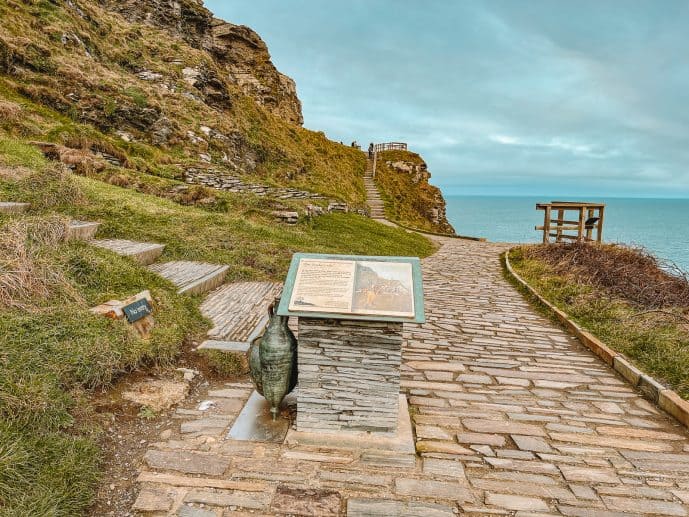 Did King Arthur live in Tintagel Castle? According to legends, he was conceived here but the tales do not mention if King Arthur was born in Tintagel Castle or lived here. Although many alternative tales say he did grow up here and was tutored by Merlin inside its walls.
Is Tintagel Castle Camelot? No one knows where King Arthur's legendary Camelot is in Britain! So it cannot be proved or disproved that Camelot sat at the site of Tintagel centuries ago. The castle we see nowadays was built in the 13th century so that couldn't be Camelot.
Who owns Tintagel Castle? Prince Charles, although it is maintained by English Heritage.
Is Tintagel dog friendly? Yes, I saw lots of doggies love their visit. But, you must keep them on a lead.
Other amazing things to do in Tintagel Village
Most of Tintagel village is now largely over commercialised due to the King Arthur connection with endless gift shops, cafés, restaurants, and pubs.
But, there are some amazing sites and tourist attractions to visit while you're here.
King Arthur's Great Halls
If you were a fan of the legend and wanted to do something related to King Arthur while you're here. Why not check out his Great Hall and round table?
Although it's mostly used as a wedding venue, the attraction was built in the 1930s to bring some of the legends of King Arthur to Tintagel.
Around the hall, you'll find 72 amazing stained glass windows that tell stories of the legend with characters from the tales.
You can also watch a small show and shop for all sorts of King Arthur gifts in their shop.
It's had millions of visitors since it's been built and has featured in many films and TV shows too.
Click here to find out more information about visiting the Great Hall
The Old Tintagel Post Office
The Tintagel Post Office is a unique museum set inside a quirky slate medieval property.
It has been here in Tintagel for over 600 years but has had many roles to play in the village.
In 1380 it started off as a farmhouse and was renovated many times by the various families who have called it home.
In the 19th century, it then acted as a post office for the town. Many say that it's haunted.
The museum which is owned by the National Trust has 5 rooms to explore including old bedrooms and a pretty garden out the back.
Click here for more information on visiting the Tintagel Post Office
How to get to Tintagel in Cornwall
The small coastal village of Tintagel is located in the North of Cornwall along the West coast. Between Camelford and Bude.
Boscastle is also 3 miles away. It's easiest if you have a car to access Tintagel as there is no train station and bus services can be infrequent.
Where to stay in Tintagel
As one of the most popular tourist destinations in Cornwall, there are plenty of options for all budgets.
It's also nice to use this area as a base to explore the rest of what North Cornwall has to offer;
Camelot Castle Hotel – This amazing historic 4* hotel looks over Tintagel castle and its cliffs. So, you can see it from the comfort of your own room! It's also a great place to have afternoon tea. Click here to book.
The Olde Malthouse Inn – this cosy inn with a terrace is located above a popular restaurant and bar. Plus, you'll get free private parking. Click here for more info.
YHA Tintagel – There is a cheap hostel for backpackers in Tintagel, which has dorms and private guest room options. Click here for rates.
Magical places to visit after Tintagel to live the legend!
If you are exploring North Cornwall, there are plenty of amazing places that you can visit around the area.
These make the perfect locations if you're following in the footsteps of King Arthur or chasing the Arthurian tales. Make sure you visit these spots to live the legend.
Rocky Valley Labyrinth & St Nectan's Glen
Close by the area of Tintagel are some magical sites worth seeing. The first is the Rocky Valley Labyrinth stone carvings.
The labyrinth symbol that is carved on the rocks has often been associated with fertility and is used in pagan rituals. You can find the famous carvings behind a derelict mill on the east banks of the river Trevillett.
Nearby is the magical St Nectan's Glen which is inside the Trethevy woodlands of Tintagel.
This also has a connection to the Arthurian tales. Here you can visit a series of magical waterfalls and small hermitages and see the site many people revere as Holy.
Read my guide on how to visit St Nectan's Glen & Kieve
Boscastle
Boscastle is a magical harbour town just three miles away from Tintagel and is well worth exploring. There are plenty of art galleries, cafés, and gift shops to explore, plus you can access many walks along the coast here.
Thomas Hardy fans will also love Boscastle for the fact that this was the spot he met his wife Emma. He also used the location for his 'A Pair of Blue Eyes' .
The highlight to any visit is the mystical Witchcraft Museum which has been here since the 1960s. You can read my complete post here with all the reasons to visit!
The Pixie house was one of my favourite shops as a child that is set in a quirky 300-year-old cottage. It's now been transformed into Harbour Light Tea Garden.
A stroll along Boscastle Harbour to the headland is a must and from here you can see the Devil's Bellows which is a blowhole on the cliff!
Click here for my complete Boscastle travel guide
Bodmin Moor
Bodmin Moor is a seriously underrated place to visit and is full of ancient sites, waterfalls and walks.
Dozmary Pool on Bodmin Moor is also another legendary site of the Arthurian Tales. Here, the Lady of the Lake is said to have gifted Merlin the sword Excalibur.
This was a be a gift for prince Arthur to be the next King of England!
You can also visit many ancient sites like The Hurlers Stone Circles or, you can find the Cheesewring on Stowes Hill.
Bodmin Moor is also famous for being haunted by many ghosts but none so famous as the Jamaica Inn a notorious Smuggler's Pub. If you're feeling brave, you can visit or check in for the night.
St Michaels Mount
No place in Cornwall has as many myths and stories associated with it as St Michael's Mount.
From Jack the Giant Killer, magic rocks, the call of mermaids, and legendary curses. There is so much to uncover on this amazing tidal island here.
St Michaels' Mount can be accessed from Marazion on the east coast of Cornwall.
You can walk over on foot at low tide or you can take one of the many boats that cross the sea to the mount when the water levels are too high.
Sennen
Although a little far from Tintagel, the area of Land's End near Sennen has long been a magical area. There are all sorts of springs, wells, stone circles, and dolmen chambers to check out.
The area around Land's End and the Isle of Scilly is thought to be the legendary location of the Lost Lands of Lyonesse.
This is a mythical place that was mentioned many times in the Arthurian tales and is now thought to be under the sea. Check out my post on the area here.
Read more of my Cornwall guides
St Aubyn Estates Cottages review
How to visit Tregothnan Estate in Cornwall
Things to do in Mousehole Cornwall
Things to do in Charlestown Cornwall
How to visit the Lost Gardens of Heligan
A complete guide to Porthgwarra Cove
Why you must visit Minack Theatre
Secrets of the Admiral Benbow Inn
Where is Driftmark filmed in House of the Dragon
How to visit Holywell Bay from House of the Dragon
Magical things to do in Kynance Cove
Save these Tintagel Castle Tips for later!