One of the ancient mysteries that's captured the hearts of people all over the world and is on many people's bucket lists is visiting the Pyramids of Giza.
How old are the Pyramids, really? How did the Pyramids get there? Why are the Pyramids there?
All of these questions are asked even before you've set foot in Egypt and probably came from flicking through the pages of your classroom textbooks.
The fact that we can stand and witness the remaining legacy of an ancient civilisation blows my mind. There is such beauty in the art of time travel, getting lost in the wonder, allowing it to take your breath away and….suddenly, you wake up and realise you are in modern-day Giza!
Giza is like beautiful chaos. A trade-off between the most fantastic views of the Pyramids and the hustle and bustle of the mass tourism industry here.
Like it or not, you'll be hassled. For taxis, camel rides, tours, souvenirs, you name it – it's here and people want you to buy.
Having been to Giza around five or so times on my travels in Egypt, I became hardened to it, know my way around a little bit, and have some tricks up my sleeve for you.
Here's a guide on how to survive a visit to the Pyramids of Giza and top tips to keep in mind.
Things to plan and prepare before you visit Egypt
Don't forget travel insurance for Egypt, it's quite easy to get ill here! I always choose World Nomad's as they have great policies at a competitive price.
Egypt uses the Egyptian Pound as currency and I found it easier to get some out at the ATM. Cards are accepted in most hotels but I'd use cash for shopping and attractions.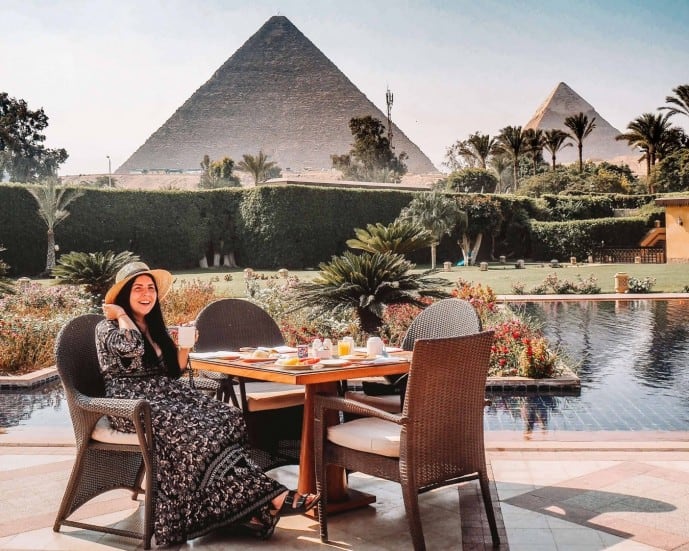 How far are the pyramids from Cairo airport?
It's good to know that the Pyramid complex in Giza is located around an hour away from Cairo International airport. This is without traffic! At rush hour times in the afternoon or early mornings, you could be waiting two hours in a taxi.
The best and cheapest way to get around Egypt is with Uber. A taxi from the airport to Giza can be as little as 150EGP (£6) this way. Grab a local SIM at the Vodafone kiosk at arrivals before you leave. Here's my guide on how to use it.
I found that even the airport staff were trying to rip me off with a 'limousine' car and charging around 500EGP (£30GBP) for it!
If you negotiate with the taxis it should cost you a maximum of around £250EGP (£10GBP). But you'll need to fight for it ;)
Also FYI: Immigration and luggage collection seemed to take an AGE at Cairo airport. It took 30 minutes for the first bags to hit the belt. You need to then scan your bags on the way out and there's always a long queue. Keep this in mind if you're on a tight schedule.
How to reach Giza
If you're heading to Giza from Cairo city, I would always use Uber as a cheap taxi service to get around. Not only do you know the price upfront, but they also don't rip you off either. But, always make sure they start the journey and you see it happen.
Normal taxis in Cairo are a gamble and a headache. Some will put the meter on, some will refuse, some it's like pulling teeth to get a reasonable price!
Also, once they've got you in, they'll offer to take you all these places, to buy stuff, or to be your guide. For me, it got very frustrating. Uber took away that hassle.
Giza is a big city, so always state you're heading to the Pyramid Necropolis and you want to be dropped off at the entrance.
A lot of taxi drivers may pull a fast one to say they'll be fined to go there, but it's simply not true. They just need to pass security and show their license on the way in.
On that note the security in place here can look quite intimidating, there are lots of soldiers and police with guns. But, I took quite a lot of comfort in that.
I've written a whole guide on how to use Uber in Egypt here which includes tips on safety and scams to look out for.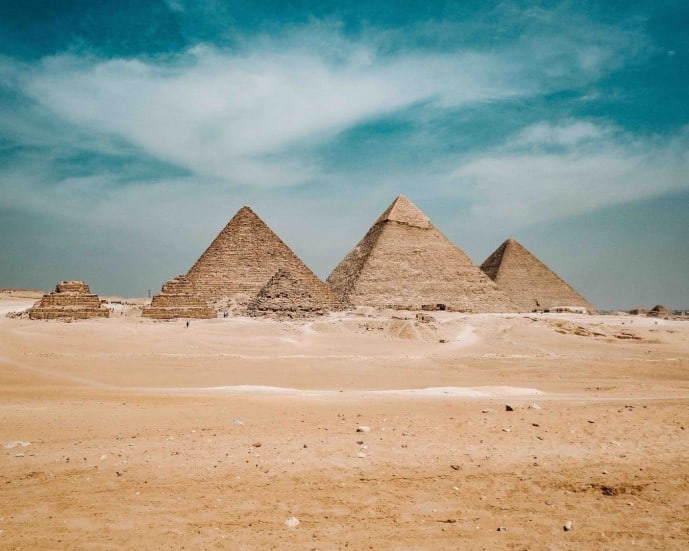 Some basic information for visiting the pyramids
What's the cost of entry for the Pyramids?
You will pay £160EGP (£7) for entry to the pyramid complex.
Then it's £360EGP (£15.60) for entry inside the Great Pyramid
£100EGP (£4) for entries inside the 2nd and 3rd Pyramid
The Solar Boat Museum is also £100EGP (£4).
What are the Pyramids opening times?
October – March it opens at 8am with last entry at 4pm.
April – September it's 7am with last entry at 6pm.
What's the best time to visit the Pyramids?
The best time to visit by season would always be winter as it's not as hot! The best time in the day would be when it first opens early in the morning.
Giza is FULL of tour buses and groups who head to the viewpoint first. So, if you're travelling solo, by entering at 8 am you'll beat the mass crowds that turn up around 9 am.
Photography at the Pyramids
Camera tickets are included in your ticket price. But, you will need to pay £20EGP for the use of a tripod which is £1GBP.
Can I go inside the Pyramids?
Yes, but it's just an empty stone room. Also, the corridors down are steep and narrow and it's super hot inside. Not recommended if you're claustrophobic!
Can I climb a Pyramid?
Technically, you're not supposed to. But, as my guide was with me he bribed the guard and let me do it! It's only like 10 (BIG) steps. I'll explain more below.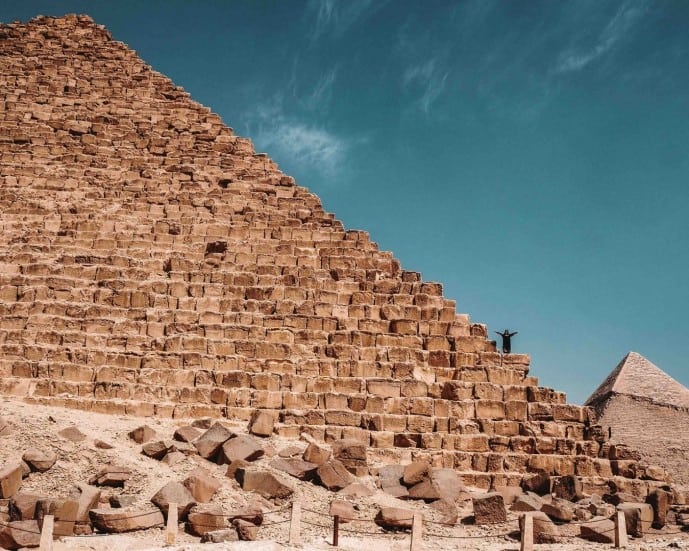 Pyramids of Giza facts
How old are the Pyramids and when were the Pyramids built?
Now, this is the million-dollar question that scientists have fought about for years! No one really knows how old the Pyramids are. Many Pharaohs used to scratch off their predecessor's cartouche (name) after they took over. So, there are infinite possibilities.
The most common theory is that they were built 4,500 years ago in 2500BC in the Old Kingdom of ancient Egypt.
Whereas if you ask people and followers of the Pyramid code they'll tell you it's over 10,000 years old built by a different civilisation.
It will always be a bitter-sweet mystery that I'm sure will be questioned for centuries to come.
How long did it take to build the Pyramids?
The latest theory is it took two decades to complete the Great Pyramid, the last and only surviving ancient wonder, with an army of around 100,000 slaves.
This was under the reign of Pharaoh Khufu (or Cheops as the Greeks called him). The Great Pyramid is also named Cheops.
The second and third Pyramids of Giza are called, Chephren and Mycerinus. These were built by Pharoah Khafre (who also built the Sphinx) and Pharaoh Menkaure.
There are actually 9 Pyramids in total. The other six are smaller ones. Giza is the most famous, but across Egypt, they've discovered over 138 Pyramids!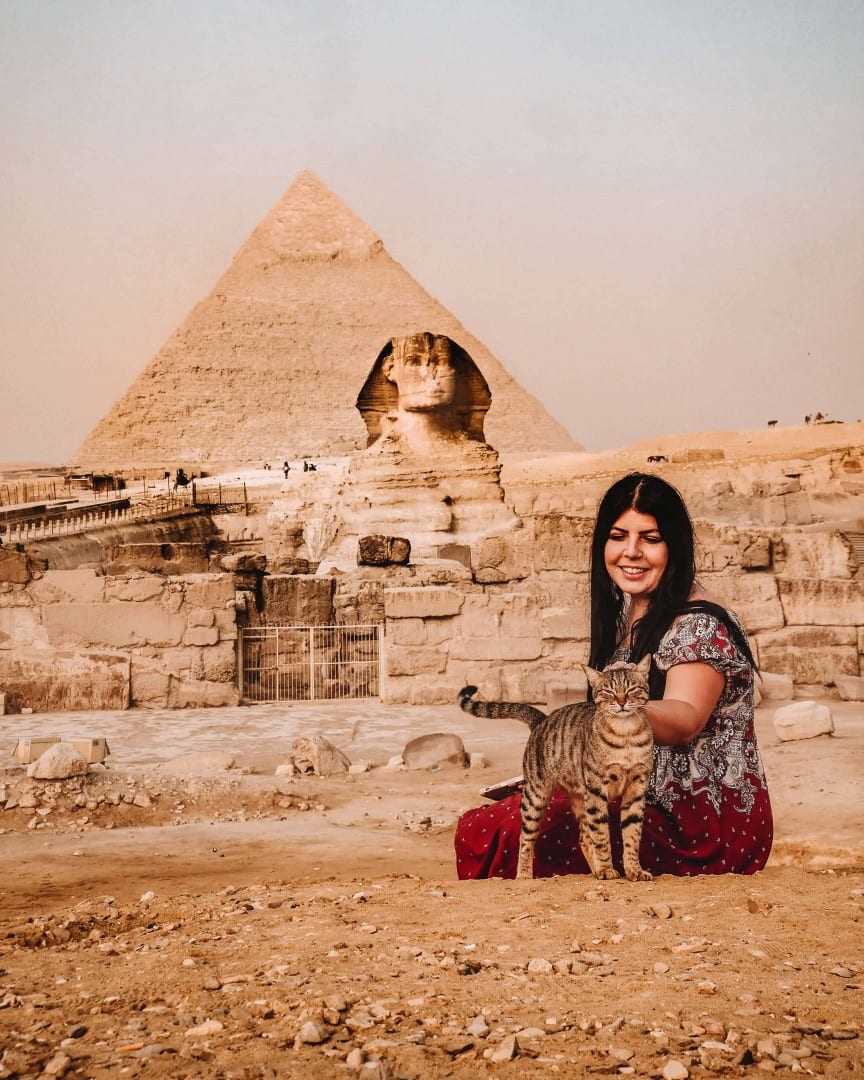 Who were the Pyramids built for?
It may surprise you to know that the Pyramids are actually tombs! So, it's like walking in someone's graveyard (talk about dark tourists).
They were also built on the West Bank of the Nile due to the sun setting there each evening, symbolising the realm of the dead.
Pharaohs believed that after death they were heading to the afterlife and so needed an elaborate tomb with all their treasures buried inside with them.
So, the Pharaoh's Khufu, Khafre, and Menkaure ordered them to be built for themselves.
How tall are the Pyramids and how much do the Pyramids weigh?
This will blow your mind! Well, it did mine anyway…
The Great Pyramid of Giza is 139 metres high and each block weighs approximately 2.5 tonnes. There are 2.3 million blocks that make up the Great Pyramid of Giza. Making the total weight 6.5 million tonnes!
This is why people still cannot figure out even today how people managed to bring them here and stack them on top off each other to make this incredible masterpiece.
What to wear at the Pyramids
Egypt is hot throughout the year and in the summer months from April – October it's scorching! But, as it's a conservative country, you'll still need to cover up.
Wear light clothing that is breathable. Cotton trousers/capris and a t-shirt, a maxi dress, jumpsuit, or a maxi skirt and top combo would be ideal.
Pack your hat, sunglasses, and a light scarf to protect you from heat and potential sandstorms (these happen more than you think). I totally regretted not bringing mine! Wear comfortable shoes as the surfaces at the Pyramid complex can be uneven.
I did see a lot of women wearing revealing clothing like shorts and short dresses but I personally didn't feel comfortable doing so. I was a woman travelling alone and I didn't want to attract unwanted attention!
For more outfit ideas, you can check out my ultimate women's packing list for Egypt here.
Top tips to survive visiting the Pyramids of Giza
1. Choose a pyramid view hotel in Giza, don't stay in Cairo
Getting from Cairo to Giza can take a while due to the traffic congestion in the city. So, to save time, I would suggest staying in a hotel in Giza itself.
Waking up each morning with a view of the Pyramids from your window, rooftop or private balcony really can't be beaten.
There are so many choices for all budgets. I'll go through some of the best hotels near the Pyramids here;
Panorama Pyramids Inn
This is an excellent choice and is within walking distance of the Pyramid ticket counter. It has amazing clean rooms with hot water.
They offer a complimentary pick up from the airport if you're staying a couple of days, a FREE breakfast each morning which could feed an army, complimentary drinks.
There was even a FREE Dinner with an excellent view of the light and sound show, and an amazing view of the Pyramids from some of the rooms.
They also provide tours of the Pyramids, Cairo, and beyond. The thing that really sets this place apart is the wonderful staff, they treated me like a queen!
To check dates and rates for the Panorama Pyramids Inn see here.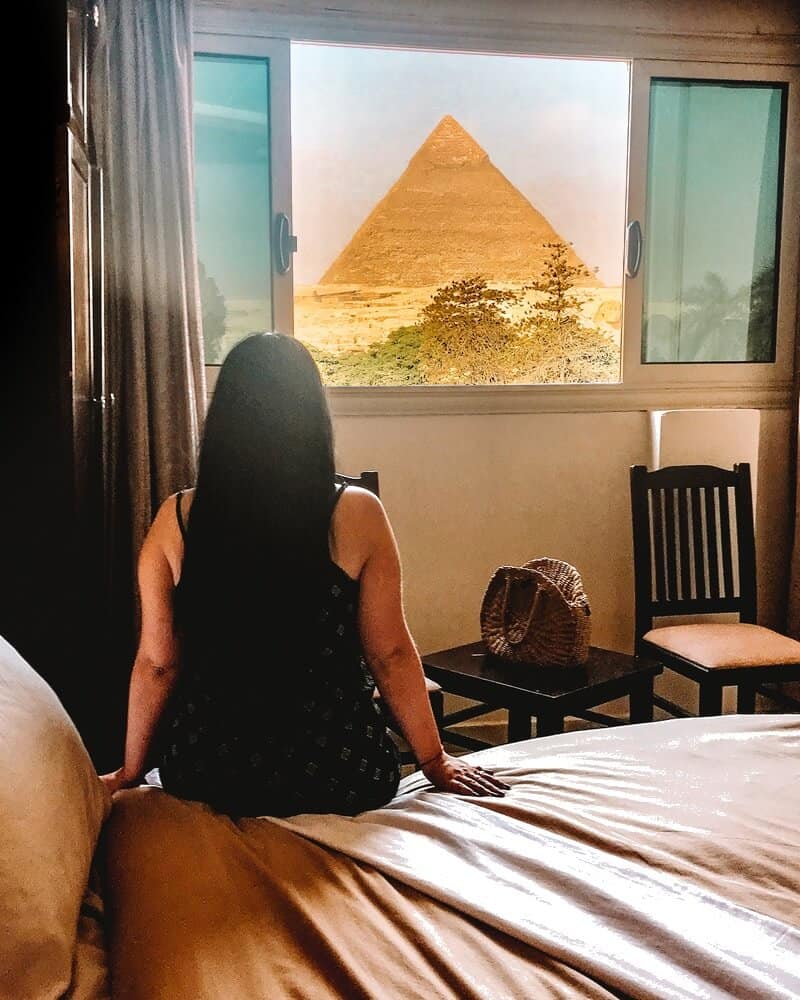 Pyramid Village Inn
A brand new, quiet hotel in Giza is the Pyramid Village Inn. It's tucked away in a little side street but still has suites that overlook the Pyramids.
Again, these guys offer a free really tasty home-cooked breakfast and delicious Egyptian coffee!
I was actually the first guest in this hotel and when I had a chest infection and had to hide out here for a few days they were so kind and got me some medicine.
It really touched my heart as I was alone here in Egypt. I became really good friends with the owners and staff in the end, they felt like family!
For dates and rates available for the Pyramid Village Inn, see here.
Marriott Mena Hotel in Cairo
If you're looking for an oasis of 5* luxury, I would choose the Marriott Mena House in Cairo. The Mena House isn't just a hotel, it's a historic gem.
You'll be following in the footsteps of royalty and famous celebrities like Agatha Christie and Charlie Chaplin.
Waking up to the Pyramids from your own private balcony just can't be beaten. You can read my review here.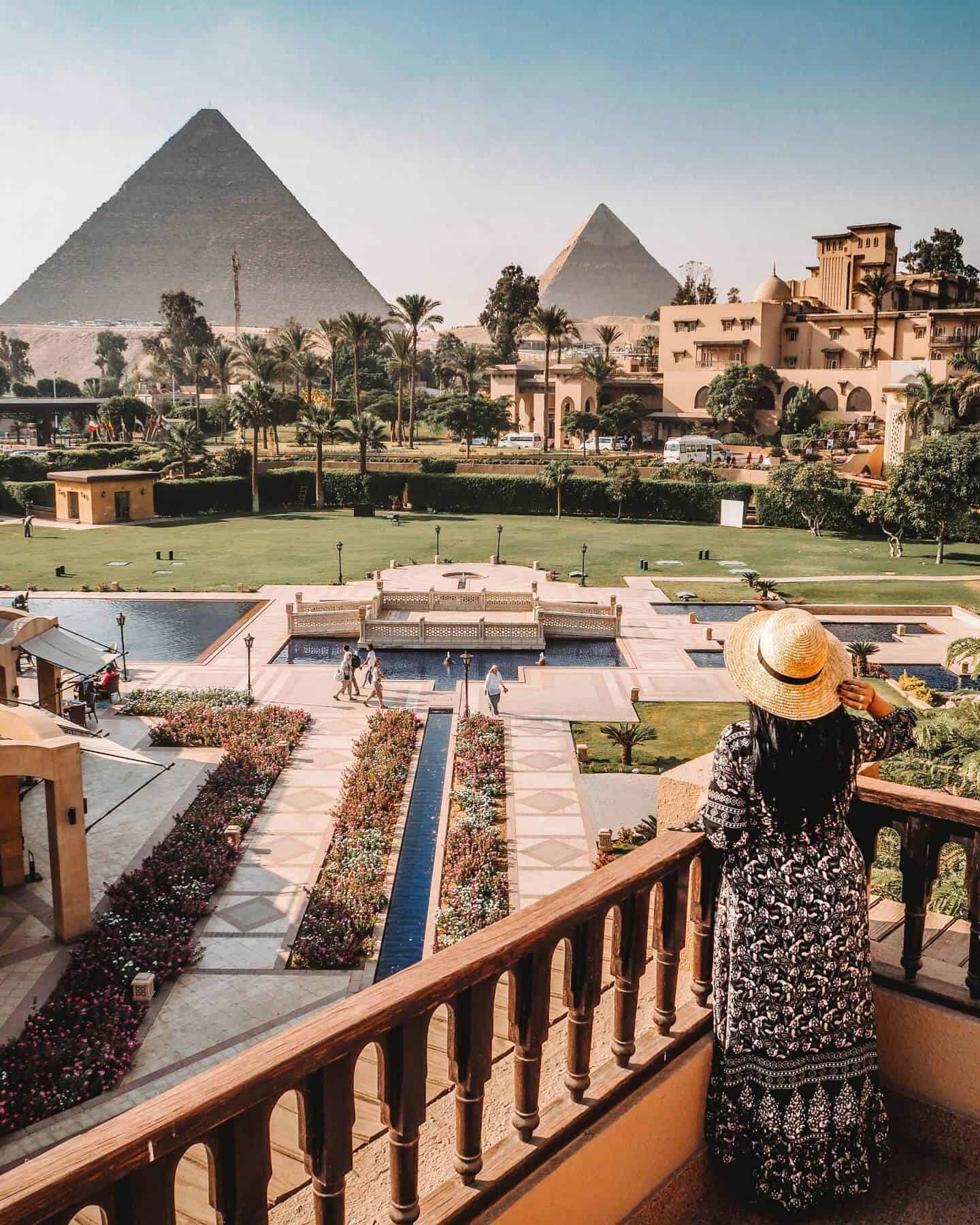 2. Hire a guide for your tour of the pyramids
You don't have to do this, but hiring a guide takes a lot of the hassle out of your visit. I saw so many tourists getting angry and upset over being bothered and it's just not worth it and could ruin your trip!
You will be constantly asked to buy things at the Pyramid complex. So, having a local guide that can speak both English and Arabic is really handy. Mostly to get people to leave you alone, but also to learn about the Pyramids.
I arranged a fully inclusive tour which included entry tickets, drinks, and a camel ride through Panorama Pyramids Inn for $40. The tour lasts around 2-3 hours. I found it was worth its weight in gold as I had a great time with little bother.
My guide Mahmoud was extremely knowledgeable of the area as he had grown up there. He knew everyone, paid off security guards so I could climb a Pyramid, and looked after my stuff while we were on the tour.
Also, unfortunately for him, he was my photographer and we took hundreds of photos. Oops!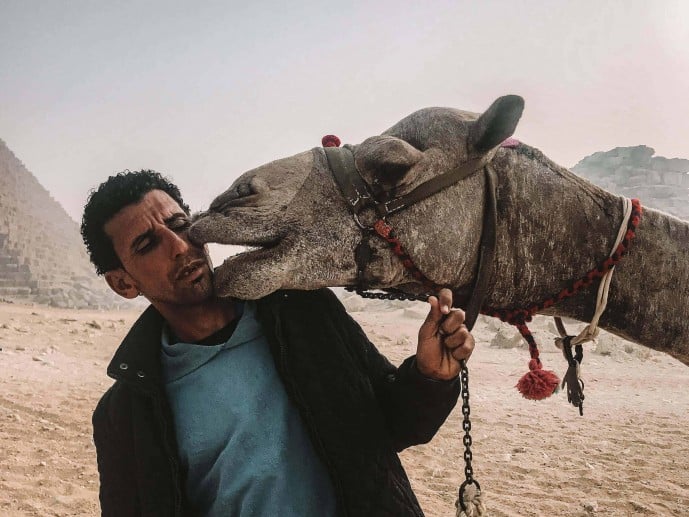 3. Go to the Pyramids for opening time to beat the crowds and heat
I kid you not, there are hundreds of tour buses that park up in Giza for tours of the Pyramids. Also, you may find huge school trips that swarm the place with children.
My biggest tip is to get to the Pyramids for opening time, in winter this is around 8 am, to get in first. At this time it was cooler and completely empty and I was the only one there! It's so much nicer to experience it this way.
By 9 am, this is when the tour buses and groups will come flooding in. It gets horribly crowded.
4. You can climb the pyramids, but tip the guard
Technically speaking, you're not really allowed to climb the Pyramids nowadays. There's no special permit to climb a Pyramid.
It's well known the Egyptian government takes a dim view of all these Youtubers who keep climbing to the top and have been issuing lifetime bans.
But, it is possible to climb a few steps by paying a small baksheesh (tip) to the guard. He'll essentially look the other way and I'm pretty sure he makes a killing from this.
I think in the end, I climbed up ten steps or so. I say steps, these are HUGE mammoth blocks that are hot, dusty, and uneven! So, be careful when climbing.
It was a pretty cool view from where I stood and a huge bucket list tick off for me! Also, included in my tour price.
5. You don't need to do a camel or horse tour, but it's wise
There are so many ways to see the Pyramids, you can go by camel, horse, horse, and carriage or just walk. But, keep in mind that the complex is massive and it's hot. So, you may not be able to see as much by walking.
Personally, I decided to take a camel tour as I wanted to see it that way. His name was Charlie Brown lol! I love camels. I hate getting up and down on them, but once I'm up it's pretty fun!
Shamelessly, I also wanted to take him for some photos. But, you could just hire one for a couple of Egyptian Pounds while you're here.
Tip: Be mindful of how long you hire your camel for and agree on a price beforehand. When I was here on my last day in Egypt, it was so misty you couldn't even see the Pyramids! So, we waited for the mist to clear. When I got back, I was told I owed an extra 200EGP because I'd stayed too long with the camel. Of course, no one told me before we waited. Super annoying.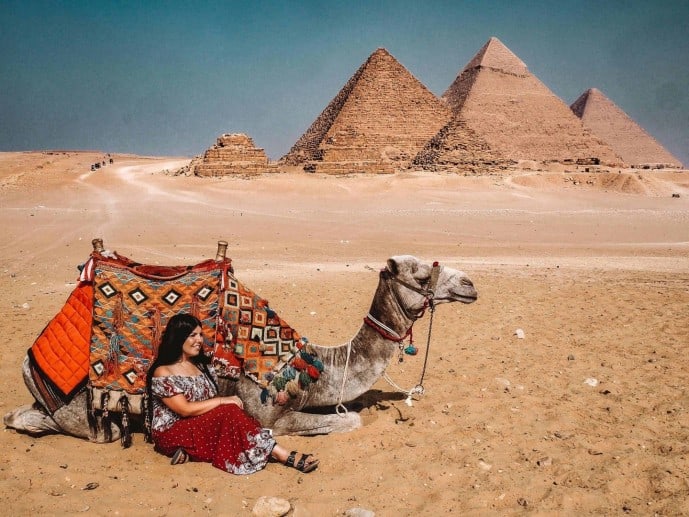 6. You can go inside the pyramids, but tickets cost extra
You can go inside the Pyramids, yes. But, it's not as impressive as the tombs at Valley of the Kings. There are no colourful paintings or hieroglyphics inside. It's just a steep stony corridor down that leads to a blank room.
I'm claustrophobic and I tried my best to go down but I took a couple of steps in and I started to hyperventilate and freak out! It's so dark, narrow, and hot in there.
You'll pay £360EGP to go inside the Great Pyramid, £100EGP each for the 2nd and 3rd.
The guards were so friendly and asked if I was okay. To my surprise, they were actually boiling a kettle IN THE PYRAMID!
That's right, there was a plug socket inside it. I guess it's from the light and sound show. Anyway, they offered me a stupidly sweet cup of tea and I just had to laugh. It's not every day you get to drink a cup of tea that was made inside a Pyramid!
7. Security will ask for money from your guide, it's normal
The strangest thing was how the security here demand tips from your guide. For example, when you go up to the famous viewpoint in the Sahara, the police would turn up on their camels and demand a tip.
This happened quite a few times around the Pyramid complex. It kept making me feel like we were in trouble or something but apparently, it's normal. My guide says the guards here make an easy profit!
8. Don't forget to take in the view from afar
On that note, don't forget to take in the viewpoint. There is one that all the coaches go to which is called the Panorama view with loads of souvenir stands, drink stalls, and tourists.
Then, there's a view of the desert itself which is much nicer. It captures everything in one picture (all 9 Pyramids) and is much quieter. Make sure you tell your guide to take you there!
9. You can't enter the Sphinx but you can see it from outside
Unless you're on a stupidly expensive private tour of the Pyramids and you get a special permit, you won't be able to step inside or go near the Sphinx. You'll have to join everyone else outside.
For photos, the best view is the one just in front of the light and sound show seating area. You can capture the Great Sphinx with a pyramid in the background.
But the view isn't bad from the viewing platform too and you can get cheesy tourist photos like this! You can tell my guide had done this before. It's pretty much perfect!
10. You'll be hassled, A LOT
I was hassled constantly in Giza! When I wasn't with my guide it was like a constant onslaught of comments, bribes, selling, and grief;
"Hey, Cleopatra!"
"Where are you from?"
"Walk like Egyptian"
"Hello, you want taxi?"
"You're very beautiful"
"Come look at my shop, looking is free"
"You want camel ride?"
Of course, this is nothing compared to my time in India but it still grates on you after a while. My biggest tip is to ignore it or learn some of the language. Learning some Arabic can go a long way.
I also didn't get bothered as much as some blonde women did, I have black hair and wear dark makeup around my eyes so lots of people mistook me for Egyptian.
It's good to note that I didn't at any point feel unsafe in Giza or in Egypt at all. Catcalling aside, I never felt under threat once.
11. Once the Pyramids shuts at 4 pm, go for a sunset tour in the Sahara
The Pyramids open at around 8 am and shut at around 5 pm which is a little bit of a bummer because it means that you can't go there for sunrise or sunset. The soft lighting would be so lovely to capture in the complex itself. Sigh.
But, there is a solution. You can visit the Pyramids on a sunrise or sunset tour in the Sahara desert. This tour will be around 2 hours and will take you by camel, horse, quad bike, or horse and cart to the dunes.
When the sun goes down, it creates such a beautiful hue in the sky! It will always be etched in my memory.
Then, we ended the evening with tea at a traditional Bedouin camp. There are many, even private ones for big hotels, but I chose the one perched highest on the hill. The view was spectacular and they played some modern Egyptian music. Such a cool evening.
A typical tour will cost you around $30-40USD.
12. Don't miss the pyramid light and sound show in the evenings
If you've ever watched the James Bond movie The Spy Who Loved Me starring Roger Moore in 1977, you'll instantly recognise the light and sound show at Giza. Some scenes were shot there and it hasn't changed one bit!
The Pyramids and the Sphinx come alive with colourful lighting, music, and powerful narration (he has such a booming voice) which tells the story of the Pyramids and their significance through the ages.
It takes place each evening unless there's a special event going on or the minimum number of 10 people hasn't been reached. It plays twice, once in English, then in another language which is different each evening. Sometimes it's German, French, Spanish etc.
Tickets cost £250EGP but I never ended up going inside. I always watched the show for FREE from the rooftops of my hotel or from Pizza Hut. Plus, I got to eat or have a drink while watching.
You don't hear as much, but it's gorgeous to see them all lit up against the night sky. I must have seen it around twenty times by the end of my travels! If you're in Giza, you can't get away from it.
Check out the Giza light and sound show timings and language days here.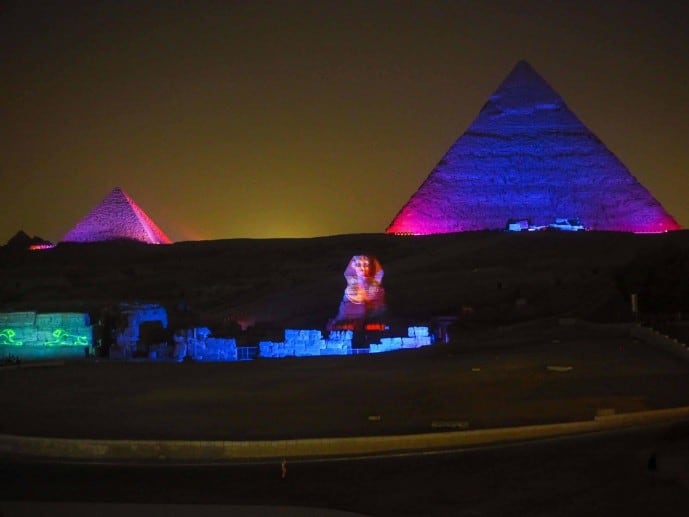 13. A surprisingly good view can be found at the world-famous Pizza Hut in Giza
Love it or hate it, there really is a Pizza Hut that is close to the Pyramids. So, you can either groan and complain about commercialism taking over or use it to your advantage!
This Pizza Hut has an epic view of the Pyramid complex at sunset from their rooftop and you'll always see a lot of photographers queuing up here to grab a photo.
It's actually both a Pizza Hut and a KFC combined so you can pick your fancy and eat on the rooftop for dinner. This is a great idea if you're not staying in Giza but wanted to watch the light and sound show for free.
This was actually on my list of weird bucket list items. So, I was happy to tick it off. Bon Appetit!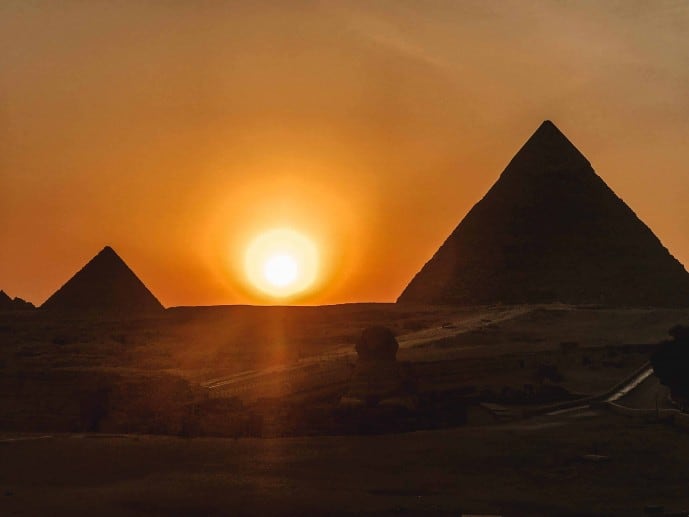 14. Tips are usually expected for everyone
If there's one word you need to get used to hearing in Egypt, it's 'Baksheesh'. It means tip and it will be expected everywhere, for everything.
Want a photo taken? Baksheesh. Need toilet paper? Baksheesh. Want directions? Baksheesh. You get the idea.
Tipping is a massive part of Egyptian culture and a tip often reflects what you thought of the service. It can't be avoided and so I would make sure you keep change on you.
Bigger tips should be reserved for tour guides, cruise ship staff, hotel staff, and private drivers.
Small change should be kept for short taxi/uber rides, toilet attendants, porters etc. Restaurant tips are the standard 10% here.
At the end of the day, give what you feel! But as tourism in Egypt has significantly dropped since 2010, this is now a big part of their livelihood.
15. There aren't many toilets at the pyramid complex
Nothing sounds more glamorous than having to go for a pee in the rubbish pile behind a camel at the Pyramids, while your guide tells people to go away, right? You guessed it, that happened to me!
There are hardly any toilets at the Pyramid complex at all. So annoying when I had to drink 2 litres of water there just to not feel dehydrated.
There's some near the entrance and then, after that, there's nothing. So, make sure you go to the toilet first before you start your tour. Or, you'll be busting.
16. Be careful buying souvenirs here
There are lots of people selling souvenirs in Giza, but be careful you're buying a genuine product. For example, Alabaster stone is very famous in Egypt and they sell stunning souvenirs with it.
But, if you're not careful you could be buying stone sourced from China! Always check the weight, Alabaster should be heavy.
Same with Papyrus scrolls, many are actually banana leaf and not a genuine products. So, go to a reputable dealer or artist, not the market. They will hand paint and stamp their work.
Papyrus is difficult to tear but obviously, you can't do that in the shop! If it looks machine-printed, it's probably banana leaf.
18carat gold is famous here. But, you need to be careful. I got seriously scammed for my necklace and the police got involved. Prices, especially in Giza, skyrocket. 18carat gold is around $30USD dollars a gram.
My big tips are;
Always check the weighing scales before buying
Make sure if you're buying a cartouche the name will also be in 18carat gold
Go to a reputable dealer and make sure you receive a certificate of authenticity. Get a receipt with the full price and the WEIGHT on it.
Go shopping of your own accord. Tour guides will get a huge commission and the price will go up.
If you're heading to Luxor/Aswan, I would wait until you get here to buy gold. There are far less scams.
Click here for my top tips buying gold in Egypt!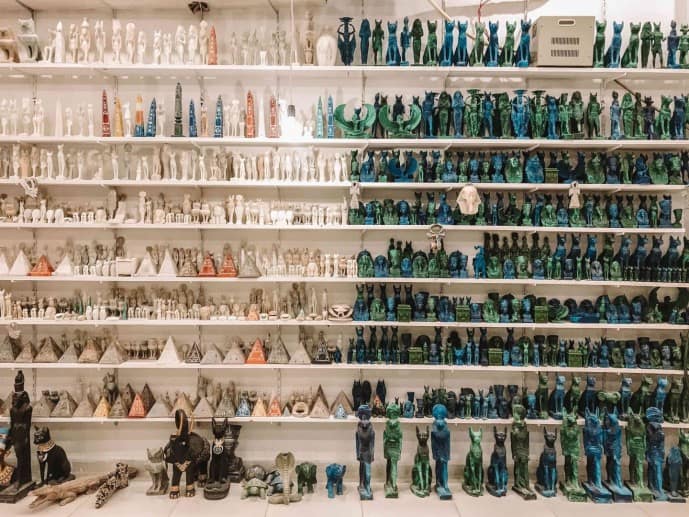 17. Bring cash, there's an ATM outside the Pizza Hut
Although many places take cards like restaurants, hotels, and Uber (through the app), cash is still very much king.
Tickets for attractions, souvenirs, and of course tips will require cash and plenty of it. There are some safe ATMs in Giza. One is in front of the Pizza Hut/KFC opposite the Pyramid ticket counter.
The maximum withdrawal amount is usually around 2,000 Egyptian Pounds. I never came across one ATM that didn't come with a withdrawal fee. Just saying.
18. It will be hot, make sure to cover up!
Egypt is a desert country and Giza is slap bang in the Sahara! This means that there is little shade from the sun beating down on you.
Make sure you wear lots of suncream, wear a hat, bring sunglasses and a scarf with you. Wear breathable light clothing and comfortable shoes that won't rub in the heat. Keep hydrated and seek shade when you see it.
It's really important to protect yourself from the heat to prevent sunstroke and dehydration.
19. Photos are better in the morning
As we spoke of earlier, the Pyramids were built on the West bank as the sun sets here symbolising the realm of the dead. That means the sun will rise in the East opposite. The natural light from the sun in the morning lights up these Pyramids beautifully.
By noon, the lighting is so harsh in the sky, and in the afternoon the sun is behind the pyramids making them appear dark to the camera.
If you want colourful photos with nice lighting, go in the morning for the best results.
20. If there's a famous person in town, it could close entirely
Just know that if a celebrity of famous figure comes to town, the whole area could be on lockdown.
The Pyramids complex will close to the public for the visiting entourage. No one is allowed to take photos from the rooftops (I got shouted at), taxis couldn't enter, security and army are everywhere and it seemed all the locals were there trying to sneak a peek. There was even an undercover cop on the rooftop of my hotel!
If there is a big celebrity, royalty, or a politician in town, it may close entirely. Not for the whole day but plan in advance so you're not disappointed.
21. Watch your stuff!
Pickpocketing and scams are common in Egypt and it's no different at the Pyramids. A lot of people wonder about here; children, locals, tourists and so it's important to watch your things.
I felt lucky that I had a guide with me to watch my stuff as I climbed the pyramids or went to take photos. Nothing was touched.
For assurance, I would make sure you keep your bag in sight at all times, have a bag with a zip, or put a lock on it for safekeeping. Better to be safe than sorry.
Ready to survive visiting the Pyramids?
Ticking a world wonder off your list will be an incredible feeling. Seeing the Pyramids with your own eyes is so much different from seeing them in the pages of a book.
It's like walking in a different era and a historical playground. If you're well prepared on what to expect when you're here, you will be just fine.
Don't forget to visit Cairo city as well. There are so many interesting places to explore beyond the Pyramids!
If you have more time and aren't tired of Pyramids, it's also worth checking out a day trip to Dashur, Saqqara, and Memphis. These are far less touristy.
Have fun travelling back in time to ancient Egypt!
I've written a complete list of the best places you don't want to miss in Cairo here.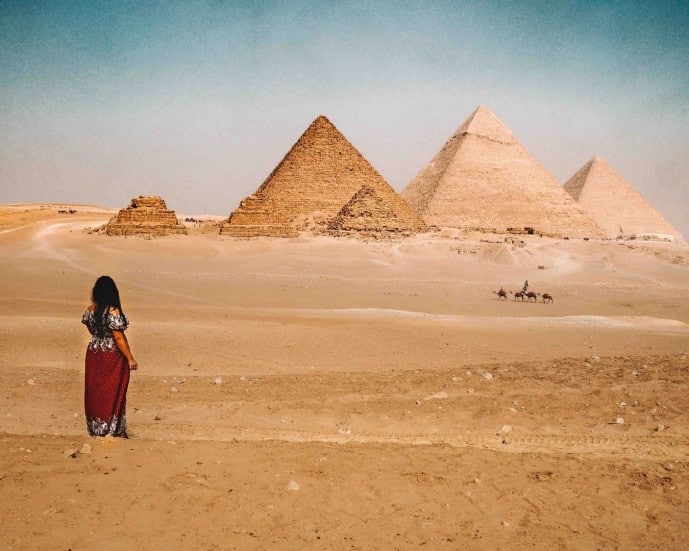 Read more of my Egypt articles
My perfect 2 week Egypt Itinerary
The perfect Egypt packing list
The most Instagrammable places in Egypt
My guide to the Valley of the Kings
The ultimate 4-day Nile Cruise
Top places to visit in Luxor at night
The perfect guide for Abu Simbel
Why you NEED to visit Alexandria
Top tips for riding a hot air balloon in Luxor
Why you must visit Naguib Mahfouz Cafe in Cairo
Like it? Pin it!