Hey Disney fans, if you're a fan of The Wind and The Willows then you must eat at Toad Hall Restaurant at Disneyland Paris.
It's set in a majestic English manor where you can enjoy a classic lunch of Fish & Chips with your host Mr. Toad.
Not only is this amphibian abode stunning on the outside but the interiors are also spectacular. It makes a great setting for lunch in Fantasyland.
As a Brit, I avoided this restaurant for the longest time. But, that was a huge mistake as the food here is incredibly tasty. Don't make the same mistake.
Here is a Toad Hall Restaurant Review at Disneyland Paris and why it's worth adding to your Euro Disney itinerary.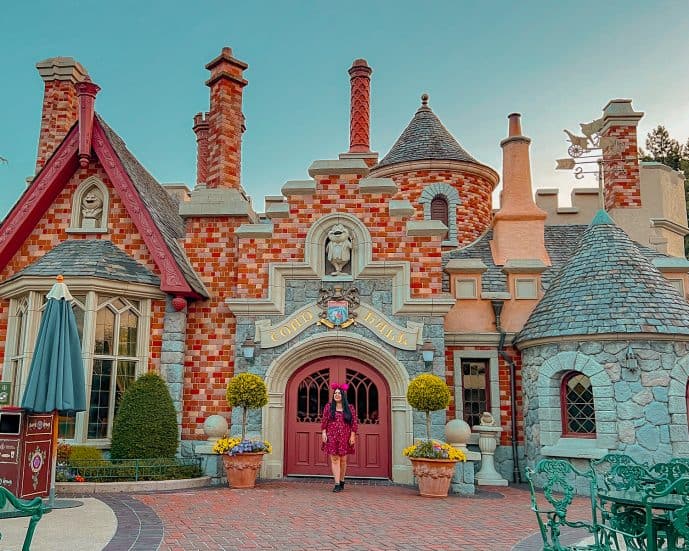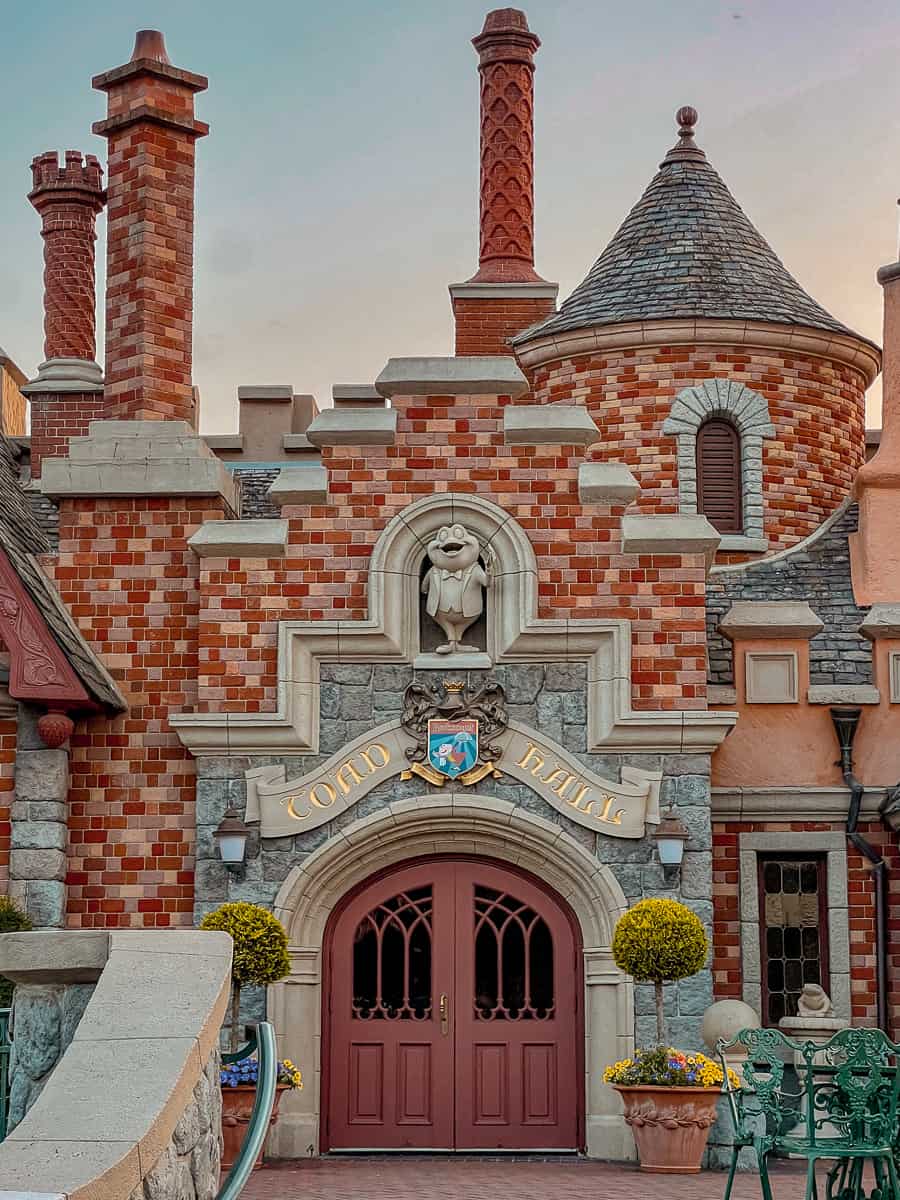 What is Toad Hall Restaurant in Disneyland Paris?
Disneyland Paris' Toad Hall restaurant is a quick-service dining option in Fantasyland that was inspired by The Wind and the Willows by Kenneth Grahame.
Also, the Toad of Toad Hall play by A. A. Milne (author of Winnie the Pooh) and The Adventures of Ichabod and Mr. Toad animated movie.
Although it does inherit a few pieces of Mister Toad's Wild Ride in California, this restaurant in Paris is meant to be separate and another way of telling the story.
It's an immersive experience where you can dine in Toad Hall and eat a classic dish of British Fish & Chips.
Outside of Toad Hall restaurant
Toad Hall takes its appearance from the 1949 Disney animated movie.
But, they also added some influences of Tudor architecture to the building, making it out of brick and adding some twisting chimneys.
If you look towards these chimneys, you'll see a very cool weathervane of Mr. Toad riding his Edwardian motor car. Poop Poop!
Look above the doorway and you'll see a statue of Toady standing above a family coat of arms. If you look closely, it disappointingly just says 'restaurant' and features Toad holding a silver dish.
But, if you look beneath that you'll notice that he has a Latin motto of 'No Consumus Froglagus'. Is this a bit of a dig about the French eating frog legs for dinner?
What's it like inside Toad Hall Disneyland Paris?
The inside of Toad Hall is nothing short of majestic. There are three rooms; a sitting room, a large dining room filled with British bric-a-brac, and a conservatory.
The sitting room is very cosy with gorgeous Mr. Toad wallpaper and chandeliers. There are portraits of Rat, Badger, and Mr. Toad.
Also, look out for some very cute Frog suit of armour by the mantlepiece which I couldn't get over. I mean LOOK at the frog eyes on the helmet. It's adorable.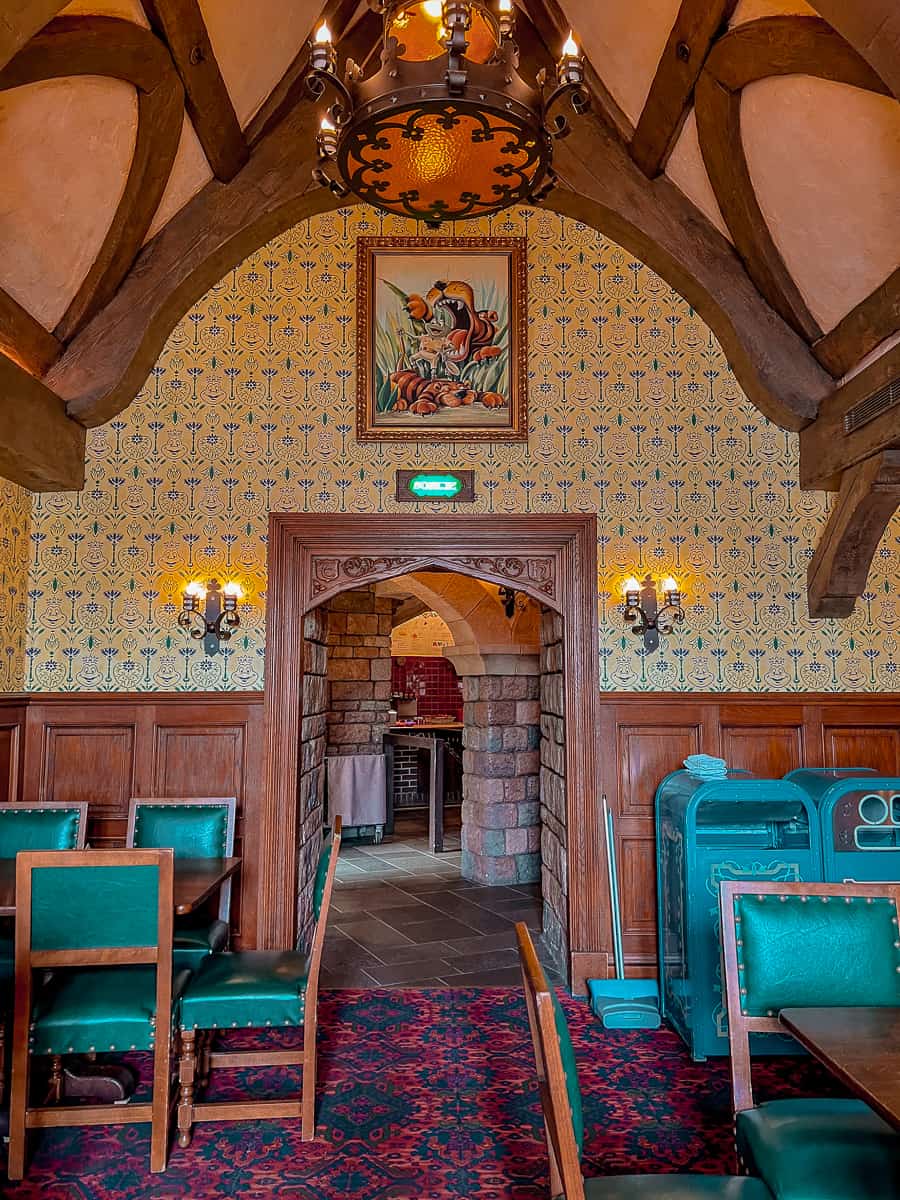 The larger dining room is the best room in my opinion. This has lots of British bric-a-brac like English street signs, cricket equipment, and vintage posters.
Of course, there are also plenty of images of Mr. Toad and you can even see a moving portrait of him inside.
Lastly, you can choose to eat in the conservatory which is a domed room. It's quite light with all the stained glass windows but I find that area very loud so I avoid it.
What is on the Toad Hall Restaurant menu?
Toad Hall restaurant has a very British-themed menu and the main event is Fish & Chips.
Aside from that they have vegetable salads and French Fries on the savoury menu. Plus, there is a kid's menu with smaller versions of the adult menu.
That doesn't mean that vegetarians and vegans will miss out though. They also have a Pané Vegan Fish & Chips too.
For afters, they do have a wide selection of desserts including a special Mr. Toad cake and a Mickey Ice Cream.
Grown-ups can even order a British pint of beer, rosé wine, or a cold glass of Irish cider to accompany their meal.
Toad Hall Fish & Chips
Okay, so I actually avoided Toad Hall restaurant for so long at Disneyland Paris as I get so bored of Fish & Chips.
As a Brit, you really can't escape it, especially if you head to the seaside and it can get a bit dull.
But, I think I made a huge mistake as this is easily one of the best quick-service meals in the parks.
The fish is battered to perfection and the chips are very chunky and skin on. You can even get salt and vinegar to put on top and a choice of Tomato ketchup and Tatar sauce for a dip.
As the adult Fish & Chips were quite a large portion, I decided to order the Petit Fish & Chips from the children's menu instead.
It's pretty much the exact same meal for adults but with only one portion of fish and it's half the price.
It was the perfect size for me and I thoroughly enjoyed it. In fact, I crammed it down as it was so tasty.
Like with most quick-service menu items, your meal won't come with a drink. So, you can order water, soda, a hot drink, or alcohol to go with it.
I'm always a Diet Coke girly and so this is what I went for. But, I'm anxiously waiting on Cherry Coke to arrive at Toad Hall. It's in a lot of park restaurants now and it's so good.
Dishes used to come served with a 'Toad Hall' style newspaper. But, I believe they have stopped this now with their new recycle-friendly dinnerware.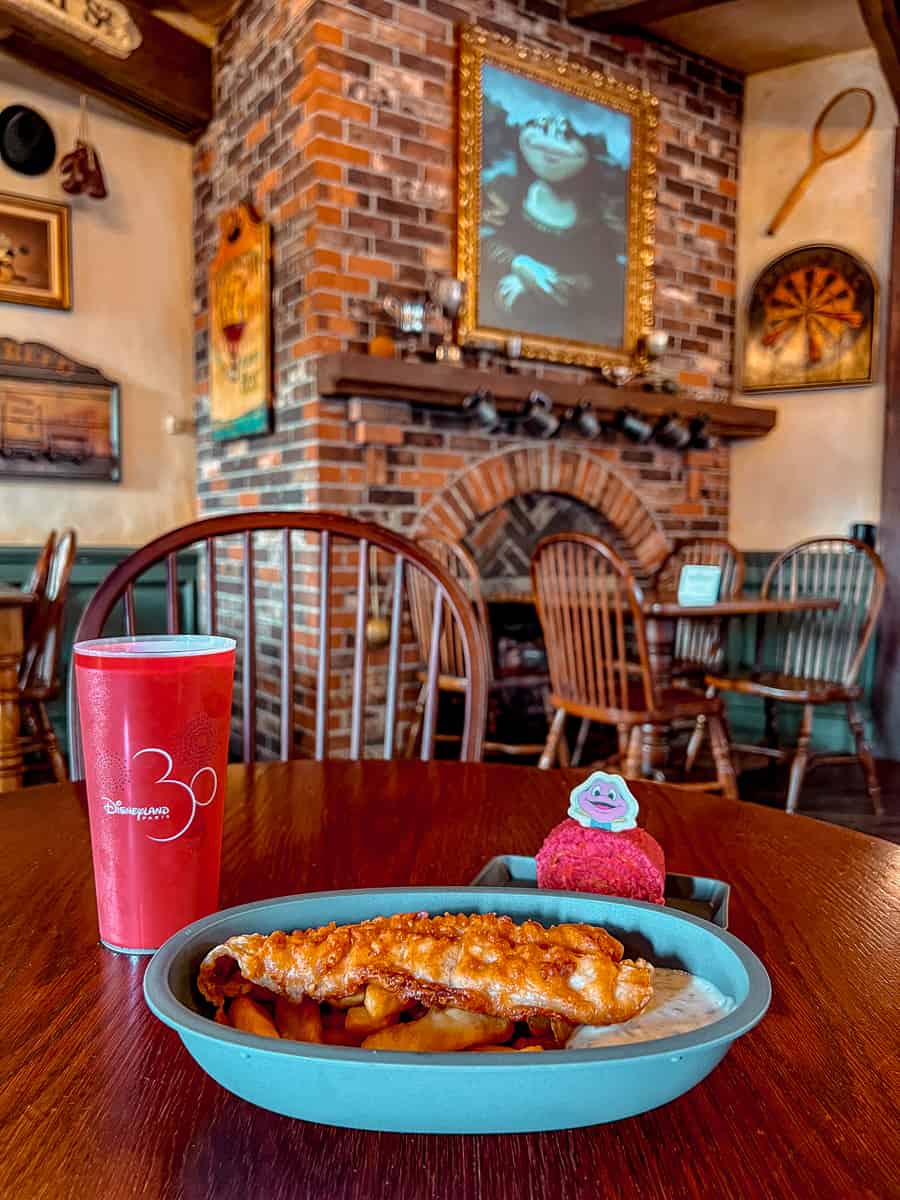 Roulé de Mr. Toad or Mr. Toad cake
Another reason why I love visiting Mr. Toad's Restaurant is because they have a very cute dessert called Roulé de Mr. Toad.
The Mr Toad cake is a 'Kiri Cheese Genoise' which is a circular red sponge with a smooth cheese filling and a cute decoration of a chocolate Toady on top.
I've had this twice now and it's very tasty and not overly sweet. The sponge tastes like raspberries and the cheese filling isn't too overpowering.
If there is something that Disneyland Paris does really well, it's dessert. I haven't had a bad sweet treat yet.
This cake was released as part of their 30th Anniversary celebrations but I hope it stays afterward as it is SO good.
It also makes a great snack with a hot drink later in the day when you need a pick-me-up in the parks.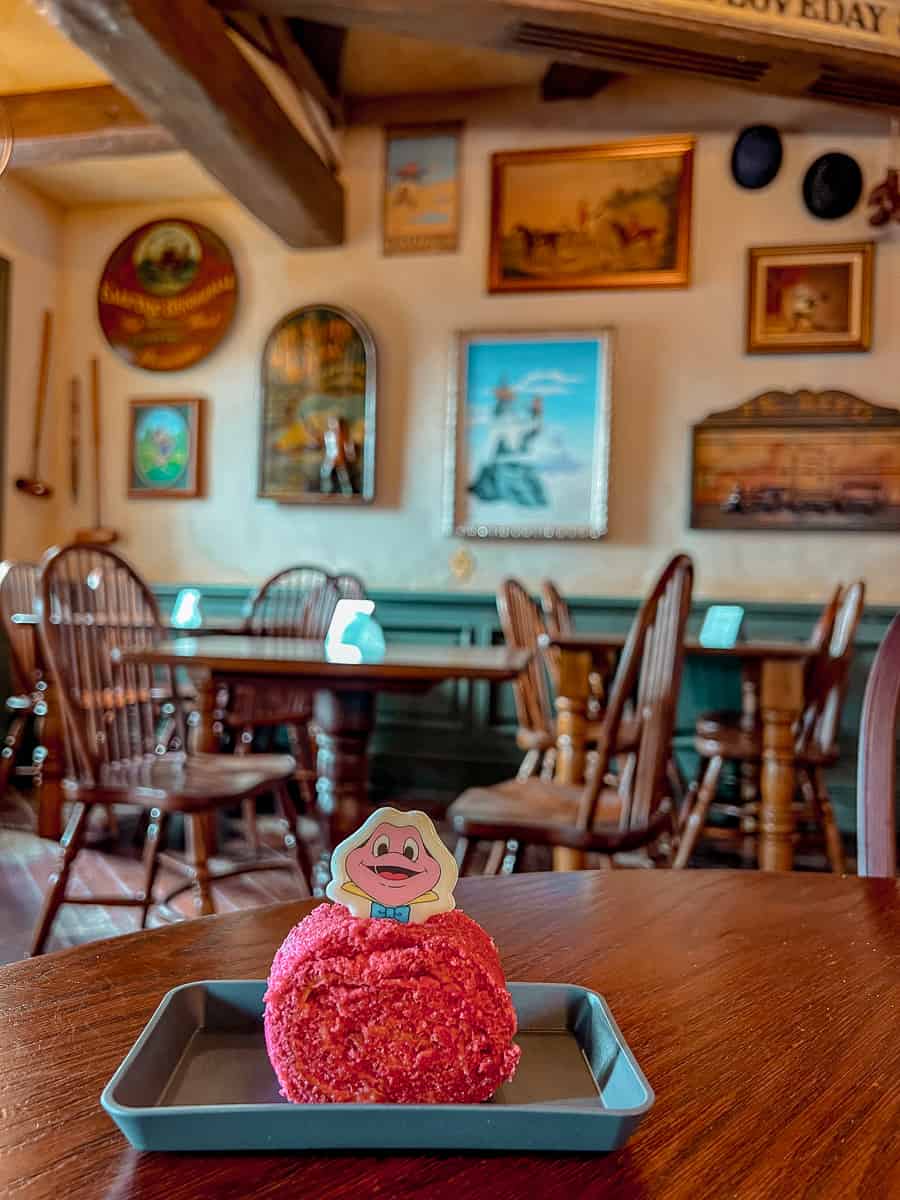 The changing faces of Mr. Toad
Something I would recommend visiting Toad Hall restaurant for (even if you're not planning to eat) is to see the changing faces of Mr. Toad.
It's a moving portrait above a grand fireplace that features Toady but he is constantly changing his look.
You can see him transform from the Mona Lisa, A Musketeer (or Mouseketeer), and Van Gogh throughout your meal.
It's one of the best-kept secrets of Disneyland Paris and it's so fun to watch.
Related post – 55+ Disneyland Paris secrets & hidden gems to discover
Where is the Toad Hall Restaurant in Disneyland Paris?
You'll find the Toad Hall Restaurant tucked away in a far corner of Fantasyland behind Peter Pan's Flight and almost opposite Dumbo the Flying Elephant.
It's also right beside 'Rencontre avec Mickey' or Meet Mickey Mouse pavilion and near Alice's Curious Labyrinth.
It's easy to spot as it's a giant manor that looks like something straight from the English Countryside, the setting for The Wind and the Willows.
Toad Hall restaurant opening times
Toad Hall restaurant opening times usually change with the season so it's best to check the Disneyland Paris website or app on the day for opening times.
Usually, it opens from 11.30 am to around 5 pm daily. So, it's really a lunchtime venue.
I would always recommend heading to Toad Hall early as it can get very busy throughout the daytime with its position in Fantasyland.
By 4.30 pm, it does tend to quiet down but the staff shut off most of the restaurant for cleaning.
My top tips for eating at Toad Hall Restaurant
Adults can order a kid's Fish & Chips – I actually ordered the Petit fish and chips here as it's a large portion. You just get one less fish and it's half the price!
Eat here early – Toad Hall restaurant does get quite busy as it's in Fantasyland. Eat either earlier or later in the afternoon to avoid big queues.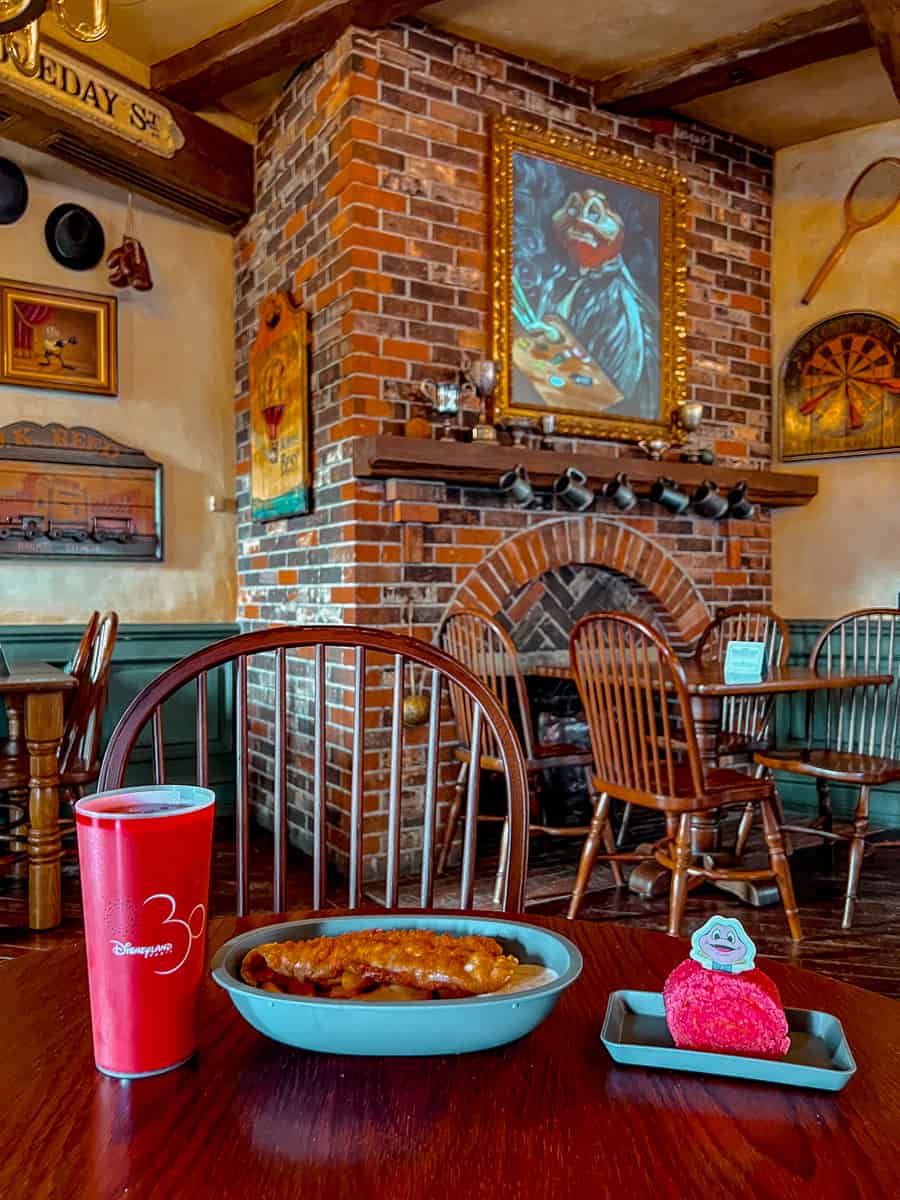 Outdoor seating – the outdoor seating here in summer is great and overlooks Dumbo the Flying Elephant.
No pre-order – at the time of writing, there is no pre-order available at Toad Hall Restaurant on the Disneyland Paris app. Hopefully this changes soon!
Don't miss the changing faces of Mr. Toad – make sure to stick around to see all of Mr. Toad's faces on the moving portrait above the fireplace.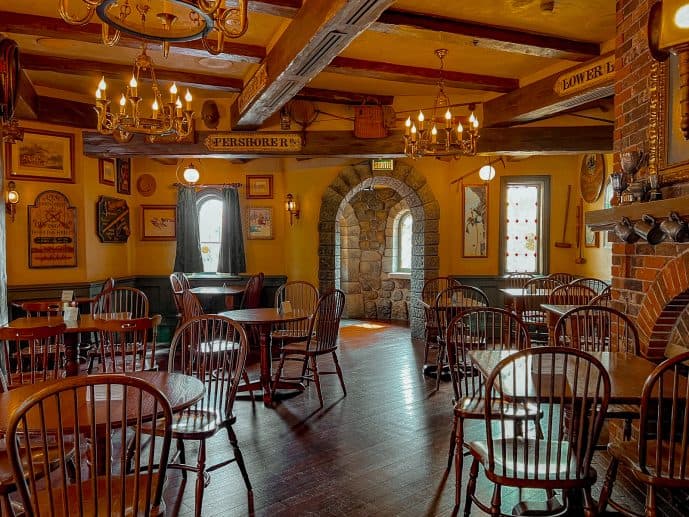 Buy your tickets for Disneyland Paris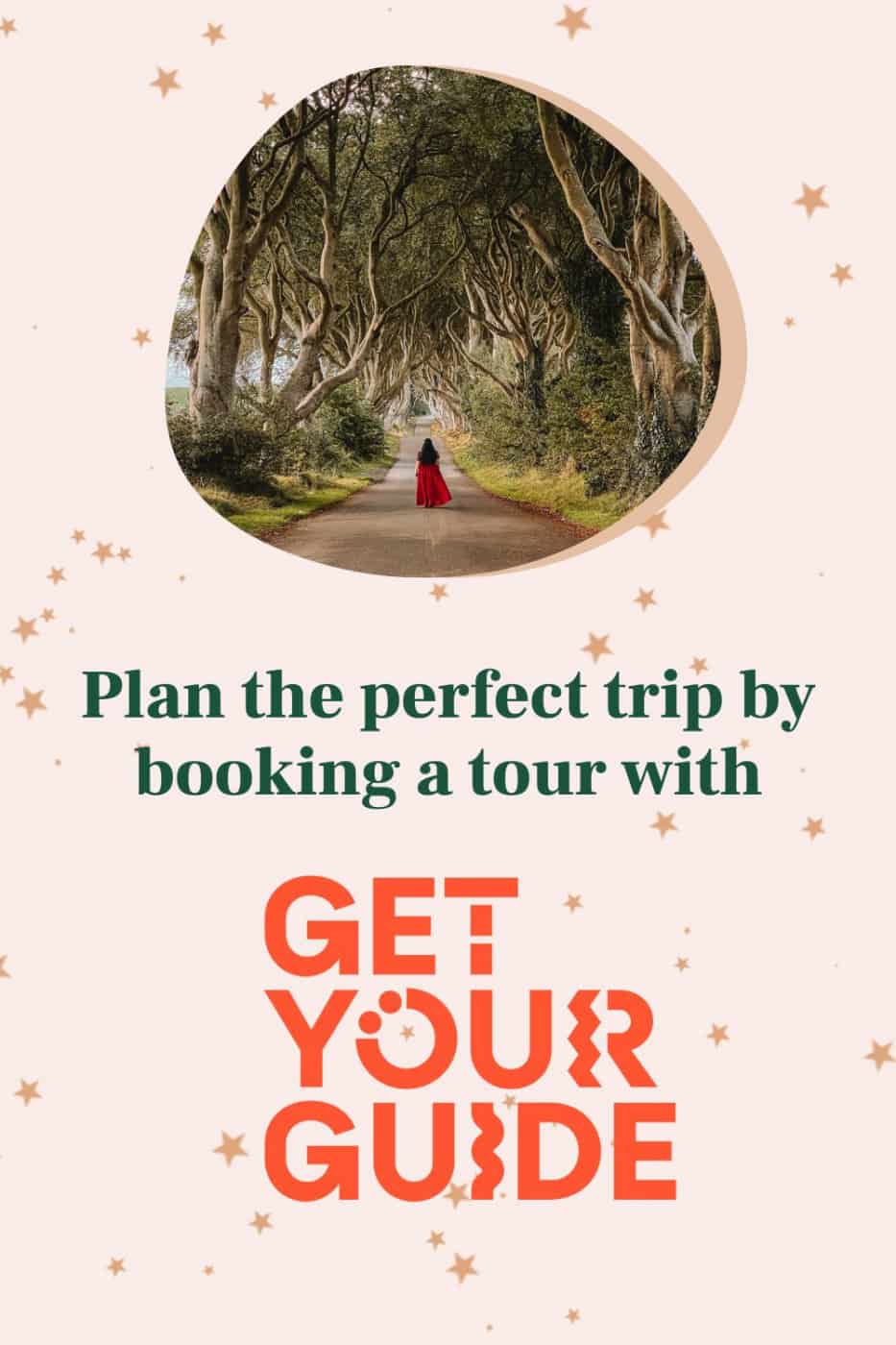 Pre-book tickets to Disneyland Paris!
Read more of my Disneyland Paris guide
25+ Things to do in Disney Village Paris
Newport Bay Disneyland Paris Review – Is Compass Club worth it?
How to visit the Disneyland Paris Dragon under the castle
Honest Bistrot Chez Rémy review – Paris Ratatouille restaurant
Pizzeria Bella Notte Review – Lady & The Tramp restaurant
50+ Instagrammable places in Disneyland Paris
Walts An American Restaurant Review
Is Auberge de Cendrillon Princess Dining worth the price?
Save this Toad Hall Restaurant Disneyland Paris review for later!