If there was one thing I knew I wanted to try on my travels in India, it was Toddy in Kerala.
Toddy is an iconic alcoholic beverage that is sourced directly from palm trees in the area by Toddy tapping! It's completely organic and has been around for centuries.
As you make your way around the backwaters, it's hard to miss these tiny shacks serving palm wine and curiosity may get the better of you.
On my visit to Alleppey, I pretty much begged my guide to take me to find one and try it the traditional way.
So, in this complete guide, I'll go through safety, how to find a Toddy shop in Kerala, where to watch Toddy tapping and all the essential reasons why you need to try it!
Heads up: my trip to India was sponsored by India Someday. Click here to read my full review of their services and my itinerary of what we got up to here. Although I was a guest, all photos and opinions are my own.
First up, what is Toddy and is it safe to drink in Kerala?
Toddy is an alcoholic drink made from the sap of palm trees.
Yes, it is safe to drink Toddy in Toddy shacks if you have it in small quantities. But, as they often mix Toddy with local water in Kerala it can make you sick if you have too much. So, I would say to only have 1 – 2 glasses tops!
I only had just over half a glass, if that, and I was completely fine! But, I'm sure I could have had more.
If you buy Toddy from a retailer around the area in a bottle, you won't have any issues as you can mix it yourself with filtered water.
But, if you wanted a real experience, I would recommend you stop off at a traditional Toddy shop in Kerala on the backwaters. It's so much more fun to try it this way!
1. Toddy is a type of wine extracted from palm trees
A lot of foreign tourists call Toddy 'coconut Vodka'. But, if you're wondering what Toddy actually is, it's a type of palm wine where they extract it from palm trees.
As I was wandering around the farm at my homestay in Alleppey, I saw a lot of black bowls hanging at the top of the trees there.
When I asked my homestay owner what these were, he told me that these bowls are from 'Toddy tapping'. It's a popular profession here in Kerala (which I'll go into later).
Palm wine is made from extracting the sap out of palm trees and is a nice little earner for the local farmers in the area if you can master fermenting it.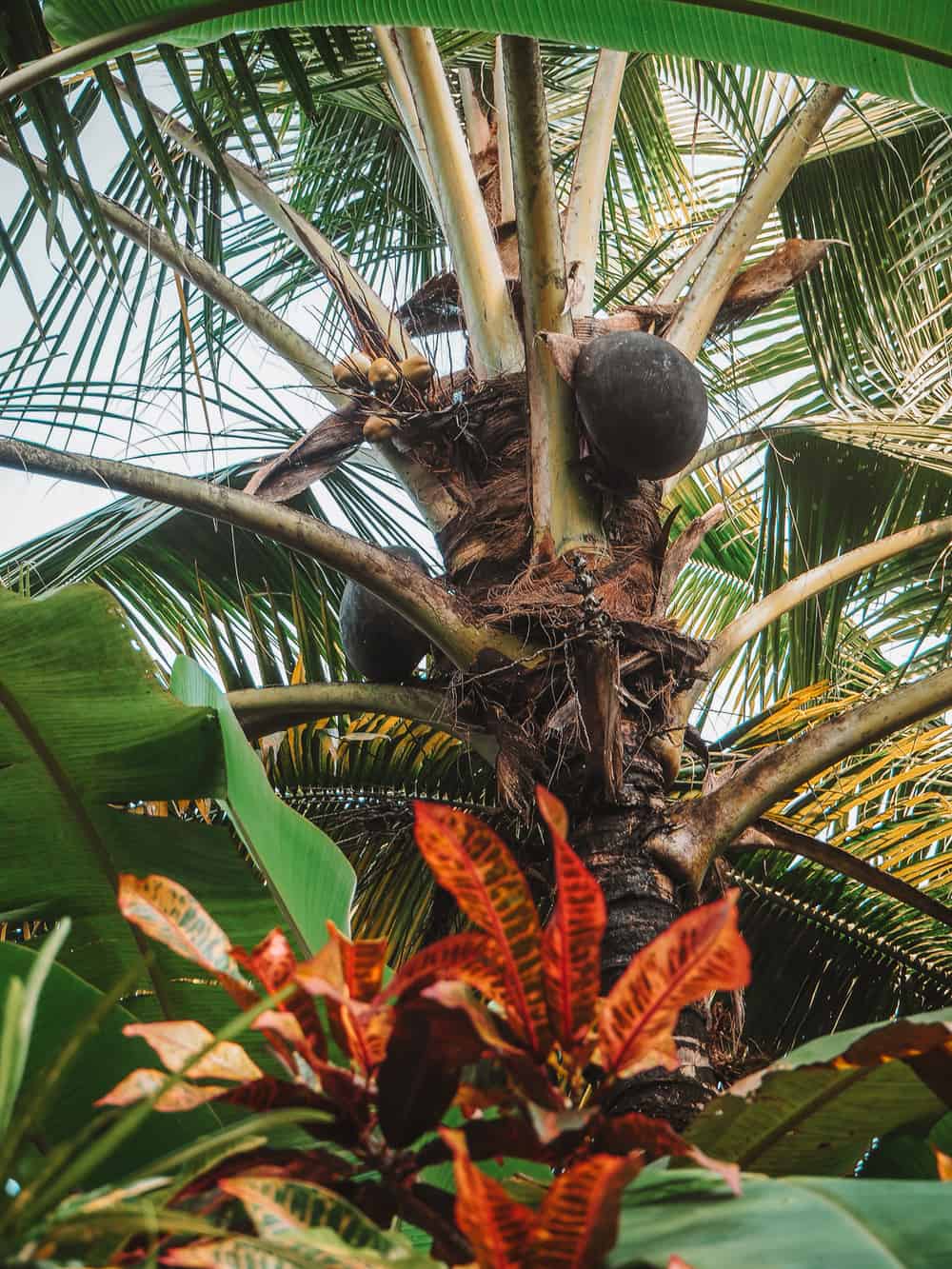 2. Toddy in Kerala is a tradition that has been around for centuries
I don't know who first thought of drinking the sap from a palm tree and found out if they left it for a while, it changed and made you drunk.
Maybe someone accidentally cut a tree on a hot day, was thirsty, and decided they liked what they saw? Either way, the tradition soon spread and it has been popular here for centuries.
You see when you extract the sap from a palm tree, the yeast in the air immediately ferments the white liquid. Within two hours, you'll have a palm wine that is sweet in taste and has a 4-6% alcohol content!
Today, Toddy in Kerala is sold under a license by the Excise Department and is an industry that has over 50,000 employees!
But, it's not just wine that people use the sap for. "Vellayappam" is a type of hopper in Kerala that is served for breakfast. They use Toddy mixed with rice dough which leavens to make a type of soft bread!
3. Watching (or trying) Toddy Tapping is a must do in Kerala!
A Toddy Tapper or Toddy drawer has been a profession here for centuries and is still something that people do today.
While years ago people would climb the tree with just their feet, hands, and maybe a rope for safety. Today, they have more modern methods.
A Toddy tapper, will attach grips to their feet and almost 'walk' up the palm tree to get to the top. Then, he will attach a bowl to the flower stump and 'tap' a hole into the cut flower of the palm tree.
If you want me to go all 'sciency' on you, the official term is Cocus Neusifera.
The sap will then drip inside in the bowl and be collected later once it has had the chance to ferment naturally.
It's then used in the home for cooking, or sold off to drink in Toddy shops or shacks!
4. Toddy Shops can be found on the backwaters of Alleppey
Take the image out of your mind of a Toddy Shop being like your local Bargain Booze! A traditional Toddy Shop is like a shanty bar located in the Backwaters.
When we pulled up on our Shikara boat, even though the sign was written in Malayalam (the local language), the big picture of a palm tree and a terracotta pot with palm wine spilling out of it was a big clue.
They aren't anything fancy, they're very basic. But, they're usually full of male punters playing cards or watching sports on TV!
If you're heading to Alleppey, I'm sure that a trip on the backwaters has already been planned! So, simply ask your guide to make a stop at a Toddy Shop on your way around.
The day we arrived, it was Navaratri Festival and not many shops were open. A lot of Indian people do not drink or eat meat over festival days.
But, luckily, I found one that was serving Toddy that day. Phew!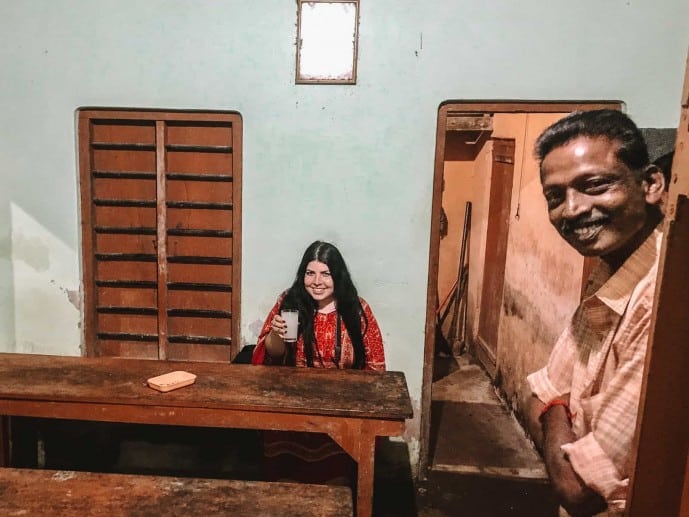 5. You can meet the locals over a Toddy
I think the men in the Toddy Shop were a little amazed when I pulled up on my boat. Women aren't often seen in the Toddy Shops in Kerala so it was a wee bit controversial. Luckily, I had my guide with me who was a man and who could translate haha!
But, after the initial confusion, the bartender was so proud to serve me! He rushed off to get me a glass of Toddy in an instant and made sure that I was happy with it.
I couldn't speak a word of Malayalam and they couldn't speak a word of English, but we got on just fine over a glass of Toddy! Haha. As they say, a smile is a universal language.
6. Toddy is incredibly cheap to drink
Whereas most alcoholic drinks in India will burn a hole through your pockets, Toddy in Kerala is extremely cheap to drink.
In fact, I think I paid 70 rupees for my glass of Toddy which equates to about 50p! This is a bargain compared to a small glass of wine which can often be sold for £9 in luxury hotels (not including the alcohol and GST taxes!).
However, although cheap, I do think that Toddy will take you a while to feel tipsy at 4% (even typing this I'm chuckling as I feel like such a Brit abroad haha).
After all, It's the experience that counts, and as I keep saying, it's a must-try.
7. Be careful, as they often mix Toddy in Kerala with local water!
The only thing that did make me anxious about trying Toddy in Kerala was the fact that they mix it with the local water.
I had just started my trip in India and it wouldn't be ideal if I got a stomach bug on my first few days!
But, having lived in India before, brushing my teeth with the local water and having drank it on occasion (some, by mistake); I hoped that my stomach wouldn't mind so much.
Alcohol is also highly acidic and can rip through most things in your stomach, so I threw caution to the wind and just decided to try it.
I'm so glad I did as it was really delicious and I would have missed out on an awesome experience to meet local people too. Always make sure that you visit a Toddy shack with a guide, who can help translate for you.
8. It's a bucket list thing to do here in Kerala
I think if you come to Kerala and don't try even a little sip of the palm wine, you really did miss out!
Toddy in Kerala goes hand in hand with the backwaters in God's Own Country.
Out of all the experiences I had, a boat ride on the backwaters and stopping off here to drink with the locals was my favourite. You just can't beat it!
If you're on the fence and are a little apprehensive about trying Toddy, I would just say go for it! A little sip will not kill you and you may end up regretting it.
Looking for more things to do in Alleppey?
Alleppey and the Backwaters are some of the top things to do in Kerala and the whole of India!
So, make sure you read some of my travel guides before you go;
How to see Alleppey in just one day
A complete travel guide to the Backwaters of Kerala
What to expect in Alleppey Lighthouse
Where to stay in Alleppey
Whereas most tourists stay on a houseboat in Alleppey, India Someday booked me into a homestay on the backwaters themselves!
Emerald Isle Heritage Villa is a homestay that is located on a farm that is over 150 years old. When I checked in, the homestay owner showed me the original deed for the house that was carved into a palm leaf!
Click here to read my full Emeral Isle Villas review
The building is gorgeous and tucked away in palm trees. They even have their own farm where you can relax in hammocks and laze the day away.
My room used to be for grain storage and had an awesome double bed and Al Fresco shower!
As part of the stay, you can swim in the backwaters, go on a rickshaw ride of the island, book a boat tour on the backwaters or try an Ayurvedic massage. Plus, their traditional Malayali food was to die for.
Click here to book your stay at Emerald Isle – check dates and rates available
Looking for more inspiration in Kerala?
I spent a week here in Kerala and visited the historic Fort Kochi, the hills of Munnar and the backwaters of Alleppey;
Click here to read my full One Week in Kerala itinerary
So, if you're looking for more information to plan your Kerala adventures, make sure you read my helpful guides below;
The best tourist places to visit in Munnar
A road trip guide to Munnar with the best stops
Chinese fishing nets: Top tips for not getting scammed
Kathakali: how to watch a show in Kerala
Eravikulam National Park: essential tips before your visit
Top Station: is it worth the drive?
The best waterfall for swimming in Munnar
Save this Toddy in Kerala guide for later!