I'm not crying, you're crying! Apart from the rides, the shows at Walt Disney World are what truly makes the magic. They create some awesome memories and bring a tear or two to the eye – especially for big kids!
You'll laugh, you'll cry, you'll stand back amazed. The quality of entertainment at Walt Disney World really cannot be beaten.
But, there are SO many shows it's hard to know which ones are worth planning time for. So, this list should help you with the best shows and tips on how you can make sure you see them.
Here are the parades and shows at Walt Disney World you CANNOT MISS!
The top must-see shows at Walt Disney World
1. Fireworks in Magic Kingdom
Out of all the shows at Walt Disney World, the fireworks at Magic Kingdom are the most magical you will ever see in your life. No kidding. Sure, some people will say to skip them to get fewer ride queues but I say, scratch that. This is no ordinary fireworks show, my friends!
You'll see Tinkerbell flying out of Cinderella's Castle over the crowds, a reflection of your favourite characters and movies projected onto the castle and sing along with your favourite Disney songs. Not to mention the sky will be on fire with colourful fireworks in all shapes and sizes.
It will choke you up, give you the chills and be the most magical end to a day at Disney!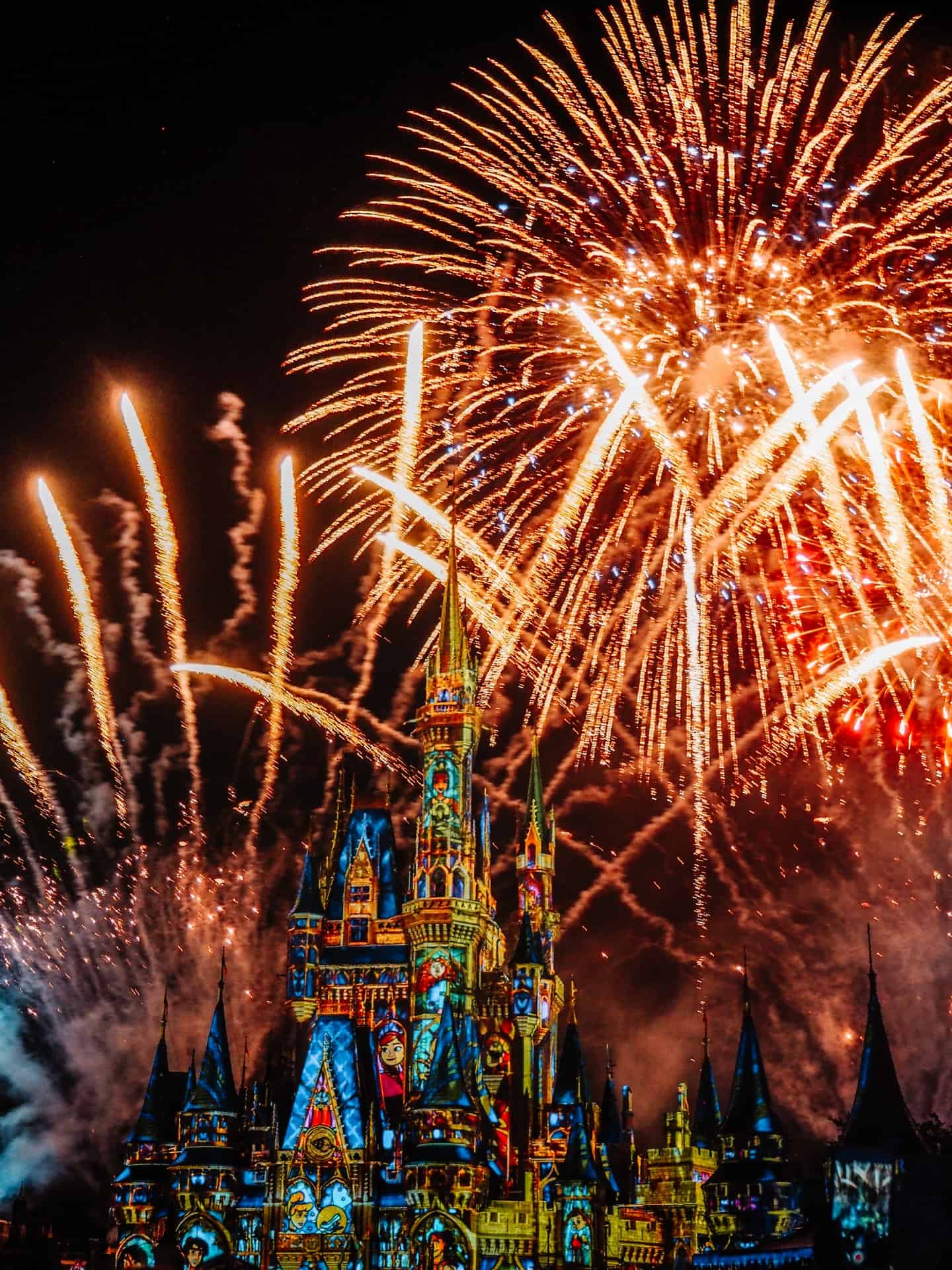 Top tips for the Disney Fireworks:
To get a good view, leave plenty of time before the show
Stand further back from the castle if you want to see the full show
As it's dark it looks crowded but there are lot's of spaces to plant yourself
They're in the sky so it doesn't matter too much if there are lot's of people in front of you
Don't stand in the walkways or cast members will move you on
Wait the crowds out to avoid a stampede after they finish!
2. Festival of the Lion King, Animal Kingdom
All I can say is, WOW! The Lion King is one of my favourite movies of all time (hands up to all my 90s kids out there) so, seeing this on stage was nothing but captivating.
You can join Simba, Timone, Pumba, Hyenas, monkeys performing acrobatics and the most amazing singers bringing you the best tracks from the film!
You'll sit in the round in Harambe Theatre and you'll clap, sing, cry and swoon over the entertainment. The whole of the animal kingdom will be out in full swing to entertain you.
Aerial silk acrobats fly like birds in the sky, monkeys swing, zebras dance and Timone, well is typically funny Timone!
It pulls in quite a crowd but you won't regret the wait for this classic Disney film brought to life.
Top tips for Festival of the Lion King:
Get to the Harambe Theatre at least 30 minutes before showtime
Fast pass the show if you choose, it will guarantee you a good seat
You may be sat separately from your party if you're the last in
All seats provide a good view but nearer the front is better
3. Fantasmic, Hollywood Studios
Fantasmic is an icon in the Disney show collection. This Disney classic has been adapted into a spectacular live performance on the water.
You'll join Sorcerer Mickey on an adventure and enter the many worlds of Disney animation and imagination that explores good over evil.
Be transported back into colonial America with Pocahontas, African climes in the Jungle Book, the dragon out of Sleeping Beauty, Steamboat Willie and a whole cast of loveable characters.
It packs out every night, so much so that Hollywood Studios have now created another show if you miss out.
Top tips for Fantasmic:
There are two shows in peak season
Get there at least 45-60 minutes before showtime, seems excessive but trust me Fast Pass get priority and you may not be let in
There is some entertainment pre-show so you, and the kids, won't be bored
This is worth Fast passing in high season
There are splash zones, don't sit here unless you want to get wet!
There are bathrooms and snack counters but queues are long, go way before show time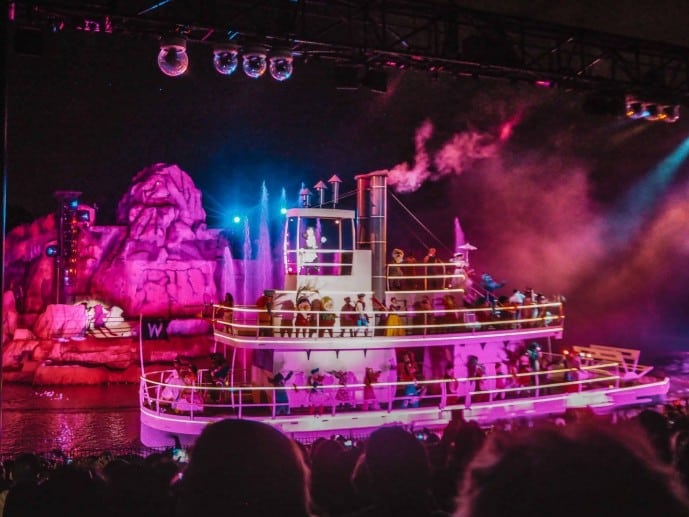 4. Festival of Fantasy Parade, Magic Kingdom
Parades are some of the best things to do at Walt Disney World and they're always high-quality entertainment. You can join your favourite characters on parade in Magic Kingdom and some may come up to join you too!
The floats are so colourful and creative, the entertainers interact with the crowds and you can sing along and wave to Mickey and his friends.
So grab a good spot and some popcorn and wait for the best parade at Walt Disney World to come alive before your very eyes.
Top tips for where to watch the parade at Disney World:
Get a good spot at least 30 minutes before, places fill up fast
The parade starts at Frontierland and ends at Main Street USA, Frontierland is the least busy viewing area and means less wait time for the parade and means you can leave straight after for more ride time
There are accessible walkways to get through the crowds but it's busy and strollers will be a challenge
Don't block walkways, the cast members will move you on
Kids can sit at the front of the crowds if they can't see, big kids can stand further back
5. Beauty and the Beast: Live On Stage, Hollywood Studios
Belle is my favourite princess and this show is one of my all-time favourites! This incredible performance condenses Beauty and the Beast to around 20 minutes and it's a whirlwind of songs, colourful costumes, spells, magic and romance.
Even after seeing Beauty and the Beast over a hundred times, I'll never be over that gold dress. So, look forward to that pivotal moment on stage! You'll also find incredible performances from Gaston, Cogsworth, Lumiere and Mrs Potts too.
Again, this show packs out every time! But, there are multiple performances throughout the day to choose from. The afternoon is a great choice as it's a shaded area to save you from the heat.
Top tips for the Beauty and the Beast show:
Get there at least 30 minutes before show time
Fast Passes take priority for the front seats
Sitting further back is better to ensure there are no heads blocking you
Don't block other viewers by leaving early, it's rude!
6. Rivers of light: We Are One, Animal Kingdom
Rivers of Light is a new show at Animal Kingdom and is proving very popular with two shows put on daily. A show to celebrate the majesty of nature with Eastern traditions, you'll see magical floats, lanterns and lasers at night over a peaceful lagoon.
A water show full of colour, music, characters and magic, you won't be able to take your eyes off of it.
As well as watching the show in the arena, you can get a Disney dining package too where you can watch it while eating Asian inspired cuisine. It's well worth the wait.
Top tips for watching Rivers of Light:
Get here at least 45 minutes before showtime, with the new Pandora world, crowds are coming in droves to Animal Kingdom and its extremely busy
Fast Passes get priority seating, so use it if you want a central seat or get here early for a seat as close to the centre as possible for walk ins.
Dining Packages would also be a guarantee for a good view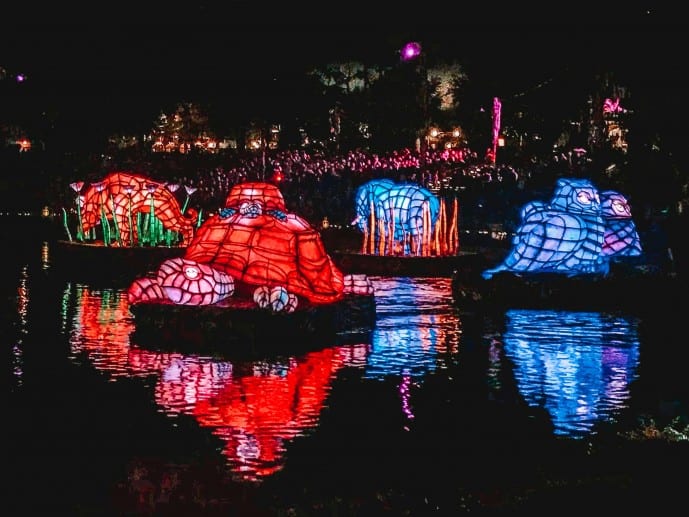 7. Dream along with Mickey, Cinderella's Castle, Magic Kingdom
Throughout the day the Disney cast put on a magical show on stage right outside Cinderella's Castle. You can join Mickey, Minnie, Donald, Daisy, Goofy, Pluto, Olaf and some favourite characters for a dance and a sing-a-long.
This show is all about making your dreams come true and ends with a spectacular finale of fireworks coming out of the Castle!
There are many shows throughout the day with the first one around 11 am. It's a must-watch and easy to see from directly in front of the castle.
Top tips for watching Dream along with Mickey:
You can turn up as soon as the show starts, it's free for all
There are no designated seats, you stand or sit on the floor, first come first serve
Stand to the side of the castle walkways for a great unspoilt view
8. IllumiNations: Reflections of Earth, Epcot
Another classic show at Walt Disney World can be found around the World Showcase Lagoon. This show hasn't changed since the park opened in 1982 but people still watch it over and over as it's just that good!
The countries you explored, drank and ate at during the day will light up before your very eyes. Watch the showcase lagoon as it comes alive with lights, lasers, reflections and fireworks.
All the entertainment comes with a beautiful message of oneness for everyone all over the world. Makes you all fuzzy inside!
Top tips for Reflections of Earth:
Our favourite spot for watching this show is by United Kingdom. The seating area out the back of the Rose & Crown Pub gives a good view of the lake and provides a good place to sit with drink
Get here at least 30 minutes before showtime and bag a good spot by the lake
The lagoon gets very dark around this time, watch out when you're walking around
Make sure you have a jacket, the lagoon can be cold at night
9. Let the Magic Begin Opening Show at Magic Kingdom
If you're heading out for a day at Walt Disney World, it's definitely worth getting up and out early! The best reason is you can watch the opening show at Magic Kingdom.
Let the magic begin used to start outside of the theme park, just as you get off the Disney Monorail or Water Transportation with a train etc. But now, it's moved into the forecourt infant of the castle at 8.55 am.
The good news is that you can enter the park a little earlier on Main Street USA at 8 am and sometimes before. Great for photos before the park packs up and It's well worth the wake-up call.
Everyone is allowed on Main Steet USA at this time but if you have Extra Magic Hours make sure you show you're Magicband to the cast members on patrol to enter Fantasyland and Tomorrowland. Resort guests are also allowed into these areas until the park officially opens.
Top tips for the opening show at Magic Kingdom:
You're now allowed inside the park at 8am, sometimes earlier, the show begins around 8.55am.
You can grab breakfast inside the park on Main Street USA. There's a Starbuck's bakery and Character Breakfasts
The show packs out as the park hasn't opened yet so head to the forecourt early
Some people skip show this all together and use it to run into the park first and skip the lines
10. Finding Nemo the Musical, Animal Kingdom
Another great adaptation of a modern Disney classic is Finding Nemo the musical.
You can join Marlin and Dory on the hunt for Nemo. With performances from Crush and Squirt the turtles, Bruce the shark, Gill and the Tank Gang, and many more!
This show at Walt Disney World is extremely creative with puppets, acrobatics, film, music and costumes. This incredible stage show makes you feel like you're truly under the sea and on your way to P. Sherman 42 Wallaby Way Sydney.
You can find the Nemo theatre in Dinoland USA.
Top tips for Finding Nemo the Musical:
This show rarely packs out, but make sure you're here on time for the show
If you're late, you'll be shown to the back
It's a great show for the rainy weather as it's undercover in a theatre
There are great views wherever you sit in this production
11. Indiana Jones Epic Stunt Spectacular, Hollywood Studios
Hollywood Studios is all about the movies and here you can go behind the scenes and take a look at how they filmed some of the most famous Indiana Jones clips.
You can see Indie's stunt double run away from that giant boulder, flee from enemies in the market streets of Cairo or watch German army planes.
The great thing about this show is that they select members of the audience to participate so you can be part of the action. Or, sit back and enjoy while the production crew recreate the pivotal stunt scenes from the Indiana Jones classics.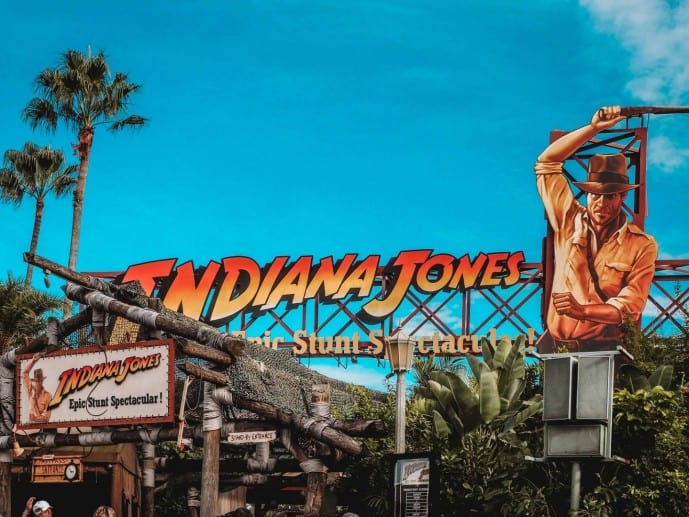 Top tips for Indiana Jones Epic Stunt Spectacular:
Get here at least 30 minutes before showtime
This packs out so Fast Pass is recommended but not essential
You get a good view from all over the auditorium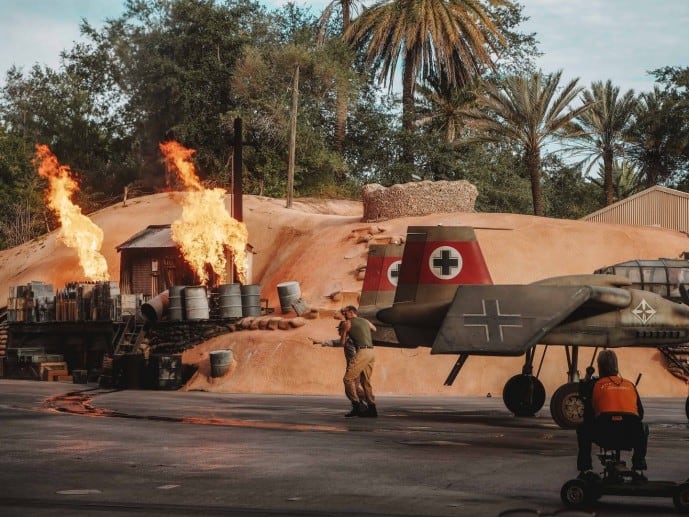 12. The Voyage of the Little Mermaid, Hollywood Studios
The Voyage of the Little Mermaid is as close as you'll get to see the musical from Broadway.
This is a 'must-sea' live-action show that brings the best scenes of this classic Disney movie to life. It's a very cut down version, 15 minutes to be exact, but the scenes that were chosen are beautifully portrayed.
Join Sebastian under the sea, Aerial in her treasure trove dying to be part of your world or Ursula as she casts a spell. The signing, dancing, laser projections, puppets, characters and performances cannot be missed!
Top tips for the Voyage of the Little Mermaid:
There is limited seating in the Little Mermaid Theatre
Get here at least 20 minutes before showtime
There is a fast pass but it's not necessary
Shows are every 30 minutes or so but check showtimes on the day
Everyone in the theatre does get slightly wet as you go 'under the sea'
Want to read more of my posts about Walt Disney World?
So, those are the best shows at Walt Disney World. But, if you want to read more guides, hints and tips about Walt Disney World.
Be sure to read some more of in my blog posts below;
A Free Disney Day Out at the Boardwalk
Beautiful photo spots at Walt Disney World
The secret Disney Walls of Walt Disney World
A complete Be Our Guest restaurant review
Like it? Pin it!