If you're a book lover then you have to visit Toppings Edinburgh, a huge independent bookstore in the city.
Their shelves are crammed full of new books that you can browse on their iconic rolling library ladders and there is even complimentary tea and coffee.
You could spend hours exploring their volumes for your next read or attend one of their many literary events throughout the year.
I have seen this magical bookshop on my social media feeds for so long and I'm so glad I was finally able to visit.
Here is why you must visit Topping & Company Booksellers of Edinburgh.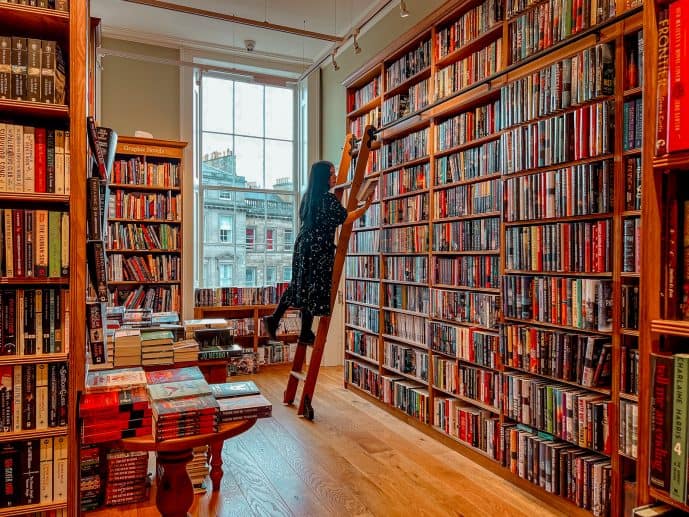 What is Toppings Edinburgh?
Toppings or Topping & Company Booksellers of Edinburgh is a large family-run bookstore in the city centre.
It's set over three floors in a historic Grade A listed building that used to be a former bank and was designed by famous architect William Playfair.
Although it's an independent bookshop, it joins a chain of Topping bookstores that can be found around the country.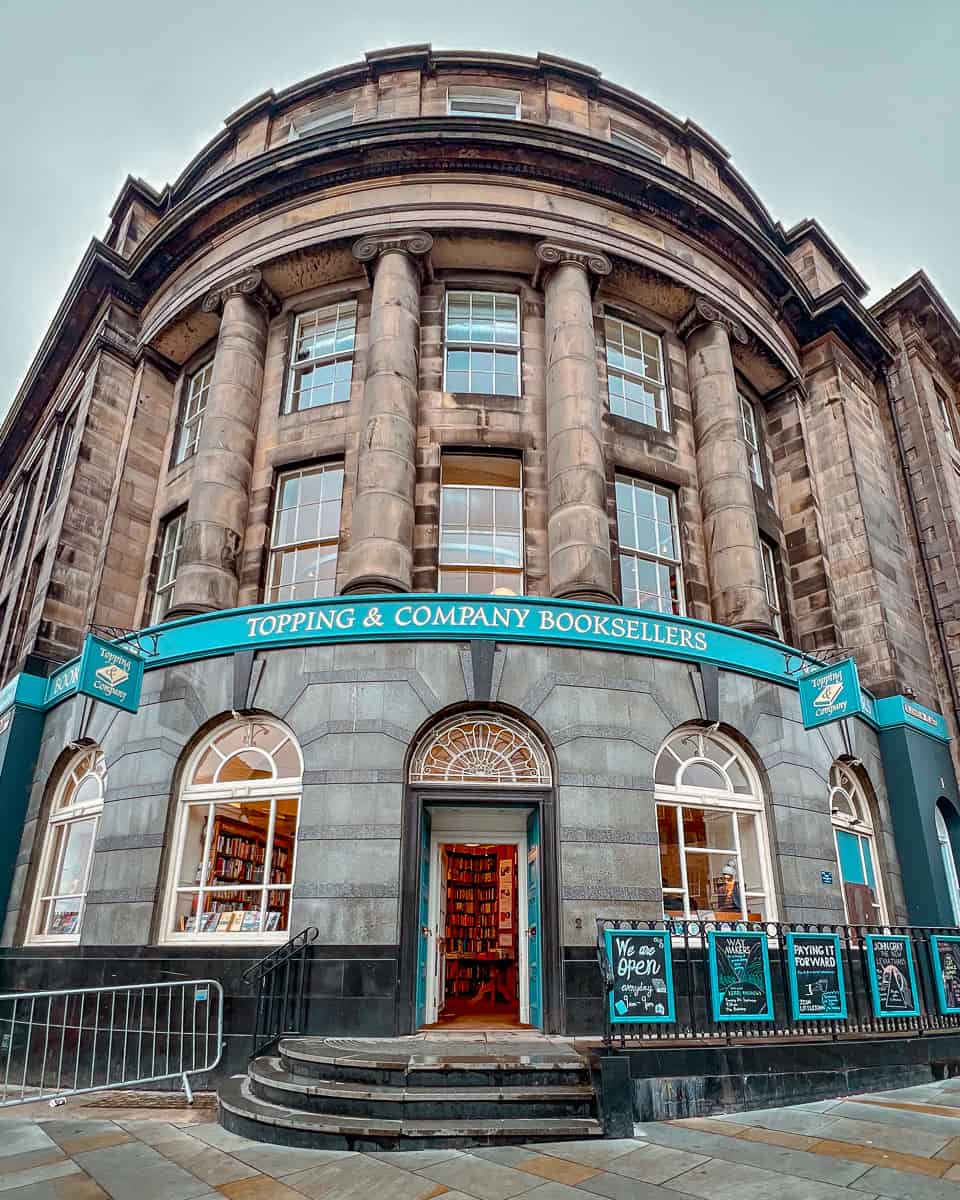 Founded by Robert and Louise Topping, they opened their first branch in Ely, Cambridgeshire in 2002.
Then, they opened Bath in 2007, St Andrew's in 2014, and finally Edinburgh is their latest project which opened its doors in 2019.
It was the largest independent bookshop that had opened in Edinburgh in over a decade with room for over 70,000 books.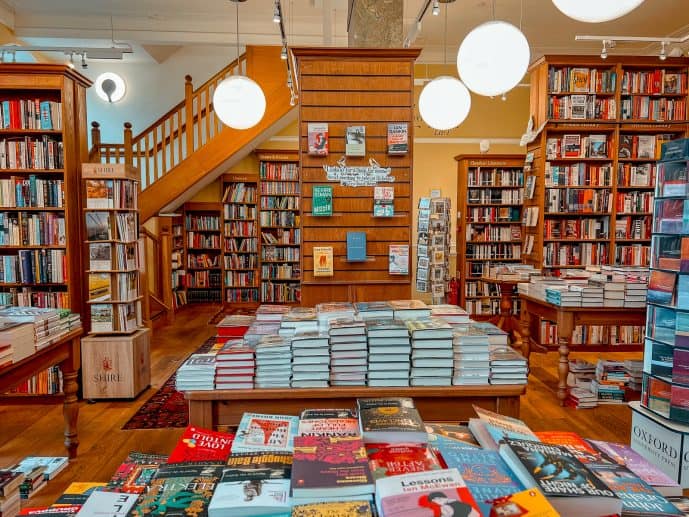 What books do they sell at Topping & Company Booksellers?
It's probably easier to say what they don't sell at Topping & Company Booksellers of Edinburgh as they have a ginormous collection and sell a bit of everything.
On the shelves, you'll find fiction books, romance, classic literature, history, art, and photography.
For me, I was super impressed by their Sci-Fi and Fantasy sections that took up an entire room.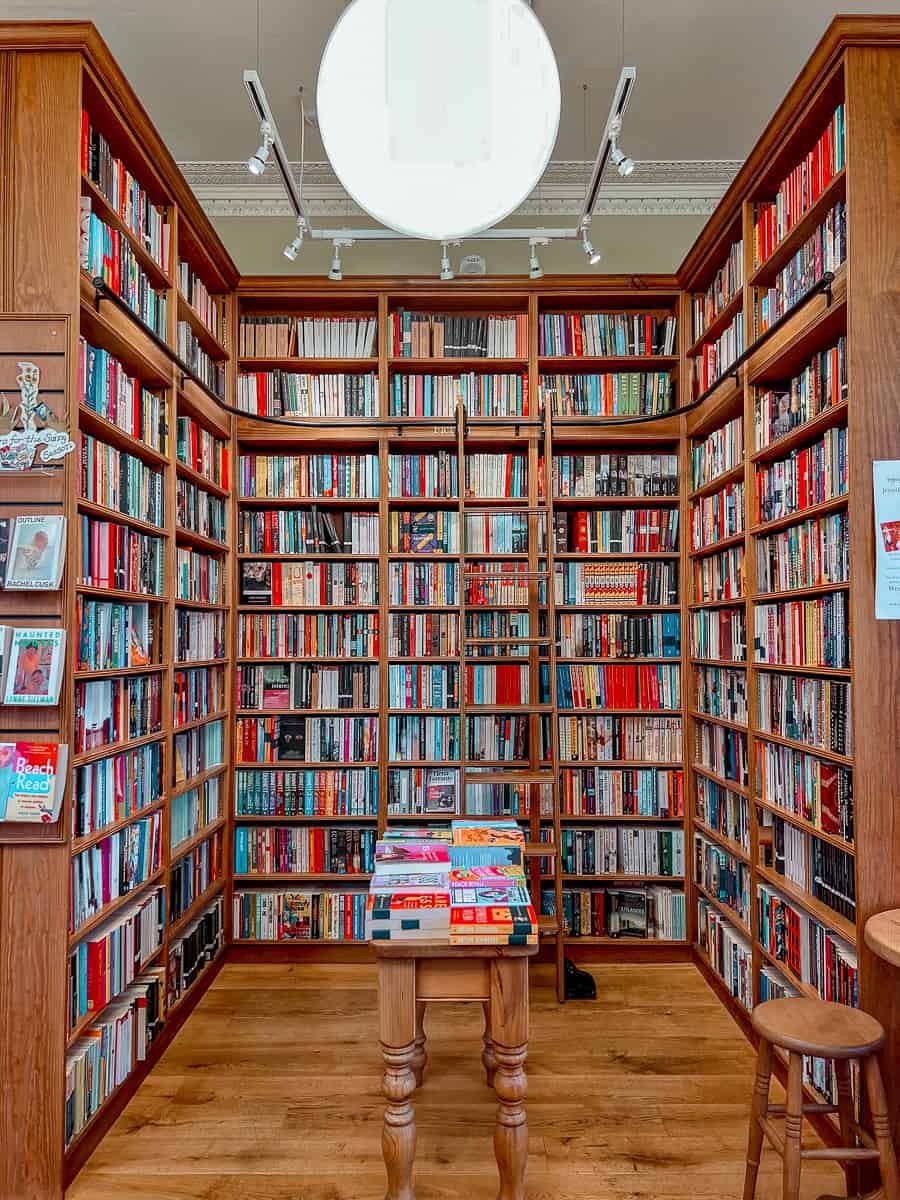 Usually, fantasy sections in bookshops are tiny, and it's often overlooked. It's all I read and so seeing this made me so happy.
You'll also find children's books, special and signed editions, travel books, memoirs, poetry, and non-fiction.
Every room inside this book labyrinth had a particular theme and so it's worth exploring each one to see what you'll discover.
What to expect when visiting Toppings Edinburgh
As soon as I walked into Toppings, I knew I was going to love browsing their store.
At opening time, it was nice and quiet so they had classical musical playing and I gasped at their sky-high bookshelves.
There were books in every corner and when you went upstairs it almost seemed like a maze of shelves crammed with tomes.
The best part about browsing in Toppings Edinburgh is using their rolling library ladders.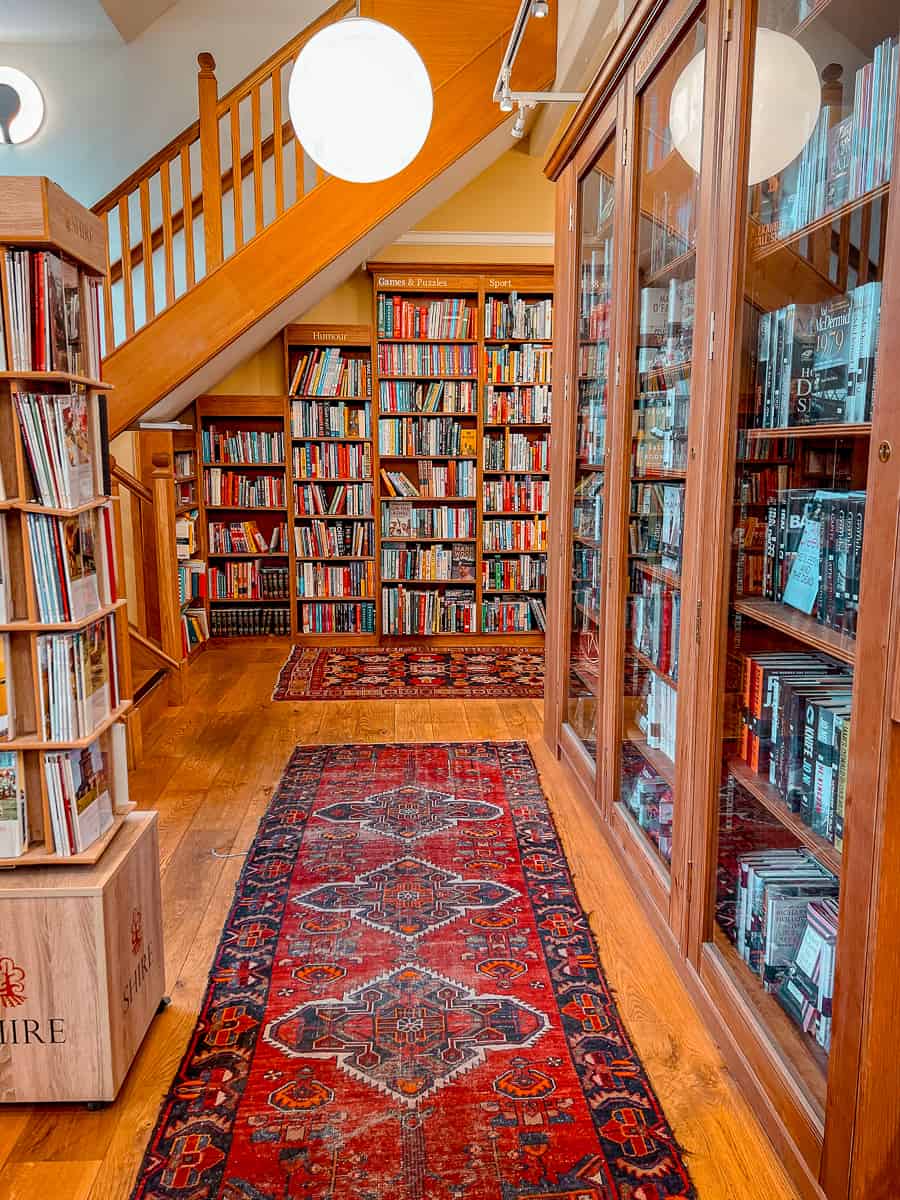 Toppings rolling library ladders
One of the reasons why I wanted to visit this incredible bookshop was because of their signature rolling library ladders.
It reminded me of something from a Disney movie like Beauty and the Beast when Belle uses them in her town library.
I still dream of owning something like Beast's library from his castle one day. But, it would be full to the brim with romance books.
Usually, when I head into libraries or bookstores you're not allowed to use the ladders.
So, it's a rare treat when you can and I grabbed the opportunity with both hands.
There were ladders in almost every room for every shelf. It was honestly so fun to browse for books with them and makes a great photo opportunity too.
Obviously, make sure to use these ladders with care and if you need assistance make sure to ask one of the friendly staff.
Complimentary tea or coffee
I didn't do much research before I visited Toppings Edinburgh but I did see people drinking tea and coffee in amongst the bookshelves on social media.
So, I presumed that Toppings had a café that you could purchase drinks from on your visit.
I ordered my coffee and they didn't charge me at the time so I thought maybe they took payments afterwards.
But, when I had finished and asked them what I owed them for the coffee they told me that it was free of charge!
I was shocked as it came with a Lotus biscuit and was served in the cutest crockery and everything. I don't know why but I felt so bad about not paying.
However, I was assured that it's all part of what Topping & Company Booksellers has to offer visitors and it was such a lovely treat whilst browsing their bookshelves.
They have seating dotted all over the store so you could chat with friends or pick up a book and read with your drink.
Topping & Company book bags
Although I should be on a serious book-buying ban after looking at my never-ending reading list and piles of unread books. I did cave and purchase some books whilst I was here.
Toppings Edinburgh had an incredible fantasy section which is surprisingly quite rare in bookshops. So, I took the opportunity and purchased some Romantisy reads I've been searching for.
Like most shops these days they don't have plastic bags but they did have some incredible Topping & Company tote bags you could purchase for your book haul.
Even though I have so many of these reusable bags at home I couldn't resist. It was a gorgeous blue colour and was roomy enough for my books and more.
Look out for Toppings Edinburgh reader events
If rolling library ladders, seemingly endless books, and free hot drinks aren't enough to convince you to visit. Then, you should definitely check out their reader events that take place.
They have literary events, talks, and reader groups to attend throughout the year. Sometimes it will be the author talking about their book, signing copies or it could be book panels.
The reading groups also sounded fun. There is a Sci-Fi and Fantasy group and Feminist Fiction group amongst others. I wish I was local so I could attend some.
There is always a reason to visit Toppings Edinburgh so make sure to check out their events calendar.
Where is Topping & Company Booksellers of Edinburgh?
Topping & Company can be found at 2 Blenheim Place which is near Calton Hill and London Road Gardens.
It's easiest to head here on foot or by using the wealth of public transport found in the city. The nearest bus stops are Leopold Place, Elm Row, and Picardy Place.
You can drive to Toppings Edinburgh and there is limited off-road parking found on Blenheim Place.
It is charged by the hour from Monday – Friday between 8.30 am – 5.30 pm and you can pay by cash, contactless, or the RingGo app.
But, it's completely free outside of those times and all day on weekends.
Toppings & Company Booksellers of Edinburgh's address is 2 Blenheim Place, Edinburgh EH7 5JH. Click here for a Google Pin!
Toppings Edinburgh opening times
The great thing about this magical bookstore is that it's open from 9 am – 9 pm seven days a week.
So, there is plenty of time to visit this incredible bookshop whilst you're in the city.
In fact, this would make a great bookish location to visit in the evening or if you're looking for things to do on a rainy day.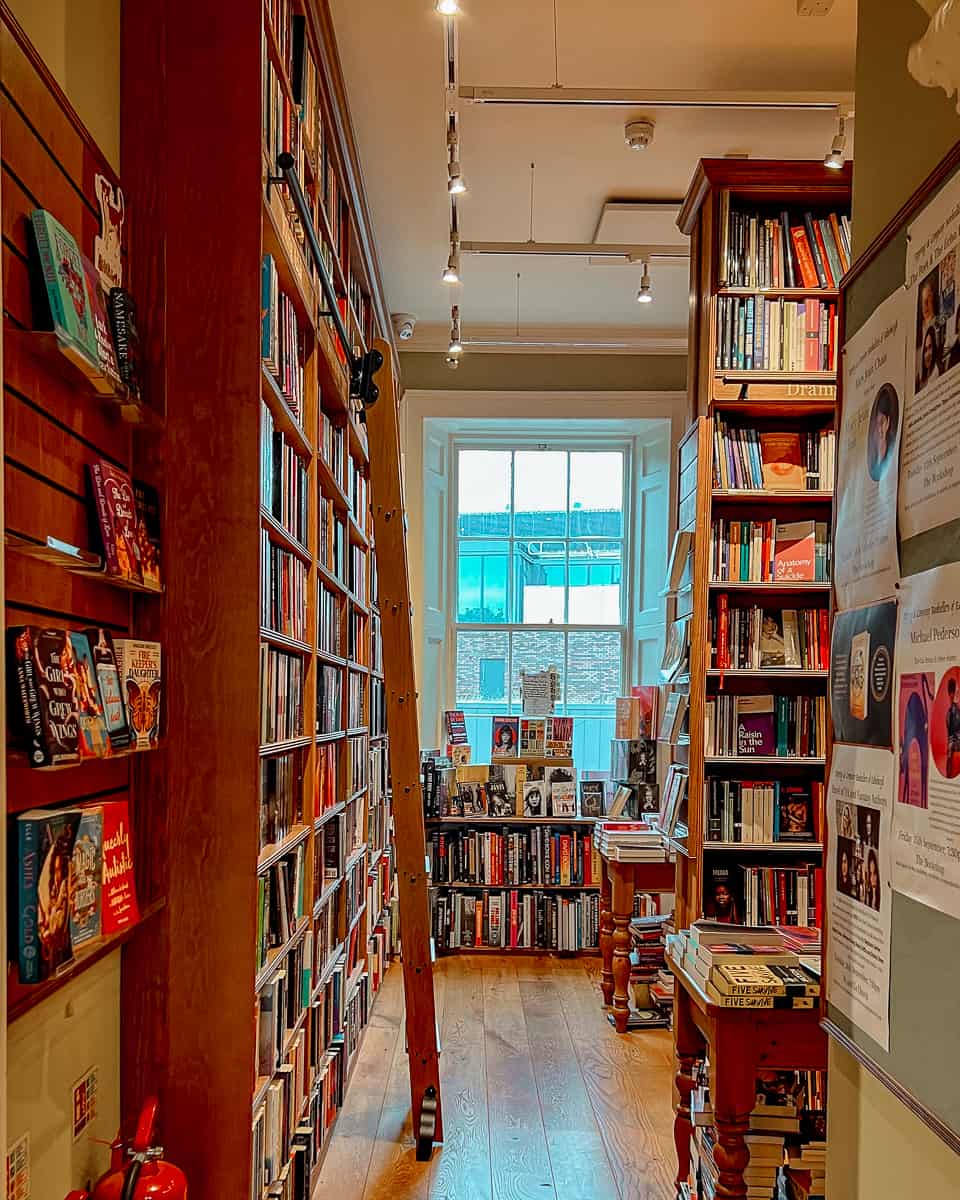 Looking for more amazing bookshops in Edinburgh?
Edinburgh is one of the top literary destinations in the UK and there are many famous writers that have connections to the city including Robert Burns.
It was also an inspiration for Harry Potter and they host a huge International Book Festival every year.
So, it stands to reason that there are going to be some incredible bookshops to visit in the city.
Nearby Topping & Company, you can visit McNaughtan's Books and Typewronger Books on Haddington Place.
They are right next door to one another. Mcnaughtan's is a secondhand bookshop and Typewronger sells new books and typewriters.
One of my all-time favourite bookshops in Edinburgh has to be Armchair Books which is just inches away from The Vennel.
It's crammed full of books on the shelves and is decorated with Persian rugs. It's so cosy.
You should add Edinburgh Books, Golden Hare Books, Transreal Fiction (awesome for Fantasy), and Lighthouse Books to your list too.
Although not independent, I particularly loved the Waterstones found on Princes Street. The views of Edinburgh Castle from their café windows are unmatched.
Why not visit the Writers' Museum?
The Writers' Museum is one of my favourite buildings in all of Edinburgh and is located on Lady Stair's Close aka Makar's Court on the Royal Mile near Gladstone's Land.
It's a free museum that is dedicated to three famous Scottish writers; Robert Burns, Sir Walter Scott, and Robert Louis Stevenson.
Inside, they have exhibition rooms for all three literary giants with transcripts and artifacts related to them.
You can see a printing press that printed Waverley, Treasure Island memorabilia, and even a plaster cast of Robert Burns' skull. It's usually open from 10 am – 5 pm daily.
It's set inside Lady Stair's House off the Royal Mile. Even if you don't plan to visit the museum I would recommend stopping by as the architecture is stunning.
If you look on the ground outside the museum, you'll find quotes from famous Scottish writers on the flagstone floor.
Click here to read my post on Lady Stair's Close & the Writers' Museum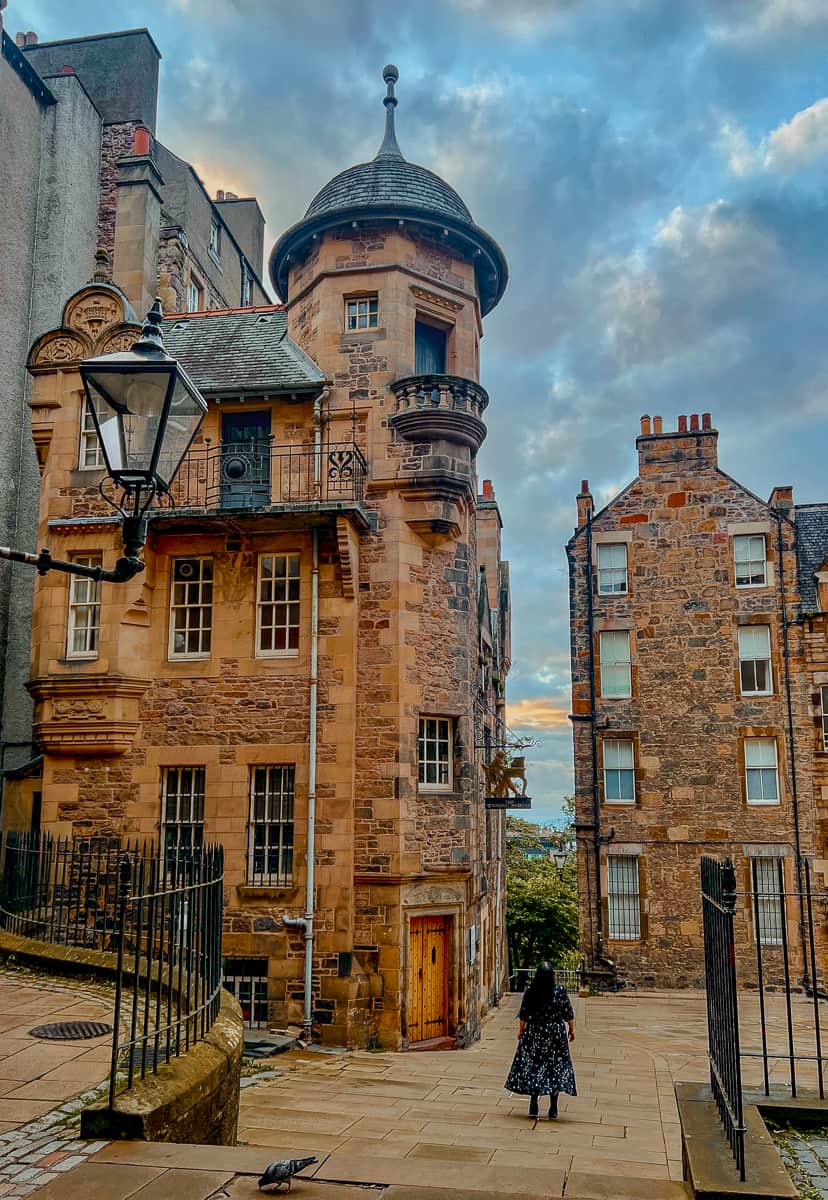 National Library of Scotland
If you're looking for even more bookish locations, I would also recommend visiting the National Library of Scotland and Edinburgh Central Library.
They are opposite each other. The National Library is free to visit and always has some incredible exhibitions going on.
I visited their Gaelic folklore exhibition 'Sgeul / Story' which was about magic, legends, and storytelling in the Scottish Highlands. It was amazing.
If you wanted to visit their reading rooms you do have to sign up to become a member. However, the central library is open to all.
Toppings Edinburgh FAQs
Who owns Topping's Bookshop? Robert and Louise Topping. They have branches in the city of Ely in Cambridgeshire, St Andrews, and the city of Bath.
Where do you park for Toppings Edinburgh? It's easiest to walk or get the bus but there is some off-road parking at Blenheim Palace charged at £3.50 an hour. It's free on weekends.
Is Topping and Company independent? Yes, they are family-run and independent with branches around the country.
Read more of my Edinburgh travel guides
The ultimate list of experiences in Edinburgh
Harry Potter locations in Edinburgh
The best viewpoint in Edinburgh
Visiting a quaint village in the capital of Scotland
My complete photography guide to Edinburgh
Secrets of Queen Mary's Bath House
A complete list of Outlander film sites in Edinburgh
Why you must visit Bakehouse Close
A complete guide to the Vennel
The hidden gem of Tweeddale Court
Why Craigmillar Castle has to be on your list
Afternoon Tea? The Colonnades & The Balmoral are the best!
Discover Liberton Kirk in Autumn
How to visit the Ross Fountain
Save Toppings Edinburgh for later!