One of the best waterfalls in Ireland has to be Torc Waterfall which is tucked away in a woodland near the town of Killarney.
It's a magical 20 metre (66 feet) cascade at the base of Torc Mountain and the Owengarriff River cascades over the rocks with lots of emerald foliage surrounding it.
The name Torc roughly translates 'wild boar' and this is the 'cascade of the wild boar' due to a legend where a man was cursed by the Devil.
It's a popular stop in the Ring of Kerry and is a very accessible waterfall in Killarney National Park with parking just 200 metres away.
Here is how to visit Torc Waterall, with opening times, prices and what to expect on the walk.
What is the Torc Waterfall legend?
One of the reasons why Torc Waterfall is so famous is due to the legends that surround it.
The word Torc in Irish roughly translates as 'wild boar' and Easach Toirc means 'cascade of the wild boar'. This is because there are many folktales associated with them here.
One such story is that a man was cursed by the Devil and was forced to spend each night as a wild boar. He lived in a cavern here.
One day, a local farmer found out his secret. The cursed man then burst into flames and disappeared into the Devil's Punchbowl on Magnetron Mountain.
As soon as this happened, the Owengarriff River formed and the waterfall then hid the entrance to his secret cavern!
Another story is about an Irish warrior called Fionn MacCumhaill. He killed a magical boar here with his golden spear.
Whether you believe these mystical tales or not, you cannot deny that Torc Waterfall is an otherworldly place worth exploring.
Where is Torc Waterfall in Ireland?
Torc Waterfall can be found around 4.3 miles or 7 kilometres from the town of Killarney in Ireland at the base of Torc Mountain.
It's a major attraction in Killarney National Park and a popular stop on the Ring of Kerry Drive and Kerry Way trail. You can easily locate it on the N71 / Ring of Kerry road.
It lies just a stone's throw away from the Muckross estate which is home to the spectacular Muckross House and Gardens and the evocative Muckross Abbey.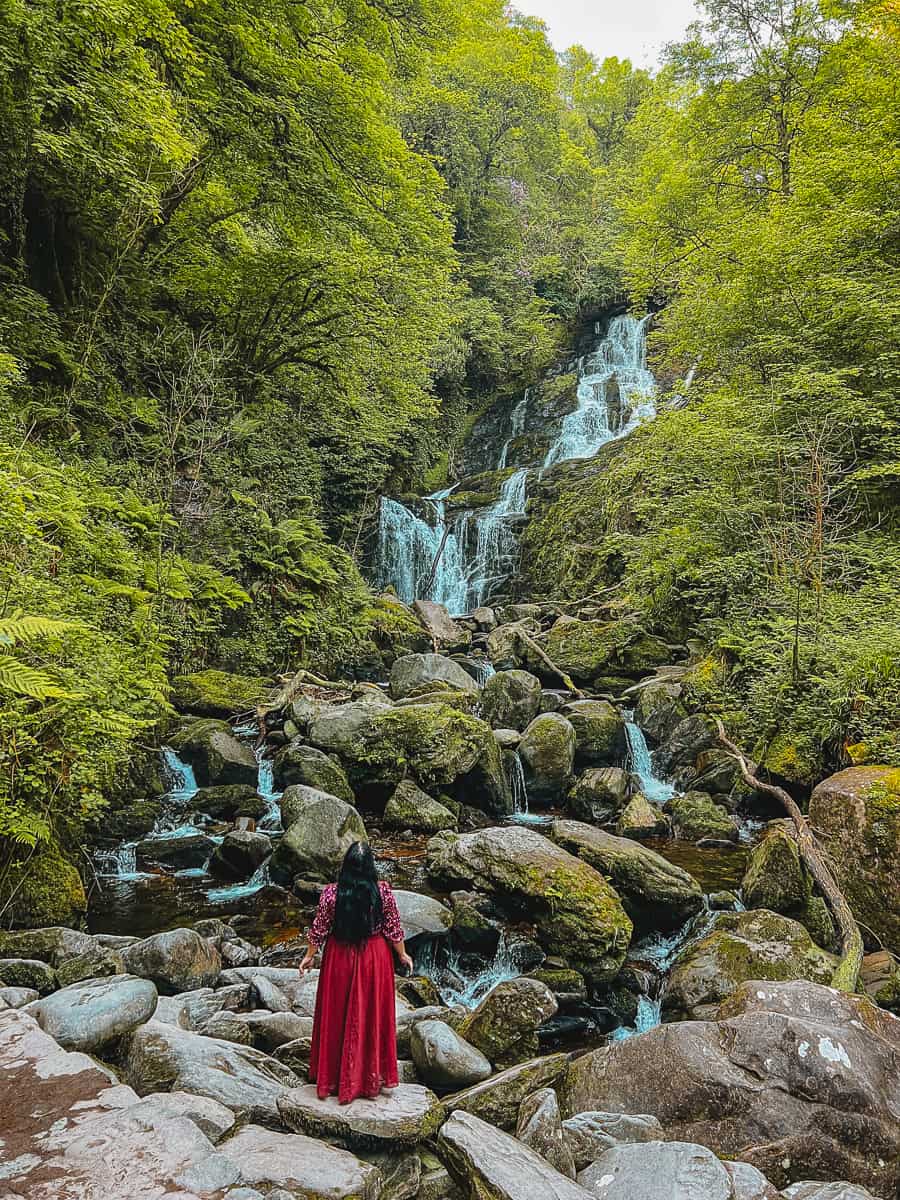 What is the best time to visit?
The best time to visit Torc Waterfall would be early in the morning to avoid the majority of the crowds.
Although it's not as impressive as Powerscourt Waterfall, the tallest waterfall in Ireland, its position in Killarney National Park and the Ring of Kerry means it sees lots of visitors every single day.
People drive, cycle and walk here and there are lots of coach tours that make a stop. So, if you wanted a more peaceful visit I would get here very early.
I pretty much had it to myself around 8 am and managed to bag a parking spot right beside the falls with no hassle. So, I could just appreciate the magic of these falls.
Another good time to visit is after a few days of heavy rain for the best cascade. In summer, the water levels were low but it was still beautiful with all the emerald foliage surrounding it.
In winter and autumn, you'll find the force of the waterfall is much stronger.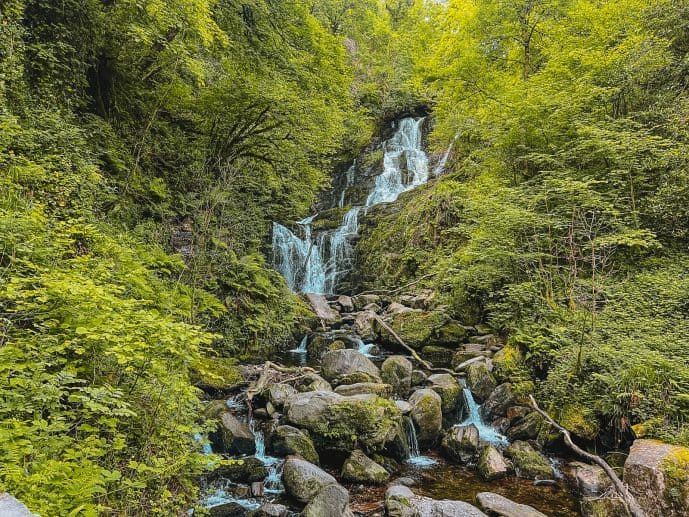 How do you get to Torc Waterfall?
The easiest and most convenient way to visit Torc Falls would be by car and it's only a short 10-minute drive from the town of Killarney on the N71 / Ring of Kerry Road.
Parking can be stressful so if you wanted to guarantee a parking spot near the waterfall I would get here very early.
Alternatively, many people like to cycle to the waterfalls and this is a better option to avoid the parking madness.
Or, you could opt to walk to Torc Waterfall. It's a stop on the Kerry Way and you can access it from the Muckross House area or Killarney town quite easily.
You could also visit the waterfall as part of a Ring of Kerry Tour. There are many that visit lots of Killarney and Ring of Kerry attractions such as this Ring of Kerry Day Trip from Cork.
If you're already in Killarney, there is also a Ring of Kerry day tour you can book here.
Torc Waterfall address is Cloghereen Upper, Killarney, Co. Kerry, Ireland. Click here for a Google Pin!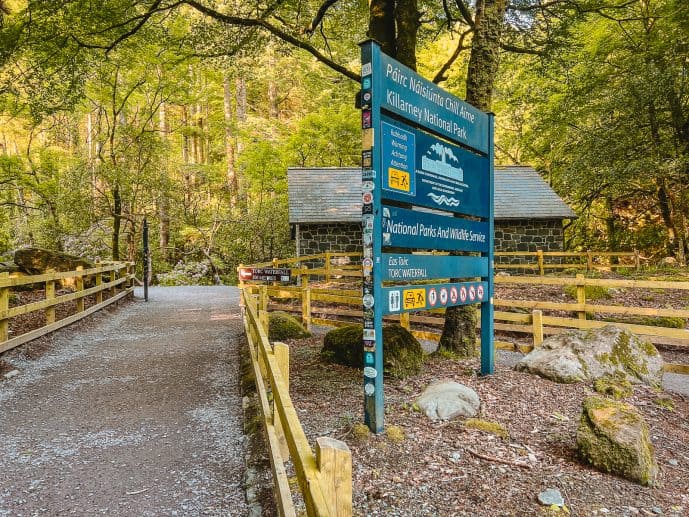 Torc Waterfall car park
There is FREE and convenient parking right next to Torc Waterfall when you arrive. It is very small with limited space.
I must stress that you should get here in the early morning for the best chance of a parking space. If you leave it later it may be already full.
I got here around 8.15 am and it was already getting busy. But, when I left around 9 am it was almost full.
Be aware that there is a 'Jaunting' area for horse and carriage tours across the road. This road must be kept free for the carriages. Don't park there.
They are very strict on it as it's their business at the end of the day. Coach/bus spaces should also be left free.
If this small car park is full, there is a larger lay-by area just beside it. But, this can be a little bit manic with cars parked all over the place.
Please park with consideration, don't park on the main road and don't block other cars in the parking lot.
How long does it take to walk to Torc Waterfall?
From the car park nearest the falls, it only takes around 5-10 minutes to visit Torc Waterfall.
The 200-metre walk is relatively flat through scenic woodland by the Owengarriff River. There are a few tree roots and stones on the path but it's very easy to navigate and straightforward.
I was pleasantly surprised by this and was delighted as I had a lot of stops on my Ring of Kerry drive that day.
If you wanted to extend your hike, you could opt to walk here from Muckross House or Killarney Town. But, this will take a couple of hours.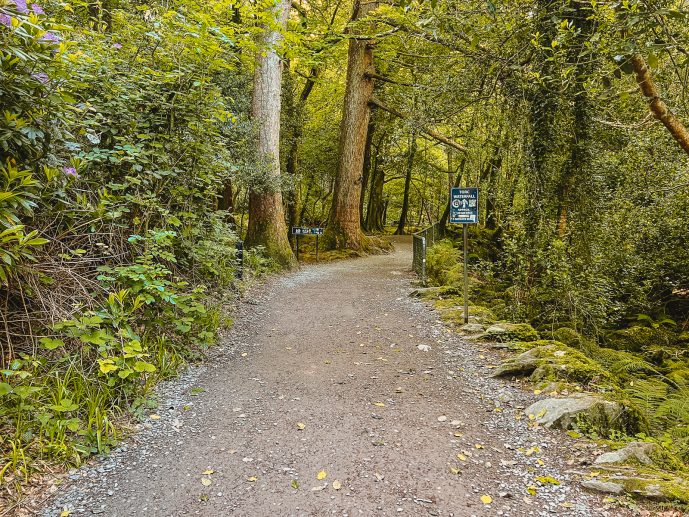 Visiting the waterfall viewpoint
Once you reach the end of the path, you'll ascend some steps and reach the Torc Waterfall viewpoint.
You can then admire the cascade from the platform. You'll watch the Owengarriff River falling over the rocks and see it crashing down into a pool below.
If you wanted to get closer to the waterfall you can follow the path below the wall and walk right up to the base of the falls.
There are lots of rocks that people like to climb on here to feel the water and the cascade. Just be careful when exploring as it can be easy to slip if it's been raining.
From here, you can then head up the steps behind the viewpoint and take the Torc Waterfall loops through the woodland.
Or, many people just turn back to the car park on the short and flat path the way they came.
Extend your visit with these Torc Waterfall walks
Torc Falls Loops – There are a couple of loop trails that you can do around the falls. The yellow is a basic loop up steps and back to the car park, the blue will take you a little further beside the upper Owengarriff River.
Cardiac Hill walk – the red loop is 5 kilometres and will take you up the steep Cardiac Hill. It is significantly harder than both the yellow and blue loops.
Torc Mountain Walk – Many people also climb up to Torc Mountain from here. It's around 2.5 / 3 hours and 7.5 kilometres. It's very challenging and has uneven pathways and tracks.
How long does it take to do the Torc Waterfall?
If you just wanted to see the waterfall, it's a 5-10 minute walk from the car park (200 metres) and it's very easy to visit.
I would probably say you need anything from 30 minutes to 1 hour to see Torc Falls depending on your interests.
The woodland that you walk through to reach the waterfall is very pretty and sits beside the Owengarriff River. There were lots of little cascades in the lower falls and colourful Rhododendrons in the summer.
The bigger waterfall is, of course, the main attraction. But, after that, you've pretty much seen everything. Unless you want to extend your visit with one of the Torc Waterfall walks.
It's a very convenient stop and one of the best things to do on the Ring of Kerry.
Is visiting Torc Waterfall worth it?
Yes, it's 100% worth visiting this magical waterfall in Killarney National Park. Especially if you visit early in the morning and have it to yourself.
It's a beautiful cascade surrounded by emerald foliage and tucked away in a magical woodland. Plus, there are lots of legends that surround it.
It is one of the best things to do in Killarney National Park and is very easy to access. Plus, it's completely FREE.
Torc Waterfall opening times and prices
Torc Waterfall is open 24 hours a day so it doesn't technically have a closing time. So, you can visit as early as you like.
I wouldn't recommend visiting in the dark though as there is no artificial lighting in this area at all.
Another amazing thing is that Torc Falls is completely FREE to visit, even the parking. So, it's a great budget activity on the Ring of Kerry.
My top tips for visiting
Get there early or later – I can't stress this enough, get here as early as you can for the least crowds and to guarantee a parking space. Later in the evening would also be a good option.
Opt to cycle – If you don't want the stress of driving and parking, opt to cycle. It's an easy route from Killarney Town.
Leave enough time – I would say you need around 30 minutes to an hour to visit the falls. If you're on the Ring of Kerry Drive it's not a lengthy stop.
Watch out for bugs – There were lots of little bugs and midges here in the summer, especially by the river. Bring DEET if you're the type they like to bite.
Take rubbish home – People often bring food or a picnic here. Make sure to take all rubbish with you and dispose of it properly.
There are toilets – there is a small public toilet by the car park.
Things to do near Torc Waterfall
So, once you've finished exploring Torc Waterfall, where can you head next?
Well, there are plenty of attractions nearby in Killarney National Park. Here are some best places that I would recommend;
Muckross Abbey
One of my favourite attractions in all of Ireland is the ruins of Muckross Abbey.
Abbey ruins are not uncommon in the country but Muckross Abbey is special due to the ancient yew tree that grows in the cloister courtyard.
The abbey was founded in 1448 as a Franciscan friary but had a violent history and slowly faded into decay.
Today, you can visit these evocative ruins for free and it looks like something from a fairytale or fantasy world.
Again, I would visit these ruins earlier in the morning for fewer crowds. It's a busy spot and there is only a tiny car park.
Click here to read my complete guide to Muckross Abbey
Muckross House & Gardens
Just nearby, you'll find Muckross House and Gardens which is a spectacular historic attraction.
It was originally built in the Tudor period but had significant improvements made on an expected visit by Queen Victoria in the 1850s.
The Herbert family put all their savings into it expecting a title. But, that never happened due to Prince Albert's death and the family went bankrupt. Later it was sold to Arthur Guinness.
It's a beautiful house and you can visit the gorgeous rooms inside including the apartments specifically made for Queen Victoria.
If you didn't want to go inside, you can visit the spectacular gardens surrounding the property for free.
The park has incredible views of the mountains surrounding Muckross Lake and Lough Leane. Plus, there is a craft centre and café.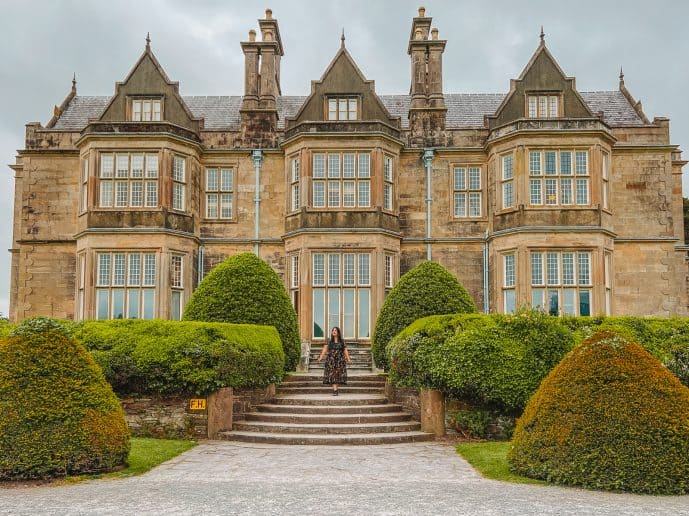 Ross Castle
Ross Castle is another popular attraction in Killarney that sits on an inlet of Lough Leane.
It is believed that the chieftain O'Donoghue Mór built it in the fifteenth century and there is local legend that he still sleeps under the lake.
Every seven years on the 1st of May, he is meant to rise up out of the lake on his white horse!
You can take a tour of the castle for 5 euro but pictures aren't allowed inside. However, you can explore all the outside of the castle and grounds for free.
This is what I did and it was wonderful first thing in the morning. The water was so still that the castle was reflected in the small pond outside.
There is a free car park right outside but this has limited spaces. So, once again, visiting early morning is best to guarantee a space.
Ladies View
Another one of my favourite stops on the Ring of Kerry was Ladies View which was an incredible viewpoint.
It gets its name from when Queen Victoria made a visit to Killarney. Her ladies commented on how beautiful the view was so it's now forever known as 'Ladies View'.
You can make a stop here and there is limited parking on the roadside. There is a fabulous café opposite that does amazing breakfast, lunch, cake, teas and coffee. It has a panoramic balcony on the top floor.
After a tea break, you can explore the small rocky area and take in the magnificent views of the mountains. It's a great photo opportunity.
Where to stay in Killarney
Although I loved visiting Killarney National Park and the Ring of Kerry, I have to admit I didn't like the town of Killarney.
It's basically just one big road filled with traffic with hotels on either side of it. So, it's noisy and hectic. Pure chaos around the clock.
I'm so glad I decided to book The Lake Hotel which sits on Lough Leane for my trip as it was a peaceful retreat.
I stayed in a basic room with a garden view but many of the deluxe rooms have a balcony with a lake view.
It's one of the earliest hotels built for tourism here and is on the fringes of Killarney National Park.
Their breakfast was incredible with scenic views from the restaurant and you can visit the historic keep of Castlelough Castle that sits on the grounds during your stay.
Click here to book your stay at the Lake Hotel
Torc Waterfall FAQs
How high is Torc Waterfall? It's 20 metres high or 66 feet. It's also 110 metres long or 360 feet.
Why is Torc Waterfall famous? Due to the myth that a man was cursed by the Devil to spend each night as a wild boar. He lived in a cave beneath the waterfall!
Read more of my Ireland guides
How to visit Powerscourt Waterfall Ireland
Ballysaggartmore Towers in Ireland
How to capture Deck of Cards Cobh
How to find the Umbrella Street Dublin
Marsh's Library – visit the oldest public library in Ireland
Visit Trinity College Long Room Library in Dublin
Visit the Cliffs of Moher Harry Potter Cave
How to visit the Pollnagollum Cave Game of Thrones location
How to find the Umbrella Street Belfast
How to visit Lough Tay aka Guinness Lake
How to find the Ballinastoe Boardwalk in Wicklow
Guinness Storehouse in Dublin review
Save the magical Torc Waterfall for later!